11 Best Clothing Dye Reviews in 2023 [Latest Picks]
People like to choose different dye colours for clothes for different purposes; some want to give a brand new look to their old clothes while others may only have fun with friends and family on different occasions. Again, professional designers impart unique touch to garments and crafty materials, unleashing their mastery over colors.
But selecting an exact fabric dye could be the hardest part for a beginner as you got to have moderate knowledge about the fiber type, possible suited pigment, and a comfortable dyeing method needed to dye that specific fiber.
Let not the obstacles ruin your creativity because, with simple learning, you can decide what to pick up from other alternatives. This article is intended to guide people through important aspects of choosing a fabric dye and to notify about current best buys.
| | | | |
| --- | --- | --- | --- |
| | | | |
| | 2. Rit All-Purpose Liquid Fabric Dye  | | |
11 Best Clothing Dye Reviews
Among the sea of fabric dyes that are available on the market, only a few of them are worth the trouble. We have done the research for you and found these dyes to be excellent in terms of depth, fastness, and permanency.
1. Rit All-Purpose Liquid Dye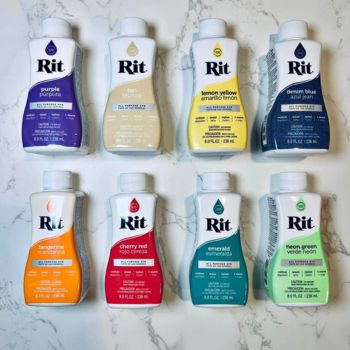 Features
Dye Type: All-Purpose
Use for: Cellulosic Fibers & Protein Fibers
Package Weight: 10.9 Ounce
Number of Colors: 28
Extra Features: Papers, corks, and wooden items can also be dyed with ease.
Being the ideal dye for cotton polyester blend, this colorant can be applied to a huge range of fabrics, accessories, and apparel. Especially if you wish to restore or change the color, and with a moderate budget, this is the perfect dye for you.
You can dye fabric of almost all types of fibers and their blends easily following simple dyeing procedures. This list consists of cotton, linen, silk, wool, ramie, rayon, viscose, nylon, modal, and so on. If you are creative and like to play with patterns on crafts, try following some handy tutorials to make unique use of the dye.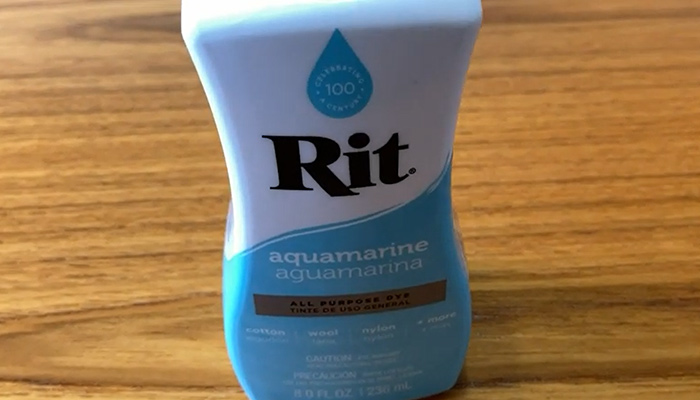 Moreover, paper made materials, corks, and wooden matters can also be dyed with ease. However, fabrics holding more than 35% polyester, acrylic, and acetate fiber are not recommended.
We know how special a dress could be for you when it comes from a dear one or on an eventful occasion. Don't worry as you may not end up dumping it right away as it gets old. The depth of the color and excellent wash fastness of the dyed products have always been embraced by loyal customers.
Light-colored wedding dresses could easily be dyed with this dye, having a spotless all over effect throughout the fabric. One can also dye the worn out (after being washed repeatedly) pillowcase, sink case easily.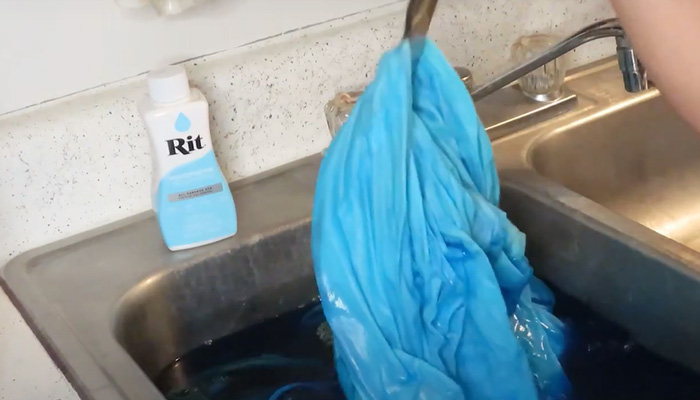 Bleach mark on denim can be a concern as the spots won't go away easily. However, one of the users happily claimed to have those marks gone by applying the dye directly on the fabric and with the aid of a simple after wash. So, people would love to buy cheap white jeans and give it the desired color with this dye.
Note that the navy blue color can be somewhat confusing, as it appeared to be purple or indigo to some of the buyers.
2. Tulip One-Step Tie-Dye Kit Party Creative Group Activities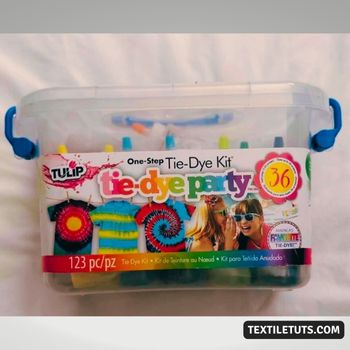 Features
Dye Type: All-Purpose
Use for: Cotton, Wool, and Rayon
Package Weight: 1.45 Pounds
Number of Colors: 14
Extra Features: Don't have to submerge in Soda beforehand
We do love family reunion, outdoor parties, and college occasions full of fun and surprises. This very best fabric tie dye set will surely add something extra to the creative work of kids alongside friends and parents.
18 dazzling colors in a reusable container, with only a repetition of 4 (Yellow, Blue, Red, and Fuchsia), are there to perfect your summer camp, birthdays, and even Christmas.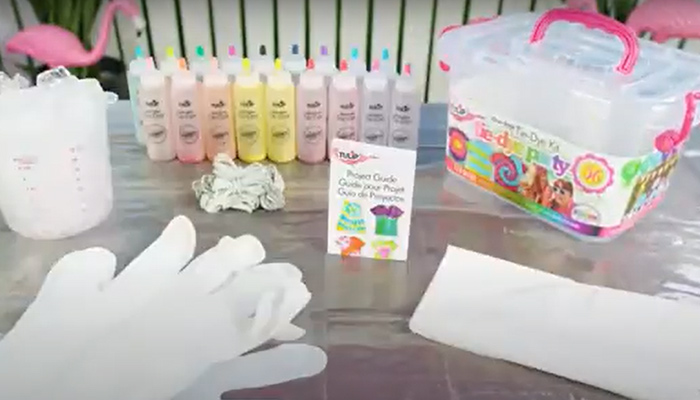 One would find this fabric color dye very user-friendly as gloves, elastics, instruction manual, and table cloth are also provided with the set. Being a party kit, you need good budgets, but worth spending for the best clothing dye in stock.
Selecting the correct fabric for the coloration process is important as it doesn't work equally on different fibers. In this case, clothing made of cotton, wool, and rayon like 100pc natural fibers are recommended for best outcomes.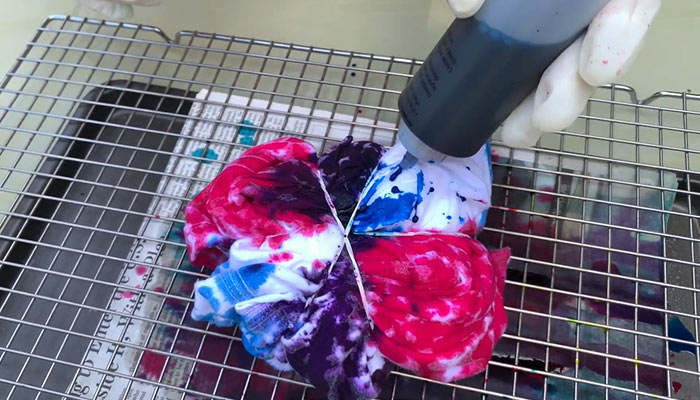 You may fancy trying the dye on polyester fabrics, but the result will be poorer as the colors bleed and fade, giving the textile a pastel look. However, the light pastel shade can be interesting to some users.
People usually prefer the boys' t-shirt most while tie dyeing, as it's easy, and design creation is fun for the kids, but you may also dye other things like bandana, hoodie, jumpsuits, socks, bags, etc.
It's an easy process to start up with only water to be added before squirting the colors to clothes. But make sure you have covered all the things you don't want to be dyed or stained. You will find the original (14) colors mixing very well, and the colors that are repeated are used more while tie dyeing.
Once added water, dyes can be used up to 72 hours. Talking about the depth of color and the boldness! A simple prewash of the fabric before dyeing could satisfy you. Otherwise, the dyes could be soaked or dropped off right away.
And if you want the color spread better, just don't use any smell or softener in the washer, just detergents and with the cloth still damp after being dyed.
Your hands will get mucky if gloves not used. No worries just bleach spray to get rid of it. Kids love it so much as they get to go home with a personalized cloth. You should arrange bags for every kid to carry their creation home as they need to soak overnight. 2 days of shirts you can enjoy if you do 10 shirts each party.
3. Simplicol Fabric Dye Intensive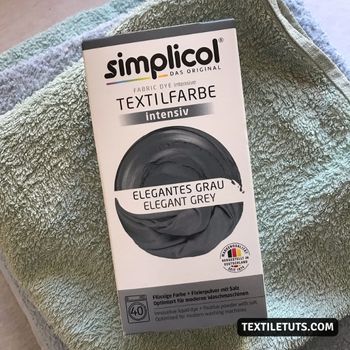 Features
Dye Type: Reactive
Used for: Cotton, viscose, and linen
Package Weight: 640 gram
Number of Colors: 19
Extra Features: No need to add salt
We admire your passion for your favorite garments that you feel sorry to throw out. Far from the earlier days of powder dyes and the sophistication dyeing methods, Simplicol intensive series offers you the top-rated fabric dyes to rejuvenate your old clothing at an average price. In fact, it's a worthy contender for the title of best dye for clothing.
You would like to use this dye on cotton, viscose, and linen fabrics to get the best outcome. However, garment having stitches of the poly-cotton blend will not dye to the depth of color that the rest of your garment does.
This dye works very well on t-shirts, towels, pillowcases, duvet, sneakers, leggings, etc. As it comes to the larger items, you will find it harder to obtain intended shade, chair covers, curtains, bed sheets, and table cloth, for example. It's quite understandable as it happens with every dye.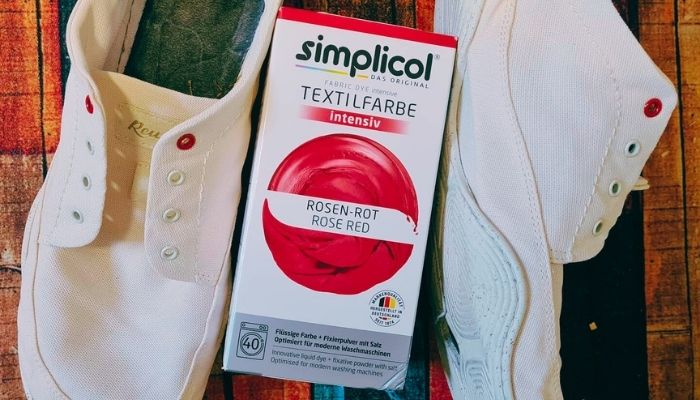 Just get the fabric alongside with other ingredients and boom! Excellent solid color with the vibrant long-lasting effect will definitely charm you. It's very user friendly, although some of the users recommend reading the manual thoroughly beforehand to avoid any unexpected result.
600 grams of fabric can be dyed with one pack of dye. Of course, you can always vary the shades maintaining the material to liquor ratio.
Moreover, the dyeing procedure is very simple. Put the laundry to be dyed dry in the washing machine. Then place the cut bag with the fixing salt and the opened bottle with the paint on the laundry and start the washer at 40 degrees Celsius.
You might get disturbing noise from the machine as the plastic container hits the machine walls continuously. But it's no harm to the coloring process.
With the aid of some simple tricks, you will get to know this dye better suited for your desired outcome. As customers often claim to have a brighter shade after dyeing, you can puncture the capsule to get a more even and good depth color.
And for a lighter shade, you could use a water bath rather than the washer. Pre-wetting of the garments may facilitate better impregnation of the colors.
4. Jacquard Procion MX Fiber Reactive Dye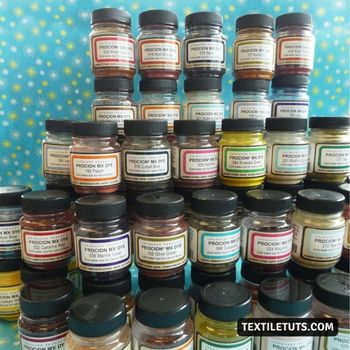 Features
Dye Type: Reactive
Used for: All Cellulose Fibers
Package Weight: .75 Oz, 8 Oz
Number of Colors: 28
Extra Features: Excellent colorfastness
Procion MX dye is the brightest and the most colorfast fiber reactive dye you will find for cellulosic fibers. Amazing powder dyestuff from Procion MX, this comes with more than 40 colors to assist your dyeing experience and at a very acceptable price.
This permanent fabric dye includes the four primaries, cyan, magenta, yellow, and black, so that you can mix your own colors by using a dye colour mixing chart. Its black is regarded as the best black fabric dye that anyone can get their hands on. So, if you have faded fabrics lying around, give this dye a shot. You could also purchase three premixed colors instead of four primaries. But if you have a thinner budget and want to play chemist take the primaries.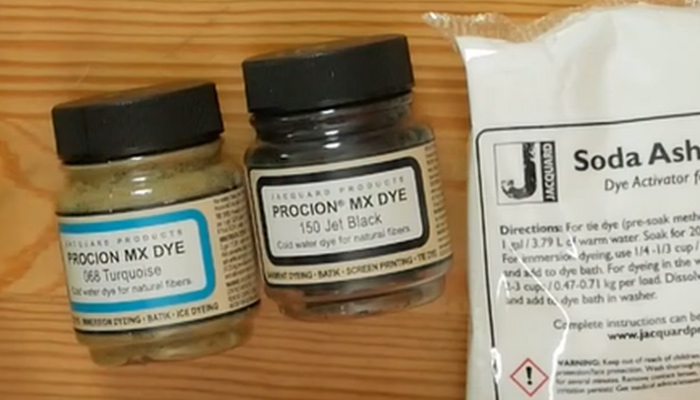 Which fabric exactly should you choose? You can dye a handful number of fibers like cotton, linen, canvas, hemp, jute, ramie, sisal, paper, rayon with this powder dye using different techniques.
Commonly done are tie-dye, vat dyeing, batik, airbrush, screen-printing, splatter painting, etc. Moreover, you can have a go with ice dyeing or a low water immersion system.
Procion MX dyes are cold water dyes. They are easy to use and mix; however, having knowledge of chemistry would be a plus point. Yes! If you have never done this before, you better read the instructions and try to lead the play accordingly. Otherwise, you can pretty end up bleeding all the colorants while rinsing or have an accidental spot mark as well.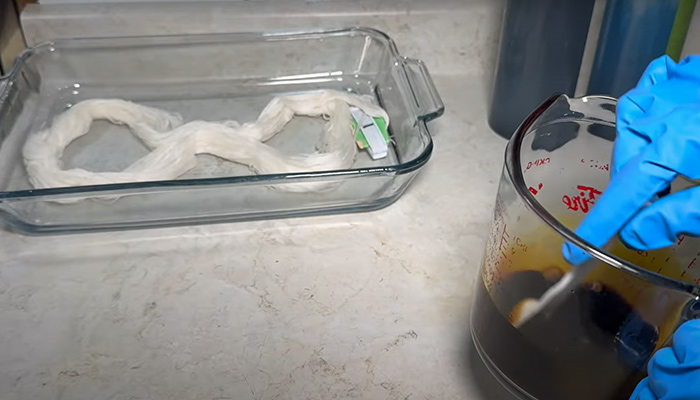 Usually, 1 pound of fabric requires 2/3 oz. bottle fabric dyes for cotton. The shade and depth of the color depend completely up to you, as these are results of the amount of pigments taken and the dyeing method, respectively. However, using twice the pigment suggested for the deepest, richest results.
Your old shorts, undershirts, or T-shirts may be valued for you as it turns out to be comfortable and fit. So, just simply dye them up with this dye. And if you are planning to gift someone a Halloween costume or to bring back the undertone effect on your curtains that midnight had on it, select this cloth dye and hop on it.
Thicker items, sofa covers, for example, can also be dyed. To recover the glaze of your deep-colored jeans, it would be a very good idea to leave the fabric with the dye for about 24 hours. You would also like to prewash the garment with detergent with no softener or additives added to get the desired color. Don't use a fabric dryer sheet, either.
One of the users described to have covered the perspiration marks of undershirts using the bucket method (since it is more economical).
Although Procion jars suggested cold water, he found room temperature water better for the exact outcome. He also claimed to have blotches in spot and stain marks on the shirt during his third try; quite understandably, it's one of the dangers working with old fabrics.
5. Tulip One-Step 5 Color Tie-Dye Kits Ultimate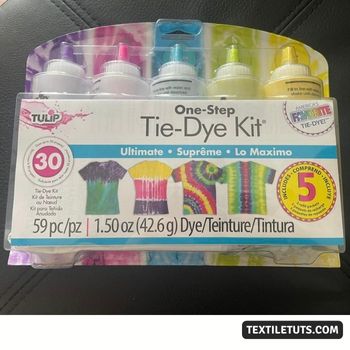 Features
Dye Type: Reactive
Use for: Cellulose Fibers
Package Weight: 1.5 Oz
Number of Colors: 5
Extra Features: Comes with required accessories for tie dyeing
Unveil your artistry of tie-dye with this incredible Tulip kit and enchant your kids, friends, or family members while enjoying the simplicity of the activity.
The kit is appreciable as it provides you everything you need for tie-dye; 5 different colored dye bottles (1.5oz each) alongside with 5 extra dye packets. The colors are turquoise, fuchsia, purple, lime, and yellow. There are two portions of powders per color, so you can save something for later.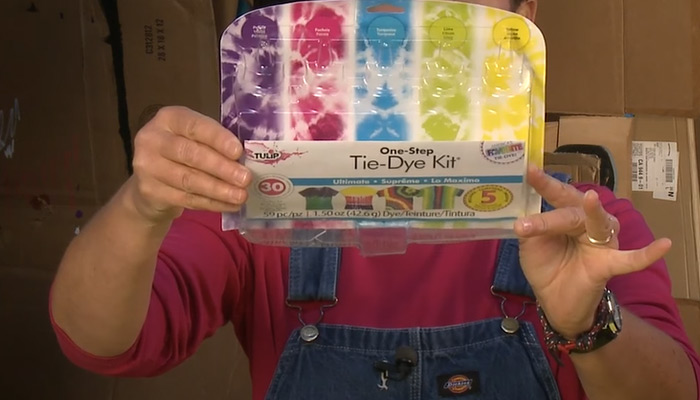 You will find enough gloves and rubber bands to smoothen the dyeing process. It also has a great pamphlet with dyeing techniques that is very helpful. Buying this kit needs a good budget as you will get 5 very good colors and great quantity.
When it comes to the possible options of fabrics that you are going to use, select 100pc natural fabrics like cotton, rayon to get the foremost upshot.
You can run this dye on t-shirts, duvet, socks, swimming costume, shopping bags, calico, tea towels, and so on. One of the customers claimed to have painted almost every possible garment of the house to have a funky 70's look.
It would be a pleasant idea to use this kit to startle your daughter at her birthday slumber party. Or you might present it to one of your grandchildren along with some white shirts. Even it is amusing to use alone. Through the tubes, you can create brilliant patterns and can set out the colors as you like.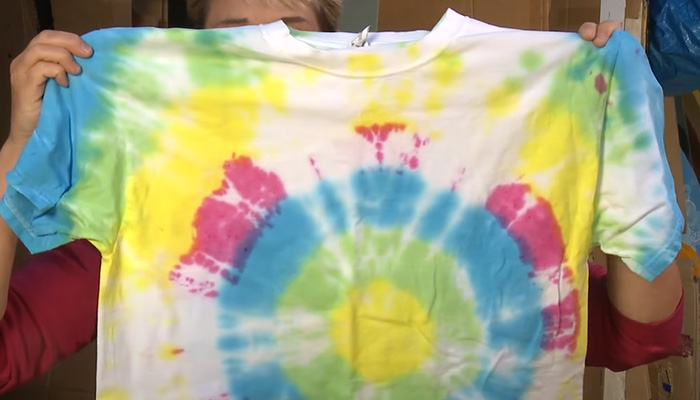 The task is trouble-free, so any beginner can do this by reading the manual. You just have to fill the dye tubes with water, wrap the fabric with bands, and apply the color according to patterns. And then it's time for a break. That means, you wait until you rinse the fabric in water.
You can use zip-lock sandwich bags to keep the dye soaked cloth overnight. Oh, you might not forget to wash the cloth beforehand; otherwise, the color may simply pearl off.
After all, these have been done; wash the dyed fabric so that it doesn't stain other things. You might not like the way the dyes drips down and put marks on each and everything. So, it would be wise to cover things up and put the gloves on hand. You should also paint over a surface that can be readily wiped clean.
The indication of having 30 projects out of it is somewhat misleading. In reality, most of the people use up half of the dyes painting only 7 or 8 shirts. So, max 15 projects could be run. One user, however, suggested topping up the dye tube with water after using for a while, so that it runs more.
6. Rit 02226 DYE More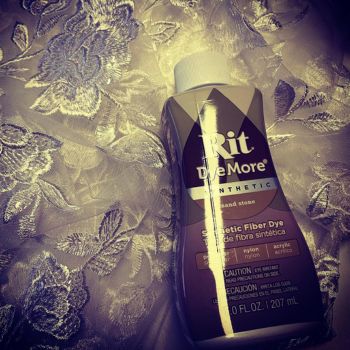 Features
Dye Type: Primarily Disperse Dyes
Used for: Polyester, Acrylic, Acetate
Package Weight: 7 fl. oz.
Number of Colors: 14
Extra Features: Easy Dyeing Technique
Having a rough time to pick the perfect cloth clouring dye for your favorite garments made of manmade fibers? Rit dye more synthetic could be the ideal and affordable solution for you, especially in the case of dyes for polyester.
We know how laborious and critical it is working with synthetic fibers. Considering the fact that the process requires great energy consumption, and also the effort and time, you would definitely want to have your money spent well on a dye.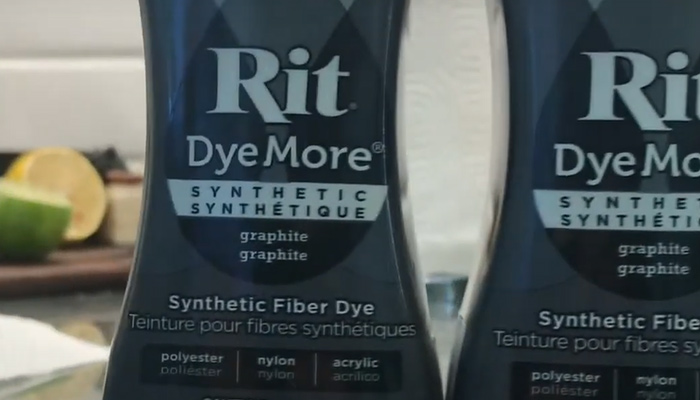 This series of clothes coloring dye has a bunch of colors to choose from, to ensure you can have the proper one for your desired intention. Each bottle is filled with liquid dyes to be readily applied with the substrate.
You can dye various garments with this dye that come with Polyester, nylon, acetate, or acrylic fibers or their blends. It can be your daughter's darling flower dress or switcharoo, or your nightgown and sequin maxi dress that you want in a different tint.
If you have an old kevlar shirt you used to wear while riding a motorcycle, try this dye out, because it's a lot better than the alternative of purchasing new fabric. Moreover, fake furs, satins, couch covers, curtains, socks, undershirts, even wigs, and 3D prints could come out outstanding.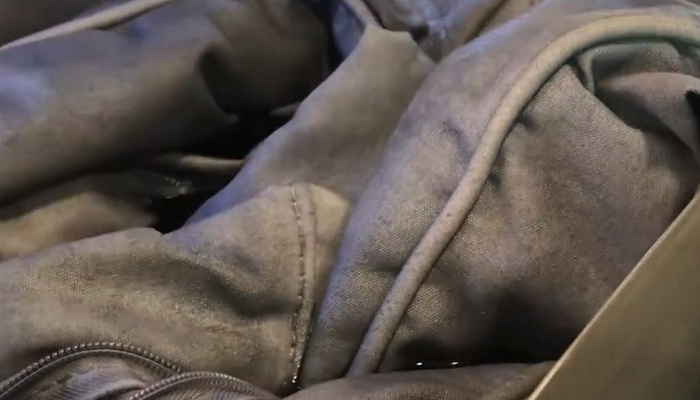 A very quick dyeing instruction for you would be to use stovetop dyeing as washers wouldn't be able to maintain the temperature needed for the purpose. However, some people may not like the idea of cooking food on a stove that had concentrated dyes on it. And also, few users found machines to have done the trick for them.
If you can't do a stovetop dye only because your material is bulky, try to make do with a bucket. It's necessary that you continue to maintain boiling temperature all the time, but take precautions while dyeing delicate materials like furs; very high temperature may shrivel the fibers.
It is advisable to you that you may need more than one bottle of dyes to achieve deep shades.  And if you don't want an intense color, just don't pour a ton of dyes. The after wash process can be run like 40 min to rinse out the unfixed dyes; soap, salt, or vinegar added to water to complete this part.
Bleach stain is a very probable problem you might like to get rid of using this dye. Be sure to mix the liquid dye with other things thoroughly; otherwise, you may upset yourself splotching the fabric. But don't worry; you, of course, can treat the splotch with a dye stain remover.
One of the users reported to have dyed 98% cotton to 2% spandex blend white jacket with ease. Only the threads were dyed pastel shade.
7. Rit – Liquid Fabric Dye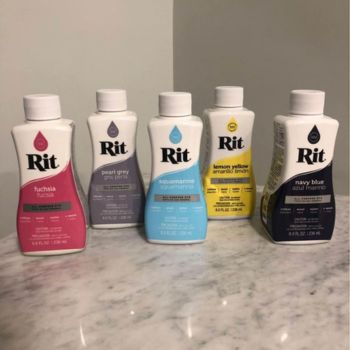 Features
Dye Type: All-Purpose
Use for: Cellulose Fibers & Protein Fibers
Package Weight: 8 Ounce
Number of Colors: 7
Extra Features: Washing machine compatible
There are loads of dyestuffs in the market to pick from for your fabrics, but you always have to adopt regarding all the consequences. How about a single dye brand to color them all!
Yes, you heard it right. Rit all purpose liquid dye enables you to color almost all kinds of fiber, and fiber blends spending a little money and thus putting itself in this list. It's the best dye for clothes made of blended materials.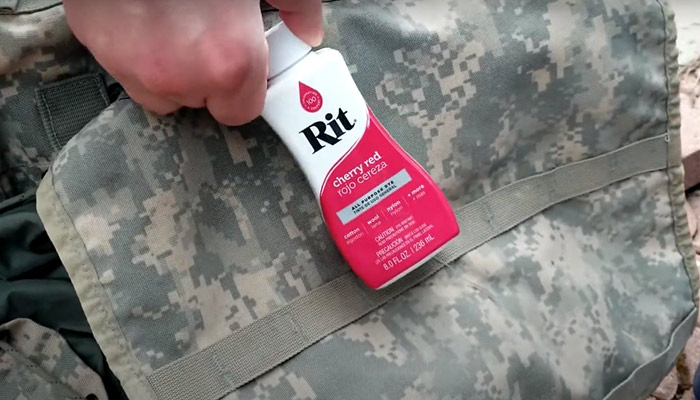 You might want your favorite old light colored jeans or skirts to turn bold cherry red or renovate your tabletops. This dye can help you in a wonderful way to bring a whole new look of your faded bedroom accessories.
Other materials like pillow shams, t-shirts, shoes, curtains, leggings, sweater, lace front, onesie even concrete used in projects could be dyed first-rate.
Washing machines proved the best while dyeing with this dye; however, you can improvise anytime introducing bucket method and laundry hampers. The dyeing process comes pretty easy to you as it only requires pouring the exact amount of dye alongside the fabric into the washer. However, it's always wise to read the instructions beforehand.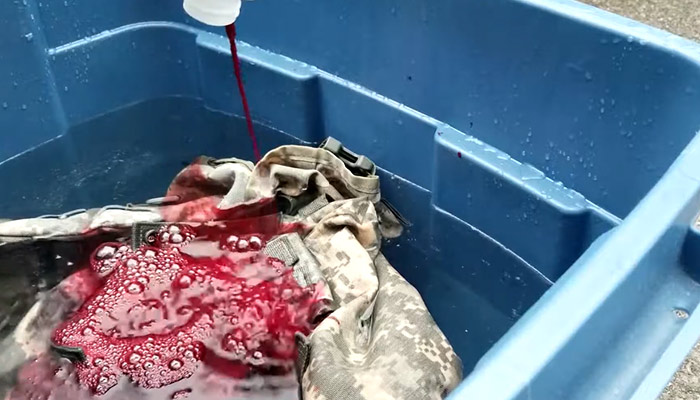 No one wants color staining as it could be very annoying, so it is suggested to use 1/4 cup table salt and 1 cup vinegar per gallon water to set the dye properly. Sodium carbonate can also be practiced.
After dyeing, rinse until the water gets clear; wash separately in cold water with soap and finally dry it. We recommended dye fixatives, and adequate hand washes before mixing the dyed product freely with other clothes.
Good tips from the people who have used this product before are always worth knowing as they turn out very handy. Sweat stains on expensive silk cloth? Dye it with Rit to remove the stains with a brand new look; buttons and threads could turn out pale, though.
If you want identical colors of multiple materials, try putting them at a time in the washer. Stir properly during dyeing to avoid blotches or tie dye pattern.
This dye may appear to be light pink or lavender, so if you're not too much into pink, use scarlet dye to fix the shade and if you have used stain remover earlier with the fabric, prewash it to avoid discoloration in the first place.
When it comes to painting other materials like wood, cork, or paper, be advised to wear protective gloves while using these cloth dye colors.
8. Jacquard IDYE-457 iDye Poly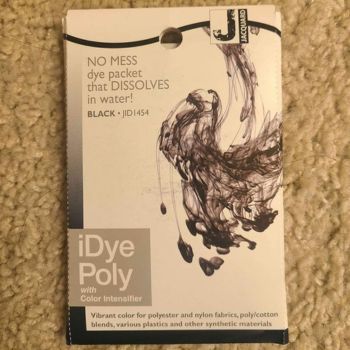 Features
Dye Type: Disperse
Used for: Synthetic Fabrics
Package Weight: 0.8 Ounces
Number of Colors: 14
Extra Features: Works on Plastic
We have synthetic fibers incorporated in most of the apparel for our casual use. And we, of course, prefer coloring them before the idea of throwing them out had crossed our mind. Jacquard IDYE poly would be at the top among the best dyes for clothing made of polyester, as well as other clothing made of synthetic yarns and filaments.
You probably underwent many difficulties with other fabric dye brands while dyeing 100% synthetic fabrics, but this dye is capable of coloring 100% synthetic items, including natural and synthetic blends.
The dye packet is itself dissolvable and contains 14 grams of dye that you can use for around 3 lbs of dry fabric.
Try your polyester satin dresses with this amazing vibrant color and get a new stunning wow look. White blouses that get sweat stains, just dye them up with this and stop from losing vibrancy.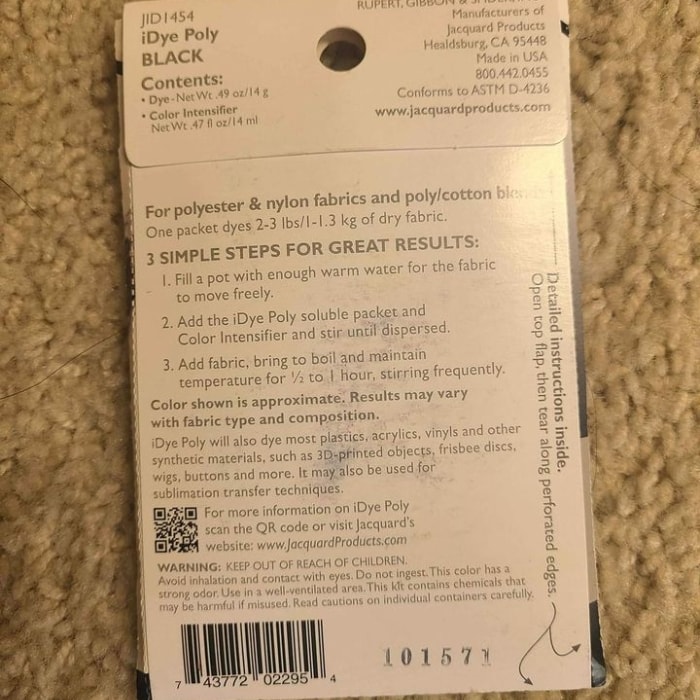 Moreover, wedding dress, ombre, joker costume, felt, bridesmaid dress, ball jointed doll, wig, curtain, table runner, golf disc, swimsuit, fishing shirt, sewing threads and even thermoplastics for cosplay can be dyed pretty straightforwardly and eye-catchy.
Your approach to dyeing might be much easier than you anticipated. First, find a pot that makes the action nice and comfy. Add dyes as suggested in the instruction; be sure you have poured enough water for the free-floating of the fabric. This precaution is very sensitive as you won't like splotches and uneven shades.
Maintain medium burner heat during dyeing period (minimum 1hr) and possibly stir every 10 min to disperse dye particles better; it ensures you don't get a streaky mess. The longer it cooks before you put in the fabric, the deeper it seems to get.
Finally, take the cloth out of the stove and shower in cold water until water retains the original color. You would like to wash the garment separately once or twice as a safeguard from staining before sweating on them.
As the pot can't be further used for cooking, you can use boiled water placed in a plastic container. Some users also tried washers and wasn't a bad outcome.
Now let's grasp some of the moves that will certainly assist in your practice. Although this very dye is perfect for polyester fabrics, you need to learn exactly how it is done because once dyed on polyester; this fabric dye for polyester is pretty hard to strip. Threads in a polyester-rayon blend when dyed, found to have picked hardly any tint. Again, lace dyeing could result in a two-toned failure, because dye pick up varies along the mesh part and the textured part.
You need to cover up your place and have enough ventilation while dyeing so that staining and fuming don't bother you. Want to save for another day? Just don't get the dyes wet. Carefully make a few holes into the dissolving layer while still having the paper sleeve and have some dyes out of it.
9. DYLON Hand dye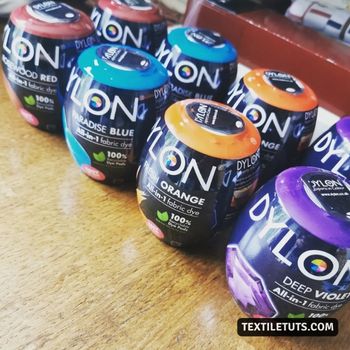 Features
Dye Type: Primarily Reactive
Used for: Natural Fibers
Package Weight: 59g
Number of Colors: 19
Extra Features: Sufficient to Dye 250g Fabric in Full Depth
Caring a washing machine that you use for dyeing can be toiling, and you don't like to risk expensive, delicate garments spoilt inside it, so step aside and have a go with hands with this stunning inexpensive product to dye your old and new clothes.
Tiny garments made of cotton, linen, viscose are suited best to this. However, wool, silk made exquisite materials will dye pastel shades. And, don't bother experimenting with artificial fibers as they won't pick up color.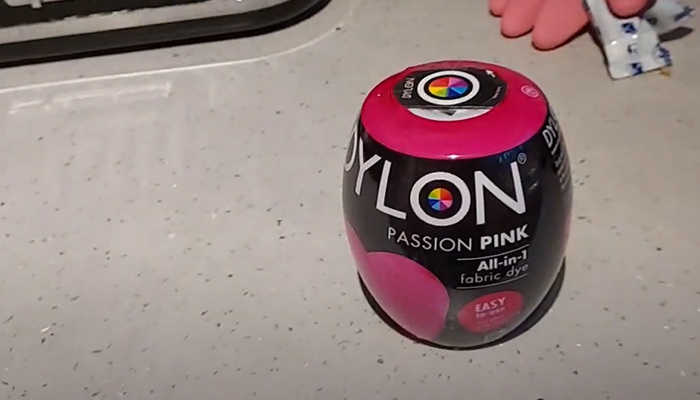 This brand is very on-trend at the moment as far as the best clothing dye is concerned, and will do incredible with white clothing. Old undergarment, short, top, jogging bottom, skirt, jean, cushion cover, the bag even converse shoe; all this stuff you could fancy to bring back the glaze to look like brand new using Dylon Hand dye.
One pack of it can dye 250g of fabric to the exact color, lighter if added more garment.
You can pretty easily treat faded jeans, oily stain, bleach mark, or sweat stains on clothes applying this dye and bring them back to life.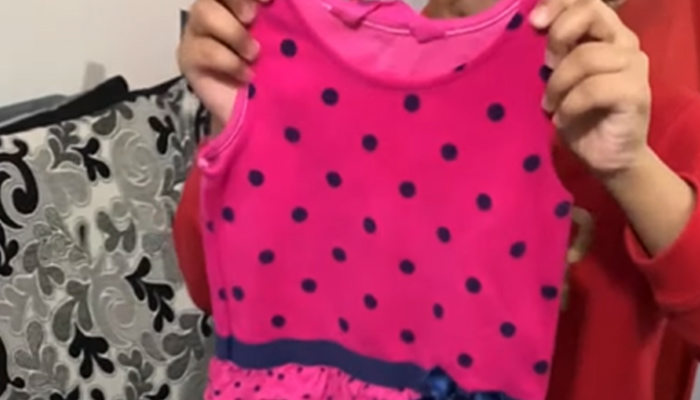 Using Dylon hand dye is super easy as you like. Have a steel bowl filled with medium-hot water and add 250g of salt into it. Add the dye that you have dissolved in 500ml of warm water beforehand and start stirring carefully.
For about 15 min, let the fabric be submerged. Then, stir usually for another 45 min before rinsing in cold water. You may run after washing in hot water. That's it; your garment is now ready to be dried.
Some of the users complained that their garments picked up 0 dyes and came out exactly like before; this would probably be for the reason that they didn't follow precautions accordingly. So, make a count on that.
Dye mixed with water can produce sediments sometimes. Be sure you're using warm water and the exact amount of salt. You may not like a dress with contrasting threads in it, so choose your color wisely.
Sometimes you might need more dyes than recommended, so it can turn out a more expensive rescue than planned. And if your material is too thick, use machine dye instead.
10. Procion PMX208S Cold Water Dye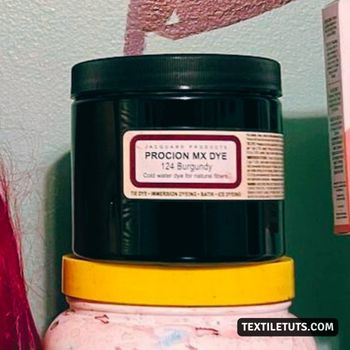 Features
Dye Type: Fiber Reactive Dyes
Used for: Cellulose Fibers
Package Weight: 4.92 lbs
Number of Colors: 8
Extra Features: Superior Fastness
These cold water dyes are the prime choice for professional tie dyers and generals who cherish for superior quality and want to be economical at the same time while looking for the best fabric dye for clothes.
The product comes with 8 vibrant colors- medium blue, yellow, fire engine red, fuchsia, jet black,  turquoise, brilliant orange,  bright green and brilliant orange; so, undoubtedly underpins for numerous hues for fabrics made of plant fibers (cotton, linen, rayon, paper, etc.). Mix your own colors and govern the richness to give your fabrics fancy touch with the fiber reactive dyes.
Thinking about fastness properties? Thanks to the manufacturers! The fiber-dye covalent bonds will provide outstanding color and wash fastness to dyed garments. You may require around 20g of dye to color 1lb of dry fabric.
Being a cold brand dye, these fiber reactive dyes enables different dyeing techniques like, ice dyeing, tub, and low water immersion dyeing, printing, etc. If you work according to the dyeing manual and exact the dye application, you are rewarded most of the time.
Dyeing instruction varies according to the technique applied. A general overview would be helpful for you, though. Presoak the garment in soda ash for about 20min, (improves color fastness) and then add dye and salt. Remember that, squeeze bottles rather than the old day dipping method makes the dye application easier.
After dyeing is done, you need to rinse it in cold water, increasingly warmer water afterward. At last, prepare soap liquor for the subsequent washing process; however, rinsing all the excess fiber reactive dyes before washing could help your washer and other fabrics from staining.
When it's crucial that you get exactly the color you intend, maybe for a special order, the color mixing could be difficult as there may be some separation in the final product. Be advised to order that color specifically.
Careful when you are using black, it could come out pale or grey on the garment. Use double the pigments suggested to obtain intense black or let the dyed cloth sit in the sun. Some users also recommended hot water.
Use our pantone textile color converter to find how much dye you need.
11. Jacquard Acid Dyes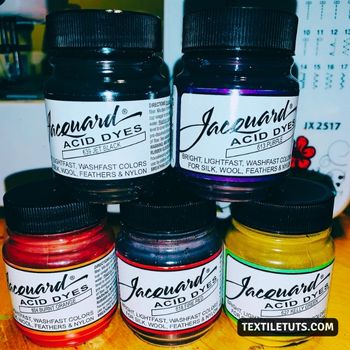 Features
Dye Type: Acid Dyes
Used for: Protein Fibers
Number of Colors: 28
Package Weight: 1.2 Ounce
Extra Features: Possibility of painting
One of the very best fabric dyes in the stores specifically manufactured for animal/protein fibers. Yes! You won't find a better one for dyeing your favorite garments made of wool, silk, nylon, cashmere, alpaca, and their blends.
Get entangled with the vividness, color range, quality, and endurance this brand offers to your textiles while producing invariable gleaming color. Not only it enables you to dye fiber, yarn, or fabrics, but it also opens up the window of traditional printing methods (screen printing, stamping, and painting).
If you are a professional silk painter, this dye is worth every penny you spend on colorants.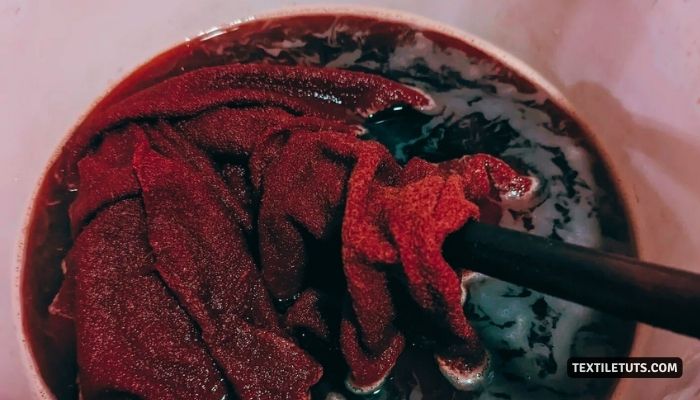 You would like to use this dye to revitalize shabby dresses like a swimsuit, legging, scarf, cardigan, blouse, etc., or dye slow color changing yarn or want to have a different color while they are still new.
Or you can be very creative while coloring loads of tiny thin wool strings for wrist wear. Even feathers, fleece for needle felting, roving will give convenient results when dyed with this.
For beginners, those who are used to fiber reactive dyes on natural fabrics, be courageous to risk your expensive wool and silk products, and dye them glorious new soft with Jacquard acid dye as it surpasses your expectation.
No doubt, the Outcome of any dyeing depends on the material, dyeing procedure, and last but not least, the tint selected. You will need 1.5 to 2 ounces of this dye per pound fabric. Maybe a bit more dyes by weight for full-color saturation if you are working with secondary. Remember not to exceed 8% dye per pound of dry fabric.
Dyeing method is simple and includes dissolving the powder dyes in warm water, putting the warm water pre-soaked fabric (it's necessary you keep the fiber wet as the dye travels much faster through wet fiber free of grease) into the dye bath, adding ¼ cup of vinegar or 1 tablespoon of citric acid per pound fabric, stirring gently for about 30 min while maintaining temperature just below boiling and finally washing in warm water with suitable detergents.
If you are dyeing woolen garments, sticking to the stovetop in low temperature would give the best result because it can separate if the dye bath gets too hot. You may use this dye for other fibers too. The only trick here is to change the mordant you are adding (soda ash for cotton instead of vinegar).
Make dye solution and store if you find weighing powders burdensome. Although, precipitation may occur while sitting for a while, slowly heat them to get liquid one second.
How to Select the Best Dye for Clothes
Fabric dye selection has never been trouble-free as there are loads of stuffs to hand. And with all those tempting commercials and showy wrappers, it's very confusing somewhat. You just need to gather some ideas about 3 indispensable criteria while choosing the ideal fabric dyes- The fiber type, suitable dyeing procedure, and fastness properties you seek.
Types of Dyes
Different types of dyes are suitable for different substrates. These textile dye products tend to provide a different level of depth and colorfastness results depending on the type of fabric. Let's look at the common types in brief.
Fiber Reactive Dyes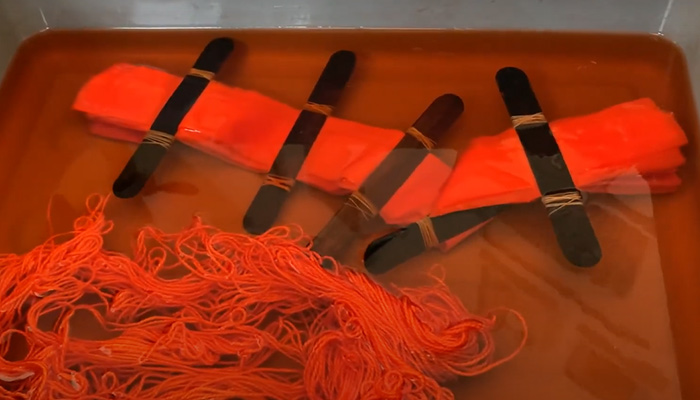 This is the best fabric dye type to dye cellulosic fibers like cotton, rayon, viscose, etc., and this high quality fabric dye comes in powder, liquid, and paste form. This textile dye class offers outstanding fastness properties as the dye particle gets fixed with fiber by means of strong covalent bonds. They are most commonly classified as hot water dyes and cold water dyes.
Chemical assistants like salt, soda ash, and soap are required during dyeing with fiber reactive dyes. These things help in 3 major steps- exhaustion, fixation, and washing off, respectively. Although it is recommended for fabrics made of cellulosic fibers, protein fibers could also be dyed using acetic acid. In that instance only the acidic reactive dye works.
Direct Dyes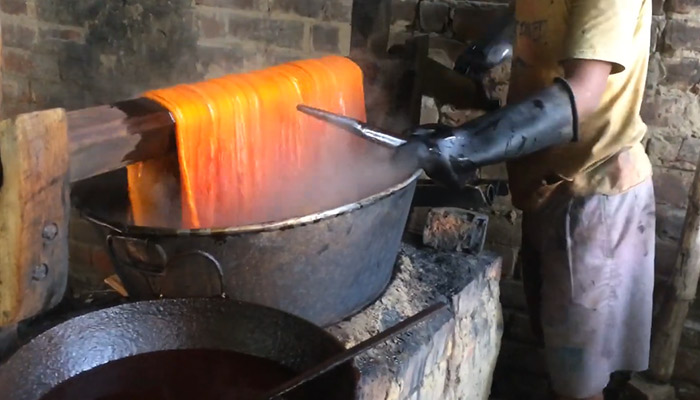 Also known as substantive dyes, direct dye is applied on the substrate with the aid of salt and alkali. These cheap water-soluble anionic dyes are actually sodium salts of different acids, which are usually found to color cellulosic items; protein fibers can also be dyed, however. Being only stuck with the fiber (weak H-bond and Van der Waals' force), the direct dye class can't really come up with good fastness attributes.
Acid Dyes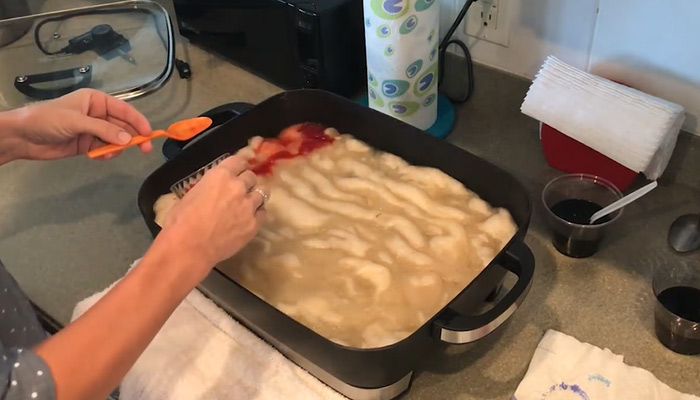 Precise for dyeing protein fibers, wash fast acid dyes require very hot acidic conditions as these concentrated powders brilliantly color wool, silk, and nylon fabrics. Extra care is needed while treating delicates to avoid degradation. Although acid dyes create ionic and H-bonds alongside weak Van Der Waals' force, don't provide great color fastness, fast to sun, however. Leveling acid dyes are the most popular category of acid dye.
All-Purpose or Union Dyes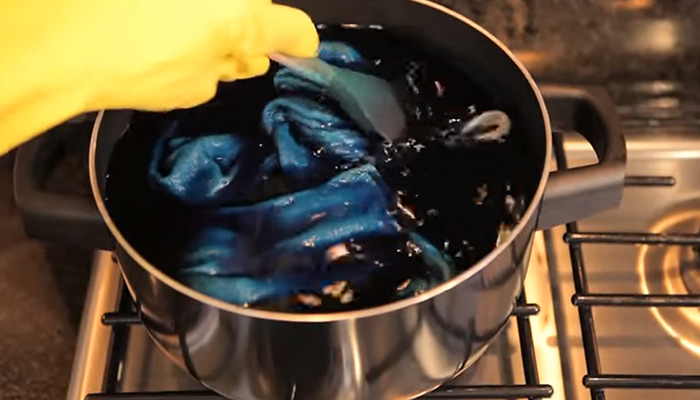 These are multipurpose dyes deliberately manufactured for cellulosic and protein fibers and especially their blends. In the past, multi purpose dye didn't offer so many outstanding attributes when compared to professional clothing dye. But now due to the advancement of manufacturing techniques, they can come out pretty handy. Typically, most of them are made from a mixture of direct and acid dyes. Some of them contain a leveling agent as well.
Easy and quick dyeing application, versatile and less equipment hassle are the reason people fall for these dyes.
Basic Dyes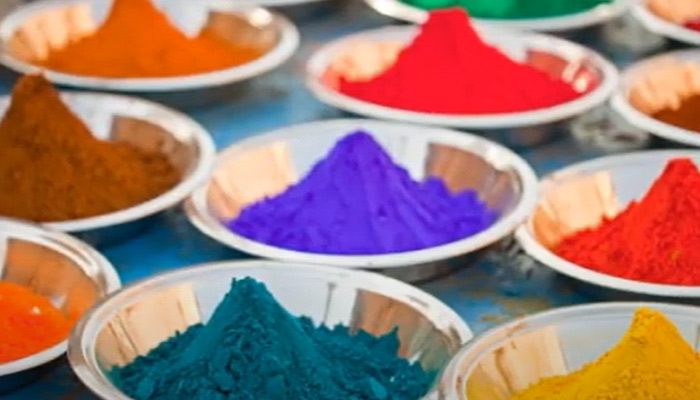 These are cationic salts of organic bases that dissolve in alcohol but not readily in water, used to color specifically jute or acrylic fiber; can be first-rate when the shade is concerned but provides poor leveling order. Dyeing with basic dye is carried out in a weakly acidic setup with other necessary subordinates, while pH and temperature are maintained with superior authority. Both nylon and acrylic fibers can be dyed by these dyes.
Disperse Dyes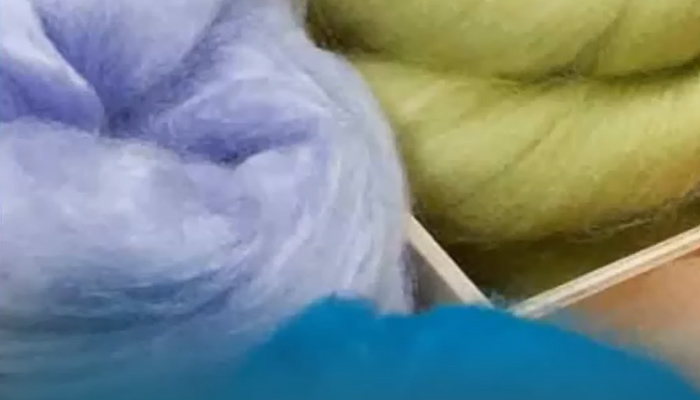 The recommended class of dyes for coloring artificial hydrophobic fibers like polyester, nylon, acetate, acrylic, etc. These non-ionic sparingly soluble dyes have no affinity for any fiber whatsoever, so need to be trapped inside the fibers in extreme hot dyeing condition with the aid of intensifier. These are often used to dye polyester and nylon fabrics.
Vat Dyes
Very costly natural colorant which comes in powder and paste form while allowing extensive shades to denim fabrics. The dyes need vatting in an alkaline environment before becoming water-soluble. These soluble dyes convert back to the original vat dye with the help of chemical oxidation (in the textile industry) or air oxidation (in home). The vat dye provides brilliant fastness results apart from the fastness to rubbing. Its light fastness is superior to most dyes for fabric.
Sulfur Dyes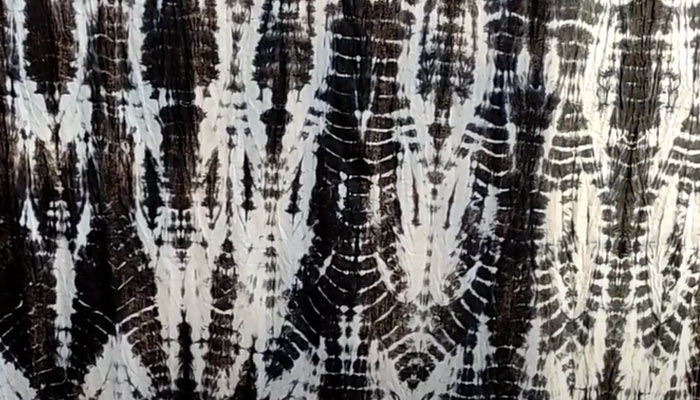 These water insoluble cut-price dyes are used in a large quantity to confer black and brown shades to cotton. Other pale tones are also produced, however, on a small scale. Like vat dyes, these need to be made water-soluble using reducing agents and then put in the alkaline dye bath. They yield moderate fastness properties.
Azoic/Naphthol Dyes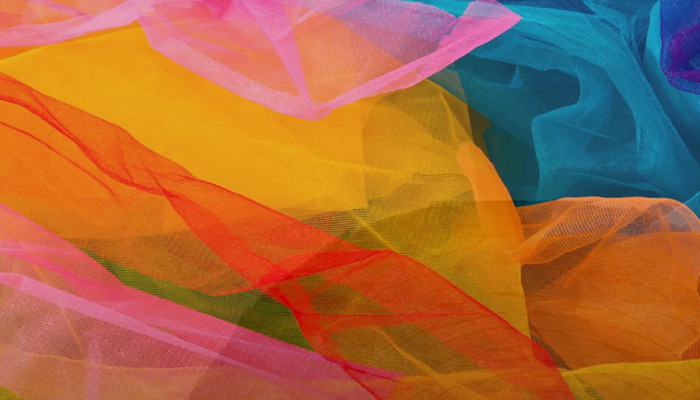 Water insoluble coloring substances bring in brilliant orange, red and scarlet hues and exhibit excellent fastness properties; also low budget. Two distinct dye baths involved in dyeing where the color is developed and impregnated. Being hazardous should be handled with care.
Dyeing Methods
The dyeing method and the equipment you decide for dyeing something, whether it's a fabric or bunch of yarns or barely the fiber, you always wish the outcome to be jolly perfect. So, going for an appropriate process and labor accordingly is important for dyeing common fabric fibers.
There are quite a few methods to choose from. It can be tie-dyeing, pole dyeing, dip dyeing, batik, low water immersion, different printing, painting freestyle, and many more. Different dyeing methods require different working conditions and are intended for the various end result.
When it comes to the machineries best fitted for your material, it's the dyeing manual supplied with the dye packet where you look for the suitable dyeing process and precautions.
Take wool, for example; dyeing wool is best on a stovetop with acid dyes. So, it's not just the dye! Rather it's a successful manipulation of 3 wise choices (fiber type, dye, and method) while your ideas and creativity of make-doing also count.
Color Fastness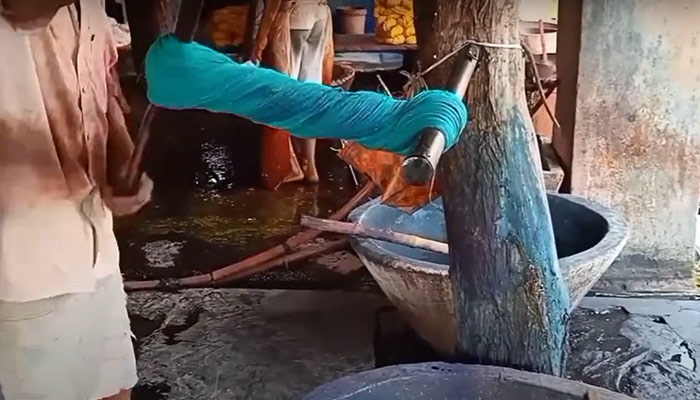 Fastness to different surrounding conditions could be a major fact while choosing best fabric dye because it's very crucial where, when, and how you are using the dyed material as long as intensity and durability matters.
Fastness to machine washing, light and rub varies a lot according to the dye used and along the hues of the spectrum. Using fiber reactive dyes will offer the best color fastness to your cotton fabrics; however, it will be washed off completely while rinsing when applied to polyester.
Again, a deep-colored dress may fade quicker when exposed to the sun than a paler one. Moreover, not following secondary steps during dyeing, like pre-soaking or after-washing, can end up in a sorry story as far as fastness is concerned. The food coloring dyes also lack the fastness requirements of standard clothing.
So, it's all about how you improvise while selecting the best dye for your products alongside the subsequent dyeing method.
Ease of Application
Complexities may arise while fabric dyeing using different pigments, fabrics, and techniques. Nowadays, people like it swift and without any hurdle. So, it's pretty much a challenge for the good fabric dye manufacturers to shape them as much user-friendly as possible.
The ease of application of a particular dye largely depends on its properties; whether it is water-soluble or not, does it sublime during dyeing, what chemical assistants it requires, available forms and shades, and many more facts. If it involves the use of any harmful chemicals, we may have to avoid it. Substances that contain phenols and formaldehyde are often categorized as harmful chemicals since these are carcinogenic.
Dyeing methods (immersion, dip, batik etc) and equipments (Stove, washer, color tubes, etc) are also decided considering these attributes.
For instance, disperse dyes have to be trapped inside the fabric using extreme hot acidic conditions in a machine and the process runs quite for a while, clearly not a fun activity, but the capability of coloring hydrophobic synthetic fibers better than other dyes makes it unique.
In a contradictory fashion, fiber reactive dyes are exhausted and fixed in lukewarm to warm alkaline conditions. They may be colorfast but not appropriate for dyeing manmade fibers. But, you can use stove or handmade dye bath, one thing you can't while disperse dyeing.
Moreover, the odor, fume, or color splashes into surrounding experienced during fabric dyeing can also have a significant effect on the selection of dye. We recommend you pick a dye wisely as the easiness of the application is certainly defined by the fabric standards, chosen dyeing method, ultimately the dye itself. If you're confused with is fabric dye the same as tie dye, consider reading our following post.
And if all the process seems a bit too much for you, you can opt for fabric paint. Fabric paint doesn't need any auxiliaries or complex dyeing techniques. These can also spruce up your faded fabrics. We encourage you to give Arteza fabric paint a shot.
Frequently Asked Questions
What's the best fabric dye?
It depends mainly on the substrate you're trying to dye. For dyeing cellulosic fibers like cotton, viscose, etc., fiber reactive dyes are the most reasonable option in terms of fastness, depth of shade, and vibrancy.
In contrast, for dyeing protein or polyamide fibers like wool and nylon, you'll be better of using acid dyes. Disperse dyes are mostly used on synthetic fabrics made of polyester.
To dye blended fabrics, union or all purpose dyes are the best option because they typically contain both direct and acid dyes. However, fastness remains to be a big concern in this case.
Which type of fabric dye is best for the environment?
If you deeply care about the effluent load, then you should go for natural dyes. However, these dyes tend to have inferior colorfastness and don't have a wide range of shade.  Also, their dyeing process tends to be very complicated.
What is the best brand of fabric dye?
Although it depends on the fabric type, we can't help but mention the brand RIT. This dye brand for clothes offers a wide range of colors at a competitive price. Plus, the dyeing procedure is really easy. Again, it depends on the substrate. But overall, you can trust this brand for providing excellent depth of shade with impeccable color fastness.
What can I do if my clothes smell bad after dyeing?
It's very unlikely if you use the high-quality fabric dyes that we have mentioned before. But if it happens, don't worry. You can use a clothing deodorizer spray to eliminate that odor.
Final Words
By far, you might have perceived the general sense about the best clothing dye and which very dye you need to choose for dyeing your fabric. Recognize the fiber type, pick up the best-suited colorant and carry out dyeing following the precautions; just do these stuff dutifully, and you will be successful every time. Remember, you can also opt for the best fabric paints if dyeing seems complicated to you.
We tried best to underline every probable indicator for your convenience as a fabric dyer. Those reviews are sketched from hundreds of user experiences to ensure you may find it practical and worth reading.
REFERENCES
http://www.pburch.net/dyeing/allpurposedye.shtml