What Color Can You Dye Green Fabric? Learn New Facts And Techniques!
Too many green T-shirts and dresses in your wardrobe and you probably want to change them. You may spend hundreds of dollars on buying a new wardrobe, or you can simply dye some of your green fabric in a different color. Yes, you can do that! So, what color can you dye your green fabric?
While it's possible to apply other colors to your green fabric to give it a new look, it depends mostly on the fabric type, the color tone, and the saturation of your green fabric. You can color your green fabric into darker, lighter, or even neutral shades.
All you need to know is the easiest over-dyeing techniques and color theory. Don't worry; you're in the right place! In a few minutes, you'll know not only what colors to dye your green fabric but also how to do it. Binge on!
Can You Dye Colored Fabric?
If you're tired of the boring old colors on your clothes or upholsteries, you don't have to keep up with it! Yes, you can dye already colored fabric and give them a whole new look. But there are a few factors you have to consider when you start the task!
Natural or Synthetic Fabric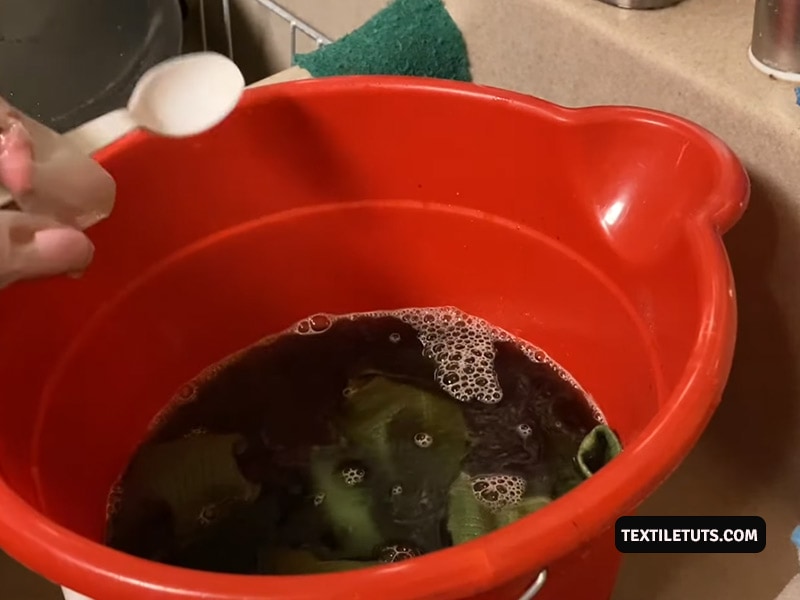 To begin with, you need to know what type of fabric you're coloring on. This will determine whether the fabric can absorb the color you apply or not. If it's one of the natural fabrics, such as cotton, wool, and silk, it's more likely that the fabric will absorb the colors quicker and better.
However, synthetic fibers like polyester or nylon will give you a hard time absorbing colors. And in the case of synthetic fabrics with a higher polyester content, there's a possibility that the colors will not be absorbed in all!
Type of Dye to Apply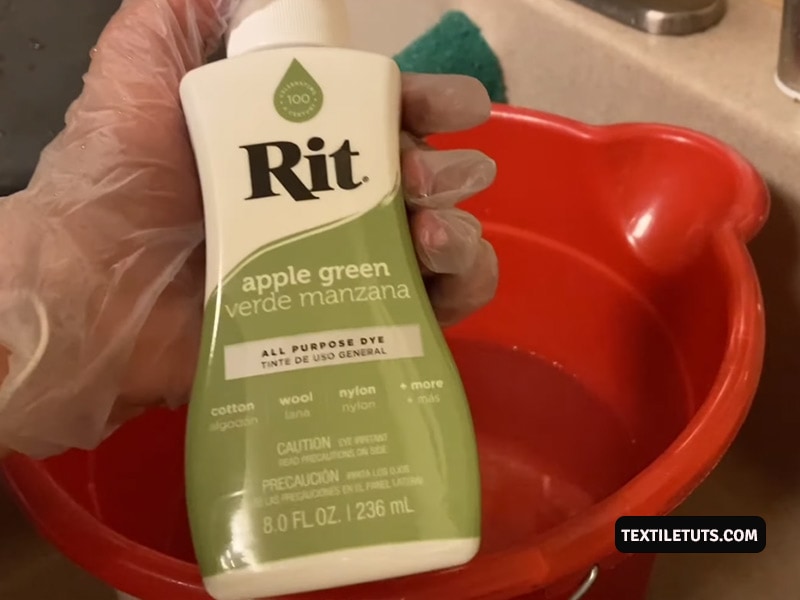 The next thing to consider is the type of dye you're using on the fabric. Fiber-reactive and all-purpose dyes are the two primary categories of dyes. If you're recoloring on a natural fabric, your best catch is to use a fiber-reactive dye, as they are specialized for that purpose.
Then there come the all-purpose dyes that you can apply on synthetic and natural fabrics without guaranteeing how long they will last!
Original Fabric Color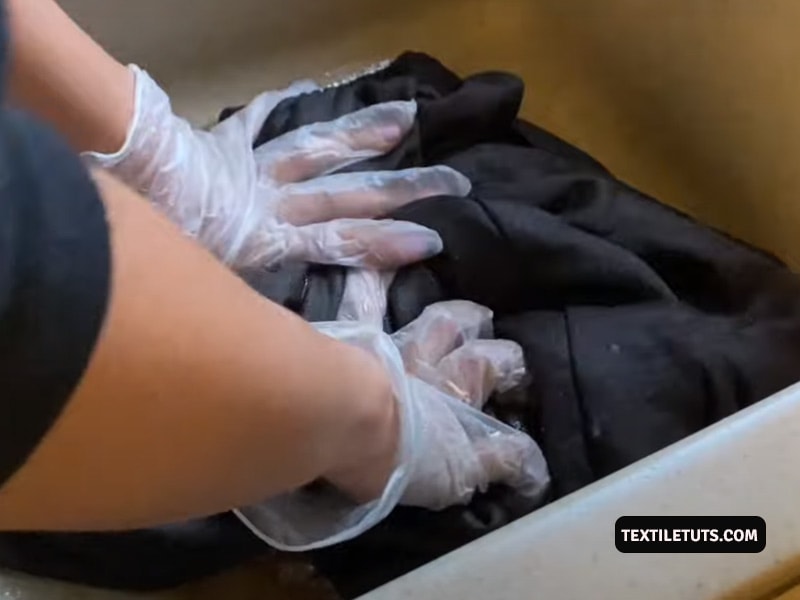 There's every possibility that the final result of your dyeing job will be influenced heavily by the former color of your fabrics. This is best understood when you're trying to over-dye a darker-colored fabric to a lighter hue.
When the original color mixes with the color you applied, the new desired hue may not be created on the fabric at all!
We'll get more to the color theory later, but before that, let's learn more about over-dyeing.
What Is Over Dyeing?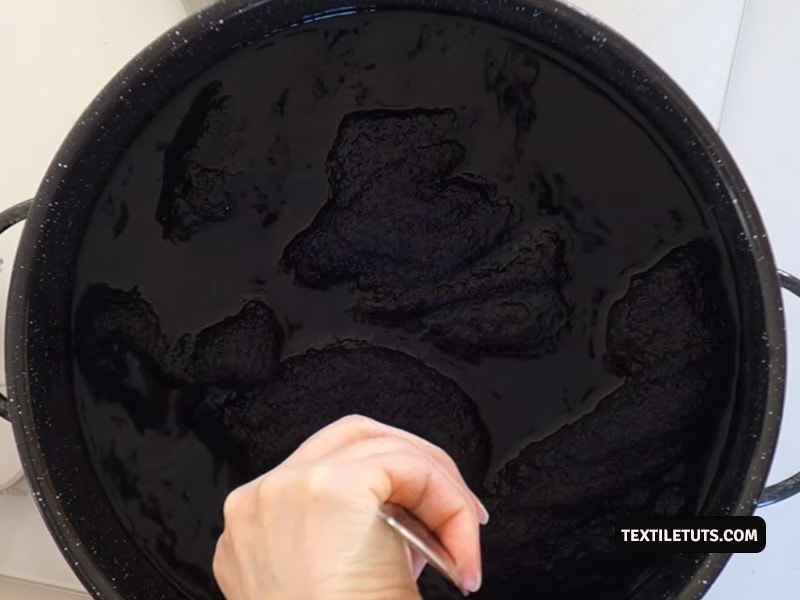 The term 'over dyeing' can mean two things; the first one is simply applying multiple layers of colors to create a depth or infusion of colors. And the next one, or the one we are talking about here, is coloring an already-dyed fabric.
Not only does this give the fabric a new look, but it also helps you update your wardrobe without having to spend hundreds on new clothes! Besides, you may also try over-dyeing faded clothes to make them good as new.
Now, you might think that dyeing a certain fabric may be extremely complex. Not really! You need to carry all the basic steps you follow while coloring a white garment.
Starting with understanding the type of garment, moving on to the type of dye to use, and the other essential tools, you cannot miss out on any of these. The only complex part is to make the right plan to achieve a certain desired color.
For instance, the steps for over-dyeing a lighter-colored fabric to a darker one won't be the same as over-dyeing a darker-colored fabric to a lighter one. Here's the smartest and most useful trick for you, experiment with the color mixing before you apply it to the fabric.
Why's that? Well, that's because different dyes have different constituents and different pigmentations, which makes them behave differently. They may absorb, reject, or overall interact with the base color in different ways.
So, before you attempt to immerse the fabric in a dye bath, test your creative swatch just to be safe!
Also, when over-dyeing a used cloth, don't forget to take care of the stains. First, you need to carefully pre-wash them and apply some stain removal treatment.
There's a high possibility that darker stains will not wash away, so what you can do is try some tie-dye technique to somewhat disguise the stains into designs.
Understanding Color Theory for Over Dyeing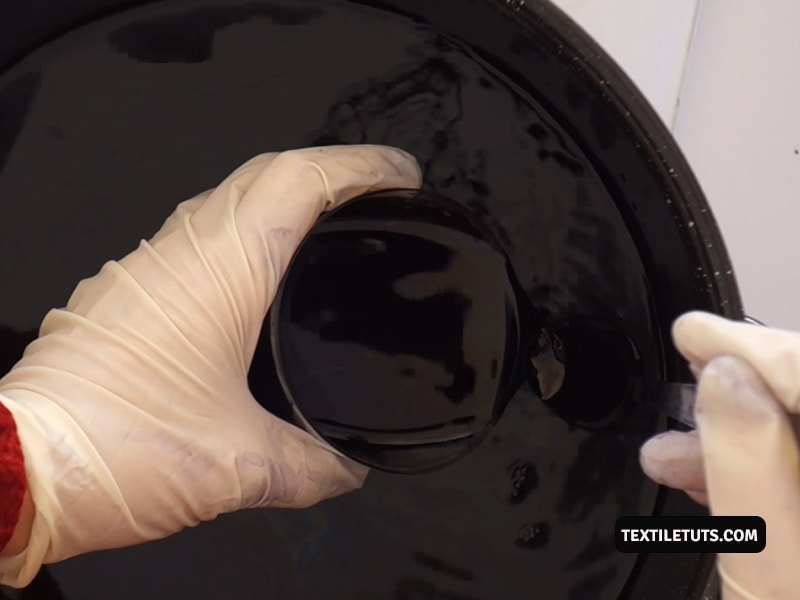 No matter if it's professional or DIY home dyeing, color theory is important, and so is understanding it. The color theory implies the understanding of how different colors relate to one another and how they can be creatively mixed to give off exciting effects.
You certainly know about the color wheel, right? If you do, that's a great place to start for us in explaining color theory. So, the color wheel has primary, secondary, and tertiary colors.
The primary hues include red, blue, and yellow, while the secondary ones are orange, purple, and green. These colors are a result of mixing and matching within the primary colors. Now, take one of the primary colors and one from the secondary ones, mix them, and there you have a tertiary color.
So, before you over-dye or recolor an already-colored fabric, you need to be clear about how different colors will interact when they mix. For example, when you over-dye a yellow fabric with blue, it will most likely turn into a green fabric.
This happens because yellow and blue are complementary colors and, when mixed, balance out each other to create a color in between, that is, green.
So, as you understand, the color of the fabric being dyed is of crucial importance here. For instance, over-dyeing a yellow fabric with red will turn it into an orange fabric, while the same red, when applied to a blue fabric, will be somewhat purple.
Besides that, you also need to understand the value and saturation of a certain colored fabric. Value implies how dark or bright a certain color is, whereas saturation implies the intensity of a color. Both these factors will affect the final result of your colored fabric.
What Color Can Be Overdyed On Green Fabric?
Green is a secondary color, and it can be a bit tricky to overdye a green fabric if it's not pale or light enough. Good that we already know about color theory!
Over-dyeing with Complementary Colors
As you already know, mixing two complementary colors results in them canceling each other or balancing each other to produce a brownish or grayish tint. So, if you want a neutral brown or gray, you need to overdye your green fabric with red.
Over-Dyeing to Produce Tertiary Colors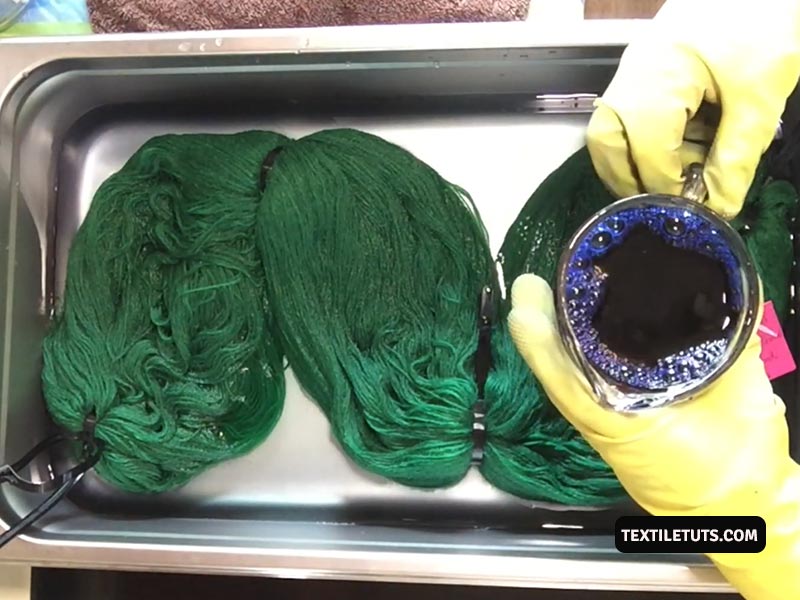 Besides, you can also try mixing green with other colors to produce a tertiary color to give you a new hue with a touch of the former one. For instance, you can get a blue-green fabric if you choose to overdye the original green fabric with blue.
You can get another tertiary color, yellow-green, if you apply yellow to the green fabric.
Over-dyeing Lighter and Darker Shades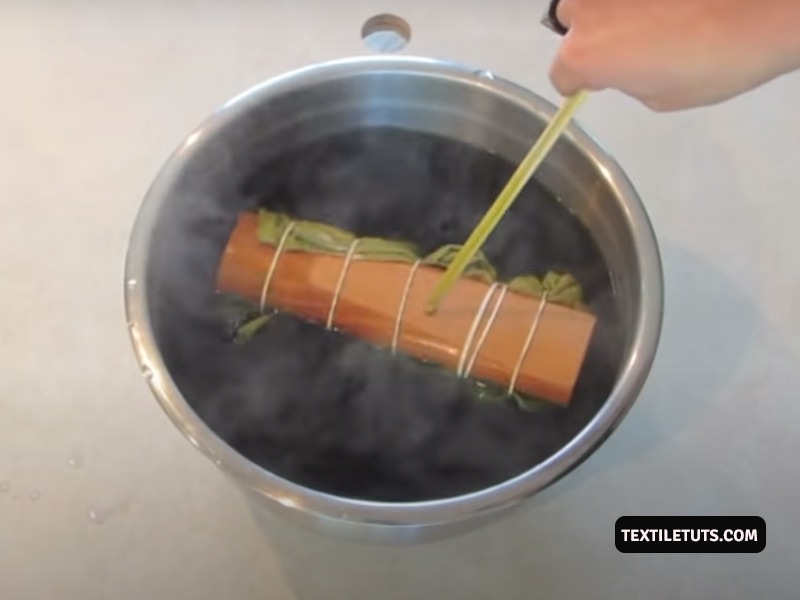 As mentioned, the saturation and value of the original color are very important when over-dyeing as well. While it is easier and simpler to overdye a lighter or pastel-toned green fabric to a subdued hue, in the case of a deeper green shade, it is easier to overdye with a darker and more vivid color.
Bleaching to a Lighter Shade
Another way to easily switch the green fabric to any color you wish is to simply bleach it out first! Green easily turns to a yellowish, off-white, or even a white tone when bleached.
But before all of that experimenting, don't ruin the whole garment; simply try out the color mixing or over-dyeing on a small piece of fabric!
DIY Guide to Over-Dyeing Green Fabric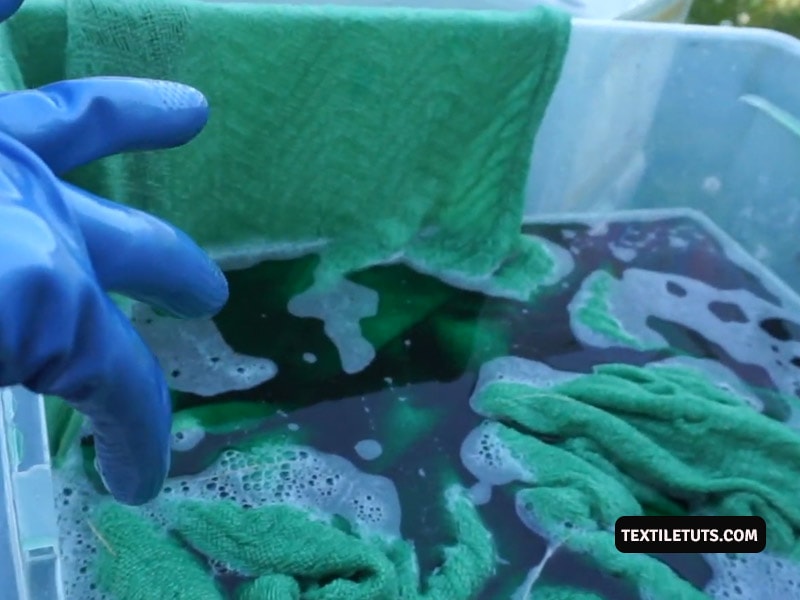 When it comes to over-dyeing a green fabric, you have two options-
You can either overdye on the former green fabric and give it a darker or neutral shade, or
You can remove the existing color completely and then change it to a whole different color
However, we do not recommend using color removals or bleaching the fabric because it reduces the lifespan and quality of the fabric to a great extent. So, if you want to change the color of your green fabric to a darker or neutral shade, let's walk you through the process.
What You'll Need
Preparation Is the Key
Before you jump into dyeing the green fabric, remember to wash it with warm water and some detergent. So, if there's any dirt, stains, or grease in the fabric, the wash will remove it uniformly. After the stain removal and pre-washing, rinse the cloth well and allow it to dry off totally.
Pick the Right Dye
Next up, you need to be careful about your choice of dye. You may choose either acid dyes or fiber-reactive dyes. While fiber-reactive dyes are good for cellulose fabric, acid dyes work like magic on natural fibers, such as cotton and silk.
Based on the type of fabric you have at hand, choose the right dye to work on it.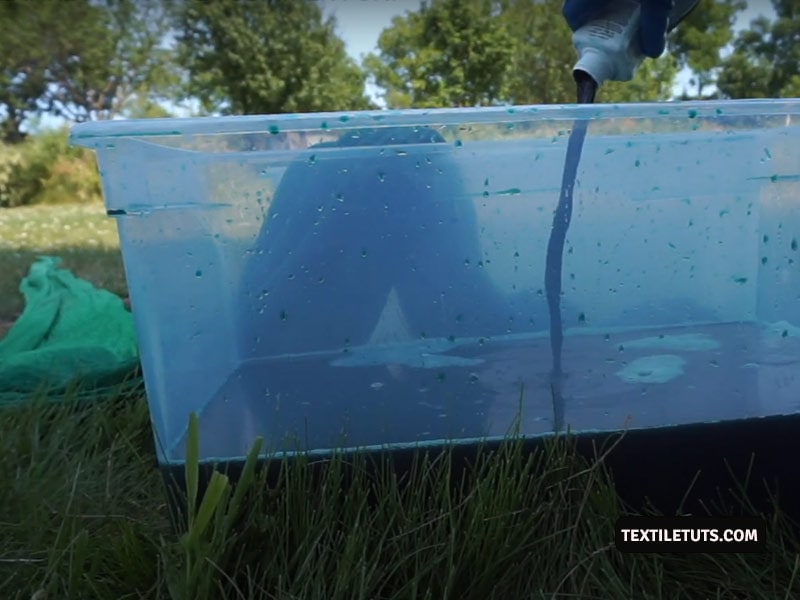 Follow Instructions for Dye Mixing
To make a solution of the dye or a dye bath, you need to follow the given directions on the package for mixing it. In the case of a fiber-reactive dye, you need to add some salt to the solution. Mix it all up in a large pot and thoroughly stir the mixture till it dissolves completely.
Dampen the Fabric
Before you put the fabric in the dye bath, dampen it with warm water, This allows your fabric to absorb the color better.
Immerse in the Dye Bath
Time for the risky step! Be careful to immerse the damp green fabric in the dye bath and fully submerge it there. Use a stirrer to gently stir the fabric and uniformly distribute the colors to every part of the fabric.
Heat It!
There will be heating directions on the dye package; heat the pot accordingly. If you're using fiber-reactive dyes, it may need hours of low-intensity heating for the colors to get mixed into the fabric. On the other hand, acid dyes will most often need an hour of low-intensity heating or even less than that.
Some Rinsing and Drying Time
Okay, you're probably done with the dyeing process! Now, carefully remove the fabric from the pot and give it a thorough rinse under cool running water. Keep washing it till you see clear water flowing from it.
When you get rid of the extra dye, simply hang it somewhere windy but away from direct sunlight.
And voila! You've done the upgrading of your fabric. If the colors aren't as you desired, just repeat the whole over-dyeing process one more time. But be careful not to wear out the fabric!
Things Not to Do When Dyeing Green Fabric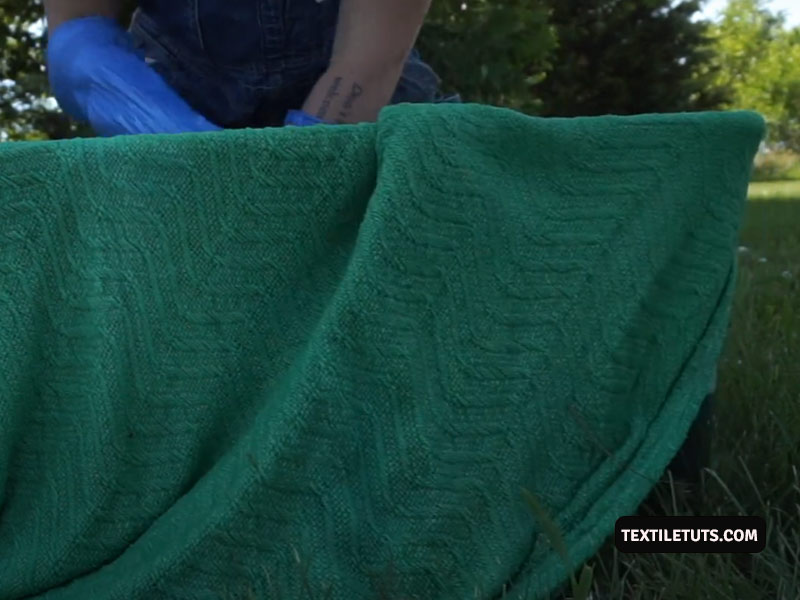 While over-dyeing a green fabric may be tricky and fun at the same time, if you want the ship to sail smoothly, remember not to make some common mistakes-
Don't Forget to Pre-Wash Properly
Green fabrics are pretty sensitive to dirt and contaminants. So, when over-dyeing green fabrics, it's uncompromisable to pre-wash them carefully.
Don't Forget to Stir Adequately
For even distribution of the color, constantly stir the soaked fabric in the pot for 15 minutes straight. Then, you can switch to stirring with intervals.
Don't Avoid Research
Before you use a certain dye for your fabric, do thorough research on your fabric and dye type to get the perfect shade!
Don't Start without Experimenting First
To avoid a huge mess and irreversible change to your precious garment, experiment with over-dyeing on a smaller piece of fabric to understand how the colors interact!
Frequently Asked Questions
How to dye green polyester?
If you want to dye green polyester, firstly, you'll need to use dispersed dyes to make a solution of the dye bath and heat it to at least 200 degrees Fahrenheit.
How do you dye green fabric darker?
To darken the green fabric color, you can simply add more blue to it. On the other hand, if you want to lighten the green hue, use yellowish dye on it.
Does pink or red cancel out green?
To neutralize a certain color, you need to add a complementary color to it. Since pink and red are complementary to shades of green, they easily cancel out the greenish tones.
Can re-dyeing my garment green cause blotchiness?
When considering re-dyeing a garment green, it's important to be aware of the possibility of blotchiness. In some cases, the fabric may end up with uneven color distribution, creating a less desirable result. However, fret not! There are steps to fix blotchy fabric dye, allowing you to salvage your garment and achieve a more uniform shade.
Wrapping up!
Yes, you don't have to keep on wearing the green shirts anymore and can easily dye over the green fabric. And by now, you also know what colors you can dye green fabric and a DIY guide to it as well! If you're new to this, don't forget to understand the color theory better.
Here's some advice. If you're not sure how a color will react with the particular green fabric, make a little swatch to try on different colors on a small part of the cloth. If you still can't achieve the right colors, be patient; you'll get there! And that's a wrap, have fun, my creative friends!