The Best Paint for Clothes – An Easy Printing Alternative
Fabric painting has always been an iconic art for many painters, crafters, and artists. Crafting on silk cloths or cotton cloths is also a hard task to do unless you use proper fabric paint.
Your design or crafts entirely depends on the quality of the paints. Therefore, you must know how to choose the perfect one and pick the best paint for clothes for your crafts.
Undoubtedly, fabric printing is a laborious task, which requires a lot of knowledge and skill. Plus, the type of dye varies according to the fabric type, and the process is also pretty different for different dyes.
Well, in this context, if you get the fabric paints, you can rid yourself of all those troubles. I mentioned proper details to narrow down your choices that will make it easier for you to work on your clothing artwork. So, let's check them out and learn something new that helps costume painters in all ways.
Why Fabric Painting is Better Than Fabric Printing?
No design limitation
No need to preapare screens
Doesn't require complex dye colour mixing
No need for thickers or other auxiliary checmicals
Workplace remain relatively clean
Efforless to achieve fluorescent shades on clothes
Essential List of the 10 Best Paint for Clothes to Avoid Printing
If you are interested in the shortcut of coloring your clothes by applying fabric paints, then give each product a thorough read.
1. JAC1000 Fabric Paint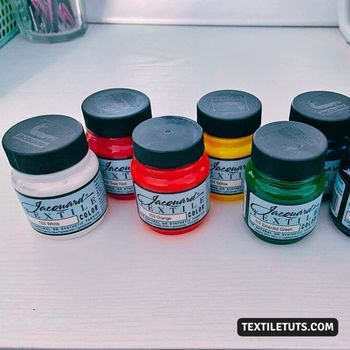 Features
Color: Eight different colors
Volume: 25 oz
Application: Easy to use
This product on this list is a package of multi-colors that is preferable for most fabric designers. Unlike the other paints, JAC1000 Textile Paint comes with eight different colors. The collection includes the primary colors every designer requires, including red, yellow, black, white, blue, purple, green, and orange. These are regarded as the best paint to use for clothes by many artisans.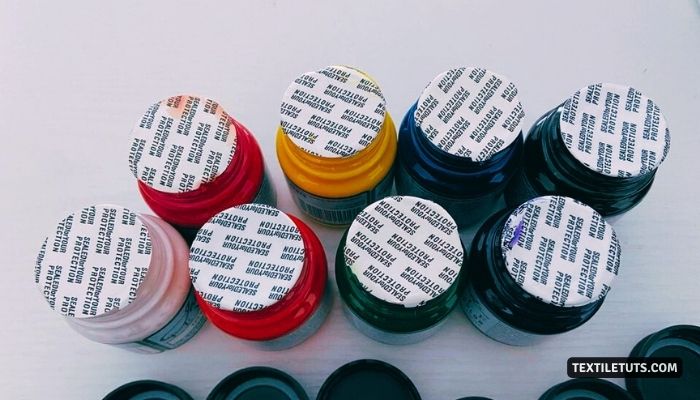 Besides that, every color comes with an individual 2.25 oz pots. That means you are getting enough quantity of paints you require for clothing designs. Moreover, Jacquard Paints are very handy and easy to use. All you have to do is dip your paintbrush inside the pot, and then you are ready to go.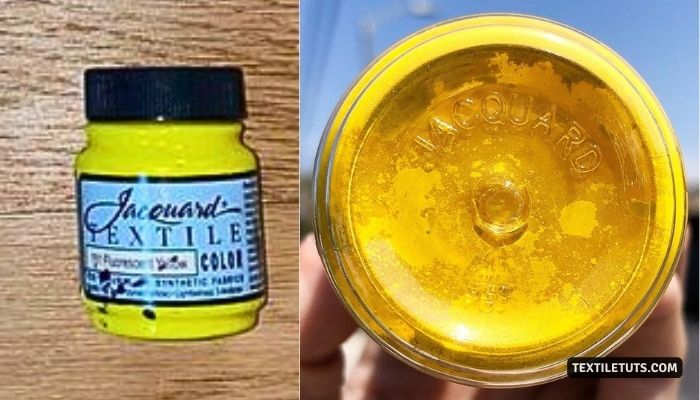 On the other hand, you can easily carry them along with you wherever you want. Those pots are not large enough that will cause problems while carrying them.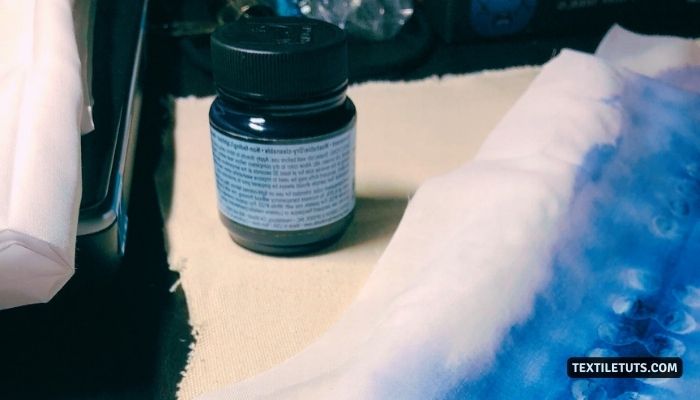 The best part of the JAC1000 textile paint is its quality. Once you apply those paints on the fabric, you will love the output, how it looks. The color spreads nicely and makes the fabric soft without any crackings on the design or the cloth. Therefore, you can easily make your innovative, mythical, and buoyant designs with the help of these paint sets.
2. Plaid Delta Acrylic Paint Ceramcoat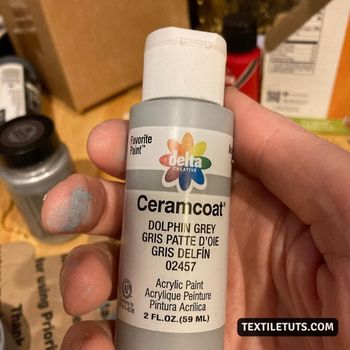 Features
Volume: 8 oz
Application: Smooth
Plaid Delta Ceramcoat is a non-toxic paint that has a very low whiff. And it is water-based as well, which allows easy cleanup without any hassle.
Plaid Delta Ceramcoat comes in an 8-ounce bottle. Therefore, you can easily mix 2:1 dose of 8-ounce delta textile medium ceramcoat with the delta acrylic paint to make it wearable and washable fabric paint.
Besides being wearable once you paint the fabric with this mixture, the paint won't demolish after drying unless the cloth is air-dried material. To prevent damage to your paints on that cloth, what you can do is just wash it gently with the help of a machine by adding some moderate soaps or detergents.
Plaid Delta Ceramcoat allows no bleeding, and it penetrates very nicely through the fiber of the cloth's fabric. Moreover, this paint dries on the fabric cloth without any hassle of cracks. Therefore, it provides an excellent medium for you to design innovative creations of fabrics and becomes the best paint.
3. Dual-Tipped Fabric Markers with Washable Colors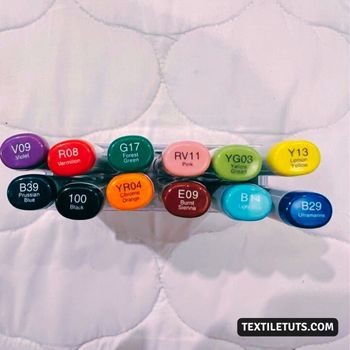 Features
Color: 12 color master set
Volume: 06 x 5.59 x 1.26 inches
Application: Easy to use
Like the JAC1000 paint set, Creative Joy also included twelve different colors in one set. Moreover, these paint markers have two tips. One for creating a precisely detailed outline, and the other one is to fill space with color. Besides that, the color set includes mint green, deep violet, brilliant blue, and many more colors.
You can use these fabric markers on almost all clothes, including fabrics of sneakers, aprons, jackets, and many more. The process of paint drying on the fabric is very easy, making it a worthy contender of being the best paint markers for clothing.
You can easily wash it in the cold water, and these types of paint markers don't create any mess.
Furthermore, Creative Joy Dual Tipped Fabric Marker is non-toxic. Therefore children can also use them to improvise their creativity on the clothes.
However, the vibrant color quality of these markers matches the standard of EN 71-3 as well as ASTM D-4236. That refers to be useful for both the beginners as well as the experts. Indeed, its dual end tip allows maximum ease of applying textures and in-depth details on the fabrics.
Apart from all its features and specialties, from my side, I found these fabric paint markers very premium in quality and well-saturated colors. Hence, if you are looking for fabric paints that are brighter and easy to apply, then Creative Joy Dual-Tipped Fabric Markers will be ideal for you.
4. Crafts 4-All Dual Tipped Permanent Fabric Paint Markers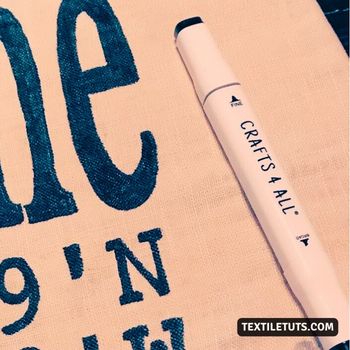 Features
Color: A set of 12 markers
Application: Effortless
If you have any previous fabric painting experience, you must have known the Crafts 4-All brand. They are mostly known to the painters because of their versatile paint markers.
Meanwhile, I collected the most flexible dual-tipped fabric paint markers of Crafts 4-All for you to present your fabric sketches or drawings innovatively.
Like the JAC1000 Dual Tipped Paint Markers, you will also get some brilliant color combinations on their sets. Moreover, you can also choose color sets between twelve colors, twenty colors, and thirty-six colors. You can pick any of them according to your assertion.
Furthermore, Crafts 4-All involved too much effort in their color quality. Undoubtedly, the designs will stand out from the crowd once you apply them to the fabric and dry them. Having non-toxic chemicals, children can easily use these markers to enhance their art skills.
And if we talk about which type of fabrics is suitable for these paint markers? Dear, you can do graffiti, arts, sketches, paints, draw, etc. on almost all fabric objects, i.e., handbags, canvas, wall arts, baby gear, and many more.
Crafts 4-All fabric paint markers have the exuberant pigment of fabric ink. And it doesn't even create any mess. Also, if it does, you can spontaneously wipe off the messy part with water.
After all, these markers are the most long-lasting paints as it is washer-proof, weather-proof, light-fast, fade-proof, and no bleeding. So, once you embed your creative works on the raggery, dry them nicely. And then you will be ready to represent them as you want.
5. Neon Nights UV Black Light Glowing Fabric and Textile Paint
Features
Color: Set of eight paints
Volume: 0.7 fl oz each
Application: Easy
In this list of best fabric paints reviews, I mentioned paints that mostly comes with multiple colors inset. And Neon Nights UV Glowing Fabric and Textile Paint are also one of them. This set of fabric paints also comes with eight different colors: red, blue, green, purple, orange, pink, yellow, and white.
Unlike the other best paints, Neon Night UV paints come with special features in it. How would that feel when you enter a party of your friend, and your custom designed t-shirt starts glowing in the dark? Sounds fun, right?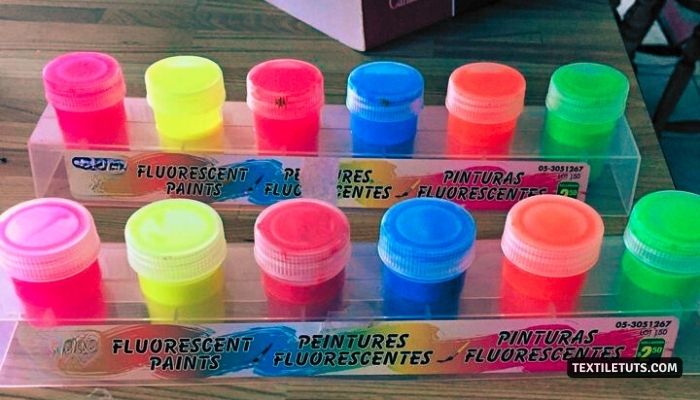 To get that unique look that grabs everyone's attention for at least once, this glow in the dark paint is there for you. These paints will present your entire artwork, even in the dark. On the other hand, during day time, the color will also provide a standard look.
Talking about Glowing Fabric Paints (according to my research), Neon Nights is the finest fabric paint brand that provides such unique features that boosts every artist, painters, and sketchers skill.
Glowing textile and fabric paints come inside a pot of 0.7 fl oz each. Moreover, the colors are long-lasting and washable with water. Therefore, you don't have to worry about the mess it creates (mostly, it doesn't create any mess). Indeed, you can also iron your fabric even the paints are on. This is a must have item for any artist's art supplies.
6. Tulip Washable Slick 3D Fabric Paint Set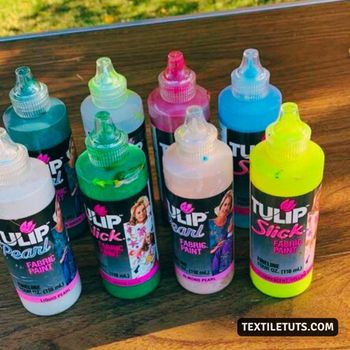 Features
Color: Set of six colors
Volume: 1.25 fl oz each
Application: Swift and easy
If you are looking for handy fabric paints, I suggest you try out this Washable 3D Fabric Paint Set. This paint set comes in 1.2fl oz squeezable bottles, which is why you can easily draw an outline, writer any words, or perform other detailing works very nicely.
Separately, these paints are not for vast usage. Tulip Washable Slick 3D Fabric Paint is perfect for detailing or outlining on cloths. Moreover, the six different color spectrums, including the primary color pigment colorings, provides no lackings on your designs on clothes.
Nevertheless, the colorings allow a 3D effect on your design that makes your arts stand out from everyone ultimately. Apart from that, this paint will not show up any cracks at all. Moreover, kids can also use them as much as they want to bring their creativity to live on cloths.
Meanwhile, if you face any mess from this paint, then do not worry, as it is washable with water. Therefore, you can easily wipe off the messy part or wash the entire color using a washing machine. But if you want your art to last longer on your fabric, make sure you dry it well enough to keep that outlook.
7. Jacquard JAC9908 Dye-Na-Flow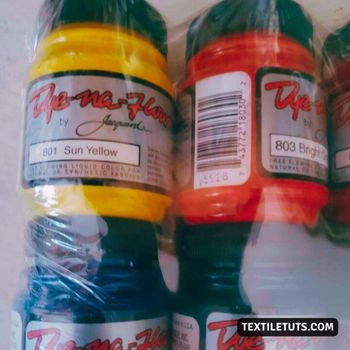 Features
Color: a set of 9 colors
Volume: 0.5 oz each
Application: Effortless
Pay heat swim lovers! I brought a gift that you can use to grab the crowd's attention, even under the water. It is nothing but the Jacquard JAC9908 Fabric Paint, which is very easy to use and makes your sketches attract every eye.
Well, if you have gone through my entire content, you must notice that I already involved another Jacquard product that is JAC1000. Jacquard products are doing intensive works on their fabric paints, I must agree.
But the sad part of this fantastic coloring liquid is its amount. It comes in 0.5 oz pot measurements. that is not enough to deal with the entire swim-suit (if your artwork is that big, though).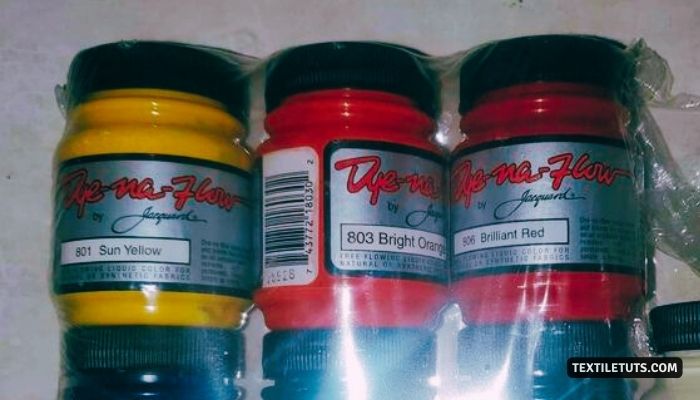 Apart from that, this free-flowing and highly intensive color makes the paint job very clear and visible even in daylight, like watching a headlight during the dark. With that feature, I must add that you will be getting nine colors along with this package. I meant the colors brass, blue (with three different shades), red, burnt orange, yellow, cranberry red, orange, and green.
Besides that, once you put them on the fabric, let it dry. And then iron it to fix the colors nicely and makes it looks stunning. Moreover, you can also wash them all but with the washable machine.
You can try them all on the ballet gears as well as on your T-shirts. In fact, this one can be hailed as the best paint for shirts. Those of you who are a beginner, you guys can use it to learn fabric paintings.
8. Wilkins Premium Midsole Marker Black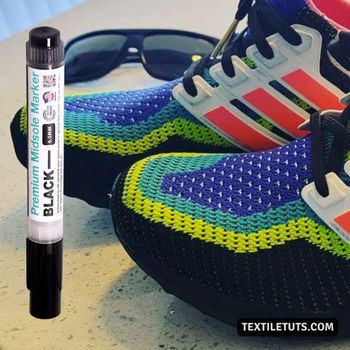 Features
Color: Either black or white
Application: Flexible
During our everyday life, lots of us face the issues of damaged shoes or sneakers. Mostly the school kids involve themselves with this problem a lot.
Sometimes, some expensive shoes or sneakers like the Gucci Sneaks, LV Sneaks, etc. break us into tears when they get the scuffs, marks, or damages.
Well, here I brought a solution for you. It is the Wilkins Premium Markes. It is a permanent paint marker that has acrylic-bonds in it. And these acrylic-bonds helps a lot to cover the marks, scuffs, and blemish your shoe more like a brand new one. Wilkins Markers are also a handy tool if you want to restore or treat the yellowish boost or ultra boost.
But before you get confident, I must remind you that there are only two colors available of the Wilkins Premium Markers: Black and White. Therefore, if your footwears are black or white, then you can use these markers.
The three tips allow you to create fine details using this marker. And the pump-action feature prevents the marker from overflowing liquid. Indeed, it creates no mess at all as it releases a color shade of matte finishing.
On the other hand, professionals also use them to paint on sneakers and give them an outstanding look.
I guess you have already seen the footwear of 69, Trey, JB, XXXTentacion, and many more. Their footwears include unique designs that stand out in a pretty unique way.
I don't know if they use these markers to do those stuff or not. But, surely, you can do those designs on your sneaks using the Wilkins Premium Midsole Markers.
9. Tulip 20403 Soft Fabric Paint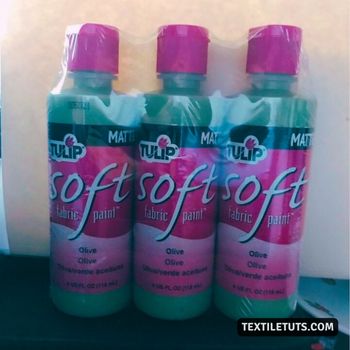 Features
Color: 34 different colors
Volume: 4 fl oz
Application: Straightforward
So far, you have seen the fabric paint products that come in sets of multiple colors. But now I mentioned a cloth paint that has over two dozen colors. Just pick the right color you require, and you are ready to go. I short, Tulip 20403 Soft Fabric Paint comes with single paint bottles, not an entire set of color bottles.
Nevertheless, Tulip 20403 is not so different from the other fabric paints but has some features that make it unique.
Starting with the standard features is that Tuli 20403 is a non-toxic fabric paint, which is why children can use them. Moreover, it includes the water-based formula, i.e., once you apply the paint on the material, let it dry naturally for a couple of minutes. Then use a steam iron machine and hold it ½ meter above the design to make it dry correctly and get a nice texture on your art.
The soft matte finishing of this fabric paint makes the artwork looks more eye-catchy. And obviously, you can follow plenty of ways to apply the Tulip 20403 Fabric Paint on your attire. You can use a sponge applicator, a brush, or a paired stamp and stencil to give the design a beautiful detail.
Although you might require to involve lots of color layers on dark cloths to make it looks visible. But based on the material color, you will know how many layers you need to make your design visible. But don't give too much of those paints or else it will become crusty and stiff.
And lastly, this color also comes in 4-ounce bottles. That means you will be getting lots of colors to make your work done very precisely.
10. Jacquard Alcohol Fabric Inks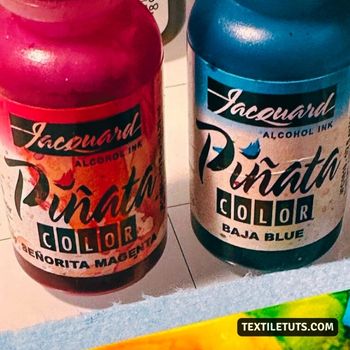 Features
Color: A set of 16 colors
Volume: 5 oz. bottles
Application: Easy
Here comes the last fabric paint on this list. But being the last one doesn't mean that it would be the worst one. Honestly, I mentioned the top ten fabric paints (according to my research) for every type of clothing artist, no matter he/she is a pro or a beginner. These Fabric Paints will help them in many ways on their projects.
And ending up the list with another most amazing paint tool from Jacquard gives a positive vibe on the Jacquard Products. Well, Jacquard Alcohol Fabric Inks is alcohol-based fabric paint that provides more transparency. Therefore, it delivers its best outlook in the dye-like applications.
If you are one of them who prefers light paints or transparent paints on their fabric materials, Jacquard Alcohol Ink will surely be the most reliable option. The color looks very astonishing, light-fast, and it is very durable.
On the other hand, you can easily wash your paints off the cloths using alcohol. Furthermore, using acrylic paints on any type of material is very relaxing and satisfying. It makes the work more accessible than acrylic paints.
This paint suits mostly on the non-porous surfaces or any synthetic fabrics. Being light in color it also allows you to create and design innovative arts on your cloths. But then, you can also use the airbrush system to get a high flow of colors.
Factors You Should Consider to Pick the Best Paint for Clothes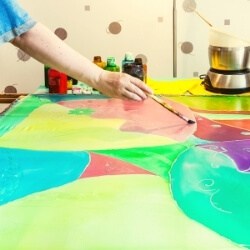 Before you jump to the list of paints, you must know how you can select the best one for your purpose? Basically, there are plenty of fabric colorings that have a variety of usage. So, don't you think proper guidance will help you to pick the precise one from the list? Yes, it will. So let's check them out:
Varieties
If you have previous experience in fabric dyes, you might notice that fabric dyes are not smooth. Their pigments are sticky enough to bind with the fiber molecules of the fabric cloths. Most of the fabric paint brands use different chemicals to get that stickiness and permanency.
Besides that, there are plenty of ways you can apply paints on your fabric cloths that include; brush paintings, markers, sprays, and many more. It is more likely to be a precise decision if you know first how you will be using those paints.
Hence, you must understand the types of fabric paints you need and how you can use them before you go for a certain one that has in your mind.
Fabric Dye
Fabric dye is mostly a transparent clone of this type of paints. The results are almost the same as the alcohol-based fabric colorings. But the rich tone with higher saturation also provides the same output as the acrylic-based paints. Sometimes the appearance looks more like the inks of the alcohol-based paints than the acrylic fabric colorings.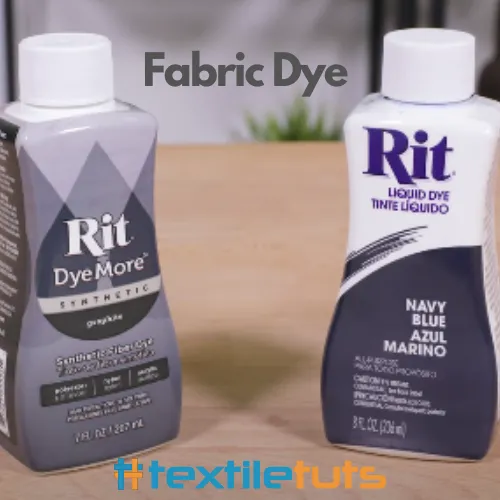 After all, fabric dye is an alternative option for fabric paints. Yet, I remind you it results slightly different from the fabric paints. On the other hand, your usage of dyes relies on the types of fabric dyes. So make sure you pick a specific fabric dye that matches your applying method.
Acrylic-Based Fabric Paint
These paints are generally the combination of color pigments and the acrylic polymer. This mixture is then emulsified with the help of water to get the precise texture of the fabric paints. And to be real, these acrylic paints results excellent in most cases. As a result, you will notice that acrylic paints are the most popular and common paints in the garments industries.
Apart from all the other types of fabric paints, acrylic-based fabric paints are very durable, and it nicely bonds with the fabric cloths.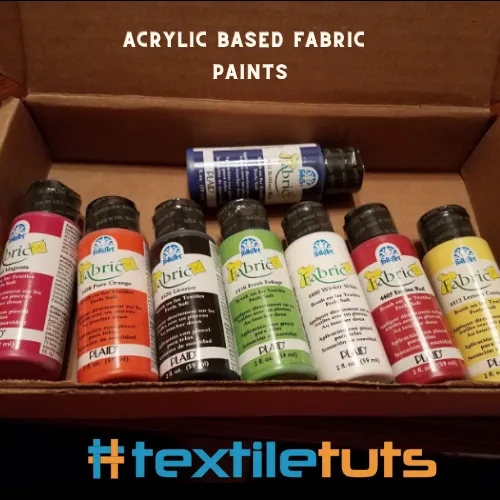 Thus, the design or the paint stays on the fabric cloths for the long term. Even though it gets through repetitive washes, the paint won't decolorize or lose its texture.
On the other hand, this acrylic fabric paint prevents fading very quickly even after it gets through too much light exposure. Moreover, without demolishing its consistency, you can easily change the transparency of this acrylic fabric paints.
Apart from its features, these acrylic cloth paints have many methods of applying it on cloths as well. You can go for brush paints, painting markers, sprays, and so on. If you are looking for cloth paints regarding textile works or garments clothing design activities, I don't think acrylic-based paints have any competitors in this sector.
Alcohol-Based Fabric Paint
These are mostly usable on non-porous fabric cloths. As you know, this paint contains alcohol in it. Therefore it drains through the porous fabric cloths very easily. In short, alcohol-based fabric colorings are not for porous fabrics. And that is why these paints are not that common in the market.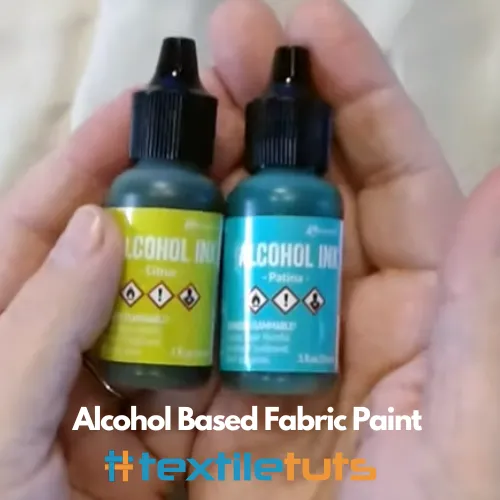 Apart from that, I must remind you, most of our garments' clothes and fabrics are porous. Moreover, the ink of this paint has very low saturation and higher transparency.
Therefore, you need to apply more amounts of this paint on specific places to get the rich tone, texture, and color. Besides that, alcohol fabric paint doesn't provide better output on dark color clothes as it is pretty light in color brightness.
But if you use this on non-porous clothes,  I must say you will get impressed. These alcoholic-based colorings are the perfect choice for non-porous fabric clothes. The pigment gets delivered to the medium very precisely with the help of alcohol. In this paint, alcohol is acting as a binder, which is why you will be getting a stunning appearance on your cloths.
Specifications to Classify Paints for Fabric
Apart from the types of fabric paints, there are other features and characteristics of a fabric paint that you must consider before selecting a particular fabric paint.
Here, I mentioned those characteristics that result in both the functionalities and the final outlook of the colors. So once you get to know those features, it will be easier for you to make a decision.
Temperature Setting
After applying the design on the fabric clothes, the next question we face too often is how to make it last longer. Well, the answer to this question is by applying a certain amount of heat on the paint after you use it on your cloth.
Different clothing paints require various amounts of heat to adhere to the fabric. But you must know that a quality paint adheres well enough even after it gets less heat amount.
On the other hand, the fabric also matters a lot. If you are using a poor heat setting fabric paint, then you will need to apply too much heat to make it adhere to the cloth. But too much heat might burn or demolish your fabric.
Paint Vagueness
Different types of fabric paint come with varying paint opacities. It depends on what kind of paint you need or the type of paint you are using on your fabrics.
You will get to see that some paints have rich tones; some have a better blurry effect, whereas some are transparent. So you will surely get a good result if you can judge the paint features and match your requirement.
As a hint, I would suggest you use the dull colors of cloth paints on your dark clothes and use the transparent one on your light-colored clothes.
Text and Body of Paint
If you have some previous knowledge about fabric designs and colorings, then you may already know that almost all paints for fabric are bodiless. These bodiless paints are the most suitable options if you want to paint your airbrush system, or you are willing to get the water-color look-alike effect on the paints.
Besides these bodiless paints, you will get good output from the heavy thick body paints.  They perform great on the fabrics and provides more textures in the designs.
Furthermore, you can also change the consistency of the heavy thick body paints to light and bodiless paints by just adding and mixing some water in it.
Forms of Cloth Paints and Applying Procedures
These paints have many ways to apply them to clothes. I am guessing; you already know most of them. Even though if you don't, then nothing to worry about as you will get all of the application methods in this section.
But not all of them might suit your choice because you will find some of them are adaptable, whereas some of them make it easy for you to create unique designs on the clothes and give it a new appearance.
Fabric Ink Markers
Fabric markers are undoubtedly the ideal choice for giving your design a niche and sharp details and elaborate it on the clothes. These markers are not different from ordinary markers that kids, students, etc. use in their daily works. Indeed, ordinary ones are not paintable on the fabric clothes, but with the fabric paint markers, you can easily design on the fabric clothes.
Moreover, other application methods are not that portable and convenient, as the fabric paint markers. You can easily carry them inside your bag or pouch, from place to place. But sadly, being compact, the amount of paint quantity is less in it compare to the other applying materials like paint sprays, special-dimensional paints, etc.
If you need those, you can go through our Arteza fabric paint reviews.
Spray Cans
Like the Fabric Paint Markers, spray cans are also an ordinary tool that you can use to decorate or paint designs on your fabric clothes. The only difference between regular spray cans and fabric spray paints is that the spray paint is only designed for clothes painting.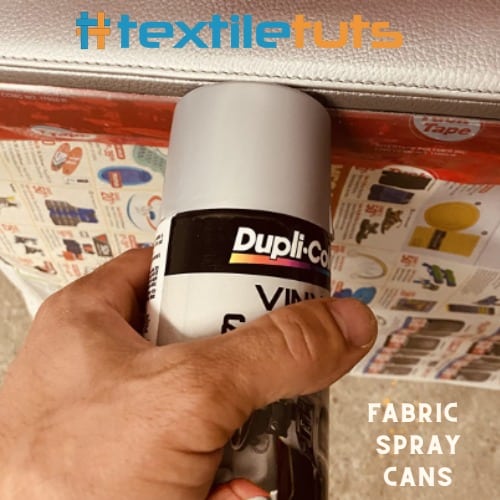 These spraying paint cans are an essential tool for the designs that are very simple and include no details. In that case, you can go for the spray cans.
Puff Paints
Puff paints are mostly acrylic-based fabric paints. Most of the textile works or garments sectors require the appearance of separate-layers or certain textures. For those works, you can use these puff paints. These paints are also known as the Dimensional Fabric Paint.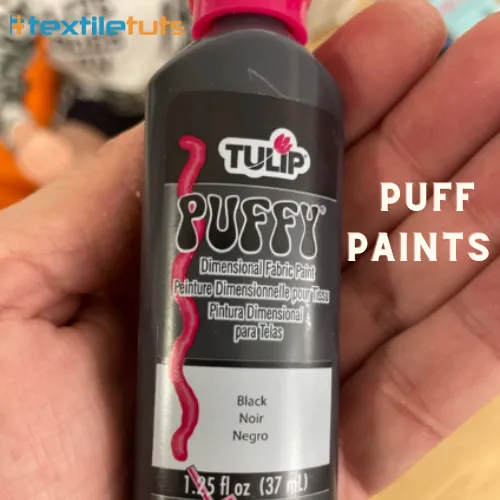 Moreover, if you desire to add some uniqueness to your clothes design, then these puff paints will make it work for you.
Liquid Form
This paint form is the most common version that you will find in every craft store. And most of the painters use this liquid paint forms to work on fabric clothes. Depending on the paint brands, you will find lots of different consistencies of these liquid fabric paints.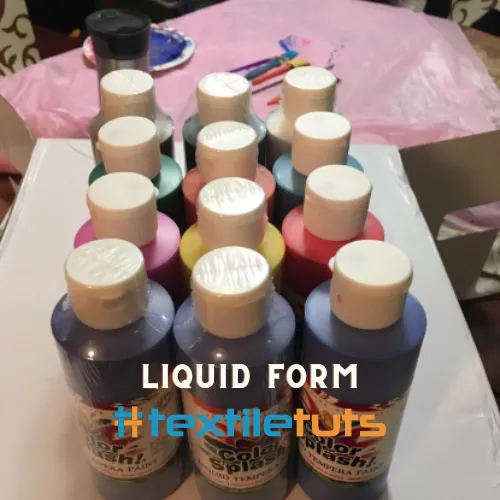 Apart from that, there are lots of supplements available along with these liquid paints. With these supplements, you can easily change its transparency and consistency as well. These are available in a set of many colors. This is the type, which is used for clothes printing machine by many brands. And of course, you can print your clothes with the best hand iron transfer paper as well.
Frequently Asked Questions
What is the best paint for clothes?
The best paint to use for clothes is unquestionably the Jacquard textile color paint. This one ideally meets your various crafting needs as it comes in a wide range of hues. You will have 8 different colors to choose which will ensure satisfying your painting demands.
Also, it's suitable for dummy artists and elites both. Moreover, the application process is supremely handy and easily maneuverable.
Besides the high opacity of these colors facilitates permanency while taking care of the clothing, furniture, shoes, or other decorative embellishments. You can also perform any kind of DIY or school projects with this fabric paint. Being a multi-purpose paint this one stands out from the crowd and becomes the best above all.
What kind of paint can be used on fabric?
If you are asking for one specific answer then undoubtedly acrylic fabric paints. However! You can use any paint which is specifically crafted for fabrics or refers to "fabric paints".
And one more thing which can be taken into account while you look for fabric paint is "durability against routined use, regular washes, sun exposure, body moisture, etc"
How can I permanently paint fabric?
The most effective way to paint your fabric permanently is to include acrylic paint in a fabric medium. Acrylic paint doesn't only ensure permanency but also a seamless hue. Another way is to wash your garment before painting and when the painting is done; leave it for 24 hours to dry.
Once it's dried consistently make sure you apply some heat using an iron on medium settings for 4 to 5 minutes.
Will acrylic paint work on fabric?
Yes, definitely they will! In fact, they do wonders on your fabric and reigns over other fabric paints in terms of durability and opacity.
What can I do if my fabric stinks after painting?
It can happen if you're using low-quality paint. In that case, you can use an odor eliminator spray for fabric to solve the issue.
Last Thoughts
Here comes the end of the context. I wrapped up the article with ten best paint for clothes that you can use for your clothing design hobbies, textiles, and garments works. Besides that, I also included some valuable information that will guide you through selecting the best one according to your needs.
With that sayings, I hope I was able to provide you with the best knowledge you desire while working with the creative fabric designs.
REFERENCES