5 Best Fabric Dye for Polyester in 2023 [Updated List]
Be it to rejuvenate your fabric's fading color or create new colors and patterns to your heart's content; fabric dyes can do wonders. They're usually affordable, and you're only limited by your imagination.
However, the dyeing process can hugely differ depending on the type of fabric you have at hand. And one of the most popular fabric types is polyester, which is known to confuse people who are only getting started with dyeing.
That's why we'll be helping you find the best fabric dye for polyester and give you an idea about the whole process.
1. Rit DyeMore Liquid Dye

250+ color recipes applicable


2. Rit All-Purpose Liquid Fabric Dye 

3. Jacquard iDye Fabric Dye

Includes color intensifier

How to Dye Polyester Fabric?
When it comes to dyeing polyester fabrics, you need to follow some specific steps to get the best results. Before we get into the steps, there are a few things you should keep in mind.
Things to Remember
First off, you need to ensure that the fabric is not made of natural fibers (such as cotton), as these dyes mainly work for synthetic fibers.
Not having the optimal dyeing pH can affect the overall result. For disperse dyes, you need an acidic pH. That number should stay between 4.2 to 4.7 throughout the process.
The fabric's base color will affect the final result. Moreover, the amount of dye and how long you submerge the fabric in it will also affect the overall color.
You should have some equipment handy. Namely, a measuring cup, metal tongs, a pair of rubber gloves, and something to cover the adjacent area from spilling will help.
That said, let's get into the process.
Before starting, cover the area nearby to prevent spills. Wearing a pair of rubber gloves is also recommended.
Step 1: Figuring Out Quantity
The first step is to determine how much dye you need. Usually, the dye packet will give you an idea about how much it requires. So, weigh the fabric beforehand and put in the necessary amount.
For example, a pack of dye might color a pound of dry fabric, and so on. Remember, excess dye is a thing too.
Step 2: Pre-wash
Before the coloring process, remember to pre-wash it. This bit will ensure that any visible stains or dirt is removed and will not affect the dyeing process. You could do it by hand or with a washing machine.
Step 3: Select Dyeing Process
There are many dyeing techniques like vat dyeing, but for disperse dyes, we recommend the stovetop method. Let me explain.
The stovetop dye method essentially means dyeing your water in a pot filled with hot water near boiling temperature. The reason behind this method is that synthetic fabrics are generally hydrophobic; we need to get them into hot water to help them absorb the color.
Step 4: Use A Color Remover If Necessary
If your fabric already has a base color, you could try using carbona color run remover to get rid of that. Else, you could face an issue where the previous color will turn into a whole new hue when it interacts with the previous one.
But you should remember that using a color remover for fabric doesn't guarantee that it will eliminate the color. If you don't want that hassle, you can calculate which color of fabric dyes you need to mix to achieve the want you're gunning for.
Step 5: Select A Container
Now, you need to fill a stainless steel pot with a sufficient amount of water so that the fabric can move around easily. For every pound of fabric, the ballpark should be about 3 gallons or 11.3 liters.
Doing this ensures that the coloring process will be consistent and won't have any issues at all. If you want to make patterns such as tie dyeing, then you might not need as much water, though.
Step 6: Add Washing Agent
You could add a little bit of dish detergent, too, as that will promote level dyeing. This bit is not mandatory, but doing this can help with the overall process.
When the water is close to almost boiling temperature, shake the dye and pour it in. Remember to mix it properly with a stainless spoon or tongs.
Step 7: Mix the Dyes and Add the Clothes in Dye Bath
Once you have mixed your dyes for polyester fabrics well enough, you need to get the clothes wet. Not too much, but enough. Afterward, throw them in the dye bath (not literally; slowly put it in there).
Remember, you need to have enough water to submerge the fabrics to get an impressive fabric dyeing result. And if you have any tie dye ideas, prepare them accordingly.
Step 8: Stir Consistently
Now that you have the fabrics submerged in the water, you need to stir the fabric inside the water continuously. It would help to remember that these initial moments are the most crucial; therefore, the stirring should be as consistent as possible.
If you cannot do the previous step correctly, the process won't be consistent even if you have the best fabric dye at hand. It might have inconsistent colors or blotches if you don't go through this part correctly.
Step 9: Time
The duration for which you keep the fabrics submerged depends on whether they are blended fabrics, and what blend they have.
For instance, if it has a mix of natural fabrics in it (for example, a cotton and polyester mix), you should give it at least half an hour. You can leave it for up to an hour if you want a very dark color.
Note
It is crucial to remember that the amount of dye and the duration you keep the fabrics submerged in it will determine the kind of color you get in the end. Before you put in the actual fabrics, you can try it out by wetting another piece of cloth in it to have an idea about what the result would look like.
Remember that the result of the fabric dyeing process will initially look darker while it is still wet. Therefore, the color will be much lighter than it seems while you've still got it wet. So, keep this in mind.
These are the main steps to giving your fabrics a quality coloring session. Unlike direct dyes or natural dyes, synthetic dyes require different treatments and work differently as well. But with a bit of know-how, it shouldn't be too difficult.
5 Best Fabric Dye for Polyester in 2021
Giving your fabrics a vibrant and attractive shade of color requires a quality dye. Here are the options that we think are the best.
1. Rit DyeMore Liquid Dye – Best Overall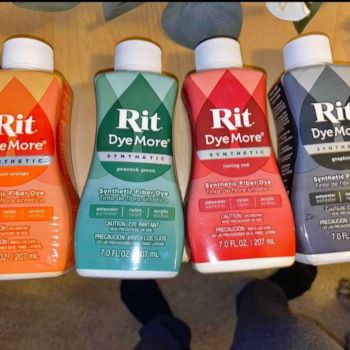 Features
Dye Type: Liquid
Usable With: Fabrics with more than 35% polyester
Suggested Usage Method: No washing machine, high temperature
Package Size: 207 ml.
When you're looking at dyes for polyester, you will often find that there are some brands that have more authority in the market. From that perspective, it's no wonder that our first pick comes from Rit.
If you have polyester fabrics with around 35% or more synthetic fibers in the blend, this dye will not disappoint. Of course, it can also dye acrylic, acetate, or nylon just as effectively. But that's not where it stops.
You can even dye wigs, plastics, and 3D printed items with this dye. That's possible due to its ability to color synthetic elements, which are present in those items as well. Another issue is that most of these dyes cannot color 100% polyester.
That's because it is genuinely tough to dye complete synthetic elements. Fortunately, this product can dye even those fabrics with ease. Of course, you need to do it at a high temperature for the color to settle, and that's about it.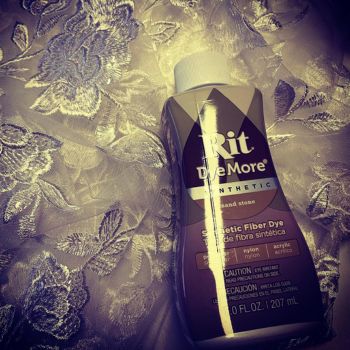 Another impressive bit is that you can use this dye to create various patterns too. Some dyes don't work very well with them, even if you dye them at a higher temperature. But that's not the case here, be it a tie dye pattern or an ombré pattern.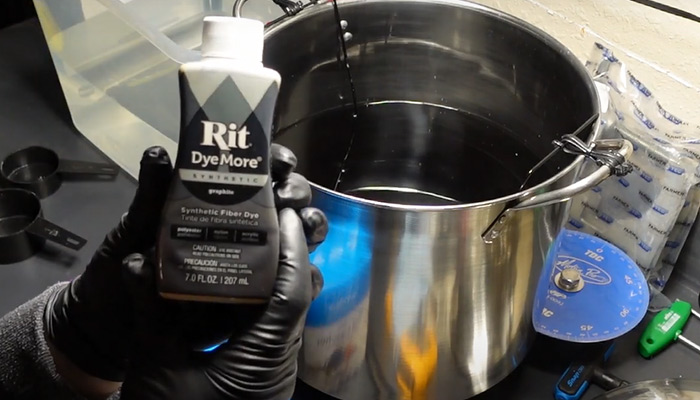 And if you are looking for the best black clothing dye, this one also works well. Rit's graphite variant can give you a better dark shade than even fabric paints, so there's no reason not to go for it.
Verdict
Anything ranging from natural/polyester blend to pure polyester will work with this dye.
2. Rit All-Purpose Liquid Fabric Dye – Best for Natural Fiber-Dominant Blends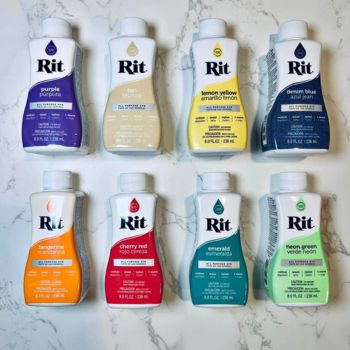 Features
Dye Type: Liquid
Usable With: Cotton, wool, silk, with polyester blends
Suggested Usage Method: Any dye bath method
Package Size: 236 ml.
In many cases, you will realize that your clothing has more natural fibers in its blend in contrast to synthetic ones. In that case, it's wise to switch to an all purpose dye instead of a disperse dye, which our following product is.
As you can expect from Rit dyes, this dye ensures exceptionally vibrant colors that will not only give your fabrics a new look but also rejuvenate the old ones. And you aren't only limited to coloring fabrics either.
In terms of the dyeing process, you don't need to follow the usual stovetop process here. As it's not a synthetic dye, you can color your fabrics with the standard methods like pouring them in a bucket or tub. There's no heat necessary either.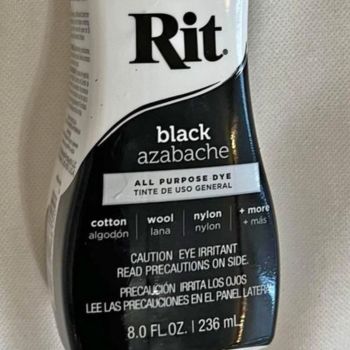 You could use a washing machine to dye your fabrics as well. However, a bit of the color will come off when you wash the fabric afterward, but that's a drawback that you need to accept for such dyes.
Furthermore, as it's a pre-mixed liquid, you have a lot of independence and flexibility with the coloring. Now, let's talk about the fabrics you can use this with. As we said that it's an all-purpose dye; it works with any natural fabric.
You can use it with mixed blends as long as the ratio of polyester in it is around 35% or below. Another helpful property is that this dye is quite affordable, especially considering its quality.
Verdict
Go for this option if your fabrics have more natural fibers in them.
3. Jacquard iDye Fabric Dye – Best for Versatility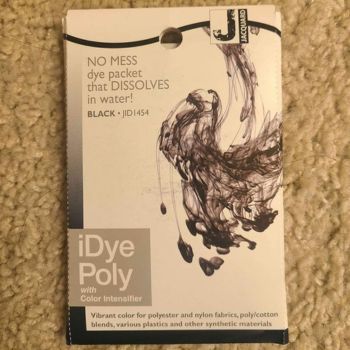 Features
Dye Type: Powder
Usable With: Polyester and other synthetic fabrics
Suggested Usage Method: High-temperature methods
Package Size: 14 grams
The manufacturer of our next pick, Jacquard, creates some exceptional dyes in the market. For example, their Procion MX Dyes are pretty impressive. And the iDye synthetic dye is what they offer for polyester or nylon.
As you know, dyeing polyester requires a controlled environment. Unlike natural fabrics, you need to have everything at a high temperature and control the temperature while stirring the mix to make the color last.
The first best thing about this dye is its color quality. After the dyeing process, the fabrics look surprisingly vibrant in color. Even the blacks look pretty impressive, given that you have used enough dye.
And since it is a synthetic product, you can use it with other materials such as plastic or 3D printed items. But that's not the unique bit here — the most surprising thing about it is the packaging itself.
As you know, getting powder-based dyes out and pouring them in can result in a mess. The packaging of this product literally dissolves in water to save you from that hassle, which makes the whole process much more effortless.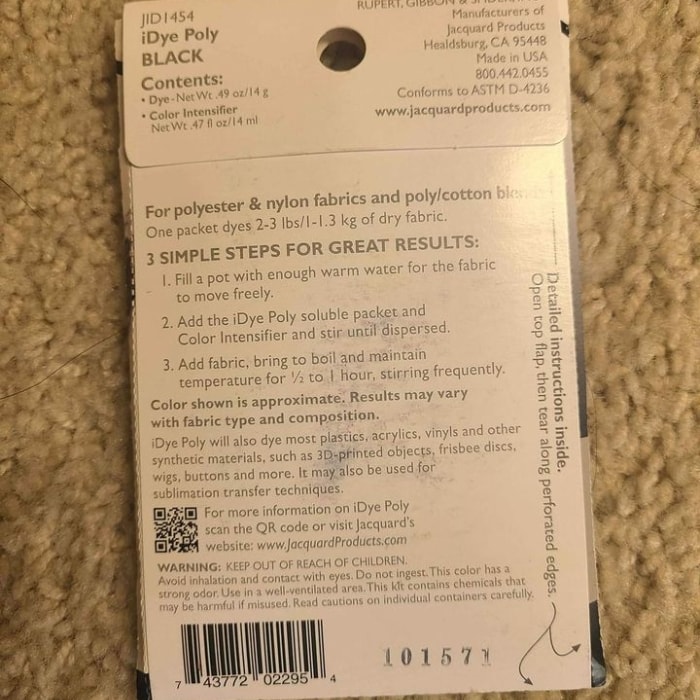 Each packet will color around two to three pounds of fabric, which is pretty good considering the price. Moreover, it works on 100% polyester just as well as on different blends of synthetic fibers, which is not something all dyes for polyester can accomplish.
Verdict
It's a superb choice even if you have pure synthetics with no blend.
4. Rit All-Purpose Powder Dye – Best for Affordability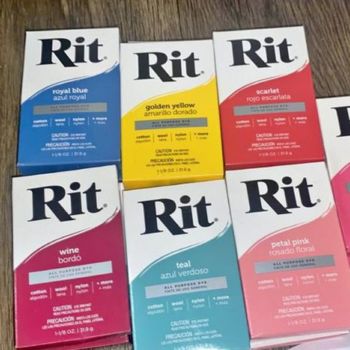 Features
Dye Type: Powder
Usable With: Natural blends with polyester
Suggested Usage Method: Standard washing machine method
Package Size: 31.9 grams
To no one's surprise, we have another product from Rit. Remember how we talked about the possibility that your fabric might contain more natural fibers than it does polyester? This product will serve your purpose if that is indeed the case.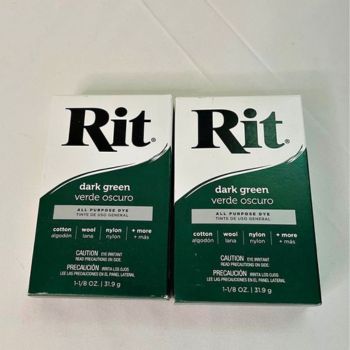 But first things first — which blends will this product work with as far as dyeing polyester goes? If you know the properties of dyes, you will remember that products not based on synthetic ingredients will work best on natural fabrics.
Don't worry, though. If your fabric includes around 35% or a lower amount of polyester in the blend, then this is the perfect dye for you. That also applies to other fibers like acrylic or nylon.
When you look at dye fiber bonding principles, it'll say that this will primarily work on natural fibers such as cotton, silk, and everything of that sort. And for such projects, this dye will provide you with excellent vibrant colors.
And as with the other products of this sort, you can use it to color wood, paper, and even screen printing. Moreover, you can find an array of options regarding colors, which opens you to more possibilities.
Of course, when it comes to coloring polyester, the cost is an issue too. Fortunately, this product does well to maintain an affordable price tag. Moreover, you can explore some dye color mixing ideas from Rit's extensive collection.
Verdict
This one is for you if you value affordability and color options.
5. Tulip Permanent Fabric Dye – Best for Colorfastness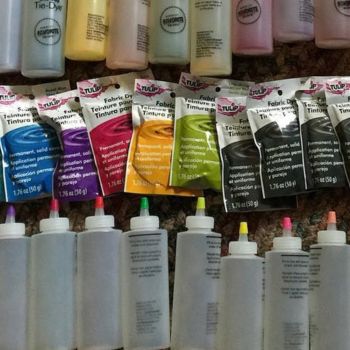 Features
Dye Type: Powder
Usable With: Synthetic blends
Suggested Usage Method: Hot water/stovetop
Package Size: 50 grams
We all want a lasting, permanent result when we're dyeing fabric, and that is what our final pick provides you with. And it manages to do that without taking away the amount of control you have over the shades.
Let's start with the colors, then. You can find a range of color options to dye polyester with this product, each of them providing superb value. After dyeing, all of them looked vibrant and didn't wash off easily.
As you know, you need to finish the dyeing process at higher temperatures, which is a given when it comes to dyeing polyester. Furthermore, the higher you go with the heat, the deeper its shade will be, regardless of the color.
This bit applies to most dyes of this category, of course. As for which fabrics you can color with it, the answer is anything synthetic. You can work with polyester, nylon, acrylic, or any other synthetics of this sort.
However, if you have 100% polyester, Tulip does not recommend that you dye it with this product, which is a drawback. And as long as the ratio for synthetic fibers isn't too low, it can dye blends quite well.
Regarding the price, this product hits a reasonable point, especially when you consider its fade-resistance and overall performance. Other than the Achilles' heel of 100% synthetics, this is an excellent dye.
Verdict
This is your best bet if you want superb color retention and quality over time.
What to Look for Before You Buy?
Polyester is one of the trickiest fabrics to dye due to its properties. That is why you need to look at a few things before you go ahead and buy your dyes. Below are some pointers to help you with that process.
Choosing the Type of Dye
The first step to dyeing is to choose the right product. You can find a whole range of them in the market. For example — azoic dyes, reactive dyes, disperse dyes, and the list goes on. The dyeing process will also differ depending on the type.
But if you want dyes for polyester, we recommend opting for a disperse dye. It is a type of synthetic dye that works well for synthetic fabrics such as polyester.
You can also use it with synthetic blends, which are fabrics with other fibers in them. Moreover, you can find plenty of dye colours in this category as well.
Another impressive fact about these is that you don't need to use dye fixatives with them, as the change in temperature does the job. Nevertheless, there are other options like mordant and acid too. And as you can imagine, acid dyes work much differently.
Liquid vs. Powder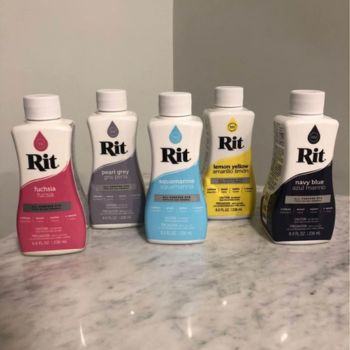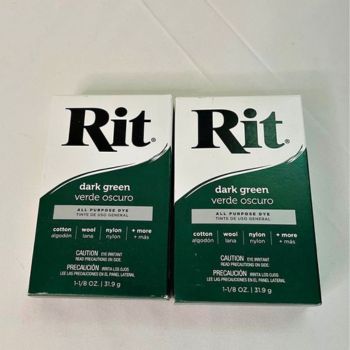 Now that we know the type of dye you need for dyeing synthetics like polyester, let's look at the form it can come in. You'll generally find them in two forms — powder and liquid dyes.
You can use either as a permanent fabric dye, as the performance is the same with polyester fabrics. However, the liquid form is more concentrated, so you can opt for that. Also, the best dtg printer for small business uses liquid dyes.
Choosing the Color
When it comes to fabric dyeing, the color can be a tricky part. You might need a bit of color theory to figure out what you need.
For instance, if your fabric already has a color, you need to think about what it'll turn into. That means if you have a green polyester fabric, adding a red dye to it will turn in into a brownish result. Understanding how dye works with color is all you need.
How Much Dye Do You Need?
The amount of liquid or powder dye you need depends on what you want to do. If you want to turn something very dark, you will need more. If you only want to give your faded clothing a better look, you won't need as much.
In that same manner, trying to cover a bleach stain might take a significantly more amount depending on how bad it is. Lastly, fabric blends will play a role in it, too, although not too significant.
How Do You Dye Cotton Blended Fabric?
Dyeing cotton-blended fabrics can be tricky, as the ideal process will vary depending on the type of blend you have. Let's see two scenarios to help you understand what to do in different conditions.
Think of a fabric that mostly has synthetic fibers in the blend — 80% polyester and 20%, for example. In this case, we need to opt for a dye that works on synthetic fibers. Otherwise, that portion of the fabric will remain the way it initially was.
Therefore, you could easily use a synthetic dye like disperse dye. Products like DyeMore from Rit work exceptionally well with these blends. And you can use the typical stovetop method for this purpose.
If the blend has 50% or more cotton, then the process will be different. As you can imagine, using the method mentioned above won't work very well if you have that much cotton.
In that case, we recommend using dyes like Dylon. These dyes work exceptionally well if you want to dye a blend that has more cotton than polyester. However, they won't be very effective if your fabric has 100% polyester, so keep that in mind.
Frequently Asked Questions
Can I dye 100% polyester fabric?
It is possible to dye 100% polyester fabric, and you don't need a garment dyeing machine or something for that. However, it will often require a slightly different type of dye to achieve the best results. And it's a bit trickier in contrast to dyeing a blend of cotton and polyester, for example.
What is the best fabric dye for polyester?
There are many ways to dye polyester, which are the same for most synthetic fabrics. In general, we recommend using disperse dye and the stovetop method. Due to the hydrophobic nature of these fabrics, a combination of disperse dye mixed in hot water usually provides the best results.
What type of dyes are used for polyester dyeing?
You can find several dyes that work on synthetic fabrics. For example, acid dye, which is an anionic dye, works with polyester acrylic, and nylon. There are other options like disperse dye and mordant dye that work quite well on this type of material too.
Does polyester dye well?
Polyester is a hydrophobic synthetic material. And as you know, most synthetic fabrics aren't compatible with basic dyes like the ones for cotton. However, if you can get the material and dye at a specific temperature, the fabric will absorb the water rather swiftly. But that gets even tougher if it's 100% polyester, and there are no natural or protein fibers blended.
Can you use Rit dye on polyester?
We don't recommend using Rit dye for synthetic materials, as they don't absorb it very well. For this purpose, you can use Rit DyeMore, which is a disperse dye. And as you can imagine, disperse dyes will allow the polyester to absorb the color much more effortless.
Can you tie dye 60% cotton 40% polyester?
Yes, you can. However, the results won't apply to the whole blend, as you can imagine. You could use a fiber reactive dye for this purpose, which would work with the tie dye pattern quite well. However, the polyester portion of the fabric won't absorb the color, so that's something you should remember.
How do you dye cotton blended fabric?
That depends on the type of blend you have. If you have a synthetic fabric that has a bit of cotton mixed in it (80:20 polyester/cotton, for example), then you can follow the method we showed (stovetop method). But if it's the other way around, you need to go in the opposite direction?
What can I use to dye polyester?
You can technically dye polyester with synthetic disperse dye, acrylic paint, or even acid dye. These are all quite different, and the dyeing process will vastly differ. We recommend using disperse dye, if possible, as that is an accessible and effective method.
What types of dyes should be avoided when dyeing synthetic fibers?
Be it polyester, acrylic, acetate, or any other synthetic fiber, some dyes won't work at all. For one, you cannot use natural colors (i.e., dyes that you can use with natural fibers such as silk, cotton, or wool) for synthetic materials, as they will not hold the colors at all. Even if you dye your polyester blend with those, the fabric will still retain the same color as it did before.
Will tea-dyeing work on my synthetic fabric?
No, it won't. As we explained earlier, any process that you might use with your natural fabrics like cotton, linen, or silk will not work on synthetic materials like polyester or acrylic. Therefore, you need to use something like a synthetic or acid dye to dye your synthetic fabrics.
Final Words
Dyeing polyester fabrics can be pretty tricky, especially if you have another material in the blend. In our opinion, Rit's DyeMore will give you the best results due to its versatility. If that doesn't suffice, then the review for the best fabric dye for polyester above should help you find the right one.
REFERENCES