10 Best Fabric Deodorizer with Buying Guide
I had tried a handful of fabric fresheners but none of them worked out for me. Then, I hopped on to do some research and after a week I found out the best fabric deodorizer trending worldwide.
Now, let me give you more emphasis on this.
Basically, the reason why ordinary fabric deodorizers can't negate the pungent stench is probably the low-quality essential oils that are used.
Also, the fragrance dilutes faster than expected even though it smelled intense for the first few minutes.
Hence, neutralizing the trapped smell such as the cigarette fume, the greasy kitchen odor, pet hair, spills, etc is necessary and it requires something overpowering.
Which is why I carefully handpicked 10 effective fabric deodorizer that ideally repels the reek and rejuvenates your indoor with fresh air.
So, without any further ado let's check out the list I have created with an in-depth buying guide.


1. Clorox Scentiva Multi-Use Fabric Refresher Spray

Replaces the trapped odor with a strong refreshing scent

2. Febreze To-Go Fabric Refresher

Deodorizes the contaminant build-up

Suitable for hard to wash fabrics

3. Professional Deep Penetrating Fabric Refresher

Works best on outdoor surfaces
Do Fabric Deodorizers Really Work?
There are a lot of different ways to keep your fabric smelling fresh, but do fabric deodorizers really work? The short answer is: it depends.
Deodorizing sprays and powders can help to mask smells, but they DON'T necessarily eliminate the source of the odor.
How a Typical Fabric Deodorizer Works?
Here's a step-by-step working mechanism of a typical fabric deodorizer like Febreze –
The fabric deodorizer uses cyclodextrins to trap odor molecules.
These compounds form a ring with an extremely hydrophobic center.
Aromatic molecules that are hydrophobic tend to end up in the center of the ring.
The smell of a bad odor is made up of many such complex molecules. If you can trap just the hydrophobic ones, it will take away the bad smell.
The overall impact provides deodorizers their efficacy. Instead of smelling like a combination of foul odor and a lot of artificial fruit, your clothing will simply smell like nothing. Also, a little bit of fruit odor in the deodorizer can assist.
10 Best Fabric Deodorizer
Well, all these fabric odor eliminators don't cater to similar purposes. Some might work out to keep your indoor furniture like the sofa, curtains, couches, carpet, and other thick fabrics odor-free while others might work out only for the thin fabrics like your clothes. Choose your weapon wisely depending on the outcome you are rooting for.
1. Clorox Scentiva Multi-Use Fabric Refresher Spray (Pacific Breeze & Coconut)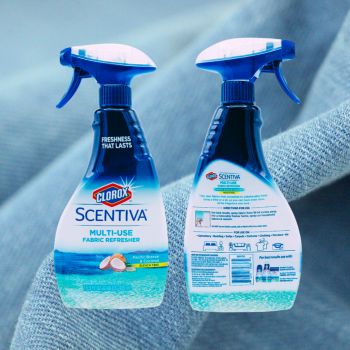 Features
Package Quantity: 1 spray bottle
Weight:16.9 ounces
Scent Type: Fresh Brazilian Blossoms
Used for: Multi-purpose use; closet, upholstery, curtains, thick carpets, etc
The prime objective of using a deodorizer is to compensate for the expensive deodorizing electronics and keeping the hard-to-clean elements sanitized. Surprisingly the Clorox scentiva presents a fabric odor eliminator that appeases both standards and ensures keeping your entire home fresh and aromatic.
Be it your dirty carpet or the clothes in your cupboard; this fabric refresher got it all covered. Usually, the scent of fabric deodorizer can't repress the greasy smell thus regardless of the application it doesn't work.
While on the other hand this fabric freshener is made with a rich blend of pacific breeze and coconut. It excludes all the bad smells derived from the air pollutants and contaminates.
Meanwhile, the vibrant fragrance takes over the entire home and offers you a healthy indoor environment.
Now, if you want to get past the hassling carpet washing and looking for an "easy-overnight-hack" then this fabric refresher has your back.
All you need to do is to spray it all over the carpet copiously. The rule of thumb is to apply it depending on the thickness of the fabric.
In short, the thicker the fabric the more sprays you need. speaking of this you can also use this fabric refresher for your beddings, upholsteries, etc. even the rugs where your pets and toddlers create most of the mess.
It's available in 4 different scents including this one. to get the best result you need to spray it from an 18-24 inches distance.
On an important note, make sure refraining yourself from using it on leather, suede, silk, or fabrics that are susceptible to water spots.
2. Febreze To-Go Fabric Refresher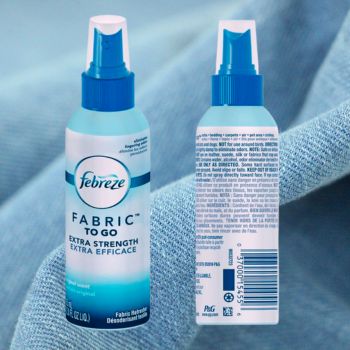 Features
Package Quantity: pack of 4
Weight:2.8 Oz
Scent Type: Mild pleasing smell
Used for: Indoor deodorizing such as window treatment such as sofa, carpet, window treatment, upholstery
Next, you have the to-go fabric refresher from Febreze. It's a matter of joy that Febreze is one of the most prominent brands that renders high-quality fabric deodorizers at a competitive price. this arrives in a pack of four and all of them have a travel-friendly size.
Now it features an odor-eliminating technology that helps to deter all the pungent smells and promotes healthy vapor. The elements which are usually tedious to clean such as the upholsteries, beddings, clothing, carpets, etc. are vulnerable to dirt and pollutants. As consequence, the contaminants start to build up. To eradicate the nauseating smell you are left with two resorts. Whether to wash them or use deodorizers which is undoubtedly the easiest way possible.
Luckily, this fabric refresher works wonders in terms of treating the fabrics which often requires too much labor to clean.
Here's a fact!
If you are worried about the side effects of the constant spraying or your fabrics losing softness then rest assured.
The best part of this fabric freshener is that it retains the softness while releasing a mild, refreshing aroma. On top of that, you don't need to go overboard with the spraying; just a few sprays per session is enough to replace the odors with the enchanting smell.
However, make sure to avoid spraying on leather, suede, silk, or other fabrics that are susceptible to water spots. Except for that this freshener is compatible with almost every fabric.
3. Febreze 33032EA Professional Deep Penetrating Fabric Refresher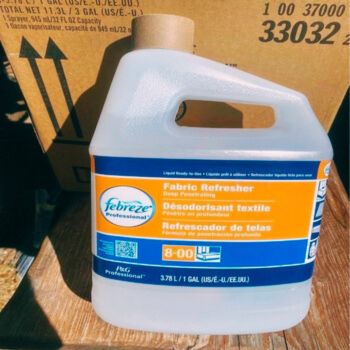 Features
Package Quantity: 1 Bottle
Weight: 8.34 pounds
Scent Type: Fresh pleasing smell
Used for: Outdoor deodorizing; offices, restaurants, lodging
Next on the list is another product from Febreze- a fabric refresher that also works as an odor eliminator. This comes in a concentrated form; each case holds two bottles containing a gallon product each.
This product is a professional deep penetrating fabric refresher that easily works heavy duty.
The deep cleaning system works like magic by eliminating odors at the very source.
Each gallon of concentrate can make five gallons of formula. So, it is very effective whether you are using this for your house or industrial spaces like restaurants, offices, lodgings, etc.
The heavy-duty formula this concentrate is designed with works best for the latter.
Since each one-gallon bottle makes five gallons of heavy-duty deep cleaning formula, it is very cost-effective. Each bottle also lasts you longer, while providing you with the best service possible.
It is perfect to use on heavy things- such as rugs from your house or your car, car/truck seats, etc.
The product does not only eliminate the odor at the very source- but it also leaves a sweet smell afterward.
The smell is not very strong or tangy- so it does not irritate you with the chemical-like smell. Instead, it makes your space smell fresh and sweet. However, some may feel as if this fresh fragrance does not last as long as preferred.
However, you have to be careful while using it. Follow the mixing instructions on the bottle and proceed accordingly. If you dilute the concentrate with too much water it will neither eliminate odor nor clean your fabric, let alone leave you with a fresh nice smell.
4. Clorox Scentiva Multi-Use Fabric Refresher Spray (Hawaiian Sunshine)
Features
Package Quantity: 1 spray bottle
Weight: 16.9 ounces
Scent Type: Hawaiian sunshine
Used for: sofa, carpets, clothing, etc.
The Clorox Scentiva multi-use fabric refresher spray line comes in a range of flavors for smell- and they are all just as great as the other. No wonder this tropical-flavored one- named Hawaiian Sunshine, has also earned a place of its own on our list.
This multi-use fabric refresher spray works on regular clothing as well as on heavy-duty clothing items like sofa, carpets, and curtains. This product provides a long-lasting scent to your products, as well as your entire home.
Spray directly onto your clothing items by holding the bottle at 18-24 inches distance.
Ensure spraying according to how thin or thick and how clean your fabric is. The thicker your fabric is, the higher number of sprays you'll need.
For heavier clothes, like sofa, rugs or carpets, etc., you will need to work your muscles and spray a little bit extra. Do not use on leather, silk, suede, etc. fabric where the product can create water spots.
This spray is an instant fabric refreshing spray. The amazing aspect of this product is that the unbelievably fresh scent can eliminate the most stubborn stench from your clothing as well as your home.
Be it a pet area, a mess your toddler made, or some ages-old upholstery. Not only does this clean your house, but it also gives it an instant kick of freshness. The signature tropical scent elevates the atmosphere of your house.
5. Lysol Laundry Sanitizer Additive, Crisp Linen: Industrial & Scientific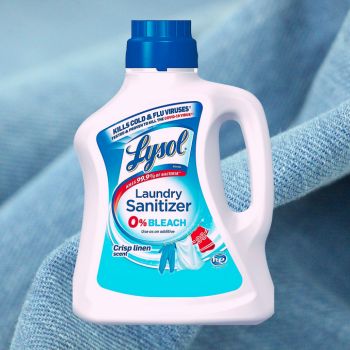 Features
Package Quantity: pack of 3
Weight: 41 oz
Scent Type: Fresh laundry
Used for: Clothes, sportswear, towels, etc.
Sanitizing your laundry is just as important as cleaning them to ensure a healthy, happy lifestyle. The Lysol Laundry sanitizer additive is one of the best products available on the market to get the job done, and because of its beautiful smell, it has earned its due place on our list today.
Bacteria, germs, etc. can spread fast through contact.
Be it from one cloth to other, through the water in the washing machine, or from one batch to the next inside the washer.
Bacteria and germs can most often cause your fabric to produce and emit a bad odor. The fabric sanitizer effectively kills up to 99.9% of bacteria that may be left behind even after being washed by regular detergent and eliminates the odor caused by them.
Even though it is doing such important and heavy work, it is such a gentle product that it can be used on children's items such as clothes, towels, stuffed toys, along with different types of sports clothes.
The liquid formula is extremely easy to use. It can be used while washing by hand as well as both the rinse and wash settings on the washer.
For proper use, we recommend you follow the instructions that come with the bottle accordingly. Using in rinse cycles helps you get crisp linens afterward.
Why this product made it to our list today is because of the best aspect it provides- not only it sanitizes your fabrics, it leaves a beautiful smell.
While most sanitizers themselves smell like chemicals that sting your senses, this fabric sanitizer leaves your fabrics with a lasting fresh, nice scent while doing its sanitization perfectly.
6. Febreze With Gain Original Scent Fabric Refresher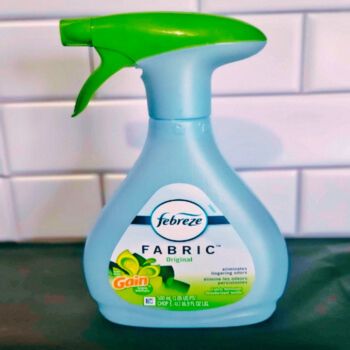 Features
Package Quantity: 1 spray bottle
Weight: 27 ounces
Scent Type: Light and refreshing
Used for: Clothing, upholstery, carpets, window treatment, etc.
Yet another Febreze refresher spray has made its way onto our list, and the heavy-duty refresher with OdorClear technology sure has earned its spot.
This refresher works perfectly for your hardest-to-wash items, such as upholstery, carpets, furniture and beddings, window treatments, and much more. The fine mist can penetrate deep in thick or dirty fabrics with no hassle and cleans them out perfectly.
It's also just as easy to use on soft clothes such as light curtains, etc. the spray is so easy to use and effective that you can add to your weekly cleaning routine and use it on products around your home to elevate your personal space.
The OdorClear technology Febreze has incorporated in this product not only masks odors and stenches but cleans it out completely.
It works on stubborn smells such as pet smells, smokes, body odor, food smells, etc. with ease. It replaces all odors on fabrics with the light and fresh scent of original gain.
This subtle but refreshing smell lingers around your home for quite a while, giving it a refreshed vibe- and who would not like to achieve that with just a few sprays!
7. OdoBan 1 Gal Concentrate, Fresh Linen Scent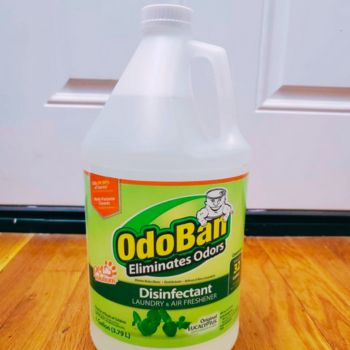 Features
Package Quantity: Pack of 1
Weight: 5 pounds
Scent Type: Fresh Linen
Used for: Household washable surfaces
Next up on our list is another concentrate which is an odor eliminator as well as a disinfectant. This comes in a 4 pack of 1-gallon concentrates each, totaling 4 gallons.
OdoBan deters pungent smell from the surfaces which can't absorb liquid or gas. Not only it deodorizes but also sanitizes your household by immobilizing the germ accumulators. Besides this fabric deodorizer also works great on washable surfaces as well as carpets that are difficult to wash.
On top of that, you can use this for your everyday bathroom cleansing such as the walls, floors, and showers.
Unlike other cheap deodorizers, this one releases a very subtle yet refreshing fragrance without leaving any residue. Needless to say, it can be used for numerous cleansing and deodorizing aspects.
Concentrates are great to use when you need a massive amount of fabric deodorizer to get through your day. This comes in larger amounts and won't run out easily, so you don't have to stock up too frequently. It can be used on multiple surfaces and it has various uses.
The most important quality about this product is that it is a multipurpose cleaner and it destroys 99.99% of germs on the surface within 60 seconds.
This particular fabric deodorizer specializes in natural calamities like floods and other similar inconveniences such as water damage, sipping roof, etc. Also, it focuses on fire restoration.
However, you do have to be careful while making the solution with the concentrate as it comes with very specific instructions.
8. OdoBan 1 Gal Concentrate 4-Pack, Citrus Scent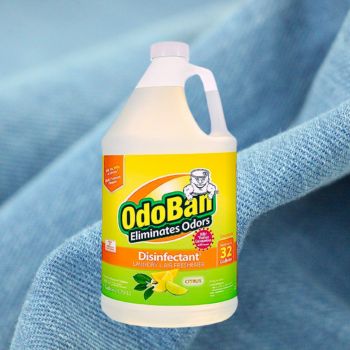 Features
Package Quantity: Pack of four
Weight: 36 pounds
Scent Type: Citrus
Used for: Mold, fungus, mildew, etc.
We have another product from OdoBan on our list which is another concentrate, but this time with a citrus scent. This comes in a 2 pack of 1-gallon jars totaling to 2 gallons of citrus-scented concentrate.
This is another industrial-grade liquid deodorizer capable of multipurpose uses. It can be used to fight fungus, mold, mildew, etc., and inhibit their growth if surfaces are sprayed regularly (i.e. once a week).
This product is also disinfecting like the previous one and it can kill 99.99% of all germs on a surface within 60 seconds.
Concentrate form is always great for heavy use as a little goes a long way. Uses of this product range from regular household air freshener to industrial-grade disinfectants.
It can be used for trash cans, bathrooms.
Not only can it be used on heavy fabric items such as drapes, beddings, upholstery, etc; it can also be used on trash cans, bathrooms, lockers, car interiors, etc. it successfully replaces bad odors of pet odor, body odor, etc with fresh citrus or lemon scent.
It comes in concentrate form so the product has to be properly mixed before it can be used on household items. This is particularly handy for households that need a large amount of disinfectant or freshener as it comes in a 2-gallon pack. The price proves the product to be very cost-effective and a good investment if you want to keep your home clean and smelling lemony fresh.
9. P&G Professional-33032CT Bulk Odor Eliminator from Febreze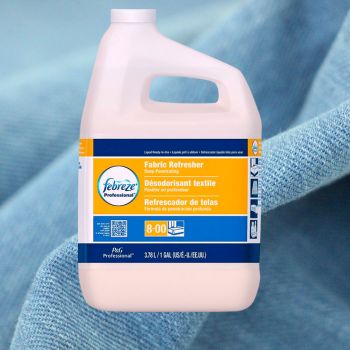 Features
Package Quantity: a case of 3
Weight: 8.75 pounds
Scent Type: Refreshing Laundry
Used for: Couches, chairs, carpets, drapes, etc.
Moving on to another product from Febreze, this industrial-grade odor eliminator is great for deep penetrating fabric odor and leaving you with a fresh, clean smell. This product comes in three 1-gallon cans in a case, totaling 3 gallons of liquids.
Unlike the last few products, this one does not come in concentrate form so it is much easier to use.
The product is lightly scented, but the scent does not last very long. It can be used from home equipment to industrial-grade cleaning machines.
It's odor removing capabilities can remove all sorts of odor trapped in fabrics.
The cleaning system and formula of the product allow it to the source of the odors and eliminate them. A fresh scent is left behind after the cleaning process is done although the scent does not stay for long.
The price is very cost-effective for the amount of product you will receive. Buying in bulk will prove to be cheaper and less hassle for you as you won't have to order again for a long time.
However, the product does not sanitize and has no germ-killing abilities. So, you may still have to use a proper cleaning method as you can't rely on this product to sanitize your fabric.
10. To-Go Fabric Refresher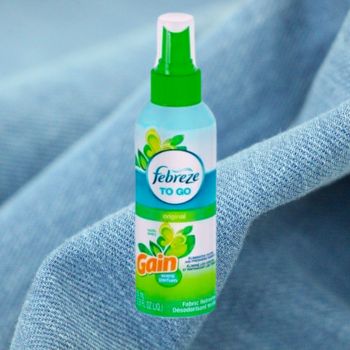 Features
Package Quantity: pack of 6
Weight: 2.8 ounces
Scent Type: Light and fresh
Used for: furniture upholstery, window treatments, carpet, beddings, etc.
Febreeze dominates our lists again with this to-go fabric refresher which comes in a spray form. Unlike most of the other products on our list, this is easy to carry and comes in a small amount of 2.8 fl oz in each container. You can choose between buying a pack of 3, a pack of 6, or a pack of 8.
The main goal of this product is to restore the newness in your fabrics by leaving a mild, fresh scent. Its formula allows it to eliminate the odor from the roots rather than just masking the odor.
It is safe on most fabrics, and very effortless to use as it requires no prior mixing.
You can simply just spray your fabrics straight from the bottle and achieve fresh-smelling crisp linens and cotton.
Furthermore, the heavy-duty surfaces like the carpets, beddings, car interior, bedding etc. can also be rejuvenated by this fabric refresher.
This product is fully capable of eliminating tough odors and it can serve multiple purposes.
You can easily carry the small can or freshener anywhere, keep it in your car, carry it with you on vacations, etc. This product is travel-friendly and effective and can be used on surfaces other than fabric.
However, you will still have to sanitize your products even if you use this fabric refresher as it is not an antibacterial product.
Checklist Before You Go Shopping
Choosing the ideal fabric deodorizer for your clothes, room, bed sheets, cotton, linen, carpet, and even car interior is of paramount importance. Some particular odors seem to linger for days and even weeks. To maintain a fresh-smelling home, regular treatment with a fabric deodorizer is a safe and effective method. Choosing the perfect deodorizer for your home may prove to be a challenge. We're here to help with these easy techniques to pick the right fabric deodorizer for you:
Ability to Clear Odor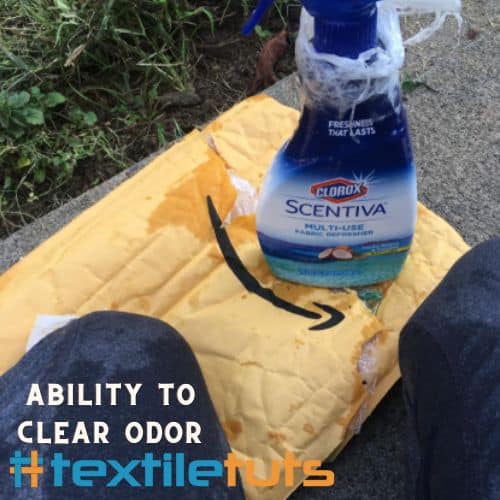 Many fabric deodorizers in the market aim to simply mask the odor instead of cleaning them. This leaves us with short-lived and underwhelming results. You must first and foremost look for a fabric deodorizer that clears odor completely instead of just masking it. This eliminates the probability of the bad odor turning up again in the future leaving you with a longer-lasting beautiful smell for your home.
Safe Ingredients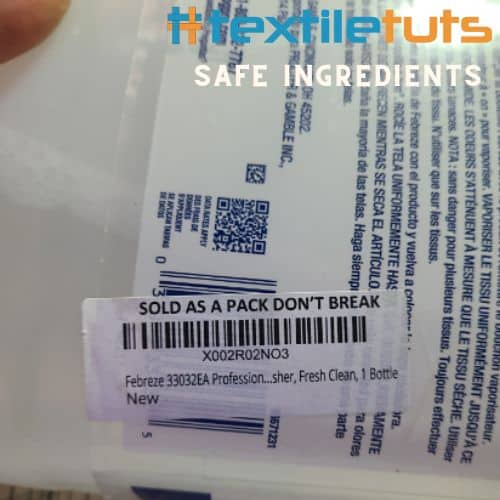 Check the ingredients of your fabric deodorizers before purchase to make sure the ingredients are safe. For example, a DIY fabric deodorizer with natural ingredients and essential oils is much safer to use. You can read this guide on how do you make odor eliminator spray with essential oils to make some in the comfort of your home
Safety comes first when you are buying things for your household and checking the ingredients should definitely be a prerequisite for all purchases.
Antibacterial
Smelling good shouldn't be the only quality your fabric deodorizer possesses. Make sure your fabric deodorizer is antibacterial as well. There are a good number of fabric deodorizers in the market which promise a high level of antibacterial qualities. In this day and age, it is definitely better to be safe than sorry. So buying a fabric deodorizer that also kills germs is an A+ in our book.
Accessibility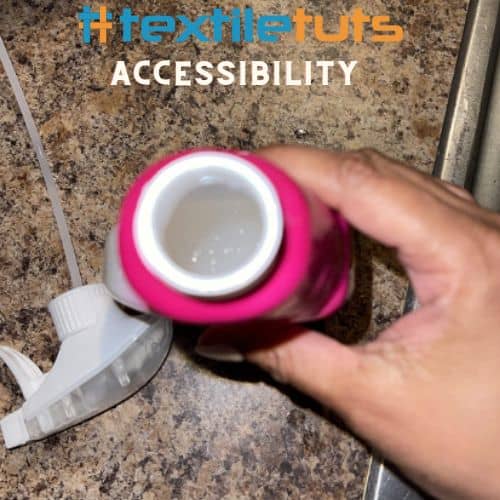 Above all your fabric deodorizer should be easy to use. A fabric deodorizer that isn't user-friendly is a hassle that you don't need to add to your day. Choose a fabric deodorizer that is easy to use and doesn't require additional learning before use. This will save you both time and extra effort.
Compatibility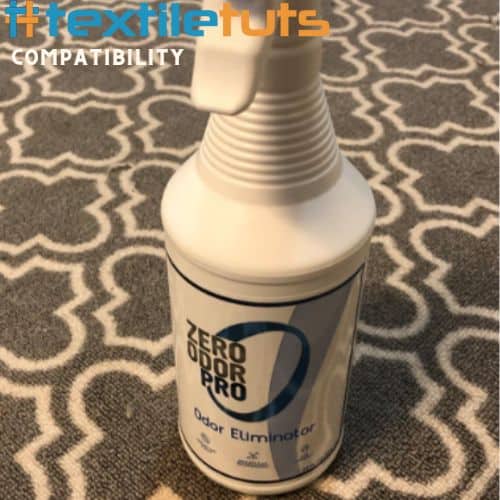 Many fabric deodorizers only work on certain surfaces. You need to ensure beforehand that the product you're buying will suit your specific needs. Some deodorizers may not work on carpets, leather, and other fabrics that may water spots. In this case, opt for a fabric deodorizer that won't cause these problems. Checking compatibility with the specific type of clothing and fabric you want to use this product on is crucially important during the buying process.
Scent
Another important thing to consider while buying the product is the scent. After all, the main purpose of this product is to eliminate bad odors and introduce good ones. You should choose a deodorizer that produces a smell you like. A light, airy smell will suit better for your home and fabrics since you will be around the scent all day long. This is a very important fact to consider while buying as a fabric deodorizer that creates a smell you don't enjoy will beat the whole purpose of the product in the first place.
Now, sometimes deodorizers like Febreze can leave undesired scents. In that case, this guide on how to remove Febreze smell from clothes will help.
Following these simple instructions, you should be able to find the perfect product that caters specifically to your needs and your home.
Frequently Asked Questions
Will the scent of the fabric deodorizer negates the laundry scent or the detergent?
Well not necessarily. If the fabric deodorizer carries a deep and overpowering smell then it might affect the laundry scent or let's say it will reduce the intensity of it. However, if you use a fragrance-free detergent then surely the deodorizer will leave a mild and pleasing smell if anything. And gladly it persists for a prolonged period.
When should I use a fabric deodorizer?
Use fabric deodorizers in any of your laundry loads with an odor that can be hard to remove with detergent alone. These loads often include such items as work uniforms or clothes, sports or fitness clothing, cooking towels, or restaurant uniforms.
Can I Use Fabric Deodorizer beside other Laundry Products?
Yes you can use other laundry goods even if you are using fabric deodorizers. Since these products have different cleaning purposes it's only reasonable to use both.
In fact, fabric deodorizers are mainly engineered to use in addition to other laundry products such as detergents, softeners, bleachers etc.
It can't substitute for the laundry essentials by any means. What it does is to provide you more satisfactory results. Refer to our fabric conditioner vs fabric softener guide.
Which Surfaces are Suitable for Fabric Deodorizers?
Fabric deodorizers are suitable not only for fabric but also can be used effectively on furniture, where odors tend to accumulate easily. Furniture needs to be vacuumed thoroughly before using a deodorizer, and then apply as directed.
Does the Fabric Deodorizer Kill Germs?
While many fabric deodorizers have antibacterial qualities, it is not a fixed quality for this product. It is an additional plus if the fabric deodorizer does have germ-killing capabilities.
Final Words
Hope you were able to find the fabric deodorizers in the market to leave your home smelling forever fresh. Given the breakdown of all the products, you should be able to make the best choice for your fabrics and your home.