Best Fabric Dye Remover to Get Stains Out of Clothes
Getting stubborn dyes out of a valued fabric can be quite hassle-some. And when it becomes difficult to execute, the process becomes even more frustrating.
That is why you need reliable products that will make the task much more convenient for you- which, in this case, is a fabric dye remover.
To get the best results, we would refrain you from settling for something average; rather, you should look for the best fabric dye remover out there.
But if you aren't much familiar with this item, then there's nothing to be concerned about. That is because we are here to help you out.
We have already chosen the top four dye removers available out there while providing ample information regarding them along with a buying guide.
With all this information, you will certainly find the right one for yourself to correct any dyeing errors or removing even the strongest paint for shirts.
Chemistry of Fabric Dye Remover
To understand how a dye remover works, you need to understand why dyes show color first. In short, if an organic molecule has alternating single and double bond in its structure, then that molecule has the potential to show color.

Now, if we can somehow destroy this alternating bond pattern, then the molecule won't be able to show any color. But that doesn't mean that the dye is removed. The dye is still in the fabric, but it has just lost its color showing property.
The dye removers just destroy some of the double bonds, and thus the molecule becomes colorless.
Here's a before & after picture after the application of a strong dye remover on vat-dyed yarns –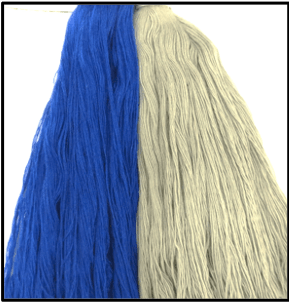 4 Best Fabric Dye Remover
Finding an apt fabric dye remover is not the easiest task- there is a lot of thought and research that you need to put into it. Plus, different types of dyes create different levels of dye fiber bonding. However, we have made the process easier for you by picking the top four dye removers and providing sufficient details regarding them.
1. Nakoma Rit Proline Color Remover Powder 1lb Bag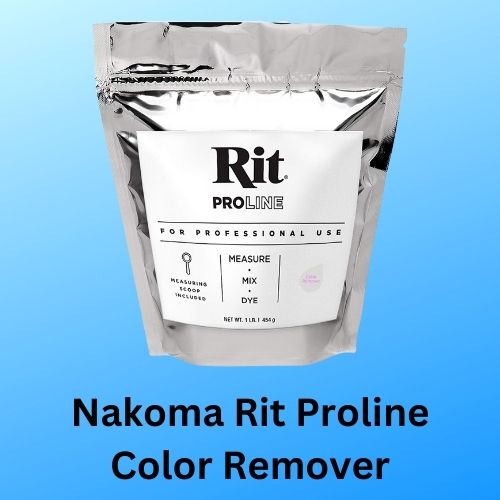 Features
Net Weight: 16 ounces
Used for: Removing dye stains and food/juice stains
Application: Fabrics of various shades that can be washed in hot water
Chemical Nature: Natural and fiber-friendly
Other Features: Suitable for the rit-dyeing process
Nowadays, it's quite difficult to find dye removers that are convenient to use but provide professional results as well. However, here's one that provides both the facilities along with a lot more, which makes it the best fabric color remover.
Other than removing dyes, including tie dye, from fabric, this item is capable of removing various other elements as well. For instance, you can use the product to either whiten or remove certain stains. These stains can include the ones from ketchup, fruit juice, coffee, tea, etc. Hence, no need to purchase a separate product for this.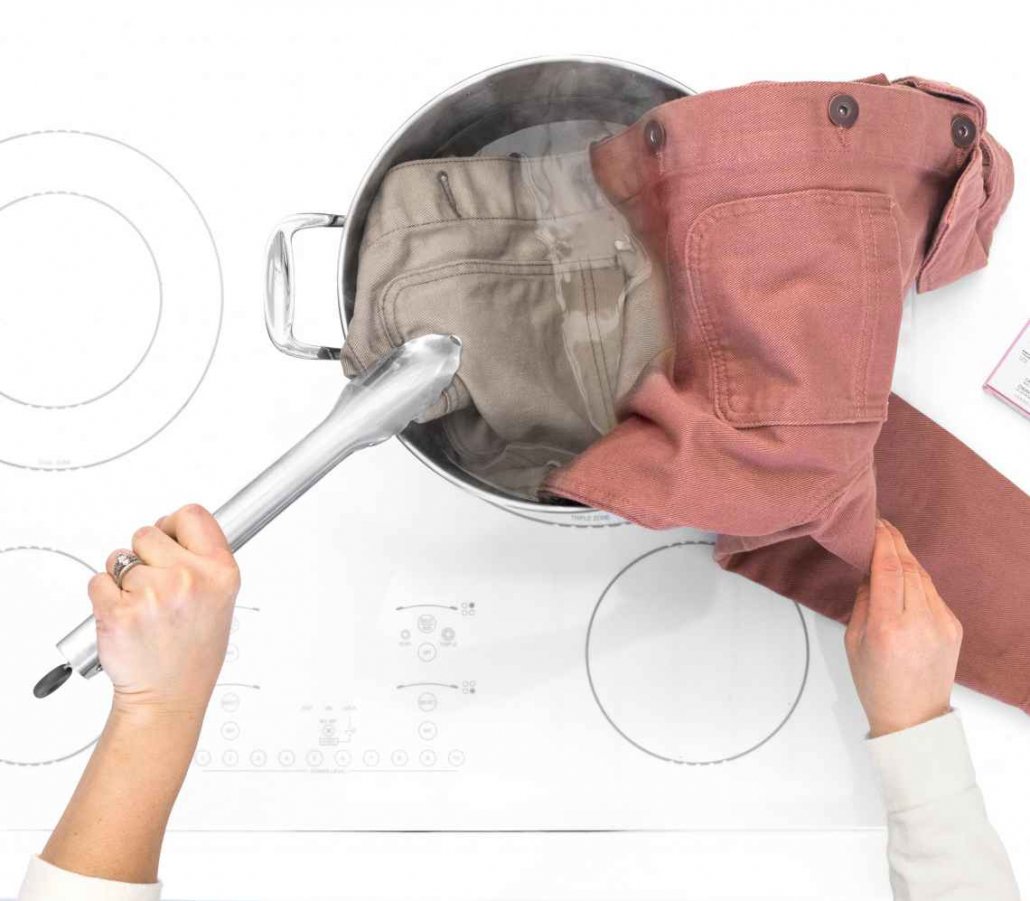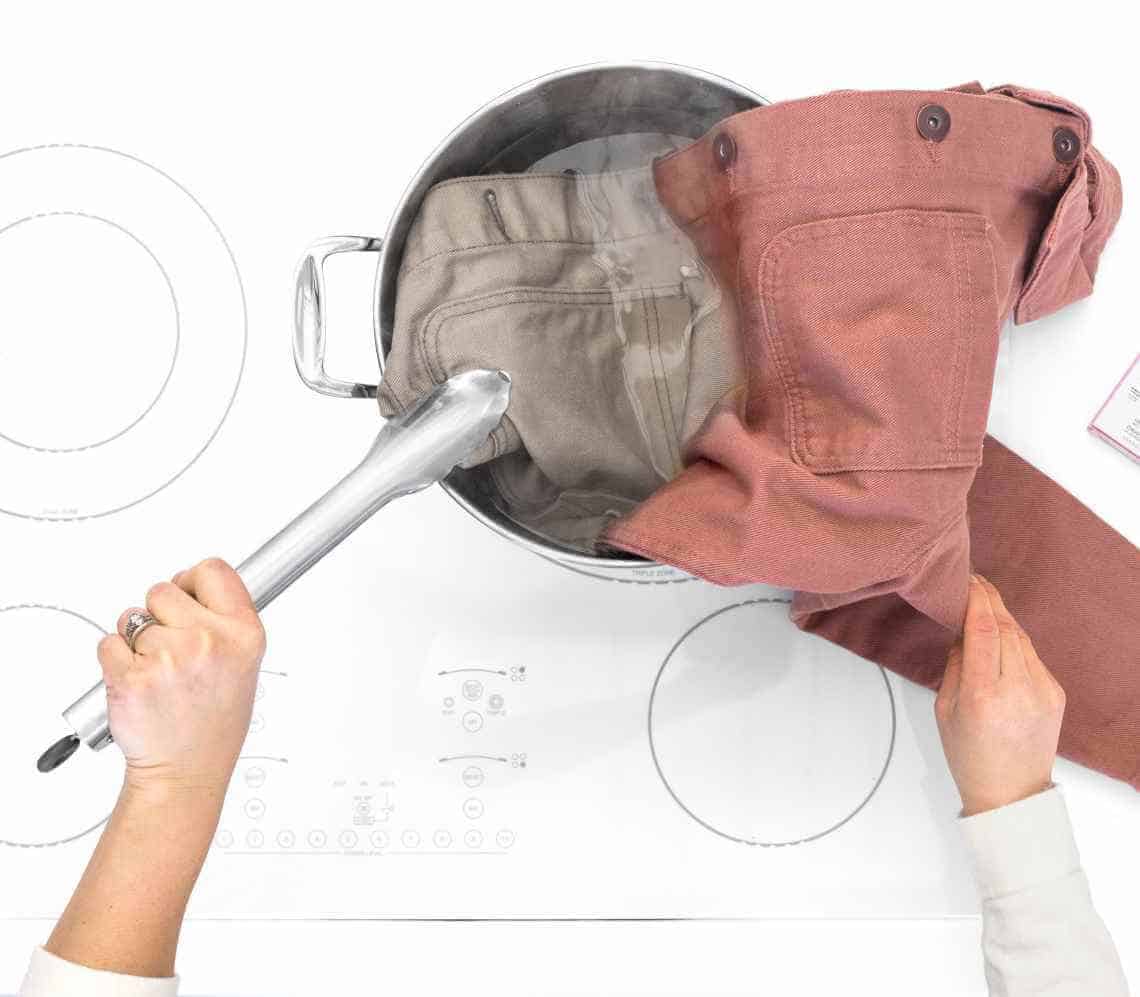 Isn't it frustrating when your white clothes become stained just because you washed them along with clothes of different colors? Well, that's not something you would have to worry about while having this item because it takes care of that issue as well by removing the dye stains from your stained fabric.
When it comes to versatility, this item won't disappoint either, because you will be able to use it on various fabrics without any trouble. In fact, if the fabric can be washed in warm water, then it's completely safe for use with this dye remover. So you won't have to get similar products for different clothes.
On the other hand, if you are planning to dye your fabric using rit dye, then this item can make the process easier for you. Well, what it does is basically reduces or completely remove the color before you start dyeing it. And with the easy and fast process, it becomes utterly convenient.
However, you might have a difficult time using it in washing machines, which can be pretty inconvenient. On the other hand, it fails to provide the pro strength that it promises to, which can be a major let-down as well.
2. Jacquard Products CHM2330 deColourant Dye Remover 32oz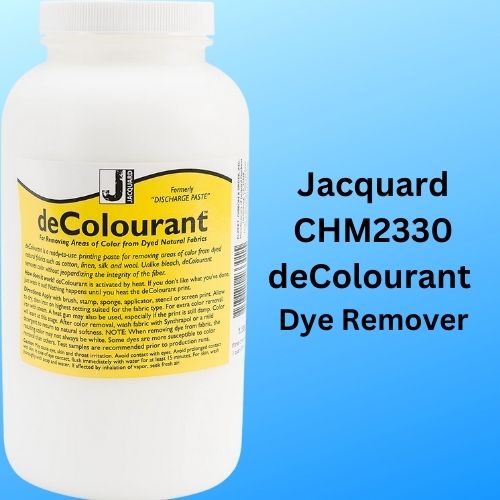 Features
Net Weight: 32 ounces
Used for: Removing dye stains
Application: Various fabrics of all shades
Chemical Nature: Non-organic and harsh
Other Features: Ready-to-use printing paste
If you are looking for a dye remover that will provide guaranteed results, then you should make sure to get the item from a reliable brand. And while not all brands provide dependability, you know that you can blindly trust a Jacquard color remover. Find out more about the item in our comprehensive discussion.
Some color removers have the tendency to deteriorate the quality of the fabric through the application. However, that is not an issue you will have to face with this item because it comes with a formula that makes sure not to jeopardize the integrity of the fiber, which will keep it as good as new.
On the other hand, if you have never used a fabric dye remover before, then you have got nothing to worry about. That is because you will have clear cut instructions regarding the use of this item, which will make it absolutely effortless for you to apply.
Furthermore, you will be able to use this product on linen, cotton, wool, and silk without any discrimination. This ready-to-use printing paste has been specifically made for removing multiple areas of color from fabrics that have been dyed naturally. Therefore, you will be able to use it for various purposes.
What's that? You already printed your clothes with the best iron on transfer paper by mistake? Don't fret, my friend. Give this a go and you should achieve a satisfactory outcome.
More importantly, you will be getting all these qualities at a very affordable price. And even within the low price range, this item will deliver professional results that will only make you amazed by it more and more. It provides excellent value for money, unlike any other.
One of the major drawbacks of this item is that it gives off a very bad smell, which is often compared with sulfur. In fact, the smell gets worse as the temperature increases. Moreover, the packaging is quite disappointing, as it leaks pretty easily.
3. Rit Color Remover, 2 Ounce (Pack of 1)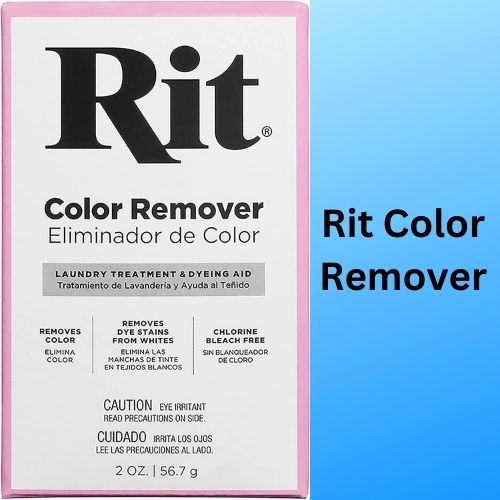 Features
Net Weight: 2 ounces
Used for: Removing stains and dye patterns
Application: Multiple fabrics of dark shades
Chemical Nature: Non-organic and harsh
Other Feature: Splendid packaging
If you are going to spend a considerable amount of money on a separate dye remover, then you should make sure that it is at least worth the investment. While not all such items guarantee excellent value for money, this one does, which makes it a fan-favorite.
Whether you are working on a fabric with a few stains or one with stubborn patterns, this item will be suitable for all, which makes this Rit dye color remover tie dye friendly. This aspect of the product makes it quite versatile as well as user-friendly.
What makes it even more diverse is that it can be used through multiple methods. You can use it in a washing machine or a stovetop using hot water, and it will remove dye from any colored fabric without any trouble. In fact, this aspect makes it a suitable Rit color remover on black fabric as well. Even the best black clothes dye doesn't stand a chance.
On the other hand, if you have never used a dye remover, then you don't really have anything to be concerned about. That is because this product has been designed in such a way, which makes it absolutely effortless to use. Not to mention, it comes with instructions to make the process easier.
Furthermore, one packet contains enough product to work on medium weight fabric that is up to three yards, or for one pound of dry weight. The packaging has also been done splendidly, so you won't have to be concerned about it leaking or creating a mess before or during use.
But the product may not show promising results on fabrics that have a light shade, and it is mostly suitable for dark-colored fabrics. On the other hand, it might turn the color of your normally dyed clothes into completely white, which can be a major inconvenience.
4. Jacquard Products 100% Natural, Color Remover iDye Fabric Dye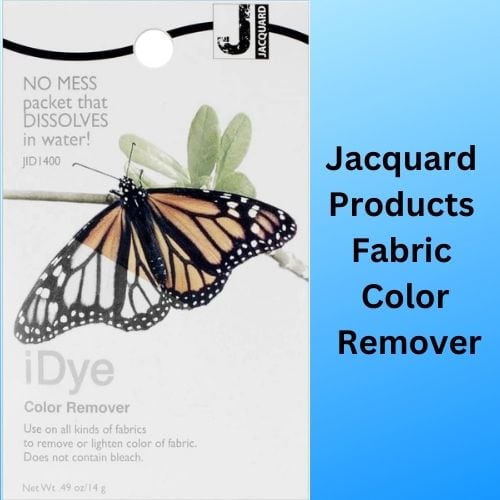 Features
Net Weight: 0.8 ounces
Used for: Removing dyes and lightening them
Application: Various fabrics of all shades
Chemical Nature: Organic and fiber-friendly
Other Features: Suitable for washing machine and stovetop
Do you hate removing color from fabrics with the process getting messy? Well, we all do, and hence, this item has been manufactured in a way that makes sure to ensure a mess-free dye removal session with its dissolving package. It comes with other fantastic facilities that make it the best clothes color remover.
What makes this item much better than its counterparts is that it can be used on multiple platforms without any hassle. In fact, it has been made for use with hot water. As a result, you can use it on a stovetop or a washing machine, and the results will be as splendid as ever.
Other than that, this product is quite remarkable when it comes to versatility as well. For instance, you will be able to use it on any natural fabric whatsoever, without having any concerns of damage and such. Furthermore, the item can be used on some nylons and rayon as well.
This item surely provides diversity by being apt for various fabrics; however, it can be used for multiple purposes as well. You can use the dye remover to lighten the color or completely remove it, no matter the shade of the fabric. Moreover, it can be used to brighten white clothes as well.
We will recommend you to use it even more because it contains no such chemicals that will potentially harm your fabrics. It doesn't contain bleach, which is often the primary ingredient in most dye removers. As a result, you won't have to be concerned about your clothes getting damaged.
However, the item may not work on some fabrics, which can be a major disappointment for its users. On the other hand, it might leave a grey shadow on the areas where the dye originally was, which might change the overall look of the fabric.
What to Look for Before You Buy?
When it comes to getting dye removers, many people tend to think that there's not much to look out for. But that couldn't be further from the truth, and that is because the wrong item can end up damaging your fabrics.

That is because you should adhere to a lot of factors before purchasing a fabric dye remover. Now, if you haven't used or bought one before, then it's only normal to have little to no knowledge in this department.

However, there's nothing for you to worry about because we have got you covered. In this section of the article, we will be mentioning all the key aspects that you should keep in mind while getting a dye remover.
Is It Liquid or Powder?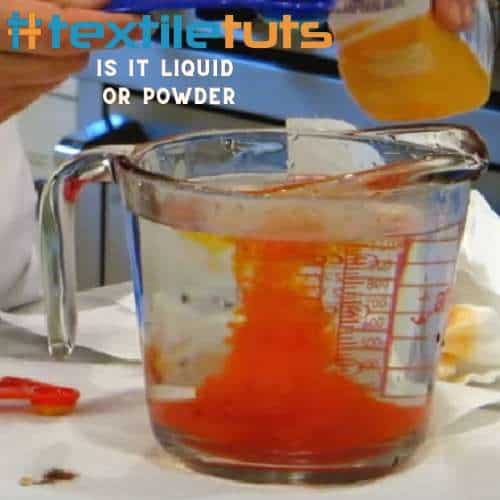 Dye removers usually come in either liquid or powder consistency, and you will have to choose according to their sets of benefits.
For instance, liquid color removers are generally easier to use, as they don't create much of a mess. However, they can evaporate pretty easily during storage.
On the other hand, their powder counterparts can give you a difficult time during use but are certainly much safer to store.
Ease of Use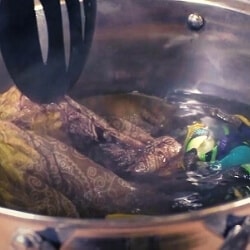 Using dye removers is nothing to fret about because it is anything but rocket science, and you will be able to execute it pretty effortlessly.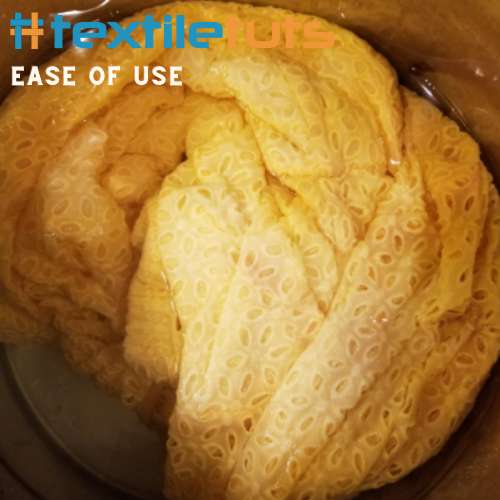 However, if you have never used one before, then you will surely need proper instructions. Hence, you should go for the ones that come with ample directions.
Also, don't settle for the ones that are generally tougher to use.
Is It Stovetop/Washing Machine Friendly?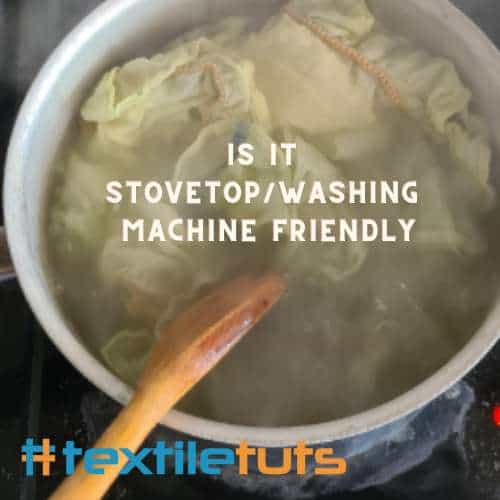 There are various methods of using dye removers, and some of them surely involves a washing machine or a stovetop.
These appliances make the process much more convenient for the users as well, and hence, you should make sure your chosen item is compatible with these.
Find color removers that can be used on these will not be very difficult, as they are readily available.
What Fabrics Can It Be Used on?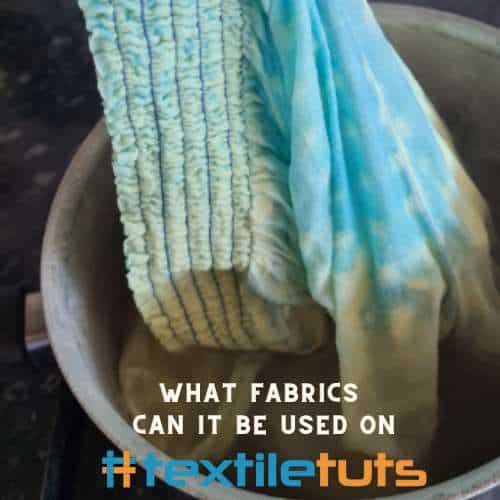 Before you get a fabric dye remover, you should make sure that it will be suitable for the specific fabrics that you are going to use it on.
Otherwise, the item can cause irreversible damage to the fibers, which you surely wouldn't want.
Hence, go through the description of your chosen product, and check the fabrics that it will be apt for.
Which Colors Is It Suitable for?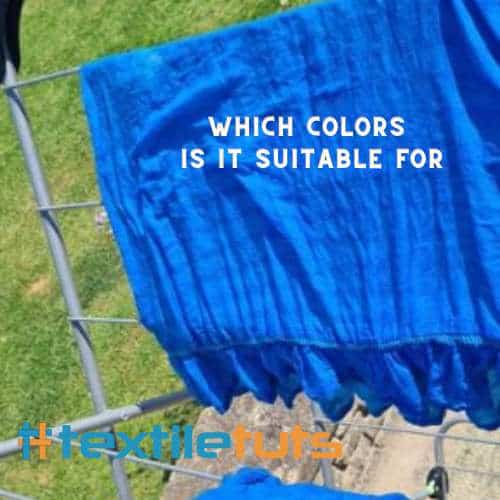 Many people tend to think that dye removers are qualified for removing all sorts of colors. And while that is true in some cases, it isn't in others.
That is why you should make sure to get one that will be able to remove different shades of dyes without discriminating between lighter and darker shades.
However, if most of the colors that you will be removing are dark or vice versa, then choose accordingly.
Does It Contain Harmful Chemicals?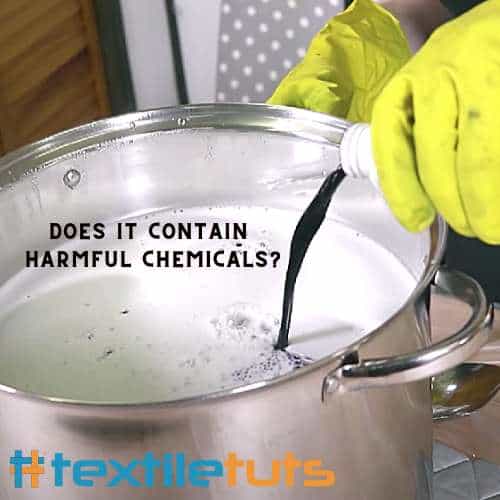 Dye removers that contain harmful chemicals such as bleach will surely deliver marvelous results, but they will also damage your fabric beyond recognition.
That is why you should read the label of the product and choose an item that does not contain such chemicals.
Always go for natural dye removers, which will serve your clothes well, unlike bleach.
How Well Is the Packaging?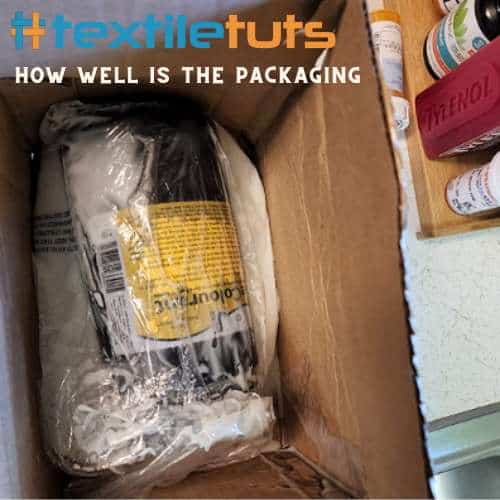 It doesn't matter if your chosen dye remover is liquid or powder because no matter what it is, the packaging is extremely important.
That is because if the package leaks easily or creates a mess, then that will surely make the process much more stressful for you.
Hence, do prioritize good packaging.
Is It Worth the Money?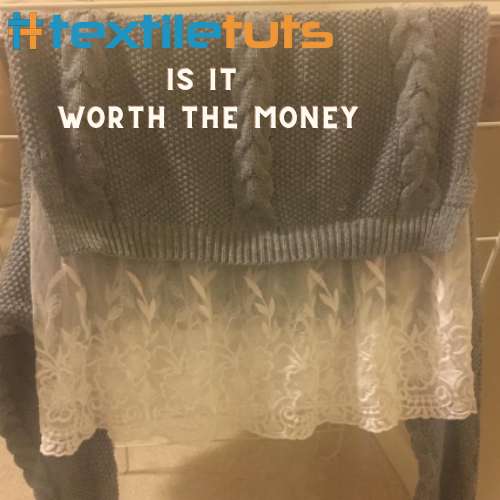 Fabric dye removers are not very expensive; in fact, you will find great ones within a very affordable price range.
However, to get the best out of your investment, you should make sure that it contains all the qualities that you are looking for.
Also, you shouldn't go for something that is overly expensive.
Carbona Color Run Remover vs Rit Dye Remover
Carbona color run remover and Rit dye remover are both quite popular for the amazing results that they provide. And this often confuses the consumers regarding which one they should be purchasing.
However, both come with their own sets of benefits and differences, which we will be focusing on in this section of the article.
Application of the Color Removers
Carbona color run remover can be used for colorfast fabrics only, and if you use them on garments on which the dyes have not been set properly, then the original color will get eliminated as well.
However, rit dye removers can be used on various fabrics, which include silk, linen, cotton, cotton linen blend, etc. And, you won't have to be worried about the primary dyes getting removed.
What Can They Be Used For?
Whether you need to brighten your white garments or remove dyes and streaks, Carbona color run remover will come to your rescue.
On the other hand, its rit counterpart can be used to remove dye stains or stubborn patterns without damaging the original dye of the fabric.
How Can They Be Used?
Rit dye removers can be used with the help of multiple methods. Such methods include the use of a washing machine and stovetop method as well.
But Carbona color run remover should be used in a separate container, front loader machines, or top loader machines.
Which One is More Reasonably Priced?
Dye removers are not expensive to begin with, but if you still want to go for the more reasonably priced option, then we would recommend Carbona color run remover for you.
Rit dye remover is not too expensive comparatively- just slightly.
Common Queries Related to Rit Dye Color Remover
Since Rit is the most popular dye color remover choice in most households, I get asked about it a lot. Let's address those one-by-one,
Does Rit color remover work better than bleach?
By work, if you mean the ability to make a dark fabric lighter or whiter, then, unfortunately, the answer is NO. Bleach chemicals like hydrogen peroxide are really strong, in fact, too strong to be used in households. These pose risk to your health, plus can damage the fabric if not used in an appropriate amount.
What fabric does Rit Color Remover work on?
Rit Color Remover will remove all colorfast natural and synthetic textiles, including cotton, linen, wool, polyester, and nylon. It's the application process that needs to be varied sometimes.
Does Rit Color Remover remove Rit dye?
Rit color remover works on all types of dyes. So, of course, it will remove Rit dyes as well since the formula for most commercial dyes are pretty similar.
Rit Color Remover vs. Bleach – Which One Should I Choose?
You should always go for the most sustainable alternative while choosing a color remover. Most bleaching chemicals contain chlorine in them, which is hazardous. Since Rit is a non-chlorinated product and is gentle on your fabric, you should opt for color removers like these.
How to Use Rit Dye Color Remover?
Rit Dye Color Remover is the perfect way to remove the color from the fabric. To use Rit Dye Color Remover, simply follow this stovetop method –
Pre-wash your fabric. Rit Dye Color Remover is most effective on pre-washed fabrics.
Fill a bucket with water.
Raise the temperature to boil.
Now add the appropriate amount of Rit Dye Color Remover for the size of your load.
It's time to add your wet garment. Immerse your fabric in the dye remover and allow it to run for 15 minutes.
Once you get the shade you were looking for, gently lower the temperature.
Now, rinse your fabric in cold water until the water runs clear.
Wash your fabric in hot water with detergent to remove any residual color remover.
Dry your fabric as usual.
Dye Remover vs Stain Remover – What's the DIfference?
A dye remover is used to remove dye from fabric so that it can be re-dyed into a new color. Or lighten it enough so that it can be converted into a separate color.
Now, a stain remover is different in the sense that it removes the coloring stuff that came from an outside source. Often times, it deals with coloring molecules that just sit on the outside. That's why a strong detergent can be called a stain remover.
If you apply a color remover to remove stains, not only the stains will get removed, but also the dyes of your original garment will get destroyed.
That's why I strongly discourage people to use fabric dye removers as spot-cleaning agents.
Fabric Color Remover vs Bleach
Fabric color removers-like Rit Color Remover-have many significant differences with bleach chemicals. While their functions are quite similar, but the composition and effectiveness vary. Check'em out:
| Fabric Color Remover | Bleach |
| --- | --- |
| Doesn't contain harmful chemicals | Contains toxic chemicals |
| Offers organic varieties which are eco-friendly | Poses environmental thread |
| May include fabric freshener | Gives off a strong smell |
| Doesn't damage the fabric material | Causes tendering damage in cellulosic fibers like cotton fiber, viscose, etc. |
| Can apply multiple times without the risk of fabric damage | Multiple applications may lead to excessive fall in strength and fabric GSM or even tearing |
| Most of them can't remove optical brightening agents from white fabric | Works on white fabric by destroying the fabric brighteners |
Frequently Asked Questions
How to remove color from polyester?
Removing color from polyester is a completely advanced process, which requires the use of overly harsh materials since the dyes for polyester gets mechanically trapped inside the fibers. For instance, you will have to use either oxygen bleach or harsh chlorine bleach. Make sure to wear gloves while you are in the process, and don't wear new or your favorite clothes.
Where to buy rit color remover?
You can buy Rit color removers from various platforms- whether it's an online store or a physical store. When it comes to the former, you can try out online shopping platforms. On the other hand, for the latter, you can certainly look for it at Walmart.
How do I get dye out of fabric?
If you aren't planning on using a washing machine or a stovetop to remove the stain, then you can use the hand method. This process contains using a damp white cloth with a dye remover. After dampening the cloth with the remover, constantly rub it on the stained/dyed fabric for color transfer.
Do rit dye color removers work usually?
Yes, in fact, they are quite a healthy option to permanent fabric dyes from your clothes. That is because these dye removers don't often contain bleach or harmful chemicals, which damages the fibers in a fabric. As a result, you will be able to re-dye them and expect consistent results with rit dye removers.
Interestingly enough, we were successful to remove Arteza permanent fabric paint with these color removers.
How long is the lifespan of rit dyes?
You don't have to be concerned about the lifespan of rit dyes because they tend to have unlimited ones. If you are planning on storing liquid Rit dye, then make sure to store it in an airtight container so that it doesn't evaporate. On the other hand, if it's a powder, then store it in a dry and cool place.
Can I lighten fabric without a dye remover?
Although it is preferable to use dye removers when brightening fabrics- if you are not willing to, then you can certainly use home-made methods. For instance, you can use a mixture of baking soda or soda ash and cool water, which works best for washing machines as well without any trouble.
Do color removers work for tie dye?
Of course, they do. The things that matter here are the type of dye and the depth of shade, even if it's a permanent fabric dye. However, there's a risk of cross-staining while removing colors from tie dye shirts.
Will my fabric smell bad if I use a color remover?
Not at all. In fact, the opposite will happen if you the dye removers that we have mentioned above. If you use too much of strong bleach chemical, your fabric may get damaged and give a strong smell. Consider neutralizing it with enough acid solution. Then, you can use a deodorizer spray if necessary.
Can I use strong reducing agents as color removers?
Strong reducing agents like Rongalite or sodium dithionite are excellent at destroying dye molecules. However, these chemicals are toxic, can cause harm to your skin, plus not environment-friendly at all. We would suggest you stay away from hydros, sodium dithionite, etc. chemicals.
Final Words
Certainly, finding the best fabric dye remover isn't the most difficult task- but it isn't the easiest one like using Carbona color run remover either.
That is why you should utilize all the information that you have and make your decision wisely. You surely should not rush your decision and settle down for something that wouldn't produce desirable results.
We can assure you that choosing the right one will be worth it. And you can always use a fabric refresher to finish it off.
REFERENCES
Shore, J., & Society of Dyers and Colourists (Eds.). (2002). Colorants and auxiliaries: organic chemistry and application properteis. Vol. 1: Colorants (2. ed.). Bradford, West Yorkshire: Society of Dyers and Colourists.
Shore, J., & Society of Dyers and Colourists (Eds.). (1995). Cellulosics dyeing. Bradford, West Yorkshire, England: Society of Dyers and Colourists.