Can You Dye Scrubs? – A Splash of Color
Scrubs are essential to the medical uniform, providing comfort and functionality for healthcare professionals. But what if you want to add a personal touch and inject some color into your scrubs? Can you dye them?
Yes, it is possible to color scrubs through dyeing. Scrubs are typically made from various fabrics, such as cotton, polyester, or a blend of materials. Dyeing involves adding color to these fabrics through different methods and types of dyes.
In this blog post, I will explore the possibilities and limitations of dyeing scrubs and provide tips for achieving the best results. This article will also cover everything from choosing the suitable dye to preparing your scrubs for the dyeing process.
Is it Possible to Color Scrubs Through Dyeing?
Any color can be employed to scrubs through the dyeing process, although it's crucial to consider several significant factors. Scrubs are often made from synthetic and natural fibers, such as cotton and polyester.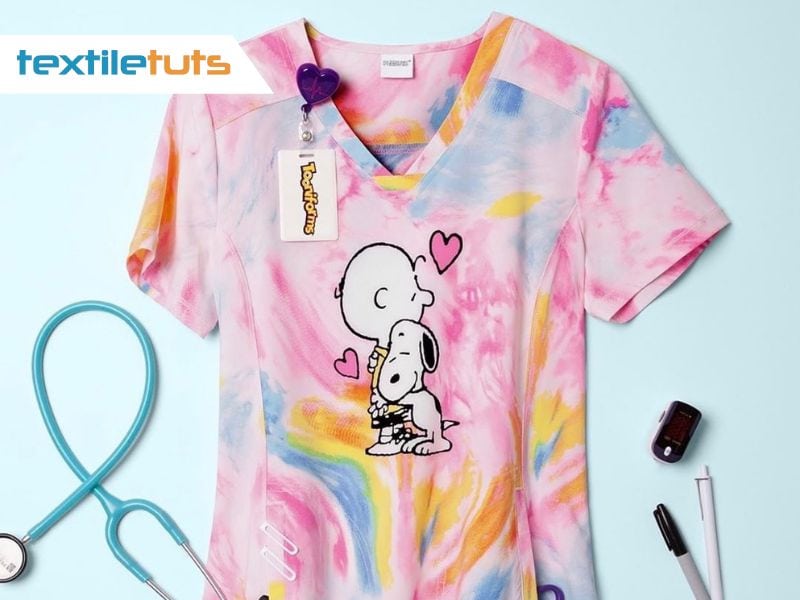 The type of fabric and its composition will determine the success and outcome of the dyeing process. Here's what you should consider:
Fabric Composition
Scrubs can be made from various materials, and the dyeing process can vary depending on the fabric's composition. Natural fibers like cotton take dyes more easily than synthetic fibers like polyester. Blends of both fibers might result in mixed color absorption.
Type of Dye
Different types of dyes are available, including direct dyes, fiber-reactive dyes, acid dyes, and more. The type of dye you choose will depend on the fabric composition and the desired color result.
Color Matching
Achieving a specific color might be challenging, especially if the original color of the scrubs is significantly different from the desired result. Remember that the actual color can affect the final shade after dyeing.
Dyeing Method
The dyeing method you use will depend on the dye type and the equipment you have available. Standard techniques include hand dyeing, machine dyeing, and immersion dyeing.
Preparation and Process
Properly prepare the scrubs by washing them without fabric softeners or detergents that could hinder dye absorption.
Follow the instructions provided by the dye manufacturer for the best results. This might include using hot water, a fixative, and following specific dyeing times.
Colorfastness
Consider that your desired color might not be as colorfast as the original fabric. This means that the dyed scrubs might fade more quickly with washing and exposure to light.
Potential Issues
Dyeing can be unpredictable, and there's a risk of uneven color distribution, splotches, or unexpected color outcomes, especially if the scrubs are made from a blend of different fibers.
What Kinds of Scrubs Can You Dye?
You can generally dye a variety of scrub types, as long as they are made from dyeable fabrics. Here are some common scrub types that you can consider dyeing: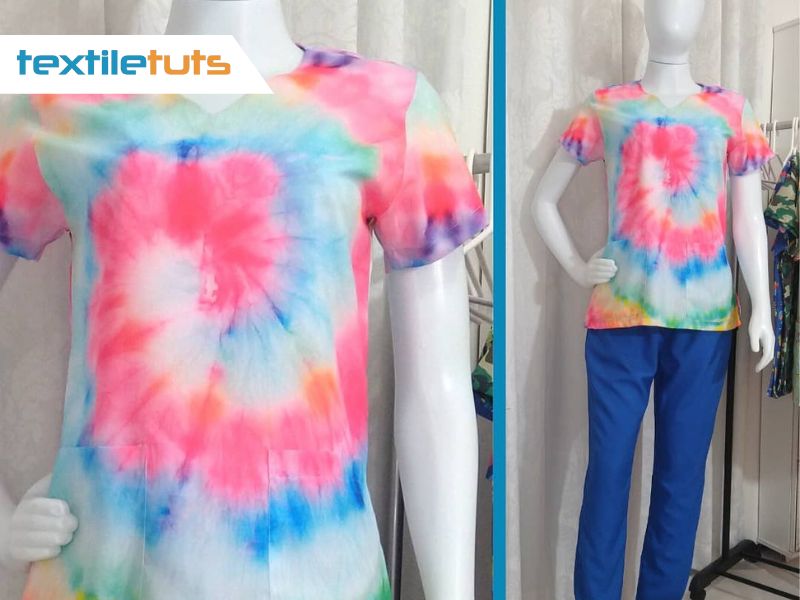 Solid-Colored Scrubs
These are the most straightforward to dye because they come in a single color. Dyeing them a different color or refreshing their existing color can give them a new look.
White Scrubs
White scrubs are ideal for dyeing because they provide a neutral base that can take on a wide range of colors. Dyeing white scrubs allows you to have more control over the final color outcome.
Light-Colored Scrubs
Light pastel-colored scrubs can also be dyed, though the outcome might be influenced by the original color. For example, dyeing light pink scrubs with a dark blue dye might result in a different shade than dyeing white scrubs with the same dye.
Scrubs with Minimal Prints or Embellishments
If the scrub has minimal prints or embellishments, these can also be dyed along with the fabric. Keep in mind that the prints might affect the final color outcome.
Scrubs with Special Finishes
Scrubs with water-repellent or stain-resistant finishes might not dye uniformly due to these treatments. It's important to thoroughly research the fabric composition and any finishes before attempting to dye them.
Types of Scrubs Fabric Suitable for Dyeing
When it comes to dyeing scrubs fabric, it's important to choose the right type of fabric to achieve the best results. Not all fabrics are equally receptive to dyes, and some may take on color more effectively than others. Here are a few types of scrub fabrics that are generally suitable for dyeing:
Cotton
Cotton is one of the most common and versatile fabrics for scrubs. It is generally easy to dye and takes color well. Cotton scrubs are comfortable and breathable, making them a popular choice for healthcare professionals. Keep in mind that the weight and weave of the cotton fabric can affect how it absorbs dye.
Rayon
Wood pulp is use to make this semi-synthetic fabric. It can be dyed with various types of dyes, including natural and synthetic options. Rayon blends are also common in scrubs and can be a good choice for dyeing.
Bamboo
This fabric is derived from bamboo pulp. Like rayon, it's a semi-synthetic fabric and can generally be dyed with relative ease. Bamboo scrubs are known for being soft and eco-friendly.
Modal
Modal is another type of semi-synthetic fabric made from beech tree pulp. It's known for its softness and comfort. Modal can often be dyed successfully, but as with any fabric, it's a good idea to do a small test before dyeing the entire garment.
Linen
This natural fiber made from the flax plant. It can be dyed, but linen has a unique texture and appearance that might affect how the dye takes to it. Linen scrubs can offer a more textured and casual look.
Polyester Blends
Some scrub uniforms are made from polyester blends, often combined with cotton or other fibers. While polyester itself can be more challenging to dye due to its synthetic nature, blends can still take on color, but the final result might differ from that of natural fibers.
Tencel/Lyocell
Tencel, also known as Lyocell, is a sustainable fabric also made from wood pulp, often sourced from eucalyptus trees. It is known for its silky feel and moisture-wicking properties, and can usually be dyed effectively.
DIY Steps for Dyeing Scrubs at Home
Dyeing scrubs at home can be a fun and creative DIY project. Here are the general steps you can follow to dye your scrubs: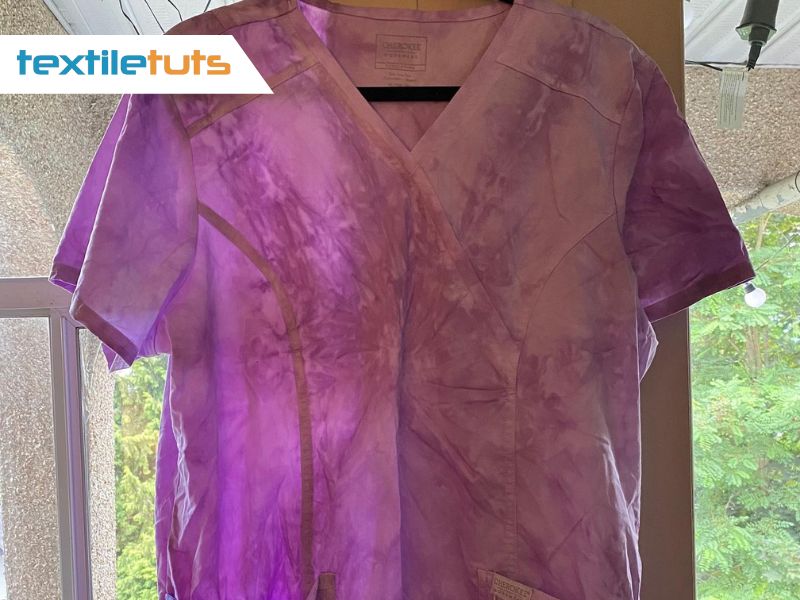 Materials You'll Need
Add the Scrubs to the Dye Bath
What Kind of Dyes to Use for Coloring Scrubs?
Different fabrics require different types of dyes for optimal results. Here are the types of dyes you can consider using based on the fabric composition of your scrubs: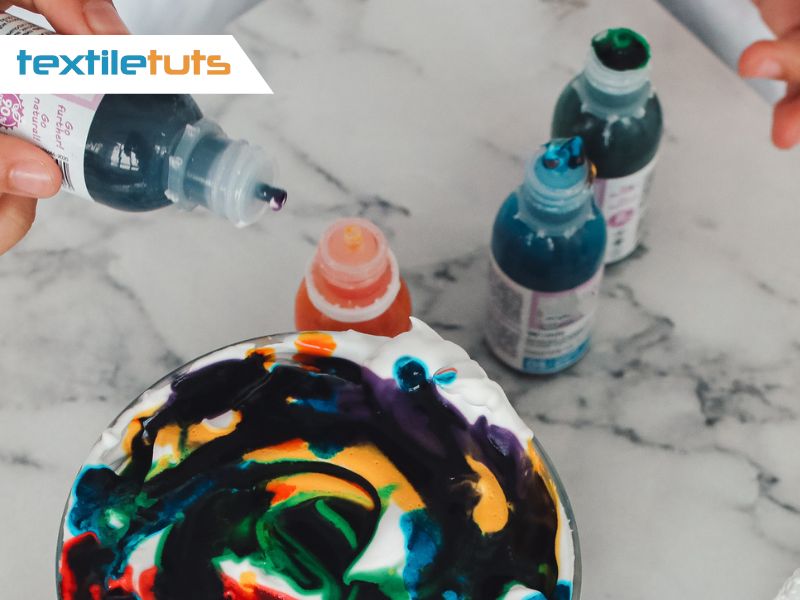 Fiber-Reactive Dyes
These dyes are ideal for natural plant-based fibers like cotton, rayon, bamboo, and linen. They chemically bond with the fibers, resulting in long-lasting and vibrant colors.
Fiber-reactive dyes are often used for tie-dyeing and other fabric art techniques. They require water, salt, and a fixative to set the color.
Direct Dyes
Direct dyes work well with natural fibers like cotton and rayon. They are relatively easy to use and don't require the same level of chemical fixation as fiber-reactive dyes. Direct dyes can yield good results when used correctly.
Acid Dyes
These dyes are suitable for protein-based fibers like silk and wool. If your scrubs contain silk components, acid dyes would be the appropriate choice. Acid dyes require an acidic environment, typically achieved by adding vinegar or citric acid to the dye bath.
Disperse Dyes
Disperse dyes are designed for synthetic fibers like polyester and nylon. If your scrubs contain synthetic components, disperse dyes are the way to go.
These dyes require high temperatures and pressure to bond with the fibers, so they are usually used in dyeing polyester fabrics in industrial settings.
All-Purpose Dyes
Some dyes are labeled as "all-purpose" or "multi-fiber" dyes. These can work on a variety of fabric types, both natural and synthetic. While they might not yield the same level of vibrancy as specific dyes for each fabric type, they can be convenient for mixed-fiber scrubs.
Natural Dyes
If you're interested in using natural ingredients to dye your scrubs, you can explore natural dyes derived from plants, fruits, vegetables, and other sources.
Keep in mind that natural dyes might result in more subtle and earthy colors compared to synthetic dyes.
Tips for Dyeing Scrubs Successfully
Dyeing scrubs successfully requires careful preparation, attention to detail, and adherence to specific steps to achieve the desired color and outcome. Here are some tips to help you achieve successful results when dyeing your scrubs: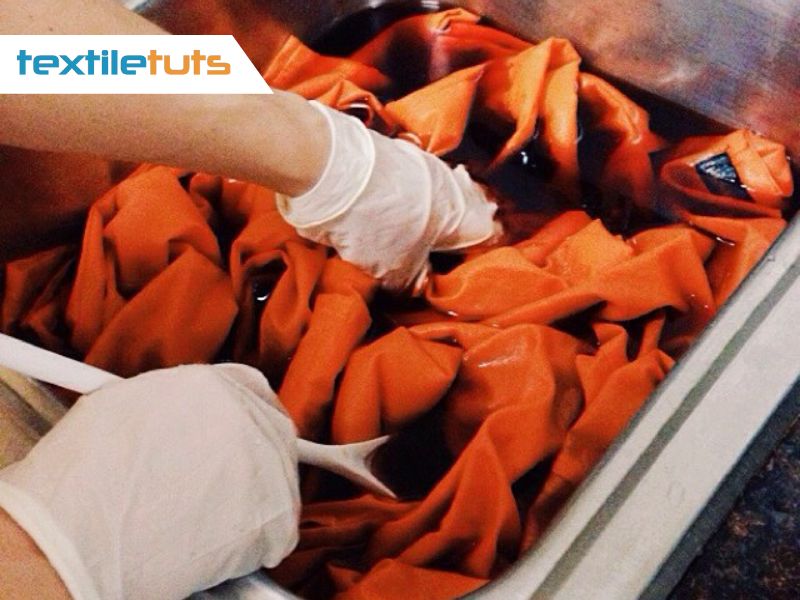 Select the Right Dye Type
Choose a dye that is suitable for the fabric composition of your scrubs. Consider whether your scrubs are made of natural fibers (cotton, rayon, bamboo, etc.), synthetic fibers (polyester, nylon), or blends of different fibers. Different dye types work best with specific fabric types.
Pre-Wash the Scrubs
Wash the scrubs before dyeing to remove any finishes, dirt, or oils that might hinder dye absorption. Avoid using fabric softeners or detergents with bleach additives, as they can affect dye uptake.
Check for Stains and Repairs
Inspect the scrubs for any stains, tears, or repairs. Dyeing will set stains, so it's best to address them before dyeing. Also, ensure the scrubs are in good condition to withstand the dyeing process.
Perform a Color Test
Before dyeing the entire garment, do a color test on a small scrap piece of fabric or an inconspicuous area of the scrubs. This will give you an idea of how the fabric reacts to the dye and the color result you can expect.
Wear Protective Gear
Wear rubber gloves and old clothing that you don't mind getting stained to protect your skin and clothing from dye.
Choose Dyeing Method
Decide on the dyeing method you want to use. Immersion dyeing, tie-dyeing, and hand-painting are common methods. The chosen method will impact the final design and color distribution.
Control the Dye Process
When immersing the scrubs in the dye bath, stir continuously for even color distribution. The longer the scrubs stay in the dye bath, the deeper the color will be. Keep track of time to achieve the desired shade.
Avoid Overloading the Washing Machine
If using a washing machine for rinsing and washing, avoid overloading the machine to prevent uneven dye distribution or damage to the machine.
Sunlight Exposure
Direct sunlight can fade colors over time, so it's a good idea to store your dyed scrubs away from prolonged sunlight exposure.
Patience and Experimentation
Dyeing can be a creative process, but it might require some trial and error. Be patient and willing to experiment to achieve the color and design you desire.
Final Words
While dying scrubs is possible, it requires careful consideration of the fabric type, dye type, and dyeing technique. It is crucial to follow the manufacturer's instructions to prevent damage to the fabric or loss of color.
In some cases, replacing old or faded scrubs may be more cost-effective than attempting to dye them. Ultimately, consulting with professional or following expert advice is recommended to ensure the best possible outcome when dyeing scrubs.