Arteza Fabric Paint Reviews
When it comes to fabric painting, there is no better way than doing it by hand. Fabric paint gives you a smooth and even finish that will last much longer than regular acrylic paints or watercolor because the liquid binds with your fabric instead of just sitting on top of it.
Looking for a fabric paint that will help you unleash your creative side? Look no further than Arteza's line of high-quality fabric paints. So, whether you're a beginner or an experienced artist, these paints will definitely meet your needs. Plus, they're all non-toxic and perfect for both adults and kids alike.
In this article, we'll be taking a look at the top three Arteza fabric paints and their unique benefits. Also, we've added a comprehensive buying guide and different forms of fabric paint sections so that you can have a broader idea. Keep reading to learn more.
Top 3 Arteza Fabric Paint Reviews
Here are the top 3 Arteza fabric paints, based on user reviews. Whether you're looking for something to dye some fabric or want to paint a design onto it, one of these paints will work well for you.
1. Arteza Permanent Fabric Paint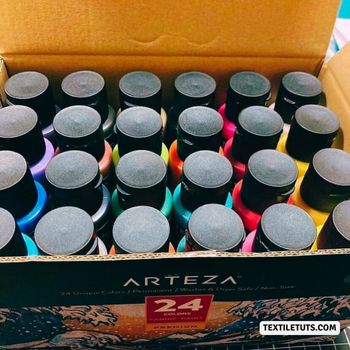 Features
Surface Recommendation: Fabric
Color: Multicolored
Unit Count: 48 FI Oz
Age Range: Kid teen adult
Finish Type: Metallic
Package Information: Bottle
Size: 21 FI Oz (Pack of 24)
Item Volume: 60 Milliliters
Arteza is a name that is revolutionizing the fashion world. If you are looking for permanent paint to get your fashion ideas going well, then this is it. It has 24 unique shades, and they are semi-transparent and keep your fabric soft.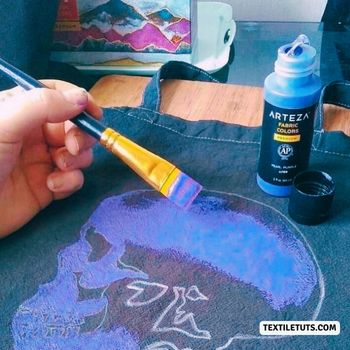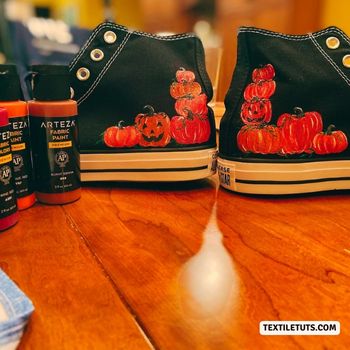 This paint is free from toxic ingredients, and it is skin-friendly and washable. That's why it makes an excellent choice for tie-dye, batik, hand or machine painting on fabrics, wallpaper, or craft projects.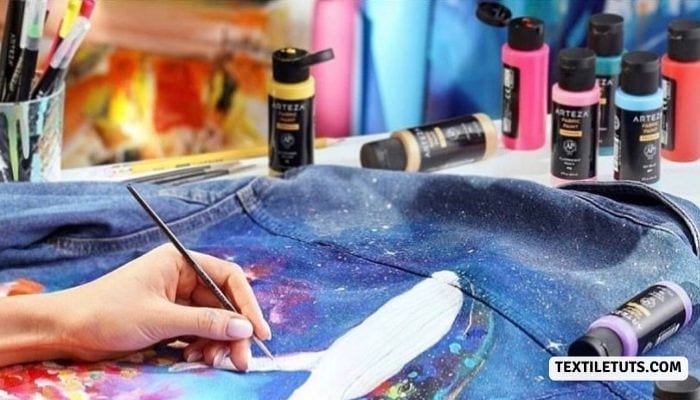 The set includes two metallic, four neon, and 18 classic fabric paint colors. Metallic pigment offers a radiant effect under artificial light, and fluorescent pigment needs a UV light source to give the stunning neon effect.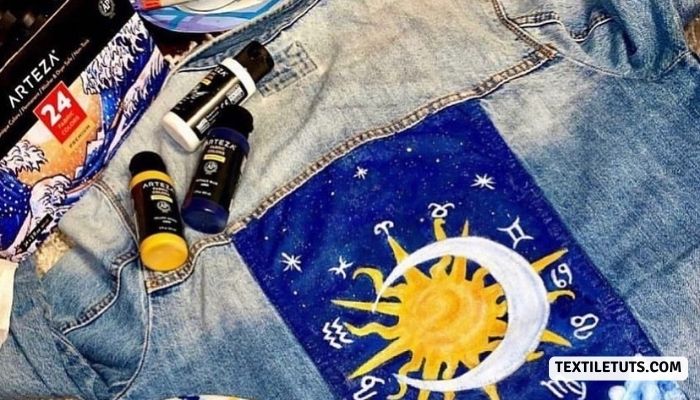 These quick-drying paints are ideal for clothing, furniture, canvas, paper, and DIY projects. You can even use them on iron-on letters or other decorative home items. Furthermore, Arteza paints are permanent on most fabrics, including cotton, spandex, linen, rayon, etc. It is designed and created by artists who understand the importance of color in your craft projects.
Verdict
This Paint is a high-quality, affordable fabric paint that's perfect for crafting and DIY projects. It comes in a wide range of colors, it's easy to use, and it dries quickly and permanently.
2. Arteza 3D Permanent Fabric Paint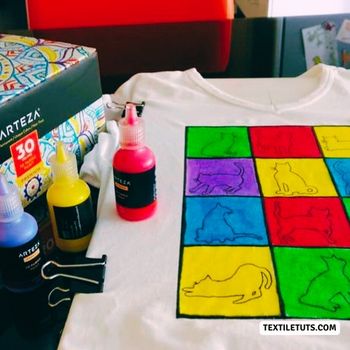 Features
Surface Recommendation: Fabric
Color: Fabric Paint
Unit Count: 1 FI Oz
Age Range: Unisex
Finish Type: Metallic
Package Information: Tube
Size: 1 FI Oz (Pack of 30)
Item Volume: 1 Fluid Ounce
If you're looking for a new creative outlet, Arteza 3D Permanent Fabric Paint is the perfect product for you. Not only does it add a 3D effect to your creations, but it also has a wide variety of colors to choose from. That's why we have kept it in the second position.
These paints are created by artists who are experts in the industry. This is designed for unisex use, which means perfect for designers, crafters, and artists of all levels. They are made with non-toxic ingredients and are made to be soft on the skin.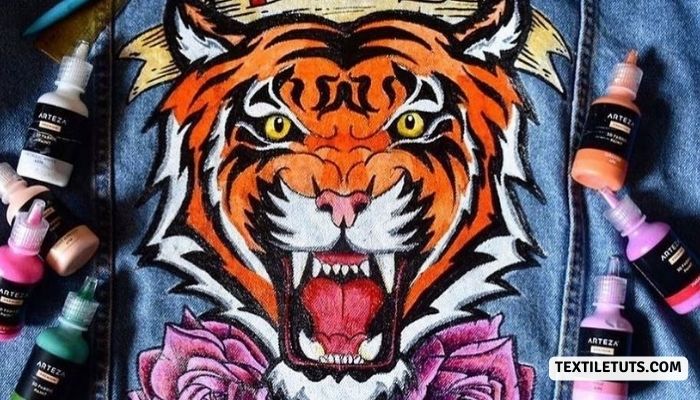 There are 30 individual tubes, all 29ml (1 fl oz) in size. You'll have no problem finding colors that work well together. There are rich, vibrant colors that create a 3D effect, metallic colors, fluorescent, neon, glitter, and glow-in-the-dark colors. This product is designed and developed by artists – so you know it's well.
Verdict
This Fabric Paint is a high-quality, non-toxic fabric paint that can be used to create beautiful, vibrant 3D designs on any type of fabric. The paint is easy to use and comes in a variety of colors, allowing you to create any design you can imagine.
3. Arteza Fabric Paint Markers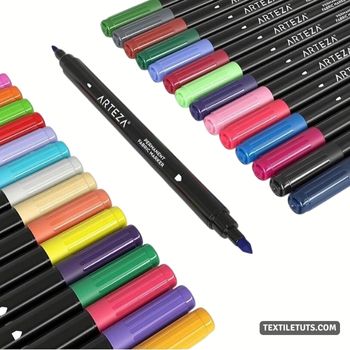 Features
Surface Recommendation: Fabric
Color: Fabric Paint
Unit Count: 30 markers
Package Information: Markers
The last item on our list is Arteza fabric paint markers. These paints are a must-have if you're into sewing, quilting, or other textile projects. The markers are made with a dual-tip design, which means you can either use the ultra-fine or the fine tip. The ultra-fine tip can create a more detailed look, while the fine tip provides more versatility.
They have a fine point at the end, which is perfect for detail work and sketching. The other end is a more general-purpose, so it'll work well for coloring. Thanks to the acrylic paint, which is machine washable and waterproof.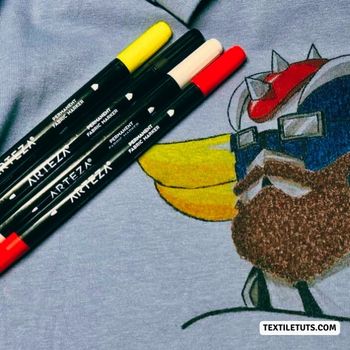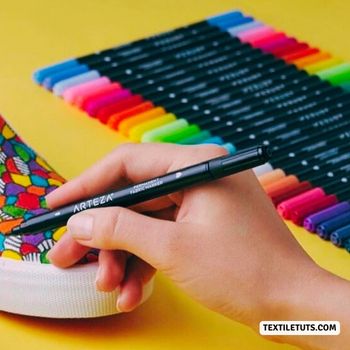 That said, you can feel confident about not getting your project dirty. It's completely non-toxic and safe to use for coloring your T-shirt, Jacket, jeans, or even backpacks. Finally, the pens are designed and created by artists, so you can trust that their quality is top-notch.
Verdict
What's great about these markers is that they're fast-drying, so you won't have to worry about your project taking too long. Plus, the fine tips make it easy to create detailed designs or lettering with ease.
Different Forms of Paint for Fabric
Fabric paint can come in various forms, including liquid, gel, and sometimes powder form. Each type has its own advantages, so we have broken down each one to help you decide which product will work best for your next project.
Liquid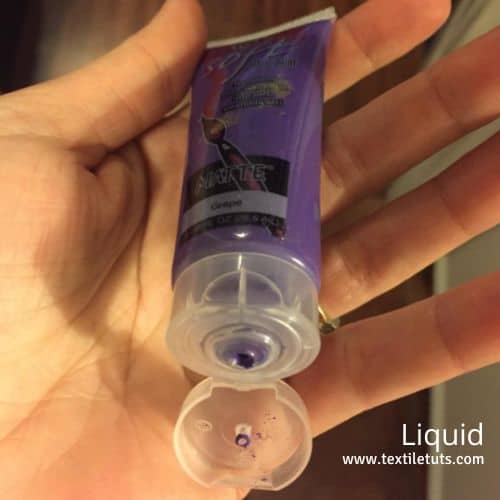 There are hundreds of colors available, so you are pretty much guaranteed to find a shade that perfectly matches your vision for your project. Liquid fabric paint from Arteza takes about 24 hours to dry completely, whereas other brands can take up to three days to dry completely.
Another upside to using liquid fabric paint over gel or powder is that it creates a smooth and even finish, which is great for painting on fabrics like silk and velvet.
The only downside we find with liquid fabric paint is that it may not adhere as well as other formulations. This can be remedied by curing your project for at least 24 hours before washing your finished product.
Gel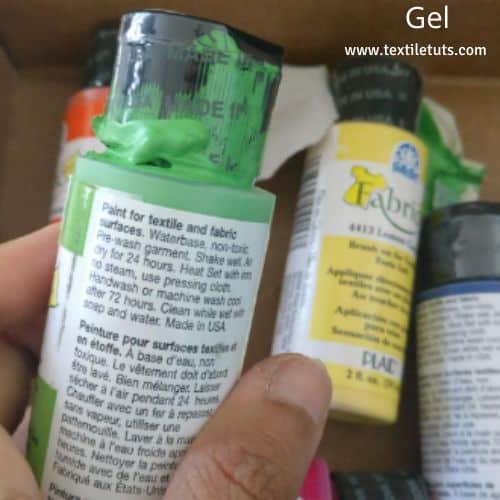 Like liquid, you have a huge selection of colors to choose from when purchasing gel fabric paint. Gels also dry extremely fast (about 15 minutes), so the wait time after each layer isn't too bad either. The quick-drying action means there's less chance of color smearing while you work.
One big advantage of gel is that it gives really versatile coverage, so you can paint any type of fabric, including silks, cotton, and synthetics, without worrying about your color fading or washing out over time.
On the downside, neutral colors tend to be a little more difficult to find in gel form, leading to some frustration when trying to match certain shades for your project.
Powder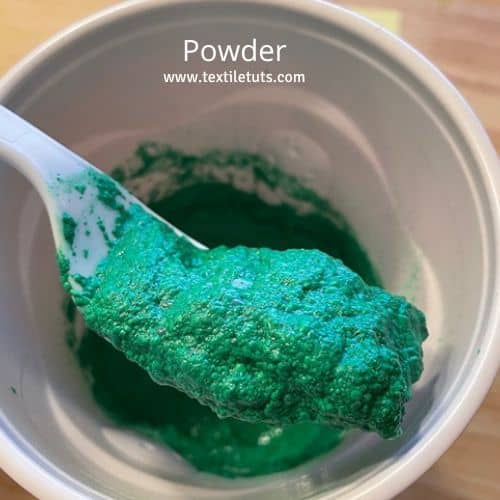 This type of fabric paint is probably one of the most versatile formulations because it can be used on all types of fabrics. You also have a much larger range of colors to choose from when buying powder, including pastels. We love how powders adhere to different fibers but are slightly more messy than other types of fabric paint because you need to mix with water before applying.
The only downside we find is that the application process can be a bit tedious and time-consuming as you have to pour the powder into a container, mix it with water, then transfer it to another container before painting on your fabric. You also need to let it dry completely before washing which may require some extra planning if you're working on a large project.
Things to Consider Before Buying Fabric Paint
Here are a few things that you should keep in mind when purchasing fabric paint for your crafting projects.
Brands
As we all know, there are a lot of different brands out there and each one is quite popular and their paints also seem to be very effective on fabrics. So which one should you choose? It's best that you decide on what specific project you will need these paints for because each brand has its own type of paint.
Some are stronger than others, while some may dry faster than others or not as strong, but they do dry quicker or vice versa. And if you plan to use the paint in multiple projects, see if the manufacturers offer 'continuous flow' paint so that you don't have to re-purchase any more paint for your next project.
Price Vs. Quality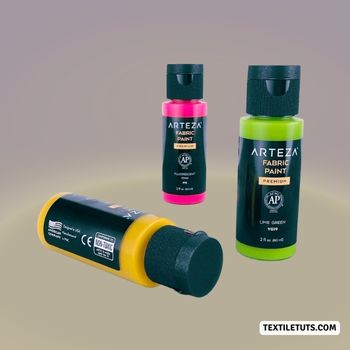 When buying fabric paint, always remember to check the quality before you buy them because sometimes the more expensive paints are just worth it. Each time that you use cheaper fabric paint, you might find yourself purchasing more often than before, and that's because the cheap brands just don't last as long as some of the other brands would if used for multiple projects.
Is It Washable?
If your project is permanent like a t-shirt or pillowcase, then make sure to look for the word "washable" on your bottle of fabric paint because there are some out there which can easily come off even with only one wash.
If this happens, then obviously, your hard work has gone down the drain. So always try buying paints with the word "washable," and if you're not in doubt, pick a paint with more than one wash durability.
What Is It Made of?
Fabric paints use different materials for their paints to be effective on fabrics that could either be natural or artificial depending on each brand's preference. Natural fabric paint can use any type of plant-based dye,
Whereas some brands use synthetic substances such as acrylic polymer emulsion, which forms a waterproof layer over your material once dried out by heat from your ironing machine. It would be best if you chose based on your project's requirements.
The Color
When deciding on a color for your project, always try testing them before buying. That way, you could see which color looks best on what fabric because some fabrics may absorb a certain paint's color differently.
Also, if it's an off-white fabric, remember to go for white fabric paint, so your material doesn't get a yellow or a gray tone once dried out because nobody wants that, right?
The Effect
If your project requires a special look, then don't forget to check the type of paints that each brand has available before buying one. This ensures that you buy the one that would best suit your tastes and preferences.
There are different types, such as glitter, marbleizing, and acid dyes, just to name a few. So, take note of all things when picking out the right paint for your craft project.
Frequently Asked Questions
How can I use acrylic paint for fabric?
You can use acrylic paint for fabric by diluting it with water and then applying it with a brush. Be sure to test the paint on a small area of the fabric first to make sure that it doesn't cause any staining or color bleeding. You may also want to add a textile medium to the paint in order to help preserve the fabric's color and integrity.
Are Arteza products lightfast?
Yes, Arteza paint is lightfast, which means it will not discolor or change colors over time due to exposure to direct sunlight or other elements that cause fading, such as UV radiation from the sun.
How to remove fabric paint?
You can apply denatured alcohol or dyepress poly-t plus to remove fabric paint. For that, you can use a cotton swab or an eyedropper to apply gently. The paint will start to dissolve, and you can use a cloth to wipe it away. If some paint still remains, reapply the alcohol and wait a few minutes for it to loosen. Then wipe it away with a cloth.
How long does it take for fabric paint to dry?
It depends on the type of fabric paint and the weather. In general, though, it will take at least 24 hours for fabric paint to dry.If you're using oil-based fabric paint, it will take longer to dry than if you were using water-based fabric paint. And if it's humid outside, then that will also affect how long it takes for the fabric paint to dry.
How do you wash clothes after using fabric paint?
Fabric paint should be washed the same way that you would wash any other type of fabric. You can use a pre-wash treatment, but it is not necessary. Just like fabric dyes, avoid using strong detergents or bleach if possible, as these can also cause the colors to run together and lose their intensity over time.
Final Words
In this article, we reviewed three of the more popular Arteza fabric paint products. We obviously didn't cover the entire line, but these were the most highly sought-after ones among the users who made their opinions known.
Moreover, you can take our fabric paint buying guide as a manual when purchasing paint for your new projects. Hopefully, this information will help you choose which fabric paint is perfect for your latest project. Happy crafting.
REFERENCES