Best Fabric Repair Tape to Fix Your Upholstery and Clothing
Accidental holes and tears happen quite often than we expect. But that doesn't mean we have to throw away our favorite clothing or upholstery.
Besides, household furnishing elements like curtains and bedsheets do not come cheap. Therefore, to avoid replacing your favorite apparel or that gorgeous curtain, you can use the best fabric repair tape to fix the issue.
Luckily, these are really cheap and don't alter the appearance. If you manage to get the right one, no one will be able to notice the difference.
3 Best Fabric Repair Tape Reviews
Without further chit-chat, let's get right to the fabric repair tapes that can alleviate your concerns regarding your ripped or holed fabric items –


1. Tear Aid Fabric Repair Tape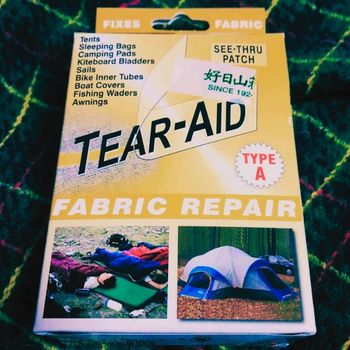 Features
Color Options: Clear (See-through tapes)
Roll Size: 3-inch x 5-feet
Construction Material: Elastomeric Film
Compatible With : Fabrics, Rubber, Plastics, Fiberglass, etc.
If you were on the lookout for something that is transparent and compatible with all types of fabrics, then you can definitely give the Tear Aid fabric repair tape a shot. It can also be classified in the category of the best fabric repair kit.
This see-through fabric tape comes in 3″ x 5′ rolls, thus you have literally no restrictions length-wise in normal circumstances. And the matte finish will render a superior hand feel.
With this roll, you can easily mend those rips and holes by just peeling it off and sticking it to the affected area. Thankfully, it comes with alcohol pads to clean the area beforehand.
However, that's not the most interesting fact of this Tear Aid reviews. That would be its usability on irregular surfaces. And this is a lifesaver! Because many curtains and upholstery have convex and concaved surfaces for aesthetic purposes. And average fabric repair tapes just can't hold onto those areas. But not this one!
Its strong abrasion-resistant adhesive formula provides the perfect bonding strength to stick to those wavy surfaces. Furthermore, it's capable of holding air when stretched or pressurized.
Typical fabric repair tapes turn gummy when it's exposed to sunlight. Thus, if you're applying the tape to your curtains you must make sure it's resistant to heat.
Thankfully, Tear Aid fabric repair tape is perfect for this type of application. And it goes one step ahead by ensuring UV-resistance. This way, the color of curtains and clothing won't fade no matter how long they are exposed to sunlight.
2. GEAR AID Fabric Tenacious Tape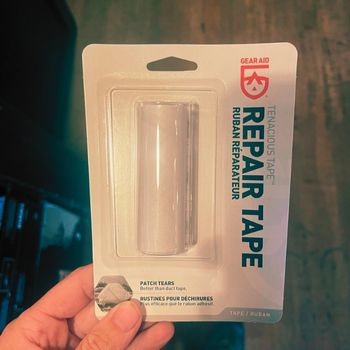 Features
Color Options: 7 (Black, Clear, Yellow, Off-White, Orange, Sage, Red)
Strip Size: 3 x 20 inches
Construction Material: 100% Cotton, Nylon, Ripstop, Blend
Compatible With : Fabrics and Vinyl
While looking for the best fabric repair tape, the brand Gear Aid will come up in most circumstances and for good reasons.
The adhesive capacity of this repair tape is fantastic as it sports the fabric glue that exhibits excellent bond strength.
Need to fix those holes and rips of your curtains? Don't worry! Just peel this Gear Aid fabric tape and stick it to the item that requires fixing. And Voila! If you've chosen the color correctly, even the most experienced eyes won't be able to tell the difference. Yes, it's that good!
Furthermore, you can wash your clothing in the washing machine after applying this fabric tape. Because it boasts a waterproof coating that maintains the effectiveness of the adhesive.
Now, we have to make one thing very clear to you.
No fabric tape, including this one, can work as an effective alternative to sewing.
So, don't try to apply it to your seams and expect it to last forever.
3. Beigoo Nylon Fabric Repair Tape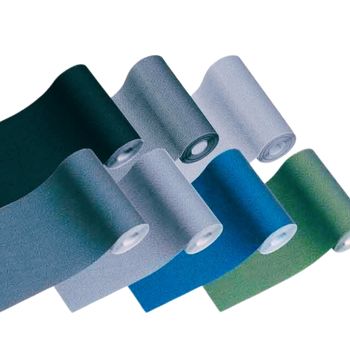 Features
Color Options: 4 (White, Black, Green, Pale Green)
Strip Size: 2.4 x 60 inches
Construction Material: Nylon
Compatible With : Fabrics, Leather, Plastic, etc.
As far as synthetic fabrics that are produced for mass use, nylon is the one that boasts the highest strength. In fact, nylon is the first man-made fiber, and it revolutionalized the military and apparel industry with its rugged performance. So, you can already guess this nylon fabric repair tape's durability.
Performance gears like tents, awnings, etc., are subjected to a high level of wear and tear. Thus, when those get ripped, only a strong tenacious adherence tape like this one can come to the rescue. Typical, fabric repair tapes won't stand a chance when subjected to repeated friction.
Moreover, the tape is water-proof, so you can wash your jacket in the washing machine without any worry.
Thankfully, this high-performance repair tape is easy to apply as well. It's iron-on type. So, you just need to heat it using a heat source like iron and apply it to your preferred location. Just give it a few seconds to cool down and Voila!
Frequently Asked Questions
Can fabric repair tapes work as an alternative to sewing?
It depends. These tapes work really great without harming the aesthetics that much. But for seam joints of your car upholstery or any heavy duty clothing, we would highly recommend you use something like the best sewing machine for car upholstery or a heavy duty sewing machine for canvas.
Final Words
Hopefully, after going through the entire article, you're now versed with the knowledge to pick the best fabric repair tape for your use case. And please remember –
Not even the best fabric glue can replace the functionality of a repair tape.
Yes, in some minor cases, you might get away with using fabric adhesives, but for performance wares and hand feel, fabric repair tapes are irreplaceable.
REFERENCES