Get the Best Fabric Stiffener for Your Crafting Needs
When it comes to sewing or crafting a piece of clothing, the stiffer they are, the easier it will be for you to work with them. However, not all of the fabric rolls you will purchase for carrying out different fabric projects will be stiffened from the get-go.
You will have to stiffen them manually. And even though it is possible to make a stiffener right at home, there are many commercial fabric stiffeners. Thankfully, these stiffening agents save the time and effort you would have to put into making a homemade fabric stiffener.
And with the best fabric stiffener, you should be able to stiffen crochet doilies, lace, cheesecloth, and other fabric materials. You can even use some of these to make those materials stiffen permanently.
What Happens to Your Fabric When You Use a Stiffener on It?
Fabric stiffener is made of polymer molecules. These molecules strongly attract each other, which makes the fabric stiff. Polymer molecules are very strong and lightweight, which means that when you add fabric stiffener to fabric, it doesn't add much weight.
Most people don't even notice the difference. In addition, some fabric stiffeners are water-soluble, so they don't change the feel of the fabric too much once it's dry.
5 Best Fabric Stiffener
Using a hair dryer is not really the best solution if you want to stiffen the clothing that you are working on. Instead of that, you need to take a look at the list that we have huddled with the top-rated temporary and permanent fabric stiffener out there and pick one for your projects. The list goes something like this:
1. Aleene's 15581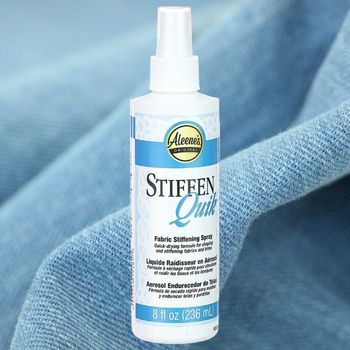 Features
Formula: Clear
Container: Spray Bottle
Quantity: 8 oz
Standout Feature: The formula dries almost instantly
Among all of the options out there, the best fabric stiffener spray that you can get right now would be this. Wondering why? Well, keep reading, and you will know exactly why.
Let us talk about the fabric stiffener material that the manufacturer has used for this one. This spray fabric stiffener utilizes the Stiffen-Quik formula that will take seconds to dry up.
Aside from having the capability to dry up exceptionally fast, this one dries clear as well. That means it will not ruin the color of the clothing material that you are working on.
You will also have the option to spray multiple coats on the surface because of the clear formula that it utilizes. That will enable you to get a heavier shaping, which is essential for some of the permanent fabric projects.
Apart from that, the formula washes pretty easily using tap water. You will not even have to consider the water temperature because you can clean it with room temperature water too.
Lastly, the spray bottle that it comes with is 8 oz in capacity. That amount of commercial fabric stiffeners should be more than enough for carrying out multiple projects.
2. Aleenes Fabric Stiffener & Draping Liquid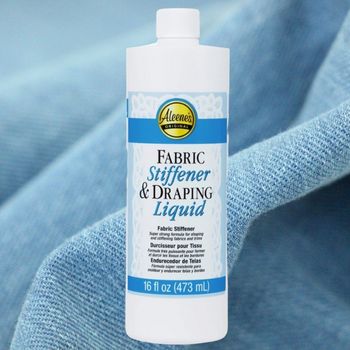 Features
Formula: Non-toxic
Container: Regular bottle
Quantity: 16 oz
Standout Feature: Easy to use
Having toxic chemicals on the formula can ruin the color of the fabric. Well, Aleenes had factored that in when they were manufacturing this one for the market.
First of all, the formula does not contain any toxic chemicals to stiffen fabric. For that reason, not only will it be safe for you to use it, but also it will not damage the color or the texture of the clothing.
Even though the formula does not have any toxic chemicals in it, it is still the strongest fabric stiffener in the market. It achieves such a position for the unique blend of natural ingredients that the formula relies on.
Aside from that, the bottle that will ship to you will contain 16 oz of liquid to stiffen fabric. That amount of stiffening solution should be more than enough for large scale craft projects. You can even carry out multiple small projects using just one bottle of these fabric stiffeners.
On that note, the application process of this fabric stiffener draping liquid is pretty easy.  You will not have to go through that many hassles when you are trying to work with your home decor projects with this.
Even the washing process is easy as well. All you are going to need is a damp cloth for cleaning it. There will be no need for cold water as well.
3. SpraynBond Fabric Stiffener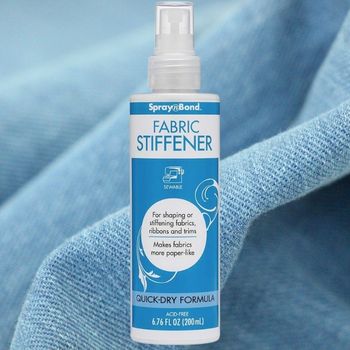 Features
Formula: Acid-free
Container: Spray bottle
Quantity: 6.8 oz
Standout Feature: Makes fabrics paper-like
Stretching is one of the factors that most fabric stiffeners suffer from. Well, that is not really the case for this one that is being offered by SpraynBond.
To begin with, the container that you will receive will contain 6.8 oz of fluid for stiffening fabric. Even though this amount of liquid is not enough for multiple projects, you will not face any issues when you are carrying out a relatively large-sized project to harden fabric permanently.
Other than that, as it comes in a spray bottle, applying this on clothing will be a pretty easy task for you. The spray mechanism is pretty easy to activate, which means you will not have to use that much force to push the liquid out either.
Alongside that, the formula that it utilizes is capable of reducing the amount of stretching. That means after you apply this on the knits, stitchings, or fabric bias, you will not notice any stretching on the surface.
Aside from that, it has a high capability to eliminate most of the puckering that occurs on the surface when you are working with the clothing for your project. So, you can use this stiffening fabric solution to replace most of the tear-away stabilizers.
Besides that, these fabric stiffeners can make the treated fabrics lay flat like paper. And you can use this one most of the fabrics.
4. Beacon Stiffen Stuff Spray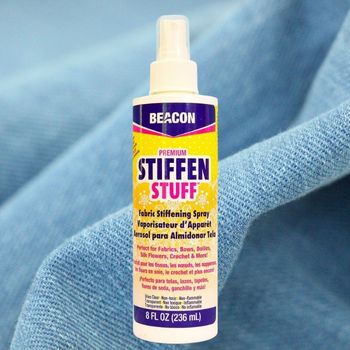 Features
Formula: Non-toxic
Container: Spray Bottle
Quantity: 8 oz
Standout Feature: Does not require any mixing
The clear formula is something that most of the brands are not going to utilize. However, if you were looking for one, you should consider this one that is from Beacon.
We achieved beautifully printed results with our best direct to garment printer for small business after treating it with this stiffener.
Let us talk about the formula for stiffening fabric first. It does not contain any sort of toxic chemicals. Instead of that, it utilizes natural materials for the stiffening process. For that reason, you will not have to worry about any side effects occurring.
Aside from the nature of the formula, it does not require any sort of mixing, which some of the other solutions might require. That means you will be able to use it right after taking it out of the packaging.
On that note, it comes in a spray bottle that has an easy activation mechanism. Because of the spraying mechanism, it should be pretty easy for you to apply this to the fabrics.
Apart from that, the formula is clear. You can coat multiple layers of this without having to worry about any yellowing occurring. Also, it will not interfere with the color of the surface because of being clear.
Lastly, the container contains 8 ounces of fluid. With just a single bottle, you can carry multiple small projects.
5. Mary Ellen Fabric Spray Starch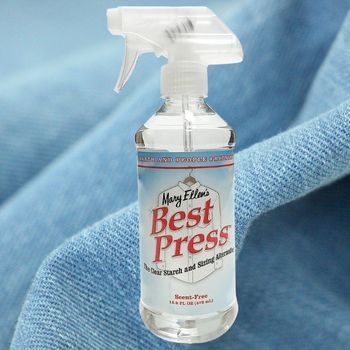 Features
Formula: No odor
Container: Spray Bottle
Quantity: 16.9 oz
Standout Feature: Capable of resisting wrinkles exceptionally well
Most of these stiffener solutions you are going to find in the market will have an odd smell to them. However, this one that is from Mary Ellen does not have that.
First of all, the formula that the manufacturer has opted for does not contain any sort of odor. For that reason, it basically achieves a scent-free property, which is not that common.
Apart from not having any odor to it, the formula does not have any color as well. Unlike some of the solutions, this will not turn yellow once it dries up. That means you will not have to worry about discoloration on the surface.
Thus, if you're planning to use this stiffener for printing on a t-shirt with the best fabric transfer paper, you can go ahead and do so – it won't alter the color.
The formula also has a special ability, which is that it can resist wrinkling. Because of that, after you apply this on the surface, you will not notice any wrinkling occurring on the surface.
Talking of which, it comes in a spray bottle that is quite easy to operate. The handle is quite large, which will enable you to take full control over the direction of the sprays.
Other than that, the total amount of liquid that you will find in the container is 16.9 oz, which is higher than what most of the manufacturers are offering. You can carry out plenty of large scale projects using a single bottle.
Questions You Need to Ask Yourself Before Buying a Fabric Stiffener
A fabric stiffener might be what you need when you're looking to give your fabric a little extra structure. But before you run out and buy one, there are a few things you should know about these products. So, whether you're new to using stiffeners or want to make sure you're using the right one, keep reading!
Is It a Way to Make the Cloth More Durable?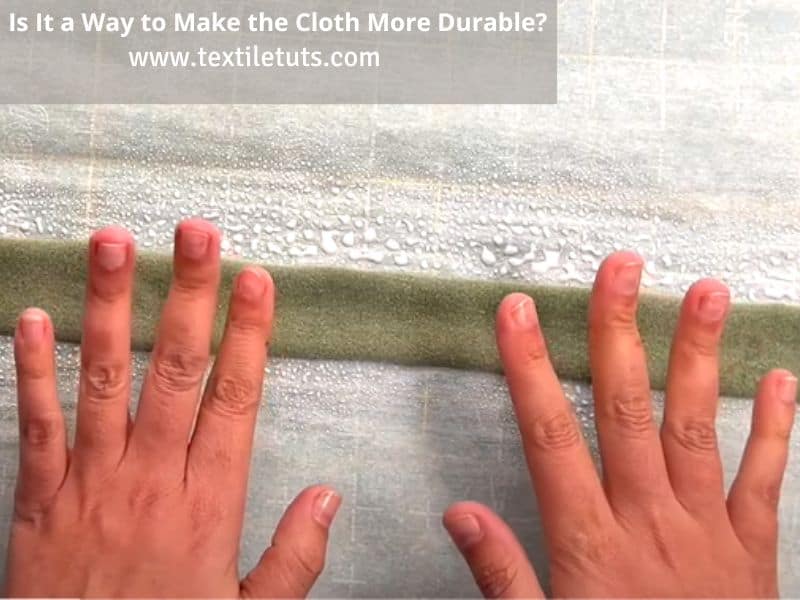 A common misconception about fabric stiffeners is that they don't make the fabric more durable. On the contrary, they usually make the fabric a little bit harder.
Nevertheless, fabric stiffener is a popular product among crafters because it is perfect for making things like bows or embellishments that need to keep their shape.
On the same note, some products offer permanent stiffness to the fabric. And you can apply fabric stiffener to cloth differently, like spraying it on or painting it with a brush.
What Type of Fabric You Will Be Using the Fabric Stiffener On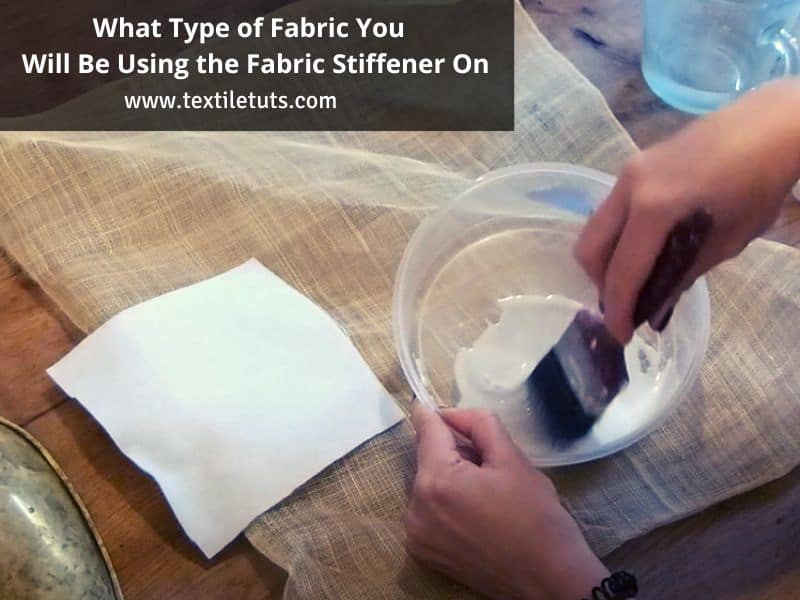 The fabric you will be using will play a role in determining which fabric stiffener to use because some fabrics are more delicate than others and require a milder stiffener.
Silk, for example, is a delicate fabric that a harsher stiffener can easily damage. In contrast, denim is a sturdy fabric that can handle a stronger stiffener.
As a general rule, synthetic fibers are more delicate than natural fibers, so if you are unsure about which stiffener to use, it is always safe to choose a milder option.
What Type of Finish You Want for Your Fabric
Using fabric stiffener is a great way to achieve the finish you want. But, it is vital to take into account the type of fabric you are using. Do you want it to be matte or glossy? Shiny or dull?
Resin-based stiffeners give you a glossy-shiny finish, while starch-based stiffeners provide more of a matte look.
Depending on the fabric type, starch-based stiffeners work well on natural fibers like cotton, linen, and wool. In contrast, resin-based stiffeners are better suited for synthetic fibers like polyester and nylon.
So, it's important to choose the one that will work best for your project.
Risks Associated with Fabric Stiffener Use (Chemical Effects)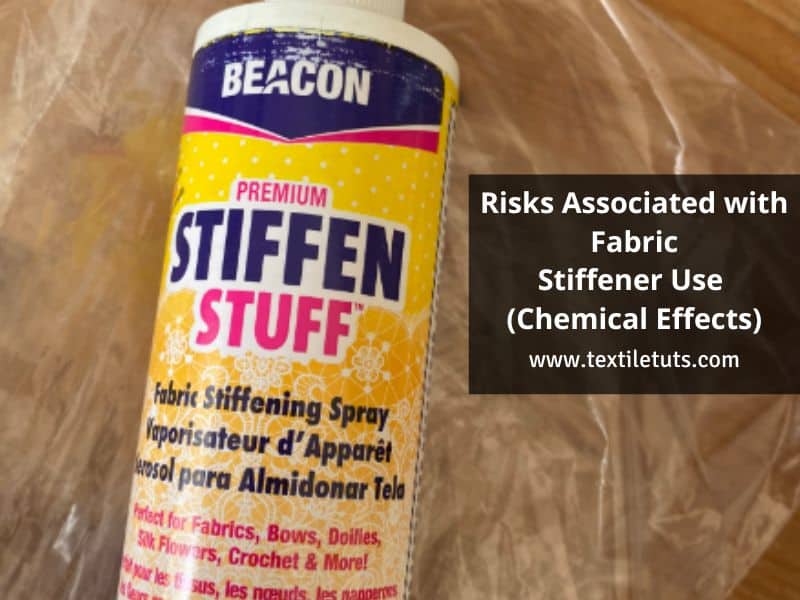 Fabric stiffeners give your clothes the desired look, but they also have some harmful side effects. It contains chemicals that can cause skin irritation, burns, and respiratory problems if inhaled.
Some of the most commonly used fabric stiffeners are polyacrylate, polyvinyl acetate, and copolymers. Unfortunately, these chemicals can cause some people skin irritation and respiratory problems.
And they also pollute the environment when they are released into the air or water. Therefore, it is important to read the labels carefully and follow the instructions to avoid potential risks.
Frequently Asked Questions
What can I use instead of fabric stiffener?
If you are reluctant to use the commercial stiffeners that are available in the market, you can opt for the natural formulas. A simple cornstarch solution works the best if you do not want to work with intricate and hard to find ingredient.
On the other hand, you can make a simple stiffener solution using cornstarch and tap water. However, this solution might not work with all of the types of fabrics that are out there.
Will Mod Podge stiffen fabric?
Yes, Mod Podge has a characteristic that can make the fabric stiffer. After application, the surface will be paper-like stiff. However, this will make the surface exude a different type of sheen, which might not work for your project.
What does fabric stiffener do?
Just like the name suggests, these are going to make the fabric stiffer. As a result, it will get a bit easier for you to carry out the project using the piece of clothing. Plus, fabric stiffeners can also make your garment dimensionally stable. Thus, it can be applied for modifying the drape properties of your apparel.
What is fabric stiffener spray?
Most of the stiffener solution will come in a spray bottle. And those are generally are referred to as fabric stiffener spray. Interestingly, you can use this spray to turn your regular cloth into the best fabric for hand embroidery, owing to the stiffness it infers.
Can I use fabric glues as stiffeners?
Yes! But you have to keep in mind that the best fabric glues are typically higher in concentration. Thus, you need to dilute them first. Adding 1 cup of water to 1/3 of adhesive normally does the job well. However, you may have to more water or glue depending on the stiffening result you get.
In most cases, you may have to waste a bit of adhesive and fabric through this trial-and-error run. Thus, going for a stiffener spray is the best course of action.
How to use fabric stiffener?
It is pretty easy to use a fabric stiffener. If you have a stiffener that is in powder form or requires mixing, you need to first put it and mix it in a bowl. Once you have mixed it, you need to soak the fabric that you want to stiffen.
After the fabric is soaked properly, you need to lay it flat on the table and straighten it up. Let it dry for a bit, and you should end up with a fabric that is stiffened.
What is the best fabric stiffener for macrame?
If you do not want to use the homemade stiffener, then you can opt for the Aleenes fabric stiffener and draping liquid. It works on most fabrics. That means you will not only be able to use it on macrame but other types of material as well.
Are there any waterproof fabric stiffener out there?
Yes, many brands are going to offer water resistant stiffeners in the market. However, these waterproof fabric stiffener solutions are going to be a bit hard for you to clean as they are highly capable of resisting water.
What does interfacing mean?
It is a type of material that is used in sewing industries and most of the material garments. This material helps the fabric to hold its shape. And it is mostly used to make cuffs and making shirt collars. The fusible webs are a kind of fusible interfacing which are often used for applying applique. These are also popular for providing an alternative method for sewing.
Final Words
With the best fabric stiffeners, you can make the process of working with different fabric projects or crafts an easy task. And hopefully, we were capable of making the choosing process a tad easier for you.
Oh! And don't forget you can always use the best fabric fresheners to maintain a sweet-smelling scent.
REFERENCES