3 Best Auto Upholstery Sewing Machine Reviews
One thing I'm not proud of is that I use my car quite roughly. Even after only two years, I could see some tears in my car's upholstery. I received suggestions to go to a maintenance specialist and fix it, but that would cost me a lot.
Well, I decided to fix it myself. After doing some thorough digging, I found out that the whole process is much easier and cheaper than I thought. So, here's a review of the best auto upholstery sewing machine that could help you with the same issue.
Instead of just throwing your money away, you can save it up and invest for the long run. So, let's get started.
3 Best Auto Upholstery Sewing Machine
It is finally time to get right down to the business. Here is an in-depth review of the top-tier upholstery sewing machines out there for you to buy.
| | | | |
| --- | --- | --- | --- |
| | | | |
| | 1. Consew 206RB-5 Walking Foot Upholstery Machine | | |
| | 3. Yamata FY5318 Walking Foot Lockstitch Upholstery Leather Sewing Machine | | |
| | 3. Juki DDL-8700-H Industrial Straight Stitch Sewing Machine | | |
1. Consew 206RB-5 Walking Foot Upholstery Machine w/Table & Motor – Best for Versatility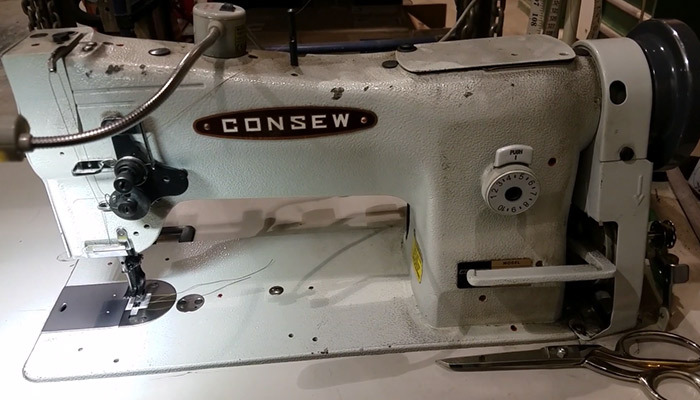 Features
Stitch Length: 10 mm
Stitches Per Min: 3300
Size of the Hook: Large
Clearance Under Presser Foot: 14 mm
Item Weight: 200 lbs.
We already told you that when you are trying to find a sewing machine for heavy fabrics, you need something that can do very long stitches. That way, you will not have to worry about any damages, and everything will stay in place.
However, the issue is that you need to find something compelling for that. Thankfully, we might just have the perfect product for you. This option by Consew gives you extra-long stitches of 10 mm and 14 mm by using the presser foot.
And it can count as the most powerful sewing machine for upholsteries, meaning you can use it for other heavy duty tasks too. The centralized arm lubrication helps a lot to keep everything running smoothly.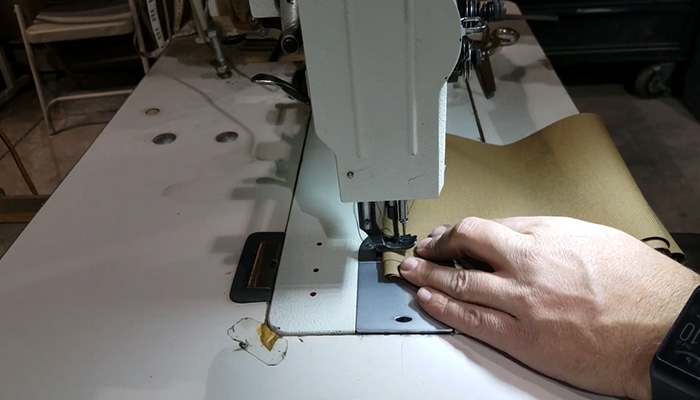 Since you can also install standard attachments pretty quickly, you can expect a lot of customizations too. Plus, you also get a locking stitch mechanism that will prevent the stitch length from changing, making it suitable for car upholstery.
Now, about the price. Sadly, it can be a bit on the costlier side. However, if you have to stitch things regularly, it will be suitable for you. It may be expensive, but definitely worth the investment.
Pros
Large stitch lengths
Easy to use
Long table for comfort
Very customizable
Comes with a stitch locking regulator
Cons
A bit costlier
It takes a lot of space
Verdict
This is a competent product to do all of your professional sewing jobs without any issues.
2. Yamata FY5318 Walking Foot Lockstitch Upholstery Leather Sewing Machine – Best for Beginners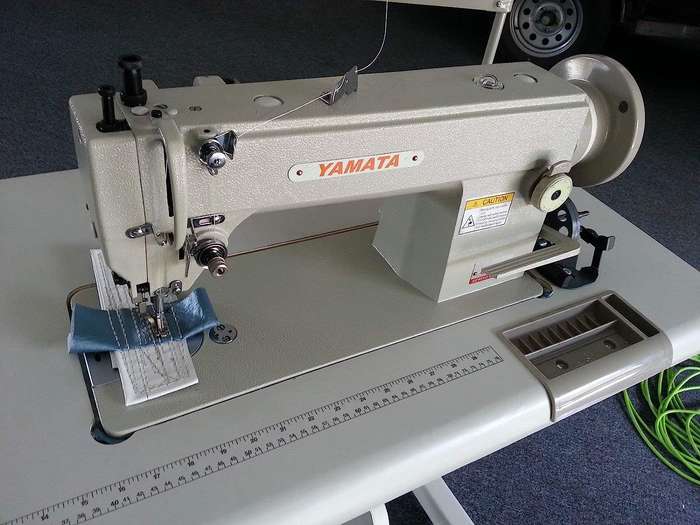 Features
Stitch Length: 8 mm
Stitches Per Min: 1350
Size of the Hook: Large
Clearance Under Presser Foot: 12 mm
Item Weight: 132 lbs.
One problem plenty of people face while getting a sewing machine is the space required. Getting a powerful product does take up a lot of valuable space. So, if you are not looking forward to cramping up your room, we might have the perfect product for you.
This option by Yamata is by far the best electric fabric cutting machine alongside sewing. It may be a bit compact, but straight stitching will not be an issue at all. You get a durable servo motor that can give you up to 1750 RPM and 1350 SPM.
That way, you can quickly go through any lightweight fabrics or upholstery fabrics. You are also getting a stitch length of 8 mm, which is more than good enough for a normal workload.
This walking foot machine is also pretty easy and comfortable. You get a clearance of 12 mm, which is more than adequate. There is also automatic lubrication, and you don't have to worry about the drop feed.
Since you are getting a pretty durable build quality, the top and bottom feed can efficiently work with multiple layers. Now, your typical sewing machine easily comes under $150, which isn't the case here. But it's a superb deal compared to the other options.
Pros
Affordable pricing
Good clearance
Auto-lubrication
Compact size
Efficient motor
Cons
Not a lot of working room
The instructions are mediocre
Verdict
This product is an excellent bang for the buck option. You get a powerful motor without losing a lot of space.
3. Juki DDL-8700-H Industrial Straight Stitch Sewing Machine – Best For Portability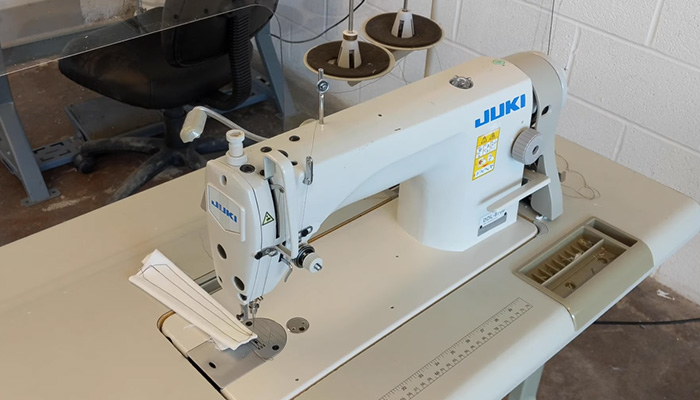 Features
Stitch Length: 5mm
Stitches Per Min: 4000
Size of the Hook: Large
Clearance Under Presser Foot: 15 mm
Item Weight: 70 lbs.
People hardly think about the weight and the size when it comes to the best upholstery sewing machines. Well, it may not matter for some people, but some people need portability. Sadly, it is challenging to balance power and size.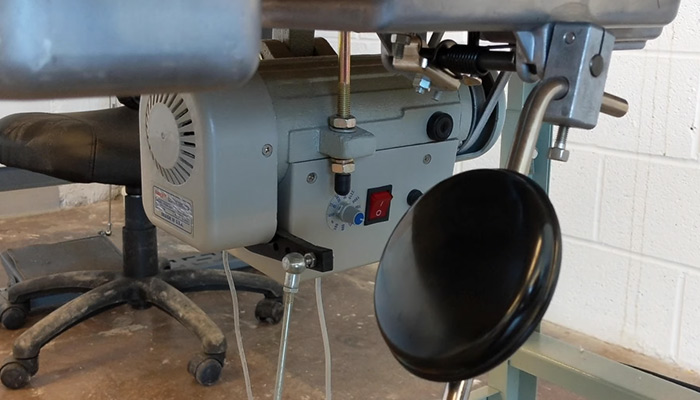 But Juki did it well here. Not only is it small, but it also packs a massive punch of power. While most personal sewing machines can barely deal with thick fabrics, this one comes with a motor that can easily deliver up to 4000 stitches/minute.
Not only that, it comes with several accessories too. You get extras needles and a large bobbin that help you work on various projects other than sewing upholstery. You can even use it as a wig making machine.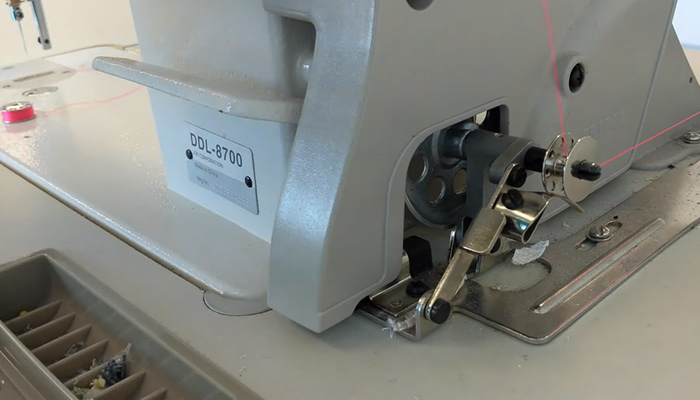 If you are wondering how to use an industrial sewing machine, don't worry because it comes with an in-depth instruction manual. Because of all these features, it is the best fabric repair kit for upholstery and clothing.
Now, unlike other options, it will not bleed your wallet dry either. It is a decent product that is easy to learn and will serve your car seats well in the long run. And as the name suggests, it is exceptionally good at straight stitch.
Pros
Effortless to use
Handy instruction manual
Incredibly powerful motor
Adequate clearance
Lightweight
Cons
Not a lot of space
Mediocre customer service
Verdict
This is the perfect product to prove that small things can pack a lot of punch.
What to Look for Before You Buy?
Now that you know which sewing products to buy, it is essential for you to consider some things before buying them. That way, you don't have to waste any money and pick the best one available.
SPM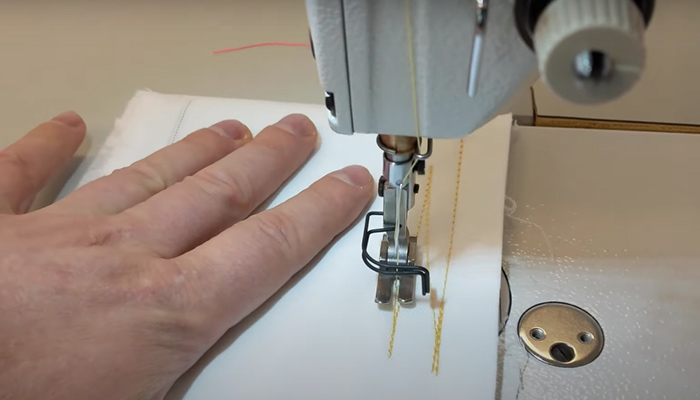 This means how many stitches your machine can do in a minute. This factor annoys many people because it is hard to understand just how much power you need. For example, a Singer heavy duty machine might be way too powerful for your needs.
The same issue happens when you don't have enough. Well, if you are a beginner and don't have much use for a cobbler sewing machine, we would suggest you get something that can do around 1500 SPM.
It is a sweet spot for your average user. You can also learn various things like stabilizing knit fabric for sewing or how to hem stretch fabric in the meantime.
Versatility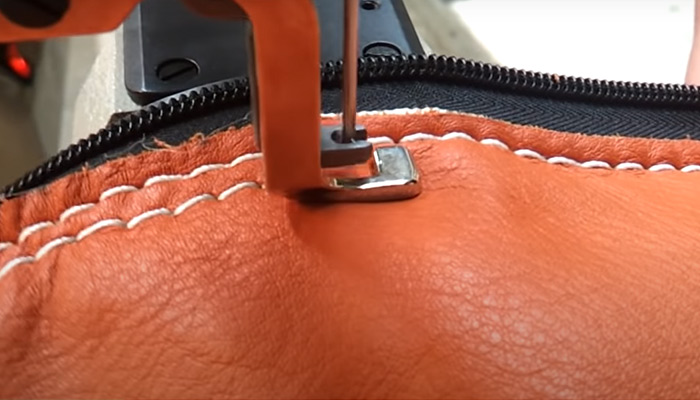 Being able to sew various things is a significant selling factor for such machines. If you are already paying for something, you might as well get the most out of it, right?
Now, when you are browsing through so many sewing machine brands, you should keep in mind if they can work on other fabrics. Upholstery is not the only thing you should gun for. So, look for something that can offer more. For example, our third pick from Yamata can be used as a sewing machine for making leather bags.
Picking the Best Motor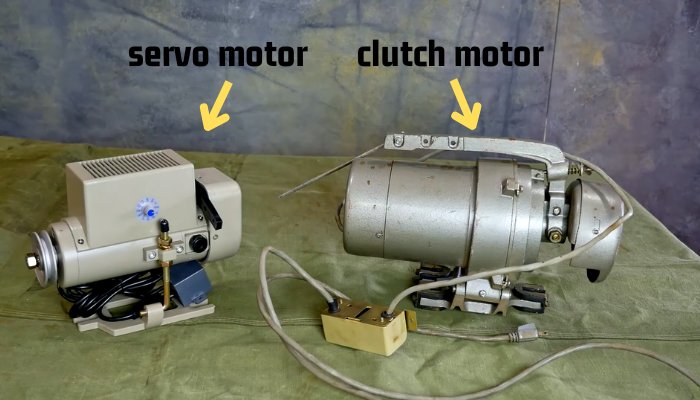 There are primarily two types of motors you can find in a sewing machine. One is a clutch motor, and the other one is a servo motor. Well, these days, clutch motors are getting rarer and rarer, but why?
We can figure that out when talking about the simple advantages of a servo motor. These motors are very lightweight, run more efficiently and quietly, which makes them the best bet.
How to Sew Auto Upholstery by a Sewing Machine?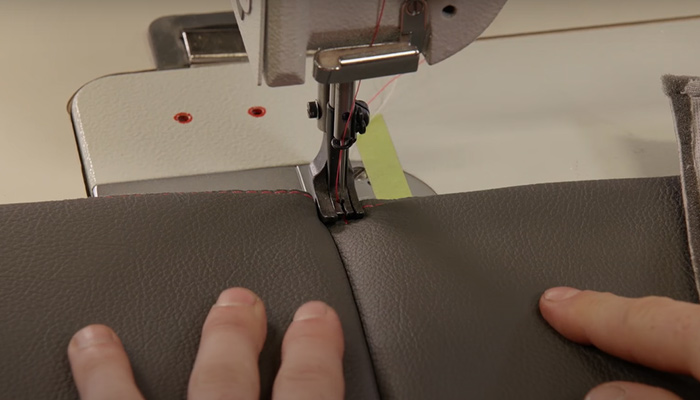 This may seem like a lot, but the whole process is much more straightforward than you think. So, let us simplify it more for you.
Try to examine the material you want to cut. Take a handy pair of scissors, preferably from Fiskars rag quilt scissors, and trim the edges or any extra piece of cloth,
Now, it's time to set up your sewing machine. If you already know which settings to choose, then it's okay. However, for beginners, try to go for the medium stitch length and medium-range tension with a quality upholstery thread.
After that, it is time to make sure that all of your fabrics are facing the same way. That way, you will get a beautiful aesthetic.
It is finally time to choose the needle. This really pretty much depends on the thickness of the fabric. Usually, stick to sizes from 18 to 22.
Let's start sewing now. The process is just as same as any standard sewing machine. Follow these simple steps, and you will be good to go. And don't forget to ensure that the sewing room ceiling lights are adequate for the job.
How to Sew Auto Upholstery by Hand?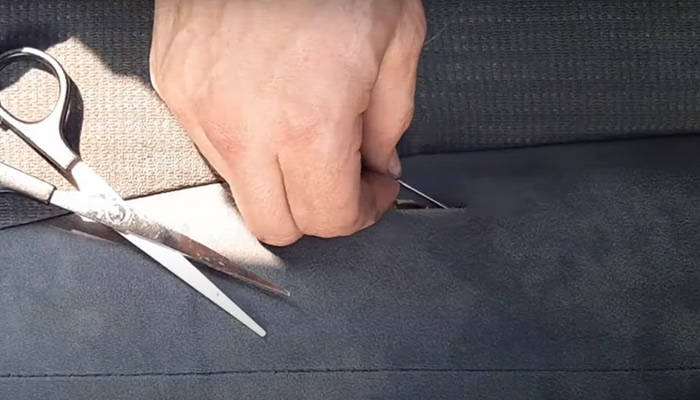 Other than using a machine, plenty of people try to sew by hand. Here are some handy and quick ways on how you can do it.
Securing each side of the tear is the most crucial part because the situation can get worse. You can do it by stapling it. Also, use a curved needle for this.
After putting the same color thread, slip the needle from one end of the tear and take it out from the other side. Then, bring the needle back and slip it to the fabric on the other side. Keep doing this till you reach the other end of the tear.
When you reach the end, stitch that area more than three times and tie a knot there. After that, you are good to go.
Frequently Asked Questions
What is the best sewing machine for auto upholstery?
The best option always depends on your use case, but the Yamata FY5318 is the best overall option. Not only is the machine powerful, but it's also affordable. Both professionals and beginners can use it.
Can I sew auto upholstery with a regular sewing machine?
You might be able to do it, but it is not advisable at all. There are high chances that you can ruin the whole upholstery. Moreover, typical sewing machines can't deal with thick fabrics either.
What kind of sewing machine is used for upholstery?
Very powerful motorized machines are usually the way to go for upholstery. They are highly capable of dealing with thick fabrics and rough usage.
Is a large table necessary for the sewing machine?
Yes, some people find it a bit of a burden because it takes up too much room, but having a large table to work on sure comes in handy. You will get more space to work and place the cloth.
Which type of sewing machine is suitable for Denim jackets and pants?
Since jeans are pretty thick, standard sewing machines struggle a lot. For that, you should choose a powerful machine like the upholstery-capable ones. They have enough horsepower to finish the job smoothly.
Final Words
Going to the shop to fix some tears is not only costly but sometimes a waste of time. It's never too late to get a good sewing machine, and the Consew 206RB-5 is what I'd recommend due to its versatility. If you need more, this review of the best auto upholstery sewing machine is here to help you.
REFERENCES