4 Best T Shirt Printing Machine for Small Business in 2023 [Updated List]
Over the years, there have been various ways of printing garments. Arguably, the most common process is still screen printing, which ensures excellent color and reduced cost for larger printing quantities.
However, the caveat is that if you have a small business and get small orders, screen printing can cost a lot. That is where Direct to Garment (AKA DTG) printing came into play.
Of course, these machines don't come cheap, which is why you'll want to make sure that you get the absolute best t shirt printing machine for small business. And that's what you'll find in this guide; so, let's get started.


Benefits and Drawbacks of a DTG Printing Machine for T-Shirt
It's not all sunshine for DTG machines. There are pros and cons for every method you choose, and the key is to pick the right one for your use case. Let's look at how a DTG machine would work for you.
Benefits
Better Color
As you know, screen printing requires you to create separate layers for each color you use. That means if you have a complex piece that you want to print, you will have to burn more colors to the screen.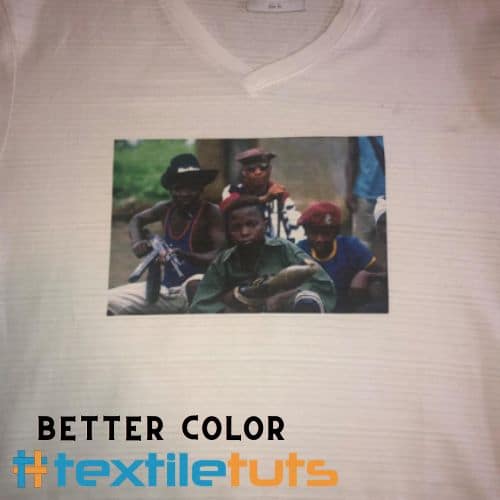 As you can imagine, doing that would increase the cost quite a lot, especially if you aren't printing a lot of t shirts at once.
That's where a DTG printer for small business can come in handy. Since you only need to add in the ink cartridges, there is no issue like screen printing.
Therefore, you will essentially be able to get better colors with your DTG printer in comparison. That too with less work.
Perfect for Small Orders
When it comes to printing t shirts, your profit margins will largely depend on the number of t-shirts you're working with. If you're doing something wholesale, then you can't go wrong with screen printing.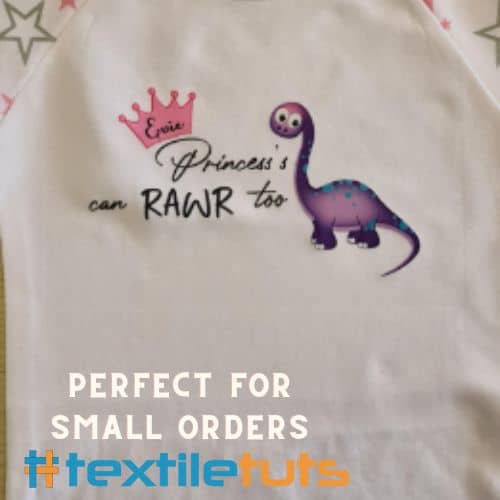 However, if you have, say, an order for only a bunch of custom t shirts, then screen printing can become costly. Therefore, DTG machines are excellent in those cases.
Drawbacks
Longer Process in Contrast
When screen printing, you will find that the whole process doesn't have too many steps to place the colors on the screen. However, that process isn't as effortless on a DTG garment printer.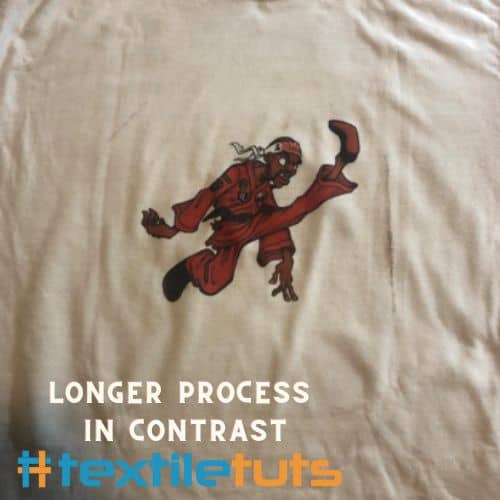 For example, if you have dark t-shirts, you will first need to pre-treat them to ensure that the white ink holds on properly.
Not only that, but you also have to use heat press machines to get the t-shirt in the right shape. After printing, you might need to use heat presses once again, which can take a while.
How to Print Your T-shirt?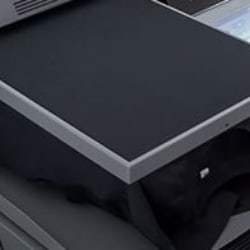 Printing a t-shirt with a DTG printer is a different ballgame than doing it with a screen printing machine.
It would help if you learned to use the printer and a pre-treating machine and heat press (not heat press printing, only for heating purposes).
Here's a detailed guide to get you the desired results:
Know the Fabric
The garments you choose will affect the outcome, so you need to keep them in mind. For example, even the most state-of-the-art t-shirt printer won't do a great job if you're printing on a 100% polyester garment.
Choose something that has more cotton in it, and this printing method will come through for you. And cotton is pretty versatile too; you can find the t shirt for tie dye or any other purposes made with cotton.
Apply Heat
Now, you should heat press the t-shirt. This sort of heat transfer and curing allows you to get a much better overall result.
Doing this makes things ready for pre-treating (using only the treatment solution, no fabric hardener spray or fabric refresher spray needed).
Need for Pre-treat
You need to determine whether you need to pre-treat your t-shirt. It's not that hard to figure out — if you're using a dark-colored garment, you should pre-treat.
That's because the solution will allow the white ink to dry quickly, stay distinct from other inks, and result in excellent prints.
However, you don't need to go through the operation costs of pre-treating if you're printing on white t-shirts, as you won't be going through the same printing process here.
Nozzle Check
At this point, you should go through what's called a nozzle check (or something similar depending on what you have), especially if you're printing on dark clothes.
This process allows you to make sure that everything is working fine, and you'll get a flawless print.
All this does is print on a piece of garment to show you if things are working well. Just get a pre-treated fabric and hit print, which will lay down the colors on the test subject on the heated platen.
Finally
The next step is to print things on the t-shirt, and that's it.
Best T Shirt Printing Machine for Small Business
When it comes to printing t shirts, you need to consider your use case and the printer's capabilities and get the proper combination. Here are the top printers:
1. HRM A4 Size DTG T-Shirt Printing Machine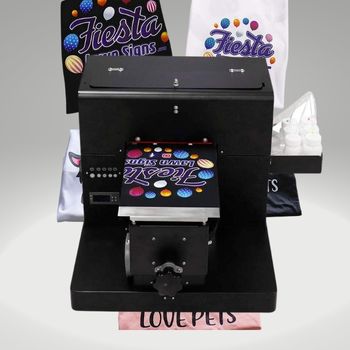 Features
Print Size: 210 x 300mm
Resolution: 5760 x 1440dpi
Print Head: L1800
Printing Speed: 12ppm
The first printer we have comes from HRM — a brand known for its affordable product lineup. As you know, the upfront cost for a high-end DTG printer may be too much for a small business. That's where our first pick comes in.
First off, the printing speed for this product is quite decent. It uses the popular print head from Epson, which ensures just the right t-shirt printing performance at an affordable price point.
The printing size for this product is 210 x 300mm. And being able to print A4 size means that it should suffice for most workloads you get. Moreover, having this compact design means that you will be able to save space.
When you get a new machine like this, the manual plays a significant role. That's where this product lacks a bit, as it can be challenging for a newbie to get everything set up with ease.
It comes with the free popular printing software called AcroRIP, which supports only Windows OS, meaning you can't use it on Linux distros or Mac OS. Moreover, the printing speed won't be close to things like digital sublimation.
But it does well for its size and price. You will need to heat press it, though, before (170° on the Celsius scale) and after printing. Hence, it would be appropriate if you had a heat press with a reasonably high-temperature range.
Verdict
Great purchase with its affordable price if you're starting out.
2. HRM A3 Size DTG Printer – For Automatic Adjustment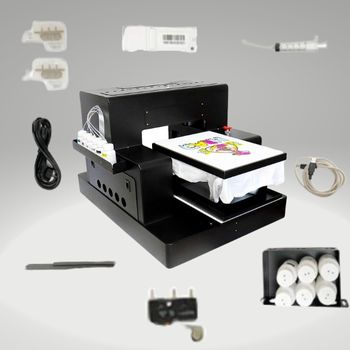 Features
Print Size: 329 x 500mm
Resolution: 5760 x 1440dpi
Print Head: L1800
Printing Speed: 12ppm
For some people, an A4 size printer might not suffice. Going slightly above and getting an A3 one should help you cover more real estate in those cases. Our next pick is one such product, yet another one from HRM.
It also uses water-based ink, which provides you with high quality prints. Of course, like any other DTG printer, you will need a heat press (be it a clamshell or swing away heat press) and a pre-treating machine.
But investing in a heat press with adjustable pressure can be fruitful in more ways than just heating elements, so it's not a lost cause. And you can try using a Teflon sheet to get better results too.
There's a unique bit about this printer too. It can adjust the printable height by itself, thereby lightening your burden. Of course, you can also change it manually if that's what you prefer.
Regarding the software, this one also uses the free RIP software to allow you to create artworks and print them. And since you use water-based ink with these, it ensures a safer working environment and eco-friendliness.
In terms of the print size, you get a reasonably large 329 x 500 mm dimension. Moreover, when you consider its affordable price tag, this can be an excellent deal for a small business.
Verdict
Given its price and capabilities, this is an excellent printer for smaller workloads.
3. Punehod Flatbed DTG Printer – For Versatility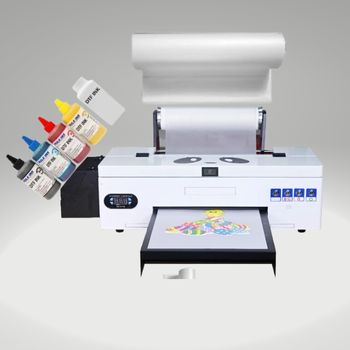 Features
Print Size: 210 x 290 mm
Resolution: 5760 x 2880dpi
Print Head: L800
Printing Speed: 2880 DPI/3 min
If you want versatility on your smaller requirements, the next pick should be suitable for you. This one is not only going to print your t-shirt, but also many other printing materials.
As this is a repurposed printer, it retains all of the Epson L800 print head's basic features. The overall mechanism remains the same too. Heat press the garments on flat surfaces, pre-treat them, and let the printer do the job.
Of course, the plate size makes a huge difference. Regarding the max size, you can get 210 x 290mm prints on your t-shirts. And much like the previous pick on the list, this one also has an automatic height adjustment system.
The research team has come up with a unique circulation system too. It has a circulation function for the white ink, making it into the ink sac and preventing precipitation and nozzle blocking over time.
And unlike methods with transferring prints through a heating element, this bit is crucial for a DTG print system. It also uses a hydraulic track and square rail that ensures that the printing position is accurate.
It doesn't come with any inbuilt pressing capabilities (no Teflon coating or Teflon coated plate either), so you will need an external heat press. Lastly, its cooling system works exceptionally well.
Verdict
If you want to print on other materials along with cotton garments, this printer can work wonders.
4. Punehod DTF L1800 DTG Printer – Editor's Choice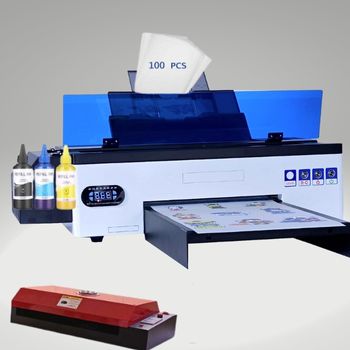 Features
Print Size: 297 x 420 mm
Resolution: 5760 x 2880dpi
Print Head: L1800
Printing Speed: 6 min/A4
The fourth product we have for you works a bit differently than your traditional DTG printer. Here, you will first have to print your desired design on a film, and then a heating platen will press it on the t-shirt.
That's not probably what you were expecting from it, eh? It does not have fancy things like a ceramic coated surface or adjustable pressure knobs, but it does the job exceedingly well.
Plus, you don't even need the transfer paper for fabric; a regular PET film will do perfectly fine. And as with any other DTG printers, you're mostly limited to cotton garments with no thick, additional layer.
The temperature range is pretty decent, too, although its temperature control could use some work. This shirt printing machine can print A3 designs in terms of size, as print size is around 297 x 420 mm.
This printer also has a reasonably granular digital control using the free AcroRIP software, which is only available for Windows OS. The product also includes 100 sheets of PET film, which is appreciated.
If you haven't used this kind of printer before, figuring out how to get the optimal heat or how the lower plate or top plate gets things in place can be tricky. But the manufacturer's excellent customer services make it effortless.
Verdict
If its mechanism suits you, this product will allow you to save on the cost of getting a heat press and pre-treating.
Cheap T Shirt Printing Machine Alternative
If you're a total newbie and don't want to spend more than a thousand dollars to start out your t-shirt printing business, you should invest in a heat press machine. These are really cheap and you can acquire the other necessary supplies for your business within this budget. Here's our favorite sublimation heat press for starting a small home business:
Fancierstudio Sublimation Heat Press Machine for T-Shirt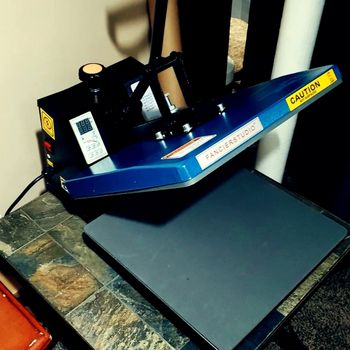 Features
Print Size: 15 x 15 inch
Temperature Range: 0 to 699 degrees Fahrenheit
Time: 0 to 999s
Power and Voltage Requirement: 1800W/110V
This heat press machine is the newest addition to the Fancierstudio's Sublimation Heat Press line-up for t-shirts that have been designed with professional crafters, hobbyists, and home users in mind.
Just imagine being able to easily apply transfers, letters, numbers, and images on any fabric you wish. Unlike other heat press machines that require you to pre-heat the fabric with an iron, this is not required with this sublimation heat press.
This great 15-by-15-inch sublimation heat press comes with a silicone rubber base board, which ensures the most secure grip on your clothes for transferring even the heaviest of garments or multiple layers of clothing.
Furthermore, the silicone-gel base board helps distribute pressure evenly across the surface area. The unit also comes with a digital timer that is pre-programmed with four different languages (English, German, French, Spanish).
This heat press is compact and is an upward-opening model, which saves space. It's ideal for applying transfers, letters, numbers, and images on t-shirts, garments, bags, mouse mats, jigsaw puzzles, ID badges, ceramic tiles, and other items!
A fine, high-resolution print is achieved by using a combination of the right materials and temperature through this heat press machine.
The maximum temperature range on this model is between zero to 699 degrees Fahrenheit (between zero and 370 Celsius). The heating element is situated at the bottom of this machine, which delivers heat to both sides evenly.
Both the upper and lower plates are heated; there is no cold spot in the middle where your item would sit while loading or unloading.
Verdict
If you are short on money and want to give the t shirt printing business a try, you can get this unit. However, the print quality will largely depend on the quality of the transfer paper as well.
Summary Table
Here's a table to let you know how the clothes printing machine differ in short:
| | | | | | | |
| --- | --- | --- | --- | --- | --- | --- |
| Manufacturer | Model | Max Print Size | Resolution | Supported OS | Print Head | Software |
| HRM | DTG A4 Size Printer | 210 x 300 mm | 5760 x 1440 DPI | Windows only (XP and above) | L1800 | AcroRIP |
| HRM | DTG A3 Size Printer | 329 x 500 mm | 5760 x 1440 DPI | Windows XP, 7, & 10 | L1800 | AcroRIP White |
| Punehod | Flatbed DTG Printer | 210 x 290 mm | 5760 x 2880 DPI | Windows XP, 7, & 10 | Epson L800 | AcroRIP 9.0 |
| Punehod | DTF L1800 DTG Printer | 297 x 420 mm | 5760 x 2880 DPI | Only Windows | L1800 | AcroRIP |
Checklist for Your T Shirt Printing Machine
Given their significant price tags, you must invest enough time figuring out what you need and what you don't when buying a DTG printer. Below are some pointers that will help clarify things for you.
Needs vs. Capability
If you have a small business, the number of t shirt printing orders you receive certainly won't match that of a large one.
That means you need to stay in your ballpark when choosing the t shirt printing machine. Otherwise, you'll be draining money.
Even entry-level t shirt printing machines can easily cost you around 5-10 thousand USD or more. The discussed printing machine for clothes cannot print very quickly or as many garments as the industrial machines, but they don't cost as much either.
Hence, if you think that your business requires something from the higher tiers, go for it. Otherwise, calculate your needs and choose accordingly.
Budget
As we said above, getting a t shirt printer of this caliber will cost you quite a bit. However, the printer's cost is only part of the equation, as you will need to take care of the heat press and pre-treating machine. Let's go over them first.
You could divide them into three categories — entry-level, mid-level, and industrial. An entry-level t shirt printing machine will usually be repurposed, meaning the manufacturers have taken standard printers and turned them into DTG ones.
These are much more affordable than the higher-end ones and might be suitable for small businesses. One benefit is that you can use third-party ink with these too, which reduces your ink cost.
However, if you want something a bit more professional and capable, going for the mid-range options will be fruitful in the long run. Of course, these can easily cost you upward of 15 thousand USD.
Heat pressing your t-shirt before and after printing is an essential step in ensuring a quality result.
You could opt for popular products like the Fancierstudio power heat press or something as capable. Remember, the heat distribution and the quality of the press will eventually affect the result.
The quality of the heat platen, its maximum temperature, etc., will play a role. And this heat transfer process doesn't end it, as we need another piece of equipment.
If you intend to print on dark garments, it doesn't matter if they're t-shirts or tote bags; you will need a pre-treatment machine. And the reason for that is you would use white ink on those garments. You could think of it as the primer for your print.
Of course, if you're only print t shirts that are white, you wouldn't need a pre-treating machine. But that doesn't sound very realistic unless you intentionally enforce that.
Maintenance Procedures
Products such as these require you to take care of them and use them in the right manner. And it's not as if you can clean it up once a month and be done with it. For example, you might need to follow a particular method just to start it up. A small DTG printer will require less cleaning overall.
Now, you should give the requirements a thorough reading to ensure that you have them under control. For example, it might require you to flush the tubes or replace the cartridges at a specific interval to achieve the expected results.
Printing Speed
Another crucial bit to keep in mind is that the printing speed will vary between different models. That applies especially if the shirt printing machine is a lower-end one, as it will be noticeably slower than those heat transfer printers.
You can imagine how a slower speed at making t-shirts might create a problem for you. If you have a bulk order and need to get the shirts printed fast, an entry-level printer will not be the ideal machine for you.
Read Also: Best Fabric for Screen Printing Frame
Frequently Asked Questions
Which machine is best for t-shirt printing?
The perfect machine would be the one that suits you the most. For example, if you only print small batches occasionally, a small repurposed DTG printer could easily do the job of transferring prints. But you might need a better one for bigger businesses.
Is the T-shirt printing business profitable?
It can be. The first question would be how much demand there is for your product and whether you can fulfill it well.
Moreover, you need to ensure that you can sell it to a specific demographic at a price that will allow you to secure your profit.
How much does it cost to start a t shirt printing business?
If you want to get into it with affordable printing systems like screen printing, we're looking upward of a thousand USD.
If you want other machines like DTG printers, just the product and the other necessities could cost you around 5-10 thousand USD.
How much does t shirt printing cost?
A few catalysts will decide the answer to that — the kind of print and the number of shirts you're printing. A screenprint could cost you twice the initial amount if the t-shirts keep decreasing (usually, $5 – $10).
Is it normal for sublimation prints to fade after washing?
Sublimation print can fade for a variety of reasons after washing. In most cases, fading of the print is due to the fabric not being colorfast or by using an unsuitable type of fabric for sublimation printing.
Should I get a DTG printer for my business?
If your business revolves around printing lots of t-shirts with mass production, then no, you shouldn't. However, if you get small orders and can cover the cost of the DTG printer, it should be completely safe to buy one.
Final Words
Running a smaller business is no easy task — you need to make well-calculated decisions. And it's certainly not easy to find the best t shirt printing machine for small business, given the nature of the industry.
For us, the Punehod DTF L1800 should provide you with a decent balance between price and performance.
REFERENCES