5 Best Sewing Machine for Canvas and Leather
Here's the thing — working with canvas or leather can be surprisingly tricky if you don't have the know-how. But the first thing you need to ensure for that is a quality sewing machine that can handle materials as heavy as those.
Many sewers make the mistake of thinking that a cheap home machine would suffice, only to realize that they were wrong. That is why you must invest your time and money to find the best sewing machine for canvas and leather.
Of course, it is undoubtedly easier said than done. Hence, we'll be helping you find the right one and achieve praiseworthy results.
How to Sew Canvas and Leather?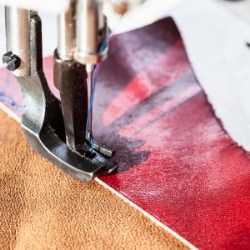 Sewing canvas or leather generally requires you to follow a general path. Of course, if you have a powerful product, you need to learn the process of operating an industrial sewing machine. Other than that, it's mostly the same.
Step 1: Adjust Your Presser Foot
This bit has two stages — the first is to ensure that you have the suitable material. Unlike a general presser foot, a roller foot wouldn't stick to materials like leather, so use that if you have one.
Try using a walking foot if you have one. That'll prevent any puckering. It can also be helpful to sew multiple layers.
Step 2: Set Up Your Needle
Remember to use a thicker one, as the project will benefit from this. Usually, staying around 100/16 should do well.
After setting that up, you need to thread the needle, of course. We recommend using a nylon or polyester thread to ensure longevity and durability.
Step 3: Setting the Stitch Length
This is a crucial step. We suggest a comparatively longer length for thick and bulky materials, as that will bode better results.
Step 4: Planning
If you are sewing on a home sewing machine, the chances are that you won't be able to sew too many layers together. In that case, you need to plan ahead.
For example, a custom leather bag with many layers will almost certainly require a walking foot on your machine, and so on.
Step 5: Do a Test Run
Lastly, before you get on with the project, make sure that you try the setup out on a test fabric. That will allow you to figure out whether the tension, length, and everything else are proper where you need them to be.
5 Best Sewing Machine for Canvas and Leather
Working with heavy materials seems daunting for many sewers, mainly because they have a tough time figuring out a suitable sewing machine. Here is the list that'll take that load off your shoulders.
1. Singer Heavy Duty 4452 Sewing Machine – Best for Affordability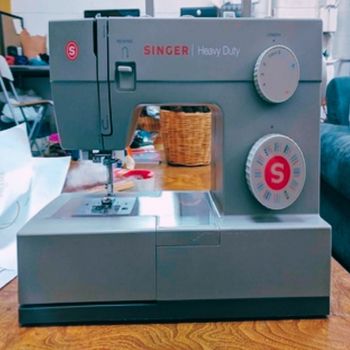 Features
Maximum Stitching Speed: 1100 stitches/minute
Threading System: Automatic needle threader
Free Arm Support: Supported
Item Weight: 15.7 pounds
Number of Stitches: 32 built-in stitches
Getting a Singer sewing machine is often considered a wise decision, and for good reasons. There is a Singer machine for every requirement and budget. The first pick we have is an impressively affordable one with all the necessities.
One of the many issues you'll face when sewing leather or canvas is keeping things in place. And it's not as easy as learning how to stabilize stretch fabric for sewing by any means. This machine comes with a walking foot to help with that.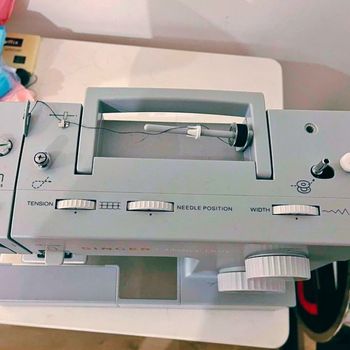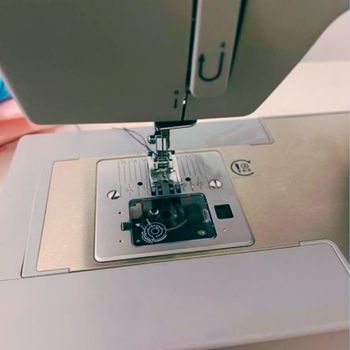 It allows you to keep the material pinned down when working with it, preventing any mishaps. Not only that, but it also comes with a zipper foot, an all-purpose foot, a nonstick foot, and a button sewing foot to make things simpler.
Moreover, you get a total of 32 built-in stitches, which is quite impressive when you look at its price. There are 18 decorative stitches, six basic stitches, and seven stretch stitches as well. These features will make sure that you'll be able to use this machine as a sewing machine for tactical gear also.
And you get the typical stitches such as zigzag to create your unique applique stitches. This machine is quite speedy, allowing you to sew leather and canvas with its maximum 1100 stitches/minute speed.
Unlike a sewing machine or serger for knits, these machines require more power. That is why this one comes with a motor that's about 60% stronger than your typical ones. Lastly, it features an automatic needle threader for quick threading.
Verdict
It is a decent product with an excellent price tag for light to moderate tasks.
2. Brother ST371HD Sewing Machine – Best for Beginners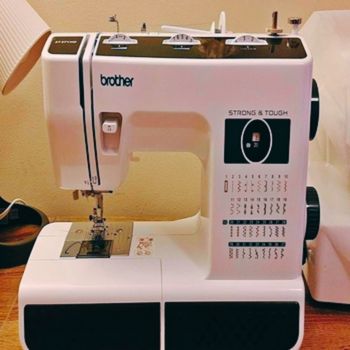 Features
Maximum Stitching Speed: 800 stitches/minute
Threading System: Automatic needle threader
Free Arm Support: Supported
Item Weight: 14.5 pounds
Number of Stitches: 37 built-in stitches
Our second pick isn't the best industrial sewing machine or anything, but it can be one of the best picks if you're starting. The ST371HD from Brother is a product that provides a mixture of affordability and effectiveness.
First, let's talk about something we all despise — threading the needle. You will probably agree when I say that every machine should come with an automatic needle threader, which this product does.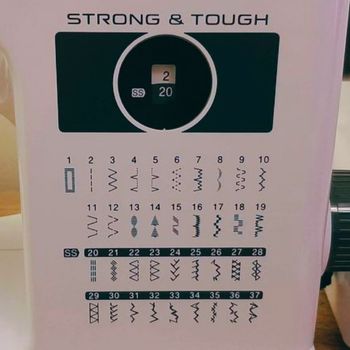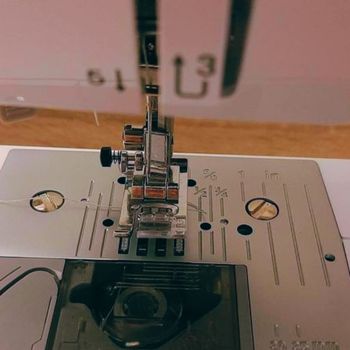 You can easily thread your needles thanks to this feature. But let's move on to the stitches now. You get a total of 37 utility and decorative stitches with this machine, including blind hems, stretch stitches, buttonholes, and many more.
As a sewing machine for heavy fabric requires, this product also comes with the necessary feet.
You get a zigzag, nonstick, blind, zipper, buttonhole, and button sewing feet to cover all your needs. It also includes a metal needle plate to feed the fabrics evenly.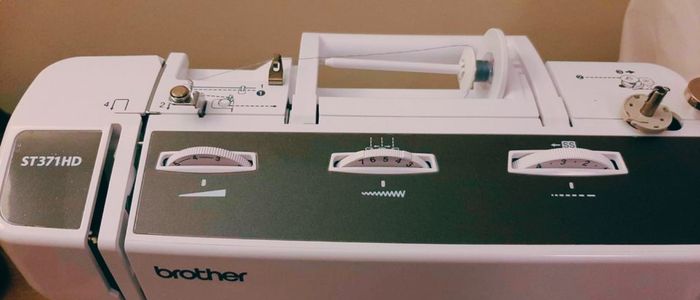 We think having a better walking foot would have made things much more straightforward. Nonetheless, it also supports drop feed, which allows you to do free-motion sewing with ease.
To improve your overall user experience even further, Brother has provided support for a free arm that enhances versatility. Our only gripe with this machine is that it might not handle even slightly heavier workloads.
Verdict
An affordable sewing machine with tremendous value, but don't expect heavy work out of it.
3. Janome HD3000 Heavy-Duty Sewing Machine – Best for Versatility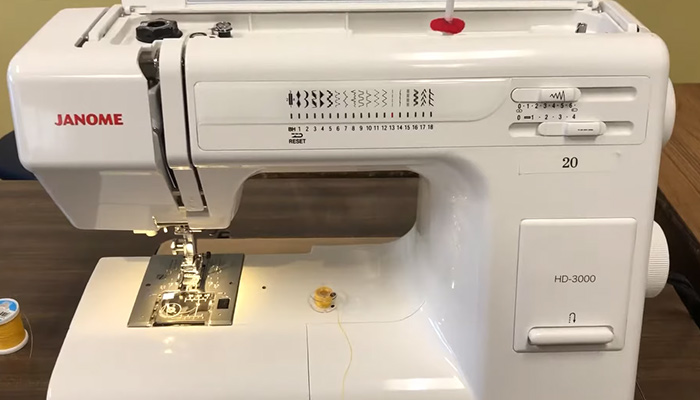 Features
Maximum Stitching Speed: 860 stitches/minute
Threading System: Built-in automatic needle threader
Free Arm Support: Supported
Item Weight: 18.7 pounds
Number of Stitches: 18 built-in stitches
Now, if you want a heavy duty sewing machine that does all your job nicely without breaking the bank, our third pick should do well for you. This is a machine that has enough power to sew thicker materials like leather.
As you can imagine, a product needs to have a high-quality build to ensure that it can withstand heavy workloads. This one comes with durable metal gears that are exceptional in quality and last for a long time without hiccups.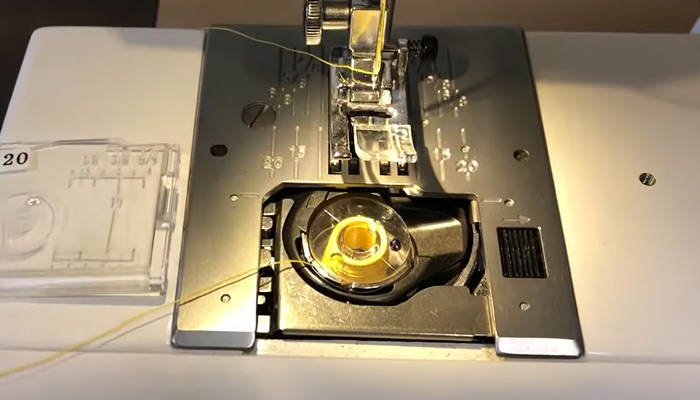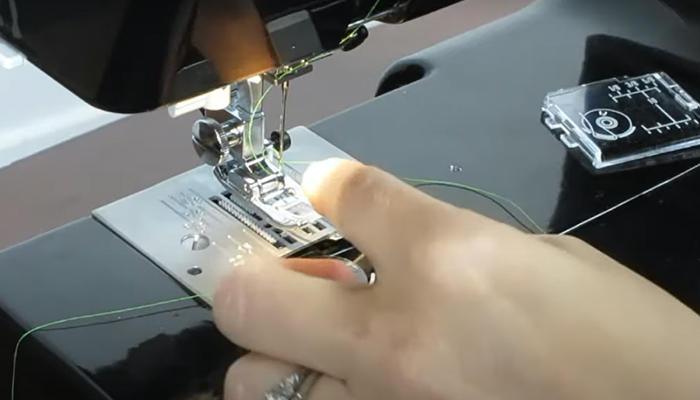 Moreover, it comes with a powerful motor that churns out more power than traditional products. That means this high quality sewing machine can sew through multiple layers of leather or canvas without an issue.
As you would expect, this one also comes with a built-in needle threader. As a result, you won't have to waste your breath threading the needle. It also comes with a bunch of standard feet to improve your workflow.
You get an automatic buttonhole foot, a blind hem, overedge, rolled hem, and zigzag foot that you can use for multiple purposes, including the ones with canvas and leather.
The Janome HD3000 also features a heavy duty metal frame that makes it even more praiseworthy. There are 18 stitches, free arm support, a five-piece feed dog, an extra high presser foot lift, and drop feed support, making this product an excellent one.
Verdict
It is the best option for superb versatility and heavy-duty performance.
4. Janome HD1000 Heavy-Duty Sewing Machine – Best Overall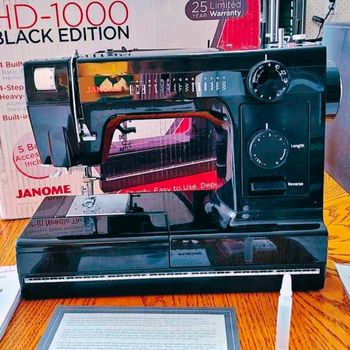 Features
Maximum Stitching Speed: 860 stitches/minute
Threading System: Built-in needle threader
Free Arm Support: Supported
Item Weight: 15 pounds
Number of Stitches: 14 built-in stitches
At this point, we're back with another product from Janome from the HD series. The HD here would mean Heavy-Duty if you were wondering. And this is undoubtedly an excellent option if you want the best leather sewing machine.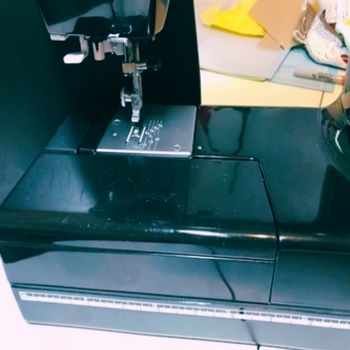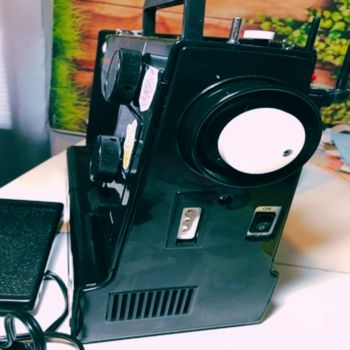 It doesn't matter if you want to sew upholstery fabric or a leather bag; this machine does them all. That's why it's also a perfect auto upholstery sewing machine.
There are 14 inbuilt stitches, including utility and stretch stitches, which can be handy (unless you'd like to learn how to sew stretch fabric by hand).
It also comes with a lay-in manual thread tension control that can be extremely helpful for heavy materials. Moreover, there is a snap-on presser foot for added convenience (although you don't get adjustable presser foot pressure).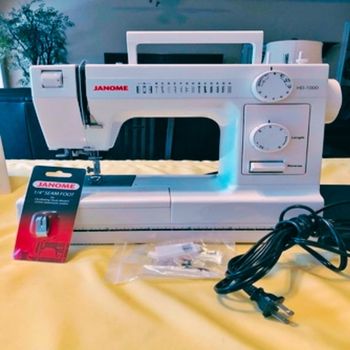 Moreover, there are a bunch of necessary accessories like bobbins, felt, needles, and screwdrivers, which add to the value of this product. And thanks to the feet, you can easily use it as a knit fabrics sewing machine.
There is a zipper foot, hem foot, and a buttonhole foot as well. Another bit that we love about this machine is its build quality. It features a body made of cast aluminum that works exceptionally well.
The inbuilt needle threader also prevents any strain on your eyes. Sure, this is not a sewing machine under 150 or something, but what you get for the price makes it a superb deal.
Verdict
A superb alternative if you want to sew any heavy fabrics without spending a lot.
5. REX Portable Walking-Foot Sewing Machine – Best for Professional Workloads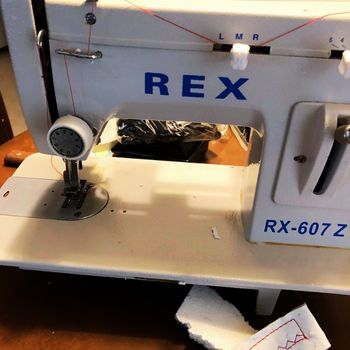 Features
Maximum Stitching Speed: 800 stitches/minute
Threading System: Automatic needle threader
Free Arm Support: Unsupported
Item Weight: 37.3 pounds
Number of Stitches: 9 built-in stitches
If you want an industrial sewing machine at the cost of the normal one, then our last pick should satisfy you. Mind you, this one isn't exactly a portable sewing machine, weighing a whopping 37.3 pounds.
And the first thing you'll notice about it is the build quality — a body made with cast iron metal through and through. It can be your leather bag machine, your hair making machine, a sewing machine for vinyl upholstery, or whatever you want it to be.
The RX-607 also comes with a strong 1.5 amp motor, which has enough power to sew through layers of leather and canvas. And it does something unique — the manufacturer sends you a leather sample sewn with it!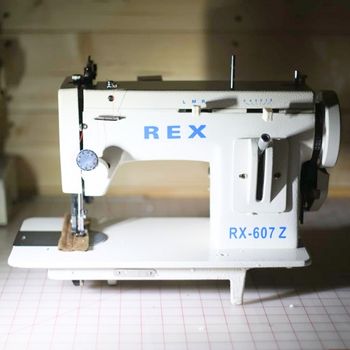 Not only is this unique, but it also inspires confidence. But remember, you need much heavier threads for it; a typical thread for sewing knits certainly won't do (the manufacturer recommends nylon #69).
And as we are calling it close to an industrial leather sewing machine, you can imagine the kind of workload it can handle. You can use this machine for any project you want, and you won't be disappointed.
Now, figuring the ins and outs of this product might be challenging. It's not as easy as saying that you'll work it out if you know the method of sewing knits with a serger or machine. Moreover, the instruction manual certainly needs some work.
Verdict
This product is your best bet if you want to get industry-level results.
What to Look for Before You Buy?
When buying their first home sewing machines, many beginners don't realize that they require different devices to work with heavy-duty materials.
As you know, sewing leather or canvas certainly is a task like that. Therefore, it's essential to know what to check for before you buy a product. Here's a bunch of pointers to help you find the perfect sewing machine for leather and canvas.
Walking Foot
A walking foot (some people call it the even feed foot) is essentially a presser foot that walks along with the rest of the layers. When sewing thick fabrics, be it natural or faux leather, keeping the material straight can be an issue.
What the walking foot does is that it moves right along with the feed dogs below it. As you can imagine, doing that allows you to prevent the material from bunching up or puckering. And not just thick fabrics, materials like thin leather can benefit from it too.
Hence, it would help if you go for a sewing machine with this feature to make sewing many layers effortless (especially helpful with leather bags or totes).
Appropriate Speed Control
As you sew, you will sometimes need to go fast and sometimes slower. The ideal sewing machine should allow you to do that effortlessly. On machines that have it, you will usually find a slider that will enable you to choose the speed.
Of course, a cheaper leather sewing machine will usually give you less flexibility in this regard, so you should keep that in mind.
Nevertheless, you generally won't be sewing very fast with heavy materials, so don't worry too much about the higher limit.
Automatic Needle Threader
You're not alone — we all hate the tedious chore that is threading the needle.
That is why manufacturers nowadays will provide you with an automatic needle threader built into the machines. These tools will help you guide the thread through your needle with ease, making things simpler.
Stitch Length
As you can deduce from the feature's name, the adjustable stitch length on your machine will determine how long every stitch will be. This feature allows you to change how much fabric the feed dogs will pull at a time.
For example, you would want to opt for a longer stitch length when sewing leather. Generally, the number is somewhere around 2.5 mm. So, you could opt for 3.5 or higher easily.
But don't go too far, as that won't help your sewing project. And make sure that you look at the maximum stitch length your machine allows, as it's always better to have some extra room than not having enough.
Built-in Stitches
Your machine will often come with a bunch of built in stitches to help you work more efficiently. It could have 5 or 50 depending on the product you have. Generally, it will hugely depend on the price of the product.
There are many options, such as stretch stitches or blind hem stitches, which can come in handy. But don't worry too much about this; you can still achieve them manually.
Figuring Out What You Need
Here's the thing, you can certainly go overboard and get something like a heavy duty sewing machine meant for industrial purposes. But the trick is to find out what you need and get the right product according to it.
For example, if you only want to work with canvas and leather without having multiple layers and all that, a mid-range sewing machine would suffice and vice-versa. So, try to keep that in mind. Also, make sure you got the best ceiling light for sewing room; otherwise, you will be putting unnecessary strain on your eyes.
Canvas and Leather Sewing Tips
Everyone knows how much different (and challenging) sewing thick materials can be. But there are some steps that you can take to ensure that your journey is as effortless as possible.
Choosing the Right Needles
The main reason you might have a hard time is due to the properties of the materials. For instance, canvas fabrics are very tightly woven and require heavyweight needles to achieve the best results.
So, we need a needle that can withstand stitching leather and canvas. Generally, we would recommend opting for 100/16 or higher. If you don't know what that number means, the first one is the metric one, and the second is the imperial one.
For example, you would use 90/14 for medium-weight fabrics, and so on. Thicker needles will withstand heavier and faster sewing projects with ease.
Using Proper Threads
Just like the needle, the threads you use for sewing canvas and leather will play a significant role in determining the outcome. Let's say you're sewing leather bags; the first thing to remember is that cotton threads are a big no.
That's because it will end up eroding over time, reducing the life span of the product. The ideal option would be to use either polyester or nylon threads, as they're more durable.
Frequently Asked Questions
What is the best sewing machine for canvas?
Naming a single product wouldn't be ideal, as there are many variables. Ideally, the best machine for canvas would be a straight stitch machine with a walking foot to sew many layers.
What is the best sewing machine for sewing thick material and leather?
Once again, it depends on what you need. We would recommend you to opt for something more powerful than the traditional home options, as these materials necessitate it. Furthermore, having a walking foot and multiple stitch options will help.
What sewing machine can sew canvas?
Not all sewing machines can sew canvas, as it's pretty thick and heavy. You will find this fabric in two types in general — duck and plain. The former is even more rigid, and therefore, you should get a straight stitch machine.
What sewing machine works with leather?
As you know by now, sewing heavier leather requires stronger machines. So, firstly, you will need a larger and powerful motor to keep up with the requirements. Moreover, it needs to be good at keeping the leather pinned down.
Why is my sewing machine prone to skip stitches?
You will often find that the reason behind this issue is your needle. It could be that the needle is bent or has some defects in it. Replacing it might fix the problem.
For rips and tears in my car seat, what are the alternatives to sewing?
We have already covered how to put two pieces of fabric together without sewing. For a fast and easy repair, you can opt for a fabric car seat repair kit.
Final Words
Heavier materials such as canvas or leather can be surprisingly durable and fashionable, so it's only natural that you'd need a heavy-duty machine.
In our opinion, the best sewing machine for canvas and leather overall is Janome's HD100 Sewing Machine, as it manages to be both powerful and affordable.
REFERENCES