4 Best Inkle Loom Reviews | Buying Guide
Tired of the traditional guitar straps and belts that they sell in the stores? Well, you can easily make some that match your style, with the right equipment and with your favorite colors.
Yes, we are talking about you getting the best inkle loom – which you will need whether you are in the profession of weaving or it's just a hobby for you.
Getting the right one is more than just visiting your local store and settling down for whichever is the cheapest – it's about navigating through various options while keeping your preferences in mind.
If all of that sounds like too much work, then you should go through this article right away.
4 Best Inkle Loom Reviews
Need the best inkle loom but not sure where to start? Well, we have picked four amazing inkle looms and reviewed them right here for your convenience.
1. Inkle Loom By Ashford
If you feel the urge to experiment with different types of yarns and colors, then we say you should go for it. As for finding a suitable inkle loom for that – this Ashford inkle loom will fully adhere to your wide range of projects without any setbacks.
To successfully execute any project on your loom, you will need one that is durable and sturdy. Thanks to the silver beech hardwood construction of this loom, you will never feel any shortcomings in that sector.


Despite having a heavy-duty construction, the item is fairly compact – and as a result, you can easily transport it from one workplace to another. Not to mention, you will be able to easily store it as well.
This item is generally designed to create strong and long braids. However, it keeps its focus on the intricate details of the braids as well and will let you weave using different yarn types, colors, and beads.
At the same, you can easily adjust the warp tension according to your project requirements. The loom comes with an adjustable tension peg for that purpose, so you won't face any hassle.
These aspects will allow you to make a lot of things – starting from tassels to trims and more with different warp threads. For further convenience, the product comes with a belt shuttle as well.
Verdict
If you are looking for an inkle loom that will let you work on versatile projects, then this is it. The item will let you adjust its warp tension as well for better performance.
2. Schacht Inkle Loom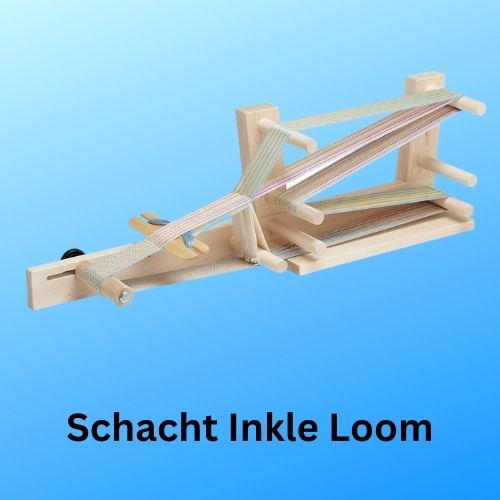 Features
Size: 7″ x 9 1/2″ x 31″
Material: Hard Maple and Not Finished
Open Sides: One Open Side
Can Be Used For: Weaving Bands and Belts
Suitable For: Professional Weavers
Have you ever been handed an unassembled inkle loom without any instructions whatsoever? Even if you haven't, you can surely understand how terrible that sounds, and thankfully, this one includes all the instructions that you will need.
This aspect of the product makes it absolutely easy to assemble, even for those who don't have much experience in that field. In fact, the loom also comes with a belt shuttle, so you won't have to get one yourself.
You can start inkle loom weaving with it without any hesitation whatsoever. It does not require any additional equipment, so you can easily start a weaving program. Not to mention, the product is fairly easy to use as well.
At the same time, the loom comes with one open side, which makes the process of weaving even more convenient. That is why every professional weaver should have it.
The item is especially great for those who like weaving belts and bands quite often – the loom can even handle the intricate details without a problem. You can also adjust the warp tension using the tension bar knob.
However, none of these features would matter if the loom didn't last. And that is why the item comes with a heavy-duty construction of hard maple, which will serve you for a long time.
Verdict
This inkle loom is great for those weavers who primarily weave belts and bands. The hard construction and adjustable tension of the loom make it simpler and comparable to a rigid heddle loom.
3. Beka Inkle Loom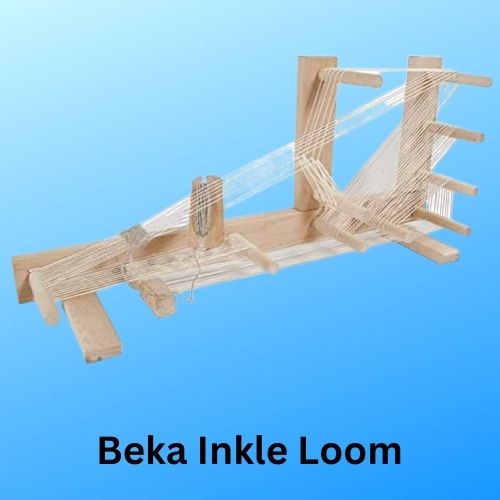 Features
Material: Hard Maple from Minnesota and Wisconsin
Size: 28 in long X 7-12 in wide X 12-12 in tall
Items Included: Belt Shuttle and Instruction Sheet
Weight: 7 Pounds
Suitable For: Beginners
As a beginner, you are surely looking for an inkle loom that will let you weave braids without you breaking a sweat for it. And while finding one like that might seem difficult, we have the perfect loom for you right here.
First of all, this inkle loom has been constructed for beginners because it is really easy to use. So if you are just learning how to start weaving or going through some tutorials, then you might want to try this out.
What makes the loom even more convenient is that it comes with an open-sided tabletop design. This aspect will let you experiment with different yarns and beads without any hassle whatsoever.
At the same time, the item also comes with a durable construction, which consists of hard maple. This wooden loom will last for a long time, making sure you can enjoy your journey from being a beginner to becoming a professional with it.
Despite having a sturdy construction, the item weighs only about 7 pounds. So, you can easily transport it from one workplace to another without even requiring help from anyone.
Not to mention, you can also adjust the warp tension in the loom for different fabric types quite conveniently. For that, it comes with an adjustable tension peg, which is really simple to use.
Verdict
This is an easy-to-use and portable inkle loom that will make your projects much more convenient if you are a beginner.
4. Small Inkle Loom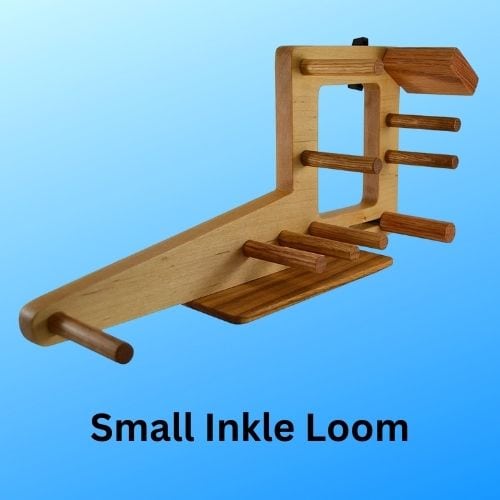 Features
Material: Maple and Oak
Size: 15 inch
Warp Length: Maximum 74-inch
Finish: Natural Smooth Satin Finish
Assembly: Fully Assemble
Are you in search of a mini-size inkle loom that will perform just as well as a large one? In that case, search no further because we have the perfect product for you right here.
This loom is only about 15-inch long, which makes it fairly easy to store. You won't have to worry much with its compact body. Not to mention, its 1.25 pounds of body can easily be transported from one place to another.
At the same time, you can use this loom for multiple purposes and in various ways – whether you would prefer table-tops or laptops. It has the perfect size for everyday use, and the versatility that it provides will adhere to all your projects.
Despite featuring a compact body, the product comes with sturdy construction. Its maple hardwood and red oak construction make sure it can withstand heavy-duty usage. Moreover, its satin finish gives it a nice touch.
Other than that, this product will provide the utmost convenience to its users. You will have a wide range of motion and more control of tension. Thanks to its double tension system, you will never face any hassle.
Not to mention, the item comes with a maximum warp length of 74 inches, which will leave more room for you to experiment. You can make use of different yarns, colors, and beads according to your weaver's inkle pattern directory.
Verdict
This is a mini inkle loom that can perform just as well as a large one. With its perfect warp tensioning, you will never face any issues.
Things to Consider Before Buying
You cannot make the best out of your weaving projects if you do not have the best weaving looms at hand. And for that, you should pay attention when buying an inkle loom.
If you haven't purchased one before or just want to be more cautious this time, then you are just at the right place. We will be discussing all the factors you need to look out for right here.
Construction
The construction of an inkle loom is one of the most important aspects to look for. That is because you won't be able to get the best out of your project if it is fragile and not heavy-duty. Moreover, it will limit the range of projects you can work on as well. Hence, choose looms made of hardwood and such.
One or Two Open Sides
Inkle looms usually contain either one or two open sides – although the popularity of the former is much more than that of the latter. Having more open sides will surely provide more convenience, but having one is not bad either.
Control On Tension
To bring variety in your project, or even to execute one properly, you need to be able to control the warp tension of the loom. Some looms contain tensioning devices for the purpose – you just have to see how convenient it is to use.
Portability
To travel with your inkle loom, you should choose a compact and lightweight one for portability. Although most inkle looms are compact, some are mainly constructed while keeping portability in mind – and you should go for those if you require this trait.
For Beginners or Professionals?
Some inkle looms are constructed for beginners; others are more suitable for professionals. It's best to choose one according to your skill level because otherwise, you might not get the results you were expecting.
Frequently Asked Questions
How do I choose an inkle loom?
There are a few things that you need to keep in mind while choosing one, but the most prominent factors are their construction and how smooth they are to the touch.
What can you make with an inkle loom?
You can make varieties of things using an inkle loom. For instance, you can make bracelets, belts, ties as well as guitar straps using them. At the same time, you can sew together the parts to make bags and cushion covers as well.
How wide can you weave on an inkle loom?
The width of inkle looms will surely vary, but in most cases, it is around four inches. Hence, you can weave around four inches on an inkle loom.
Which weaving loom is best?
The best one for you will surely depend on the type of projects you will be taking on. So, you should choose according to your preferences instead of going for the ones that are generalized to be the best.
Are inkle looms portable in general?
Inkle looms are generally small in size and do not weigh much either. Hence, you will easily be able to transport them from one place to another.
Final Words
It can be difficult to pinpoint the best inkle loom for you while going through multiple options at once. But just make sure to check whether the attributes of the product matches your criteria or not, and the choosing process will get much easier.