If you have been in the sewing industry for a while, then you have probably heard about sergers way too many times. And if you want to find out what the fuss is all about within a budget, then our article is just the right read for you.
Whether you want a serger with a differential feed or one with a speed of 1,500 stitches per minute (yes, they do exist), you will find it all right here.
With hours of research, we have handpicked some of the most popular ones in the market to get you the best serger under 300. You can trust us when we say this – having the right serger will take your sewing capabilities to another level.
And we will help you achieve that level just within five minutes. Go through our reviews, and get yours.
5 Best Serger Under 300 Reviewed
Finding a serger under 300 is not difficult, but finding a great one within that price range might as well be a challenge. Let us make it easier for you with our top five picks.
1. Brother Serger, 1034DX, Heavy-Duty Metal Frame Overlock Machine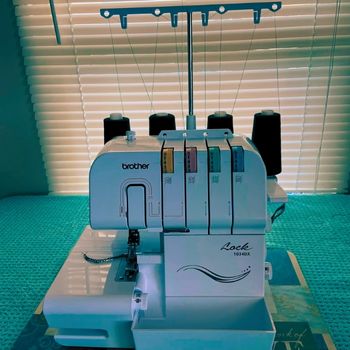 Features
Color: White
Material: Plastic, Metal
Weight: 16.4 Pounds
Dimensions: 13 x 15.25 x 14.5 inches
Power Source: Electric (AC/DC)
If you are tired of using sergers that are difficult to use and clean, then you will love this one the instant you get it. Not only does the product provide an amazing service under 300, but it also ensures easy threading and effortless specialty stitches.
With a high-quality metal frame and heavy-duty internal components, this product does not fail to provide long-term service. Hence, you won't have to worry about replacing this product anytime soon.
Along with durability, the item ensures a high-performance at all times as well. This serger can effortlessly handle multiple layers of different types of denim or other tough materials, thanks to its 3 or 4 thread system.
On the other hand, you will also be getting top-notch speed with this item. A speed of 1,300 stitches per minute is the default, but you can also adjust the speed using the foot pedal provided.
The upper thread guide combined with the lower looper threading system will make the item very user-friendly for you. Furthermore, even if you don't have polished sewing skills, its instruction manual will help you out.
Verdict
This is a very durable serger for denim that can work with other thin fabrics and thicker fabrics as well.
2. SINGER | Making The Cut S0230 Serger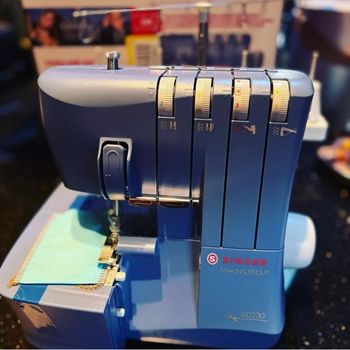 Features
Color: Blue
Weight: 17.2 Pounds
Dimensions: 25 x 14.5 x 13.5 inches
Speed: 1,300 Stitches per Minute
Electric: Yes
Raw edges of unfinished seams are always unpleasant to look at. However, here is one under 300, which sews the seam and the seam finish at the same time to guarantee professional seams. This is quite far from your basic serger.
The machine trims away all the extra seam allowance as it does its work on the seams – ensuring finished seams. You can also use different combinations of stitch options or choose between 2, 3, or 4 threads for smooth seams.
Along with a four-thread overlock, there is also an integrated color-coded threading guide that will make it more convenient. Moreover, you can work on stretchy fabrics, thanks to the differential feed that the product comes with.
Another great aspect of this serger is that it is suitable for making children's clothes and apparel as well. The built-in free arm makes sure to conveniently sew around cuffs and small sleeves.
What makes the item even faster is its stitching speed. With 1,300 stitches per minute, you will be able to finish your projects quicker than expected – saving all of your important time without compromising the stitch quality.
Verdict
This serger under 300 is great for getting work done fast – wasting no time of the users whatsoever.
3. Janome 8002D Serger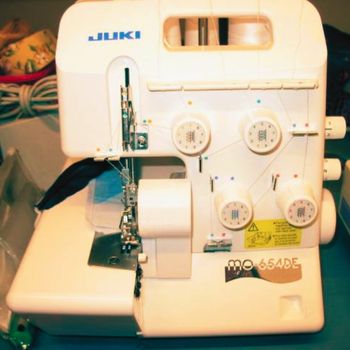 Features
Color: White
Weight: 17.2 Pounds
Dimensions: 15 x 13.5 x 14.5 inches
Electric: Yes
Power: 110-volt machine
If you are going to buy a serger within a budget, per se under 300, then you need to make sure it is worth the money – because it is still a pretty big investment. And this one right here is worth every penny you will be investing in it.
The amazing features of this item lead to professional results without requiring a lot of effort on the project. With the color-coded threading system chart, you will find utter convenience when it comes to threading and such.
On the other hand, no matter which type of fabric it is that you are working on, the differential feed mechanism makes sure to feed efficiently. Therefore, the outcome will always be top-notch.
Another aspect that makes this product highly versatile is the rolled hem conversion – and for that, you won't have to adjust the needle plate either. So, you can shift to a rolled hem quite easily.
With 3 or 4 threads, you will be getting an overlock stitching capability. Not to mention, the speed of 1,300 stitches per minute will also make it really fast and user-friendly for you.
Verdict
This versatile serger under 300 is great for working with various fabrics, making decorative stitches and decorative edges.
4. SINGER 14CG754 Serger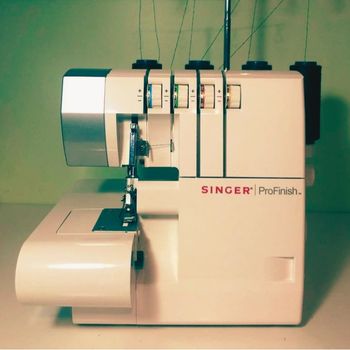 Features
Color: White
Dimensions: 14 x 11 x 11.5 inches
Power Source: Corded Electric
Thread Capability: 2-3-4 Threading Capability
Stitching Speed: 1,300 Stitches per Minute
No matter which type of project it is that you are working on, you deserve a serger that will provide top-notch results regardless. Now, here's a serger under 300 that will provide professional results along with a lot more.
Thanks to its 2-3-4 thread capability, this item contains multiple built-in stitch functions. The differential feed, adjustable stitch length/stitch width, and color-coded lay-in will provide even further convenience and versatility for you.
On the other hand, you will be able to carry the item from one place to another, thanks to the carrying handle that it comes with. There are also multitudes of other accessories included that will eliminate the need to buy anything extra.
The item also comes with a removable free-arm that will let you sew cuffs and sleeves quite effortlessly. It also comes with an automatic fabric trimming option along with its 1,300 stitches per minute speed.
What's better, you will be able to shift to the built-in rolled hem mode quite easily, thanks to its easy access lever. With it, the stitch finger moves to a position that makes it convenient for rolled hems, blind hems, or narrow hems.
Verdict
This serger for heavy fabrics can also ensure professional results no matter what you are working on.
5. JUKI MO644D Portable Serger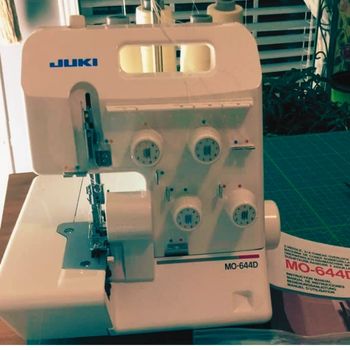 Features
Color: White
Weight: 18.4 Pounds
Dimension: 10.6 x 13.4 x 11.6 inches
Electric: Yes
Power Source: Treadle Powered
If you have been searching for a serger under 300 that is durable as well as lightweight, then you might as well fall in love with it. This item comes with other great features, which you will find out about right here.
Starting with numerous stitch options, you will be getting 2-3-4 threading capabilities. Along with that, you can also easily switch to automatically rolled hems – without taking any hassle whatsoever.
For further versatility, the product comes with color-coded threading and a break-away looper adjustment for the length of the stitch. Apart from that, this machine includes a differential feed as well.
The drive mechanism that this serger provides is unmatched when it comes to its competitors. The powerful knife system also makes sure you always get to make ribbon lock stitches and cover stitches.
Not to mention, with this product, you will be getting a maximum sewing speed of 1,500 stitches per minute. The speed will help you work faster and more efficiently on light to medium fabrics.
Verdict
This efficient and durable serger under 300 will provide versatility as well as some of the most beneficial features.
How to Choose the Best Serger Under 300?
Getting serger sewing machines is quite a huge investment – and you wouldn't want anything to go wrong with it. After all, it is a machine, and there are tons of things to be considered to make sure you don't regret your decision.
Now, if you haven't purchased serger machines before, then you may not exactly be sure regarding the factors that you should be looking out for. And sometimes, just focusing on the serger brand is not enough.
So, here is a list of all the aspects and factors that you should keep in mind when you are out hunting for the perfect serger. If you adhere to these, then nothing can possibly go wrong with your purchase.
What is the Speed of the Machine?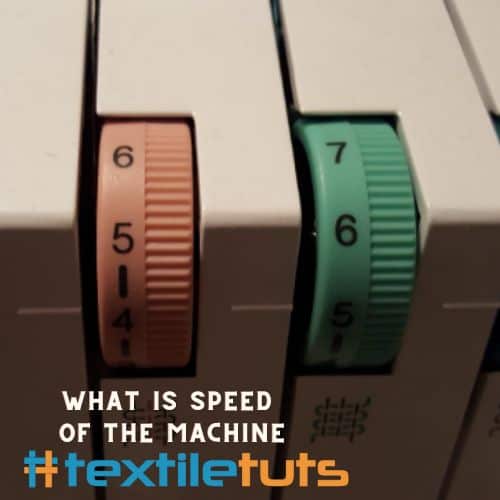 Stitching should be done fast – you don't want to spend too much of your time on the same piece of fabric.
Therefore, looking out for speed is essential. Make sure the maximum speed of the serger is around 1,300-1,500 stitches per minute.
What is the Machine Made of?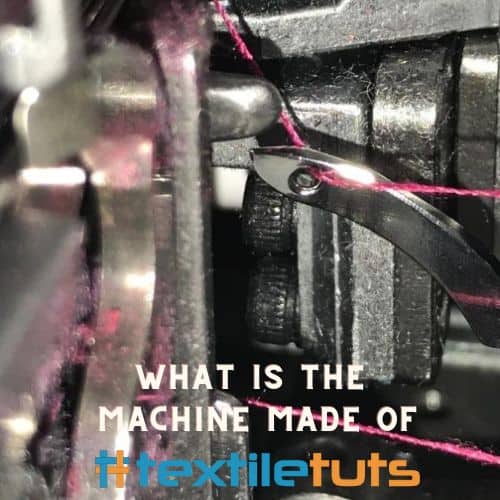 The construction of the serger is important because it will determine how sturdy it is in the long run.
So, try to go for a serger with a metal construction – some parts of it can be made of plastic, but make sure it is not flimsy.
Is It Easy to Use?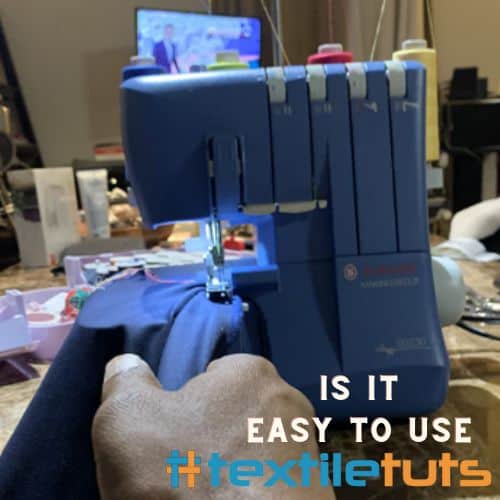 To tell the truth, sergers are never easy to use. There is always way too much to be cautious about.
But you can make sure if the serger does automatic threading or manual threading and if it contains user-friendly functions – for that, you should go through serger reviews.
Do You Have to Maintain the Machine?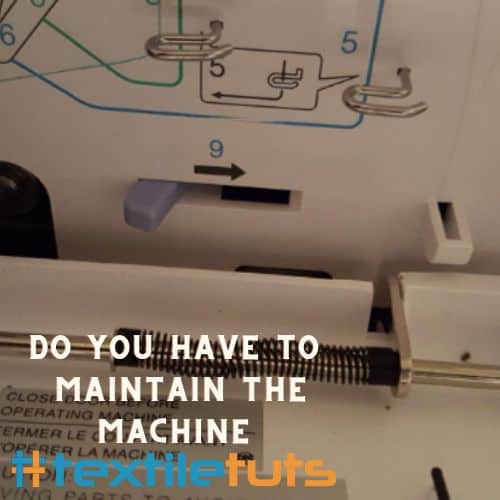 Maintaining a serger can be even more draining than sewing. So, you would want to cut down that task as much as possible.
Make sure your chosen product is heavy-duty enough – so you wouldn't have to maintain it from time to time.
How Long Will the Machine Last?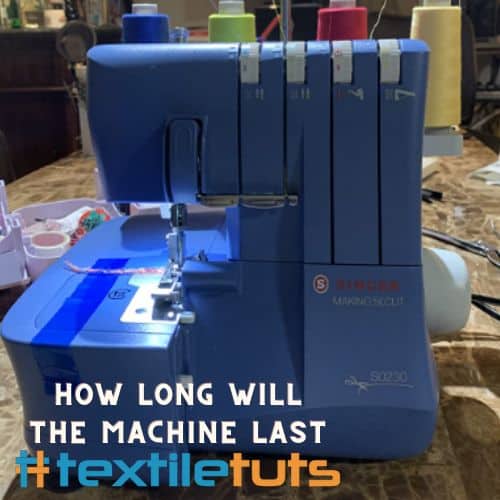 The construction will give you an idea of how long the serger is going to last.
But for further assurance, it is best to go for one with a warranty. Make sure the product comes with a warranty of 5 years at least.
Does the Machine Come with A Differential Feed?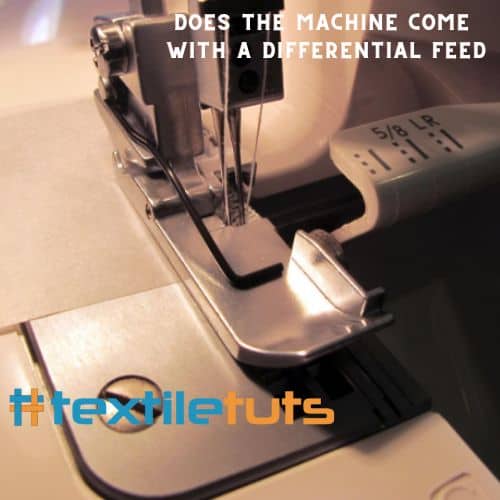 Differential feeds are important because they will let you make efficient serger stitches or cover stitches no matter what kind of material you are working on.
Not every serger comes with a differential feed, but having it will surely help you in cover stitching, decorative edging, and creating smooth seams.
What Kind of Materials Does the Machine Work with?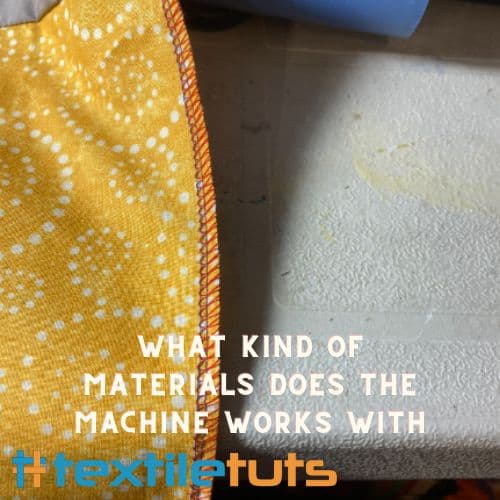 Some sergers are more suited for heavy and tough materials, whereas others do wonders on light fabrics or delicate fabrics.
So, this totally depends on the kind of projects you would be working on, and you will have to choose accordingly.
Is the Serger Portable?
If you have multiple workplaces, then it will surely be necessary for you to get a serger that is portable.
For that, you will have to look for a serger that comes with a carrying handle.
Frequently Asked Questions
What is a serger?
The other name of a serger is 'overlock' – which means that it makes overlock stitches. What it does is basically cut the excess fabric as it goes – and it contains blades for that purpose.
Is a serger the same as a sewing machine?
No; sergers and sewing machines are not the same. A sewing machine will use a lockstitch, whereas a serger will use an overlock stitch for accurate seam allowances. So sergers are known to be more advanced machines than their sewing counterparts.
Is it difficult to use a serger?
Yes; especially if you are a beginner, there is a lot to learn, and there is little to no room for mistakes. However, once you get used to them, you will face almost no trouble at all.
Is 300 a proper budget for a serger?
It can seem as if sergers are highly expensive machines that require a lot of investment, but that is not the case. You can get a great one just within an affordable price – and there are definitely more options than there would be for sewing machines under 150.
Are sergers worth it?
Sergers include functionalities that a lot of their counterparts do not. For instance, it cuts the fabric automatically, which will save a lot of your time. And if you require that feature, then it is surely worth it.
Final Words
The sergers mentioned in this article are amazing in their own ways. But the Brother Serger, 1034D, Heavy-Duty Metal Frame Overlock Machine really wins the title of the best serger under 300.
This machine is perfect for working with tough materials – and it is effortless to work with as well. Even as a beginner, this serger will guarantee professional results like none other.
REFERENCES