The Best Serger for Knits | Top 4 Picks
For many sewers, working with knit garments is either an effortless task or a nightmare depending on the machine or serger they have at their disposal. That is why many face issues like having the fabric stretch/gather or have the machine eat the fabric.
So, what might the correct equipment be? That'd be a serger in most scenarios. Sure, getting whatever serger you can find wouldn't help your case, and finding the best serger for knits doesn't come with some easy checkboxes that are applicable for everyone.
That's because you would need to consider your use case and requirements first. That's why we'll discuss some of the best options out there and tell you what your best bet is.
Problems with Sewing Knit Fabrics with Regular Sewing Machine
Most sewing machines are not designed to sew stretchy fabrics like knits. The problem is that the needle punctures the fabric and then has to be pushed back up through the fabric before it can make another stitch, which can cause problems with the fabric stretching out of shape.
Additionally, the feed dogs (the teeth-like parts that move the fabric through the machine) can also cause problems with stretchy fabrics, as they can grip the fabric too tightly and cause it to distort.
Although you can sew knits in a regular sewing machine using the zig-zag stitch, maybe it's not the type of stitch you prefer.
Therefore, a serger comes as a life-saver.
What Solutions Does A Serger Provide While Sewing Knits?
A serger is a type of sewing machine that can be used to sew stretchy knit fabrics. Sergers have a different type of feed dog that does not grip the fabric as tightly, and they also have a different type of needle that does not puncture the fabric. This helps to prevent the fabric from stretching out of shape.
Since a serger or overlocker will apply an overlock stitch securing the edges of the fabric, it will also help to prevent the fabric from fraying.
A serger can also sew much faster than a regular sewing machine, which can be helpful when sewing large projects.
4 Best Serger for Knits
Knit fabrics come in various qualities and characteristics. Here are the top sergers that can deal with them.
1. Brother 2340CV Coverstitch Serger

Cover stitch of 3-6 millimeter

Fast thread looper system

2. Juki MO654DE Portable Serger

Up to 1500 stitches per minute

3. Singer Finishing Touch 14SH654 Serger

Adjustable thread tension
1. Brother 2340CV Coverstitch Serger – Best for Professional Workloads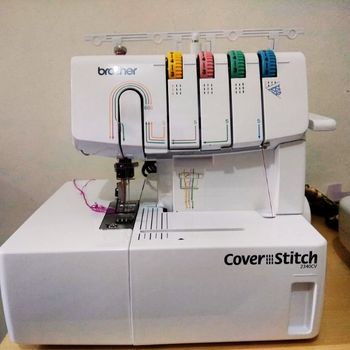 Features
Maximum speed: 1100 stitches per minute
Threading Mechanism: Color-coded threading guide
Number of Threads: Two, three, or four threads
Item Weight: 15 pounds
Control for Feed Dogs: Differential feed with 0.7 to 2.0mm ratio
Have you ever wondered how manufacturers achieve those beautiful stitches on a T-shirt's hem? Well, those are called cover stitches, which are pretty famous for such purposes. Our first pick is a serger that can do cover stitches too.
The 2340CV retains the primary features of a cover stitch machine while maintaining the capabilities of a serger. One of the most suitable applications of these stitches is on stretch fabrics like knits, as it's somewhat stretchy.
Otherwise, creating such a chain stitch would be somewhat challenging. But enough of that, let's get to the threading system of this serger. Hence, it's helpful to have a color-coded threading process for increased efficiency.
To our pleasure, you get color-coded guides on this one as well. Not only that, but this serger also gives you a fast thread looper mechanism that further improves the experience and rids you of the tedious process.
Moreover, you don't lose any speed either. You can get up to 1100 stitches per minute, which will allow you to zip through projects. Now, another essential ability in sergers is the differential feed.
As you know, knit fabrics are generally stretchy. That's why you can use the differential feed and use the two sets of feed dogs to prevent the material from puckering up or stretching (0.7-2.0mm).
It also uses a 2/3/4 thread count, which allows for impressive versatility if you couple it with the best thread for sewing knit fabrics. Lastly, the metal frame and tri-cover stitch capability make it a remarkable value.
2. Juki MO654DE Portable Serger – Best for Portability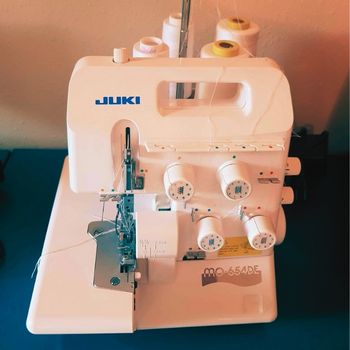 Features
Maximum speed: 1500 stitches/minute
Threading Mechanism: Easy-to-understand & color-coded
Number of Threads: Two/three/four threads
Item Weight: 15 pounds
Control for Feed Dogs: Differential feed (0.7 – 2.0mm)
Having a decent amount of power often means having a sizeable serger, which takes more space and energy to move. Enter the MO654DE from Juki, which packs a ton of power without being too bulky.
As a result, the dimensions are only 10.6 x 13.6 x 11.6 inches, which is impressive. One might assume that this form factor will make it lose its speed and functionality. Well, it can reach up to 1500 stitches per minute.
That speed is better than many of the large, costly products. Moreover, it loses nothing in terms of threads either. Usually, your serger should have at least up to four of them, which provides benefits with knit fabrics.
And that's what you get here — the ability to use 2/3/4 threads depending on your needs. However, people usually loathe the threading process more than learning how to sew knits with a serger.
This one comes with a color-coded threading system that doesn't make you keep searching for where to put everything. With all its features, you can even learn how to sew spandex with a serger, which is essentially a knit fabric.
Another essential part of a serger is the trimming system. This product comes with two robust knives with a dedicated drive mechanism that gives you neat and clean cuts by the seam, similar to the best fabric cutting machine for quilting. Moreover, you can change the stitch length up to 4mm.
And as expected, it provides support for differential feed (0.7:2.0 ratio), allowing for great control. Finally, the breakaway looper and the included necessary components make this one an enticing choice.
3. Singer Finishing Touch 14SH654 Serger – Best for Convenient Stitch Control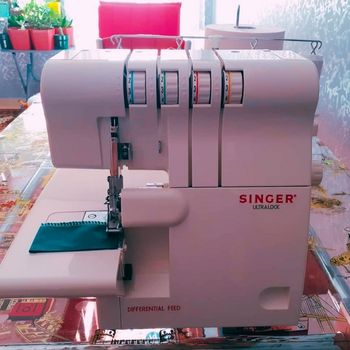 Features
Maximum speed: 1300 stitches per minute
Threading Mechanism: Color-coded threading
Number of Threads: Three/four threads
Item Weight: 5 pounds
Control for Feed Dogs: Differential feed
One might not think that stitch length is not as vital for knit garments as for the best serger for heavy fabrics. However, it's pretty essential, as you will find knit materials of various properties and characteristics.
In this case, you can adjust the length effortlessly with an outer stitch dial, which is remarkable. It doesn't lack in other departments, either. For example, you can get up to 1300 stitches in a minute with this serger.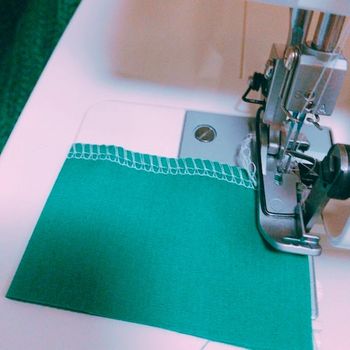 That means you can stitch any knit fabric at a remarkable pace. But of course, the speed wouldn't mean much if the serger cannot prevent the material from puckering or bunching up, which these are prone to do.
Therefore, a quality differential feed is just as essential for the product. Fortunately, it doesn't disappoint us here either. It comes with a decently customizable differential feed that allows you to keep the fabric smooth.
As you know, knit fabrics come with various characteristics, which makes them surprisingly versatile. However, that also means that the serger you use must have enough thread count to get the most out of them.
You get the ability to use three or four threads with this one, which allows you to create stitches that last long and provide enough stretch for stretchier knit materials spandex. Another issue you might face is while sewing trickier parts like cuffs.
This serger comes with support for a free arm that allows you to avoid having to deal with such annoyances. These capabilities will enable you to sew knit fabrics effortlessly.
4. Janome CoverPro 900CPX Serger – Best for Cover Stitch Support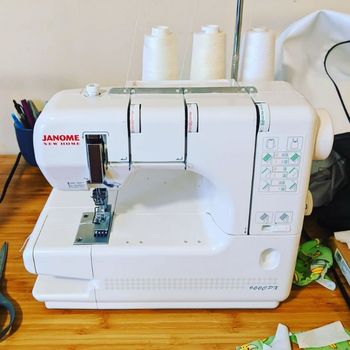 Features
Maximum speed: 1000 stitches per minute
Threading Mechanism: No color coding
Number of Threads: 1/2/3 threads
Item Weight: 4 pounds
Control for Feed Dogs: Differential feed
When you look at professional garments, one of the most eye-catching things would be the beautiful hems. While you could technically achieve that with your traditional sergers and cheap sewing machines, it would be too tedious a task.
That is where a product with cover-stitching capability comes in, as we have discussed earlier. You can create effortless hems that look just as professional with our final pick — the CoverPro 900CPX from Janome.
Let's move on to the other properties now. Regarding speed, you can achieve up to a thousand stitches per minute with it. While it's not as high as some of the other options, it's still sufficient to achieve a remarkable pace.
However, there is one caveat in exchange for the beautiful hems — the lack of four threads. You only get up to three in this case (1/2/3). While you'll still have overlocking stitches, don't expect it to be the best serger for jeans or other heavy materials.
It comes with a free arm configuration, nevertheless. That means you will have an easier time sewing things that would otherwise be rather tricky. Furthermore, the vertical drop needle makes swapping needles a breeze.
Another feature that we require is differential feed, which is a necessity for knit fabrics. This product comes with a variable differential feed that allows for the ratio to be set anywhere between 0.5-2.25.
One unique bit about this serger is the manufacturer's Seam Tightening System, which produces durable and tight stitches. Hence, if you want a serger with quality differential feed and cover stitch support, this is an excellent option.
Checklist Before Getting a Serger for Knits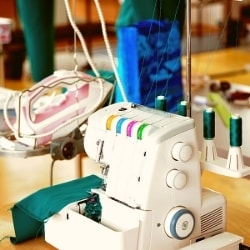 Choosing a serger to construct or sew knit garments requires the user to keep a few things in mind. While those are of grave importance, there are some universal bits that you should also pay attention to. We'll briefly explain them below.
Differential Feed
In contrast to sewing machines, this is one of the most significant benefits you earn from using a serger. And it especially makes a substantial difference with knit fabrics.
How It Works
Before we get into the details, we should first give you a clear idea of what it is and why it's crucial. The differential feed system will have two sets of feed dogs that push and pull the fabric according to your needs, giving you better control.
Sewing Machines in That Aspect
So, how does this ability fare against a typical sewing machine? Well, you won't get the support for differential feed like this in one of those products. That means you might have a hard time keeping things in control, which is tedious and time-consuming.
And differential feed doesn't only keep the fabric straight; it can also help you get better results if you want to bunch up the material for various purposes.
Threading Process
One of the biggest reasons many beginners (or sewers who aren't familiar with sergers) steer clear from a serger is the threading process. Unlike a traditional sewing machine, you can have up to eight threads on your product.
Although that number is usually limited to four on most products, it's still a sizeable number. Therefore, it's necessary to have an efficient threading system. One of the best ways to accomplish this is with a color-coded process.
Available Stitches
Don't get me wrong – you can make do with your essential stitches, as the fancy ones are virtually some variations that you can create with these. However, having built-in stitches can make things much more efficient.
For instance, if you are sewing garments and want to have some decorative stitches, having that option on your serger is always better. Nowadays, a serger under 300 will come with a decent number of stitches.
Frequently Asked Questions


Can I sew knit fabrics with my sewing machine?
Yes, you certainly can. However, you might face a bunch of challenges with that. For instance, having the fabric bunch up is a common issue if you sew them without a serger. Therefore, it's not what we'd suggest, even though it's possible.
What is the best type of knit fabric?
Surprisingly, knit fabrics have a large number of variations among them, ranging from double knits, interlocked knits, sweater knit to spandex and scuba knits. There is no best option, per se, as that will usually depend on what your intended purpose is with that fabric.
Is it necessary to wash knit fabrics before sewing them?
You will find that various knit fabrics will have varying amounts of shrinkage. Nevertheless, it's safe to assume that you probably will face a noticeable amount of shrinkage after washing. Therefore, we recommend pre-washing the fabrics.
Should I use my sewing machine for stretchy fabrics?
If you intend to work on stretchy fabrics (for example, spandex), you'll find that stitches from your sewing machine will not be stretching a lot. Therefore, we would suggest using a serger for these fabrics.
How often should I be cleaning my serger?
As a rule of thumb, giving the serger a slight cleaning after finishing a project is ideal, especially if it was a large project. That's because you might have a significant amount of lint build-up. Nevertheless, cleaning at least once a week is better.
Final Words
Working on a project with knit fabrics can be somewhat tricky for many people, as the requirements are usually different. The options we mentioned above should suit you well if you want the best serger for knits.
REFERENCES