5 Easy No Sew Alternatives to Attach Fabrics without Sewing
Last winter, when I was preparing for my spring cleaning, I found out that I have a bunch of old clothes that can be recycled.
And, without any big investment, I can re-design them by taking inspiration from Pinterest and craft them into crop tops, cami dress, or simple denim skirts!
Here, after an hour of my researching errands, I stumbled on the reality that I must have a sewing machine to attach my fabric or repairing the hem after cutting!
But little did I know that there are numerous alternatives to attach fabrics without sewing.
What a relief!
So, I followed the best-suited hacks of joining fabrics and marshaled my wardrobe with new outfits!
Hence, if you are a novice like me who doesn't know how to use a sewing machine or probably find it very intimidating, it's time to call a halt to these dilemmas and sew things without needles and threads!
Now let's glance over a few easy and effective ways for attaching fabrics without sewing.
5 No Sew Alternatives to Attach Fabrics without Sewing
Needless to say that no matter how many alternatives or hacks you discover in these courses of your lifetime, hand-sewing will always remain the fastest and most plausible way to join your fabrics.
Yes, dealing with a sewing machine might feel perplexing as most of the conventional or conservative craft techniques are! But, it has its own essence to provide a consistent, well uniformed, and detailed workpiece than any other quick fixes.
Now, when it comes to small crafting projects as in attaching your hem, tailoring decorative embellishments, mending a little torn, or holding two fabrics together using non-fusible alternatives comes handy, less time-consuming as well as efficient.
Moreover, if you aren't blessed with a crafty hand, then it's better not to adapt hand sewing but use non-fusible alternatives.
So, here to conclude, alternatives are great as long as you lack the skill or prefer quick and effective hacks. Otherwise, you can always march in traditional ways.
Now, let's see the alternatives that you can follow in order to attach your fabrics!
1. Fusible Tape
You can ask 10 different people regarding this topic, and the first they will recommend you are fusible tapes.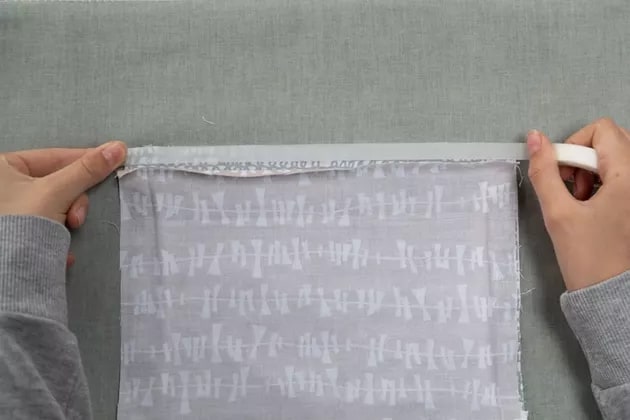 Not because they are utterly inexpensive but for their flexibility, high caliber, and fumble-free application. So, generally, the best double sided clothing tapes come in a wide range of variety depending on their sizes, influence, durability, and activation process.
To use a fusible tape, you have to follow these steps,
Find the adhesive side of the fusible tape
Place the sticky side between the fabrics you want to affix
Now bring your traditional cloth iron and allow it to create heat from low to medium
Once it's hot, press it over the fusible tape till the sticky components melt and adhere to the fabrics
When it's done, and the fabric seems stable altogether, let it rest for a few days to have a solid and powerful grip for a longer period.
Things to Consider
While working with a fusible tape, there are few facts that you need to take into account!
For instance, if you are using light fabric, then incorporating strong adhesive might cause a deformity in the fabric or damage it wholly.
On oppose to that, when you are working with a heavy fabric, no wonder, you will need a strong and competent adhesive which worth your reliance for a prolonged time. So, the science here is very easy as you can see.
Also, follow the precautions or instructions of your fusible tape before application to make sure a fuss-free operation every time.
2. Fusible Web
Here, the fusible web is an alternative for fusible tapes. The contrast here is that fusible tapes are mostly like pre-cut bandages or patches to join the seams or so, but with fusible web, you require to cut them manually according to your preferred length and width, preferably using the best fabric cutting machines.
And this difference makes the fusible web an apposite alternative for applique and customizable crafts where you don't need to confine yourself into a specific size or shape.
Also, fusible web is great for hemming skirts, a pair of jeans, or doing appliques and repairing small tears.
So, to use fusible web for applique or other application, the similar steps need to be followed as outlined above with few changes,
Drag lines onto the fusible tape depending on the shape and size you want
Using a scissor cut the fusible web
Lastly, have an even and precise adhesion
However, it comes with a paper backing which makes it ideal for ironing later. These are also available in different sizes, or to be precise, they are sold in yards. Hence you can create tapes depending on your requirements and crafting needs!
In addition, this permits you to work with longer and wider fabrics if you buy them in yards from any quilt stationary or notion shop.
Things to Consider
When you are working with a fusible web, the only thing that needs to be considered while the application is to have a transparent idea about the shape and sizes you are going to need to fuse your fabrics as you need to personalize it by yourself.
3. Fusible Adhesive
Well, fusible adhesives are also quite similar to fusible tapes. To join the layers of your fabrics, the fusible adhesive will require some steaming or heating to melt the sticky contents and thrust the gluey properties between your fabrics in order to attach them strongly.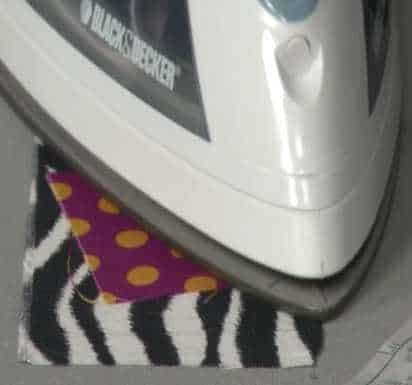 To use fusible adhesive you have to follow the same methods as outlined in the using steps of fusible tape. Meaning you have to,
Place the fusible adhesive between your fabrics.
Initiate iron heat for few minutes until the adhesive melts and establishes.
Lastly, before you give it a machine wash allow it to sit for few days to ensure solidity.
Things to Consider
When you are purchasing fusible adhesive, you may find sewable and non-sewable varieties. Make sure you buy the suitable one for your project because non-sewable ones are prone to adhere to your iron surface during application.
4. Fabric Glue
Now this one is a pretty old school. If you have already tired fusible tapes and webs, so you intend to try something new, then a good old fabric glue will do the math. They are extremely easy to find, as well as to apply.
Also, if you are feeling reluctant to use a hand iron to complete your operation, then what can be more appropriate than fabric glue? I mean, just like other varieties of glues, it allows you to attach two fabrics together just by inserting the glue in between.
Let's see how you are gonna use it,
Wear gloves so that it doesn't stick to your fingers
Bring the fabrics that need a quick fix or mend
Smear them on a stable surface side by side and put your fabric glue carefully on the edges consistently
Now attach them all together, and by using a flat surface, you can exert pressure to ensure the bond's permanency
Things to Consider
There's probably nothing much to consider while using a fabric glue; just make sure you buy the ones available in squeeze bottles in craft shops with reliable quality and grip.
5. Hot Glue
Lastly, you have hot glues as long as you want to finish some DIY projects except fabrics that you are supposed to wear.
I mean, an ordinary hot glue will do the job for your craft or attaching two fabrics pretty nicely. In fact, they dry-up faster than anything else and last longer than your anticipation.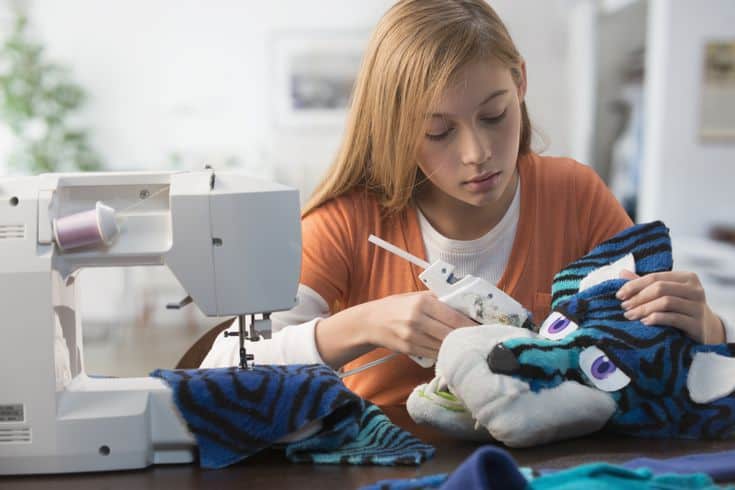 To use hot glue follow these steps,
Put the glue across the fibers
Let it sit for a few hours
And you are all set!
Things to Consider
Make sure you don't apply hot glue on satin, silk, or softer fabrics as they are somewhat slippery; it might derail from establishing a solid bond. Also, the gluey components won't enter the fabrics properly. Otherwise, you are good to go!
Oh! don't think of applying repair tapes on your seams because even the best fabric repair tape can't be the permanent alternative to sewing seams.
Can Hot Glue Be Applied and Removed Successfully from Fabrics?
Yes, hot glue can be applied and removed successfully from fabrics. In garment factories, applying hot glue on fabrics is a standard process for adding adornments in dresses. Hot glue is an ideal choice for fabric embellishment as it provides a secure and lasting hold that can be easily removed without damaging the fabric when required.
It is also a versatile option, as it can be used on a variety of fabrics such as cotton, velvet, wool, and linen. Hot glue is also better suited than other adhesives for fabrics that can't be sewn, such as leather.
Few Tips Before You Use Non-sew Fusible Alternatives
Here are a few tips that you should follow to acquire a better and mess-free result!
Wash your fabrics before fusing.
Get rid of any moisture before putting any adhesive.
Make sure that your iron is hot enough while the steam is off.
Perform the application at regular room temperature.
You can also check this tutorial out to learn the basics.
End Quote
So that's a wrap!
There might be more non-sew fusible alternatives to attach fabrics without sewing, which can be handy in your working aspects.
However, these are the most common, easy, and effective ones! I hope you don't have to linger time on other techniques once you become accustomed to them! Make sure you leave your go-to non-sew fusible hacks.
REFERENCES