6 Best Thread for Sewing Knits in 2023
Knit fabrics can be a nightmare for many people unless they have the proper materials. While the items at the forefront receive sufficient attention, many people merely skim over when it comes to one crucial bit — threads.
Threads, in general, are a critical part, but it is more so when you are working with knit fabrics, which have a unique stretchy property. And that's why many users end up having broken threads when they try to use straight stitches.
Of course, choosing the best thread for sewing knits is a process that largely depends on what you do and how you do things — and that's what we'll help you with today.
6 Best Thread for Sewing Knits
Finding the correct thread for your project takes a bit of work. Here are the top options to lighten that load.
| | | | |
| --- | --- | --- | --- |
| | | | |
| | 1. Gutermann Sew-All Thread | | |
| | 2. American & Efird Maxi-Lock Stretch Thread | | |
| | 3. American & Efird 32109 Maxi-Lock Stretch Thread | | |
1. Gutermann Sew-All Thread – Best for Multi-Purpose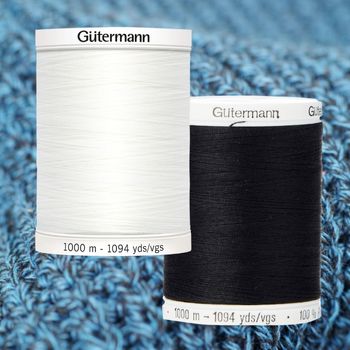 Features
Length: 1094 yards
Material: 100% Long Staple Polyester
Color: 2 Options
Suitable for: Band sewing and machine sewing
Suggested Needle Size: 10 or 14
The first product we have for you comes from a trusted name all over the world — Gutermann. This German brand has created some of the best multi-purpose threads that sewers love, and the Sew-All thread is no exception to that rule.
First of all, it uses long-staple polyester (no other materials). The term long-staple means that the thread uses extra-long fibers for production. In turn, you get a smooth and soft product that is incredibly comfortable.
Not only that, it does an excellent job at preventing fraying over time, keeping the stitches strong, and minimizes the possibilities of lint. This bit is highly critical no matter which fabric you are using.
Let's talk about the things that make this product suitable for knit fabrics. As you know, these materials have a decent bit of stretch to them. And since polyester also isn't as stiff as cotton and allows for ample elasticity, it's the perfect option for you.
Furthermore, it provides a remarkable value for your money here. This spool is a jumbo size that comes with 1094 yards of thread. And when you consider the price, you'll realize that it's a great deal.
Another crucial bit is the color. You'll be glad to know that these threads hold their color exceptionally well and prevent fading out. Lastly, its versatility for both hand and machine sewing makes it a fantastic choice.
2. American & Efird Maxi-Lock Stretch Thread – Best Stretch Thread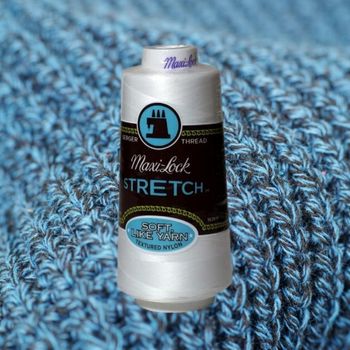 Features
Length: 1400 yards
Material: Bonded polyester
Suitable for: Multi-purpose
Suggested Needle Size: 110/18 recommended
We talk a lot about how the knit fabrics are so stretchy and how most threads cannot keep up. However, our next pick — the Maxi-Lock Stretch (yes, it has stretch in its name) — comes intending to be suitable for that.
First off, let's talk about the material, as it's not our trusty, old polyester this time. And that is the most significant catalyst behind this product's success. As you may know, nylon provides excellent elasticity along with superior abrasion resistance.
That means not only does it stretch a decent amount, it also gets back to its original state effortlessly. This feature makes it the perfect thread to use with knitted fabrics, as it will allow you to create those long-lasting, beautiful hems.
Furthermore, it's surprisingly comfortable against your skin. And you need not worry about fraying either, as it does a decent job against that. The colors are vibrant and will not wash off away easily, which is another plus point.
With this spool, you get 2000 yards of thread. Therefore, we think that it provides a superb value for the amount of money you're paying. Regarding the weight, it's a medium-weight thread that is suitable for most projects.
Although, that means you cannot use it for either of the extreme ends — i.e., too light or too heavy fabrics. And if you can manage to combine it with the best sewing machine for knit fabrics, the results will be stunning.
3. American & Efird 32109 Maxi-Lock Stretch Thread – Best Overall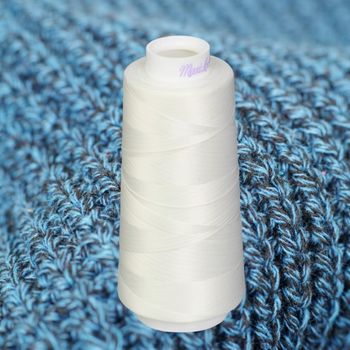 Features
Length: 2000 yards
Material: Nylon fiber
Suitable for: Best for sergers, works with sewing machines too
Suggested Needle Size: 90/14
Given the amount of praise we had for the previous pick, it's no surprise that we have yet another product from the Maxi-Lock series. This product is also a medium-weight one that works well with most projects.
First of all, you get 2000 yards of thread with this spool, which we think is an excellent value for money. That's even more evident when you look at the other nylon stretch threads on the market and how much they cost.
One of the best things about this thread spool is how well it resists fraying over time. As a result, it also ensures excellent durability over the years and eliminates the possibility of linting.
So, why is this product so suitable for knit fabrics? Firstly, it glides through the fabric effortlessly, which is crucial for the thread of your preference. The next highlight is how well it can stretch.
Thanks to the properties of nylon, this thread will provide great stretch stitches. And if you can combine it with a serger for knit fabrics or a serger for sewing jeans, you've got yourself a setup that will sew through knit fabrics like it's a breeze.
However, there is one thing that you should keep in mind — you might need to fix the thread tension to get the best results out of it. Overall, when you consider what you get for the price, you cannot go wrong with this product.
4. CESDes 3 Coats Eloflex Stretch Thread – Best Value Product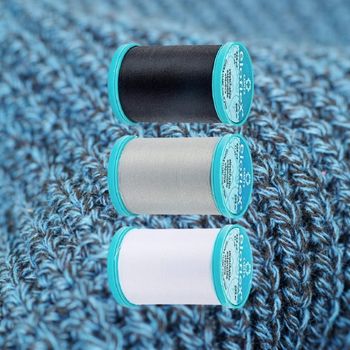 Features
Length: 225 yards each
Material: Polyester
Suitable for: Straight and stretch stitching
Suggested Needle Size: Size 11 recommended
Now, it's time to get back into the good old polyester threads. This time, we have got a bundle of three for you — the Eloflex Stretch Threads. There are three different colors of thread spools with excellent quality in this package.
First, let's talk about the color options. On the monochrome package, you get a black, white, and silver spool of thread. Having two of the most-used colors and another shade between them can be helpful.
Let's get to their performance with knit fabrics now, shall we? As you know by now, these threads use polyester as the primary fabric. It's one of those multi-purpose materials that you can use with any project.
Furthermore, it provides a decent amount of stretch. That is particularly useful for knit fabrics, as these fabrics are elastic themselves. While the elasticity will depend on the type of material, they all have this property more or less.
If you want to create traditional straight stitches with these threads, you can do that effortlessly. And the ability to generate stretch stitches with them is undoubtedly one of the best things about them.
You can use these with a serger with just as much ease. Furthermore, you can use these threads as both the top spool and the bobbin one. Considering all the benefits you get with this package, it gets a solid recommendation from us.
5. Embro All-Purpose Bonded Sewing Thread – Best for Heavier Workloads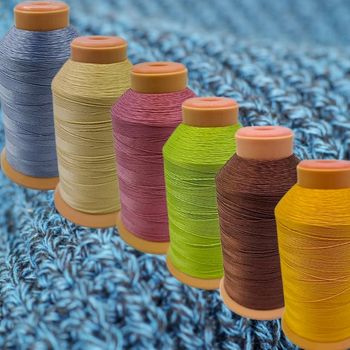 Features
Length: 1400 yards
Material: Bonded polyester
Color: 20 Options
Suitable for: Multi-purpose
Suggested Needle Size: 110/18 recommended
One of the issues with many of the mediocre threads is that you might face issues such as fraying or ply-untwisting. These products can be harmful to the overall performance of the product. And that's something this product handles so well.
The best thing about this spool of thread is the internal bonding. Essentially, it reinforces the three-ply design and makes sure that it does not untwist or fray easily. Furthermore, its primary material is polyester.
As a result, you get a quality bonded polyester thread that doesn't lose any of its elasticity either. Furthermore, this 30 wt. spool of fabric is thick enough to handle your heavier, professional projects as well. You used it on our car upholstery sewing machine without facing any single issue.
Not only is it excellent at preventing fraying, but it also does an exceptional job of preventing any damage from UV rays or saltwater. Furthermore, it will retain its color over time, providing the best results possible.
Overall, you can use this thread for the thickest of knit fabrics and other heavy materials, such as vinyl or even leather. For the price it comes in, it's hard to find this quality and this much resilience. We were able to use this on our sewing machine for canvas as well.
You get 1400 yards of thread here, and it works well with both sewing machines and sergers. Additionally, the lack of an exterior coating means that it will avoid damaging your serger or sewing machine.
6. Coats S992-0100 Eloflex Stretch Thread – Best for Hand Sewing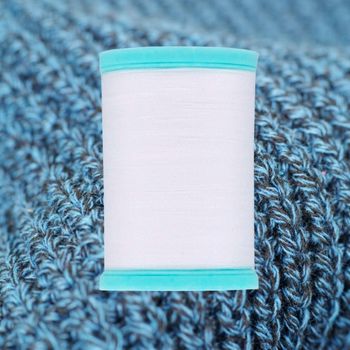 Features
Length: 225 yards
Material: Polyester
Suitable for: Hand sewing, sewing machines, and sergers
Suggested Needle Size: Size 14
One of the most crucial bits that we should keep in mind while buying a spool of thread is how well it retains its color. It's a persisting issue in many products, and thankfully our final pick does well to tackle it.
It remains colorfast (meaning it won't lose its color) even if you expose it to saltwater or chlorine bleach, which is an impressive feat. Hence, you can use it on any of your projects without any worries.
Now, let's get to its capability of handling elastic materials, as that's crucial for our purposes. The primary element for this thread is polyester. And as you know by now, it bodes well when it comes to stretchy fabrics.
Therefore, you can create stretch stitches quite efficiently on any of your projects. However, an even more impressive bit is that it works equally well regardless of whether you're hand sewing it or using it with a serger or sewing machine after cutting it using a textile cutting machine.
This ability is noteworthy since many other options don't do particularly well all across the spectrum. In this package, you get 225 yards of thread. While the price could've been somewhat lower, it's still a decent value.
Another significant benefit is that you won't face any shrinkage with this thread, which is essential. Besides, upon considering its excellent durability and how it stays colorfast, it gets a thumbs up from us.
What to Look for Before You Buy?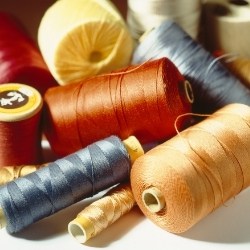 When it comes to buying threads for your project, many factors come into play. Therefore, you need first to figure out the types of knit fabrics and then find the ones that perform the best with the material of your choice.
Properties of Knit Fabrics
As you should know by now, knit fabrics contain interlocking loops of yarns. This design gives it a unique property where the materials will stretch when you pull them and then get back to their original shape.
An interesting fact is that the loops will change their shape upon stretching. Now, this property is what determines the necessity of different fabrics. For instance, you could get away with using a straight non-stretch stitch on woven fabrics.
However, you probably will need stretchy threads when it comes to knit fabrics. That's because it needs to be able to follow the garment with ease when you stretch it. Otherwise, you might end up with broken threads that don't last long.
Cotton
Cotton is a common thread for sewing many types of fabrics. These have a low amount of sheen and a somewhat matte look. The most common usage for these would be in cotton, linen, or rayon fabrics.
However, the stretch in these threads is almost non-existent and will not be durable enough when using with comparatively stretchy fabrics. Therefore, they are not ideal for knit fabrics at all.
Cotton-Wrapped in Polyester
These also have comparatively low shine and are one of the cheaper options. Moreover, they're generally pretty suitable as all-purpose threads. While you can use these threads for knit fabrics, they're still not the best option.
Polyester
Now, this is what we would call the jack of all trades when it comes to sewing. Polyester threads are sturdy and resistant to heat and mildew, meaning you will not have to worry about durability and quality.
Furthermore, these threads, like the best embroidery thread for Brother PE770, allow for a decent amount of stretch. That means when you're working with knitted fabrics, these will be the perfect option to go for. Another benefit is that they have incredible color variety.
And you can also find polyester threads with a silicone or wax finish, which helps them pass through the fabric effortlessly. Therefore, our recommendation would be to use these products for your knit fabrics.
Heavy-Duty Polyester Threads
As the name suggests, these threads also use polyester. However, they don't apply to your typical sewing projects, such as various garments. If you're creating specific decoration projects with heavy fabrics, these might be suitable in those cases.
Bobbin
Since you have another source of threads on your sewing machine or serger, there is a possibility to use a different type of thread if you want. However, most people use the same ones they're using as the top thread, as it provides a great result.
Other Things to Remember
The performance of the threads you buy will not be satisfactory if you don't ensure that the other factors are in the optimal settings.
Thread Tension
The thread tension plays a significant role in the overall quality of the project. If you have fabrics that are anywhere between light to medium weight, a value between four to five should be sufficient.
If you're sewing loftier knit fabrics (for instance, scuba knit), you should try to keep the tension somewhere around two to three.
Stitch Length
Your thread will behave differently depending on the length of the stitch. If you have too short a distance, then you might face warping on your fabrics. However, a shorter length is what we recommend (around one or two) when you are creating zig-zags.
Frequently Asked Questions


What is the best thread for knitted garments?
Due to their elastic properties, it is necessary to use threads with a decent amount of stretch with knit fabrics. Otherwise, there is a possibility of having broken threads when you stretch the material. Therefore, we suggest polyester threads.
What is an anti-wicking thread?
Anti-wicking threads are essentially the ones that come with specific coatings and prevent seam-leakage. On the other hand, non-wicking threads will repel water quite well. Lastly, wicking threads are your typical ones that absorb moisture.
Which thread weight should I choose?
The size of your thread depends on the project you're working on. For instance, if you're working on heavier fabrics such as denim, you require sturdier threads. Moreover, the types of stitches and your product can play a role.
What is the difference between knitted and woven fabrics?
The most significant difference between these two types of fabrics is the structure and production method. A knit fabric uses a single yarn where the machine continuously loops it. Woven ones have multiple yarns and little elasticity.
Why is the thread bunching on top of my garment?
The reason behind that is usually not having the bobbin threaded or inserted correctly. And although it's never necessary, you might need to adjust the bobbin's threads slightly.
Final Words
The threads in your sewing project might seem like one of those trivial things. However, getting the correct ones is paramount, especially for knitted materials. These were the top options if you want the best thread for sewing knits.
REFERENCES