How to Stabilize Knit Fabric for Sewing?
We all have that one knit sweater that became baggier with time, no matter how much we took care of it – and by the end of time, it was almost unwearable.
If you don't want the knit fabric you are working with to face the same fate, then you will need to learn more about stabilizing it.
The term itself sounds quite intimidating – but we can assure you that it's nothing of the sort.
To make sure your face no inconvenience, we have done research to construct an article that answers your question regarding how to stabilize knit fabric for sewing.
We have also included details regarding which parts should be stabilized. Once you follow this article properly, you will face no trouble when sewing knit fabric.


Why Should You Stabilize Knit Fabric and How?
While knit fabrics are great for use, they can often loosen up before it's time, which can make them last for a shorter period. That is because they are usually made of looped threads, and even the absence of the spandex fiber doesn't help.
As a result, stabilizing knit fabric is absolutely necessary, as it will build strength in the garment. Not to mention, when working on bigger patterns, stabilizing them becomes even more essential.
However, when we talk about stabilizing knit fabric, we often refer to stabilizing the seams. This is especially important during sewing because if the fabric stretches while you are at work, then you will have a hard time keeping the measurements right.
How to Stabilize Knit Fabric and Insert Shoulder Stabilizer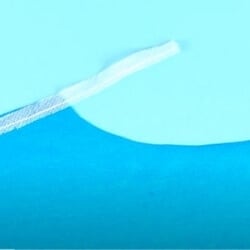 The first step to stabilizing knit fabric while sewing is adding stabilizers to the seams.
And one of the most important parts of the garment in that aspect is the shoulder. We will be discussing the steps that you will have to take to stabilize the shoulder seams.
Cut a Piece of the Stabilizer
The first step in stabilizing the shoulders of a knit garment is cutting a piece of the stabilizer.
While cutting, you will have to make sure the stabilizer is longer than the seam itself. It could be around 1-2 inches, or more, depending on the size of the seam. But make sure it's not too much, as you wouldn't want it to go to waste.
Place the Front and Back Pieces
Once you have cut the stabilizer accordingly, you will need to place the front and the rear bodice pieces together.
In this part, you will need to make sure the bodice pieces are facing the right side. This part is quite tricky, and so you need to be careful with it as you wouldn't want the construction to mess up.
Put the Stabilizer Atop
After putting the pieces together and being sure that you have done so accordingly, you need to place the two fabrics under the presser foot. But do make sure that they are properly aligned before that.
Afterward, you will have to place the stabilizer atop the bodice pieces and make sure that it has been placed on the seam line. There should be some excess length left behind the presser foot.
Start Sewing
Now you will have to start sewing stitches or serging – whichever you prefer. You will have to do so in the middle of the stabilizer.
Once you have placed the needle at the middle, sew till the end of the seam and make sure the line is aligned properly. Consider using a sewing machine for knits or an industrial serger for knit fabrics to achieve the task.
Trim Off Excess Stabilizer
Now comes the easiest and the last step. Remember the excess stabilizer that you included at the beginning? You will have to cut that off from both ends of the seam.
Which Seams You Should Stabilize?
Now that you have a basic idea regarding how to stabilize knit fabric and how shoulders are one of the most important parts to stabilize, we will be talking about some of the other seams that you should keep your focus on.
Bias Seams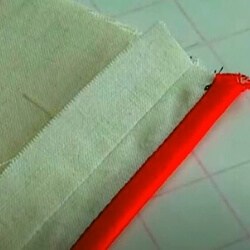 When it comes to bias seams, you know that they are going to stretch for sure, and hence, this is one part of the knit fabric that you need to stabilizer at any cost.
Hence, we would suggest you start stabilizing with this part. However, if you want to start off with any other parts, that's completely alright as well. Just don't overlook it.
Arm Holes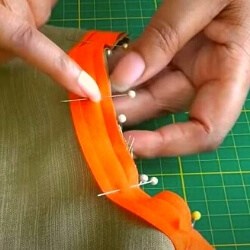 Another stretchy part that is often gifted from the bias itself is the armholes, and hence, they should be on the top list of your priority as well.
Armholes are usually curved, and hence, you should stabilize them at any cost. Or else, your knit garment will become very baggy at the armholes, which will make it hassle-some for you to wear/use. Oh! If you can't make the arm hole curves perfectly try using the french curve ruler for pattern making.
Off-Grain Seams
If you are going to get seams that are off-grain, then you need to know that they are usually more stretchy and less strong – which is why you should keep your focus on them.
It might be a little hassle-some when adding stabilizers to these seams, but we can assure you that they will be totally worth it because you won't have to see your knit fabric become baggy in little to no time.
Waistlines
Waistlines contain big seams – which is pretty obvious. And since they require big seams, it is pretty apparent that they will stretch in no time unless you add a stabilizer.
Moreover, big and longer seams also require more strength, which is why you should focus more on adding stabilizers to them.
Curved Necklines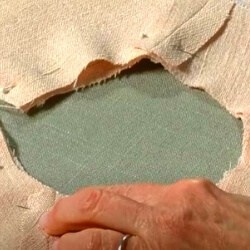 Another part of the knit garment where bias will create a stretchy issue is the curved neckline. Moreover, the more you use a knit garment, the baggier it will get around the neckline.
Hence, you should focus on adding more strength to the seam of the curved neckline. Make sure you have added a stabilizer accordingly, even though it will be quite difficult to align in that particular part.
Gathered Seams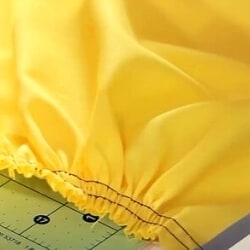 Gathered seams are often seen as an additional bulk. And even though they could do without a stabilizer, it wouldn't be a bad idea to add additional strength to them.
Therefore, use the normal method of adding a stabilizer to the gathered seams so that they don't stretch out as you use the knit garment.
Pocket Openings
One of the most neglected parts of a knit garment is the pocket openings – because most people think that the stretching of this part wouldn't make much of a difference.
However, that's quite far from the truth, as pocket openings are quite the stress point. Hence, you should add stabilizers to the seams of the pocket openings, which will make sure that they don't stretch out over prolonged usage.
Final Words
The answer to the question 'how to stabilize knit fabric for sewing' may vary, but the ultimate solution to this is that you will need to add stabilizers to the seams.
Once you do that successfully, you will face no trouble whatsoever with your knit fabric.
REFERENCES: