6 Best Sewing Machine Under $150
So, maybe your old sewing machine gave up, or you're looking for your first one. Regardless of whether you're a pro or beginner, choosing one can always seem somewhat daunting, given the plethora of factors and mechanisms.
What's more worrying is that you probably will need to spend a fortune on a new one. Or do you? Finding a quality machine on a budget used to be rather challenging – but that's not the case anymore.
That's why we have tried out some of the top products to help you find the best sewing machine under $150 – so let's get started.
6 Best Sewing Machine Under $150
Buying a quality sewing machine doesn't necessarily need to break your bank anymore – here are our top picks.
1. Brother GX37 Sewing Machine

Buttonhole system supports auto-sizing

Free arm for easier sewing

Decent thread tension control

2. Singer Start 1304 Sewing Machine

A lightweight and portable design

Around 57 stitch applications

3. Singer MX60 Sewing Machine

Effortless stitch selection
1. Brother GX37 Sewing Machine – Best for All-round Performance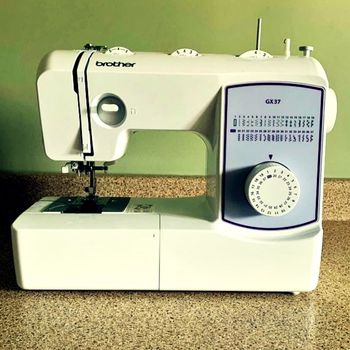 Features
Built-in Stitches: 37 stitches, including decorative ones
Free Arm Mechanism: Supported
Weight: 4 pounds
Needle Threader: Automatic needle threading
Control Mechanism: Mechanical/manual control required
Our first pick on this list – the GX37 from brother – is a portable and lightweight one with all the features a sewist might require on a daily basis. As the name suggests, it comes with a whopping total of 37 built-in stitches.
Let's start with those at first. You get all the basic stitches like zigzag, narrow or blind hems, buttonhole, and so on. Moreover, you get a bunch of decorative stitches along with the essential ones to help you get a unique look.
Another crucial feature in a sewing machine is a presser foot, which will allow you to accomplish various necessary tasks with ease. This product comes with six accessory feet in total to further improve various aspects.
Firstly, it has the zigzag foot for the usual purposes and zigzag stitches. There's also the blind stitch one for blind hems, buttonhole, and button sewing feet for everything related to buttons, as well as a narrow hem foot.
Finally, the zipper foot allows for an easier time attaching zippers on both sides. Another bit that we like about this machine is that it provides for easy stitch selection with its easy-to-understand knob. You only need to rotate the controls.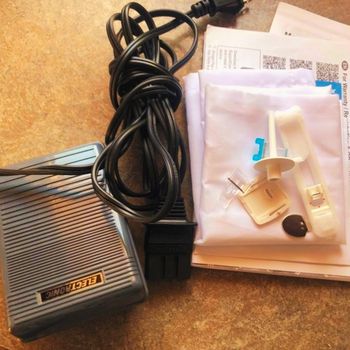 Anyone that uses a sewing machine will know how crucial bobbin winding is. To make things easier in this aspect, it comes with an accessible system. Not just that, it also comes with the ability to change the thread tension, which is remarkable.
Lastly, there is an automatic needle threader for improved convenience and a versatile free arm that suits quilting projects well. And when you consider its price, this product is undoubtedly an exceptional value.
2. Singer Start 1304 Sewing Machine – Best for Overall Value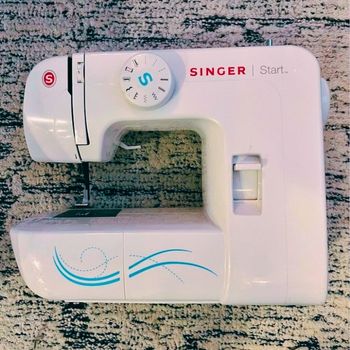 Features
Built-in Stitches: Six total (57 possible stitch applications)
Free Arm Mechanism: Supported
Weight: 7 pounds
Needle Threader: Manual needle threading
Control Mechanism: Mechanical/manual control from the user required
For many beginners, finding a quality product at an affordable price can be challenging, and that's what our second pick is here to fix. This machine comes at an inexpensive price point without losing much regarding features and functionalities.
One might think that it's going to be lacking in stitching options due to the price. But this mini sewing machine comes with all the necessities, so you don't need to worry about it. There are six options in total that should fulfill most of your needs.
You might miss some of the decorative options, but those aren't essential for most works. In total, you can achieve around 57 stitch applications with them, which is more than enough. Another impressive bit is the bobbin winding system here.
It comes with the automatic bobbin winding feature that allows you to go through the winding process simply by following the numbered diagram on top. Moreover, the bobbin stops turning as soon as it's done filling, further improving the convenience.
We had plenty of fun when we paired this up with our electric cutting machine for fabric. Both of them worked in perfect unision.
Of course, the machine needs to come with various feet to allow you to do things efficiently. There's the all-purpose foot for the typical tasks, a zipper foot to help you sew zippers with relative ease, and a buttonhole foot as well.
Moreover, it comes with some of the essential items that you need to get started. For instance, there is a darning plate, a pack of needles in various sizes, a needle plate screwdriver, a lint brush to keep things clean, and some spool pin felts.
Overall, it shouldn't take you long to learn the functionalities of this machine. And when you consider the value it provides, this sewing machine is a fantastic deal for beginners and advanced users alike.
3. Singer MX60 Sewing Machine – Best for Beginners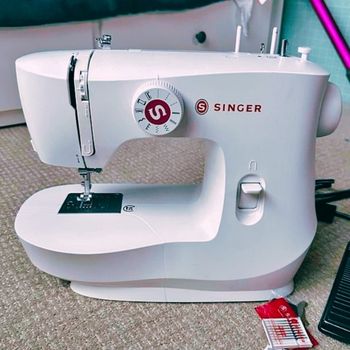 Features
Built-in Stitches: Six essential inbuilt stitches (total of 57 applications)
Free Arm Mechanism: Supported
Weight: 42 pounds total
Needle Threader: Manual needle threading
Control Mechanism: Mechanical/manual control
As our third pick, we have another machine from Singer. If you've been in the sewing game for even the slightest while, you'll know how good they are with their sewing machines. And the MX60 is no exception to the rule.
Something that many new sewists seem to overlook is the thread tension. That bit is highly crucial if you want to achieve a good result, as it ensures that the two threads are meeting at the middle inside the fabric.
This machine comes with easy control through which you can adjust the tension without a hiccup. Another impressive bit about this product is that it's surprisingly lightweight and easy to move, which can come in handy.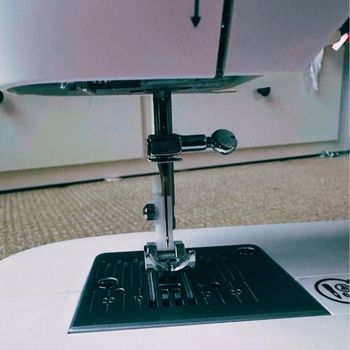 Regarding ease of usage, this machine does rather well. Even beginners shouldn't have a hard time figuring things out. Furthermore, this sewing machine for beginners has a four-step buttonhole, meaning you can simply mark the fabric and use the stitch selector to sew the buttonhole. We had plenty of fun sewing Ellen Griswold blouse on this machine.
There is one issue, however. Any user will know how handy an automatic needle threader can be, especially for people who have a hard time with it. Unfortunately, this sewing machine does not come with an automated needle threading system.
And truth to be told, these machines aren't designed to sew one thick layer over another. But you'll be surprised with how well this product can sew through a few layers of fabric with competitive ease.
There are 57 stitch applications for essential sewing techniques and an easy selection method. Moreover, given that it allows for preset stitch length and width with its sturdy full-metal frame, this is a solid option for you.
4. Singer M1500 Sewing Machine – Best for Twin Needle Capabilities
Surprise, surprise – we've got another machine from Singer. This one is yet another affordable product that manages to obtain most of the essential features and is suitable for users looking for something inexpensive and lightweight.
And speaking of the lightweight design – the dimensions of this product are 13 x 7 x 11.5 inches. Moreover, the weight is only ten pounds, meaning this is a portable and convenient solution for beginners and experts.
Another bit we appreciate is the number of accessories the manufacturer has put in the package. You get three presser feet to use depending on your use case, a bunch of needles, a needle plate screwdriver, a darning plate, and a seam ripper.
The three presser feet include one all-purpose foot for your typical stitches, a zipper foot to sew in zippers, and a buttonhole foot. These are accessories that you will often be using, which makes this product an even better value.
You get a total of six built-in stitch types here. Along with the main three, there's the blind hem, the scallop, and satin. Furthermore, you can even change the length for the zigzag and straight stitches, allowing for better control.
However, there is no automatic needle threader here, which means you will have to do things manually. That can be an issue, especially for the elderly or people who might have problems with their sight, so keep that in mind.
There's an LED light for improved convenience and an intuitive method to allow you to select your preferred stitch quickly. Lastly, it comes with a four-step buttonhole system, which works pretty well, making this product a remarkable value.
5. Singer MX231 Sewing Machine – Best for Ease of Usage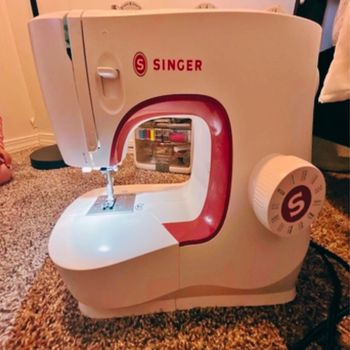 Features
Built-in Stitches: Six inbuilt stitches with 97 stitch applications
Free Arm Mechanism: Supported
Weight: 79 pounds
Needle Threader: Inbuilt manual needle threader
Control Mechanism: Mechanical machine with manual control
One of the things many sewists are scared of is a buttonhole, and it's understandable why. Especially if you are a newcomer, our next machine will save you from so many nightmares with its one-step buttonhole system.
It essentially means that you can sew your buttonholes in one go, which is fantastic (even better when you compare it to the four-step options). Another part that's just as crucial would be threading the needle.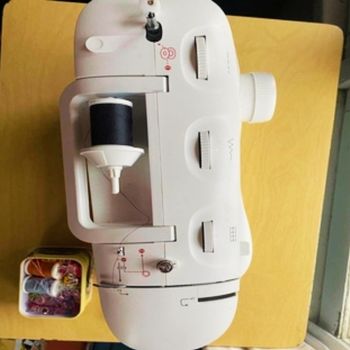 And it turns into an even bigger issue for elderlies of people suffering from eyesight issues. That's why this machine comes with an automatic needle threading system that works surprisingly well and saves you from all that hassle.
Now, we need to talk about the stitch options as well, right? Well, this machine doesn't fail to impress us in this case either. You can get up to 97 stitch applications, which provide superb control for all your purposes.
Furthermore, it comes with adjustable presser feet, which allow you to make adjustments depending on the type of fabric you are using. And this feature only gets complemented by the machine's capabilities for adjustable stitch length and width.
These two features provide you with an impressively flexible user experience. Speaking of user experience – this product also comes with a front-loading bobbin winding system that allows for an easy and effortless winding process.
However, some users did complain about the occasional jamming. Other than that, it works pretty well. And when we consider that this machine comes with presser feet, pedals, and bobbins, it's a value that you simply cannot deny.
6. Singer M3330 Sewing Machine – Best for Customizability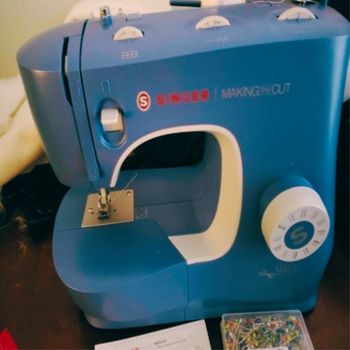 Features
Built-in Stitches: Six total with 97 stitch applications in total
Free Arm Mechanism: Manufacturer's free motion system
Weight: 3 pounds
Needle Threader: Automatic needle threading system
Control Mechanism: Mechanical/manual control
One of the most vital bits in a sewing machine is its ease of usage and setup. And that can especially be a crucial factor for beginners. That's why our next pick is the Singer M3330, which performs exceedingly well.
Using this machine should be a breeze for most people, and it achieves such a feat without sacrificing customizability. For example, you can get around 97 stitch applications in total using the various options that come with it.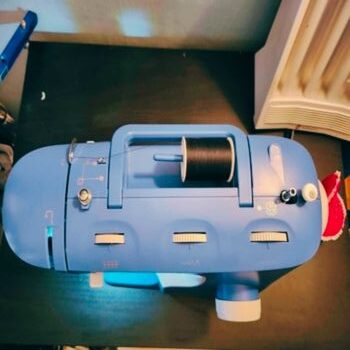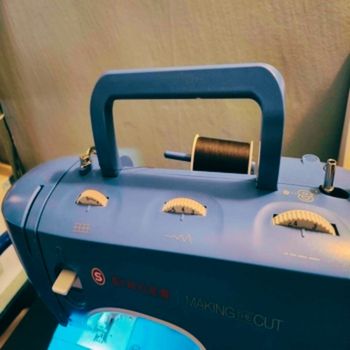 Furthermore, it doesn't miss out on the presser feet either, as they can significantly affect how well the machine does specific types of jobs. That's why it comes with four accessory feet – zigzag, zipper, and two related to buttonholes.
Thanks to these, you only need to mark where you want to get the sewing and let the foot do its job. Another impressive bit is how durable it is. That's possible because the whole frame in this machine uses high-quality metal.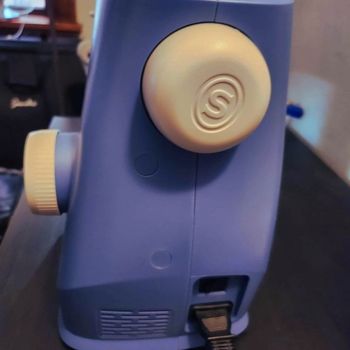 Loading the bobbins is one of the tasks that any user needs to go through quite regularly. This machine comes with a front-loading bobbin system that allows for effortless winding and insertion, which helps with that process.
And as we talked about customizability, it's worth mentioning that you get the ability to select adjustable stitch length and width. That allows this product to be suitable for more than just some basic beginner projects.
Furthermore, we also like the 1-step buttonhole feature. That means you can create a buttonhole in one go, unlike some products that come with four-step options. Hence, this product receives a solid recommendation from us.
What to Look for Before You Buy?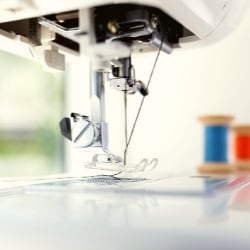 Buying a sewing machine doesn't only depend on objective things such as quality; it also depends on your personal preferences and needs. Therefore, it's crucial to know what you should look for in a product before making a purchase.
And that is why we've compiled a short guide that will provide you with a general idea about the whole process.
Types of Sewing Machines
If we have to divide the types of sewing machines into various categories depending on the operating mechanism, we would have three options – the fully computerized ones, the hybrid ones, and, lastly, the mechanical machines.
Mechanical Sewing Machines
Let's start with mechanical sewing machines, which is what their name suggests – you need to operate them manually. That means you will have to manually control the stitch type, width, length, and everything of that sort.
You will find various knobs for that purpose, and the number of options you have will often depend on the brand or the budget segment you are in. One of the best things about these products is that they're the most affordable ones, and they're pretty durable too.
Hybrid/Electric Sewing Machines
These machines stay between the lines of mechanical and computerized sewing machines. You might find a screen for quick visualization, an on/off button, and some basic controls in some cases. However, the inner components are still mechanical.
Hybrid options won't have a ton of fancy features, and you will still need to have some manual control over them. However, you can still find some affordable machines in this category, and they will generally last you for quite a while.
Computerized Sewing Machines
The third type of machine we have is the fully computerized one, meaning you can select all the minute options through the control section (usually a touch screen or buttons). These also offer granular control, which others don't.
You can sew at incredible speeds and even do embroideries without any issue. But there is a caveat (or two) with them – the biggest problem is price. Most hobbyists won't be looking at these from a reasonable financial perspective. Moreover, they're much heavier and take lots of space. Thus, these sewing machines are also known as industrial sewing machines.
Stitches
Stitches are one of the most important things to look for in a sewing machine. When you are looking at affordable options, you might get comparatively fewer options, which is rational.
We need to guarantee that the product does what it's supposed to and does it well. Having 60 mediocre options isn't our goal here, and that's what many affordable products end up doing. Here are the most common stitches –
Straight Stitch
This one is the most common stitch that you'll need when stitching. Your machine must be able to do it very well – even better if it allows you to adjust the length to a decent level.
Zigzag
The zigzag stitch goes back and forth, which the name should already tell you. It's popular in situations where the straight one isn't sufficient. For instance, opting for this one for a buttonhole is a suitable use case.
Blind Hem
If you're stitching a portion where you want it to be hidden (for instance, a pair of trousers or skirts), the blind hem is a suitable option. Having this capability will allow you to create such hidden stitches effortlessly.
Buttonhole
This one is essentially a zigzag stitch, except it is called by this name when your machine does this bit automatically. In general, if a product has one, it will have the other one as well.
Other Features
At this point, you should remember that some of the advanced stitches will only be available on the higher-end models. There are options where you can find a bunch of advanced features, but they can significantly vary.
It would be best to keep in mind that these aren't absolute necessities (at least for most of us). Therefore, you should try to ensure the essential qualities first, and then try to look for advanced features depending on your needs.
For example, a needle threader or knee lifter can be pretty handy, but those are not our primary concerns. Finding the right balance is the goal here, which will provide you with a decent overall performance.
Finally, before sewing, make sure your stitching lights for sewing room are emitting with the correct luminance.
Frequently Asked Questions


Why does my machine skip stitches?
A machine that's skipping stitches can often be the result of issues with the needle. Firstly, ensure that it is the correct one for the kind of fabric you want to sew. Moreover, try to check whether you inserted it correctly and pushed it as far up the shaft as you can.
Should I regularly oil my sewing machine?
The frequency depends on the product you've got. Some machines come pre-lubed from the factory, and you don't need to lube them. But if it requires lubrication, then you should try to lube it every week upon regular usage.
Is it bad if my sewing machine is making noises?
A sewing machine making unusual noises isn't a good thing. Firstly, you should turn the product off and see if a quick cleaning and maintenance session fixes it up. Moreover, you can try replacing the needle or remove any lint build-up.
Why doesn't my machine sew even with the indicator turned on?
The first thing you should check in that case is the bobbin winder. If the winder shaft is in the bobbin winding mode, then the machine will not sew. Moreover, you should take a look at whether you have plugged in the foot control correctly.
How can I end a stitch properly?
It's essential to be able to end a stitch appropriately. When you are at the end of the fabric, press the reverse button on your machine (most products should have one), do a few backstitches to make things stronger. Afterward, do a few forward stitches, and finally, lift the needle.
What should I do for small rips and tears in my couch?
These can be fixed by a fabric couch repair kit. But if the rips are at the seam, you should sew them.
Is sewing arm holes difficult with a budget sewing machine?
Well, the sewing technique is the same for all types of sewing machines. As long as you've used a good armhole and hip curve ruler for sewing, you're all set.
Final Words
A sewing machine can do wonders in the hands of the right person. Fortunately, you don't need to break your bank to be that person nowadays. The options above are undoubtedly worthy of your choice if you want the best sewing machine under $150.
REFERENCES