5 Best Ceiling Light for Sewing Room
Have you ever missed out on an important spot while sewing just because you couldn't focus on the details properly? Well, if you haven't, then we can assure you that it would be quite disappointing.
And to make sure you don't face such disappointing situations, you need to get the appropriate ceiling light for sewing room.
Along with vivid brightness and wattage, there are other facilities of lights that should be focused on. And if you have a particular aspect in mind, then we can help you find it right in this article.
Take a while and find the right ceiling light with our help!
Bbounder 4 Pack Linkable LED Utility Shop Light

Provides ultimate brightness

HOW TO CHOOSE THE CEILING LIGHT FOR SEWING ROOM?
You cannot compare the ceiling lights of your bedroom to that of your sewing rooms – because, of course, the priorities are different in both cases. And if you are newly setting up your sewing room, then you should be even more careful.
Now, if it really is your first time, then you are probably not aware of all the aspects that should be kept in mind when you are choosing. Obviously, all lights serve the same purpose, so who would ponder so much on it?
Therefore, to make the task easier and more resourceful for you, we have made a list of all the factors that you should be looking out for. Once you go through them, you are sure to find the right ceiling light.
The Installation Process and Placement
The placement and the installation process are both important when it comes to ceiling lights for sewing rooms.
Try to get one that is easy to place and set up and will surround the room with proper lighting. Moreover, you can also place direct light over your ironing board.
Is the Light Dimmable?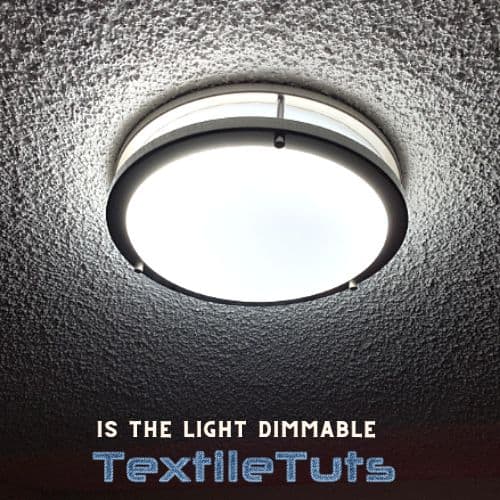 You may not always require full-on bright lighting for your sewing projects – sometimes, a dim environment may help more.
That is why you should look for a ceiling light that is dimmable. And make sure the light comes with a dimmer switch.
What Type of Light Is It?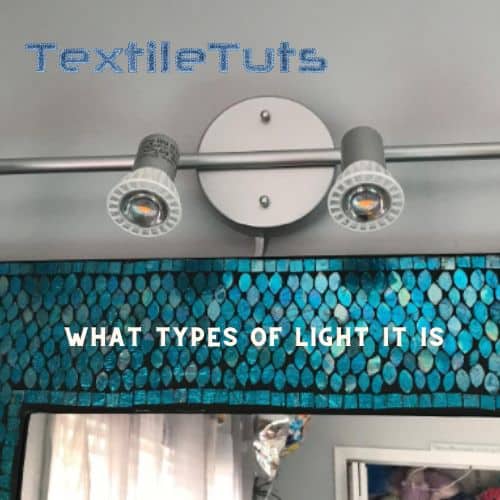 For sewing rooms, LED lights are the most preferred compared to incandescent or other forms of lighting.
So, you should make sure you are choosing LED lighting – as it comes with a lot more benefits.
How Many Lumens Does the Light Emit?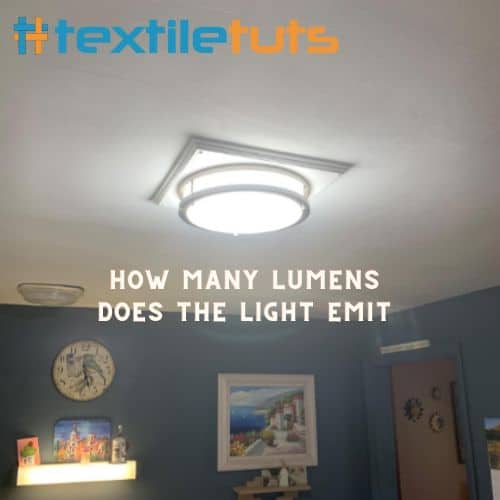 The required luminosity for your sewing room is probably somewhere around 2000-2500 lumens.
You will need a bright white light to work well with dark colors; therefore, focusing on the overall brightness is important. Moreover, you can also go for overhead lighting or track lighting instead of focusing on the lumens.
Is the Light Energy Efficient?
If you are going to choose LED lighting, then it will surely be energy efficient.
However, you will also have to check as to how much energy it actually saves – along with how economical it is.
Is the Light Safe?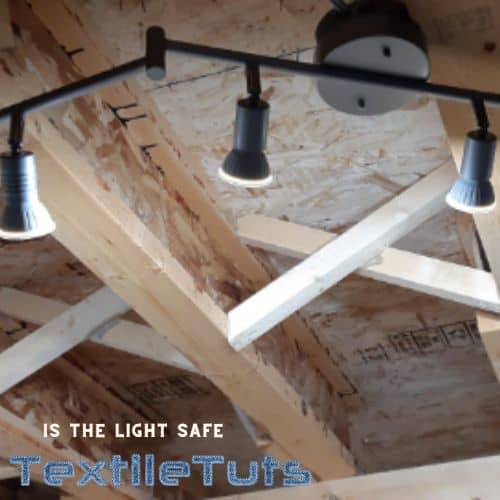 In a room full of fabrics and sewing machines, the last thing you would want is your ceiling light to start a fire.
For complete safety, you should make sure the light comes with adequate safety features.
How Long Will the Light Last?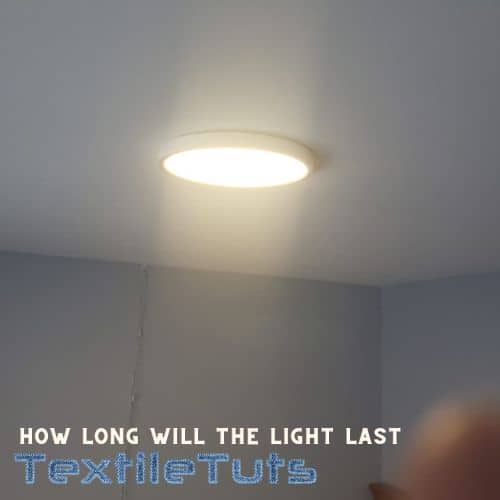 You wouldn't want to replace your lights every now and then.
That is why it is essential to get a ceiling light that will last for at least 25000+ hours.
What Is the Color or Temperature of the Light?
The color or the temperature of the light is absolutely important because it determines how well you will see the details.
So, you should go for a naturally white color with a color temperature between 5000-6000k instead of a warm white. The CRI rating should be 90+.
Does it Go with the Interior?
This is one of the least important aspects, but it has still made the list – because surely, you would want your sewing room to look pretty.
So, make sure the ceiling light goes well with the interior of the room.
5 Best Ceiling Light for Sewing Room
Not sure which ceiling light will fit your sewing room? Get the answer to all your confusion within our top five picks.
1. Bbounder 4 Pack Linkable LED Utility Shop Light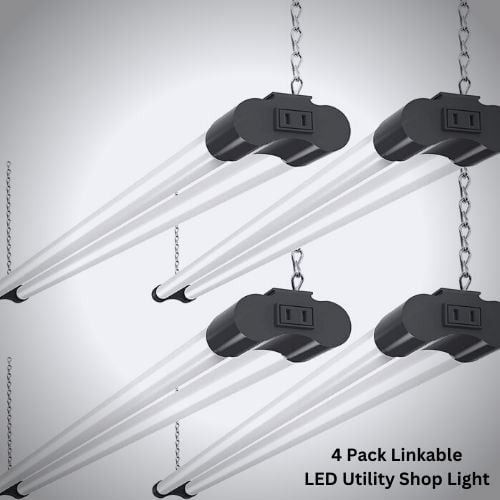 Features
Light Fixture Form: Pendant
Power Source: Corded-Electric
Room Type: Office
Material: Polycarbonate
Style: Modern
Your sewing room will require ceiling lights with high efficiency because your projects might take longer to complete. And when it comes to that, no light is better than LED. Find out about this amazing product in our comprehensive review.
With 4000 lumens, you will be able to see everything in detail, no matter how intricate they are. As a result, there will be lower possibilities of things going wrong while you are sewing.
The installation process of the product is also quite easy. It comes with an installation guide and mounting hardware that will allow you to set it up conveniently, even if you have never had anything similar before.
You can also connect about four of these lights together seamlessly – and it would be totally energy-efficient. The process of connecting them requires connectors, which will undoubtedly save energy.
With a high-quality plastic construction, the product ensures a lightweight body with super high brightness. Therefore, you will never face any inconvenience with it whatsoever.
Verdict
This is a highly energy-efficient ceiling light for sewing rooms, which will definitely make the best out of your projects.
2. Drosbey 24W LED Ceiling Light Fixture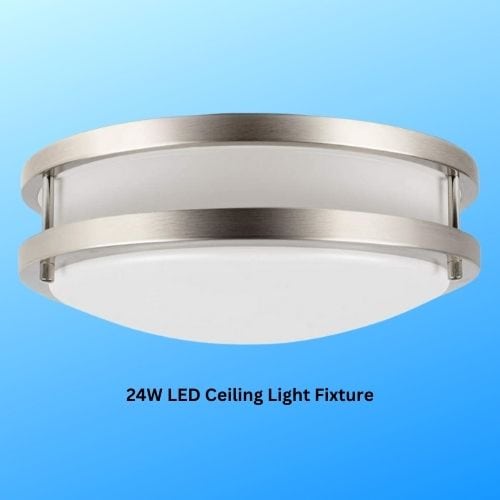 Features
Power Source: AC
Material: Nickel
Style: Modern
Switch Installation Type: Ceiling, Flush
Special Feature: Shock and Vibration Resistant
You would want your sewing room to be absolutely safe because it will contain some of your most precious projects. Hence, ceiling light disasters should definitely be avoided. And with this safe light, there is nothing for you to worry about.
Starting with a very simple installation process, this light only provides convenience after convenience. With the mounting hardware included and the instruction manual, it will only take you a few minutes to set it up.
On the other hand, the light comes with an overload and short circuit protection function, which prevents risks of electric shocks and leakages. So, you will be absolutely safe around it.
The simplistic and cool line design of the product is quite elegant and tasteful. No matter how your interior is, it will fit well without any setbacks. Not only does this light provide a bright environment, but it also ensures a clean one.
Alongside being energy-efficient, this light is long-lasting as well. Thanks to its 30,000 hours of life expectancy, you will be able to use it for 10 years minimum.
Verdict
This is a safe ceiling light for sewing rooms with a cool design and effortless installation process.
3. Globe Electric 58932 Payton Collection 4 Bar Track Light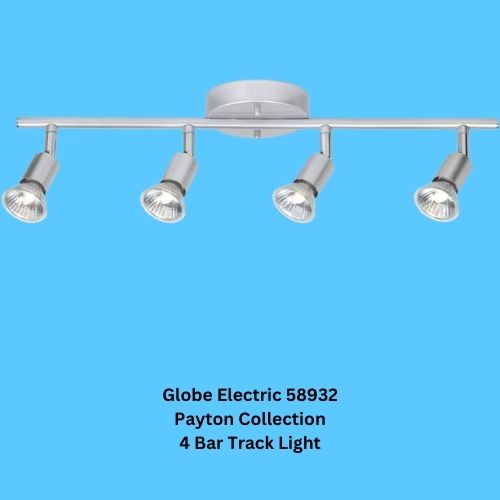 Features
Power Source: Corded Electric
Material: Metal
Style: 4-Light
Special Feature: Dimmable
Color: Matte Silver
You wouldn't want your sewing room to look boring; and to make sure it doesn't, you need ceiling lights that come with a minimalist and timeless design. This product will provide exactly that and a lot more.
There are certain places in a sewing space that require more attention than others – and the clever placement of the four track heads will focus the light wherever it is needed the most. Hence, these can also be used as your task lighting.
The track heads are fully adjustable, and just because you have installed them in one place doesn't mean the light should always be there. You can adjust according to your convenience – eliminating your need for floor lamps or desk lamps.
On the other hand, the lights are completely dimmable, and you can conveniently adjust the brightness to create the perfect environment in your sewing room.
Moreover, the easy and quick installation of the lights will make it even more convenient for you. A mounting hardware along with a canopy mounting plate has been included to let you install easily.
Verdict
This ceiling light for sewing room comes with the best and the most innovative design.
4. TORCHSTAR A21 High CRI LED Light Bulbs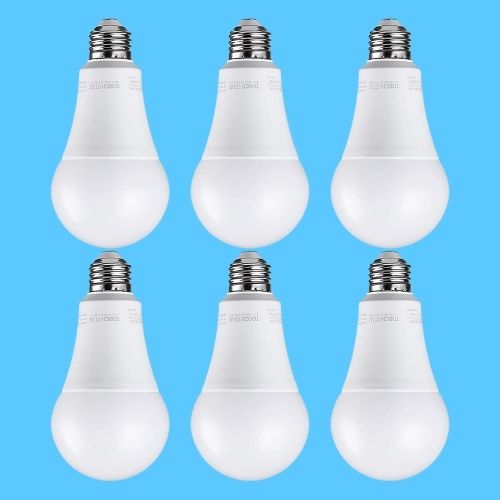 Features
Light Type: LED
Wattage: 17 Watts
Special Feature: 10%-100% Smooth Dimming
Bulb Shape Size: A21
Lifespan: 25,000+ Hours
If you are going to invest in your sewing room, then you need to find ceiling lights of reliable quality. While such lights are often difficult to find, here are some LED bulbs that will never disappoint you in that aspect – find out more right here.
This dimmable light bulb can show you the intricate details of anything – which is necessary for your sewing. In fact, it shows other aspects very vividly as well, including artwork, food, etc.
The dimming capability of the product is rather smooth and will help you create the perfect atmosphere each time. No matter how many times you adjust it, there will be no flickering or buzzing whatsoever, and it will reduce eye strain and eye fatigue.
Other than that, the product has an energy-saving capacity like none other. It can save your bills up to 83%, making it highly economical. Hence, even if you sew all day, you don't have to worry about the bills.
Compared to your traditional incandescent bulbs or fluorescent lights, this LED light will last 25 times longer. As a result, you won't have to replace your lighting in the sewing room anytime soon.
Verdict
This ceiling light for sewing room is highly economical and creates the perfect atmosphere without any hassle.
5. LED Flush Mount Ceiling Light Fixture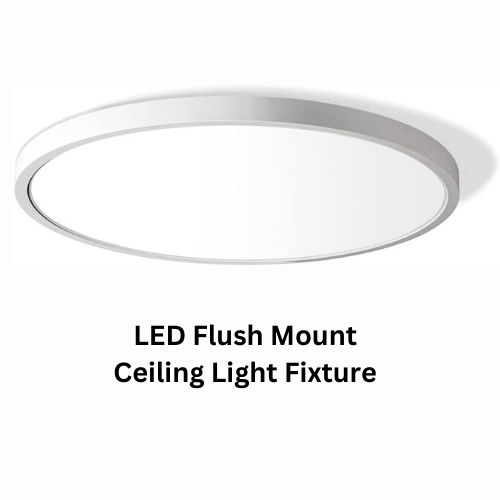 Features
Light Fixture Form: Close to Ceiling
Power Source: Corded Electric
Room Type: Bedroom, Sewing Room
Material: Plastic
Style: Modern
Are you looking for a ceiling light that can be used in various places alongside your sewing room? Then you should get this versatile one that can be installed in any place inside your home – or outside.
This slim ceiling light is only about 0.94 inches thick – which makes it really suitable for your interior because it will blend in no matter what the design of your interior is.
But don't let its size fool you. With 3,200 lumens, this light is capable of emitting more brightness than you could have imagined. Its design also makes sure you don't have to be subjected to any glare.
Worried about the installation process of this light? Well, there is no need to be concerned because you can easily set it up with a few simple steps. Moreover, the rust-proof treatment keeps the light durable.
You will also be saving a lot of energy once you get this ceiling light. Not only is it 10 times more powerful than traditional lighting, but it will also last for 8-10 years.
Verdict
This is a bright ceiling light for sewing room that will save energy and let you make the most out of your sewing and your best rag quilt scissors.
Sewing Room Lighting Ideas
To get the right outcome from your sewing projects, whether you're sewing a spandex short or an Ellen Griswold Christmas blouse, having the proper lighting is essential. Now, a sewing room is not like any other room – there are a few considerations that you should make with respect to that.
But don't worry, we have got your back. And we will provide some great sewing room lighting ideas and tips right here.
The Type of Lighting
Natural daylight is undoubtedly the right option when it comes to your sewing room. So, you can make a room with large windows and enough space for your workstation.
Other than that, you can go for lighting that provides natural light – that is, UV lights.
Where the Light Should Be Placed
Contrary to popular belief, placing the light directly above your sewing machine can do more harm than good – especially if you are setting up UV lights.
These lights can damage the fabrics you are working on to some extent, and they can also be harmful to your sewing machine. So, place it on the two sides of your sewing table – so your detailed work gets enough light without any damage.
Should the Lighting Be Warm or Cool?
No matter how cool the idea of yellow or orange light bulbs sounds for your sewing room, nothing beats the vividness of cool lighting.
Therefore, for your sewing room, it would be a wise option to go for cooler and brighter tones.
Frequently Asked Questions
What is the appropriate light type for a sewing room?
The right light for a sewing room would be an LED light that gives off UV lighting. That is because sewing rooms require natural lighting to provide the best results – and having a cooler lighting would be beneficial as well in this case.
Where should the light come from when sewing?
As we have mentioned before that the lights should not be placed directly above the sewing machine, it would be better if the light came diagonally when sewing. This will let you see the tiny details without doing any damage.
How many lumens do you need for sewing?
The brighter the better is not always the case when it comes to sewing. Why? That is because you wouldn't want to strain your eyes – especially if you are using LED. Hence, it is wise to go for one with 2000-2500 lumens.
How much should you invest in ceiling lights for sewing room?
The priority is to get a good ceiling light for your sewing room that will last long and serve its intended purposes. And for that, spending around 15-70 dollars should do, depending on your budget.
How long do ceiling lights for sewing rooms last?
That depends on the type of light that you are using for your sewing room. If you are using LED lights, then you can expect it to last for 5-8 years at least.
Final Words
We are in love with all the ceiling lights mentioned in this article (and we know you are too), but the Bbounder 4 Pack Linkable LED Utility Shop Light is a little better than its competitors.
Its energy efficiency alone makes it the right ceiling light for sewing room. But you will also be getting other facilities such as great brightness, ease of installation and such with this.