5 Best Sewing Machine for Knit Fabrics
Knit fabrics can be a daunting name for many sewers, especially if they have to use a serger to work with them. That's because sergers can indeed be the reason behind some issues — having fewer stitches, only being able to sew on one side, and being less versatile.
Therefore, many users prefer sewing machines for this purpose, even if they might lack a few things. Then again, you need to find the best sewing machine for knit fabrics, as not every product is capable enough for this task.
We have tried out some of the top sewing machines for this purpose, and here are the ones that impressed us the most.
5 Best Sewing Machine for Knit Fabrics
Knit fabrics have unique characteristics — not only in comparison to other materials but amongst themselves as well. Here are our favorite machines.
 1. Brother XM2701 Sewing Machine

Automatic needle threader

2. Singer 4423 Sewing Machine

Up to 1100 stitches per minute

3. Brother CS5055PRW Sewing Machine

Five auto-size buttonholes
1. Brother XM2701 Sewing Machine – Best for Beginners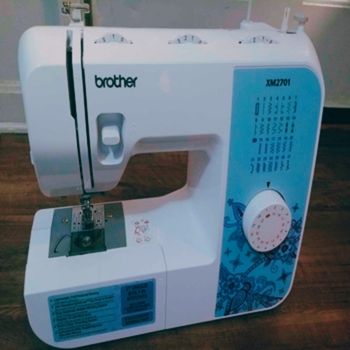 Features
Maximum Stitching Speed: 800 stitches/minute
Threading System: Automatic needle threader
Free Arm Support: Supported
Item Weight: 12.6 pounds
Number of Stitches: 27 built-in stitches
The first sewing machine that we have comes from the industry-leading brand Brothers. We have this one so high up on our list because it provides you with an excellent user experience that some expensive models fail to.
Let's start with the stitches, as they're one reason why a user might opt for a sewing machine instead of a serger. As proof, you get a total of 27 unique stitches built into this product.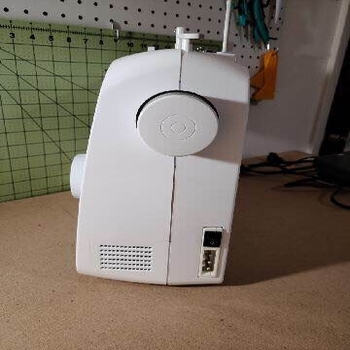 You get all the necessities like a blind hem, zigzag (one of the essential ones for knit fabrics), and many decorative stitches to achieve the look you want. But the best bit is that there is a stretch stitch on this machine.
Think of a stretch stitch as an alternative to overlocking stitches. That means it is going to be your go-to option when sewing stretchy knitted fabrics. Furthermore, it features an auto-size buttonhole system, improving the experience.
Moreover, you get all the necessary accessories out of the package here — a needle set, bobbins, and the manuals. What makes this product ideal for knit fabrics is the support for twin needles, allowing enough stretch.
It also supports a free arm, which allows you to sew challenging portions like sleeves with competitive ease. Lastly, it has an automatic needle threader for efficient threading and support for drop-in top bobbins, which seal the deal.
2. Singer 4423 Sewing Machine – Best for Budget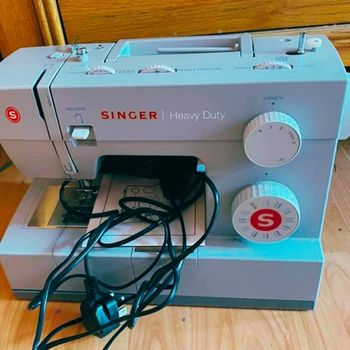 Features
Maximum Stitching Speed: 1100 stitches per minute
Threading System: Automatic needle threader
Free Arm Support: Present
Item Weight: 14.5 pounds
Number of Stitches: 23 built-in stitches with 97 applications
More often than not, you will find that a serger costs a bit more than sewing machines. And that poses a problem if you're trying to find something affordable. Enter the Singer 4423 — a budget-oriented sewing machine for stretchable fabric that doesn't make compromises in quality.
Looking at this price, one might wonder whether it sacrifices anything in terms of speed. In that case, you'll be glad to know that it can provide you up to 1100 stitches per minute, which is almost close to some of the sergers.
Threading the needle is something many users find tedious — and for good reasons. This one gives you an automatic needle threader with which you can get through that process in no time.
This machine uses a high-quality metal frame on the interior, which gives it a strong base for professional results. Now, let's talk about the accessories it comes with, as the manufacturer does need to cut the cost in some aspects.
But to our surprise, it still manages to come with the necessities such as a seam reaper, spool pin felt, needles, bobbins, quilting guide, and the list keeps going on. Moreover, it comes with a fair number of feet.
For example, you get the zipper foot, all-purpose foot, and button sewing foot, which provide impressive results. Lastly, the 23 built-in stitches and 97 applications make this one of the best machines. We found the machine pretty handy while sewing an Ellen Griswold blouse pattern.
3. Brother CS5055PRW Sewing Machine – Best Overall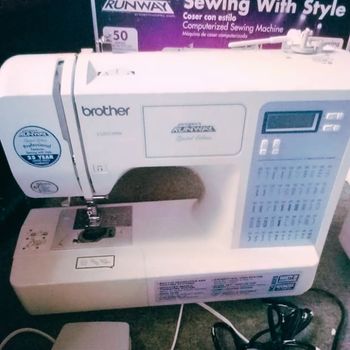 Features
Maximum Stitching Speed: 850 stitches per minute
Threading System: Automatic needle threader
Free Arm Support: Present
Item Weight: 14 pounds
Number of Stitches: 50 built-in stitches
As we've said, one of the most significant benefits of having a sewing machine is that you get a lot of stitches available. Even if you get the best serger for knits, you might find that it might not always have as many stitch options.
You get a total of 50 stitches on this Brother sewing machine for stretch stitch, which is remarkable. Among them, there are all the essential ones you need in your day-to-day work and some decorative stitches.
There are more — you also get five auto-size buttonholes, which make sewing buttons a breeze. Furthermore, you can use stretch stitches to suit your project further when sewing knit fabrics, making this a suitable choice.
Another unique bit about this product is its user interface. Unlike many other machines, this one comes with an LCD screen that displays the necessary information. You merely need to push the buttons to get things to work.
One essential bit that we think all machines should come with is an automatic needle threader. This feature takes time off of your workload and makes things effortless. To our pleasure, you get that here, which works exceptionally well.
It also comes with a jam-resistant drop-in bobbin, which further adds to the impressive experience. Although, it can be somewhat challenging to figure out even if you already know the process of sewing knits with a serger.
4. Janome 2212 Fullsize Sewing Machine – Best for Drop Feed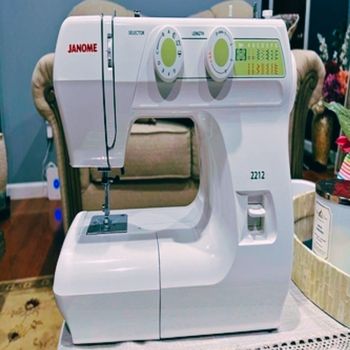 Features
Maximum Stitching Speed: 860 stitches per minute
Threading System: Needle threader not included
Free Arm Support: Present
Item Weight: 13.2 pounds
Number of Stitches: 12 stitches plus buttonhole
Something that's not very common in the arena or sergers is a drop feed. In this method, the general movement happens when your needle is out of the fabric. That means the bottom feed dogs feed the material through the machine here.
Our next pick from Janome comes with this feature and allows you to use it efficiently. And it can come in handy in things like quilting or sewing knit fabrics. But let's move on to the functionalities — the thread tension control, for instance.
The manufacturer provides you with total control over the tension control, which allows for an easier time with getting durable and tight stitches. Furthermore, it comes with a buttonhole stitch to save you some time with buttonholes too.
However, it uses a four-step mechanism that takes more time and works to finish the job. But given the price, it's still decent. In terms of the pace, you don't lose much either. This machine can provide up to 860 stitches per minute. Plus, you can use this one as a marine vinyl sewing machine also.
When it comes to the number of inbuilt stitches, you will find 12 of them here (excluding the buttonhole). That means while you don't get most of the fancy stitches, they should suffice.
But you don't need to break a sweat, as you also get a zigzag stitch with up to 5mm width, which works well for knit fabrics. Lastly, the free arm support makes it a reasonable and enticing choice.
5. Brother XR9550 Computerized Sewing Machine – Best for Professional Workloads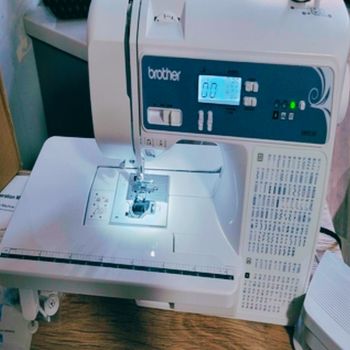 Features
Maximum Stitching Speed: 850 stitches per minute
Threading System: Automatic Needle System
Free Arm Support: Supports free arm
Item Weight: 19 pounds
Number of Stitches: 165 built-in stitches
The machines that we have reviewed so far are well-suited for lighter workloads. However, if you need a sewing machine that allows you to work on larger projects, our final pick — the Brother XR9550 — should satisfy your needs. It's also considered the best sewing machine for stretchy fabric.
Let's start with the inbuilt stitches, as they are one of the most crucial differences between sewing machines and sergers. And that becomes even more evident here, as it has a whopping 110 built-in stitches.
Of course, you get the usual essential ones such as the zigzag, buttonholes, and so on. Along with those, there is a sizeable number of decorative stitches for your projects, accompanied by eight auto-size buttonholes and 55 alphanumeric sewing stitches.
These make this product quite suitable for knit fabrics. But you'll be surprised to know that it's just as effective as a quilting machine, which is undoubtedly a bonus. Moreover, the user experience is exceptional here.
Firstly, this machine is computerized, which automatically puts it on a whole other league. Furthermore, it comes with an LCD screen that displays what you're doing with the primary controlling mechanism.
It also sports an automatic needle threader to save you some time, along with a drop-in top bobbin. Use it with the best thread for sewing knits, and you're sure to get superb results.
What to Look for Before Buying?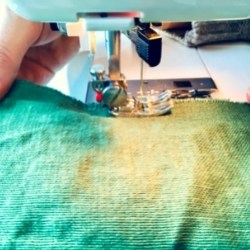 While many sergers can handle knit fabrics with ease, that's not necessarily the case with sewing machines. Hence, it would be best if you do your research and decided on the product.
The Foot
One of the persisting issues with knit fabrics is that you will often face bunching up or puckering. That is why manufacturers use a differential feed mechanism on sergers, which allows the user to compensate for the errors.
However, we need a different solution since sewing machines don't come with support for differential feed. That's why we recommend using a walking foot (also known as even feed foot) and learning how to stabilize knit fabric for sewing.
As the name even feed suggests, it provides two layers of knit fabric to go through your machine simultaneously.
The Needle
Another bit you should keep in mind before getting started is whether you're using the needle. You will generally find universal needles with slightly rounded tips. However, they aren't the best option that you can find for knit fabrics.
The issue is that these fabrics tend to have tears in them if the needle is too sharp. That's why we suggest using alternatives such as ball-point of stretch needles, which have rounded tops and slide through the stitches. Universal ones manage to do a decent job, but not as great.
Twin Needle
One of the most significant benefits of sergers is creating magnificent hems with their overlocking stitches. However, that's not an option for sewing machines. Therefore, you need to have the support for twin needles to compensate for that.
It essentially does what the name suggests – use two needles two create hems.  As a result, you will get professional-looking stitches that suit well with stretchy fabrics like knit. Make sure you use rounded-point ones to prevent any issues.
Available Stitches
Stitches are one of the most crucial bits you need to look at while buying a sewing machine for knit fabrics. That's especially true because you need comparatively stretchy stitches, as that's what the material is like in this case.
The project can get even more challenging if you want to stitch materials like spandex, which are surprisingly stretchy. And since we don't have any overlocking stitches, we will have to make do with the built-in stitches.
Zigzag
In that aspect, the most crucial stitch would be zigzag. While most sewing machines have this one, the effectiveness and control might significantly vary. With a quality zigzag option, you can emulate an overlock stitch with decent stretchiness.
Special Knit Stitches
If your machine doesn't have specialized options for knit fabrics, zigzag is the way to go. However, it still won't match the efficiency you get when using stitches designed explicitly for knit fabrics.
Other Features
Regardless of your purpose, some features will improve your experience.
Automatic Needle Threader
As you know, using a sewing machine will have you threading needles more often than you'd like. Many products come with an automatic threading method for that purpose, which saves a lot of time. If you're on a budget, you'll also find semi-automatic options.
Benefits and Drawbacks of Using a Serger to Sew Knits
You will undoubtedly face tons of questions and debates regarding whether you should use a serger or sewing machine to work on knit fabrics. And often, both sides will have rational arguments, which resembles reality.
Benefits
The most significant benefit of using a serger is that you'll get beautiful overlocking stitches. Not only do they look professional and attractive, but they also provide a decent amount of stretch.
Another impressive side of these products is differential feed. It allows you to control the feed dogs (each pair works independently) to control how the fabric goes into the machine. As a result, you get smooth and professional stitches.
Drawbacks
One of the most significant drawbacks of sergers is that they don't have nearly as many stitch options as sewing machines. If you sew garments, you will know how valuable that can be. And this is especially apparent among the budget models.
Another drawback you need to keep in mind is that a serger will only allow you to sew on one side. That's because it has a pair of blades on the other side (usually on the right).
Why Can't I Use a Regular Sewing Machine?
This is the first query we receive upon suggesting a serger or a sewing machine with specific features. And it's a reasonable question, as a standard product seems perfectly capable of handling knit fabrics — except it might fall short.
Differential Feed
One of the praiseworthy things about a serger is its ability to use differential feed. As sewing machines don't have it, we need to use some type of compensation — a walking foot.
Also known as even feed, it will help your fabric stay smooth and prevent any puckering by feeding the material through the machine at the same time. In turn, that will produce a much more professional result.
Stretchy, Interlocking Stitch
Another thing that a serger does exceptionally well is a stretchy, interlocking stitch. As you can imagine, we don't have that on a sewing machine either.
Two options can come in handy here — stitches that emulate overlocking stitches and the ability to use double needles. The latter will enable you to sew hems that have decent stretch and ensure overall durability.
Lastly, whether you're using a regular sewing machine or a serger, make sure you've got the right type of LED light for sewing machine installed in your sewing room.
Frequently Asked Questions
Is a serger always better for knit fabrics?
As we've already said, a serger generally is more effortless and has more features that make it suitable for knit fabrics. However, much of it depends on your preferences, and a decent sewing machine will do fine.
Which needle should I use for knit garments?
You might know that knitted fabrics are generally somewhat stretchy, and using a needle that's too sharp might create tears in them. That's why we recommend using options like ball-point or jersey needles for your sewing machine for jersey fabric.
Why does my machine's needle keep breaking?
There could be various reasons behind that. Ensure that it's not too thin for the fabric you're using, as heavy materials will take their toll on it. Moreover, check if the bobbin is in place.
How can I prevent the machine from skipping stitches?
Usually, the culprit is the needle (and how it suits the fabric). First of all, check if it is too blunt or bent in any way. Next, try to use a different needle to see whether that fixes the issue.
Why does my sewing machine's top thread keep breaking?
If you look at the thread, you can determine the type of cut. If it's more frayed, it is probably due to a sharp spot near your hook or bobbin case.
Why can't I sew the curves accurately?
Well, sewing is an art. And all arts require lots of practice and patience. Keep practicing, you'll get there. Use a curve ruler for sewing; that'll make the sewing of hip and armhole parts a breeze.
Final Words
Knit fabrics are incredibly versatile, and you can get excellent results out of them. And if you want to opt for a sewing machine instead of a serger, the ones above are undoubtedly your best bet to find the best sewing machine for knit fabrics. Remember knits are stretchy and thus require precision cuts. Therefore, check out our fabric cutting machine reviews before buying one.
REFERENCES: