Top 6 Best Fabric Glues and Best Fabric Adhesive in 2022 [Updated List]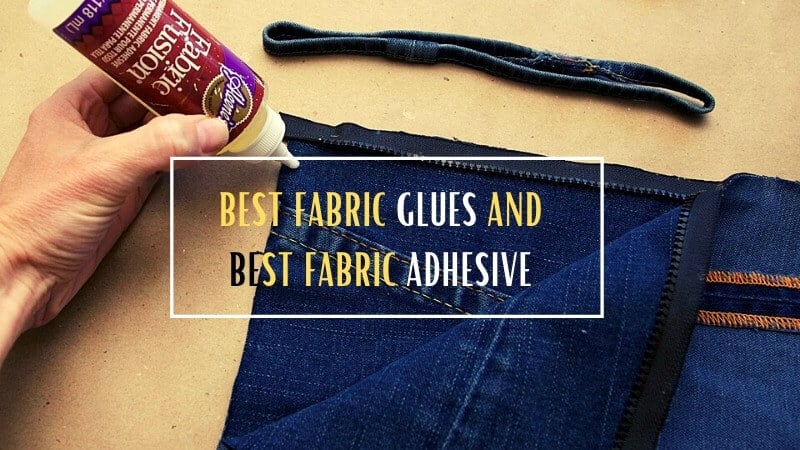 I am not sure whether you will appreciate my eerie obsession over cosplaying or not but I have something very interesting to tell you!
So a few months ago I went to the comic con where I needed to dress up as my favorite anime icon.
And that time I was broke and couldn't manage to buy new clothes either. I had a sewing machine to come up with something aesthetic and dark!
Then I asked one of my friends where she introduced me to glue for clothes glues!
And figuratively speaking, this thing is an absolute lifesaver!
I didn't even need to stroke a needle into the garments to attach them! In fact, I barely needed to wait!
All I did was; smeared the glue over my fabric, pile one stack of cloth to another where I needed the bond to stay, and leave them for 3 minutes.
Voila!
It was done!
Anyways, the festival was great and now with my heart's content, I am here to introduce 6 best fabric glues which I have stumbled upon in these recent times.
Let's start then!
Sneak Peek: Fabric Glues and Advantages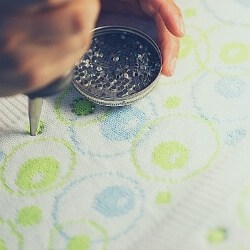 Before I put some light on the products I have complied for you today, let's know something very basic about fabric glues! Well, so what's fabric glue? Fabric glue is an adhesive element that is specifically applied to fabrics in order to sew them without any needles or threads.
In other words, fabric glues allow you to attach fabrics without a sewing machine. So it's like an alternative glue for clothes.
Now, other glues might retain the same stickiness and exhibit the same outcome! Yet as it's referred to as fabric glues, it's quite evident that there's a contrast between normal glues and fabric glues.
May it be skin-friendliness or ease of use! You shouldn't overlook the significance. To help you fathom the importance of fabric glue I have outlined some perks of it!
Let's check it out!
Perks of Fabric Glue
You don't need to be a pro in craft
No need for sewing machine or other sewing merchandise to apply these glue for clothes
You can buy fabric glue that doesn't need press heating so just a tube of glue and all set to go!
You will never need to cancel plans for not having new clothes as you can recreate something new with your old vintage shirt or denim and get a new look at free! (for clothing idea surf Pinterest)
You can secure pockets, attach decorative embellishments or jewelry, fix the jean's hems, attaching patches, etc.
Top 6 Best Permanent Fabric Glues Reviews
So, here comes the long-awaited review!
Here, I have 6 top fabric glues lined up for you which will help you deduce the most suitable glue for your wardrobe malfunctions and recreations.
As fabric glues are vastly used, the production and the number of manufacturers is alarming. Thus, narrowing down the best ones amongst them was crucial.
Let's wade through the reviews one by one!
For Mending Burns & Tears

1. Permatex 25247 Fabric Repair Kit

It contains 7 cup fabric repairs comprised of different colors so that you can pick the appropriate color which matches gracefully with your upholstery.

For Persistent Use Even After Perpetual Wash

2. Tear Mender Instant Fabric and Leather Adhesive

This Tear Mender's fabric adhesive allows you to have a strong and consistent bond after 3 minutes of application. This fabric glue dries quicker than the previous one and renders a seamless result.

For Stain-free Application

3. Beacon Fabri-Tac Permanent Adhesive

Once you apply it to your fabric, it doesn't stain the fabric at all. Instead, it dries up quickly without leaving a trace of any batches of adhesive.

For Fast Drying and Decorative Purpose

4. Aleene's Clear Gel Tacky Glue

This glue plays a vital role in affixing beads, rhinestones, pearls, glitters, laces, and other adornments on your fabric.

For Temporary Trim Repairs

5. Dritz 401 Fabric Glue Stick

If you are searching for a no sew fabric glue that is ideal for hems, positioning trims, and keeping the fabric folds aligned perfectly then your search has come to an end!

6. E6000 565002 Fabri-Fuse Adhesive

This fabric glue is ideal for felts and other materials like glass, rubber, woods, polyester blends, and the like. Without making the fabric stiff and inflexible it works wonders in creating a firm and established bond.
1. Permatex 25247 Fabric Repair Kit, Single Unit
Imagine your favorite dress encountered an emergency and now it has small holes or burns on it. In this case, the first thing which will pop up in your mind is to get a new one or just bear with the distress.
But what if I tell you that you don't need to invest a single penny neither you have to abandon your cloth!
Yes, you heard it right! You can fix it with permatex fabric repair kit.
This fabric glue for clothes boasts a bundle of numerous features. Initially, the adhesive contains 7 cup fabric repairs comprised of different colors so that you can pick the appropriate color which matches gracefully with your upholstery supplies. Thus, this one can be regarded as the best glue for upholstery fabric and trim.
This is not it!
This fabric repair kit also distributes a screen applicator, a spatula for easy application, bottles for blending, and a guide to assist you on the color matching chart.
Here, if you are panicking about the color combinations as in whether they will match the texture and patterns then let me assure you that permatex pledges to meet the popular color and textures!
In addition, it doesn't only mend fabric but also automobile furniture (car seats) in various aspects within 20 minutes.
To regain the same density, color contrast, and permanency you will just need to apply it following the instruction manual and wait for 20 minutes. No heat no harmful adhesive! Your cloth will restore its essence in no time! Moreover, once your fabric is repaired, the flawed area will become virtually invisible. Thus, you can opt for this one for couch repair also.
Also, this fabric glue is cost-effective. Meeting all your needs, this one becomes the first pick of today's review.
Pros
Color availabilities
Dries fast
Strong adhesive
Great price
Fixes cigarette burns
Cons
The color matching can be tricky
2. Tear Mender Instant Fabric and Leather Adhesive, 6 Oz Bottle, TG06H
Secondly, you have Tear Mender's fabric adhesive which allows you to have a strong and consistent bond after 3 minutes of application.
This fabric glue dries quicker than the previous one and renders a seamless result. Sometimes, when you put on glue over your garments it becomes stiff and the elasticity reduces even after washing the garment. Here, tear mender ensures doing the opposite!
No matter how much you pile up the glue to make a stable bond it won't minimize the flexibility and comfort of your fabric.
Besides, if you don't want to wear it before washing then after 15 minutes of drying you can machine wash it in medium settings.
Now, let's talk about its environment friendliness! This fabric adhesive is UV resistant so that your skin can restrain UV radiation from direct sun exposure.
Moreover, the fabric glue can repair the leather upholstery of your household as well.
Here if you are stressing over its toxicity or harmful chemical properties then don't worry more! This fabric glue is made out of pure latex and thus having a non-toxic fabric glue is not a wonder anymore.
To conclude, it's wholly hassle-free. You don't require any heat press or ironing and to dissolve adhesive no solvent is needed either.
Pros
Apposite for quick upholstery repairs including home decore, sport/marine gear, etc.
Water-resistant
Nonsticky (wont adhere to the surface)
Dries faster than ever
Easy and quick application
Cost-effective
Cons
Dries white if not shaken properly before using
3. Beacon Fabri-Tac Permanent Adhesive, 4-Ounce (FT4D)
Here you have Beacon's fabric glue which is widely known for its stain-free application and flawless results. Once you apply it to your fabric, it doesn't stain the fabric at all. Instead, it dries up quickly without leaving a trace of any batches of adhesive. Also when you apply the glue it doesn't stick to your fingertips.
Thus, you can apply it without any spatula or adhesive applicator. Secondly, this adhesive doesn't constrain itself into laminating fabrics only!
It can effectively fix an array of different materials rather than solely focusing on fabrics.
For instance, you can repair broken glass by putting it on the split edges and merge them later when the glue is penetrated properly. And yes you can use this fabric glue for hemming as well, but remember it wouldn't be as strong as sewing.
Also, you can wash it after application like always and style it the way you want after drying. Here if you don't have a washing machine you can also wash it in the regular conventional method.
Just make sure that you don't use any strong detergent or acidic cleanser and avoid dry cleaning if possible otherwise the permanency of your fabric bond will be diminished.
Pros
Available in different size of dispensers (2 oz, 4 oz, and 8 oz)
Ideal for lace and leather application
Doesn't steep into fabrics
Residue-free operation every time
No-heat needed
Toxicity free
Inexpensive
Cons
Not suitable for dry cleaning
4. Aleene's Clear Gel Tacky Glue
If you are familiar with fabric repair tapes, then there's no chance that you haven't come across Aleen's exclusive craft range. The manufacturers of Aleen claims to provide the best quick-fix needlework alternatives at a low cost.
And luckily, they honor their claims! Here you have Aleen's clearer gel tacky glue which is solely bred for DIYing your clothes with its heavy slime.
This glue plays a vital role in affixing beads, rhinestones, pearls, glitters, laces, and other adornments on your fabric.
Speaking of that if you have a plain basic t-shirt and now you want to add some aesthetics into it then you can style it up with some pearls or laces, thanks to this best glue for t shirts and shirts.
Also, you can use vinyl stickers or glitters for a quick-DIY summer chic outlook. To borrow this look you just need to have some stickers or other adornments in hand. Then, you have to apply some clear gel on the wrong side of the object you want to attach.
Make sure you don't be too greedy while applying the glue. Now, shove it slightly by creating a sheer pressure on the desired fabric area. Let it sit for 30 seconds and done! Yeah, it dries within 30 seconds.
On top of that, this fabric glue behaves exactly the same as it summons. "Clear," that's right! It provides a clear and transparent application so that it doesn't dry white or leave any traces. Hence, you can highlight your dresses without having to worry about anyone's glare. This one easily takes the crown of being the best clear fabric glue by a long shot.
Pros
Comes in a squeezable bottle to decorate fabric
Premium quality yet budget-friendly
Dries faster than most of the trending glues
Multi-purpose use such as dance costumes
Machine washable bonds
Able to personalize the size of the bottle opening
Cons
Might not be ideal for felt
5. Dritz 401 Fabric Glue Stick
If you are searching for a fabric glue that is ideal for hems, positioning trims, and keeping the fabric folds aligned perfectly then your search has come to an end!  With this best glue for jeans, you can attach all the patches you want to spruce up those denim jackets or pants.
From now on, you can use Dritz fabric glue for these instant momentary mends. Also, the water solubility of this temporary fabric glue allows you to wash off the remnants of the applied glue whenever you want.
But as it's water-soluble you better not get in contact with moisture or too much heat as long as you prefer to retain the permanency.
No wonder, it's temporary but it saves up your time and cuts short half of your labor.
Because when you try to do hems for your pants or long stitching the folding part becomes notoriously tight as well as sewing it begs lots of time and focus. Here, if you don't want it to be exhausting and prefer quick effortless repairs then Dritz temporary glue got your back. Furthermore, if you're looking for a fabric glue for zippers, this one can come to the rescue as well.
Also, this glue is free from any sort of acid or toxic elements. As many fabric types of glue aren't environment friendly, it's important to use non-toxic fabric glue like this which doesn't menace your health.
Pros
Allows basting seams
Repairs hems and zippers
Places ribbons, laces and appliques ideally
Easy glue-stick application
Appropriate size container with ample supply of glue (H x L x W- 0.9 inches x 5.7 inches x 1.8 inches)
Cons
A big no for heavy fabrics
6. E6000 565002 Fabri-Fuse Adhesive, Hang Bottle
Lastly, you have E6000 Fabri-fuse adhesive that comes with a small loop at the end so that you can hang it anywhere and ensure safe and convenient storage.
Initially, this fabric glue is ideal for felts and other materials like glass, rubber, woods, and the like. Without making the fabric stiff and inflexible it works wonders in creating a firm and established bond. This one works wonderfully for attaching appliques on cotton dresses. Thus, it can be regarded as the best fabric glue for cotton as well.
Also, this fabric glue takes a radical departure from the glues by its low-odor feature. However, the odor isn't an issue if the outcome is exceptional yet E6000 ensures delivering a user-friendly product.
On top of that, a little heap of this clothing glue is enough to channel a seamless joint. Hence if you use too much glue then it can leave traces or white stains as it has the tendency to soak up the fabric and leave marks when overused.
Thus, make sure you don't go overboard with the application.
What else? Oh yes, it's also acid and toxicity free. So it remains gentle on your skin even if it's sensitive and prone to react on adhesives.
Well, I think it's a catch if you are really looking for something inexpensive for felts.
Pros
See-through application
Dries fast
Low-odor
Machine washable
Low cost
Easy storage
Cons
Might not work great on large patches
Facts You Need to Consider Before Shopping for Fabric Glue
I hope you decipher from the outlined reviews that these products yield quite similar and unique features which mean these are the very attributes that you should be looking for! To be more clear let's have a glance over this buying guide to help you shop for the best fabric glue.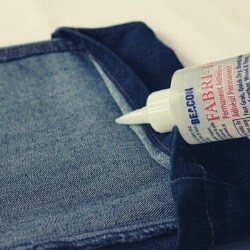 What Makes A Good Fabric Glue
The Type
First of all, there are many types of glue available on the market. But here you can't just conjecture what can be the best adhesive for fabric.
Meaning, there are glues that can help you to fix your fabrics or provide you a temporary bond that isn't even fabric adhesive but something typical. For instance, tacky glues somehow work on your fabric in many aspects. But you can't rely on them.
In fact, you shouldn't count on any adhesive except the one which is specially crafted for fabrics. Plus, be wary of the fact that a fabric glue for polyester may not work well on natural fabrics.
And the reason is simple here. When you buy a fabric glue it treats the fabric righteously; exactly how it should be treated!
Being gentle, ensuring flexibility, consistency, drying speed, transparency, smell, anything you name it. Hence, make sure that you stick to fabric glues only no matter how much promising other glue types appear to be. Yes, you can use all of these glues in high concentration to stiffen your fabric, but you'll be better off using the best fabric stiffeners for this task.
The Drying Time
When you are shopping for you fabric glues make sure that you inspect the drying speed or how long it takes to get dried.
For instance, if you want quick and instant mend then choosing a glue that dries faster is ideal for you. In contrast, if time isn't an issue for you but you want a strong and permanent bond then choosing an adhesive that takes time but adheres to your cloth firmly will be suitable.
In the outlined review list, you have fabric adhesives that dries up in a couple of seconds and also there are some which take minutes while ensuring solidity.
The Quality
Here the quality refers to the drying quality of your fabric adhesive. There are glues that dry up white and stain your cloth by absorbing into it while application.
Hence, when you are done applying it, it may provide you with the strongest fabric glue bond but the whitish appearance or the haze will cause a distraction to the originality of your cloth, and no wonder this is the last thing you will want.
Thus, always choose an adhesive that provides you a see-through result. Meaning when the glue dries up it should be transparent so that the repair remains unnoticeable.
The Texture
It's crucial to choose a fabric glue that has a consistent texture. If it's excessively thick or watery it won't provide you a pleasant result.
For instance, if you choose something that has a thick texture it might hinder the flexibility and feel claustrophobic when you wear the garment after mending.
On oppose to that when you choose a watery texture on a garment it fails to channel a permanent bond.
Hence, make sure the texture of your fabric glue is well balanced. Sometimes when the adhesive is out of use the watery contents separate itself from the adhesive contents. Thus, when you try to use it again only water comes out. In this case, shake the bottle couple of times before using it.
The Strength
Here, evaluating the strength of your fabric adhesive is crucial. But to get it done you need to determine the type of project you want to accomplish. Because this will help you to stumble upon the apposite adhesive for the particular project you are going to operate.
Now, there are different range of stickiness in the world of fabric glue. For instance, some adhesives are referred to as super glues which provide supreme strength, and these are known as best industrial fabric glue.
On the flip side, some glues are not that strong like super glues or industrial strength glue but give you a competent result eventually. Now, which one is good for you?
Well, to confirm these perplexes you need to consider the choices you have made.
Because if the garment requires a bond that can undergo persistent wash or stays in close contact of wear and tear then choosing a glue with superior strength will be ideal.
Elsewise, if you need something for your decorative projects then having a glue with less reinforcement will be fine.
Price and Variants
Always try to stick to the ones which not only looks lucrative but also meets the required attributes.
Sometimes you latch on to something which looks flashy or which was advertised with intense hype and mostly bluff! Hence do your own research, compare quantity with the cost. Because these are just like those nitrogen-filled chips packets which makes it look buffed up but when you open it, it shrinks.
Similarly, some packaging of fabric glues appears to be filled from top to bottom but in reality, the quantity is very less compared to its price. Also, some might dry up due to discontinuation of usage.
In these cases, buy fabric glues with a suitable quantity that meets your requirement instead of stacking up a bunch of glues or a large package. Be it pricy or cheap focus on the quality that ensures a strong bond without causing you any loss. Oh! Always opt for customizable tips. Those will allow you to control how much glue you want to apply.
Environment Friendliness
Lastly, check on the environment friendliness as you are using it for household mending purposes. Mostly when you are hoping to mend a fabric that is exposed to your skin it is bound to be safe and acid-free. Otherwise, it can cause chronic health hazards.
Hence, make sure you always inspect its packaging labels that say "non-toxic" or "acid-free" to ensure it doesn't contain any harmful chemicals.
Let's wade through some frequently asked questions.
Frequently Asked Questions

Where can I buy fabric glues?
It's vastly available. You can get it from any craft store or you can order them online. There are some global online shopping platforms like Amazon, Walmart, eBay, etc.
Can I make my own fabric glue?
Yes, you can. There are plenty of DIY tutorials based on this topic.
What kind of fabric glue is best for attaching adornments?
Basically, any strong to mild adhesive will do the job but for better results, you can try Aleen's clear tacky gel glue.  This clear drying fabric glue is a pretty durable adhesive for patches. The adhesive is extremely useful for carpet patch repair as well.
Can I wash my cloth after applying glue?
Yes, you can, but make sure you wait until it dries up and always read the instructions which are written on the flip side of your cloth glue bottle. Also, if your adhesive is machine washable then it should be written on the bottle. So check!
How to enhance the drying speed of my fabric adhesive?
Well, you can use blow drier or an ironing machine to boost up the speed also a stamp to exert pressure.
Why some fabric glues stain clothes?
There are many reasons for that. First of all, some glues have inherent coloring ingredients, and the manufacturer will tell you about that beforehand. However, some glues are transparent while you apply them. But after drying, you tend to notice a slight yellowish tint on your applied material. That happens due to oxidizing by atmospheric air. Avoid those fabric glues for your white and light-colored fabrics.
What is the best glue for fabric to fabric?
This will depend on the fabric material. Are they made of natural fibers or synthetic ones? Or are they made of natural-synthetic blends, like poly-cotton? For cotton to cotton, E6000 565002 Fabri-Fuse Adhesive should work just fine. In fact, most glues work great affixing natural fabrics. For joining two synthetic fabrics together or a synthetic fabric to a cotton fabric, you can try Aleene's Clear Gel Tacky Glue.
Can you use gorilla glue on fabric?
If you're talking about the regular gorilla glue, then it's a strong "NO." The glue poses fire hazards when applied to natural fabrics. Plus, it's too stiff, so you won't get your desired result. If you're an avid fan of the brand, then you can go for their gorilla fabric glue line-up.
What is the best glue for upholstery?
In our research, we found the Permatex 25247 Fabric Repair Kit to be a pretty good choice for repairing your upholstery.
What glue works best on felt?
In our research, we found the E6000 565002 Fabri-Fuse Adhesive to be the ideal candidate for felt.
Bottom Line
No wonder, the best permanent fabric glue plays a significant role as a stitching alternative and saving your time as well. Thus, having a fabric glue in your arsenal won't be a bad idea! As I said it sometimes does save lives! 😉 so, I hope the best fabric glue helps you eliminate your trouble. Now, don't waste your time and get the best glue for clothes right away!