Best Fusible Web for Applique You Can Buy in 2023 [Updated List]
So, the current hype of the textile market is fusible interfacing product, which is basically an evolvement of conventional interfacing.
Back then, it was only the conventional ones that you need to stitch or affix on the wrong side of a garment to make the particular clothing area more rigid or stable.
Now, the evolution with fusible interfacing is that you don't need to stitch or hand sew them.
Because here you will have a heat-activated adhesive on one side. So, you can literally stick them to any area of your garment by asserting heat.
Here, with fusible webs, you are empowered to work with your garments more flexibly as the heavy interfacing immensely increases the weight of the garment, so it becomes too thick to put on or carry on normal occasions.
So, here, after magnitude of researches and scrutiny regarding the best fusible for applique, I have finally hand-picked 5 products that will be useful as well as suitable in your crafting spheres.
Let's get started!
5 Best Fusible Web for Applique Reviewed
Among the sea of fusible webs that are available on the market, only a few of them are worth the trouble. We have done the research for you and found these webs to be excellent for applique.
| | | | |
| --- | --- | --- | --- |
| | | | |
| | Pellon PLF36 Ultra Lightweight Fusible Interfacing | | |
1. Pellon, White, PLF36 Ultra Lightweight Fusible Interfacing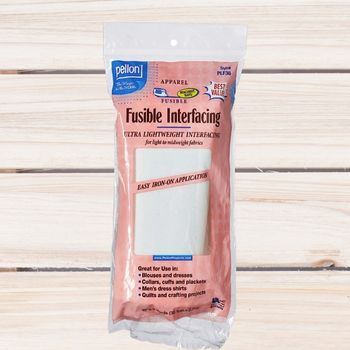 Features
Weight: 0.16 Ounces
Used for: Blouses and dresses, cuffs, collars, men's shirt and quilts
Application: Iron-on
Material: 100% Polyester
Well, here you have lightweight fusible interfacing Pellon at the top of the list.
I decided to put it on top because I pretty much believe that you will be convinced by its feature and probably won't linger gazing over the rest of the items.
So, the first thing that will hook your mind is its overall build, which is a high-quality polyester material.
Needless to say, that polyester is considered as one of the most reliable materials because of its long-lasting character.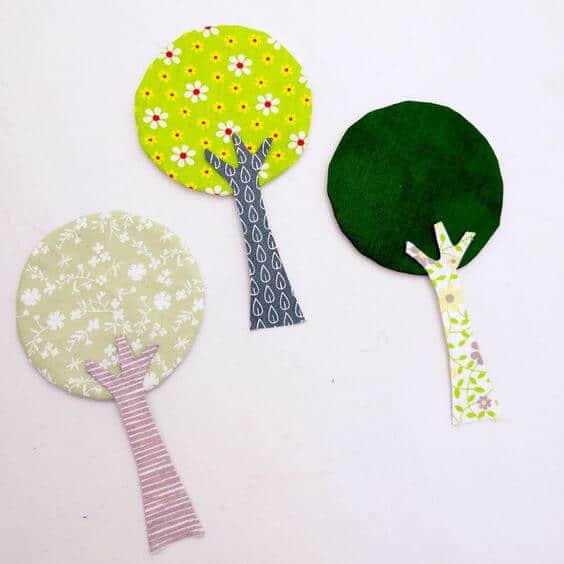 Gladly, it works both on light or moderately weighed fabrics. For instance, you can work on lined, challis, jersey, broadcloth, chambray, etc.
However, if you are expecting to work with delicate fabrics, then no need to be reluctant at all. Your Pellon fusible interfacing lightweight is good to get along delicate ones!
Next comes the size of Pellon, which is approximately 15″x 3 yards, as mentioned above.
The size of this interfacing is sufficient to cover up medium-sized fabrics ideally; however, if you are planning to work on smaller projects, then you are always authorized to trim the excess area or cut it short as per as your requirement in order to meet the predicted measurement of the object.
Now let's talk about its weight. Well, it has a compact size, and the weight of this fusible interfacing is immensely compressed to ensure better accommodation for the customers.
The lightweight feature allows you to apply it without feeling any extra load, as well as the after effect is almost like an obscure camouflage that goes under the mere notice of the users.
Moreover, the best part of this interfacing is that it gracefully strengthens and assembles the stitching to the fabric without causing any crinkles. Also, the cleaning process of these interfacings is pretty effortless.
What else you have to ask?
2. Heat'n Bond Non-Woven Lightweight Fusible Interfacing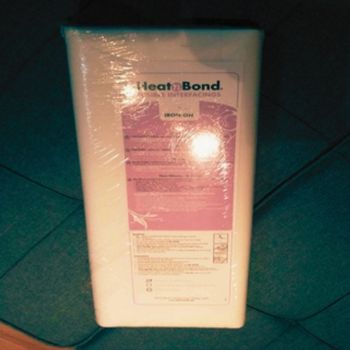 Features
Weight: 1.03 Ounces
Used for: Blouse, dresses, accessories and lightweight fabrics
Application: Iron-on
Material: 100% Polyester
Here comes heat'n Bond Non-Woven fusible interfacing, which relatively has a larger ratio than the first one.
With that being said, you can easily decipher that this interfacing is the best fusible web for applique for small to large-sized fabrics.
Not only you can affix them on medium-sized fabrics, but you also can work on more significant projects with enhanced flexibility.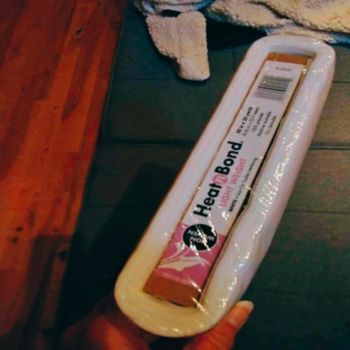 Moreover, applying fusible interfacing on smaller objects is utterly easy as long as you can trim or cut the extra interfacing to your required length. You can probably presume that this interfacing weighs a little bit more than the first one as it has a wider ratio.
Still, it weighs only 1.03 ounces, which is like for the entire interfacing roll. So, for each interval, the weight degrades lower than before.
Now you can ask either the application of this interfacing is accommodatable or not.
Well, it is!
You just need to have a hand iron or a traditional iron that you typically use for ironing your day-to-day clothes.
To commence, just turn on the heat of your iron, exert pressure on the specific region where you want to stick the interfacing, and you are done.
Being made with 100% polyester, it proves its authenticity, usefulness, and high resilience at the same time so that you can have a trouble-free experience.
Besides this fusible interfacing works wonders on casual clothing, dresses, blouses as well as accessories. We had tons of funs using this fusible web along with the best tape for fabric for our crafting project.
Mostly applying interfacing o accessories appears to be a tedious job. However, heat'n bond non-woven interfacing carries a noticeable impact in this regard due to its impeccable results in strengthening accessories in its perfect shape.
To conclude, make sure that the dresses or the fabrics you are working on with your interfacing are lightweight.
3. HTC 422 Fusible Non-Woven Interfacing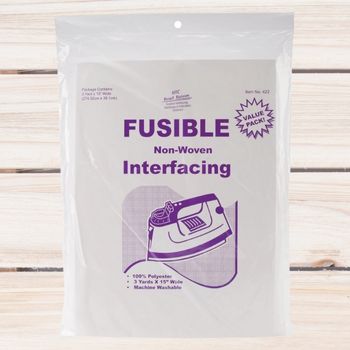 Features
Weight: 1.06 Ounces
Used for: Collar, cuffs, waistbands, pockets and facings
Application: Iron-on
Material: 100% Polyester
This fusible interfacing is completely non-woven and made of 100 percent polyester. With such sturdy construction, it ensures endorsing your fabric's detailing moderately when you affix the interfacing on a particular area.
For instance, the collar cuffs, facings, and waistbands are mostly inclined to distort or deform its shape; hence HTC 422 fusible interfacing distributes enough support on these intricate areas where strengthening is crucial.
In addition, it goes along with an array of dresses and blouses as well as lightweight dresses. On top of that, the professional craftsmen use this interfacing on various prospects such as reinforcing their paper patterns or craft stationaries.
Here the application of this fusible interfacing lightweight is effortless as a sheer touch of steam, or perhaps no steam at all will do the job for you.
4. Thermoweb 3336 Heat'n Bond Light Weight Iron-On Fusible Interfacing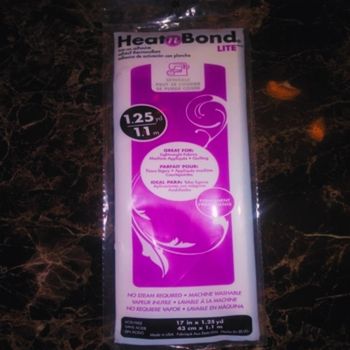 Features
Weight: 0.32 Ounces
Used for: Light, Midweight and heavyweight fabrics
Application: Iron-on
Material: 100% Polyester
Here you have Thermoweb 3336 lightweight interfacing. This one has some noticeable distinction from the previous ones, which definitely begs your attention.
So, with this interfacing, you are going to have a comprehensive dimension of 20″X36″ that effectively assists light, medium and heavy weight fabrics.
Meaning it holds on to the fragile areas of your fabrics where it requires sufficient reinforcement and support such as your collars, facings and detailing regions.
Moreover, the reason why it's important is that the heavy to midweight fabrics are inevitably heavier than light ones so that it becomes more complicated to reinforce. Hence, to monitor the intricate projects you need extra care and alleviation in order to have a suitable shape.
Besides, this one works impeccably on quilting, home décor, and diverse crafting events. Thus, it's regarded as the best fusible interfacing by the most avid quilters.
One more thing that contradicts this one from other fusible web is that it doesn't require any involvement of pinning, basting or shifting. No wonder it's a fair and competent composite of high-quality materials.
5. HeatnBond Fusible Iron-On Interfacing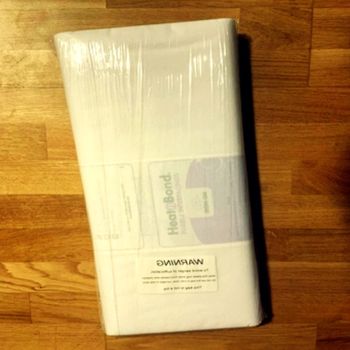 Features
Weight: 1.9 Pounds
Used for: Quilt stabilization, home décor projects, tote bags, purses, etc.
Application: Iron-on
Material: 100% Polyester
Previously you have acknowledged about heat n bond non-woven interfacing. Unlike that one, this fusible interfacing yields different attributes to spot on. Even the uses and texture are commendably diverse.
To begin with, I would like to preach about the optimal support it provides in various aspects, along with quilt blocks and other quilt parts.
Initially, reinforcing the seams of your quilt requires honest labor and time; hence, to reduce the tension, it's important to partially provide ample support on the quilt areas to ensure a better stabilization.
Moreover, this loft fleece interfacing allows extraordinary assistance to tote bags, beach bags, handbags, and purses as well.
It's comparably tough to work on curved substances, let alone to strengthen them. But if you have this fusible web for applique in hand, you can easily count on your economic journey in crafts or making girly accessories.
On the flip hand, with the dimension of 20inches x 11 yards, this fusible iron-on interfacing becomes the ideal pick for decorative projects. For instance, placemats and table runners which requires an enhanced structure and assistance habitually.
Being made with 100 percent polyester and independently affixed by iron heat, this one becomes wholly easy to accommodate and flexible to work with smaller to midweight projects. Thus, if you call it the best lightweight fusible interfacing, you won't be wrong.
Buyers Guide: A Brief Guide to Help You Shopping
So, there are certain things that you need to comprehend before buying a well-suited interfacing for your project.
Let's get into it!
Weight Quotient
Here the first rule of thumb is to inspect the weight of your interfacing. Let me tell you why!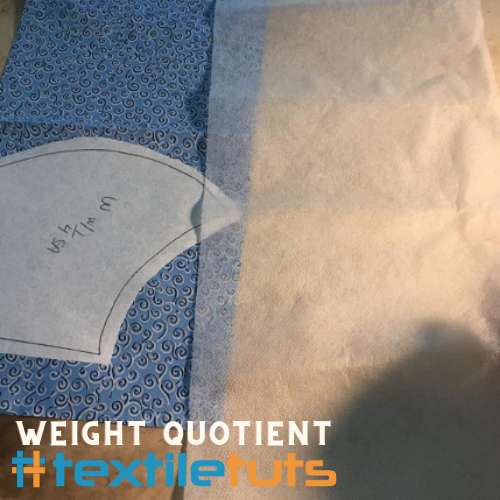 The weight of your interfacing will decide the overall weight of the fabric which is supposed to be moderate. Because an overweight dress downright hits the surface of discomfort. Mostly it's not something that goes along with every weather.
One more reason is that a lightweight interfacing will ensure not only the user's comfort but also confirm that the certain area is strengthened for a prolonged period.
Hence while shopping for an interfacing always opt for a weight that is similar to your fabric's weight or less. Easy-peasy.
Type
Broadly, we can classify interfacing into 3 types. First is woven then non-woven and lastly, you have knit interfacing.
Woven Interfacing
So, when you choose a woven interfacing you basically stumble upon an interfacing which is tailored to ensure that two layers go along properly.
The construction of woven interfacing is just like woven which typically has cross wise grains and thus its quite apparent as an interfacing.
Moreover, woven interfacing is considered to have a sturdier build than non-woven ones. Lastly, if you are intending to fuse tailored garments then woven interfacing will be ideal for you.
Non-woven Interfacing
Now comes non-woven interfacing is basically a mesh that has no obvious direction or grains. The making incorporates bonding or felting fibers. The perk of non-woven interfacing is that you can trim it in literally any direction hence it doesn't complicate your cuts and becomes utterly easy to accommodate. One thing that it envies is non-stretch garments. So, if you are craving ease of use and a flawless result then non-woven can be your muse.
Knit Interfacing
Lastly, you have knit interfacing which is prominent for its innate flexibility and tenderness. It's suitable for stretch fabrics like jersey and other woven garments which need to retain the stretch and softness likewise.
Now think which one is your type focusing on each characteristic. And also remember, different types of fabric require different types of fusing methods.
Also, there are some interfacing alternatives, like felt.
Material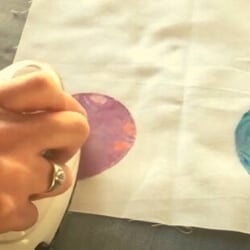 While choosing your fusible web it's crucial to check on the materials. Mostly polyester is believed to yield durability, reliance, water and heat resistance and an easier wash availability. Also, polyester is immune to wrinkles and wearing out as well as affordable.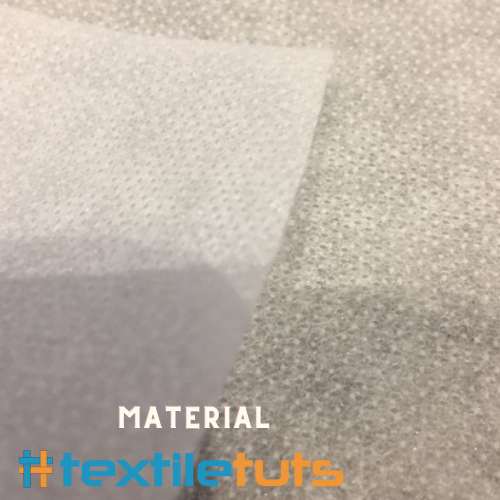 Hence, a combination of polyester and nylon or 100% polyester will be an apposite choice in this aspect. They're also easily applicable with the help of an iron. You don't need those high-end fusing machines.
Price
Lastly, the price of your interfacing isn't restricted to any limit. Some fusible interfacings are pricier for valid reasons and some are by default expensive for no definite cause.
Also, interfacings with cheap price range aren't necessarily bad. In fact, there are plenty of them which are competent as well as affordable.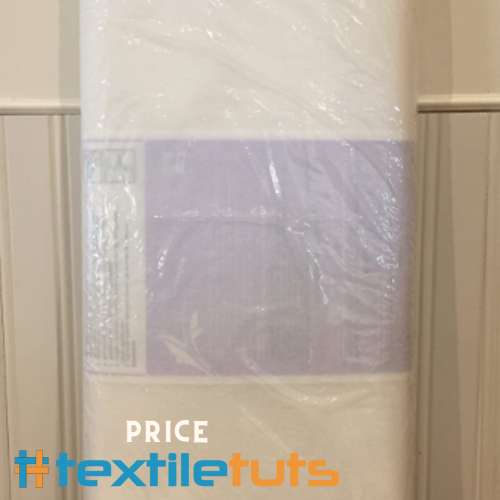 Hence what important is to judge the quality and advantages you are supposed to get from a particular product. If it deserves the upfront price then surely you should get it. However, if you have a strict budget then try sticking to the best possible product around that price range. Also, don't get into the bluff instead use your own conscience to make a decision.
So, these are the facts that you should consider before shopping for your fusible interfacing.
Frequently Asked Questions
Can I use fusible interfacing for face masks?
Yes, you can. In fact, an entire face mask can be crafted with fusible interfacing. But you have to be selective while picking materials for your face mask. For instance, non-woven and lightweight interfacing is ideal for tailoring face mask as heavy and woven interfacing is supposed to feel suffocating against your face and sometimes blocks your nostrils. Thus, creating breathing problems.
Can non-woven fusible interfacing be washed after use?
Yes, non-woven interfacings do not possess any trace of grain and it doesn't shrink during water contact. Also, it doesn't ravel at all. Hence non-woven fusible interfacings are in fact machine washable.
Can I sew my fusible interfacing?
Well, as you know that it's supposed to be applied on the wrong side of your cloth and requires iron-heating to adhere to your clothes, hence, it's almost redundant to sew your fusible interfacing. But if you have a fabric which is sleek and too slippery as in woven loosely then you can hand-sew or machine-sew the interfacing as loosely woven fabrics often seeps the glue.
Are fusible interfacings toxic?
The sole matter of concern about fusible interfacing can be the toxicity it might distribute. However, it's just a thin layer that can be activated through heat and makes the sewing job somewhat less complicated. So, it's nothing but safe however make sure you don't use it for a prolonged time if it's in contact with breathing.
What can be the probable reason if my interfacing doesn't stick?
If your iron isn't enough hot or the heat wasn't provided enough time then it's only rational that your interfacing won't stick. Apart from that, a loosely woven fabric can also be the culprit.
Can I use fusible interfacing for fabric stiffening projects?
In some of them, yes. Fusible webs are best for joining fabrics and working as a backing material. So, if only one side of your fabric needs to remain visible, then you can give it a go. Otherwise, you should stick to the best fabric stiffener spray for the best results.
Verdict
If you inspect carefully, you will come to the closure that each product is made focusing on different aspects.
And undoubtedly, each of them is lightweight and doesn't require any hand sewing, just like the no-sew methods for joining fabrics.
But some of them are intensely lightweight such as the #4 and #2 ones, which can be a setback as well. Meaning if you are already working on a lighter fabric, then possibilities are there that outrageously light interfacing will be adverse or may fail to brace the seams together.
On the other hand, if you are working with midweight fabric, then using the best fusible web for applique will be ideal. The rest of the judgments should be made depending on the materials you intend to work with.
I hope the outlined review helps!