How to Sew a Buttonhole on an Old Machine?
Along with the advancement of technology, we have seen remarkable changes in the sewing arena too. And one of the most crucial bits in modern garments — a buttonhole — now has hundreds of efficient ways to achieve excellent results.
However, things can be drastically different if you're trying to learn how to sew a buttonhole on an old machine. Of course, a person may have an old machine for various reasons, which is out of the point.
The point is that the old machines don't have any built-in buttonhole stitching options or automated stitches, which require you to do things manually. Here's how you can sew a buttonhole on with your trusty old friend.


Are You Better Off Knitting?
Many users ask whether they're better off knitting the buttonholes because they don't have a modern machine, going back to the hand sewn buttonholes vs machine sewn holes debate.
But in that case, you'd need to learn the types of knitted button bands and then how to knit a buttonhole band, which is a chore. And that's not the end of it either.
You'd then need to master the way to knit a buttonhole in garter stitch or knit a buttonhole in moss stitch, which are the most common ones. Unless you are particularly interested in them, we suggest steering clear.
Getting an Idea of the Machine
Before we get started, we need to ensure that the machine can perform the essential bits without a hiccup. The basic features are present on most old products, and using them can still be quicker than learning how to use buttonhole scissors.
How to Sew a Buttonhole on an Old Machine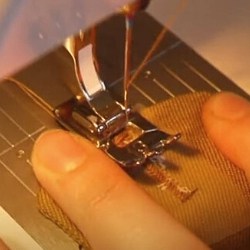 Unlike learning something like learning to knit a vertical buttonhole, a machine is much more forgiving — even if it's ancient. Below are the steps:
The first step is to mark the buttonhole. This one is essential, as the fit of the button relies on it. If you have a specialized foot, it might only require a few marks.
If you don't have a buttonhole foot, you only need to mark the whole thing, as you need to use that as a guide.
Once you are sure of the measurements, slowly align the foot (regardless of whether it's the normal or the specialized one) to the marking. Now, set it down (but don't put the needle down).
Let's start with the left side of the buttonhole. So, sew that side up to the end of the marking with zigzags. Again, if you don't have a buttonhole foot, you need to be more careful. If you have feed dogs, then keep them up.
Now, set your machine for the back end of the buttonhole. Get the needle up and set its position to center. If you have the feed dogs, then this is when you should drop them.
At this point, you only need to sew the back end of the buttonhole. After that, set the machine to the right side of the buttonhole and put it to reverse.
Sew the right side now up to the first mark. It's necessary to ensure that the stitch length remains the same for both the reverse and forward modes.
Now sew the other back end like step 4. Make sure to put a bunch of stitches so that it's durable.
And we're done. Get the machine back to the left side, do a few backstitches to make it secure so that it stays in place.
And we're done! Now you have a beautiful buttonhole. Certainly didn't take as much time as learning to knit a buttonhole in rib, did it?
The Slight Limitation
Zigzag
One of the most crucial features of sewing machines is the zigzag stitch, which is present on decade-old machines. Now, there is a caveat here — the width of the buttonhole would be as much as the zigzag's one.
This width would be around 4-5mm for most machines, which is enough for most light to medium-weight fabrics. And if you want to learn to make professional buttonholes without too much time, this is the easiest way.
Buttonhole Feet or No?
You might not have the best sewing machine for buttonhole, but the chances are that it has a foot for buttonholes. If that's the case, then we're fine. Otherwise, it would help if you took a bit more control over the process.
And it's not a deal-breaking issue either. It's possible to follow this procedure without a foot like this, and you'd still not need to learn how to tidy up knitted buttonholes, which is a win regarding time saved.
Final Words
Many of us don't have a modern machine or don't want to invest a large sum. And if it's only a few occasional buttonholes, there is no need to. You can follow our guide above and learn how to sew a buttonhole on an old machine with ease.
REFERENCES: