How to Use Buttonhole Scissors?
Buttonholes are essential to allow two pieces of fabric to link to one another. And as they come in different sizes or styles, it could often be somewhat tricky to create proper buttonholes.
Buttonhole scissors are one of the most efficient ways to cut a buttonhole. It is easy to learn how to use buttonhole scissors and simpler to use than any other cutter.
A proper buttonhole needs to lie flat. And if you don't use the buttonhole cutters properly, the buttonhole could instead tear apart, garble, or be too small or large. So, let's learn how to use this nifty little tool.
Other Types of Buttonhole Cutters
To get the buttonhole to function correctly, we need the best buttonhole sewing machine and the right tools. There are several types of buttonhole cutters — seam rippers and scissors are pretty standard among them.
Seam Rippers
Stepping aside from the hand-sewn buttonholes vs. machine-sewn buttonhole debate, seam rippers are pretty popular as a tool for cutting buttonholes. These tools have a blade attached to a handle. You can penetrate the fabric using the sharp tip and then push through with the curved edge to cut the necessary portion.
Scissors
Using a pair of scissors is perhaps the most clumsy way to cut a buttonhole, as it can be somewhat risky. For one, you don't have a lot of control over how it works. Moreover, cutting the buttonhole isn't very straightforward, as you might end up cutting the horizon of the fabric.
How Buttonhole Scissors Work?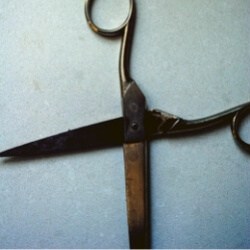 In a pair of buttonhole scissors, the handles manipulate a couple of cutting shears, just like the best rag quilt scissors. The tool has a small screw that can turn to adapt the blade, generating cuts of specific measurements to make the buttonhole.
It also has notches that allow you to prepare the buttonholes without cutting the horizon of the fabric. With an adjustable screw, you can adjust how much the blade cuts.
How to Use Buttonhole Scissors?


Using buttonhole scissors isn't as complicated as it sounds (certainly not as much as learning how to sew a buttonhole on an old machine).
Now, this procedure should be surprisingly easy even if you still don't know how to knit a buttonhole band or how to tidy up knitted buttonholes. Here are the steps:
First of all, we need the measurements of our buttonhole. Now, keep in mind that this is the most crucial part of the step, as mixing things up here can ruin the whole buttonhole.
It's better to have the buttonhole be slightly tighter instead of having the button fall out of it ever so often. And that's not something you should do if you want to learn how to make professional buttonholes.
Once we have the measurements, it's time to create some marking on the fabric. This bit is essential, as you don't want to cut the material based on an idea.
After that process, you need to adjust the screw on the scissors to match the length you want to cut. Ensure that you don't accidentally hit the fabric outside the buttonhole while you're setting it in place.
And now, you only need to cut the hole. Ensuring that you don't cut too far is the only thing you should remember at this point.
That's it — using a pair of buttonhole scissors is far easier than learning how to knit a buttonhole in garter stitch or learning to knit a buttonhole in moss stitch. Moreover, it does an impressive job for both beginners and professionals alike.
If You're Knitting
You do not need to use a pair of buttonhole scissors if you're only looking to learn to knit a buttonhole band or how to knit a buttonhole in a rib, as you can create the holes while knitting.
Another bit that you should notice is the button band, which is the zone that has buttons and buttonholes. There are different types of knitted button bands as well. And your workflow might vary depending on the style you choose.
Final Words
Cutting buttonholes can be a slow and tiring procedure. But if you learn to use buttonhole scissors appropriately, it would take a lot less time than any other types of buttonhole cutters.
The guide above is the easiest way to learn how to use buttonhole scissors. You should have smooth sailing if you can follow it well enough.
REFERENCES: