Types of Knitted Button Bands
Do you know that beautiful portion that holds the buttons on your cardigan? Well, that's what a button band is. First of all, it provides all types of buttons a safe and sturdy housing for a better experience.
Furthermore, it gives a character to your garment by providing a unique and incredibly customizable look. But that customizability can make things a bit confusing for some users, as the various options can be overwhelming.
Here, we'll be talking about the main distinctions between the types of knitted button bands, so let's get started.
Button Bands — Why?
The first question we receive about button bands is why they even exist in the first place. And it's a reasonable query, as it is indeed possible to sew your buttonholes on the garment. So, why are they necessary?
The first benefit is that you are dividing everything into layers. For example, if you make even the slightest mistake on your buttonhole, you would have to undo the knits to that level, which is a chore and two.
Having them separated into layers allows for easy customization and fixing. And you don't lose anything by doing this either.
The second benefit is that you can use different types of needles or yarns. For instance, many users prefer to knit their button bands tighter than the rest of the garment. You can make any customization you want, for that matter.
Use Cases and Benefits
The best case would be to use these button bands with hand sewn buttonholes vs. machine sewn ones. One of the most noteworthy profits is that you don't need to learn to use buttonhole scissors or rippers.
Many people also prefer to hand-sew their garments instead of learning to sew a buttonhole on an old machine, as you get a customized look without a lot of work.
Types of Knitted Button Bands
Now that we're over the appetizers — let's get into the actual topic. You can divide the button bands into various categories, either depending on their orientation or the stitch you use to create them.


Vertical Button Bands
You're going to hear this term a lot when learning about button bands. A vertical button band is what its name suggests — it's a straight knitted piece that you have your buttons on.
While we have distinctions between vertical vs. horizontal buttonholes, that's not the case with button bands. And it's obvious why — the orientation of the band changes depending on how you rotate it, so yeah.
That means while you need to learn how to knit a vertical buttonhole and a horizontal one, it's just one for button bands. When sewing these, you should remember to keep the band slightly shorter than the garment's length.
Variances in Stitch
This one is the distinction that will matter the most. You can knit your button bands using various stitches, which gives them unique looks and properties.
Garter Stitch Bands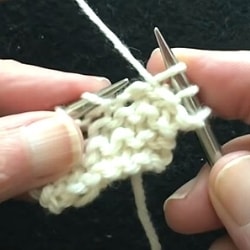 One of the first stitches many of us learn when getting into knitting is a garter stitch. It's incredibly versatile, and you can learn to knit a buttonhole band with ease.
And if you already know how to knit a buttonhole in garter stitch, things should be even more effortless for you. These stitches are as simple as knitting every stitch you make on every row, which gives them that unique look.
Purl Stitch Bands
Here is a stitch that's not only necessary if you want to make button bands with it but also for other stitches. For example, seed and stocking stitches both use a row of purl stitches. Therefore, it's a rather crucial one.
Unlike most stitches, the working yarn has to be in the front of the knit instead of the back. As a result, you get slight bumps on the fabric. Button bands with these look unique.
Seed Stitch Bands
Seed stitches are another one of the most common stitches when it comes to knitting. Essentially, you need to create two alternating stitches consisting of a knit and then a purl stitch inside a row and among rows.
The result is a stitch with tiny bumps that look somewhat like seeds (hence the naming). Another exciting bit is that a British Moss stitch is similar to this one.
Therefore, if you know how to sew a buttonhole in moss stitch, the learning curve for this one shouldn't be too steep.
Stockinette Stitch Bands
This stitch is yet another one of the common stitches. Also known as the stocking stitch, you can create this one by knitting alternating rows of knit and purl stitches. It has a right side, unlike many other options.
This stitch will face out, and you will see tiny V-shapes throughout the band, which helps recognize the right side.
These are the most common ones. You can also create button bands in ribbing effortlessly if you know how to knit a buttonhole in rib. Of course, you also should know how to tidy up knitted buttonholes to get the best results.
Final Words
Button bands give your garment a distinctive look while making things much more straightforward. And these were the most common types of knitted button bands that are easy to sew with excellent customization.
REFERENCES: