Best Buttonhole Sewing Machine | Top 4 Picks
Buttons are one of the most common parts of clothing apparel. Unfortunately, they could also be one of the trickiest and time-consuming things depending on what you do. However, modern sewing machines have done well to make things easier.
But not all of them perform as well in this aspect, resulting in varying speeds, consistency, and efficiency. In turn, that means you might be in for a hard time when searching for the best buttonhole sewing machine.
Hence, we have tried out some of the top options in the market and outlined them for you. Not only that, but we'll also give you an idea of what to look for in a product, so let's get started.
4 Best Buttonhole Sewing Machine
Getting a suitable machine for buttonhole sewing can seem daunting, but it's worth every bit of trouble – here are our top picks.
1. Singer Start 1234 Portable Sewing Machine – Best for Portability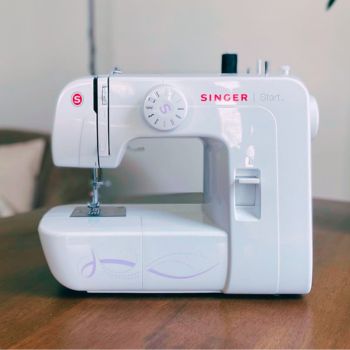 Features
Product Weight: 8 pounds
Built-in Stitches: 6 inbuilt stitches
Buttonhole System: Four-step buttonhole sewing system
Free-arm: Supported
Bobbin System: Automatic bobbin winding mechanism with class-15 bobbin
If you're looking for a product that is affordable and allows you to create quality buttonholes, you're in for a treat. And not just for beginners, but many experts like to have a lightweight and portable alternative, which this Singer sewing machine can be.
And that's the first bit we'd like to talk about – the price. This product is surprisingly affordable considering the number of features it comes with. That gets even better thanks to arguably one of the most vital bits here – the buttonhole.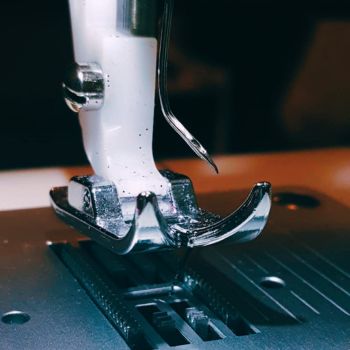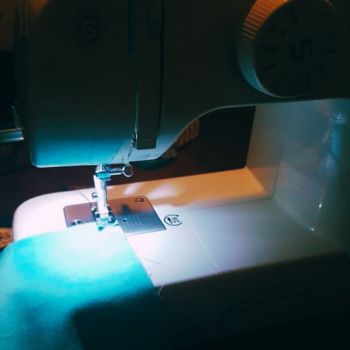 You get a four-step buttonhole sewing feature here, which works amazingly well for the price. It does mean that you will have to occasionally pause and change the stitch method depending on which part you're at, however.
It also comes with six built-in stitches that allow you to achieve most things with ease. Sure, that means you won't get some of the decorative options that you might get with pricier models, but those aren't the essential ones in any sense.
While it might seem trivial, but keeping the accessories in one place is essential too. Hence, it comes with a well-designed removable storage compartment. This seven-pound machine also supports automatic bobbin winding.
That means you won't have to go through the tedious process of winding it yourself, which we appreciate. Furthermore, the easy-to-understand user interface allows for an enjoyable time for both beginners and experts.
In terms of the accessories, you get several feet – all-purpose, zipper, and buttonhole. Furthermore, it comes with things like spool pin felts, a seam ripper, and foot control, making this product an excellent one.
2. Singer M3300 Sewing Machine – Best for Affordability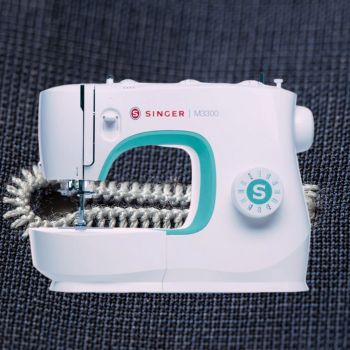 Features
Product Weight: 25 pounds
Built-in Stitches: 6 inbuilt stitches with 97 stitch applications
Buttonhole System: One-step buttonhole sewing system
Free-arm: Supported
Bobbin System: Front-loading class-15 bobbin
If you are wondering how to make professional buttonholes at an affordable price, you're likely to get sewing machines like our next pick as a suggestion. So let's look at the M3300 from Singer now.
You could look at many types of knitted button bands and things of that sort, but you cannot match the speed and efficiency of a one-step buttonhole sewing machine. And as you can imagine, that's something this product excels at.
You only need to get the measurements right so that the different styles of buttons get a snug fit. Afterward, you can let the machine do the rest. It will create zigzags on the longer sides and backstitches on the ends to keep things last long – all at the same time.
This ability not only saves you a lot of time but also provides superior consistency. Another crucial bit is a free arm for when you're sewing hard-to-reach portions like collars. Thankfully, this product also comes with that feature, which is remarkable.
Now, let's talk about the stitches. You get a total of 97 stitch applications with this machine, and that's excellent. There are the essentials such as zigzag and buttonhole, along with a bunch of decorative options.
Of course, a sewing machine isn't complete if it doesn't come with the necessary accessories. For one, this product comes with an edge/quilting guide, a screwdriver, a seam ripper/lint brush combo, a pack of needles and bobbins.
Furthermore, you get three feet in the package – general-purpose, buttonhole, and button sewing feet. All of these parts play a significant role in ensuring you get impressive results when sewing different buttonholes.
3. SWNNE Computerized Sewing Machine – Best for Professional Workloads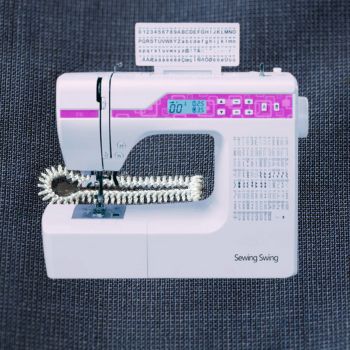 Features
Product Weight: 55 pounds
Built-in Stitches: 200 built-in stitches in total
Buttonhole System: One-step buttonhole sewing system
Free-arm: Supported
Bobbin System: Quick-set drop-in top bobbin
Unless you're looking for ways to knit a buttonhole in rib or how to knit a buttonhole band, and if you're not on a tight budget, our following product will blow you away. This one has everything you need for buttonholes and more.
Let's start with the star of the show – you get a one-step buttonhole sewing feature here. That means you can quickly sew your buttonholes without any interference or pause. The only requirement from your end is the measurement.
If you're used to sewing a buttonhole on an old machine, this will be a breath of fresh air for you. Another prominent bit is that it comes with a whopping 200 built-in stitches, which allows you to do virtually anything you want.
The stitches include everything ranging from the essential stitches to the decorative or letter-based ones. Therefore, your embroidery patterns will receive a new dimension, allowing for exceptional results. Moreover, the user interface is superb as well.
It uses an LCD screen to give you a view of all the bits and pieces. And changing the functions is just as effortless – all you need to do is use the stitch selector and choose it with a mere push of the button.
And the features don't end there – you also get an automatic needle threader here. That means you won't have to waste any more of your time finding that hole. Not just that, but it also features a quick-set bobbin.
The durability is just as remarkable with the metal body. And it can go up to 700 RPM, which is fantastic. Lastly, the inclusion of essential accessories like the presser feet, twin needle, screwdriver makes it a worthy choice.
4. Brother CS6000i Sewing Machine – Best for Woven and Knit Fabrics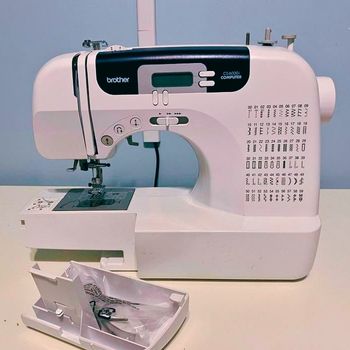 Features
Product Weight: 13 pounds
Built-in Stitches: 60 inbuilt stitches
Buttonhole System: One-step buttonhole sewing system with seven buttonhole styles
Free-arm: Extended table & free arm
Bobbin System: Quick-set bobbin with efficient winding
If you have read about how to knit a buttonhole in a garter stitch by hand or how to knit a buttonhole in moss stitch, you should know why many opt for these sewing machines. Our final pick can easily sew woven and knit fabrics.
This heavy duty sewing machine comes from the renowned Brother – a brand that creates some of the best sewing machines out there, including the best sewing machine under $150. This one is a lightweight and compact product that comes with all the necessary features to sew buttonholes.
One of the most impressive portions of this machine is its user interface. You can change any of the functions with the press of the button. Furthermore, there is an LCD that shows you all of the necessary details.
Another bit many users ask for is the ability to use various controls without using the foot controls. As a pleasant surprise, this machine allows you to use the stop/start buttons like that. Moreover, it supports variable speeds as well.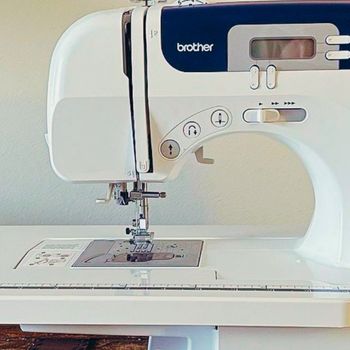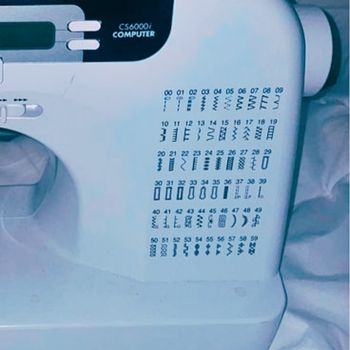 That means you can adjust the machine's speed depending on the type of sewing project or the fabric you're sewing, allowing for extensive control. And as you'd expect from a product like this, this sewing machine for buttonholes also allows you to adjust the stitch length and width.
But let's talk about the buttonholes now. This machine comes with the capability to sew buttonholes in one step. Along with the auto-size feature, it allows you to go through the whole process without any intrusion in the middle.
As we said, this machine can sew woven fabrics with ease, making this a versatile choice for most purposes. And because it comes with intuitive controls and sews buttonholes in one step, we cannot recommend it enough. Lastly, sewing various types of collars won't be an issue since it boasts a free arm.
Must-Have Qualities of a Buttonhole Sewing Machine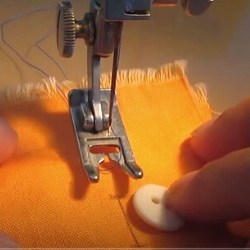 You need to consider two aspects when buying a sewing machine for making buttonholes. The first one is the features that specifically help with that purpose, while the other consists of all the other necessities.
Why These Machines
Some users might wonder whether they need to get a machine if they only sew a few buttons. In any case, this debate between hand-sewn buttonholes vs. machine-sewn ones isn't anything new.
There are a few things you might lose from not getting a mechanical or computerized machine. You will lose a bit of time, and the results won't be as consistent either. And instead of searching for how to use buttonhole scissors, these are a better alternative.
Furthermore, if you want to knit them by hand, you'd need to learn how to tidy up knitted buttonholes as well, which requires more work.
Process of Sewing
You will generally find two types of machines with buttonhole sewing features – one-step machines and four-step machines.
One-step Buttonholes
These products do what their name suggests – they sew a whole buttonhole in one go. That means it will finish the job without needing any direction or permissions once you start it.
Apart from the apparent benefit of less work, these will also allow for much more consistent results. Furthermore, if you sew a lot of buttonholes, you will undoubtedly benefit from it.
Now, there is a drawback here – the price. Generally, one-step buttonhole sewing machines will be more costly compared to the alternatives.
Four-step Buttonholes
Again, these machines do what their name suggests – creating buttonholes in four steps. That means it will require further directions and permissions, which will result in some pauses.
Of course, it will undoubtedly require more time to sew a buttonhole, which is a caveat you need to weigh depending on your needs and budget. Furthermore, since these machines require human intervention, they often aren't as consistent as the one-step alternatives.
But it has its benefits, too. These products are generally much more affordable, which is what many of us require. Moreover, a four-step sewing process isn't much of an issue if you aren't sewing a whole lot of buttonholes.
Number of Stitches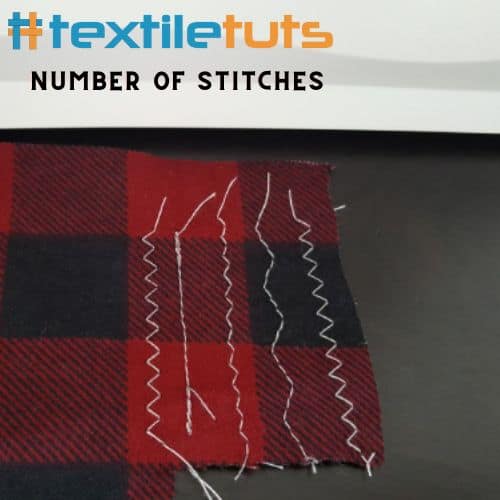 This bit is highly crucial, as this can often determine how efficient and effective your sewing machine is. Your requirements will significantly vary depending on what you sew and what types of fabric you sew.
Moreover, other than a few essential stitches, most of the other ones are somewhat optional. That's because you can create most of those stitches by using the important built-in ones.
However, the convenience they provide is something we cannot deny. If your budget doesn't allow you to go too far, you should try to ensure that it performs well regarding the standard options such as zigzag, buttonholes, and so on.
Automatic Threader
As a sewer, one of the most regular 'rituals' that you will go through is putting a thread through the needle. And it might or might not be too big a deal for you, but trust us when we say that they're a necessity for people with eye-sight issues.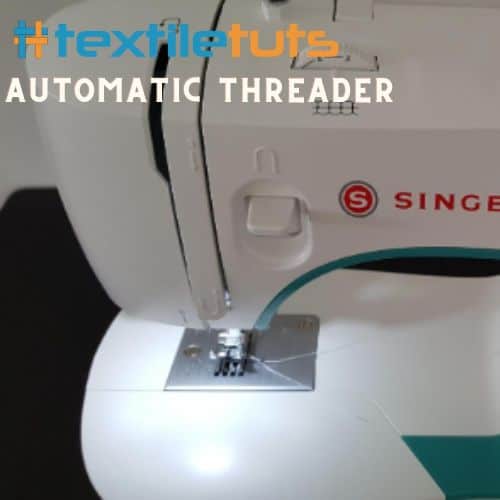 And it's always good to have this feature, as it will allow you to focus on the actual work instead of having to find out where the hole is.
Extra Feet
These feet can often create a massive difference regarding how you approach your work. You will be able to finish specific jobs with surprising ease and efficiency through these.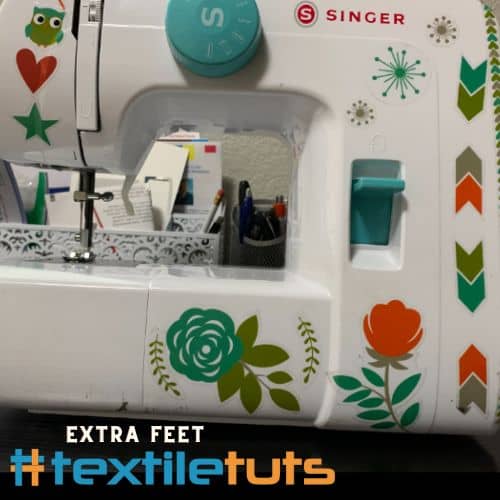 Some of the most common ones are zipper, blind hem, and buttonhole feet. There are also all-purpose options as the go-to choice. These feet will give you a much easier time and improve the overall user experience.
Other Features
Some other bits can also have a significant effect on the overall experience. For example, having the ability to adjust the thread's tension is rather crucial. Having LED light will help illuminate the work area.  Moreover, a suitable bobbin-winding feature can also provide a boost to the user experience.
Frequently Asked Questions
Is a one-step buttonhole better than a four-step one?
Generally, it is. For one, these buttonholes will allow for a much faster pace, saving you time. Moreover, a one-step option will also be more consistent, given that it does not require human intervention from time to time.
Why does my machine keep making loose stitches?
When a sewing machine makes loose stitches (or even loops in some cases), it probably is an issue with the thread tension. Therefore, you should find the tension-adjusting knob on the machine and try to see which position does the job.
Do I need to clean the machine every day?
Not at all. The answer to that relies on how often you use the machine, affecting things like lint build-up. And those would be easy to spot if you already got the appropriate sewing machine light installed in your sewing room. As a rule of thumb, we suggest cleaning the machine every seven days (with lubrication if the product requires it).
What's the best manner to cut a buttonhole?
Once you're done with the buttonhole, the next step is opening them up. You could use a sharp chisel for that while trying not to cut the threads. The easiest way would be to use a seam ripper, which is quick and effortless. Trying to use an automated fabric cutter will be a bad idea.
Is it necessary for my machine to have multiple speeds?
We think it's a convenient feature to have, as it allows you to work consistently on various fabrics or stitches. For instance, you can use a fast machine with faster speed for comparatively more rigid fabrics or straight stitches and a slower one when working on delicate things.
Final Words
If you intend to take sewing seriously, we think it's necessary to invest in the best buttonhole sewing machine. There are some variables depending on your purposes, so pick the right one for you and enjoy sewing those buttonholes.