7 Best Fabric Pots with Buying Guide
When I was in college, my doctor suggested keeping plants inside my room as I had breathing issues. And I was oblivious of how am I supposed to grow a bonsai without creating a mess.
Then, I did some research and waded through few plant-based journals where I got to know about the best fabric pots.
Well, honestly, I was surprised by the fact that how low-maintenance fabric pots can be. They are lightweight, storage convenient, durable, and effortlessly portable.
Since then, my enthusiasm for buying new plants only grew as nurturing them became super easy.
Now that I pretty much understand the nuances of various fabric grow pots, I thought of compiling 7 top-rated fabric pots in today's discussion with an in-depth buying guide.


Why Should You Choose Fabric Pots Over Plastic Pots?
When it comes to choosing a pot for your plants, there are two main types: plastic pots and fabric pots.
Here's a look at the pros and cons of each type so you can decide which is best for your plants:
Pros & Cons of Plastic Pots
Pros & Cons of Fabric Pots
Verdict
If you're looking for a pot that offers superior drainage and aeration, regulates temperature, and is often used by professional growers, then a fabric pot is the best choice. Plus, these are environmentally friendly and promote beneficial bacterial growth. However, keep in mind that they're more expensive than plastic pots.
7 Best Fabric Pots
Here are the 7 finest fabric pots for simplifying all the gardening hassles and ensuring you healthy greenery. Be it indoor gardening or outdoor, all of the below-mentioned grow pots are environment-friendly and evenly ventilated.
| | | | |
| --- | --- | --- | --- |
| | | | |
| | OPULENT SYSTEMS Grow Bags | | |
1. OPULENT SYSTEMS Grow Bags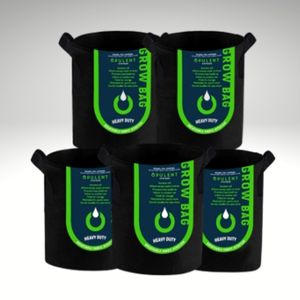 Features
Quantity: 5 packs – 5-gallon size
Shape: Round
Item Size: 12 x 12 x 10 inches
Mounting Type: Floor Standing
You might think of fabrics to be susceptible to damage or wear, especially when you are hoping to grow a plant with thicker roots. But not when you have OPULENT's non-woven grow bags.
No matter if you are a hobbyist or a seasoned grower, Opulent ensures providing an array of gardening accessories.
These grow bags are long-lasting and resistant to damage or tear in extreme circumstances. Thanks to the breathable non-woven fabric, which is reinforced with double sewing.
The moment when you wave your fingers across the fabric, you will instantly feel the essence of top-notch craftsmanship. They come in a package of 5 round-shaped grow bags, which are 5 gallons per size.
Besides, the bags are storage-friendly and reusable. You can store them in places where it's prone to get maximum sunlight. For example, near the window or a porch.
On the contrary, when not in use, you can just fold them and throw them inside the trunk.
Now, let's talk about its aeration standard. These grow pots effectively ventilate the root zone and balances the temperature depending on the weather oscillation.
For instance, when the summer rolls, the fabric pots keep the plants cold, while during winter, it creates a hot atmosphere to keep the plants warm. Moreover, the air pruning improves the overall root quality.
On top of that, it's crucial to guarantee an effective drainage system for your plants. In fact, that's one of the very reasons why you choose fabric pots for starters.
These fabric grow pots offer you the ideal water drainage facility so that your plants don't need to immerse in excess water neither suffer from dehydration. You can water your plant consistently without making any fuss out of it.
Verdict
If you are looking for a high-quality and durable fabric pot that is also easy to move around, the OPULENT SYSTEMS Grow Bags would be a great option. These bags come with a sturdy handle, making them easy to transport, and the breathable fabric promotes photosynthesis, which helps your plants grow healthy and strong.
2. Smart Pots Soft-Sided Container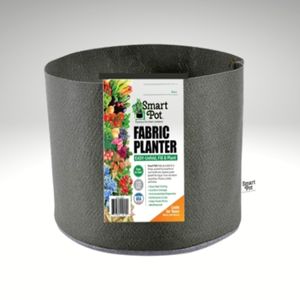 Features
Quantity: 1 pack – 5-gallon size
Shape: Round
Item size: 12 x 0.5 x 12.5 inches
Mounting Type: Floor Standing
Well, smart pots are timeless. I didn't witness a single nursery in my locality where smart pots aren't used. These are one of the most prominent grow bags that promote healthier plants.
And you might hear of "stronger the roots stronger the plants," and that's exactly what you are gonna get if you nurture your flower or veggies inside these pots.
Typically, they offer a wide range of grow pots in terms of sizes, colors, mounting types, and other pertinent aspects.
But this particular smart grow pot pack arrives with a 5-gallon fabric pot in a dark black color. It's made of high-quality non-woven fabric that deters harmful toxic elements. While on the other hand, non-woven fabric distributes necessary oxygen, which allows the bacterial and roots to breathe.
Also, the breathable fabric ensures retaining the humidity. In fact, it maximizes the moisture to keep your plants in a healthier survival state.
Moreover, the moisture needs to penetrate from wet to dry areas to instill a consistent impact and soil permeability. And these fabric pots warrant everything that's required for harboring stronger and organized roots.
Now, let's talk about the space. This fabric pot can shelter bigger plants, and the root's growth happens through branching; in consequence, you get more root tips and more allowance for the plant to feed.
Then comes its commendable weather responsiveness. On hot days, this grow pot releases all the trapped heat and protect your plants, while during cold weather, the fabric produces heat from the sun.
And the best part is these grow pots are proved to offer twice the root structure for the plants than usual.
Verdict
If you're looking for a fabric pot that will promote healthier plants, the Smart Pots Soft-Sided Container is a great option. This grow pot is made of high-quality non-woven fabric and is UV-resistant and BPA-free. It's also portable and weather responsive.
3. Garden4Ever Grow Bags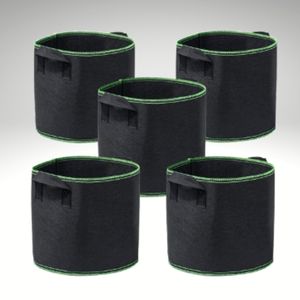 Features
Quantity: 5 pack – 5-gallon size
Shape: Round
Item Size: 12 x 12 x 10.5 inches
Mounting Type: Floor Standing
If you want to grow your own fruits and veggies without having to invest a boatload of money, then garden4ever's grow pots might be the aptest option out there. These are environment-friendly and ensures mess-free gardening. You don't need to waste your time doing hardcore maintenance, cleaning, and draining.
These are highly low-maintenance and made out of growth-friendly felt. The 300g thickened nonwoven fabric facilitates utmost stability, whereas most of the fabric pots can't even stand upright.
Keeping the roots and soil oxygenated comes in handy when you have these grow bags in your garden. It comes in a package consist of 5 grow pots with 5-gallon size.
Furthermore, you don't have to stress over your roots getting tangled or curled up. The automated air-prune feature helps to prevent the roots from getting tangled through their bigger surface area.
Also, the broad interior inside promotes better water and mineral absorption. Overall, these grow bags offer optimal aeration and drainage. Hence, there's no need to worry about overwatering.
Then comes its user-friendliness, which is undeniable praiseworthy. You will get a sturdy handle to carry it from one place to another; also, they don't take much space. Thus, even on your balcony, you can have your mini realm of flowers and veggies.
Verdict
Garden4ever's Grow Bags are a great option for those who want to garden without the hassle of hardcore maintenance. These bags come with many features that make them environment-friendly and low-maintenance.
4. Ming Wei Garden Plant Bags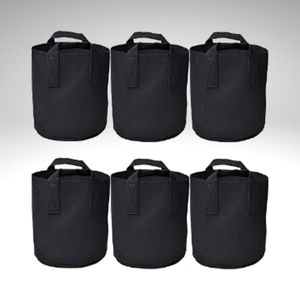 Features
Quantity: 6 pack – 5-gallon Size
Shape: Round
Item Size: 12 X 12 X 10 inches
Mounting Type: Floor Standing
This is yet another prominent brand for all the grow bag gardeners. Keeping your plants perfectly warm during winter and ideally cold during summer is its forte.
What most of the grow bags fail to preserve is to hold the proper balance of humidity.
It shouldn't be too much or too less.
Only the competent grow bags are able to cater to this crucial factor.
And Ming Wei grow bags ensure retaining the approximate amount of moisture needed for your plants to evolve.
No wonder balanced irrigation and drainage also play a vital role in your overall plant growth. Luckily this plant bags offer essential drainage and irrigation both.
You will receive them in an assortment of six grow bags with 5 gallons holding capacity. Each of them is equipped with a sturdy handle on both sides so that transporting it becomes easy.
Also, these grow bags minimize the potentials of transplant shock and promote overall root quality.
Besides, these fabric pots provide the best bang for your buck. You would barely get a deal like that. Given the fact that they are reusable, long-lasting, and made with environment-friendly felt.
These grow pots could be the right choice for all container gardeners who crave whether responsiveness and enhanced root structure as well as root tips.
Verdict
Ming Wei Garden Plant Bags are a great choice for anyone looking for quality, durable fabric pots. These pots are made with environmental-friendly felt and come with a number of features that make them an excellent option for container gardeners.
5. MELONFARM Grow Bags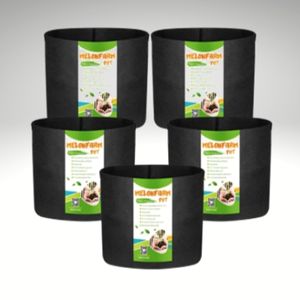 Features
Quantity: 5 pack – 1-gallon size
Shape: Round
Item Size: 7 x 5.6 x 2.6 inches
Mounting Type: Floor Standing
The idealness of Melonfarm's grow bags confides in its overall temperature control and high yield. These fabric pots come in 5packs of 1-gallon size. Spoiler alert, if you are hoping to grow bigger plants, then we are afraid to say it's not for you.
However, you can look for larger pot options where small plants like onions, garlic, ginger, and fruits can grow at a high survival rate. Now, these grow bags are engineered with heavy non-woven fabric that withstands damage and tears. Thanks to its robustness.
Also, these fabric grow pots have a strong oxford handle and extreme load-bearing capacity. Hence when you intend to carry them from one place to another, it doesn't fall apart or seeps.
You can keep them close to the sunlight during the daytime and store them somewhere safe when it's a chilly night.
Now comes the most important part, which is the ventilation quality of these grow pots.
Well, the aeration and drainage are both interconnected with each other. If one falls short, another cant thrive.
So, keeping this criterion in mind, Melonfarm has ensured excellent aeration and drainage facility, which graces the overall plant growth. Also, for a healthier root system, the plants need to retain enough water, which can be hindered by imbalanced water release.
But since these grow pots hold enough water and effectively strains out the excess water, you don't need to worry about the root quality.
Speaking of this, temperature control also contributes to the root structure.
For instance, in the summertime, due to excessive warmth, the water evacuates faster. Hence holding the moisture is necessary, and these grow bags have a strong moisturizing system that keeps the roots cold.
To conclude, these grow pots work wonders in terms of harboring small plants with improved root structure.
Verdict
Overall, Melonfarm's Grow Bags are a great option for those looking to foster healthy root systems in small plants. The sturdy construction and effective drainage make these bags a winner, while the temperature control ensures that your plants thrive in all seasons. Just be aware that these bags are not meant for larger plants!
6. VIVOSUN Heavy Duty Thickened Nonwoven Fabric Pots
Features
Quantity: 5 pack – 10-gallon size
Shape: Cylindrical
Item Size: 16 x 16 x 12 inches
Mounting Type: Floor Standing
While some people prefer round-shaped grow bags, you might want a cylindrical fabric pot that is made with thick non-woven materials. And vivosun heavy-duty fabric pots are one of them. It's made of 300g of thickened non-woven fabric with sturdy handle straps on both sides.
Hence carrying it along with the plant inside doesn't feel like extreme labor. The flat surface of this grow pot allows you to pour the soil and the plant effortlessly. You don't need any expensive tool to place your favorite plant and whatsoever.
And since non-woven fabrics are comprised of breathable contents, the roots of your plant remain oxygenated.
The high-quality aeration streamlines the overall root structure and makes it stronger than ever.
Speaking of this, watering your plant religiously is also important, which can be compromised if the drainage system is poor. Luckily these 10 gallons grow pots naturally expels all the excess water and consumes only the portion that's needed.
Thus, if you have trouble watering or plants as in whether you have over-watered or not, then I guess this mitigates your problems.
Moreover, overwatering makes the soil moldy and affect directly on the growth. Given that, these fabric pots are reliable as it keeps your plants and its roots mold-free.
Result?
The soil remains hydrated but not overly wet. You can use these grow pots for outdoors, indoors, and patio gardening, and trust me, it saves up a lot of your money than buying expensive tubs.
Typically, it comes in 5-packs 10 gallons grow pots. So, it's safe to say that growing bigger plants will do just fine.
Besides, if your plants outgrow, you can always put the old grow pot into a new one without having to remove it entirely. The plant roots will continue growing through the bottom; no worries!
Verdict
These pots are a great option for someone looking for a cylindrical fabric pot that is made with thick non-woven materials. The pot is easy to carry due to the handle straps on both sides, and the flat surface allows you to pour soil and plants in without any hassle.
7. ANPHSIN Garden Potato Grow Bags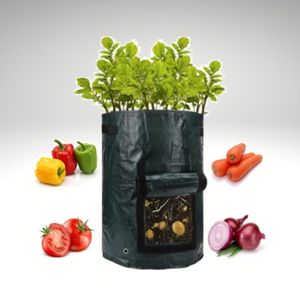 Features
Quantity: 4 pack – 10-gallon size
Shape: Cylindrical
Item Size: 7 x 13.7 x 19.6 inches
Mounting Type: Floor Standing
Lastly, you have the ANPHSIN grow bags which are made of long-lasting material and comes with a flap. One thing that all gardeners cherish to witness is the root growth and structure.
And it's now possible with these fabric pots. The flap will allow you to see the root and seed condition. In addition, the flap stops excessive irrigation, which makes the soil moldy. You just need to open the flap pr the Velcro window so that the excess water evaporates.
Besides, it has small holes on the bottom for enhanced ventilation and breathability, which eventually ensures effective drainage. Eventually, the overall root structure remains healthy and mold-free.
Moreover, the air prunes the roots and keeps the branch root system out. Now since these grow pots are spacious enough, you can easily grow veggies like carrots, potatoes, capsicums, onions, etc.
The best part is, these fabric pots ensure a friendly and stable environment for the vegetables and flowers to grow. And it's equipped with sturdy handles so that you can easily move it around when need be. It comes with 4 packs, all 10 gallons in a cylindrical shape like the previous one.
The overall weight of these grow bags is only 0.9 pounds which justifies their maneuverability. Furthermore, these grow pots are made of PE plastic material that can withstand light ideally than the conventional PVC. And of course, you can reuse them and store them easily.
Verdict
The ANPHSIN Garden Potato Grow Bags are a great option for anyone looking for an efficient way to garden. Made from durable PE plastic material, these bags come with several features that make them a worthwhile investment. The Velcro window allows you to observe the root growth, while the flap stops excessive irrigation and keeps the soil mold-free.
Summary Table
| Product Name | Quantity | Shape | Item Size | Mounting Type |
| --- | --- | --- | --- | --- |
| OPULENT SYSTEMS 5-Pack 5 Gallon Grow Bags | 5 packs- 5-gallon size each | Round | 12 x 12 x 10 inches | Floor standing |
| Smart Pots 5-Gallon Smart Pot Soft-Sided Container | 1 pack-5 gallon size | Round | 12 x 0.5 x 12.5 inches | Floor standing |
| Garden4Ever 5-Pack 5 Gallon Grow Bags | 5 packs-5 gallon size each | Round | 12 x 12 x 10.5 inches | Floor standing |
| Ming Wei Garden Plant Bags / 6-Packs | 6 packs-5 gallon size each | Round | 12 x 12 x 10 inches | Floor standing |
| MELONFARM 5-Pack 1 Gallon Grow Bags | 5 pack-1 gallon size each | Round | 7.7 x 5.6 x 2.6 inches | Floor standing |
| VIVOSUN 5-Pack 10 Gallons Heavy Duty Thickened Nonwoven Fabric Pots | 5 pack-10 gallon size each | Cylindrical | 16 x 16 x 12 inches | Floor standing |
| ANPHSIN 4 Pack 10 Gallon Garden Potato Grow Bags | 4 pack- 10-gallon size each | Cylindrical | 13.7 x 13.7 x 19.6 inches | Floor standing |
Fabric Pots with Handles vs Fabric Pots without Handles – Which One to Get?
When it comes to fabric pots, one of the most popular choices is between those with handles and those without handles. So, which one should you get?
There are a few things to consider when making your decision. First, think about how often you will be moving your fabric pot. If you plan on moving it frequently, then handles might be a good idea.
Plus, fabric pots with handles are perfect for small plants since you may decide to move them around or hang them from a fixture.
On the other hand, if you don't plan on moving your fabric pot very often, then handles might not be necessary. Another thing to consider is the size of your fabric pot. If it's large, then handles can help make it easier to move.
Checklist Before Getting a Fabric Pot for Yourself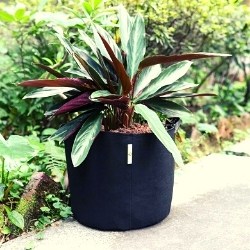 I understand that there's a lot of guesswork that needs to be done before getting fabric pots.
In fact, most people surmise grow pots to be the same regardless of brands and types.
But in reality, all fabric pots are immensely diverse in terms of quality, price value, shape, aeration, and drainage system, eco-friendliness, storage convenience, etc. And to differentiate or compare these factors with one another, you have to invest a lot of time scrutinizing.
I suppose you barely have time for that or even for yourself.
Hence, I have emphasized few crucial facts that will help you determine the ideal grow pot.
Make sure to keep them in mind while inspecting each grow pot or differentiating according to your requirements.
Material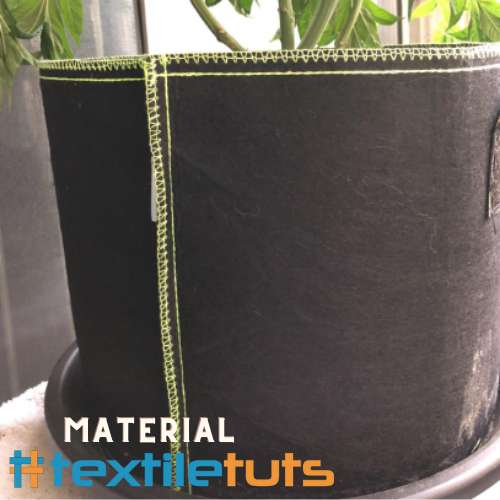 First thing first, you need to check the material as the overall quality depends on it. Typically, fabric pots are engineered with felt or fabric materials. And it's wise to stick to breathable fabric materials which are sturdy and tear-resistant. Also, it's crucial to ensure whether those fabrics can stand upright while filing or pouring soil.
Longevity
Of course, you don't want to invest your money in something that doesn't last long. Thus, it's important to opt for durable grow pots.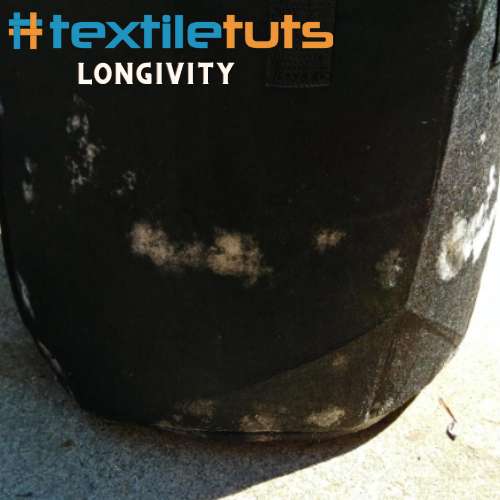 For instance, non-woven fabrics exceed every other material in terms of permanency. And I suggest you go for non-woven grow pots without any doubt.
Sizes and Shape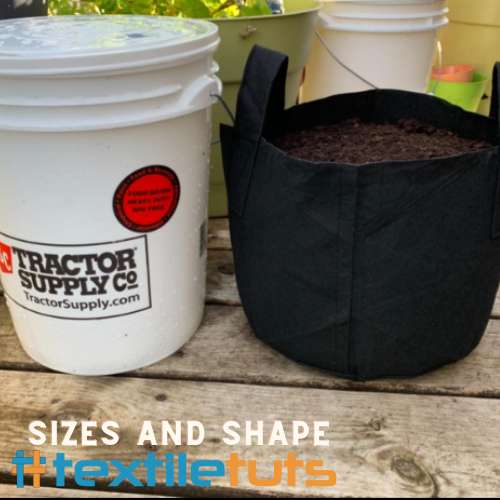 Both of them should be assessed, focusing on your preference and needs. The fabric pot sizes start from 1 and end in 1000 gallons. You may want to grow a small vegetable plant that can fit in 5 gallons grow pot without hampering the root quality. On the contrary, you also may want to grow small plants in larger grow pots for a stable and healthy growing environment.
Just make sure you consider few things like where you are gonna store them, how tall they should be depending on the place you are keeping them (as getting sunlight is paramount), how much space the plant is prone to take etc. the rule of thumb is to purchase one size taller or higher than what you need.
Now coming to the shapes, it's totally your preference since it doesn't affect much on the growth. But round-shaped grows pots with flat surface always surpasses the rest.
Ventilation and Drainage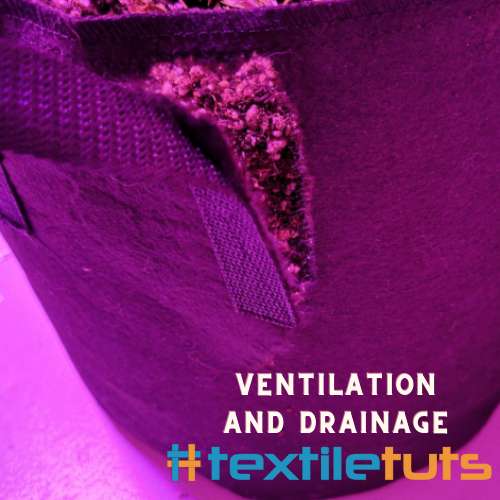 One thing that you need to decipher is that the ventilation and drainage system are correlated. If the ventilation is proper, then the water drainage will be ideal. Removing the excess water while keeping the plants hydrated is essential.
The improved aeration ensures enough allowance for the plants to remain oxygenated while the drainage system prevents the soil from attracting molds.
And this is something you must ensure while purchasing grow bags.
User-friendliness
Make sure the grow bags are easy to move and store.
Frequently Asked Questions
Why should I use fabric pots for gardening?
Well, there is not one but several reasons to choose fabric pots over traditional gardening tubs. For instance, the better ventilation and drainage system, the storage convenience, mobility, weather responsiveness, versatility, etc.
Is it safe to use fabric pots for indoor gardening?
It is! in fact, it's highly recommended to opt for fabric grow pots that are suitable for indoor use. They take up very little space and don't require much maintenance; hence keeping them inside your house or on your balcony feels like a breeze.
What's the right grow pot size for growing potato plants?
10 gallons will do just fine. If it outgrows, you can always keep them on a new grow pot with a larger size. However, 5 gallons grow pots can also work, but for better root structure, you should try larger ones.
Can you reuse fabric pots?
Yes, fabric pots may be reused. However, keep in mind that the pot will wear down and need to be replaced over time. Furthermore, if you're repotting a plant from a previous container, make sure it's completely cleaned before transplanting it into your new one to avoid potential health issues or pests.
What are some of the main materials that are used to make fabric pots?
The materials that are used to craft fabric pots are fundamentally non-toxic and BPA-free materials.
Are fabric pots toxic?
Fabric pots from overseas may contain lead, hazardous dyes, and BPA. When producing plants for food, the potential for chemical contamination is significant.
Is there any specific plant type for grow pots?
No. you can plant all kinds of plants. There's no confinement. And it's literally the beauty of growing pots.
How to clean fabric pots?
Fill a pail or sink with warm water and a few drops of dish soap. Place the fabric pots in the bucket or sink and soak for a couple of minutes. Scrub the dirt and debris away from the pots using a scrub brush. Rinse the pots with warm water until all the soap has been washed away. Allow to air-dry.
Final Words
So, that was all about fabric grow pots. I hope my guide helped clear your concerns. Make sure to give a thorough read to the buying guide so that you can determine the ideal deal for you. Also, if you have any questions regarding the best fabric pots, then feel free to comment below.
REFERENCES