Can I Use Felt Instead of Interfacing?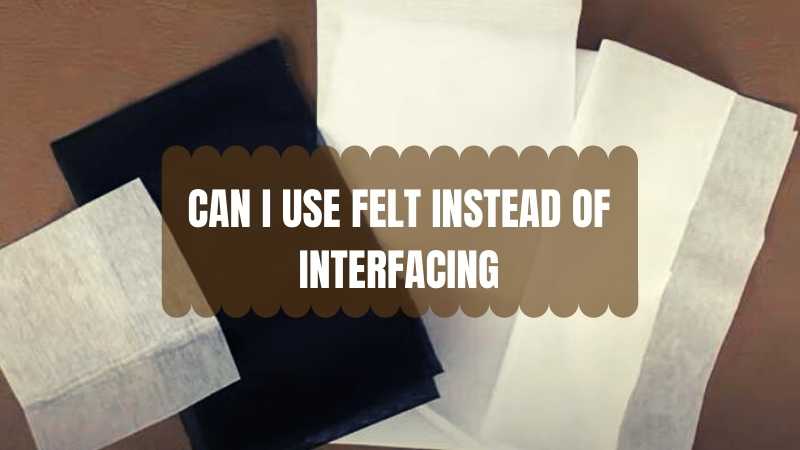 Let's start by addressing your fears. If you're unsure whether felt is a good alternative to interfacing, let me clarify things for you.
When choosing between felts and interfacing, it's essential to consider the specific needs of your project. If you need extra stability or shape, interfacing is the best option; but if you are looking for something to prevent the fabric from shifting or wrinkling, felt maybe a better choice.
In addition, if you are working with a very lightweight or delicate fabric, interfacing designed for heavyweight fabrics may be the best option. Whichever you choose, make sure to read the manufacturer's instructions carefully so that you know how to use them correctly.
When using felt as an interfacing substitute, always try to use only one layer of interfacing (felt). If your project requires more than one layer of interfacing, consider using another option.
Let's discover some other essential aspects about felt –
Some Tips for Using Felt As a Substitute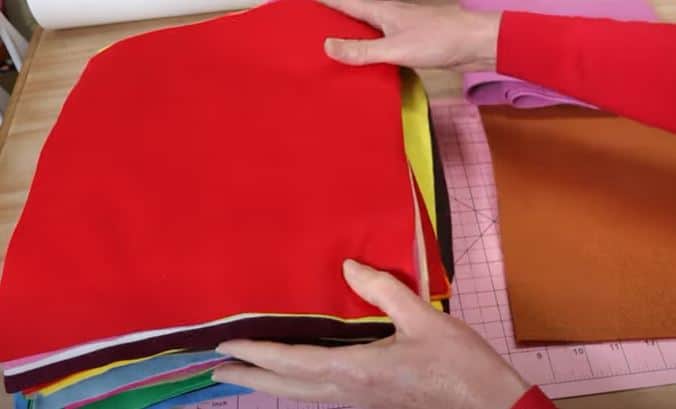 If you use a pattern that requires interfacing, you can use felt as a substitute. Just follow these simple steps:
Cut out your fabric pieces according to the pattern instructions.
Trim the Felt to the same size as the fabric pieces.
Interface the fabric pieces with the felt.
Follow the pattern instructions for sewing the fabric together.
Finish the edges of your project as desired.
Tips to Help You Get Started with Felt
If you're new to working with felt, here are a few tips to help you get started:
Use Sharp Cutting Tools
Always use sharp scissors or a rotary cutter when cutting out your pieces. This will help ensure that your edges are clean and precise.
Use Comfortable Sewing Methods
For most projects, you'll need to sew the pieces together. A primary sewing machine should do the trick, but you can also hand-stitch the pieces together if you're not comfortable using one.
Do Some Exercise with Scrap Felt
If you're not familiar with felting, practicing on some scrap felt before starting your project can be a great idea. This will help ensure that the finished product resembles what you have in mind.
Common Uses of Felt
When working with felts that are intended for use in crafting projects, you should not expect them to behave precisely like interfacing.
However, they can provide many of the same properties, and they can offer similar benefits when it comes to sewing. Here are just a few of the most common ways people use felts instead of interfacing.
1) To Add Structure and Stability
Because Felt is thicker than interfacing, it can help add support and structure to the fabric. This is especially useful when working with lightweight fabrics, as it can help prevent the fabric from stretching or becoming distorted.
2) To Prevent the Fabric from Shifting Or Becoming Distorted
Felt can also be used to prevent the fabric from shifting or becoming distorted. This is especially helpful when working with a pattern that requires precise measurements.
3) As a Patch
If you have a hole or tear in your fabric, you can use a piece of Felt as a patch. Felt is thick and durable, so it can help to reinforce the damaged area and prevent further damage.
4) As a Lining
Felt can also be used as a lining, which can help to add extra protection and warmth to your garment.
5) To Add Structure and Stability to Collars and Cuffs
Felt can be used to add structure and stability to facings, such as collars and cuffs. This is a good choice when the facing keeps its shape after multiple wash or dry cleanings.
Conclusion
If you are looking to replace interfacing with Felt, then definitely no. Even though Felt may seem like the perfect interfacing substitute, there are still some cases when you should NOT use it. It is not as sturdy or stiff, meaning the garment will become misshapen and lose its shape after being worn only a few times.
As you now know, the direct answer to "Can I use felt instead of interfacing" is you may; using the right option will just be easier for you. Additionally, you can gather more knowledge about what is batting and what is batting fabric used for – in case you want to enrich your crafting knowledge. Happy crafting!
REFERENCES