Best Tape For Fabric : Double Sided Ones Only!
The absence of sewing skills even when I am in my mid-twenties bothers me!
Perhaps, the lack of concentration and patience led me towards that inertia that even when I experience terrible wardrobe malfunctions, which can be fixed by some basic stitching, I prefer to abandon my favorite cloth and buy new ones!
But not from today anymore! Because I have found the ultimate cure to patch up the loose hems or fasten my clothes' button gaps without any stitching indulgence.
So, I am pretty confident that you have already heard about clothing tapes, which vastly contribute to the world of fashion and inhibit wardrove inconveniences.
But as there are many fusible interfacing options to choose from, you might feel reluctant to choose the suitable one for you. Hence today, I have lined up the best tape for fabric for you so that your shopping errands become effortless!
6 Best Tape for Fabric – Double Sided Ones Only!
Before I start, let me assure you that the whole review or any assessment of each product is wholly unbiased or free from any promoting strategies. These are my personal evaluation of fabric tapes, which are best for specific aspects. I hope my transparency in assessing each product will help you find your best-suited clothing tapes. Let's get started!
| | | | |
| --- | --- | --- | --- |
| | | | |
| | | | |
1. Braza Flash Tape – Double Sided Clothing Tape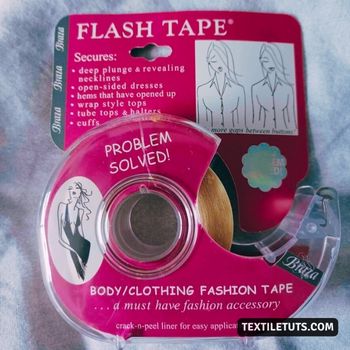 Features
Product Dimension: 5 x 5 x 1 inches
Origin: USA
Adhesive Type: Double-sided
Sold in: Dispenser box
Washing Availability: Machine washable
First, you have Braza Flash tape, which has adhesive on both sides. These fabric tapes are prominent for its mess-free application and capacity of holding your cloth together without causing skin irritation. Its multi-purpose use makes this fashion tape one of the most competent fabric fixes than other trending ones.
When you are dealing with a large piece of cloth, and you are stressing whether your fashion tape can grasp your skin, then rejoice!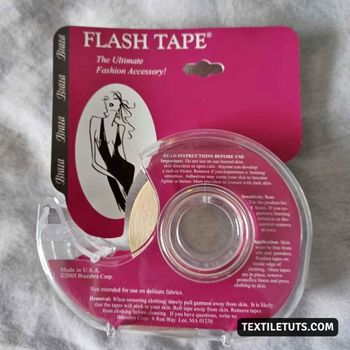 Braza flash tapes allow you to keep your large fabrics in place as these are double-sided! And as I have mentioned before, dispenser tapes come handy when working on a comprehensive project Braza arrives in dispenser tape instead of instant pre-cut types.
It's time to fix your face masks, halters, socks, wrap style crop tops, deep plunge attires with open slits, open hem bras, and lots more!
While you are using these double sided fabric tapes, some precautions ought to be taken! Firstly, don't use them directly on your skin if you have any sunburn or bruises already.
Also, open cuts or other skin sensitives fall under theses precaution. As these tapes are durable and can destroy delicate fabrics, you need to be careful when working with them.
In addition, make sure you don't use them on a moisturized body. Otherwise, the oil of your body will soften the adhesive, and it will come out!
If these are taken under consideration and used properly, then Braza tape for fabric can be your ultimate wardrobe fix companion!
2. Hollywood Fashion Tape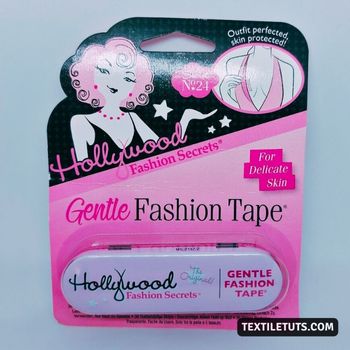 Features
Product Dimension: 1 x 1 x 1 inches
Origin: UK
Adhesive Type: Double-sided
Sold in: Strips
Washing Availability: Machine washable
Girl! It's time to say goodbye to your wardrobe malfunctions or any sort of fumbles! This fashion tape easily fits in your purse so that whenever you face any mishaps, you can do a quick fix and keep slaying all your way! Thus, it's considered to be the best tape for fabric by many.
It not only works great on the 'skin to fabric' aspects but also fabric to fabric fixes. The best part of these fashion tapes is that it's hypoallergenic and remains gentle on your skin. While not causing any irritation to your skin, it also gracefully holds your hemming pants and skirts together!
Moreover, while few fabric tapes start wearing out or coming off when you sweat or apply moisturizer, these adhesive tapes stay firm and rigid. You can rely on it blindly because here you don't have to take a lot of safety measures. In fact, you can just let it stay after using it as it doesn't cause any harm to your cloth when you wash it.
Keep your bra straps from slipping or your shirt button gaps to expose from now on. With these affordable and portable double sided tapes avoid experiencing any awkward wardrobe mishaps.
3. Aleene's Fabric Fusion Tape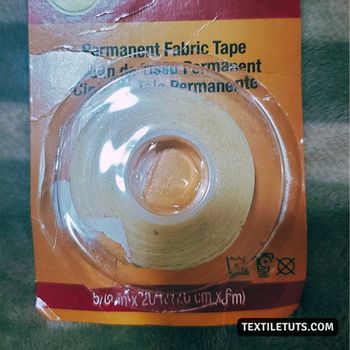 Features
Product Dimension: 63 x 3.75 x 0.3 inches
Origin: USA
Adhesive Type: Double-sided
Sold in: Pre-cut tapes
Washing Availability: Machine washable
This fabric tape is widely known for its invisible appearance! Meaning, when you apply this fabric tape on your cloth its almost invisible to notice! Hence you won't be embarrassed by anyone pointing out the tape lines and having a laugh on it.
Also, these fabric tapes are extremely easy to cut and adheres to your fabric appropriately.
You can just tear it apart and start stabilizing it from the edges without having to contact the stickiness in your fingers because it comes with a liner where you can place your finger and position it effortlessly.
I have said that it's tremendously easy to use because you don't have to carry a scissor to cut them according to your requirements.
You can tear the pieces from the tape roll manually without any trimmer or tweezers. Also, the thinness and clarity of these tapes for fabric are appreciative enough.
If you are looking for the best tape for fabric for hemming pants and something which hides into your cloth without having any squint on it, then this is the one for you!
4. Diravo Double-Sided Fashion Beauty Tape (60 strips)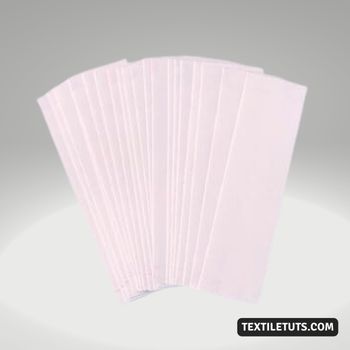 Features
Product Dimension: 71 x 21.65 x 0.39 inches
Origin: USA
Adhesive Type: Double-sided
Sold in: strips
Washing Availability: Machine washable
Diravo presents double sided fabric tapes, which comes with 60 strips yet at a low price.
This strong fabric tape can be used both on skin to skin and fabric to skin purposes.
Hence, if you are hoping to wear an off-shoulder top on a beach party and don't want it to be freaky when you dance, then these fashion tapes will have your back! Surprisingly these fabric tapes have that crystal-clear appearance, which doesn't affect your natural skin color and the cloth you are wearing. The clarity of these tapes makes it ideal for party uses.
Now, coming to its best feature, which is its medical quality, I would say that Diravo's fashion tapes ensure to retain the tenderness and moisture of your skin without causing any irritation or allergy hazards.
Usually, when you are using other fashion tapes for a prolonged time, it tends to stick to your skin very stiffly and starts burning the skin.
Mostly, if you are already diagnosed with skin sensitivities, then other strong clothing tapes might intensify your problems.
However, with Diravo adhesive tapes, I pretty much doubt whether it can hold your cloth for a long time or not as the adhesives aren't that strong as it claims ( based on customer reviews). Still, if you are searching for something safe for your skin, an instant patch for a party, or something that doesn't stretch like cheap double sided clothing tapes, you can undoubtedly rely on these tapes.
5. Fearless Tape – Women's Double Sided Tape (50 Strips)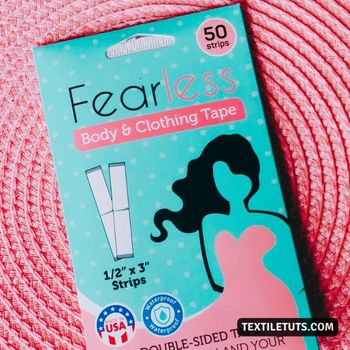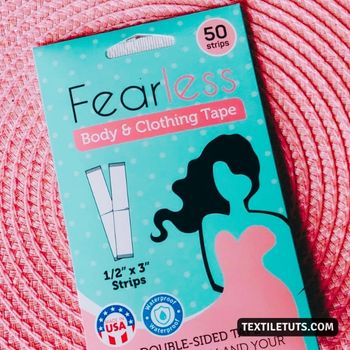 Features
Product Dimension: 6 x 3.5 x 0.2 inches ; 0.8 ounces
Origin: USA
Adhesive Type: Double-sided
Sold in: strips
Washing Availability: Machine washable
As its name summons "fearless," it ensures that all the working moms, teens, and divas walk with confidence without stressing over any wardrobe mishaps or discomforts.
Whether it's a party or your weekly meeting, fearless double-sided fashion tapes allow you to maintain your elegance and personality with its impeccable holding capabilities.
This tape that sticks to fabric is best suited for any type of fabric. They literally go along with soft to heavy fabrics without asserting any internal or external damage.
Also, some double sided tapes for fabric aren't strong enough to hold heavy garments, so you are supposed to use safety pins, or sometimes you may pin them to death to make them stable or in place. This will create holes on your fabric, or the ridges might come out!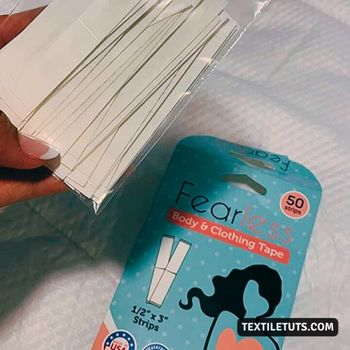 Hence, holding your heavy clothes with competent fabric tape is crucial! And you have Fearless fashion tapes that are not only fabric-friendly but also inhibits any sort of skin irritation.
Moreover, it washes off easily without leaving any excess, rough patches, or residues. Thus, from now on, say "no" to sagging necklines, visible straps, or any abrupt slips because the Fearless tape is going to save you from any sort of embarrassment gracefully.
Lastly, the best thing about these tapes is that they can be used for more extended periods. For instance, if you are hoping for an evening party where you might stay all night or have to stay until dinner, these clothing tapes are the plausible ones!
6. Breast Lift Tape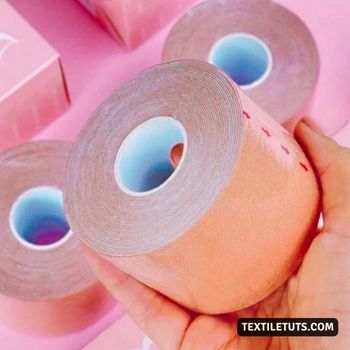 Features
Product Dimension: 5 meter roll
Adhesive Type: Double-sided
Sold in: 10x Instant Breast Lift Tapes + 10x Satin Nipple Cover Concealer
Washing Availability: Machine washable
Having bigger breasts is like every woman's dream, yet its time to be body positive and flaunt your flat chest rather than going through harmful breast enlargement supplements or surgeries.
Hence, it's time to use New Boob Tape, which gives an instant lift to your boobs to wear your deep neck dresses, exposing your cleavage or without having to suffocate yourself with extra heavy pads.
It's also a suitable fit for A to E cups so that you woman with different bust sizes can use them ideally. Initially, these fashion tapes are specifically crafted, focusing on neutral and oily breast skin.
If you have sensitive or dry skin, then it's advised not to use them on direct skin exposure.
Now, whenever you are using these for breast lift purpose, make sure you use more than once lift tapes as it adheres to your breast skin firmly and doesn't cause any discomfort.
Besides, if you feel a little bit reluctant about whether it's capable of holding to your breast skin or it will slip off due to moisture, I will suggest you use more than 2 for utmost security.
Buyers Guide: How to Select the Best Double Sided Tape for Fabric?
If you don't cry over spilt milk, this buying guide will help you take apposite decisions while shopping for fabric tapes! Let's get into it then!
If you don't cry over spilled milk, this buying guide will help you take apposite decisions while shopping for fabric tapes! Let's get into it then!
Material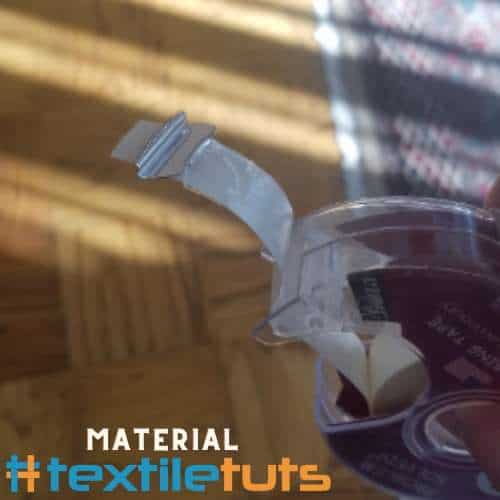 The first thing that you need to consider while shopping for your fashion tape or fabric tape is to assess the material or the fabric itself. You have to opt for those fabrics which come handy while mending.
In other words, some fabrics are too rigid to mend or fix when you make any fumbles. Hence fabrics with better mending attributes will allow you to work flexibly and promptly.
Besides, you need to consider the project you are working on. For instance, if you are trying to fix a heavy fabric or garment, you are supposed to use heavier double sided clothing tape, capable enough to retain the reinforcement or hold your cloth together.
In contrast, if you use these same bulky tapes on lighter clothes as in chiffon, silk, or cotton, then undoubtedly it will distort or catch deformity.
While shopping, make sure you buy fabric tapes with more durable adhesive when the cloth you are working on fabric-to-fabric fixes.
But if you are trying on lighter fabrics, then make sure to buy fashion tapes with minimum adhesive indulgence. Also, there are tapes strategically crafted for sensitive fabrics like chiffon and silk to rectify your wardrobe malfunction accordingly.
Note: Fabric tapes that you want to adhere to your bra strap or any shoulder strap should be safe for your skin; otherwise, skin irritation can occur.
Comfort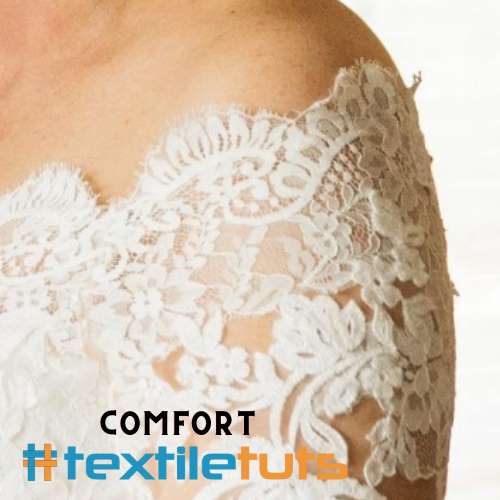 Needless to say, that when it comes to our attire or something which stays in contact with your body needs to provide alleviation or comfort. Hence, speaking of fabric tapes, it needs to yield comfort as well.
For instance, some fabric tapes are, by default, heavy and cause rashes or allergy issues. Sometimes for sensitive skin, it becomes a nightmare. I remember this one time I bought a fashion tape for some quick fix on my bra strap, and that whole night my shoulder itched a lot and causes bumps.
So, when you are shopping for your fashion tape or fabric tapes, make sure it's crafted with quality material and comfort patterns.
Don't make the mistake of buying clothing repair tapes instead of fashion tapes. Their construction is vastly different.
Ease of Use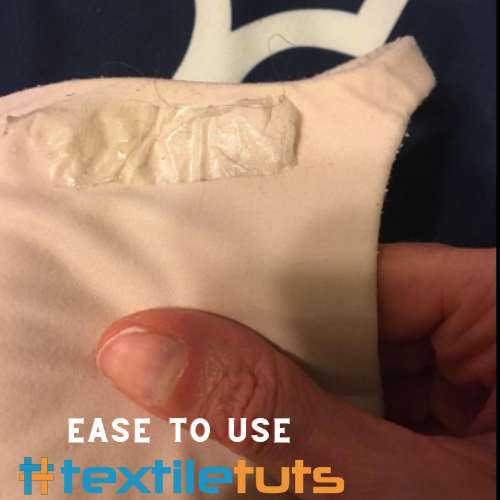 Your fabric tape should be easy to use.
Let's take your bra straps as an example. If you want to fix your bra straps, then it's pretty obvious that the amount of tape it will need is less than other comprehensive projects like deep plunging or open slit dresses. In this case, instant fabric tape or pre-cut fabric tapes will do the math for you.
But when you are working on bigger fixes, you will need a spool dispenser that permits you to wrap your cloth as broad as you want without restricting you to a specific length.
Hence, for smoother accommodation or use, make sure you buy a portable tape dispenser and keep a trimmer or scissor in your arsenal and some pre-cut tapes. This way, you will be empowered to work with diverse projects with flexibility.
Frequently Asked Questions
Do I need extra glue to stick my fashion tape to my skin?
Not necessarily. Some fashion tapes are solely made for the skin to fabric use and some for the fabric to fabric use. In both ways, it's advised not to apply any moisturizer or talcum powder before using fashion tapes because this can soften the adhesive and cause slip off.
So as far as you are following the precautions and using a fabric tape with strong adhesive, you aren't bound to use any fabric glue.
However, Aleen's fabric fusion tapes include a permanent fabric fusion adhesive for supreme stability. So, if you want to use any glue, then you can go for the #3 product mentioned above.
What is the best fabric tape for sensitive skin?
Fearless fashion tapes have incorporated an edition solely made for sensitive skin. However, all the fearless's predecessor or newer editions are safe for all skin types while showing a strong adhesive characteristic.
Which fashion tape is the best for portable use?
Undoubtedly, Hollywood fashion tapes are the most portable ones that easily fit in your pocket or purse!
Can I use fashion tapes as an alternative for duct tapes or hand sewing seams?
Definitely yes! Fashion tapes pretty much work on how duct tapes work for men. If you are hoping to avoid hand sewing the seams of a tie or your bra straps or thigh gaps of your jeans, then surely it will work!
Can I use fashion tapes as an alternative for duct tapes or hand sewing seams?
Definitely yes! Fashion tapes pretty much work on how duct tapes work for men. If you are hoping to avoid hand sewing the seams of a tie or your bra straps or thigh gaps of your jeans, then surely it will work!
Are Braza's fashion tapes permanent?
No. It momentarily hems your cloth without any permanency.
Final Words
Now, if you still have some questions, you can read our previous posts on what is interlining and the types of fusing that are currently in practice. Give those a read if you're more interested in the technical side of things. As far as finding the best tape for fabric goes, I think you have already made your pick.
REFERENCES