Can Fabric Glue Be Washed?
If you've ever used fabric glue to mend a tear in your clothes, then you're probably wondering if it's safe to put them in the washing machine. Can fabric glue be washed?
The answer is yes – but there are a few things you need to keep in mind. If you are using permanent water-resistant fabric glues for hemming, seams, etc., then you can throw them in the washing machine. Otherwise, you need to be a bit cautious!
Today, we will go over the different types of fabric glue and how they are affected by water and heat. We will also provide some tips on how to properly wash fabrics with fabric glue.
How the Fabric Glues Actually Bond Your Seams?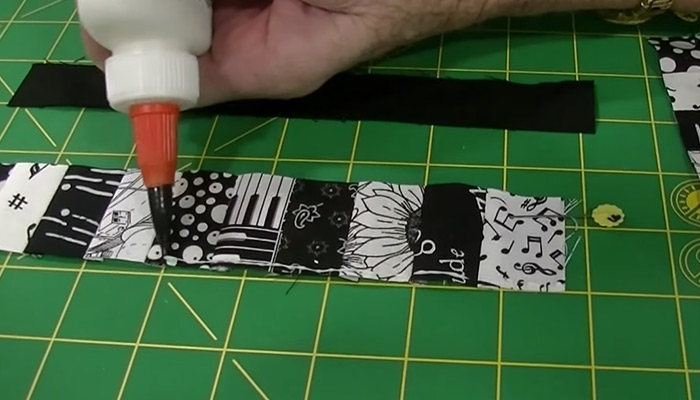 Well, you may think this unnecessary to know but it's important to understand the basics before you jump in and wash fabrics with fabric glue.
Textile fabrics are attached to each other using either of these 4 methods:
Thermodynamic Bonding provides a secure connection between two pieces of textiles. The adhesive penetrates the top layer and generates an unbreakable bond with the fiber material beneath it.
Chemical Bonding, also known as covalent bonding, occurs when the fiber and adhesive interact with each other on a chemical level to form an incredibly strong bond.
Mechanical Bonding offers the added benefit of a secure bond. The adhesive is applied through a water or solvent-based dipping process that hardens after curing, effectively locking the fabric to ensure adherence.
Hydrogen Bonding has the potential to take industrial textiles to a whole new level. By polarizing fibers, an intense electrical attraction is created between adhesive and fiber which facilitates strong bonding.
Most of the fabric glues that are advertised as permanent are made from thermodynamic, chemical, or mechanical bonding. So, if you have a fabric that has been bonded with one of these methods, it's generally safe to put them in the washing machine.
Which Fabric Glues Can You Wash: Identifying Washer-Safe Glues?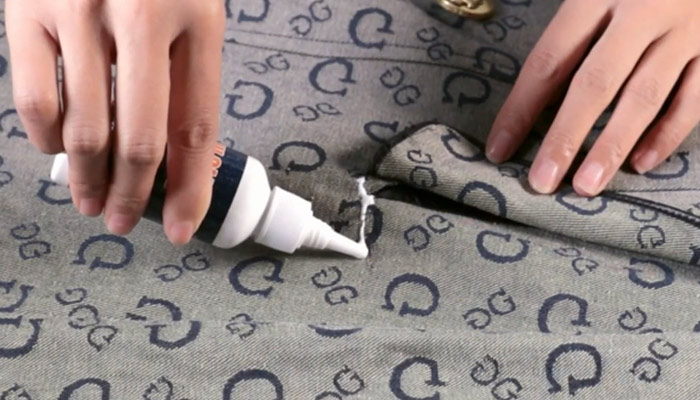 To find this out, you need to read the fabric glue's label and see if it's:
For textiles
Permanent
Water-resistant
Now, some manufacturers will tell you actually which fabric type is compatible with their glue. For example, some glues work well on cotton but can't seem to do well on synthetics.
We have already listed the permanent fabric glues in our previous post. Check it out.
How to Wash Your Garments After Applying Fabric Glues on Them?
First of all, you have applied the glue as instructed and cured it (if necessary). After that, you are ready for washing.
It is important to adhere to the instructions provided on the label of the fabric glue or follow these tips:
Washing with a Machine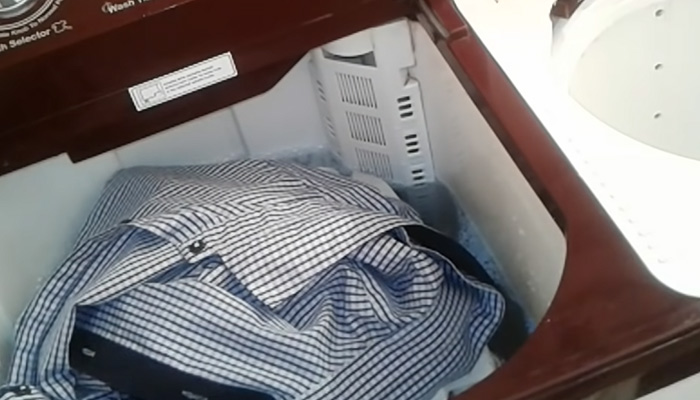 Before washing, always check that all of the edges and seams are securely glued down.
Always use cold water and gentle detergent when washing clothes with fabric glue.
Refrain from using any kind of bleach as it can damage the fibers.
Don't tumble dry the fabric as this could damage the glue bond.
Let the fabric air-dry in a shady spot. If the glue is UV-resistant, then you don't have to adhere to this.
Washing by Hand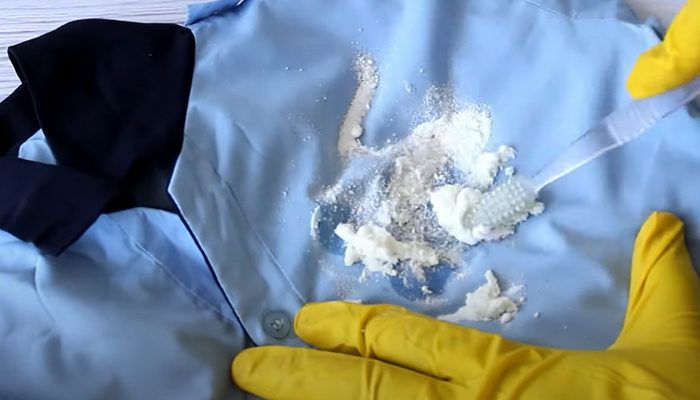 Use lukewarm water in a sink or tub and add some mild detergent.
Soak the fabric for at least 10 minutes.
Use a brush to scrub off any dirt or debris from the fabric.
Rinse with cold water until all of the soap is gone, then allow it to air-dry.
When the fabric is dry, check all of the edges and seams to make sure that they are secure.
If not, you can re-apply some fabric glue if necessary.
These are just some basic tips on washing fabrics with fabric glues. For more detailed instructions, always refer to the manufacturer's instructions on the label.
Are There Any Fabric Glues that Should Not be Washed?
Yes. Some fabric glues are designed to be used temporarily and can be easily removed by simply picking them off or using liquid soap and warm water.
These include fabric glue sticks, which are not meant for long-term use and should not be washed in the machine. It is also important to avoid washing any fabrics with fabric glues that are not water-resistant. These glues will dissolve and come off when exposed to water or moisture, resulting in a mess that can be difficult to clean.
Alternatives to Washing Fabric Glue 
If you are using a non-permanent glue and want the seams to remain intact then you can try spot cleaning and dry cleaning.
Spot Cleaning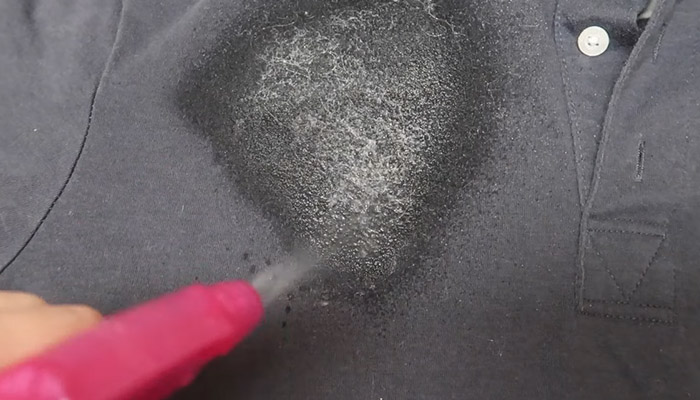 Spot cleaning is a process of using a mild detergent and warm water to clean the affected area. The fabric should be dabbed gently with the solution and then dried in the air. This method can be used for delicate fabrics as it doesn't involve much scrubbing or agitation.
Dry Cleaning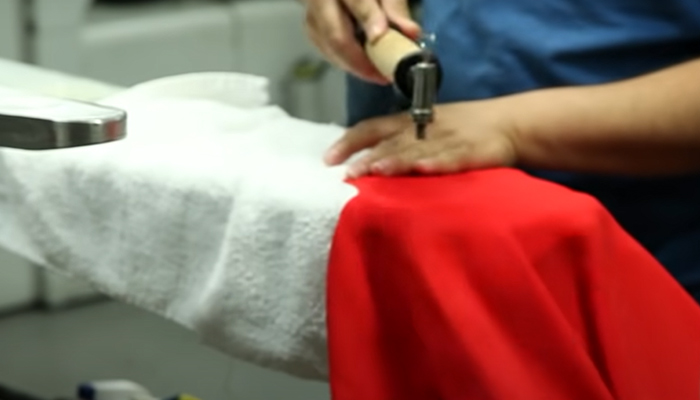 Dry cleaning is a great option for fabrics with fabric glue that can't be washed in the machine. Dry cleaning uses chemicals and solvents to remove debris and dirt from the fabric without harming its delicate fibers. This method is especially useful for sensitive fabrics such as silk, wool, and velvet.
How Strong is Fabric Glue?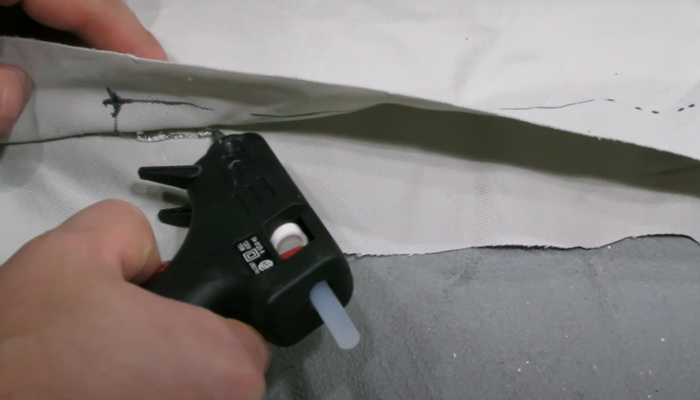 It's important to know how strong a fabric glue is before you use it. Fabric glues are usually categorized by their strength and adhesion capabilities, with some being stronger than others.
The strongest fabric glues are permanent adhesives (for example, water-based acrylic resins) that can provide a secure bond between two fabrics. These glues create an almost indestructible bond and can be used on a variety of fabrics such as cotton, leather, and even synthetics. They are also water-resistant and will not come off in the wash or when exposed to moisture.
Most of these glues can handle 6-8 machine wash cycles easily. If you go fo mild washing, the longevity is even better.
Meanwhile, non-permanent fabric glues provide just enough adhesion for temporary bonds. These glues are best suited for fabrics that require less of a bond and can be easily removed when necessary.
Examples include fabric glue sticks, which are great for hems and patches, and transfer bonding glues, which offer temporary adhesion for appliques and trim.
Can Fabric Glue Be Removed?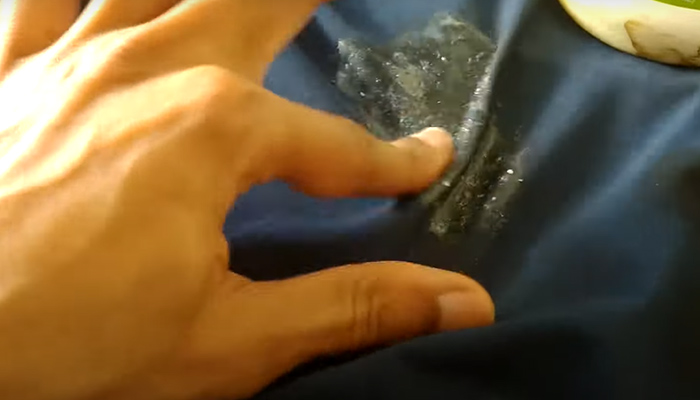 Yes, most fabric glues can be removed by using a combination of water and detergent. For permanent adhesive glues, you may need to use a solvent such as rubbing alcohol or acetone to break down the bond and remove it completely.
For non-permanent adhesives like glue sticks, liquid soap or laundry detergent can be used to dissolve the glue and easily remove it.
For more stubborn glues, you can try using a razor blade or tweezers to carefully peel away the glue from the fabric.
It's important to note that some fabric glues may leave a residue behind, which can be difficult to remove. If this happens, you may need to use a more aggressive solvent or cleaner such as mineral spirits or denatured alcohol. Be sure to test a small area of the fabric before applying the solvent, and always use it in a well-ventilated area.
Is Fabric Glue Waterproof?
Yes, some fabric glues can be waterproof. Permanent adhesives such as water-based acrylic resins are designed to withstand moisture and will not come off when exposed to water or wet conditions. This makes them an ideal choice for fabrics that need to remain sealed in a wet environment.
Does Fabric Glue Work on All Types of Fabrics?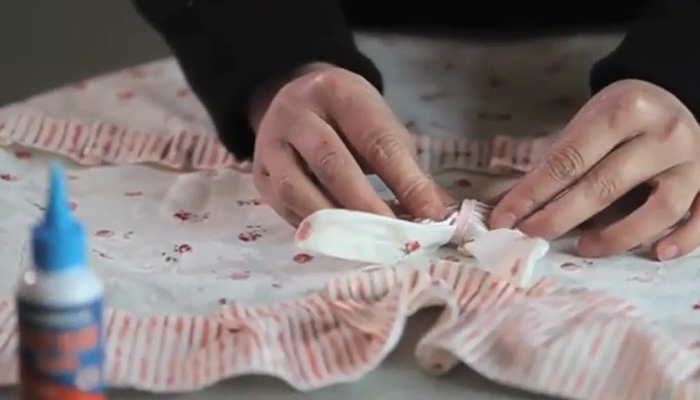 No, fabric glue may not work on all types of fabrics. Some glues may not be compatible with certain fabrics and can cause discoloration or even damage them. It's important to make sure that the type of fabric glue you are using is compatible with the material you're working with. Also, it's best to test a small area of the fabric before you apply the glue.
How Long Does Fabric Glue Take to Dry?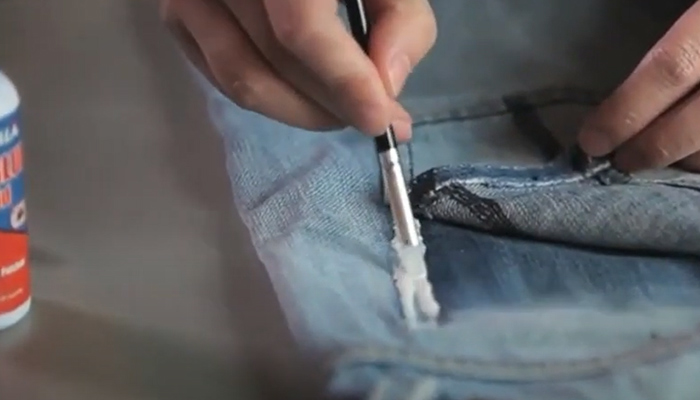 The drying time for fabric glue depends on the type of adhesive you are using and the amount of glue applied. Generally, most fabric glues will take anywhere from a few minutes to an hour to dry completely. It's important to follow the manufacturer's instructions and allow the glue to dry fully before handling or washing the fabric.
Will Fabric Glue Melt in the Dryer?
Generally, no. Most fabric glues are designed to withstand temperatures up to 140℉ (60℃). That said, it is always best to check the manufacturer's instructions regarding heat tolerance before using a fabric glue in the dryer.
It's also important to note that some glues may not be suitable for the dryer and can come off in the wash. It's always best to air-dry the fabric after gluing it, or use a low-temperature setting if you do decide to put it in the dryer.
Conclusion
Fabric glues are a great way to add an extra bit of security and strength to your fabrics. Whether you need a permanent or non-permanent bond, there is a fabric glue that can meet your needs. Just make sure to check the instructions for proper use and heat tolerance before using it on any fabric. With the right care and maintenance, fabric glues can make all of your projects look their best.
Happy Crafting!