7 Best Serger for Heavy Fabrics in 2023
In the world of sewists, a serger is a word surrounded by mysteries. Do I need one? Is it too hard to use? Why not just use a standard sewing machine? In reality, sergers are different from the typical products and can change your whole experience.
That includes more professional-looking, stronger seams without wasting any time. But the suitable option for you can vary depending on your purpose, especially if you're sewing heavy fabrics.
Well then, how do we find the best serger for heavy fabrics? That's what we'll be doing in this article – review some of the top sergers that will give you the best results.
7 Best Serger for Heavy Fabrics
To sew heavy fabrics, you need a serger that ensures quality stitches and prevents fraying over time. Here are the best sergers.
1. Singer ProFinish 14CG754 Serger

Four built-in rolled hems

Spreader and presser feet included

2. Singer Stylist 14SH764 Serger

Portable and easy to carry

Up to 1300 stitches per minute

3. Singer Professional 2-3-4-5 Serger

Five threads for overlocking

Suitable for professionals

Quick and effortless threading
1. Singer ProFinish 14CG754 Serger – Best for Adjustable Thread Count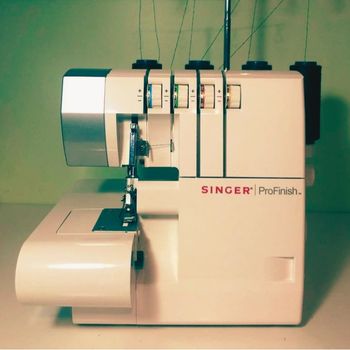 Features
Threading System: Efficient color-coded lay-in system
Seam Smoothing Capability: Yes, with differential feed
Weight: 5 pounds
Threads: 4-3-2 threads capable
Maximum Speed: Up to 1300 stitches per minute
As you know, a serger needs to be quite capable if you're looking to use it for heavy fabrics. For instance, if you want the best serger for knits, it needs at least four interlocking threads. That said,  it's just as important to have the ability to customize everything.
Our first pick – the ProFinish 14CG754 provides you with that ability. As the name might have given away, you get the ability to choose the thread count here, starting from two up to four.
So, if you want to use it for something delicate occasionally, this ability will significantly benefit you. The customizability doesn't end there – it also supports adjustable length and width, allowing for better control.
Moreover, it supports differential feed, meaning you can correct how much or how little the fabric is gathering or stretching.  One of the most noteworthy benefits of these products is their speed, and this one is no exception. We had plenty of fun while using it as a serger for denim sewing as well.
It can provide you with up to 1300 stitches per minute, which will allow you to work at an incredible pace. And, of course, there's the automatic fabric trimming feature, meaning it will automatically cut away the extra seam allowance, just like the best die cutting machine for fabric.
You also get four built-in rolled hems here, enabling you to switch to hemming in a flash. And since you can pick the two-thread mode, you could get rid of that extra thread from the three-thread option, which is especially helpful for lighter fabrics.
Lastly, you get all the necessary accessories like pressure feet, needles, and foot control out of the box. And upon considering the fact that this serger provides all that while being portable, you know that this is a remarkable one.
2. Singer Stylist 14SH764 Serger – Best for Differential Feed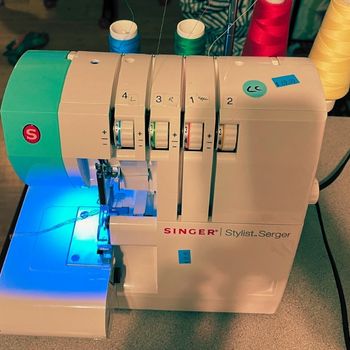 Features
Threading System: Manufacturer's color-coded lay-in system
Seam Smoothing Capability: Differential feed support
Weight: 15 pounds
Threads: 2/3/4 threads capable
Maximum Speed: Up to 1300 stitches per minute
You may have noticed that the fabric will often stretch or gather too much, losing its original shape and resulting in a not-so-ideal stitch. Our next pick comes with the perfect solution to prevent that from happening – differential feed.
Thanks to that bit, you will be able to get an even result without any wrinkling. Now, let's move on to the threads, as they're incredibly crucial if you want to get the most out of your serger. Once again, we get the 2-3-4 capability here.
That means you can use two to four threads on your fabrics, depending on what your project requires. So, imagine having to work on some delicate materials, where you can effortlessly go down to two threads to achieve the look you want.
Another remarkable property related to that ability is the built-in rolled hem. You can effortlessly switch to rolled-hem sewing mode with a lever. Having the ability to control the thread number also enables you to create better hems.
You could take this product along with you as a substitute for the larger machines. It only weighs fifteen pounds and has a carrying handle to make this easier. Another thing many users are scared of is threading the serger.
This product comes with color-coded lay-in threading, making it easy for you to go through the procedure. Moreover, you get the option to change the stitch length and width to better suit your needs.
It can go up to 1300 stitches per minute, which is terrific. And the free arm ensures that you can utilize this speed even when sewing cuffs and sleeves. Finally, the accessories included here hit it home and make it a superb value.
Pros
Portable, easy-to-carry design
Free arm to effortlessly sew cuffs
1300 stitches per minute
Color-coded lay-in threading
Ability to choose the number of threads
Cons
The thread occasionally jumps out
Thread tension is a bit loose
3. Singer Professional 2-3-4-5 Serger – Best for Heavier Workloads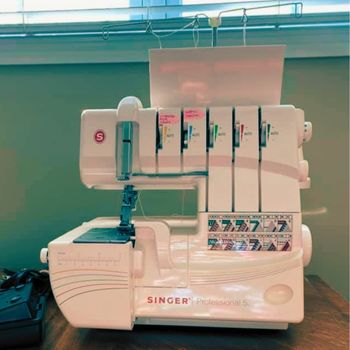 Features
Threading System: Easy-to-understand color-coded mechanism
Seam Smoothing Capability: Differential feed support
Weight: 15 pounds
Threads: 4-3-2 threads system
Maximum Speed: Up to 1300 stitches per minute
The products above are remarkable at what they do. However, if you intend to work on a lot of projects professionally, things might get hectic. And with that comes the necessity of a serger with the capability to handle all that. Enter the 14T968DC.
Let's start with the threads, as overlocking is one of the most crucial parts of a serger. And when you go for even heavier fabrics, you might end up requiring higher thread counts. This product comes with five threads to help you with that.
And having them isn't enough; you also need to be able to control them. Therefore, it allows you to choose any step from two to five, meaning you can work effortlessly with lighter fabrics to much heavier ones.
Like any of the quality sergers from this manufacturer, this one also comes with four built-in rolled hems. You can effortlessly switch to the hemming mode with a lever and create rolled hems with ease.
But that's not what makes it unique – the self-adjusting tension does. This serger has a unique tension system that automatically adjusts to the optimal point. You only need to select the tension setting for the stitch available on the serger's chart.
It doesn't disappoint in terms of speed either. You can get up to 1300 stitches in a minute, which is nothing short of amazing. Coupled with the best thread for sewing knits, you can sew heavy fabrics on this serger without breaking a sweat.
Furthermore, you get 14 built-in stitches along with seven presser feet that maximize the product's capability. It might be slightly costlier in contrast, but the value you get here is still nothing short of remarkable.
Pros
Up to five threads for overlocking stitches
No possibility of fraying
Self-adjusting tension system
It still manages to be compact
Threading is effortless and quick
Cons
It can be somewhat pricier
Not the best for beginners
4. Juki MO654DE Portable Thread Serger – Best for Portability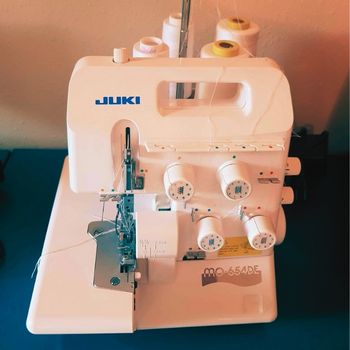 Features
Threading System: Color-coded for quick threading
Seam Smoothing Capability: Differential feed (0.7:2.0 ratio)
Weight: 15.18 pounds
Threads: 2/3/4 threads capable
Maximum Speed: Maximum 1500 stitches per minute
Many of us want a serger to provide us with all the necessities while still maintaining a compact and comparatively lightweight form factor. The next pick on our list will provide you with all that without losing any of the conveniences.
Let's start with the knives, as they play a critical role in ensuring a clean and professional result. You get a high-quality, powerful knife system with a dedicated drive mechanism that cuts off extra allowances with ease and precision.
Remember how we said it doesn't compromise with any of the conveniences even with such a compact form factor? Well, that trend continues once again. As a result, it can achieve up to 1500 stitches every minute.
Moreover, it manages to ensure a decent result even when sewing heavier fabrics. You get impressive precision and control when working with both delicate and thicker materials. Furthermore, it has a max stitch length of up to 4mm, which is decent.
And as we were talking about maintaining the crucial abilities, that trend continues with the threads. You can get up to four of them for your overlocking stitches. Of course, you can choose anything between 2-4, which is convenient.
Remember how we talked about the ability to avoid any wrinkling or stretching on the fabric while stitching? This serger also comes with differential feed with a ratio of 0.7: 2.0, providing you with excellent control.
Now, threading is just as crucial in these products, as that can often ruin the experience. This product comes with a color-coded threading system. Along with the breakaway looper, this feature ensures an impressive array of features.
Pros
A total of four threads
1500 stitches per minute
It can sew heavy-weight fabric
Maximum four-inch stitch length
Color-coded threading
Cons
Durability could use some improvement
Not as fast as the other options
5. Brother DZ1234 Serger – Best Overall Serger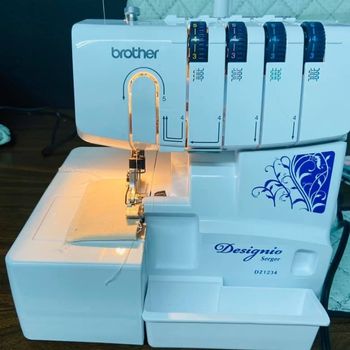 Features
Threading System: Numbered lower and upper thread loopers and color-coded thread guides
Seam Smoothing Capability: Support for differential feed
Weight: 18.1 Pounds
Threads: 3-4 threads capable
Maximum Speed: Up to 1300 stitches per minute
Something that many users often overlook is the stitch length and width. The stitch length will determine how much fabric the presser foot will take every time, while the width refers to how wide your stitches will be.
Our next pick — a quality product from brother — allows for impressive control over that bit. For example, you can select a stitch width anywhere between 3mm to 7mm, giving you great control over the stitches.
One of the most challenging things on a serger is the threading process in contrast to traditional sewing machines under $150. This product does a lot to make things simpler. It comes with color-coded thread guides to give you an idea of what's what.
Moreover, the upper and lower thread loopers are all numbered, meaning you won't have a hard time with this serger at all. To make things more effortless, you get an instructional video as well as a printed manual, which we appreciate.
But enough of those, let's talk about the threads. You can get up to four of them on this product, with the ability to choose any. That means you can get three or four-thread overlocks, which are suitable for heavy fabrics.
Additionally, it's just as effective with hems — you can effortlessly get various styles of hems here. There's also a blind hem stitch foot to improve the experience further. There are more, too, such as a gathering foot and a piping foot.
You also get two sets of starter threads to get you started. Of course, the build quality needs to be just as excellent in a product like this. And that's what it does — the material structure makes it just as fantastic on that side of the spectrum.
Pros
Three accessory feet in total
Up to 1300 stitches per minute
Stitch width around 3.0mm to 7.0mm
Effortless threading with numbered loopers
Both flat locks and rolled hems
Cons
The thread tension needs work
Packaging is not ideal
6. Juki MO644D Portable Serger – Best for Beginners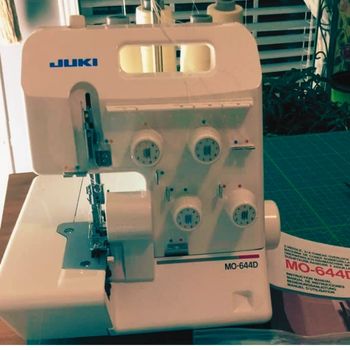 Features
Threading System: Color-coded threading system
Seam Smoothing Capability: With differential feed
Weight: 4 pounds
Threads: 2-3-4 threads capable
Maximum Speed: Up to 1500 stitches in a minute
For many beginners, a serger often feels rather daunting, as the procedures and features can be challenging to figure out. Therefore, an easy-to-understand option is the best choice if you're only starting to dip your toes in this arena.
The MO644D from Juki — a four-thread serger with an impressive build — is an excellent choice if you're a beginner. Moreover, you don't have to sacrifice any crucial features either, as this is a solid product packed with features.
First of all, it provides you with excellent speed even at an affordable price. You can achieve up to 1500 stitches per minute with it — that's faster than many other options. But we do see a bit of compromise in one section, which is handling heavier fabrics.
However, it might not be as capable as some of the higher-end sergers in comparison. But we still think that it provides exceptional performance and value for the price, which becomes more apparent when looking at the threads.
This product comes with 2/3/4 thread options, allowing you to choose one depending on the thickness of the fabric you're sewing. Furthermore, the stitches are pretty solid and prevent fraying over time quite well.
Furthermore, the knife system works just as well in conjunction with that. You get powerful knives that can effortlessly cut away any extra seam allowances, providing you with a clean and durable cut.
As expected from this manufacturer, you get support for differential feed here that allows for excellent stitches. Furthermore, the color-coded threading system and the ability to sew heavier fabrics make it a suitable choice for many users.
Pros
A reasonable price tag
Maximum 1500 stitches per minute
Dedicated drive mechanism knife system
Decent performance with heavy fabrics
Well-suited for beginners
Cons
It might not suit professional purposes
Not many accessories included
7. Janome 8002D Serger – Best for Affordability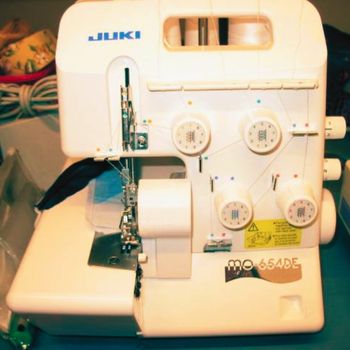 Features
Threading System: Color-coded threading system
Seam Smoothing Capability: Yes, with differential feed (0.5 – 2.25mm)
Weight: 4 Pounds
Threads: 4-3-2 threads capable
Maximum Speed: Up to 1300 stitches per minute
Yes, sergers do cost a tad more than sewing machines. Nevertheless, many of us cannot or might not be willing to pay a fortune on our purchases. But as you can imagine, going down with the budget often exposes you to the possibility of getting mediocre products.
The 8002D by Janome is a serger that gives you all of the necessary features at an affordable price. You lose a bit of capability when it comes to sewing extremely heavy fabrics, but it still manages to pull off a decent result.
And if you're learning how to sew knits with a serger, this product is still more than capable. Now, let's discuss the threading process, which we cannot afford to compromise with. To our pleasure, it comes with a color-coded threading guide.
As a result, you won't have to spend an eternity threading the serger. At this price, we think this process couldn't get any more effortless. And that trend continues with the retractable knife and trimming process.
It does an impressive job of getting rid of the excess allowance and provides a beautiful seam. You can take the blade off if you want to, of course. However, there is one bit that you might miss in this product – a free arm.
As you know, having a free arm allows for an easier time sewing different types of collars and cuffs, which this product does not have. Other than that, its support for a built-in thread cutter and differential feed makes it a versatile and powerful one.
Of course, you get support for up to four threads for your overlocking stitches. Furthermore, you get support for adjustable pressure with the presser feet. And finally, the rolled hem changeover device seals the deal.
Pros
Quality retractable knife
Support for differential feed
Adjustable presser foot pressure
Sews most heavy fabrics
Durable metal working parts
Cons
No free arm
Not suitable for professional works
What to Look For Before You Buy?
There are some parts that you need to know about before buying a serger. And that doesn't only consist of learning about that particular product – you also need to know about other options and how they fare against each other. Here's a brief guide to help you with that.
Sewing Machines vs. Sergers
Before we get into anything else, this is the most crucial portion to understand. You must have a clear notion of your requirements and which product will be the suitable one.
Sewing Machines
A sewing machine is probably something you have a clear idea of. Essentially, these products will stitch two pieces of fabric together. These days, you can find mechanical options which require a bit of manual control or opt for computerized ones.
Computerized machines are suitable for heavier workloads and have extensive controls for better customization. In general, sewing machines cost comparatively less than sergers. But they have some drawbacks as well.
For one, you will only get one thread from the upper side unless you're using double needles (which are less common in contrast). That means they won't be as strong as interlocking stitches. Furthermore, they will leave extra fabric outside the seam.
Nevertheless, if you're looking for a machine for home projects, like a sewing machine for sewing dog collars, then you won't need a serger.
Sergers
Sewing machines and sergers can do many of the same things, surprisingly. It is possible to sew a whole project with either of them, but you'll need to jump through a few hoops. The most significant difference would be the interlocking threads.
Unlike the competition, sergers will have interlocking threads from two to anywhere around eight. That means you will get a much more robust and durable stitch with them, eliminating the possibility of fraying over time. And that's true even for the best inexpensive serger.
Another crucial bit is the blade. Sergers will come with two blades that cut the extra allowance past the seam, allowing for a professional and neat result. However, that also means you can only sew on one side (usually left), while sewing machines can do both.
Threads
Since the interlocking threads are the highlights of such products, it's essential to know the options.
Number of Threads
As we said earlier, the number of threads can vary widely and is primarily dependent on the price range. Having a sufficient number of threads will ensure that the stitches are strong and prevent the fabric from fraying.
Most of the budget options out there will have around two to four threads, with that number turning into five or six as you go up the price ladder. Most users don't need much higher thread counts, and it doesn't always provide a lot of benefits either.
Moreover, some products will allow you to choose the number of threads, which can come in handy. Therefore, try to get up to four threads, which will enable you to get through most projects with ease.
Threading Process
The threading process can often make or break the experience in sergers. You probably know that this is one of the procedures that require much more work in contrast to the standard sewing machines.
Fortunately, the threading process has become much easier over time, requiring less work and causing less frustration. It would be best if you keep an eye on the product's threading process, as it might cause many headaches.
You can even find self-threading sergers these days. That means you don't need to go through the tedious process; instead, all you need to do is guide the threads in the right places and press a button. If your budget allows for it, these are the better options.
Budget
The price for a serger is something you should think about. Generally, you will find that these products are a bit more expensive than your traditional sewing machines. Of course, what you get will undoubtedly affect the price and vice versa.
You should try to maintain a balance between the number of threads, the threading process, and additional features if you're on a budget. We suggest not opting for very old models for a low price, as they might cause more trouble than what they're worth.
Difference Between 2-thread, 3-thread, 4-thread, 5-thread Serger/Overlock Machine
| Overlock Stitch | Stitch Type | Needles and Loopers | Uses | Notes |
| --- | --- | --- | --- | --- |
| Two-thread | 503 | 1 needle, 1 looper | Finishing seam edges and allowances, serging edges on men's slacks, lightweight fabrics, or decorative threads, active wear, elastic and lace, hems | Has little effect on fabric drape, not suitable for seaming |
| Three-thread | 504 | 1 needle, 2 loopers | Finishing edges, seaming budget garments, knits and wovens (not in areas that receive stress) | Same appearance on both sides, excellent stretch and recovery, narrow bight |
| Four-thread | 504, 512, 515 | 2 needles, 2 loopers | Chain stitch, safety stitch, serged seams | Can be converted to two and three thread overlock |
| Five-thread | 516, 605 | 2 needles, 3 loopers | 2-thread chain stitch, 3-thread overlock, rolled edges | Durable seam, particularly for wovens, wide seam width |
Difference Between Portable and Commercial Serger
| Feature | Portable Serger | Commercial Serger |
| --- | --- | --- |
| Price | Less expensive | More expensive |
| Versatility | More versatile | Less versatile |
| Size | Smaller | Larger |
| Ease of servicing | Easily serviced | Less easily serviced |
| Sewing speed | 1,500 stitches per minute | Up to 8,500 stitches per minute |
| Mounting | Set on top of table | Permanently mounted on table |
| Differential feed ratios | Limited range | Greater range |
| Knee lift | Not available | Available |
FREQUENTLY ASKED QUESTIONS
1. Are sergers better than sewing machines?
That depends on your perspective. But sergers are indeed much more effective in many cases. For instance, they cut away extra allowances past your seem, which is handy. Moreover, they're better suited for knit fabrics and stretchy materials like spandex. They're also better at preventing fraying.
2. Which is the best brand for sergers?
There are a vast number of brands producing sergers. Some of the best options would be Singer, Brother, Juki, and Janome, who make exceptional products. Moreover, other brands like Pfaff, Bernina, or Baby Lock also have an impressive line-up.
3. Do I need a five or six-thread serger?
For most users, a five-thread serger isn't necessary. You might feel tempted to opt for those models thinking they'd be that much better. However, you'll not use it nine out of ten times in typical workloads. Hence, a four-threaded serger is perfectly fine unless you know that you'll require more.
4. Where can I buy a serger without blades?
You don't need to do that because most sergers allow you to take the blades off if need be. It's rare to see products that don't have that capability. Nevertheless, you might want to reconsider your choice if it's because it feels daunting. Using these is effortless, and there's isn't much chance for accidents.
5. Do I need a serger if I own a sewing machine?
We would suggest that you do, especially if you want to save time and get better results at the expense of fewer work hours. A serger will provide you with stronger stitches in many cases, prevent fraying even in delicate fabrics, and give your seams a clean and professional look.
Final Words
A serger can be a blessing for you if you work with heavy fabrics and want to achieve high-quality stitches that look professional and eliminate fraying. And the products above should help if you want the best serger for heavy fabrics.
REFERENCES