4 Best Serger for Denim in 2022 | Top 4 Picks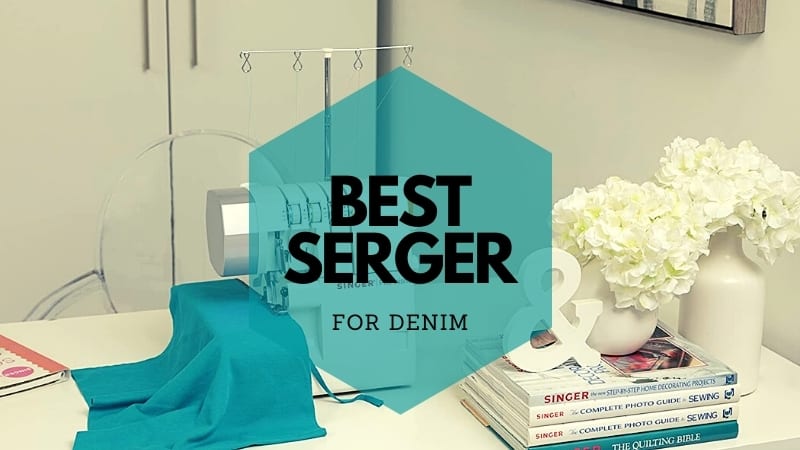 Since their humble beginnings as long-lasting work pants, denim garments have taken the world by storm. From trousers to skirts and jackets, these fabrics are everywhere, and with good reason – they're sturdy, stylish, and comfortable.
But thanks to that sturdiness, not all sorts of machines or sergers can provide you with a decent result when sewing denim. Hence, it's no wonder that people often find it daunting to find the best serger for denim.
To alleviate your issues, we have tried out some of the best sergers and figured out which of them will give you the most benefit. So, let's get on with it.

4 Best Serger for Denim
Working with denim requires a heavy-duty serger that can handle everything with ease. These are the best sergers for your purpose.
Color-coded upper thread guide

2. Singer ProFinish 14CG754 Serger

Up to 1300 stitches per minute

Efficient color-coded threading

Five threads for overlocking

Adjustable stitch length up to 4mm

Differential feed (0.7:2.0)
1. Brother Serger, DZ1234 – Best for Beginners
Features
Overall Speed: 1300 stitches per minute
Threading System: Color-coded upper thread guide and lower looper threading system
Number of Threads: Three or four threads
Product Weight: 18.1 pounds
Control for Front/Rear Feed Dogs: Differential feed
Our first serger comes from one of the veterans of the industry — Brother. They're one of your safest bets regardless of whether you want the best serger for knits or denim. The DZ1234 comes with a heavy-duty build with remarkable features.
Let's start with the speed it can achieve, which is a crucial element. To our pleasure, it can provide you up to 1300 stitches every minute, giving you remarkable speed. And you can also control the pace with the included foot pedal with ease.
But let's get to what makes this product such a suitable one to sew denim. The first reason would be its quality build. It uses a metal frame that gives it the strength required to handle multiple layers of denim.
Not just that, but its thread count also gives it the ability to stand out. The three/four threads you can use with this serger will allow you to sew through denim with ease, and that too with multiple layers.
Of course, you would require the best thread for sewing stretch fabrics or denim to get the best performance. Moreover, it performs just as well regarding the threading process, which is the arch-enemy for many sewists.
Now, one of the most significant benefits of having a serger is real-time trimming. This one will also trim the allowances beyond the seam to give you a clean result. You can also remove it if you want.
Pros
Up to 1300 stitches per minute
Effortless threading
Included accessory feet
Durable metal build
Not too heavy
Cons
Bit noisy, even after proper lubrication
2. Singer ProFinish 14CG754 Serger – Best for Portability
Up next, we have the 14CG754 from Singer — one of the biggest names in the sewing industry, and it shows why. It doesn't matter if you want to accomplish lightweight or professional tasks; this one will serve your purpose.
One of the trickiest bits that you might face is sewing parts like cuffs, as it's tough to reach them all the way. Therefore, it's necessary to have a free arm, which essentially allows you the space required to do that with ease.
This serger provides you with the optional free arm to allow you to choose. Moreover, it doesn't lack anything in terms of speed either. As a result, you can achieve up to 1300 stitches with this product.
However, that speed wouldn't be of much use if the product's quality is not up to par, as it won't be able to handle the pressure. To our pleasure, this product boasts a quality metal frame that can even sew through heavy denim.
Another impressive side is its portability. Firstly, it weighs only 13.5 pounds, even with all of its customizability and features. Furthermore, it comes with a carry handle on top, allowing for effortless carrying.
You get a total of four built-in rolled hems for better customizability. It also allows for adjustable stitch lengths, making it well-suited for denim. Lastly, the 2/3/4 threads capability gives you total control over your results.
Pros
Necessary accessories included
1300 stitches a minute
2-3-4 threads
Support for differential feed
Efficient automatic trimming
Cons
The blade isn't the best for thick layers
Difficulties with troubleshooting
3. Brother 1034DX Serger – Best for Stitch Length Control
To no one's surprise, we have yet another product from Brother at this point — this time, it's the 1034DX. This product suits most people thanks to its easy-to-understand user interface and included instructional videos.
Let's start with one of the most vital elements of sewing denim — stitch length. If you have a stitch length that's too short, you will probably end up with a broken thread. That is why this product gives you that control.
You can choose the length to be anywhere between two to four millimeters, which is extremely useful, especially for thicker and heavier fabrics. You also can choose the overlock seam width, which ranges from five to seven millimeters.
Now, onto the next crucial bit — the thread count. This serger gives you two options regarding that — either three or four threads. While having the ability to opt for two allows for better flexibility, you won't need it for denim.
When you combine this thread count and the adjustable stitch length, you know that this is one of the best sergers in the market. Surprisingly, you might even find this product among the top sergers for stretch fabrics.
That means you could use this product's versatility to your benefit even if you want to know how to sew stretch fabrics with a serger. But let's get back to the topic at hand — it comes with three feet, including a gather and blind feet.
Pros
Stitch length is 2-4mm
Support for free arm
LED work area
22 built-in stitches
Straightforward user interface
Cons
Rolled hems are tougher on thick fabrics
Somewhat loud
4. Singer S0230 Made Easy Serger – Best for Affordability
We realize that not every sewist wants to or can afford to spend a sizeable chunk of money on a serger. Therefore, we think it's necessary to have an option that gives you all the essential abilities without leaving a dent in your wallet.
It's still so versatile that you could learn to sew spandex with a serger with it, but we'll talk about what it needs to do here — sewing denim. Let's start with its ability to control the feed dogs.
As you know, the serger must be able to keep the fabric from stretching or gathering too much, and that's where the differential feed comes in. It controls the feed dogs and gives you a consistent result.
Furthermore, the thread counts make it even more suitable. You get the ability to choose between two, three, or four threads here. As you can imagine, the overlocking stitches with higher thread counts will give you excellent stitches.
And the list doesn't end there. It also allows you to use the free arm, which means you can effortlessly stitch trickier and hard-to-reach portions of the garments. Moreover, it doesn't lack anything regarding speed either.
You can get up to 1300 stitches per minute, which is on par with more expensive options. Not only that, but you can also adapt its thread tension and stitch length according to your needs. That's why it's often regarded as the best serger under 300 dollars by many.
Pros
Reasonable price tag
Support for differential feed
Free arm improves convenience
Adjustable stitch length
Movable upper knife
Cons
A tad heavier
Finding replacement blades is challenging
Things to Consider Before Buying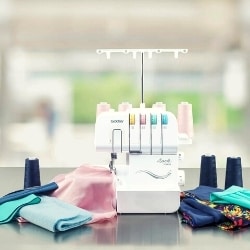 Getting a serger for denim isn't the same as choosing a sewing machine for light fabrics, as it comes with its implications. Below is a brief guide that'll help figure out what you should look for and serve your use case well.
The Motor
First off, you need to have a serger with a powerful, durable motor to ensure that you can sew denim fabrics. That's primarily due to the way manufacturers produce denim. Even though denim is essentially a cotton fabric, the way it's woven makes all the difference.
This kind of sewing is generally known as the twill weave. That's what makes denim so much thicker than your typical cotton fabric and gives it its hard-wearing capabilities as well as the unique look.
Therefore, your product must have a powerful motor that can handle at least a few layers of denim.
Needle
As we've already mentioned many times, denim is much thicker than your standard fabrics. It makes sense that you would need stronger needles to penetrate it. Generally, these needles are wider on the upper portion but thinner on the tip.
That means you can achieve better penetration with the needle's thin and sharp edge, while the thicker top will reinforce it and allow it to hold its own against a few layers of denim.
Having your serger come equipped with a needle (and other components necessary to sew denim, for that matter) would be more convenient than having to figure everything out by yourself.
Stitch Length Options
We're back to discussing denim's properties, once again. As you can imagine, a shorter stitch length would mean that the needle will have to sew more often with less room to allow the stitch to have enough strength.
Having too short a length would expose your stitches to the possibilities of snapped threads (or even a broken needle), so keep that in mind.
Presser Feet and Higher Pressure Foot Lifter
A presser foot is rather crucial regardless of what you sew. This little attachment holds your fabric in place, keeps it flat and free of wrinkles, and feeds it through the needle and then the machine. There are a vast number of options.
For instance, you can find multi-purpose feet, zigzag feet, and so on. If you want, you can find some options that come with presser feet intended for denim or jeans. Otherwise, you can undoubtedly make do with a walking foot.
Another crucial bit is having your hands available to control and guide the denim while sewing. That's where a higher presser foot lifter comes in handy.
Frequently Asked Questions

Is it possible to sew denim on a standard sewing machine?
We realize that not everyone can afford the best serger for thick fabrics or want to. Technically, you can sew denim with your sewing machine. However, it can be pretty tricky in some cases, especially if you're sewing comparatively thicker fabrics.
Is it necessary to wash denim before sewing?
Denim will shrink to some extent upon and run a bit of color upon washing. Hence, it's always a good idea to prewash denim before you sew it. You can also find sanforized denim in the market, which is a prewashed denim and has minimal shrinking.
What kind of thread should i use to sew denim?
As you can imagine from the discussion thus far, you'd need a heavier thread for this purpose. Generally, we recommend using topstitching or upholstery thread, which are strong (if you've only got regular ones, use two threads as one.
How should i modify the serger settings when sewing denim?
Firstly, make sure you've got a suitable needle, as having the wrong one can render every functionality useless. Now, the most important part to notice is the stitch length, as too short is terrible. You'd want to keep the distance around 3.5 to 4, which is optimum.
Is it possible to sew denim with your hands?
Well, technically, it is possible for you to hand-stitch denim. But whether that's a good idea is a different question. For one, it can be somewhat tedious and challenging, and cutting seams would be even tougher. Still, you can occasionally do it for purposes like sewing hems. But we would recommend a digital fabric cutting machine any day of the week.
Final Words
Sewing heavy fabrics such as denim can often be somewhat challenging, especially if you're just getting started. And finding the best serger for denim can be even trickier. The products above are some of the safest bets you can opt for, so pick one and enjoy.
REFERENCES