5 Best Batting for Hand Quilting
No one understands the importance of the right batting more than a hand quilter – and if you are into hand quilting, then you know that settling down for just about any batting is not on the table.
But you might think, with so many options out there, it is rather difficult to differentiate between the best batting for hand quilting and the not-so-good one.
We are here to prove you wrong, of course – because we have spent hours on research picking the battings that are made for exceeding expectations. Whether you want a cotton batting or a woolen one, the options are right here for you.
Types of Batting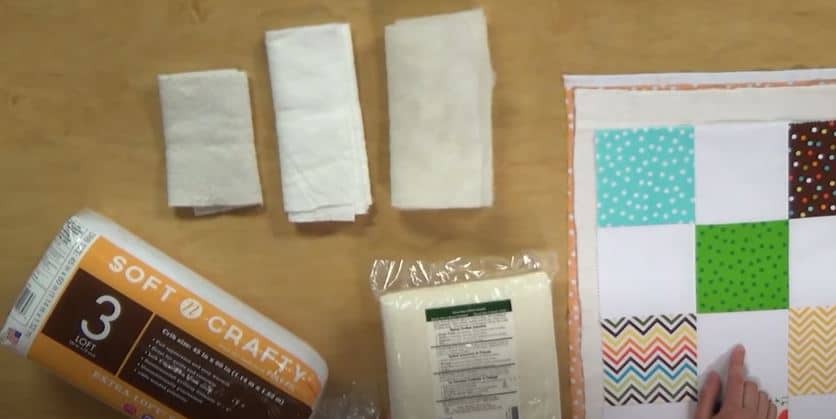 Before you decide to get a batting for hand quilting, you should get acquainted with the types of batting out there – which we will discuss right here. FYI, batting is known as wadding in the UK. You can learn what is wadding in sewing from our previous post.
Cotton Batting
Made of natural fibers, and is mostly preferred because of the softness and comfort that it offers.
Polyester Batting
This can hold its definition and thickness well; despite being thick, it is lightweight.
Wool Batting
Wool battings are lightweight options that are mostly used for the warmth that they provide. Not only is it natural, but it is also lofty, and it holds its shape pretty well.
Cotton/Poly Blends
This type of batting comes with the benefits of both cotton and polyester. It is made of 80% cotton, and the rest is made of polyester.
Bamboo Batting
Bamboo batting is made of half bamboo and half cotton. It comes with several benefits that make it ideal for machine quilting – but can be used for hand quilting too.
Fusible Batting
These battings contain a fusible web that will let you baste layers together for different types of quilting projects.
Needle-Punched Batting
Needle punching makes the batting more durable, denser, and firmer as well.
Bonded Batting
Bonded batting usually comes with light adhesion on both sides for the purpose of holding the fibers together.
5 Best Batting for Hand Quilting
Finding the best batting for hand quilting is no easy task – but we are here to make it simple for you. Go through our reviews and find the one for you.
1. Hobbs Tuscany 100% Washable Wool Batting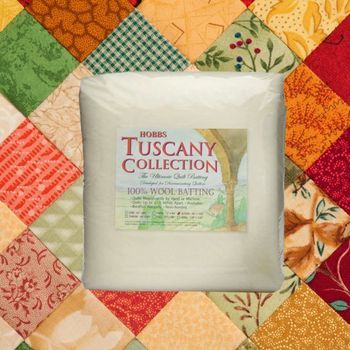 Features
Material: Wool
Size: 96 x 108 inches
Weight: 1.4 Pounds
Washable: Yes
Special Feature: Resin Bonded
If you are looking for a batting that can hand quilt like a dream, then here is the one you shouldn't miss out on. It comes with a number of amazing features that will make you regret not getting it earlier – find out more right here!
No matter which project it is that you will be using it for, the results will always be top-notch. What makes the thick batting so great is that it is capable of eliminating most or all of the shrinkage.
On the other hand, with this product, you don't have to worry about retard bearding at all. It has been resin bonded and carded to resist that – so you can start using it right away.
When it comes to insulation, this is the right quilt batting. It will provide insulation like none other – making it the quilter's dream wool batting. Even a silk batting wouldn't come close to this.
Moreover, you can totally wash it in a washing machine without any hassle – making it ideal for quilt tops. And it can be hand quilted up to 4-inch apart, which makes it super convenient for all types of projects, including baby quilts.
Verdict
This batting can hand quilt better than expected, and its insulation makes it the best batting for potholders.
2. Hobbs HF90 Batting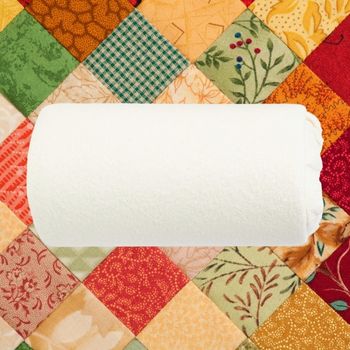 Features
Material: Cotton and Polyester
Size: 90 x 108 inches
Color: White
Weight: 1.6 Pounds
Special Feature: Lightly Needle Punched
Are you looking for a batting that can be both hand and machine quilted? Then you should get introduced to this versatile batting right away! It comes with remarkable batting fibers that will significantly enhance your quilting process.
The batting is made of the perfect material – 20% polyester and 80% unbleached cotton. With this ideal combination, you will get the properties that you have been looking for in your dream batting.
For better hand quilting results, the batting has been lightly resin bonded with light needle punching as well. These features will let you hand quilt perfectly without putting in much effort.
Moreover, the batting has a heat-activated fusible. To make it better, the fusible web is on both sides. However, you can also get rid of the fusible after washing it once.
For more variety in your projects, this batting will let you hand quilt it up to 4-inch apart. Hence, you can use it for your backing fabrics (ex. batting for placemats), wall hangings, tied quilts, bed quilts, and even whole quilts.
Verdict
This is a versatile batting that can provide top-notch results whether you are using your hands or a sewing machine.
3. Mountain Mist Quilt-Light Polyester Batting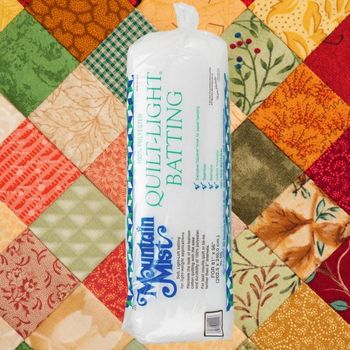 Features
Color: White
Material: Polyester
Size: Full 81 x 96 inches
Weight: 14.4 Ounces
Special Feature: Reduced Loft
If you don't want to spend your money on the wrong batting again, then you need to make sure that it is worth the investment. And here is one poly batting that you will never regret investing in because it provides great value for money.
For hand quilting, you need a batting that is lightweight – otherwise, it can be difficult to do it the way you want to. Thanks to this lightweight batting, you can explore various quilt patterns and use them for your summer quilts.
The reason behind the lightweight batting is the reduced loft – which also provides an old-fashioned appearance. This aspect will make your thinner quilts even better than expected.
Now, none of this is possible without the perfect material. And that is why this one has been manufactured using the top-notch one – polyester. This will allow you to make table runners or go for finished quilts and square quilts.
Moreover, you can hand quilt it or tie it up for up to 5 inches apart. For a light loft, you will be getting about 1/8-1/4 inches – allowing you to make quilting stitches easily.
Verdict
This polyester batting is perfect for hand quilting with its reduced loft.
4. Mybecca Quilt Batting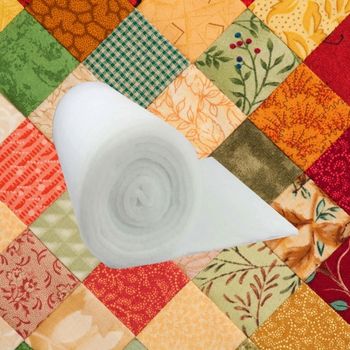 Features
Size: 5 Yards
Color: White
Weight: 1.98 Pounds
Material: Polyester
Special Feature: Vacuumed and pushed
Never hand quilted a batting before? Well, with this product, there is nothing for you to worry about. It will let you hand quilt professionally without any prior experience. Find out more of what it has to offer right here.
This batting is one long piece – so you will have to cut it for your projects. Now, the process of cutting it is rather effortless. Therefore, you will be able to use the low loft batting conveniently.
On the other hand, you will be able to put this batting to tons of creative uses. Starting with decorative pillows, you will be able to use them for your upholstery projects as well as tied quilts.
The material of this product will let you hand quilt the perfect batting. Polyester is perfect for lightweight yet efficient hand quilting. Therefore, there will be no room for you to be disappointed.
This product will surely provide a rounder finish with a smooth texture. Not to mention, you can use it in different ways and add the thin layers of it to foam as well – making it highly versatile.
Verdict
This batting will provide professional results even if you are a beginner at hand quilting.
5. Warm Company Warm & Natural Cotton Batting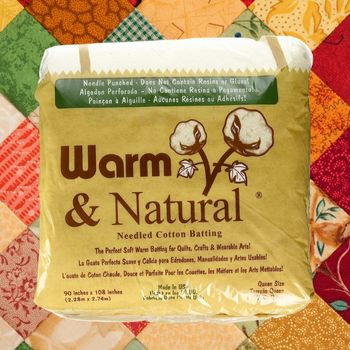 Features
Material: Polymer fibers and cotton
Size: Queen size – 90 x 108 inches
Weight: 2 Ounces
Colour: White
Special Feature: Needled
It can be difficult to find a batting for hand quilting that provides softness and a lightweight texture in equal parts. However, this product provides that along with a lot more – making it a quilter's dream batting.
The queen size of the product will let you use it for a lot of your projects – practically, you may never run out of it! This aspect makes it one of the best quilt batting options.
Moreover, you don't have to worry about this batting separating, bunching, or bearding. It will remain perfect as you hand quilt it – making it absolutely ideal for its users.
On the other hand, the material has been punched with tons of needles as well. The benefit of this aspect is that the batting will never tear, shift or migrate – so you can use it without any worries.
What makes the batting even better is that the fibers in it hold together well, even without glue. As a result, your hand quilting needles will pass through the batting with ease.
Verdict
This soft batting for hand quilting will always provide what's needed for your projects and works well with dark fabrics for making art quilts and throw quilts.
How to Choose the Best Batting for Handing Quilting
Whether you are a beginner or a professional when it comes to hand quilting, you are probably well aware of the importance that battings pose in these types of projects.
And hence, you are also aware of how you cannot really afford to buy the wrong product – you should think your decision through before you pick one from your local quilt shop.
But, don't worry, we have already done the research for you, and we have also made a list of all the factors that you should consider when you are about to purchase a batting. Go through them, and you cannot go wrong with your purchase.
What Type of Batting Is It?
The most important factor that you should look out for is the type of batting that you need according to the uses of batting fabric.
We have a section in this article that is dedicated to the types of battings out there, and you can easily choose from that.
Is It Soft or Tough?
For hand quilting, soft battings are always preferred over tough ones.
Hence, you should go for cotton or wool battings if you are not planning on machine quilting.
Is the batting lightweight or dense?
Again, for hand quilting, lightweight batting will always win.
Dense battings can be difficult to quilt by hand, and you may not be able to make quilting lines efficiently with them.
Can the Fabric Hold Well without Glue?
It's not a bad thing if the fabric uses a little adhesion to stick together. But it's not a good thing either for hand quilting.
Try to choose battings that require no glue whatsoever because those will provide a beautiful drape. However, for sewing purposes, you can always pick an adhesive from our quilt basting spray reviews.
Can I Use It As a Beginner?
If you haven't used battings before, then you should check if it is easy to use.
Even with all the instructions for hand quilting, you might have a hard time with the wrong batting.
What Kind of Finish Does the Batting Have?
This aspect totally depends on the kind of finish you are expecting from your projects.
If you want more definition – go for that. If you want a rounder finish, you can choose that as well.
Frequently Asked Questions
What kind of batting is best for hand quilting?
Cotton and cotton/poly blend batting are two of the best kinds of batting for hand quilting. Especially if you are a beginner, you will find these two materials much easier to work with.
Is wool batting good for hand quilting?
Yes; wool is a soft and lightweight material that is very suitable for hand quilting. In fact, it is close to being as good as cotton, even if they are not in the same league when it comes to hand quilting.
Is hand quilting better than machine quilting?
Machine quilting is surely easier than hand quilting. But hand quilting can lead to better results if done by a professional.
What is the most popular material for hand quilt batting?
Cotton is the most popular material for hand quilting. However, wool and bamboo have been gaining popularity, and people have been using them more often for hand quilting projects.
Are quality quilting fabrics really that expensive?
Quilting fabrics are expensive, but they are well worth the price. These fabrics typically also have a higher thread count and a softer feel, making them more comfortable to work with and easier to stitch.
How much should you spend on batting for hand quilting?
Batting for hand quilting has a wide range of prices, and you can easily pick a budget from the range. In general, you will find a great batting within 15-20 dollars only.
Final Words
All the battings reviewed in this article are absolutely fantastic and will live up to your expectations. But the Warm Company Warm & Natural Cotton Batting is on a different league – making it the best batting for hand quilting.
Along with softness and no bearding or bunching, this batting provides all that you need to get the best out of your hand quilting project.
REFERENCES