5 Best Batting for Potholders
Have you ever burnt your hand while taking a hot pan out of the microwave oven because the potholder was not insulated enough?
Store-bought potholders can't be as reliable as the ones you make yourself – but the task of making them requires battings that are up to the mark. And if you are trying to find the best batting for potholders, then you have arrived at the right place.
Whether you need one that is microwave safe or one with a soft texture, we have it all for you. Take five minutes out of your busy schedule and get the perfect batting just like that.
1. Insul-Bright Insulated Lining

Breathable and does not break down


Has a variety of applications


Ideal for crafters and home sewers

5 Best Batting for Potholders
Potholders require the best kind of batting – and if you haven't had any luck finding the perfect batting yet, then you should totally check out our reviews.
1. Insul-Bright Insulated Lining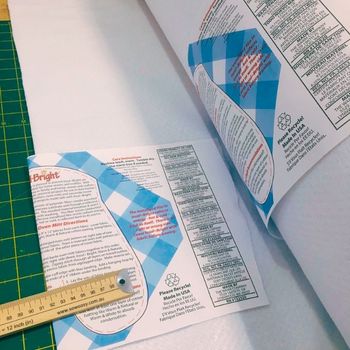 Features
Size: 36 x 45 inches
Weight: 14.4 Ounces
Material: Insulated Material
Washable: Yes
Special Feature: Needle Punched
Are you a home sewer or a crafter who has taken up a new potholder project? In that case, you need the perfect batting. And what could possibly be more perfect than insulated lining in this case?
The material has been needle punched for further convenience for the users. As a result, you can hand quilt the batting if you want to – and use it for your home projects, which includes making potholders.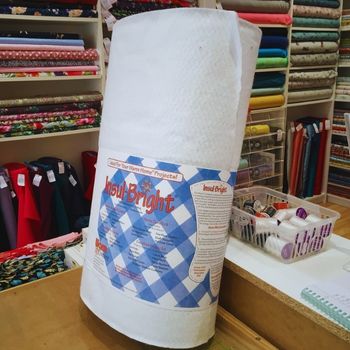 On the other hand, this product has several other applications that you can use it for. Starting with oven mitts, you can use the batting for iron board covers as well – making it a versatile option.
Moreover, with a breathable texture, you don't have to worry about this product breaking down after washing. In fact, this item is more functional and safer than you can expect it to be.
The best aspect of this lining is that it comes with hollow fibres, which will make sure conduction and radiant energy are both resisted at all times. Therefore, there won't even be the slightest possibility of an accident.
Verdict
This insulated batting is great for potholders and will provide all the features that you need.
2. Vuwuma Cotton Quilt Batting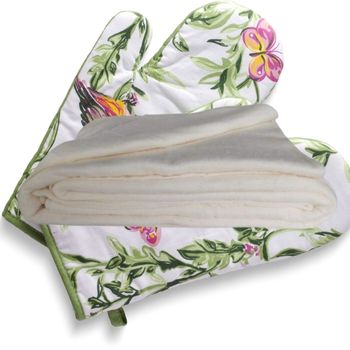 Features
Material: 100% Natural Cotton
Size: 36 x 45 inches
Weight: 10 Ounces
Colour: White
Special Feature: Machine Washable
If you are looking for a batting that will be suitable for making potholders, then softness should be your top priority in this case. Well, the good news is, here is an item that comes with top-notch softness and much more.
The cotton material of the batting makes it thin and suitable for various crafts such as – quilts, wearable arts, etc. This aspect of the item also makes it the right batting for placemats.
On the other hand, if you want thick batting, then you can use two layers of this batting together. As a result, you will be getting your preferred thickness from this item.
With this item, you don't have to worry about shift gathering or bearding. It takes care of it all for you and makes the entire process of making potholders much more convenient.
The cotton smell of the batting will also make it quite comfortable to work with – no musty smell. And you can wash it as well once you are done quilting, which will let you keep it clean.
Verdict
This batting is thin enough to be ideal for making potholders but soft enough for making it comfortable.
3. Pellon Wrap-N-Zap Microwave Projects Batting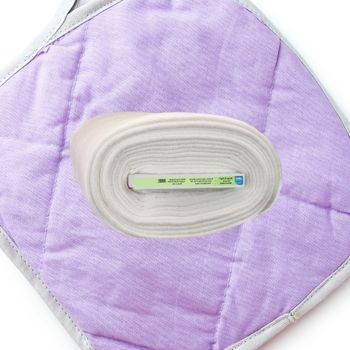 Features
Size: 22 inch x 10 yard
Weight: 1.54 Pounds
Material: 100% Cotton
Colour: White
Special Feature: Microwave Safe
Insulation is one of the most essential aspects that should be present in battings that will be used to make potholders. And while not many battings include insulation, this one does – which you will find out about here.
The batting has been insulated so well that it is microwave safe. Therefore, you don't have to worry about doing any damage to your potholders – you can safely use them in your microwave oven.
Due to this feature being present, the batting can be used for several other applications. For instance, you will be able to make warmers, insulated potato bags, hot pads and a lot more using this.
What this batting does is basically trap the moisture inside – so it can reflect the heat or the radiant energy back. So, you don't have to worry about accidental burns at all.
On the other hand, the cotton material will make sure the product is absolutely soft and lightweight. Hence, you will be able to use it very conveniently – something that wouldn't have been possible with dense batting.
Verdict
This microwave safe batting can block heat effectively while insulating cold foods and hot foods.
4. Keepsake Quilting Twin Cotton Batting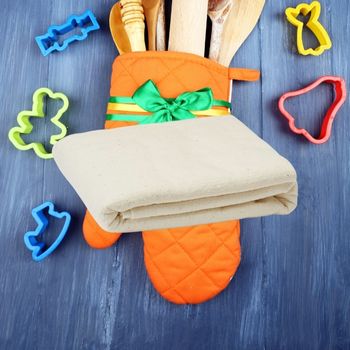 Features
Size: 90 x 72 inches
Material: Cotton fabric
Colour: White
Weight: 1.28 Pounds
Special Feature: Needled
If you are going to get a batting for making pot holders, then you might as well make sure it is worth the investment. While not all provide great value for money, this one does – find out more in our comprehensive review.
Once you start using this batting, you will realize that it is built to exceed all of its users' expectations. Starting with no bearding, bunching or separating, this batting leaves no room for disappointment.
The softness and warmth of the batting will make it even better for you. And since it has never been washed using harsh chemicals or bleach, it can be used both outdoors and indoors.
Along with that, the fabric has been thoroughly needle punched using a thin base of polymer. The benefit of this aspect is that it prevents the batting from migrating, tearing or shifting.
On the other hand, glue has not been used to hold together this batting. Hence, hand quilting will get much more convenient for you in your sewing room – making it the perfect batting for hand quilting.
Verdict
This batting for potholders will provide the best value for money and will exceed your expectations in terms of performance.
5. Pellon Wrap-N-Zap Natural Cotton Batting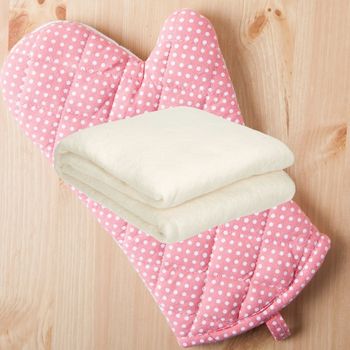 Features
Material: 100% Natural Cotton
Size: 45 x 36 inches
Weight: 0.17 kg
Colour: White
Special Feature: Microwave safe
The best material for batting is undoubtedly cotton – without the mixture and addition of any other material. And you will be getting that with this product, which will always ensure the best performance.
One of the biggest benefits of this material is that it will provide a soft texture with a lightweight body. Therefore, there wouldn't be too much fluff, but enough softness to make it ideal for potholders.
Insulation is another important aspect when it comes to batting for pot holders. And while some fail to provide the insulation that is needed, this batting will protect your hands and live up to your expectations without any limitations.
This aspect of the item also makes it microwave safe. Therefore, even if you use it in your microwave ovens, you won't have to be concerned about anything going wrong.
Moreover, this batting can be used for various applications, such as, casserole warmers, insulated potato bags, etc. What's more, you can also use it for steaming vegetables and such – and it will serve the purpose perfectly.
Verdict
If you are looking for the perfectly heat proof cotton batting, then here is what you need.
How to Choose the Best Batting for Potholders?
There are various kinds of battings out there that will provide amazing results – but not all are suited for making quilted potholders. Now, if you want to get one that will help you make the perfect potholder, then you will have to look accordingly.
You cannot pick one from your local quilt shop and expect it to work wonders; for getting the best outcome, it is essential to make sure all your requirements and criteria have been matched.
If you are clueless about what factors and features you should actually look out for, then we are here to help you. Go through the list that we have compiled and you will find your perfect batting in no time.
What Type of Batting Is It?
With various types of battings available out there, it becomes essential to choose a particular type of batting before starting your search.
For potholders, cotton battings are most commonly used and any other type would not be as suitable. You can use thin layers of cotton battings with flannel sheets or dish towels to make potholders.
Is the Batting Insulated?
Insulation is another necessary aspect when it comes to potholders – and by insulation, we mean how well the material can resist the heat instead of absorbing it.
Cotton, wool and bamboo are some of the materials that can be insulated, and they can also be used with foil layers for extra protection.
Is the Batting Soft and Lightweight?
Using dense and stiff potholders is surely not the plan you have in mind. And so, you should get battings that are soft and lightweight.
Stiff battings might be difficult to quilt as well and you wouldn't want to face such difficulties while quilting.
Can You Wash the Batting?
To remove food stains, dirt and such, you might have to wash your potholder from time to time – or at least clean it.
So, try to get battings that are washable – if not machine washable.
Is the Batting Safe for Microwave?
Many potholders are used inside microwaves for several purposes – and so, battings should be microwave safe.
Try to check through the description of the batting if it can be used inside microwave ovens or not, along with for how long it can be kept in one.
Is the Batting Thick or Thin?
When quilting for a potholder, you would have to make a few layers of batting normally.
That is why, it is important to know whether the batting is thick or thin. For thin battings, three to four layers should do, and for thick ones, you should use about one layer.
Does the Batting Stretch Out?
One thing you should avoid at all cost is a batting that will stretch out – because they will ruin your potholders.
So, go through batting reviews to make sure the one you have chosen will not stretch out.
Is the Batting Worth the Investment?
If you have a budget for batting, then you can search for one within that budget.
However, if you do not have a budget, then you should focus on what a batting has to offer and whether its cost is suitable according to that or not.
Frequently Asked Questions
What Kind Of Batting Do You Use For Potholders?
In general, 100% cotton battings are used for potholders. Cotton battings are soft and lightweight and can be layered – which will be required for potholders. Moreover, they have heat-resistant properties as well.
How Many Layers Of Cotton Batting Are In A Potholder?
If you are using regular cotton batting, then three layers of cotton batting should suffice. However, if you are using thick cotton batting, then surely as many layers would not be required.
Do You Have To Use Batting With Insul Bright?
Yes; you will have to use batting with Insul-bright. But with this lining, using three layers of cotton batting would not be required – only one layer of batting will work great.
What Is The Regular Size Of A Potholder?
A regular sized potholder would be between five by five inches and ten by ten inches. There are multiple different shapes of potholders – one of the most common ones being square.
Is Polyester Based Batting Suitable For Potholders?
No; polyester batting is absolutely not suitable for potholders. That is because, polyester is not capable of providing enough protection against heat as it is not a heat resistant batting – and hence, it would be pretty useless.
Final Words
Although, we can vouch for all the battings we have reviewed in this article, the 100% Natural Cotton Quilt Batting wins the title of the best batting for potholders.
This product offers insulation, softness and you can even put it in a washing machine – nothing beats classic cotton batting.
REFERENCES