5 Best Basting Spray for Quilting
Have you been working on a quilting project that just does not seem to go in the direction you want it to go? We can assure you that in such cases, it is usually the basting spray's fault.
And so, if you want to execute your quilt perfectly, whether it is by hand or machine, you will require the best basting spray for quilting.
There are some sprays that will disappear without you removing it all, and then there are others that can work well with all sorts of fabric. Whichever feature it is that you think you need, you will get it all right here.
Odif Basting Spray for Quilting

Repositionable and temporary spray


Ensures total safety, no mist, and no gumming needles

How to Use the Basting Spray for Your Quilting Project?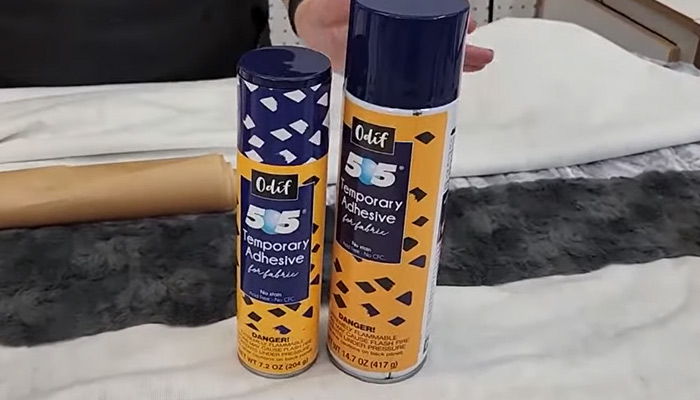 If you haven't baste sprayed your quilt before, then you will require detailed and clear instructions. And we are here to provide you with that, step-by-step.
Prepare Your Quilting Fabric
The first step is to prepare your quilting fabric. It can be quilting cotton or polyester – anything that you would prefer for your projects. And then, you can begin quilting – this includes the quilting process and the basting process.
Apply Spray to the Top and Back Separately
Take the top and backing fabrics separately and spray them. Spraying only one will not be enough, so make sure to cover all the outside edges of both the top and the back. And try not to spray on the wrong side or overspray. You could also use the help of curved safety pins for pin basting.
Assemble the Layers of the Quilt
After you have spray-basted them properly, it's time to assemble the quilt layers and form a quilt sandwich. Now, some sprays are repositionable – but if yours isn't, then you should be extra careful.
Iron the Quilt
Once you are done assembling the quilt top and quilt backing, it is time to iron the quilt in an ironing board for a smooth surface. Then you can choose to use a sewing machine or hand quilt it.
Wash It Once You Are Done (If Washable)
After sewing the quilt, you can wash the basted quilt or wait for the spray basting to disappear. Read the instructions of your product for a clearer instruction of the last step.
5 Best Basting Spray for Quilting
Not sure which basting spray would be perfect for quilting? Then you haven't gone through our five top picks yet – choose one as you go through our reviews.
1. Odif USA 505 Spray and Fix Temporary Fabric Adhesive (Best For Versatility)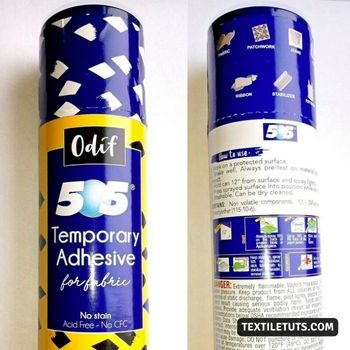 Features
Compatible Material: Fabric
Color: Clear
Packaging: Can
Weight: 4 Fluid Ounces
Special Feature: Odorless
Quilting requires basting sprays that are easy to use as well as easy to remove. Now, here is a spray that provides both of these aspects along with a lot more. Find out all about it in our Odif 505 basting spray reviews.
This spray is not only temporary but is also repositionable. Moreover, it can temporarily bond fabric like none other – making it one of the best basting sprays available in the market.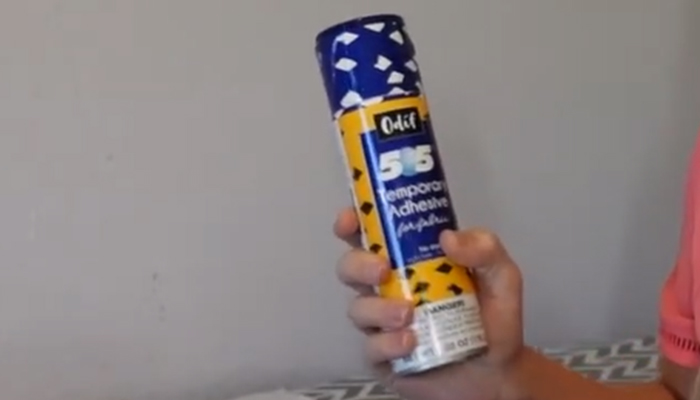 On the other hand, not only does this spray contain no odor or color, but it contains no CFCs as well for total safety. So, it will not gum sewing needles, and you will find no mist either.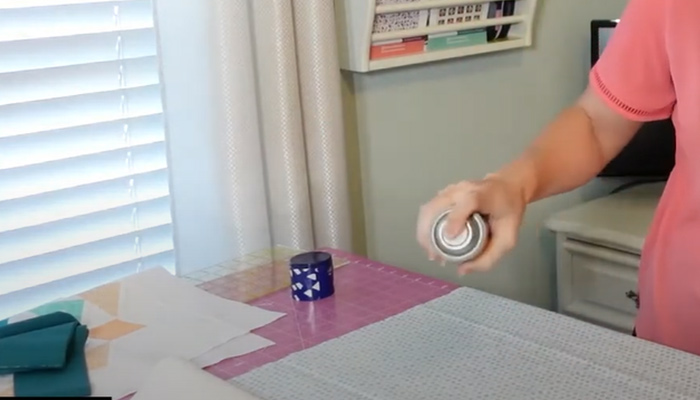 What makes it even perfect for quilting is that it can hold the fabric together very well. It can also hold fabric exceptionally to stabilizers in machine embroidery as well as hemming.
Other than quilting, it can be used for other purposes as well, which makes it rather versatile. For instance, you can use it for machine applique or quilt basting as well.
Verdict
This easy-to-use basting spray for quilting can be used for several other purposes and is very user-friendly.
2. June Tailor JT440 Quilt Basting Spray (Best for Cotton and Polyester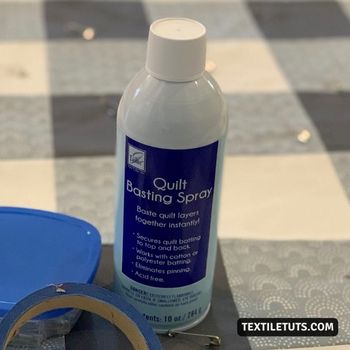 Features
Color: Blue
Weight: 0.78 Pounds
Material: Liquid Material
Size: 1 Pack
Special Feature: Free of Acid
Tired of using basting sprays for quilting that turn out to be major disappointments? Well, with this one, you wouldn't have to face anything of that sort because it provides great value for money and much more.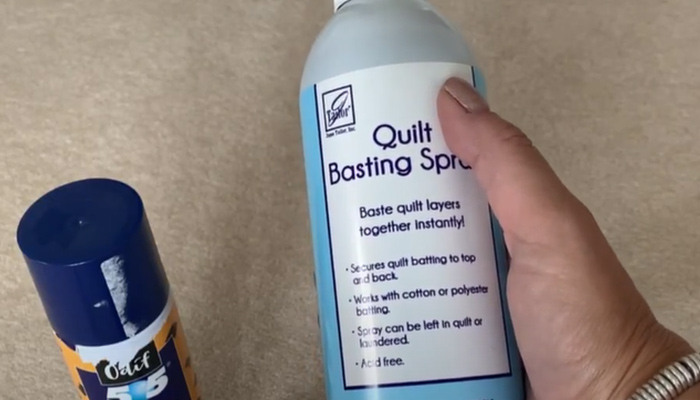 Unlike other basting sprays for quilting in the market, this one does not contain any acid or harmful chemicals. Hence, you and your fabrics will both be safe with this.
On the other hand, you can leave the spray in the fabric and wash it without any hassle. The spray will remain as long as you want it to and will not get removed inconveniently.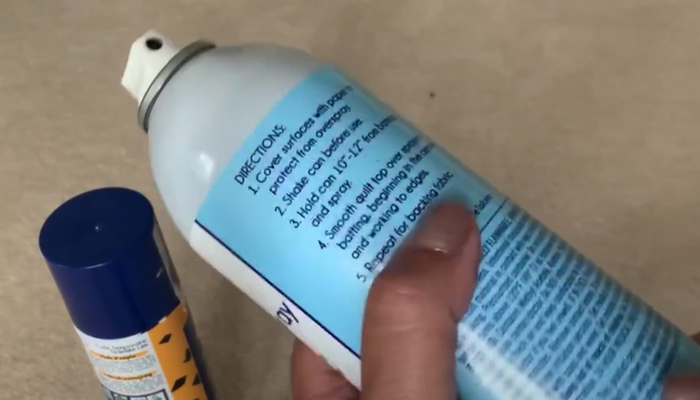 This versatile product works with both polyester and cotton batting – two of the most popular fabrics used for quilt batting. Therefore, you will not feel the need to buy another basting spray.
Moreover, the product has the capability of securing the batting to the top as well as the back of the project. This aspect makes the item very convenient for the users.
Verdict
This basting spray for quilting is a great option for both cotton and polyester.
3. Sulky 4.23-Ounce Temporary Spray Adhesive (Best for Beginners)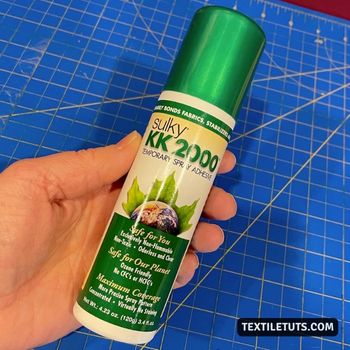 Features
Color: Clear
Packaging: Aerosol Can
Odorless: Yes
Weight: 4.23 Ounce
Disappearing Period: 2-5 Days
For your first quilt, you need a basting spray that will make it more convenient for you. And here is a highly convenient basting spray that will let you quilt like it's a piece of cake!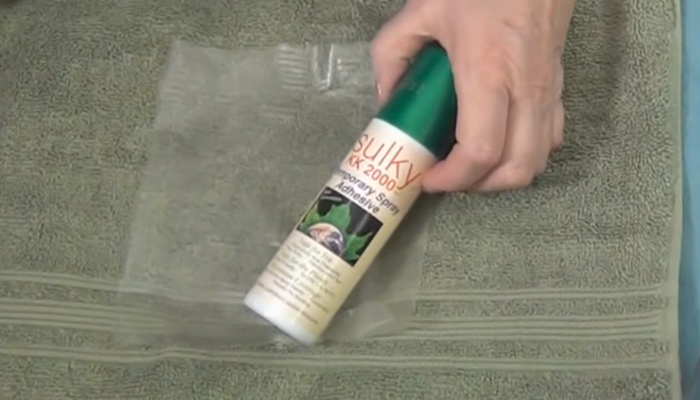 Basting sprays should be odorless – a protocol many sprays do not live by. However, here is a non-toxic one that gives off no smell to make sure its users do not get irritated.
Moreover, with this product, you won't have to take the hassle of removing it all by yourself. The product comes with properties that automatically remove itself after 2 to 5 days.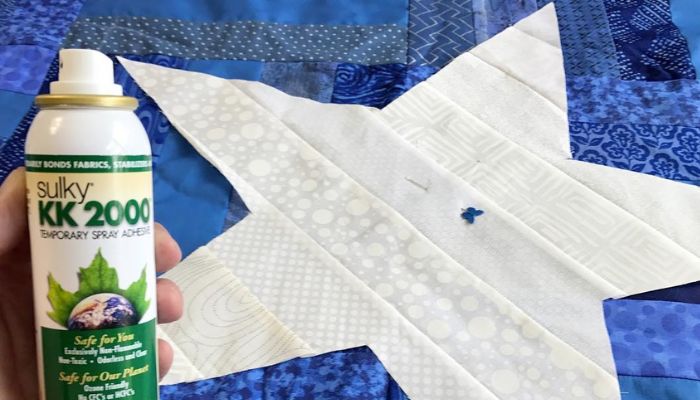 Another great property of this item is that it makes sure not to stain or gum up the sewing needle while you are quilting. This aspect makes it a fan favorite – and will make you worry less about skipped stitches.
On the other hand, you won't have to be concerned about pinning patterns at all. This product is totally repositionable – which makes it all the better for you if you're confused between spray basting vs pinning.
Verdict
This non-toxic basting spray for quilting makes sure you face no hassle while using it for the first time.
4. Sullivans 805 13-Ounce Quilt Basting Spray (Best for the Money)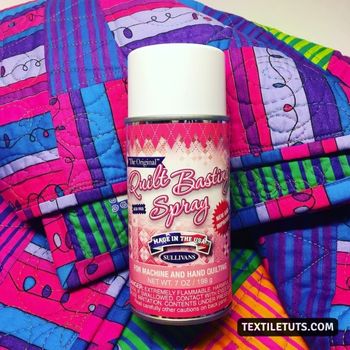 Features
Packaging: Can
Weight: 13 Ounces
Compatible Material: Cotton and Polyester
Material: Adhesive
Acid Included: No
If you love quilting and are tired of spending money on the wrong basting spray, then we have got the perfect product for you. This one, right here, comes with all the aspects that you have been looking for – and is worth every penny.
Whether you are looking for a basting spray suitable for machine quilting or hand quilting, you will get both the facilities with this product. It will help you in the process of hand stitching and will not be even a bit sticky.
On the other hand, the acid-free formula of the item makes sure both you and your fabrics are safe from it. So, no matter how long you leave it on the fabric, there is absolutely nothing to worry about.
With this product, you wouldn't have to remain frustrated about pinning. The item will baste a quilt and do all the work for you – all you have to do is spray it in the right places.
Moreover, there are several applications of this quilt basting spray. For starters, you can use it on both polyester and cotton. And, you can also use it on lining patterns and appliques alike; or even make quilt design walls.
Verdict
This affordable quilt basting spray will get you to love it with its versatility and professional results.
5. Therm O Web Spray N Bond Quilt Basting Adhesive Spray (Best for Various Applications)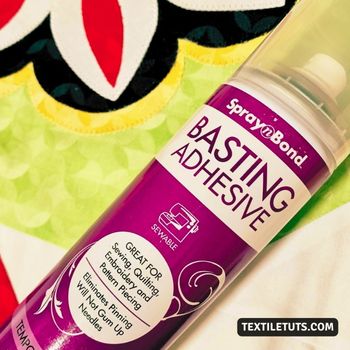 Features
Color: Natural
Compatible Material: Paper, Fabric
Packaging: Aerosol Can
Weight: 204g
Acid Included: No
When looking for a basting spray for quilting, the adhesion needs to be temporary, but the bond needs to be strong enough to hold the fabric properly. And while a lot of sprays miss that properly, this one includes that – along with a lot more.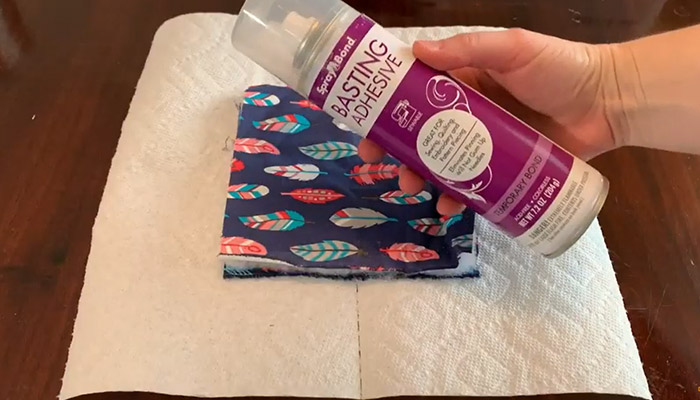 First of all, the product will automatically wash out of the fabric. As a result, you won't have to put any special effort to remove it whatsoever – it will all be done for you.
On the other hand, don't worry about pinning patterns once you have sprayed the product because it is totally repositionable. This saves a lot of hassle for you – making this basting spray a must-have.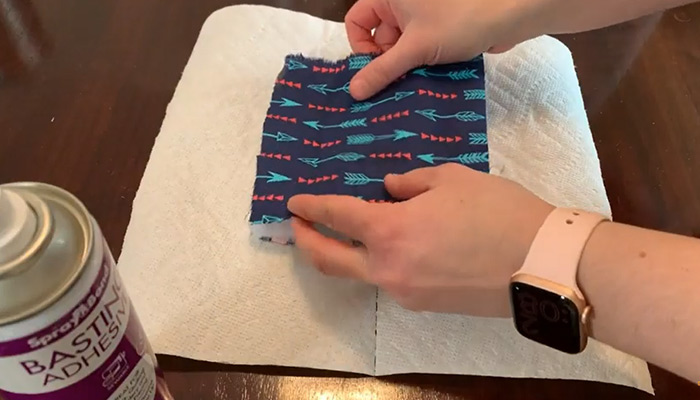 There are various applications of this product that makes it rather versatile. For instance, you will be able to use it for quilting, applique, embroidery, and sewing – so you won't have to buy another spray.
Moreover, you can work quite conveniently with it because it is sew-able and will not gum up the needles. Therefore, with this item in hand, there is nothing for you to worry about.
How to Choose the Best Basting Spray for Quilting?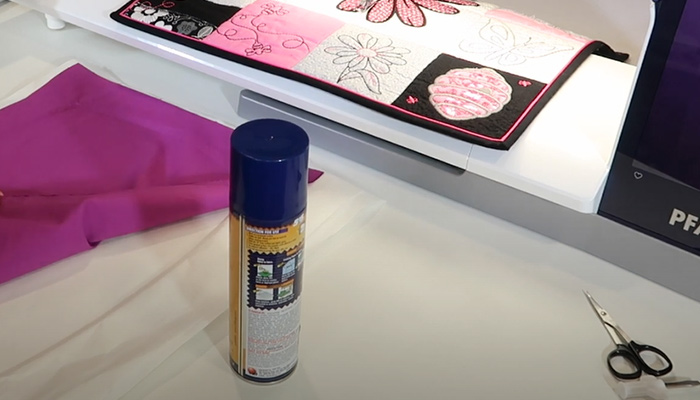 Want to take up a quilting project but haven't chosen the right basting spray for it yet? Well, if you know about quilting, then you are aware of how important basting is – and how you cannot go wrong with your choice.
Now, there are several options out in the open, which might tempt you to settle down for one without thinking much. But that's where you will be making your mistake, so it's always best to be careful.
And we will help you be careful by listing out all the factors that you should keep in mind when choosing the right basting spray. If you adhere to all these, then nothing can possibly go wrong with your purchase.
Compatible Material
Do you plan on quilting cotton or using polyester batting?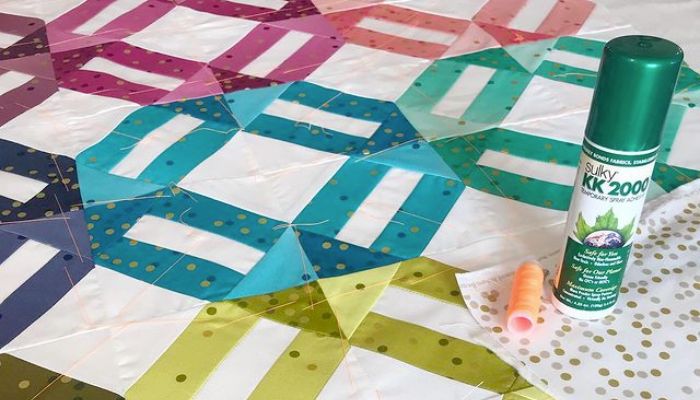 Either way, you need to choose a basting spray that will be compatible with the materials that you work with – and also make sure there is enough product to handle excessive large quilts or wadding in sewing.
What Is the Color of the Spray?
The color of the spray does not matter much. But some basting sprays can leave a stain that will be rather difficult to remove.
So, you should go for a basting spray that is not colored and is natural instead.
What Is the Spray Made of?
It is important to check what the spray is made of to get a clearer idea of its elements and how well it will be working.
So, before you choose your basting spray, you should read the labels and make sure it does not contain harmful chemicals or acid.
How Long Will the Spray Stay?
Some basting glues get removed automatically; others need to be removed by the user.
We can't put the finger on which one is better, and so it totally depends on your preferences. If you want one that can be removed by washing instead of one that disappears within a few days, then you should look for that.
Does the Spray Smell?
The last thing you want out of your quilting projects is for the fabrics to smell bad – it is something you would want to avoid at all costs.
Therefore, you should always choose odorless basting sprays. And avoid any that has a chance of leaving an odor.
How to Sandwich a Quilt with Adhesive Spray?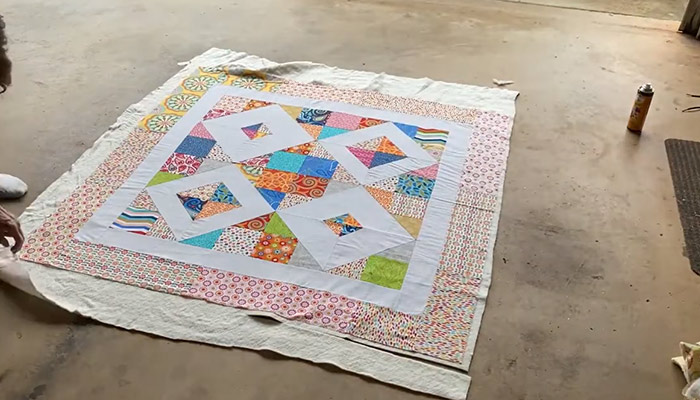 You'll be pleased to hear that the spray glue is a fantastic way to keep your quilt in place. A can of adhesive spray, a quilt, and two pieces of fabric are required. The first step is to lay the quilt on top of the cloth.
Then, using the adhesive spray, apply it in the center of the quilt. Finally, place the other piece of cloth on top of the adhesive and press it down. Allow it to dry completely.
After you've finished, your quilt will be sandwiched between two pieces of fabric and held in place with spray adhesive! This is an excellent method for keeping your quilt from shifting or coming undone while you work on it. Additionally, stitching the quilt to the cloth is a lot easier than it sounds.
Frequently Asked Questions
Does quilt basting spray washout?
There are some quilt basting sprays that wash out; however, there are others who stay even after you wash them. So, it really depends on the spray that you have gotten your hands-on, and it is best to read the instructions.
Does homemade basting spray work?
Yes; homemade basting sprays will work if you make them properly. In fact, those can be an even better option since there is absolutely no chance of them containing any harmful chemicals.
What are quilt basting sprays usually made of?
The purpose of quilt basting sprays is to stick two fabrics together for quilting, and so, they are usually made of adhesion. However, along with that, they will contain other elements as well.
Are quilt basting sprays temporary?
Yes; most quilt basting sprays are temporary and can be removed. Some can also disappear within a matter of a few days. All in all, these sprays are never permanent.
Should I get a colored basting spray for quilting?
The color of the basting spray does not really matter; its functionality does. If it works well, being natural or blue, then it is good to go.
Final Words
The Odif USA 505 Spray and Fix Temporary Fabric Adhesive will do wonders for your quilting project.
Its ability to hold fabric, ease of use, and versatility make it up to be the best basting spray for quilting out there.
Of course, the other sprays mentioned in this article can be more suitable for your projects, and you should definitely choose accordingly.
REFERENCES