How to Stiffen Fabric with Cornstarch | Step-by-Step Guide
Do you have a dress or shirt that is not as stiff as you would like it to be? The solution could be as close as your kitchen! All you need is cornstarch. Cornstarch can be used in so many ways and one of those ways is making fabric stiffer. It's the perfect solution for cheaply sprucing up old clothes, blouses, skirts, etc.
Now, before getting into the meat of the matter, i.e., how to stiffen fabric with cornstarch, you should know something about this ingredient.
About Cornstarch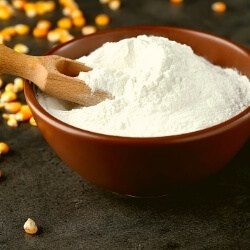 Cornstarch is a powder that can be made into a liquid solution with water.
In the U.S., cornstarch is typically derived from GMO corn, so there are some concerns about how it affects your health. That being said, it's still one of the cheapest and most accessible substances to use for this project.
How to Stiffen Fabric with Cornstarch – Step-by-Step Guide to Make homemade Fabric Stiffener
The process of stiffening fabric using cornstarch involves only 7 easy steps.


Step One: Get a clean, dry container and fill it with water.
*Note: if you use a container that is too big, the cornstarch will be diluted in the water.
Step Two: Add about one cup of corn starch to your clean dry container (but not so much as to completely cover the bottom).
Step Three: Stir vigorously until most of the cornstarch is dissolved
Step Four: Pour the mixture into a spray bottle and shake well.
*Note: if you don't have a spray bottle, pour the cornstarch solution in your hand or use an atomizer to apply it evenly on the fabric.
Step Five: Spray or dip the clothing item into the liquid until it's fully soaked. Typically, it requires an hour or two to soak in the liquid completely.
Step Six: Wait for the moisture from the cornstarch to dry. This will make your fabric stiffer and hardy.
You can speed up this process by using a hairdryer or ironing it, but both of these options come with their own risks (lint on clothing, scorching). You'll be better off using the air-dry method.
Step Seven: Enjoy your stiff clothes!
Your old T-shirt won't stretch anymore, and you'll be able to keep your pants from falling down because the waistband will hold them up better.
Finish by wearing your newly gained superpowers out into the cold world with pride!
*Note: Some fabrics may require a second application, but usually only after one or two wears of clothing item that was soaked with cornstarch solution.
How to Stiffen Yarn with Cornstarch
The process is pretty similar as above. After step three, you won't have to put the mixture in a spray bottle. You just have to dip the yarn cake directly into cornstarch solution. Next, you need to rinse it out and air-dry. That's it!
Benefits of Using Cornstarch to Stiffen up Your Fabric
Stiff clothes, made with a homemade fabric stiffener like cornstarch, will last longer and won't stretch out of shape. Plus, you can use it for making a skirt bigger.
You can avoid ironing or using a hairdryer to make the fabric stiff, but doing so comes with its own risks (lint on clothing from the dryer, scorching).
Using cornstarch is cheaper than buying fabric stiffeners.
You can avoid dry cleaners as well since you don't need to take the clothes in if they're already stiff.
Stiffeners are more commonly used on cotton and polyester than other fabrics, so trying cornstarch first is a good idea!
Drawbacks of Using Cornstarch to Stiffen up Your Fabric
The cornstarch solution can be a bit sticky and not as easy to work with.
If you're using the spray bottle, it may take some time for the fabric to dry completely (upwards of one or two hours).
If you don't have enough time to complete this project before your event, try using the best fabric stiffener for clothing that you can find.
Alternatives of Cornstarch for Stiffening Your Fabrics
There are other options for making fabric stiffer, but they can be more expensive and less accessible than cornstarch. If you're looking to avoid using GMOs in your products or if the cost is prohibitive, there are alternatives that can work as well.
Amylase Powder
One of these is amylase powder – it's a source of hydrolytic enzymes. It's similar to how yeast works and is extracted from any source of starch including wheat, corn, banana, and potato.
Sodium Alginate
Another option to make fabric stiffer is sodium alginate – it's a natural substance found in seaweed that can be used as an alternative to gelatin. The downside is that the solution will need time for bacteria to break down its chemical bonds before it becomes usable.
Alginates have the advantage of being reusable – you can add more water to get a liquid consistency again.
Thermopolymer
Thermopolymer is another substance that will stiffen the fabric, but this one has drawbacks too: it's expensive and doesn't work well on fabrics with prints or color because they won't get in contact with it. We faced this issue while stiffening a shirt printed by our t-shirt printing machine for small business.
Fabric Stiffeners
Fabric stiffeners are generally considered a temporary fix, but they can be very useful in some circumstances – for example when you need to pack clothes that will last only a few days or weeks and won't see much wear after the vacation is over because they'll just go back into storage until next time.
Final Words
There you go! Now that you know how to stiffen fabric with cornstarch, you no longer need to buy expensive and harmful substances. And when you are finished with the stiffener, just rinse it out in the water to reuse it!
Some stiffener alternatives may give you a bad odor. In those cases, you can use the best fabric deodorizer to solve the issue.
Adios!