Why Are My Sheets Turning Blue? – 7 Unusual Reasons
Have you ever gone to bed with crisp white sheets only to wake up to find they've turned a murky shade of blue? While it may seem perplexing and frustrating, there are a few common reasons why this can happen.
Some common culprits behind blue sheets include using certain laundry detergents or fabric softeners that contain blue or purple dyes and transferring dyes from other clothing items during washing.
In some cases, the problem may be related to the water quality used during washing and rinsing, particularly if your water source contains high levels of copper or other minerals.
In this blog post, I'll explore the possible causes behind sheets turning blue and what you can do to prevent it from happening again.
Different Causes of Bed Sheets Turning Blue

Bed sheets turning blue can be an unusual and unexpected phenomenon. There are several potential causes for this color change: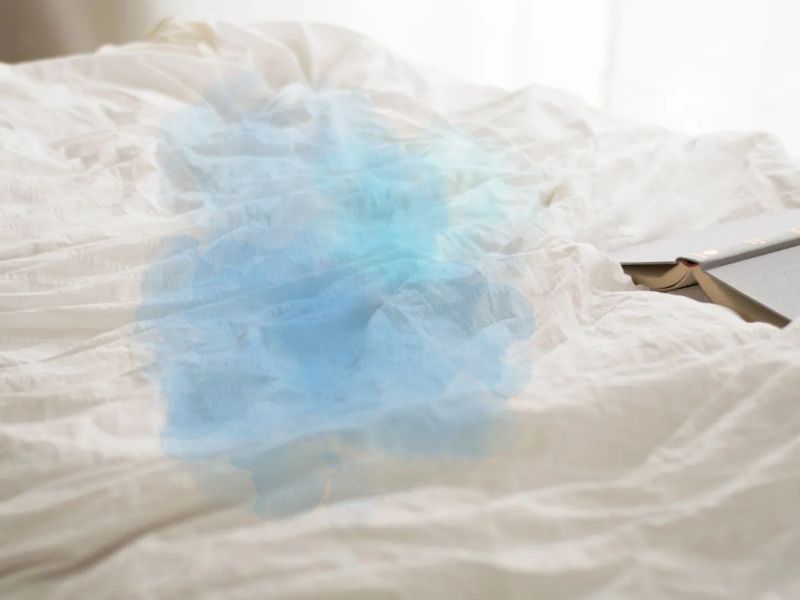 Improperly Washing the Sheets
Improper washing is one of the most common causes of bed sheets turning blue. When bed sheets are not washed following the manufacturer's guidelines or using the appropriate settings on the washing machine, the dyes present in the fabric can leach out and discolor the sheets.
Washing in hot water or using aggressive cleaning agents may strip the color from the sheets, resulting in blue hues.
Excessive Use of Detergent and Additives
Using too much detergent or adding extra additives like bleach or fabric softeners can also lead to the discoloration of bed sheets. The chemicals in these cleaning agents can react with the dyes in the fabric, causing them to fade and turn blue.
Dyes in Fabrics
Some bed sheets and dresses are dyed with unstable or low-quality colorants prone to fading or leaching onto other fabrics. When exposed to water or heat during washing, these unstable dyes can release blue pigments, leading to the undesired color change.
For example, if you wear clothes dyed with indigo or other blue pigments, the color may transfer onto your sheets during sleep. Similarly, if you use a blue towel or blanket, the color may transfer onto your sheets when they come in contact.
Sun Fading
Excessive exposure to sunlight can lead to fading of bed sheet colors. While sunlight is generally suitable for drying bed sheets, prolonged exposure can cause the dyes to break down, resulting in blue patches or discoloration.
Chemical Reactions
Certain substances in the environment or on the bed sheets may undergo chemical reactions that produce blue-colored compounds. For example, some cleaning or skin care products with specific ingredients can cause unexpected color changes in fabrics.
High pH Level in the Water
The pH level of the water used during washing can also influence the color retention of bed sheets. Water with a high pH level may interact with the dyes, altering their chemical composition and causing the sheets to turn blue.
Poor Fabric Quality
Bed sheets made from low-quality materials might have yet to undergo proper dyeing processes or could have been dyed using inferior colorants. As a result, the dye may not be stable, making the sheets more susceptible to color changes, including turning blue.
How Do You Fix the Sheets Turning Blue Issue?
Fixing the bed sheets turning blue requires identifying the specific cause of the discoloration and taking appropriate corrective measures. Here are some steps you can follow to address the problem: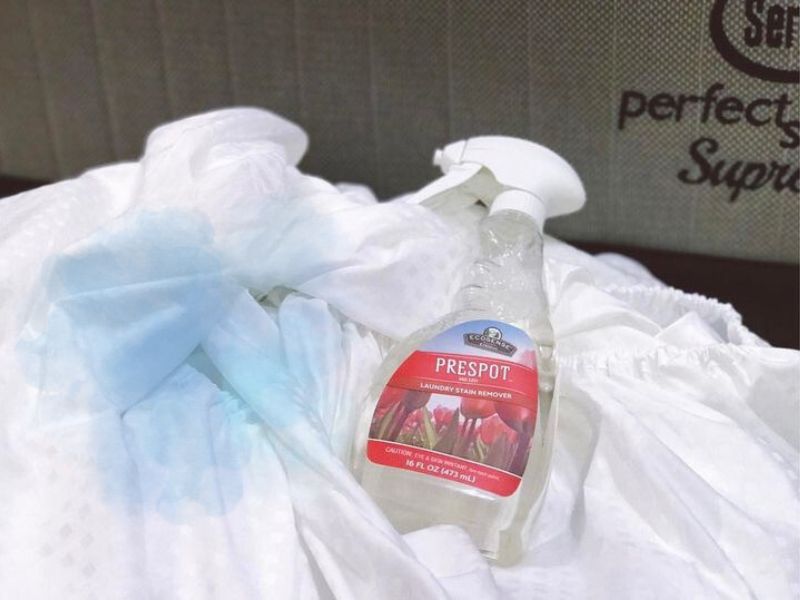 Sort and Isolate the Affected Sheets
Separate the bed sheets that have turned blue from the rest of your laundry to prevent the color from transferring to other fabrics.
Identify the Cause
Try to determine the reason behind the blue discoloration. Assess whether it's due to improper washing, excessive use of detergent, poor fabric quality, or other factors mentioned in the previous section. This will help you decide on the appropriate solution.
Proper Washing Technique
Ensure you are washing your bed sheets following the manufacturer's instructions. Use the appropriate water temperature and choose a mild, color-safe detergent. Avoid using bleach or harsh additives that might react with the dyes.
Color Remover Products
If the blue discoloration results from dye transfer or unstable dyes, you can use a color remover product to remove unwanted dyes from fabrics. Follow the instructions on the product carefully.
Neutralize Chemical Reactions
If you suspect chemical reactions are causing the blue color, avoid using the products responsible for the reactions. Perform a patch test before using new cleaning or skincare products on your bed sheets.
pH Balancing
Test the pH level of your water, and if it's high, consider using a water softener or pH-balancing agent during the wash to neutralize the water's pH.
Consult Professional Cleaners
If you have tried various methods without success, consider seeking assistance from professional cleaners who have experience with fabric discoloration issues.
Prevention of Bed Sheets Turning Blue Problem
You can take proactive measures during washing, handling, and maintenance to prevent bed sheets from turning blue. Here are some preventive steps to follow:
Follow the Manufacturer's Instructions
Always read and adhere to the washing instructions provided by the bed sheet manufacturer. These instructions are specific to the fabric and dye used and will help maintain the color and quality of the sheets.
Separate Laundry
Sort your laundry properly to avoid color bleeding. Wash bed sheets separately from colored or heavily soiled items. Sorting will prevent dyes from transferring to the bed sheets during the wash.
Use Color-Safe Detergent
Choose a mild and color-safe detergent specifically designed for washing colored fabrics. Avoid using bleach or harsh cleaning agents, as they can cause discoloration and damage to the fabric.
Reduce Detergent Usage
Use the appropriate amount of detergent recommended for the load size. Overloading the washer with excessive detergent can lead to detergent buildup on the sheets and cause color changes.
Avoid Sunlight Overexposure
While sun-drying your bed sheets is a great way to freshen them up, avoid prolonged exposure to direct sunlight. Instead, dry them in the shade or indoors to prevent fading and discoloration.
Perform a Color Fastness Test
If you're using new bed sheets or suspect the color might not be stable, perform a color fastness test. Dampen a small sheet area and place a white cloth on it. Press with a hot iron for a few seconds. If the color transfers to the cloth, be cautious while washing to prevent further color bleeding.
Avoid Using New Unfamiliar Products
Be cautious when using new cleaning products or skincare products while in bed. Some products may contain ingredients that can react with the fabric dyes, causing unexpected color changes.
Regular Inspections
Periodically inspect your bed sheets for any signs of color changes or damage. Promptly address any issues you notice to prevent further complications.
Proper Storage
Store your bed sheets in a cool, dry place away from direct sunlight. Avoid storing them in areas with excessive moisture, as this can promote mold and mildew growth, which may cause discoloration.
Sun Fading Prevention
Avoid drying your bed sheets in direct sunlight for extended periods to prevent further fading and color changes due to sunlight exposure. Instead, choose a shady or indoor drying area.
Quality Bed Sheets
Invest in high-quality bed sheets from reputable brands. Quality sheets are less likely to suffer from unstable dyes and color changes.
Final Words
While finding blue stains on your sheets can be frustrating and confusing, there are various reasons why your sheets might be turning blue, and it's essential to identify the root cause. From using fabric softeners to certain medical conditions, the culprits can range from simple to complex.
When dealing with this issue, follow the recommended washing instructions for your sheets and avoid using harsh chemicals that may cause discoloration. If the problem persists, seek professional help to identify and resolve any underlying issues.
By taking these precautions, you can ensure that your sheets remain pristine and that your sleep environment remains healthy and comfortable.