How to Remove Hot Glue from Fabric without Damaging It
Hot glue can be a very useful tool but also a messy one. If you're not careful, it's easy to accidentally get hot glue on your fabric. And once it's there, it can be difficult to remove without damaging the fabric, especially the dried hot glue.
For cotton fabric, start by soaking the fabric in cold water for 10-15 minutes to prevent further seepage. Next, use a cotton ball soaked in rubbing alcohol or oil to gently rub over the glue, treating it like a sticker. Rinse the fabric under cold water for an additional 10 minutes and slowly scrape off the glue without causing damage.
Today, I will go abit in-depth about the removal process of hot glue from different textile materials and leather.
Removing Hot Glue from Cotton Fabric
Cotton fabrics are porous, so the glue can seep through and get on everything. And because the fabric is so light, it's easy for the glue to move around and create a big mess. But don't despair – I will show you the ways to clean the hot glue from your cotton fabric without making a mess.
Step 1: Soak the Fabric in Cold Water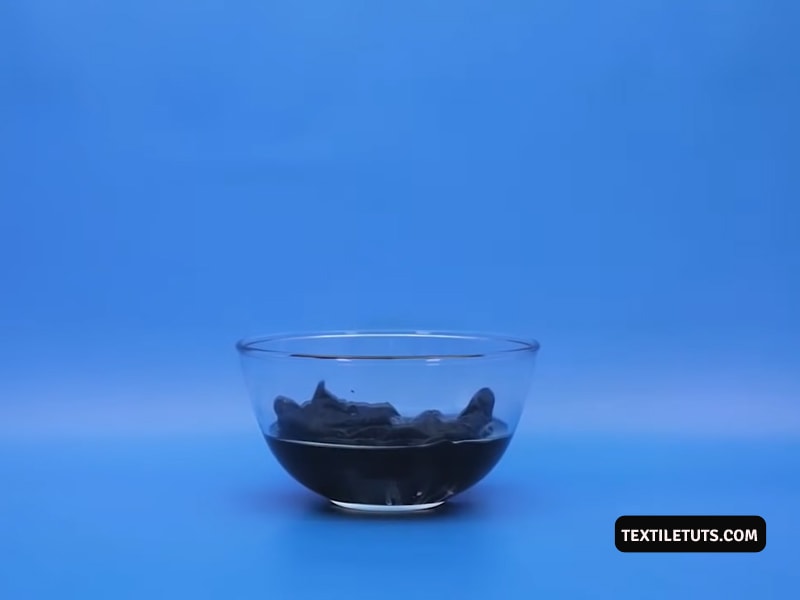 Take a bowl of cold water and soak your cotton fabric for at least 10-15 minutes. This will stop the glue from seeping through the cotton fibers. It's best that you let the fabric dry before forwarding it to the next step.
Step 2: Use a Cotton Ball with Rubbing Alcohol or Oil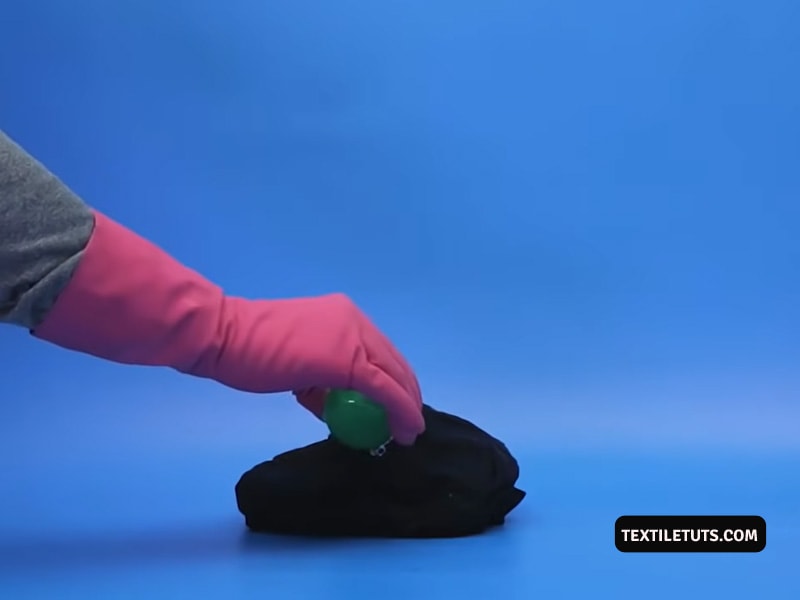 Get a cotton ball and soak it in oil or rubbing alcohol. Then use the cotton ball to rub over the glue. You have to rub it on one side and try to get it off like a sticker. Doing this for 5-10 minutes will get you to a point where you can scrape off the hot glue. But restrain yourself from doing it. It will damage the fabric.
Step 3: Rinse It in Cold Water Again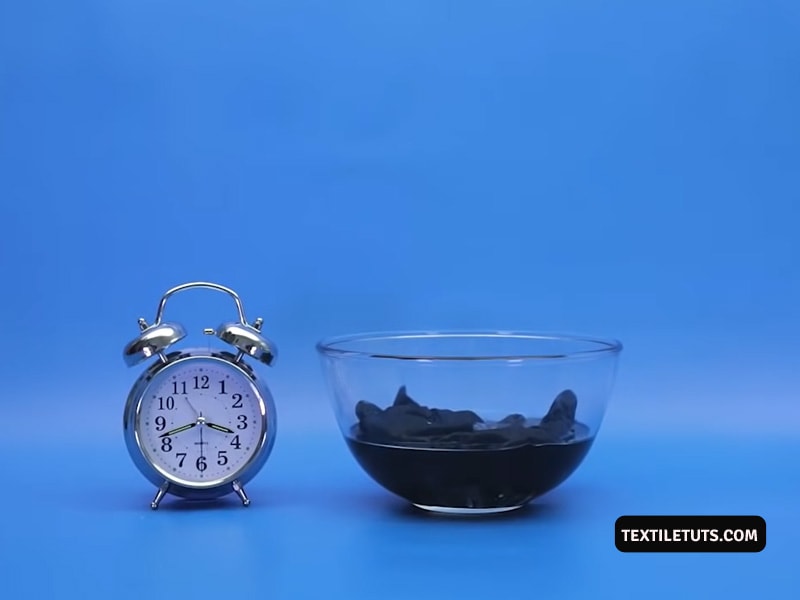 Running it under cold will help you to get the glue off without damaging the cotton fabric. Go on and run it under cold water for at least 10 minutes, and now slowly scrape off the glue without damaging your fabric.
TIP
You can follow the method above to clean knit fabric as well. It's the exact same procedure as cotton fabric.
Removing Hot glue from Polyester Fabric
Polyester fabrics are the synthetic fabric that expands to a great degree, which provides easier cleaning methods. Now, removing dried hot glue from polyester fabric can be as easy as just vacuuming up the glue because it'll not seep through the pores of polyester.
Step 1: Pour Alcohol Over the Glue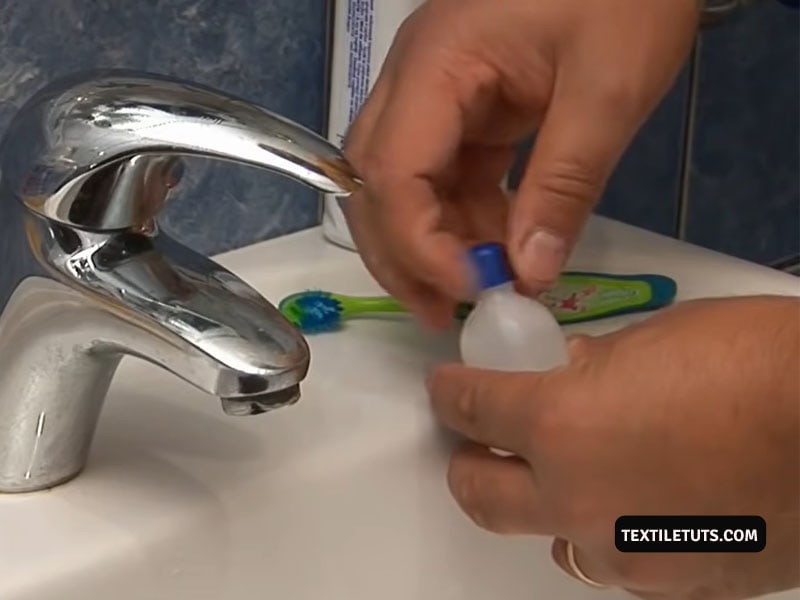 Pour some alcohol over the area of glue, not just any alcohol but 70% Isopropyl alcohol. And let it dry for some time. It will soften up the glue to a state where you can easily scrape off the glue. If you are out of alcohol, you can use a nail polish remover, which contains acetone.
Step 2: Peel off the Glue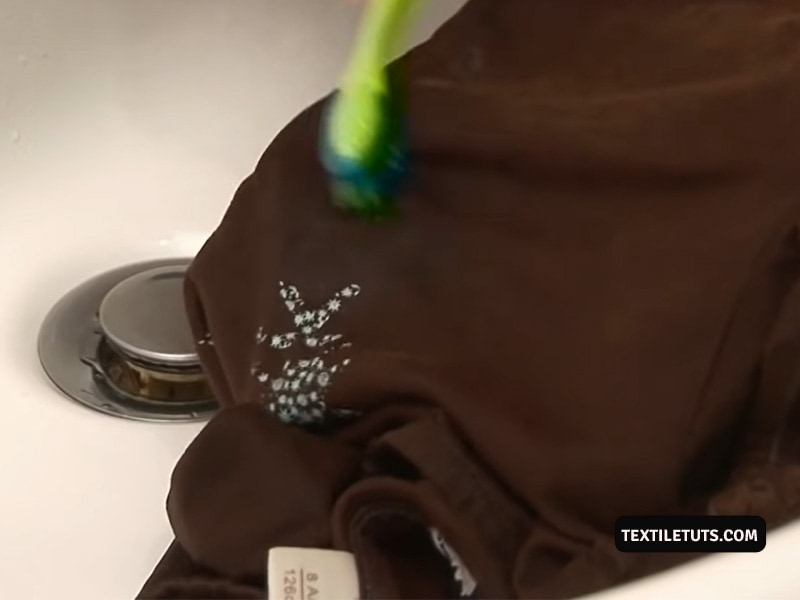 Now, try peeling off the glue slowly, in a gentle manner. If anything is still stuck, do not force it. Let it be for now. Take a cotton swab, soak it in alcohol and rub it on the glue. If you rub it in a circular motion and try to take peel it off with the swab as much as possible.
Step 3: Run It Under Cold Water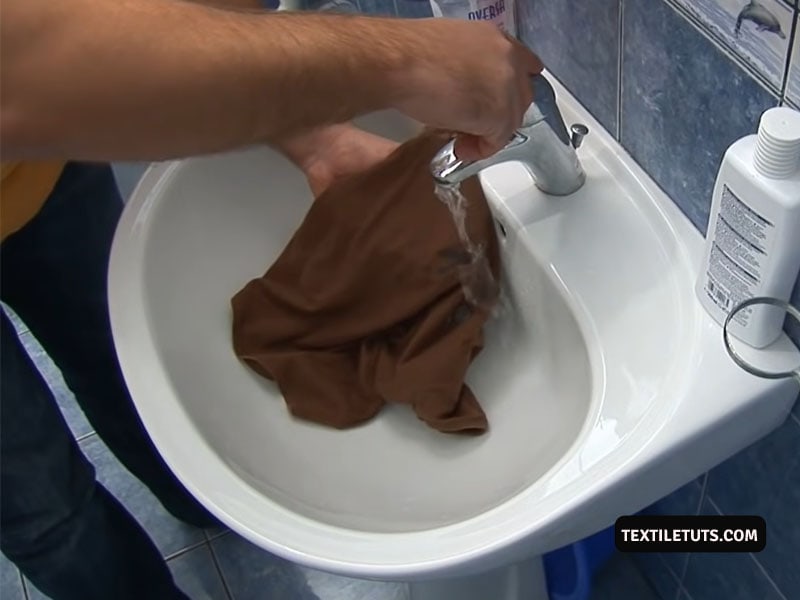 Now, if you couldn't peel it off before, after running it under water, you can peel it off easily. In some cases, the glue may fall off while you run it under cold water.
Removing Hot Glue from Satin Fabric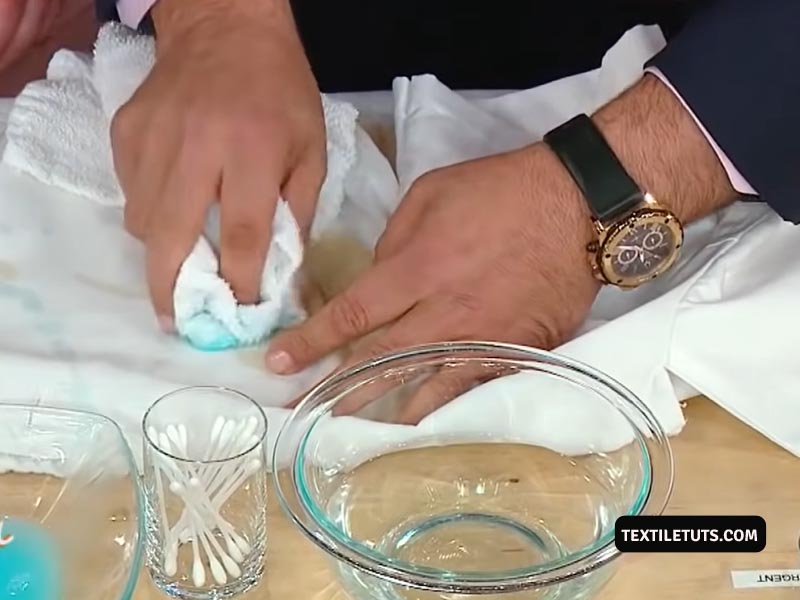 Satin is a fabric with a smooth, glossy surface that is typically made from silk or synthetic material and is known for its luxurious appearance. It's frequently used in eveningwear, lingerie, and wedding dresses, and it could get ugly if you accidentally put hot glue in it. By following a few simple steps, you can easily remove hot glue from the satin fabric without damaging it.
Step 1: Use a Hair Dryer
To keep your satin fabric intact, it's the best method. Get a hairdryer and hot air dry the glue. You'll see the melting glue fumes, and that's your queue to stop the hair dryer.
Step 2: Peel It Off
Once the glue is in liquid-like slime form, you peel it off with a knife or sharp object. Do not try to use your hand, as you'll just burn yourself. Safely remove the glue and then wash the fabric and clean the remaining residues from your satin fabric.
Removing Hot glue from Carpet without Damaging
If you've had hot glue spilled on your carpet, you know how difficult it can be to remove. The sticky adhesive is nearly impossible to get rid of completely and leaves behind a nasty residue. So, the only way you can cleanly wipe off the glue is if you take quick action right after spilling glue on the Carpet.
Step 1: Use a Towel or Cloth and Iron Over the Carpet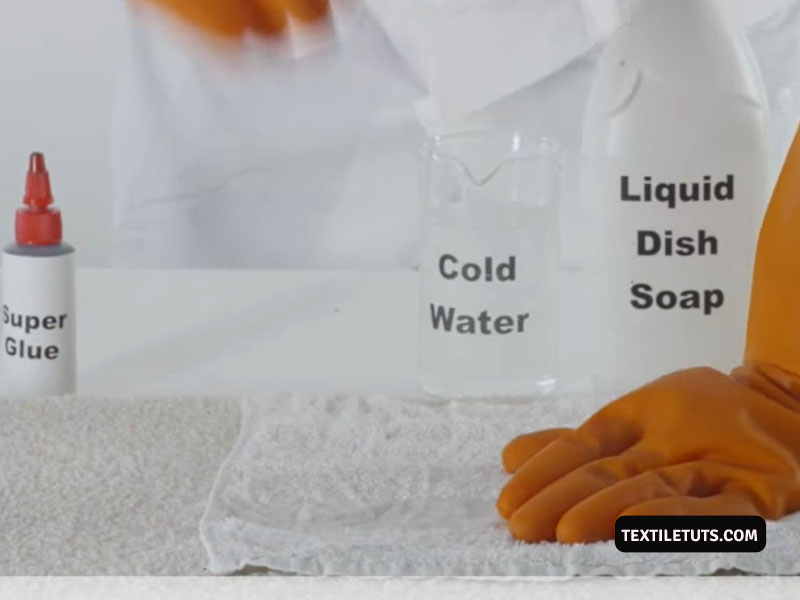 This procedure requires fast action. Without any delay, get a towel or damp cloth. Put it over the area where the glue is, then start ironing over the towel. Use the highest temperature available and check how much glue is unstuck from the Carpet to the towel.
Step 2: Keep Ironing Over the Towel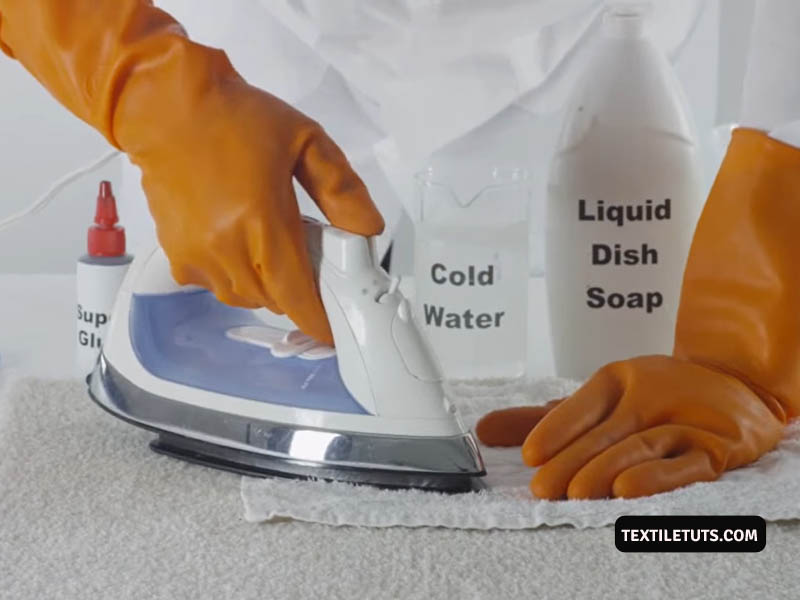 You have to be patient on this task unless you have a soldering iron with a rounded tip. If you have one at your home, then it would only take 10-15 minutes of work at most to get the glue off the Carpet. Ironing is a slow process (it takes 20-45 minutes depending on the area of dried glue), but it's also an authentic technique to get the glue off your Carpet.
Step 3: Clean the Carpet
Once you remove the glue off your Carpet, vacuuming it is the best thing you can do to clean the Carpet. Vacuum your carpet and get rid of any remaining residues of the glue.
TIP
You can take the glue off a microfiber couch or sofa using the same technique. It's the same method mentioned above. You can remove hot glue from the couch without damaging it easily by following the instructions above.
Removing Hot Glue from Leather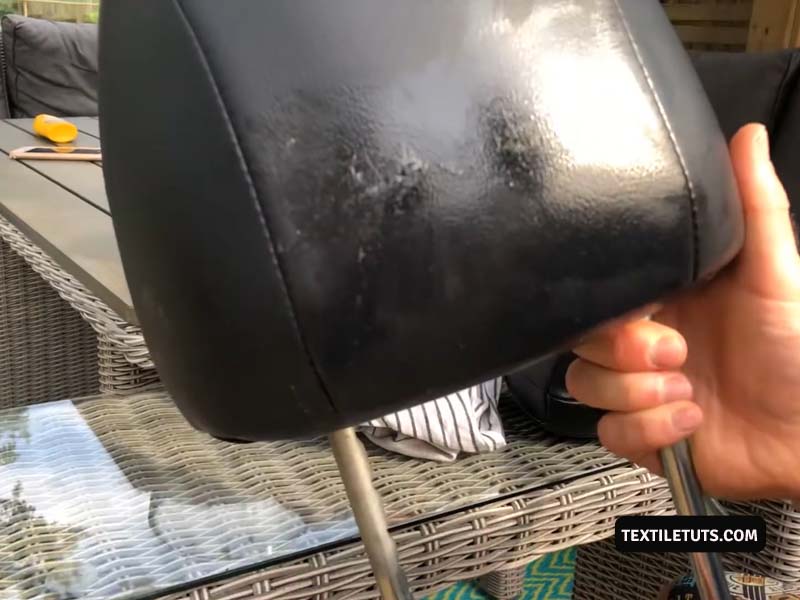 Leather is an exquisite fabric with qualities you need in life to be easier. It's a long-lasting material with great durability, so if you spilled some hot glue over it, don't fret. It's easy to clean off the hot glue from a leather surface.
Step 1: Get a Sponge or Pencil Eraser
Get yourself a sponge or pencil eraser. These objects have the ability to wear the glue from leather and velvet surfaces.
Step 2: Rub the Sponge or Pencil Eraser Over the Glue
Start rubbing over the glued area, and this will take some time depending on the glue amount you spilled on the leather. Slowly but surely, it will come off or wear off (Leather) on the surfaces.
TIP
This above method is applicable to the velvet surfaces as well.
Final Words
Removing hot glue from fabric requires patience and the right techniques to avoid damaging the material. Whether you're dealing with cotton, polyester, satin, or even carpet, following the appropriate steps can help you successfully eliminate the glue without leaving behind any unsightly residue.
From soaking the fabric in cold water to using alcohol or oil for gentle rubbing, each method is tailored to the specific fabric type. By taking prompt action and employing these tried-and-tested methods, you can effectively remove hot glue from fabric while preserving its integrity.