What Color Goes With Light Blue Pants? – Kaleidoscope of Possibilities
Light blue pants are popular for many, but finding the perfect color to pair them with can be challenging. Knowing what color combinations work well with light blue pants is essential to achieve a stylish and sophisticated look.
A vast array of colors pairs effectively with light blue trousers. Opt for a sleek white or gentle beige top for a traditional style or even pale hues of yellow or green. Darker shades of blue, gray, and pink are also suitable. For a striking contrast, consider mustard or vivid red. Neutrals, pastels, and jewel tones also complement well.
But fear not, as I am here to help you navigate the world of color coordination and provide expert tips on what colors go best with light blue pants.
Which Colors Match With Light Blue Pants?
When it comes to matching colors with light blue pants, you have various options that can create stunning and refined outfits.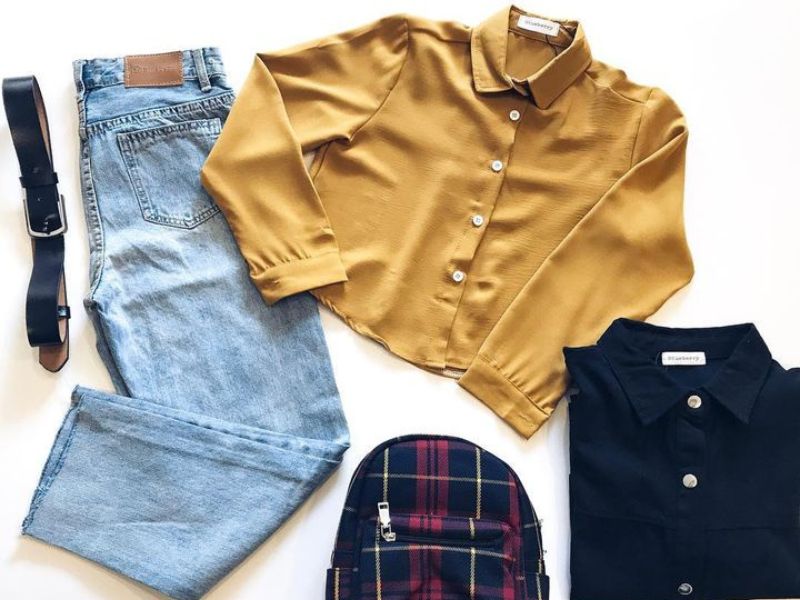 The versatility of light blue pants allows you to pair them with both bold and subtle shades. Here's a finest attire guide with colors that complement light blue pants:
Crisp White
A classic and timeless choice, a white shirt or blouse pairs elegantly with light blue pants. This combination exudes sophistication and is perfect for any occasion, from casual to formal.
Navy Blue
Create a harmonious and polished look by pairing light blue pants with a navy blue top. This combination of blues offers a sophisticated monochromatic style that's pleasing to the eye.
Pastel Shades
Embrace the soft and delicate charm of pastel colors like blush pink, mint green, lavender, or light yellow. These gentle hues complement light blue pants beautifully, ideal for a chic and feminine outfit.
Beige and Tan
Neutral tones like beige, tan, and camel blend seamlessly with light blue pants. This pairing is perfect for a refined and minimalist look, suitable for both casual and business settings.
Coral or Peach
Inject a touch of vibrancy into your outfit by combining light blue pants with coral or peach-colored tops. This combination is eye-catching and perfect for a fresh and summery vibe.
Muted Earth Tones
Earthy colors like olive green, burnt orange, or mustard yellow can add depth and warmth to your ensemble when paired with light blue pants.
Black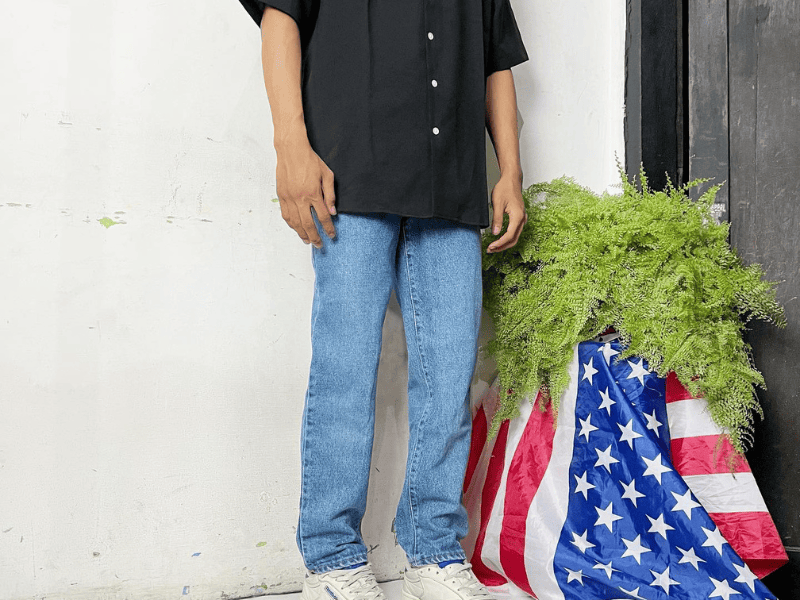 For a chic and modern look, consider pairing light blue pants with a black top. The contrast between the light and dark colors creates a sleek and sophisticated outfit.
Prints and Patterns
Experiment with printed tops that incorporate light blue along with other complementary colors. Florals, stripes, or geometric patterns can add interest and personality to your ensemble.
Metallic Accents
Light blue pants can be dressed up with metallic accents like silver or gold. Consider adding a shimmery top or accessories to elevate your look for a special occasion.
Color Blocking
If you're feeling bold, you can try color-blocking with contrasting colors like cobalt blue, bright pink, or emerald green. This style is fashion-forward and creates a statement outfit.
Bold and Beautiful: Combining with Bright Colors
Light-colored blue pants can be a versatile and stylish addition to any wardrobe. When it comes to creating a "Bold and Beautiful" look, combining them with bright colors can make a strong fashion statement.
Here are some dressing style suggestions to rock this vibrant and lively outfit:
For Men
Colorful Button-Down Shirts: Opt for bold and bright button-down shirts in colors like coral, yellow, turquoise, or lavender. These colors will contrast beautifully with the light blue pants, creating an eye-catching outfit.
Patterned Shirts: Look for patterned shirts with bold prints like floral, geometric, or abstract designs. Pair these shirts with your light blue pants to add personality and flair to your ensemble.
Vibrant Accessories: Incorporate colorful accessories like bright ties, pocket squares, or patterned socks. These small touches can make a big impact on your overall look.
Bold Blazers or Jackets: Consider wearing a bold-colored blazer or jacket over a neutral-colored shirt. This combination will make the light blue pants stand out while keeping the overall outfit balanced.
Contrasting Belts and Shoes: Complete your look with a contrasting belt and shoes in colors like red, orange, or green. This will add a pop of color to your outfit and tie everything together.
For Women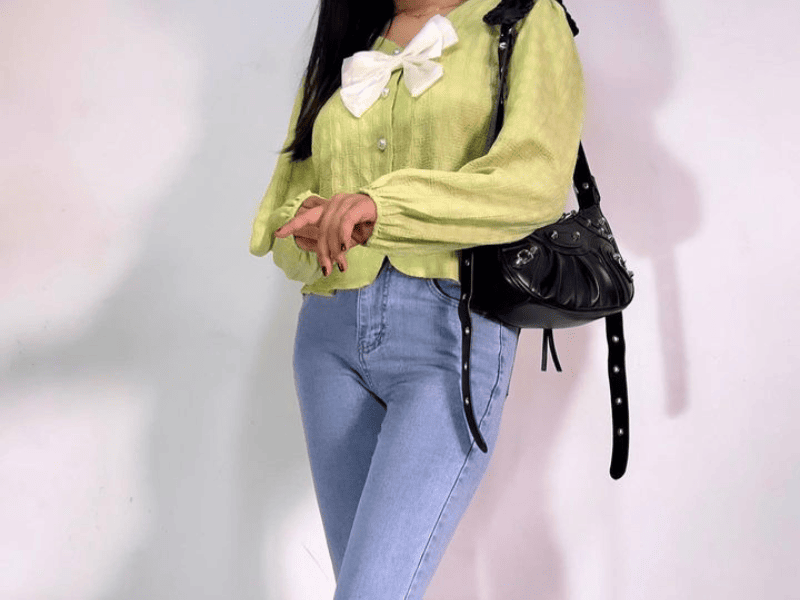 Bright Blouses: Choose feminine blouses in vibrant colors such as fuchsia, emerald green, sunny yellow, or electric blue. These colorful tops will beautifully complement the light blue pants.
Color-Blocking: Embrace color-blocking by pairing your light blue pants with a contrasting, solid-colored top. For example, a hot pink or fiery orange top can create a striking look.
Printed Tops: Opt for tops with bold prints and patterns that incorporate bright colors. Animal prints, abstract patterns, or florals can add a touch of drama to your outfit.
Statement Accessories: Elevate your ensemble with bold accessories like chunky necklaces, colorful scarves, or vibrant handbags. These accents can add depth and personality to your look.
Colorful Shoes: Choose footwear in eye-catching hues like red, cobalt blue, or purple to add an extra dash of boldness to your outfit.
General Tips for Both Men and Women
Balance is Key: When wearing bright colors with light blue pants, make sure to balance the outfit by incorporating neutral elements. Neutral tones like white, beige, or gray can help ground the look.
Confidence: The key to pulling off this bold style is confidence. Wear the outfit with pride and carry yourself with poise.
Personal Style: Feel free to experiment and adapt the suggestions to your personal style. Fashion styles are about expressing yourself, so have fun and mix and match according to your taste.
Pastels and Light Hues for a Dreamy Style
If you love soft and dreamy aesthetics, incorporating pastels and light hues into your attire can create a truly enchanting and ethereal look. Here are some suggestions to help you achieve that dreamy vibe: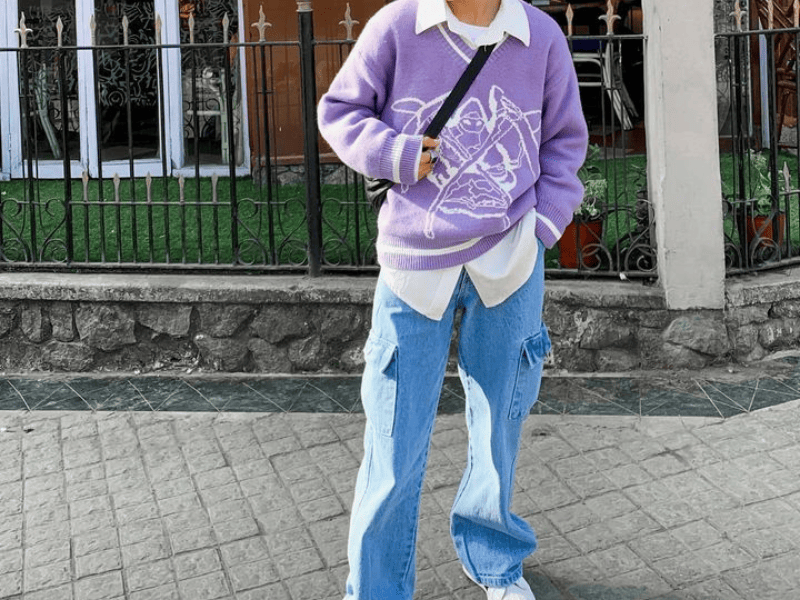 Pastel Dresses for Women
Flowy Maxi Dresses: Look for long, flowy maxi dresses in pastel shades like blush pink, lavender, mint green, or baby blue. Look for lightweight fabrics like chiffon or silk to enhance the ethereal feel.
A-Line Dresses: Choose A-line dresses in soft pastel tones with subtle details like lace or embroidery to add to the dreamy allure.
Wrap Dresses: Embrace the elegance of wrap dresses in pale colors. They not only look graceful but also flatter various body types.
Soft Tailoring for Men
Pastel Dress Shirts: Wear dress shirts in light pastel hues such as pale yellow, sky blue, or light peach. These colors work well with neutral-colored trousers or chinos.
Light-Colored Blazers: Opt for blazers in soft colors like light gray, dusty blue, or pastel lilac. Pair them with tailored trousers or dark-colored jeans for a polished yet dreamy look.
Mixing and Matching
Pastel Tops with White Bottoms: Pair pastel tops with white bottoms for an angelic and serene appearance. For example, a light pink blouse with white jeans or a mint green shirt with a white skirt.
Monochromatic Pastel Outfits: Create an all-pastel outfit using different shades of the same color family. For instance, combine a pastel yellow top with soft mustard trousers and pale gold accessories.
Dreamy Accessories
Delicate Jewelry: Opt for dainty and delicate jewelry pieces, such as thin chain necklaces, pearl earrings, or rose gold bracelets, to add a touch of elegance to your look.
Pastel Scarves or Shawls: Wrap a pastel-colored scarf or shawl around your shoulders for a soft and cozy feel.
Footwear and Bags
Neutral-Colored Shoes: Stick to neutral or nude-tone shoes to keep the focus on your dreamy outfit.
Pastel Handbags: Carry a pastel-colored handbag or clutch to complement your ensemble and tie the look together.
Hair and Makeup
Soft Waves or Braids: Opt for soft, loose waves or braids to enhance the romantic and dreamy vibe of your outfit.
Soft Makeup Look: Use soft, pastel tones for your makeup, such as light pink blush, subtle lavender eyeshadow, and a natural lip color.
Fabrics and Textures
Lace: Incorporate lace details into your outfit, as they add a touch of romance and delicacy.
Chiffon and Tulle: Look for clothing items made from chiffon or tulle fabrics, as these fabric types have a light and airy quality perfect for a dreamy style.
Conclusion
Light blue pants can be a versatile addition to anyone's wardrobe. When choosing a color to wear with them, it's important to consider the occasion and your personal style.
Neutral colors such as white, black, and beige can create a classic and timeless look, while brighter colors like pink or yellow can add a pop of color and make a statement.
Ultimately, it's up to you to experiment with different color combinations and find the ones that suit you best. With the proper styling, light blue pants can be a stylish and sophisticated choice for any occasion.