4 Best Thread for Wig Making in 2023 [Latest Picks]
Wigs have been around since 2700 B.C.E., and they've never gone out of style. Why would it when they've so many versatile uses? Facing hair loss? Wear a wig. Don't want to maintain natural hair? Wear a wig. Want to experiment with different fun looks while giving your hair a break it needs? You already know the answer.
But wigs can be expensive, and you will be better off making one on your own. But first, you need to gather all the right materials, such as wig head, needles, combs, caps, and of course, the best thread for wig making. 
We have listed and reviewed four of the best threads you'll come across. Now, let's have a look.
Why Nylon is the Best Hair Weaving Thread?
Nylon and cotton are the two most popular choices for weaving wigs. While cotton has a traditional presence, nylon thread is proving to be far superior from it. Nylon is smooth and shiny and is the most preferred and recommended for wig making.
Due to its moisture-resistant properties, the use of nylon reduces any mold or mildew buildup. So, it feels more comfortable and breathable on the scalp and does not cause any itching. As nylon is very smooth, it also does not knot or tangle up when weaving which makes it easier to work with.
Nylon threads are strong, durable, and invisible enough for seamless sew-ins. They can be very long-lasting, so they do not have much wear and tear either. And to enable proper ventilation in your wig cap, you need to do whipstitching with a ventilating needle, for which only nylon rises to the occasion.
Cotton has its redeeming qualities, but it falls short besides nylon, like the fact that it is not compatible to be used in sewing machines. And over the years, many stylists have switched over to nylon to make custom wigs, for hair maintenance and extensions, etc.
Best Thread for Wig Making Reviews
After a thorough assessment, we have chosen these four amazing threads for offering seamless, high-quality stitching, versatility, and impeccable features.
1. Ms Fenda Elastic Nylon Sewing Thread

Available in common hair colors

Sturdy and doesn't break when pulled

2. Dollylocks Bonded Nylon Hair Weaving Thread

Extremely sturdy and durable

Withstands hair coloring without fading

Bonded for effective performance

3. Beauty Town Nylon Bonded Thread

Available in just black color
1. Ms Fenda Elastic Nylon Sewing Thread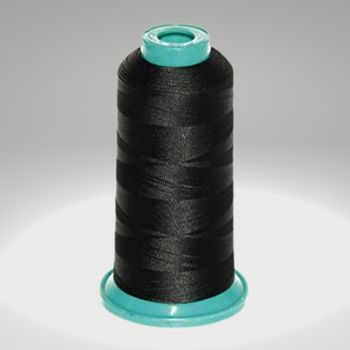 Features
Material: Nylon
Length: 1800 yard
Weight: 120 gram/pc
Item Dimensions (L x W x H): 1.57 x 1.57 x 4.72 inches
Ms Fenda's nylon threads are extremely strong and are probably the best hair weaving thread in the market. It does not break while making wigs, no matter how hard you pull.
They are available in four colors: black, beige, dark brown, and medium brown, which are the most common hair colors. So, you can use these threads to make wigs resembling your natural color and let your hair rest and grow stronger without having to constantly style and fix it. If you are facing hair loss or thinning hair, you can also make your hair extensions.
You might be in for a little surprise when you first open the package because it looks slightly messy. But if you are cautious while handling it, you will find that it does not tangle and has a very seamless, high-quality finish.
Pros
Available in common hair colors
Strong and sturdy and does not break when pulled
Can be used in sewing machines
A large amount of thread can be used for making multiple wigs
Cons
Can unravel and get tangled if not properly handled
2. Dollylocks Bonded Nylon Hair Weaving Thread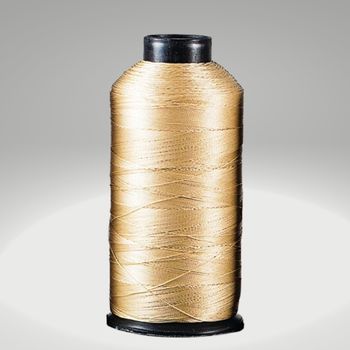 Features
Material: Heavy-duty Nylon
Length: 4oz spool contains 1400 meters of thread
Highlighting Feature: Ideal for hair extensions
Dimensions: 6 x 2 x 3 inches (L x W x H)
If you are tired of going back and fixing those loose threads of your wigs, the Dollylocks Bonded nylon threads will be a welcoming change. Made to withstand heavy-duty use such as regular hair coloring and styling, this thread will soon be your go-to thread for wig making.
It is extremely durable, having been specifically designed for hair extensions and dreadlock maintenance. You can even use the hot comb for wigs if you want to modify the texture. So, rest assured that this thread is durable and can handle the weight of your extensions several months at a time.
It does not exactly have the same consistency as synthetic hair, but somewhat near to it. Dollylocks sell their nylon threads in different colors, but their bonded weaving thread in natural blonde is one of their best products. The color blends in perfectly, which makes the slightly different consistency barely noticeable.
Pros
You can experiment with different fun hair colors using the 11 colors available
Can withstand regular hair treatments and styling without fading
Seamless finishing that remains in top shape after months of use
Strong and sturdy to handle the weight of extensions
Cons
The consistency is slightly different from synthetic hair
3. Beauty Town Nylon Bonded Thread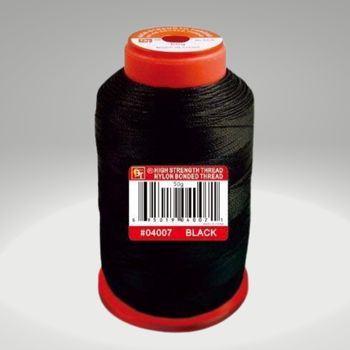 Features
Material: Nylon thread
Highlighting Feature: Professional salon quality
Weight: 1.6 oz
Dimensions: 2.13 x 2.13 x 3 inches
Beauty Town's nylon thread is bonded to get an effective performance in a hair sewing machine. It looks very thin but does not let it fool you, for it is very sturdy and can handle most heavy-duty use.
The consistency of this thread is perfect for making wigs, and it is tough too. It is different from their weaving threads and is specifically catered for customizing wigs and hair extensions with a professional salon-quality finish. You will love how natural it feels to touch and how well it mixes in with your hair. And it does not get tangled inside of the weft either!
But while it comes in a large spool, it is available in only one color right now. This can be disappointing for people who have different hair colors than black. But if you are interested in cosplays and want to make a shiny black wig as a part of your costume, Beauty Town's black nylon thread is an excellent choice.
Pros
It easily enters through the needle, which makes it more convenient to use
Comes in a large spool, so you have enough thread to make more than one wig
Thin but sturdy enough to not break while using
Professional salon quality finishing that feels natural
Cons
Smaller than the size you might expect from the picture
4. MonkeyJack Hair Braiding Sewing Thread Set
Features
Material: Made of Nylon
Length: 1000 m
Highlighting Feature: Natural-looking and long-lasting
Size: App. 0.4 mm/0.0157 inches
MonkeyJack's weaving braiding threads come in a set of 5 of the most common hair colors. They are available in black, beige, and in three shades of brown. So, if you want to increase the volume of your hair or fill in those thinning patches, you can use these colors to make your customized wig and hair extensions.
If you are looking for the best thread for sewing wigs on sewing machine, you can never go wrong with this set from MonkeyJack. Due to their incredible strength and quality, they have more varied uses besides wig making. You can make accessories, such as bracelets, anklets, waist chains, along with many others.
They can also withstand even more heavy-duty use, like upholstery, outdoor furniture making, and even hanging. We had no issue using it in our sewing machine for canvas and leather. These threads are extremely smooth, and if you do not know how to handle them, you might even find them a little too slippery to keep knotted.
Pros
Comes in a set of 5 natural hair colors so you can add highlights and experiment
Strong enough to have versatile uses besides wig making
The spools are large and generous and do not cost much
Premium level finishing and the colors do not fade quickly
Cons
The thread is too slippery and does not stay knotted when needed
Final Words
That's all we had on our recommendations for the best thread for wig making. Buying a wig can put an unnecessary dent in your wallet when you can just DIY one for yourself at a reasonable price.
While each is excellent in its way, our favorite is the MonkeyJack's thread set. They have excellent value for the price, and you get a generous 5 spools in one single purchase. You can also experiment with different extensions at different times for a change. Besides, this thread set is not limited to just wig making, which makes it even better.
REFERENCES