Do American Eagle Jeans Shrink?
When it comes to shopping for jeans, American Eagle is a popular choice. But do American Eagle jeans shrink? This is an important question to ask before making a purchase, especially if you plan on washing and drying your jeans at home.
Yes, American eagle jeans shrink by about 3-4% after several washes. This is because the heat from the washing machine can cause the cotton fibers to contract. To avoid this, it is important to either wash your jeans in cold water or hand wash them.
In this comprehensive guide, we will answer this question in-depth and provide some tips and tricks for your pair of jeans.
Let's get started.
The Great Shrinkage Debate: Understanding Denim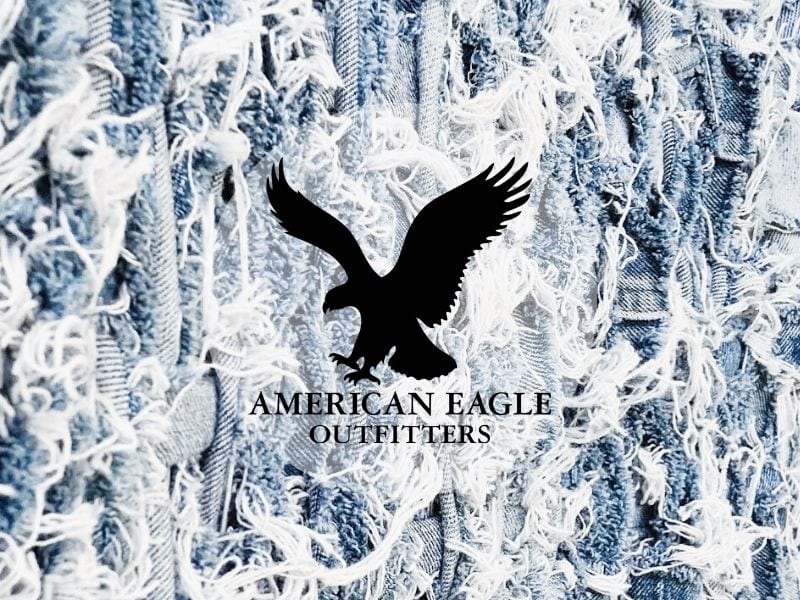 Before diving into the main question regarding American Eagle jeans, it's important to understand the basics of denim and why shrinkage can be such a hot topic. At its core, denim is a durable, woven fabric typically made from cotton.
However, not all denim is created equal – differences in fiber composition, weaving techniques, and manufacturing processes can all play a role in how denim behaves over time, including how prone it is to shrinking.
Why Does Denim Shrink: Fabric Science 101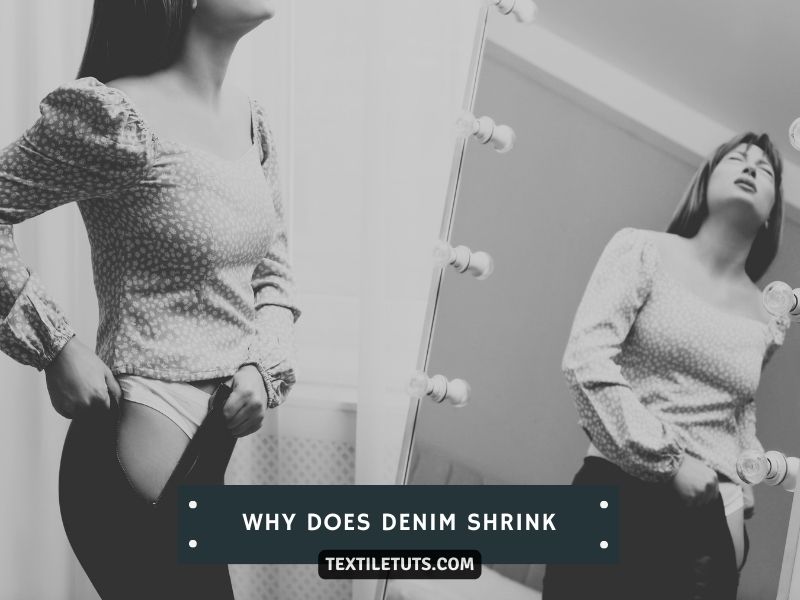 There are several factors that contribute to denim shrinkage, with the most significant one being the natural behavior of cotton fibers.
When these fibers are exposed to heat and moisture (like during washing and drying), they tend to contract, causing the fabric to shrink. Additionally, the way denim is woven can also impact its shrinkage tendencies. For example, a tightly-woven denim may be more resistant to shrinkage than a loosely-woven one.
Cotton Fibers and Shrinkage
Cotton is a natural fiber known for its breathability, comfort, and versatility. However, these fibers can also be quite susceptible to shrinkage. When cotton fibers are spun and then woven into fabric, they're stretched and put under tension.
Exposure to heat and moisture during laundering can cause these fibers to contract, resulting in a smaller, tighter material.
Blended Materials for Better Fit
When it comes to jeans, many manufacturers, including American Eagle, are now blending cotton with other materials like elastane or polyester.
These synthetics help counteract the tendency of cotton to shrink and can also provide additional benefits like improved stretch and recovery.
Essentially, blending cotton with other fibers can lead to jeans that conform more to your body and maintain their shape better over time.
Warp and Weft: The Role of Weaving in Shrinkage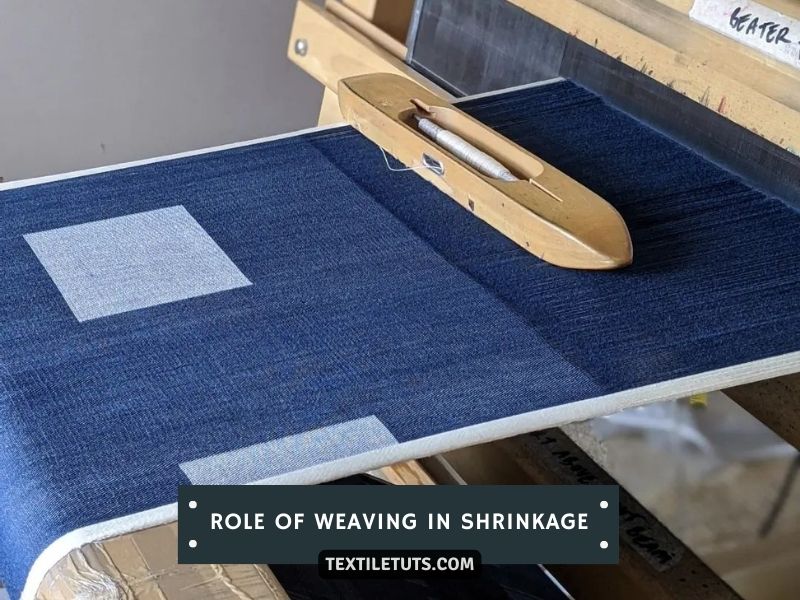 The way denim is woven plays a significant role in how much it's likely to shrink. Denim can be woven with different levels of tension, which affects the overall tightness of the fabric's construction.
Tightly-woven denim may resist shrinkage and keep its original shape better, while loosely-woven denim might be more prone to shrinkage over time. Different manufacturers and denim styles can utilize different weaving techniques, so it's essential to understand the specific details when considering how much a pair of jeans might shrink.
Do American Eagle Jeans Shrink?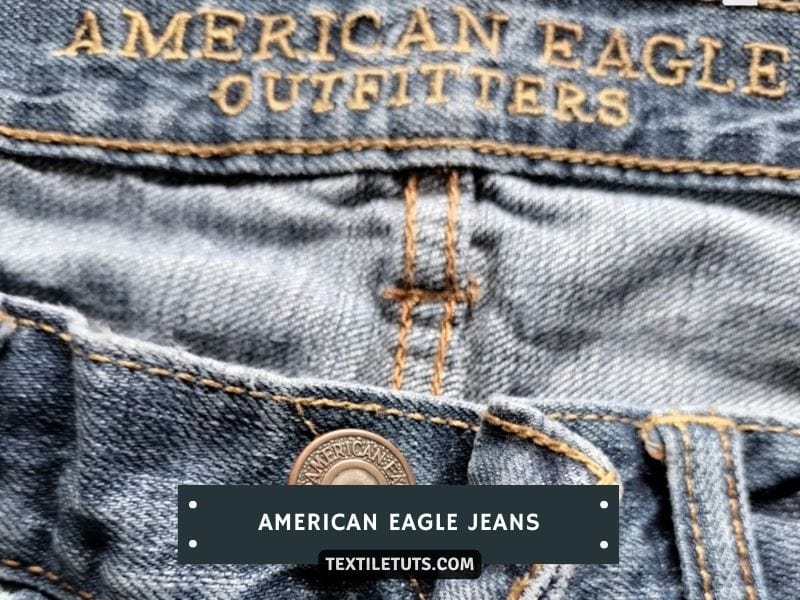 Generally speaking, American Eagle jeans are not known for having significant shrinkage. However, shrinkage can still occur depending on the specific type of denim used and how the jeans are cared for (more on that later!).
It's important to note that just because a pair of jeans doesn't shrink doesn't mean they'll fit exactly the same way forever. Over time, denim may stretch out or lose some of its elasticity, which can affect the fit.
To get a clearer picture of how shrinkage may impact American Eagle jeans, let's take a closer look at the different denim lines they offer and how each line's materials and construction might affect their propensity to shrink.
Breaking Down the Different Denim Lines
As a popular clothing brand, American Eagle offers a variety of denim lines catering to various preferences in fit, style, and comfort. The following are some of their popular lines:
AEO Denim: This is American Eagle's classic line of denim, which is available in a variety of styles and washes. AEO Denim is known for its quality and durability, but it may be prone to minimal shrinkage due to a higher percentage of cotton in the fabric blend. As with any denim, proper care can help minimize shrinkage.
Artist Flare Jeans: Known for their retro-inspired, wide-leg silhouette, Artist Flare Jeans are made with a blend of materials that are designed to provide comfort and stretch. This line of jeans typically contains a lower percentage of cotton and includes other fabrics like polyester and elastane to help maintain their shape, making them less likely to shrink.
Denim X and Denim Flex: Designed to provide maximum comfort and flexibility, these lines are made from a blend of fabrics, including cotton, polyester, and elastane. The combination of materials offers a more stretchy, form-fitting denim that is less susceptible to shrinkage.
Ne(x)t Level Stretch: This line of denim is specifically designed to provide a high level of stretch and comfort while maintaining a great fit. Ne(x)t Level Stretch jeans are made with a unique fabric blend, including cotton, polyester, and viscose, which helps to minimize shrinkage and keep their shape over time.
Decoding the Shrinkage: What Customers Have Experienced
Customer experiences with American Eagle jeans vary, with some reporting minimal shrinkage after washing, while others notice little to no change in size. Factors like the specific line of jeans, washing methods, and drying techniques can all impact shrinkage.
Overall, American Eagle jeans have earned a reputation for being durable and reliable, with minimal shrinkage when cared for properly.
Of course, individual experiences can vary, and no denim is completely immune to some degree of shrinkage.
To understand how your American Eagle jeans might shrink over time, pay close attention to the fabric composition and take note of any care instructions provided on the labels. With some mindful care and maintenance, you can enjoy a great fit and keep your favorite American Eagle jeans looking and feeling new for longer.
Can I Shrink My American Eagle Women's Jeggings Back to Its Original Size?
If you love your pair of American Eagle women's jeggings, but they have stretched out over time, don't worry! There are a few different ways to shrink stretched-out jeggings back to their original size.
Some of the most popular methods include either putting them in the dryer with a hot air setting or washing them in hot water and then hanging them to dry. It is also a good idea to iron them while they are still warm, which will help to set their shape.
The Perfect Washing Cycle for American Eagle Jeans
It is simple to wash American Eagle jeans when you know how.
Here are the steps:
Wash your jeans in cold water on a delicate cycle.
If you're handwashing them, use a mild detergent and soak for no more than 30 minutes.
To avoid any shrinkage, air dry your jeans or tumble dry them on low heat.
Taking Care of Your Jeans Wardrobe
Maintain good grooming and hygiene practices, regardless of brand, to ensure they last. However, keeping them in excellent form may be difficult when you inadvertently put them in the dryer. As a result, maintaining a strict daily routine is essential to preserve your everyday attire.
Some Tips for Your Jeans Wardrobe
Frequently Asked Questions
Do American Eagle Jeans Stretch?
American Eagle jeans will stretch out over time, just like any other 100% cotton pair. This is why it's critical to get a pair that fits you correctly in the first place. If you're between sizes, going up rather than down is the best option. Washing your jeans in hot water and tumble drying them on low heat can shrink them slightly, so keep that in mind if you're looking to achieve a tighter fit.
Do American Eagle jeans shrink when you first wash them?
Yes, they will most likely shrink when you first wash them. To avoid this, it is important to follow the care instructions on the label, and either wash your jeans in cold water or air dry them.
What is the best way to prevent American Eagle jeans from shrinking?
The best way to prevent American Eagle jeans from shrinking is to follow the care instructions on the label. This usually means washing them in cold water and air drying them. Additionally, you can try washing them in hot water and tumble drying them on low heat to shrink them back to their original size.
Does hot or cold water shrink clothes?
Both hot and cold water can shrink clothes. However, hot water is more likely to shrink clothes than cold water. This is because hot water causes the fibers in the fabric to contract, which results in shrinkage.
In which setting should you wash your jeans?
You should wash your jeans on a cold, delicate cycle. This will help preserve the color and prevent fading. Additionally, use a mild detergent to avoid damaging the fabric.
What happens when you wash jeans in cold water instead of hot?
When you wash jeans in cold water instead of hot, they will not shrink. Additionally, the color of the jeans will be preserved, and they will not fade as quickly.
Do American Eagle jeans always shrink, not stretch?
NOPE! American Eagle jeans can stretch too. Jeans can stretch too much if it's over-washed, improper drying techniques, construction material's composition, and weave structure.
Conclusion
So here you have it, everything you need to know about how to care for your American Eagle jeans so they last longer. By following the care instructions and washing them in cold water, you can prevent shrinkage and preserve the color. Thanks for reading!