90% Cotton 10% Polyester – Everything You Need to Know
Cotton and polyester are two of the most popular types of fabrics, and blends of cotton and polyester fabrication are huge in the market nowadays. They are used together to create a fabric that is strong and durable but still soft and comfortable. A 90% cotton, 10% polyester blend is a common fabric blend that is used for a variety of items, including clothing, bedding, and towels.
Better Fabric Choices for Busy Lifestyles
One of the benefits of a 90% cotton, 10% polyester blend is that it is less likely to wrinkle than 100% cotton fabric. Cotton is a natural fiber that is known for being soft and comfortable, but it can also be quite wrinkly.
Adding a small amount of synthetic polyester to the mix helps to sustain elasticity. Depending on the fabrication styles, the handling of this blend is different. For a consumer, it can be pretty confusing, and we tried to cover the blend to understand the fabrication better so that one can choose the best-suited one. Let's learn about the 90 Cotton 10 Polyester Blend.
Shrinkage in Cotton-Polyester Blends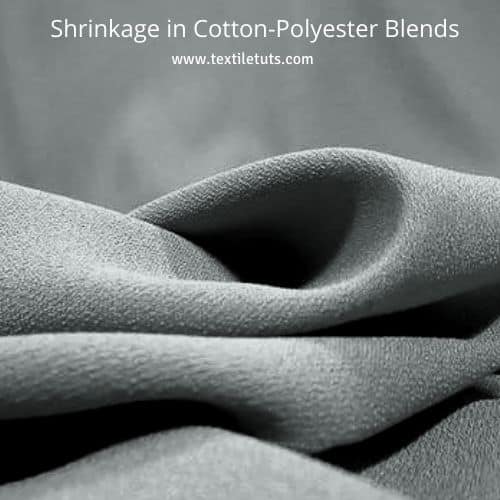 When it comes to shrinkage, cotton-polyester blends are known to shrink less than 100% cotton fabrics. The blend of 90% cotton and 10% polyester is especially prone to shrinkage, and the fabric can lose up to 3%-6% when washed and dried. This is due to the fact that polyester is less absorbent than cotton and doesn't shrink as much when wet.
The best way to avoid shrinkage in a 90/10 blend is to wash it in cold water and tumble dry on low heat. You can also hang the fabric to dry, but be sure to give it plenty of time to air-dry completely before storing it or wearing it.
How to Shrink 90% Cotton 10% Polyester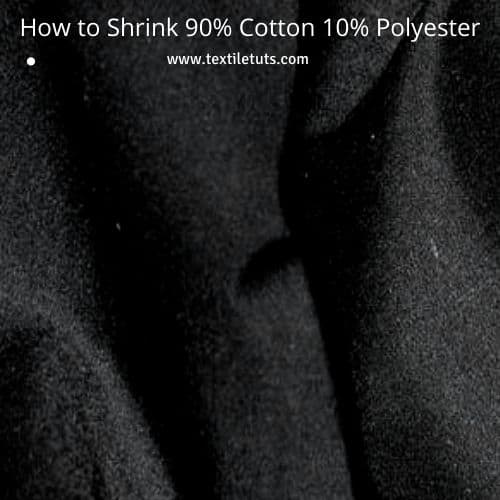 First, turn your garment inside out and put it in your washing machine
Set the setting to Hot both for cleaning and rinse.
Dry immediately after washing.
If you don't have a machine, you don't have to worry; you can follow these steps instead.
Use boiling water or put your cloth to boil with the water.
Dry it for the shortest period.
Inside out your fabric before ironing it.
Set your iron to the medium or high heat setting for the fabric.
You'll want to use a steam setting if your iron has one.
Place a clean, damp cloth over the area you're going to press. (This will help to further protect the fabric and prevent shine. Press the area with smooth, even strokes until the wrinkles are gone.)
For shrinking a t-shirt collar, you need to learn how to shrink a t-shirt collar.
Tie-Dyeing a 90% Cotton 10% Polyester Blend Fabric
Tie-dyeing a blend of cotton and polyester can be a bit tricky. The two materials are different in how they absorb the dye, so it's important to take that into account when tie-dyeing. Cotton absorbs dye much better than polyester does, so the cotton part of the fabric will likely take on a much deeper color than the polyester.
To even out the colors, you can soak the fabric in a pre-dye solution before tie-dyeing. This will help the polyester absorb more dye and result in more even overall color. Tie-Dyeing 100% Cotton is common practice, and 90 Cotton 10 Polyester blend is a fine choice.
Washing a 90% Cotton 10% Polyester Blend Fabric
It is best practice for you to follow the wash instructions provided by the manufacturer, especially for blended fabrics. If there are no instructions available, you can follow these methods to clean your blended clothing.
How to Wash 90 Cotton 10 Polyester Blend Fabrics
Non-Machine Based Washing:
You can bleach(chlorine-based) a 90% cotton and 10% polyester or use a stain remover or vinegar to remove stains from your clothes. It's in your best interest that you treat stains first before washing them cause otherwise, you might get permanent stains.
Polyester is prone to fade, so divide colored and non-colored fabrics before washing them. Keep them inside out for colored fabrics. This way, you can keep the brightness of your clothing uncompromised and save the color of the fabric.
To preserve wrinkles, hang or fold them when they are completely dry. You may also try softener and detergents to improve the wash.
Machine-Based Wash:
Use cold water and regular detergent when washing clothes, and use a low heat setting or air dry when machine drying.
If there are any heavily soiled or stained items, pretreat them with a stain remover before washing. Be sure to follow the care instructions on the garment label, as some polyester-cotton blends may require special care.
Use a low heat setting or air dry your garments to prevent shrinkage and damage.
Remove the clothes from the dryer promptly to avoid wrinkles.
Use a cool iron setting and avoid ironing over any printed areas.
Fold them when they are completely dry.
Frequently Asked Questions
Is cotton and polyester a good blend?
There is no definitive answer to this question. Some people prefer cotton and polyester blends because they are durable over shrinkage and easy to wash, while others find that the fabric doesn't feel as soft as 100% cotton. Ultimately, it's up to the individual to decide whether or not a cotton and polyester blend is right for them.
What are the disadvantages of polycotton?
Poly cotton fabric is a blend of polyester and cotton, which can cause skin allergies to some skin types and it attracts dust.
It's not resistant to fire and heat, can be slippery, is sensitive to temperature, and is not ideal for summer weather. Polyester is a good choice for indoors if you work from home or in the office; polyester isn't ideal for outdoor usage, especially in a hot environment. Because it is not as breathable as cotton.
Which is better, 100% cotton or cotton/polyester blend?
The majority of experts and consumers believe that cotton/polyester blends are better than 100% cotton because they are more durable. It offers more than just cotton-based fabrications.
Does polyester cause body odor?
Naturally, polyester is water-repellent, but it doesn't absorb sweat. So polyester causes body odor because it attracts oil from our skin.
How do you get armpit odor out of polyester?
To remove a smelly odor from a polyester shirt, squirt white vinegar onto the underarm region of the shirt and let it air-dry. If the odor lingers, coat the affected area with pre-wash stain remover and launder in warm water with 2 ounces of enzyme-based laundry detergent.
Final Words
There are different varieties of cotton and polyester blends to choose from. It entirely depends on the purpose of the fabrication. Factors like location, weather, fashion, expense, etc., come into play when you are going to choose a blend.
From the consumer perspective, 90 Cotton 10 Polyester is a safe choice since it provides durability, resistance over shrinkage, easier washing methods, and is cost-friendly. If you are looking for comfortable wear, then this is the best pick. It will keep you feeling cool in summer and warm in winter. You might find other blends in the market, but to be on the safer side, go with this one!