Does Under Armour HeatGear Shrink? – Protect The Gear!
Under Armour is a widely recognized athletic apparel brand known for its innovative and high-performance clothing. Their most popular product lines HeatGear collection, designed specifically for athletes to keep cool and dry during intense workouts. However, consumers have speculated about the potential shrinkage of Under Armour's HeatGear garments after washing.
No Under Armour HeatGear does not shrink; they are designed to resist shrinking. However, improper care can lead to some shrinkage. It is recommended to wash these items in cold water and let them air dry or use a low heat setting on a dryer to avoid possible shrinkage.
In this article, I will dive deeper into the factors that can contribute to shrinkage and provide tips on how to properly care for your HeatGear items to potentially prevent any shrinkage.
Can Under Armour HeatGear Shrink?
Under Armour, HeatGear is specifically designed and manufactured using quick-drying synthetic fabric, which is very durable and is great at moisture-wicking. HeatGear is made to keep you cool when it's hot, hence, the name "HeatGear." It's mostly created from a blend of 90% Polyester and 10% Elastane, materials known for their durability and resistance.
Materials like Polyester and Elastane are resistant to shrinkage. However, like any other piece of clothing, if Under Armour HeatGear is exposed to heat and not properly cared for, then there is a risk of the material shrinking.
While the fabric itself is designed to be durable and resistant to shrinkage, exposing it to high heat such as a hot water wash or a high-heat dryer cycle can cause some shrinkage. To avoid this, it is recommended to wash Under Armour HeatGear in cold water with like colors. For drying, you should ideally let it air dry or use the low heat setting on your dryer.
Consider avoiding the use of fabric softeners and chlorine or bleach. These can break down the fabric and reduce its durability and effectiveness, which can potentially lead to shrinkage over time.
Therefore, while the Under Armour HeatGear is designed to resist shrinkage, improper care and laundry practices can lead to the material shrinking. Always follow the care instructions provided with the product to ensure longevity and maintain quality.
Properties of Under Armour HeatGear Fabric
Under Armour's innovative HeatGear fabric was initially introduced in 1996 and has since become an essential technology in their line up.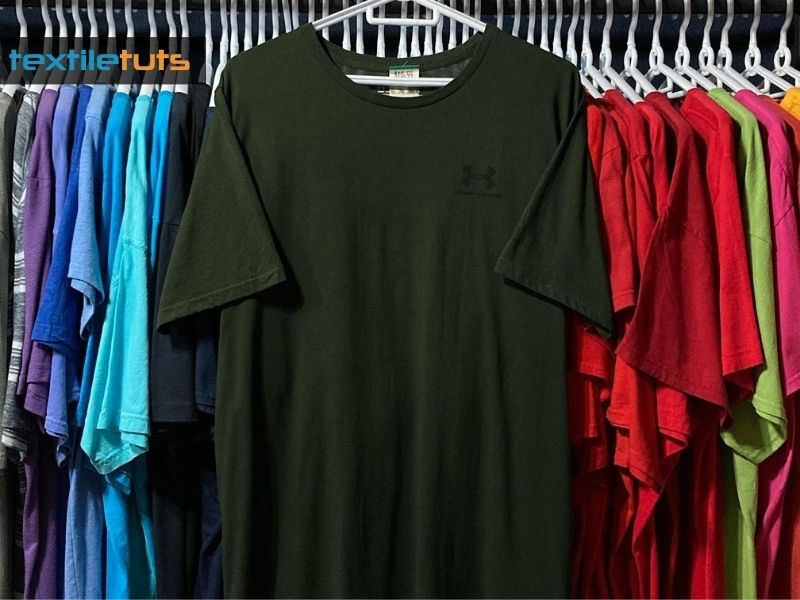 The HeatGear fabric is specifically engineered to maintain body temperature and provide maximum comfort during strenuous activities, especially in hot weather conditions. Several key properties define this fabric.
Moisture Wicking
One of the prime features of HeatGear fabric involves its sweat-wicking capacity. The fabric is designed to pull sweat away from the body to the surface of the garment, where it can evaporate quickly.
This process ensures you stay dry, light, and comfortable which can enhance your overall performance.
Breathability
HeatGear fabric is known for its exceptional breathability. The material allows for adequate airflow, which helps to keep your body cool and prevent overheating even during intense physical exertion.
Temperature Regulation
The fabric has the property of thermo-regulation. It's created to deliver a lightweight, cooling effect that effectively helps regulate your body temperature in hot conditions. Therefore, it's ideal for summertime or warm climate activities.
Quick-Drying
The material is quick-drying, thanks to its superior moisture transportation technology. This means it can dry out faster after absorbing sweat or getting washed.
Compression
Some HeatGear products incorporate compression technology, which provides muscle support and can help improve circulation. This can lead to reduced muscle fatigue and potentially improved performance.
Anti-Odor Technology
Another important feature of HeatGear fabric is its anti-odor technology. This helps to prevent the growth of odor-causing microbes, keeping the wearer and the apparel fresh for longer.
Four-Way Stretch Construction
HeatGear fabric is built with a unique four-way stretch construction. This property enhances mobility and maintains shape, offering a flexible and comfortable wear.
Benefits of Using HeatGear Fabric
HeatGear fabric is designed to provide specific benefits for athletes and active individuals. Here are some of the key benefits of using HeatGear fabric:
Versatility
HeatGear is suitable for a wide range of activities, including running, training, cycling, and various sports. Its versatility makes it a popular choice among athletes and fitness enthusiasts.
UV Protection
Some HeatGear garments offer UPF (Ultraviolet Protection Factor) to shield your skin from harmful UV rays, providing an added layer of sun protection when exercising outdoors.
Durability
Under Armour prides itself on producing durable products, and HeatGear is no exception. The HeatGear fabric is known for its durability and its fabric is designed to withstand the rigors of athletic performance and regular use.
The fabric maintains its elasticity even after several washes and heavy use, making it a cost-effective choice in the long run.
Lightweight and Smooth
HeatGear fabric is notably lightweight and has a smooth, soft texture. This makes wearing it particularly comfortable, allowing for greater ease of movement. It's designed to offer a compression fit without the squeeze.
Comfort
Above all, HeatGear fabric is designed for comfort. It has a soft and silky texture and is also smooth, which reduces the risk of chafing and skin irritation.
Stylish Design
Under Armour often combines performance and style in their HeatGear apparel, making it suitable for both training and everyday wear.
How to Wash and Care for Under Armour HeatGear?
Under Armour, HeatGear requires proper cleaning and maintenance to ensure it serves you for the longest time possible. Here's how to wash and care for your Under Armour HeatGear:
Check Care Instructions
Before washing any of your Under Armour HeatGear, always check the care label for any specific washing instructions that may be indicated.
Separate colors
To prevent the blending of colors, ensure you separate the clothing by colors. Wash light-colored clothes separately from dark ones.
Use Cold Water
Washing Under Armour HeatGear in cold water is the ideal choice. Cold water will help to maintain the clothes' elasticity and prevent them from shrinking.
Choose the Right Detergent
Opt for a mild detergent, suitable for synthetic materials. Avoid using bleach or fabric softeners as they can deteriorate the fabric and affect the HeatGear technology.
Gentle Cycle
Always use a gentle wash cycle when washing your Under Armour HeatGear. This helps to preserve the gear's fabric and structure.
Air-Dry
Once washed, avoid tumble-drying your Under Armour HeatGear. The high heat of a dryer can damage the fabric and reduce the lifespan of your gear. Instead, lay your gear flat or hang it to air dry. Avoid direct sunlight as it can fade the color of your gear.
Storage
After drying, fold your HeatGear neatly and store it in a cool, dry place. Avoid ironing the gear as the high heat can damage the elasticity and the performance of the fabric.
Do Not Dry Clean
Under Armour HeatGear should not be dry cleaned. The chemical solvents used in dry cleaning can damage the fabric and compromise its breathability.
HeatGear Vs. ColdGear: How to Choose Between Two?
Under Armour offers two distinct lines of performance apparel, HeatGear and ColdGear. Each designed to address different temperature conditions and activity levels. Choosing between HeatGear and ColdGear depends on the weather and your intended activity. Here's how to decide which one to use: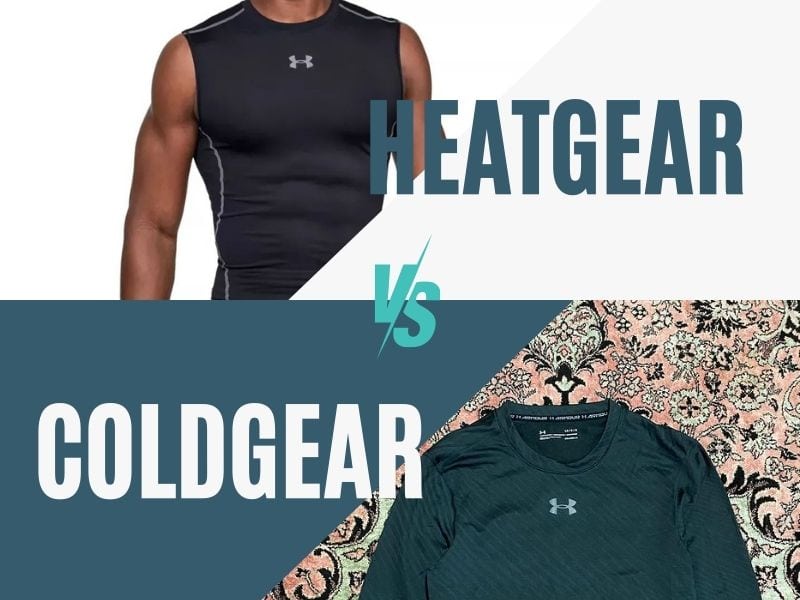 HeatGear
Under Armour's HeatGear is designed for warm weather use. It features unique fabric technology that wicks away sweat and moisture from your skin, keeping you cool, dry, and comfortable while exercising in the hot sun.
This clothing range is lightweight, breathable, and designed with built-in UPF 30+ sun protection, providing protection against harmful UV rays. HeatGear items range from t-shirts, shorts, leggings, sports bras, and more.
HeatGear clothing is engineered with stretchable fabric to enhance mobility without limiting the wearer's movement. This line also includes armourvent technology that delivers true breathability in a light, stretchy, durable, and fast-drying fabric.
HeatGear is an excellent option for people who live in warm climates or are prone to heavy sweating.
ColdGear
On the other hand, Under Armour's ColdGear is created for cold weather conditions. This line features a dual-layer fabric with an ultra-warm, brushed interior and a slick, fast-drying exterior to keep you warm without weighing you down.
ColdGear uses a special infrared lining to absorb and retain your body heat, while also wicking away sweat to keep you dry.
The ColdGear line includes items like leggings, hoodies, and jackets designed to cope with temperatures below 13°C (55°F).
ColdGear is also designed to be as lightweight and comfortable as possible, with the aim of helping athletes and individuals maintain their performance levels even in cold climatic conditions.
Choosing Between HeatGear and ColdGear
Consider the Weather: The decision between HeatGear and ColdGear largely depends on the weather conditions you'll be active in, and the level of comfort you prefer.
Activity Level: If your activities are predominantly in hot and/or humid climates, HeatGear products would best suit your needs. They will help keep you cool and dry due to their efficient moisture wicking properties.
Specific Needs: Some activities may require a hybrid approach, using different Under Armour products for specific areas of your body. For example, you might wear ColdGear leggings and a HeatGear shirt for winter running.
Personal Comfort: Ultimately, choose the one that makes you feel comfortable and performs well for your specific conditions and activities.
What Causes Damage to Synthetic Fabrics?
Synthetic fabrics, like polyester, nylon, and acrylic, are known for their durability and resilience in comparison to natural fabrics like cotton and silk.
However, they are not invincible and can be damaged by various factors. These include heat, harsh chemicals, excessive washing, UV exposure, and overall wear and tear.
Heat
Synthetic fabrics are essentially made from plastic, hence, they have a low resistance to high temperatures. Therefore, hot ironing, high-temperature washing, or drying can cause them to melt, shrink, or lose shape. It's advisable to wash synthetic fabrics at low temperatures and avoid ironing them directly.
Harsh Chemicals
Synthetic fabrics are also sensitive to certain chemicals. Exposure to solutions containing bleach or softeners can cause discolouration and weaken the fibre structure, leading to tearing or stretching. The use of strong detergents may also harm these textiles.
Excessive Washing
Frequent machine washing, particularly at high speeds, can lead to pilling and abrasion in synthetic fabrics. The physical stress of spinning in a washing machine may weaken the fabric over time, creating rips or holes.
UV Exposure
Prolonged exposure to sunlight can also harm synthetic fabrics. Ultraviolet rays can lead to the fading of colours and weakening of the fabric over time. Many synthetic materials are not designed to resist long-term exposure to the sun.
Overall Wear and Tear
Like all materials, synthetic fabrics are also subject to wear and tear over time. Constant friction, stretching, or contact with sharp objects can lead to piling, ripping, or distortion of shape.
Poor Quality Material
Lower-grade synthetic fabrics may not have the same strength and resilience as higher quality options and can become damaged more easily.
Does Under Armour HeatGear Shrink in the Dryer?
Under Armour HeatGear clothing is made from synthetic materials including polyester and elastane (lycra). While these materials are generally durable and resistant to shrinking under normal washing conditions, they can shrink if exposed to high heat, such as in a dryer.
Under Armour suggests washing HeatGear clothing in cold water with like colors and then laying the clothes flat or hanging them to dry. This is to prevent any potential damage or size reduction caused by heat.
Also, avoid using bleach or fabric softeners as they will further increase the chances of the clothes shrinking or getting damaged.
So, while the Under Armour HeatGear generally does not easily shrink, it's still essential to handle them carefully and follow the wash and care instructions to maintain their look and feel.
Remember, high temperatures in the dryer can potentially cause it to shrink and also shorten the lifespan of the garment, regardless of the material. Therefore, it's better to air dry them instead of using a dryer. However, if you really need to use a dryer, use the lowest heat setting.
Wrap Up
Under Armour HeatGear is designed with high-quality materials and innovative technology to withstand various conditions, including washing and drying. The likelihood of significant shrinkage is minimal.
Proper care, such as washing in cold water and air drying, can further prevent any potential shrinking. Ultimately, it is important to carefully consider sizing and follow proper care instructions to avoid any potential shrinkage in your Under Armour HeatGear.