5 Best Loom for Weaving Scarves in 2023
When you start weaving a scarf, very few people think about what looms they will use. But when it comes to making scarves, the right tools are important. This is especially true of looms because they make the difference between a terrible and an excellent loom.
Scarves are the first thing most people try when learning to weave, but there's a lot more to them than meets the eye. The wrong loom can be frustrating and discouraging for beginning weavers, making things even harder for them.
In this article, we have gathered together the 5 best looms for weaving scarves based on their different uses and performance. Also, we have covered different types of looms available along with a comprehensive buying guide. So, stick to the end to get all the information before purchasing the perfect one.
Now, there are two types of looms you can use to weave a scarf for yourself at home. The first one is weaving looms. Second is knitting looms. Both have their own advantages and disadvantages. Depending on your preference, you can select any of the two. Click here if you don't know the differences yet.
Best Loom for Weaving Scarves Reviews
So, which looms should you use for making scarves? Which ones are the best options? Here's a list of five top-rated looms for weaving scarves:
1. Loopdeloom – Weaving Loom – Award-Winning Craft Kit
Loopdeloom is an award-winning craft kit that makes it easy for young children to learn a variety of crafts. Whether you are looking for a gift for your niece, daughter, or just someone who loves crafts, this product will be sure to wow them.
This beginner's loom helps you learn to weave scarves, hats, mittens, baskets, and more. It's easy as 1-2-3. There are no holes to poke, so it's great for kids. With this weaving loom, you can create beautiful projects that make great gifts or keepsakes.
This award-winning craft kit lets you weave on a frame that has no beginning or end; it's super fun and easy!
The kit comes with everything you need to get started, including an instruction book with different weaving patterns, 1 spinning peg loom, and 120 yards of yarn.
Verdict
The Loopdeloom weaving loom is a wonderful all-in-one craft kit ideal for beginners and old pros alike looking to get back to basics. It's a fun way to create beautiful scarves that you can proudly use.
2. Ashford SampleIt Weaving Loom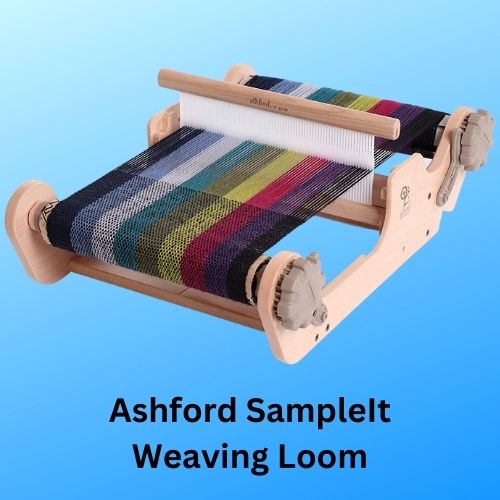 Features
Weaving Width: 10 inches (25cm)
Item Weight: 3 pounds
Material: Solid Natural Silver Beech Timber
Assembly: Required
Built-in second heddle option
Ashford SampleIt offers a natural wood loom with a compact and lightweight design. It's easy to use, and the natural timber finish gives it a rustic touch. The loom is portable and lightweight, making it ideal for travel or taking to classes. It is a great loom for beginners and experienced weavers alike.
The SampleIt is a perfect loom for a person who has a small space to weave in or someone who wants to weave on a whim while at a festival or a friend's house. This beginner weaving loom is a versatile loom because the weaver can weave with one or two harnesses and add an extra set of heddles to create the back shed for two-color weaving.
The loom includes a threading hook, warping peg and clamp, and 10 x warping sticks (cardboard). It gives you the opportunity to try out all of your favorite rigid heddle designs.
Verdict
The Ashford SampleIt Weaving Loom allows you to weave samples of your design before you commit it to a larger project. With this loom, you can easily weave scarves 6-8 feet long.
3. Mikimiqi Wooden Multi-Craft Weaving Loom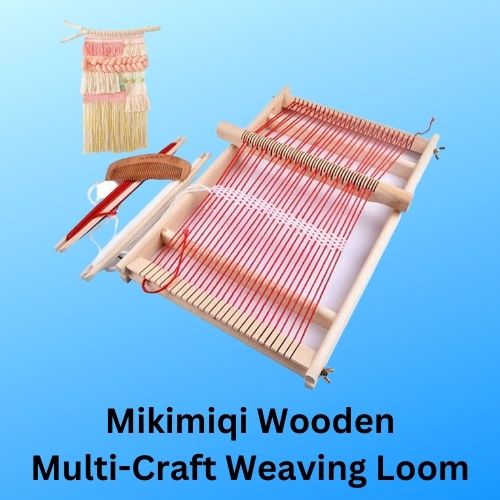 Features
Weaving Width: About 8 Inches
Item Weight: 3 Pounds
Material: Polish Wooden
Other Features: Metal screw regulator for frame and switch string
Mikimiqi is a beautiful wooden weaving loom used for many different crafts, including African and Scandinavian hand-knotted rugs, tapestries, table runners, placemats, scarves, belts, clothes, and accessories.
In its simplest form, Mikimiqi is a frame to which you attach strings and wooden rounds in order to weave cotton or wool yarn. In the more complex versions of the loom, the weave goes both horizontally and vertically.
The horizontal threads are attached to the top beam of the loom with string, while vertical threads are attached to dowels that are placed on two beams that cross each other at right angles.
Various items can also be looped onto these dowels. The metal screw regulators enable changing the frame to adjust the strings according to your working need.
Worth mentioning that it's a fascinating weaving loom for youngsters to use, and it'll help them develop their interests and hand-eye coordination. Age group 12 and up are recommended. It does have a working width of approximately 8 inches and a frame size of 9.85 x 15.75 x 1.3 inches.
Verdict
The Mikimiqi Multi-Craft Weaving Loom is a wooden craft set that inspires kids to create and invent. It comes with easy assembly instructions and has everything you need for weaving, beading, threading, and more.
4. Katech 4 pcs Rectangle Knitting Looms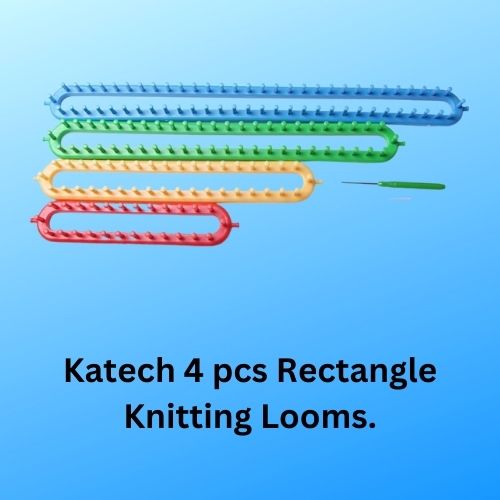 Features
Weaving Width: 9.4 inches, 13.4 inches, 17.5 inches, and 21.5 inches
Shape: Rectangle
Item Weight: 1.65 pounds
Material: Plastic
Number of Pieces: 4
If you love knitting and you're looking for a new challenge, then you're going to love Katech 4 Pcs Rectangles Knitting Loom. The set consists of 4 random colored looms where the sizes are 9.4 inches, 13.4 inches, 17.5 inches, and 21.5 inches, respectively.
These are the perfect variations to meet all your crafting needs, especially when weaving scarves.
Thanks to its easy-to-use hook and needle, by properly using them, you can make a wide range of crafting items like mats, headbands, socks, gloves, and so on. The pegs are designed strategically to make your weaving experience more enjoyable.
It is durable and sturdy because of its high-quality plastic materials. You can easily carry this lightweight weight loom anywhere and continue the knitting project without any hassle. This DIY knitting loom kit is a perfect gift item for your loved one.
Verdict
The Katech 4 pcs Rectangle knitting looms are great for DIY projects. They are easy to use, and with the different sizes, you can make hats, scarves, and more. The set includes 4 knitting looms that enable a lot of weaving options.
5. Round Knitting Loom Set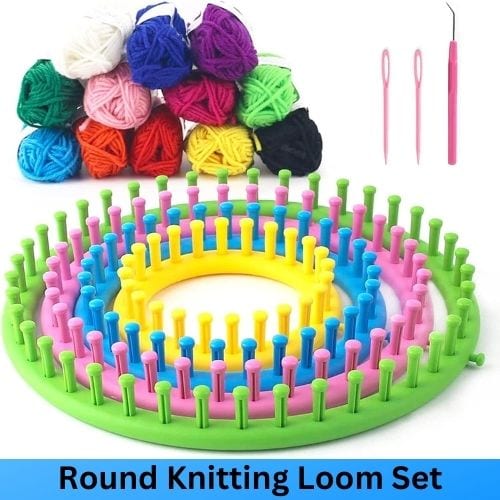 Features
Weaving Width: 11.5 inches, 9.5 inches, 7.5 inches, 5.5 inches
Shape: Circular
Item Weight: 1.41 ounces
Material: Polypropylene
Number of Pieces: 4
Other Features: Well-fixed small anchor pegs
If you're looking for a loom set that includes everything you need to get started weaving, the Round Knitting Loom Set is undeniably the best option. With this circular loom set, you can start learning different weaving techniques right away. Its lightweight Polypropylene body ensures a strong and long-lasting use.
With this high-quality loom, you don't need any more accessories to knit scarves, socks, hats, or even blankets. Because it includes everything, you'll need to finish your project without having to look for and collect other supplies.
The set includes 4 circular looms in various sizes, 1 hook, and 2 plastic needles. In addition, there are a total of 12 rolls of yarn in multiple colors, which is enough to begin weaving a multicolored scarf. It also comes with an instruction booklet that makes learning the different techniques a breeze.
Verdict
One can start their knitting journey with this set of 4 round knitting looms, 2 knitting needles, and 1 hook. Weaving different projects is relatively easy than other projects on the loom due to its circular shape design. It is also lightweight and easy to store and carry.
Difference Between a Weaving Loom and a Knitting Loom
Weaving Loom
A weaving loom is larger than a knitting loom. It needs more space for weaving patterns. It needs to be taut before you start working on it which ensures the accurate size of the knitted piece. You can work with a weaving loom up to a larger waist size.
Advantages of a Weaving Loom
A weaving loom has the following advantages:
You can work on it and enjoy your favorite TV show or music at the same time as it does not take much space.
It is usually large, and you can work up to waist size with it.
It is usually made of wood which gives it more strength and makes it last long.
You can create new designs on the loom that are not possible to create with knitting looms easily (e.g.: you can make a design on both sides of your scarf.)
Disadvantages of a Weaving Loom
A weaving loom also has the following disadvantages:
It is usually large, bulky and heavy which makes it difficult to carry around.
They are expensive when compared to knitting looms.
It usually needs more space to work with it as it is made of wood and usually has a wider frame than knitting looms.
Knitting Loom
A knitting loom is a smaller, affordable and lightweight tool that can be used by anyone from an infant to seniors. It needs less space for weaving patterns. You do not have to tighten it before working on it which makes it easy for you to work with it.
Advantages of a Knitting Loom
A knitting loom has the following advantages:
They are lightweight, portable and inexpensive which makes them easy to carry around and easier for beginners to start working with it.
As they are mostly plastic, you can create new designs that might not be possible on wooden weaving looms easily (e.g.: you can make holes in your scarf.)
The small size allows you to complete any project of yours quickly without worrying about running out of yarn or losing stitches as they do not take too much space.
Disadvantages of a Knitting Loom
A knitting loom also has the following disadvantages:
The smaller size makes them weaker than wooden weaving looms.
You can only knit scarves since it does not have broad enough base to weave other pieces on it.
Most good quality knitting looms are usually expensive when compared to woven ones. You can get a good quality weaving loom in less than $20 while a good quality knitting loom in $30-$ 40.
Here are the differences at a glance:
| Loom | Size | Cost | Portability | Material | Design capabilities |
| --- | --- | --- | --- | --- | --- |
| Weaving | Large | Expensive | Bulky, heavy | Wood | Can create new designs on both sides of the piece |
| Knitting | Small | Inexpensive | Lightweight, portable | Plastic | Can create new designs with holes in the piece |
Difference Between a Weaving Loom and a Knitting Loom
In this post, we have gone through some of the finest units in both categories.
Types of Weaving Looms


When selecting a loom, first, you need to decide what type of weaving you will be doing and what materials you will be using. There are many different types of looms that can do different jobs. Know the basic types of looms and how a weaving loom works before you buy one so that you can select the right one for your needs. Let's get started –
Backstrap Looms
Backstrap looms are the simplest and oldest looms used to make fabrics. Fabric is made by interlacing strings from back to front. In this method, we apply tension by hanging the loom from a fixed bar, tree, or hook and applying a force on the other end of the fabric.
This way we can produce very fine and thin fabrics. It is considered an efficient loom because it is very simple and easy to use. Spare fabric is also of the same width, so warping is unnecessary. We can get any length by joining the ends if we want longer pieces.
Tapestry Looms
Tapestry looms consist of a frame with two bars on either side of which we place the heddles according to our requirements. Fabric is made using long hanging threads called the warp, and short cross threads called the weft.
The intersections of these threads form the fabric pattern and thickness. Tapestry looms are quite popular in making square or rectangular pieces best for tablecloths, wall hangings, etc. These looms are also quite excellent at working with crochet yarn for placemats.
Inkle Looms
Inkle looms have similarities with tapestry loom, except the fabric is very narrow, and we get along its length. This type of loom is used for making belts, ties, etc.
Rigid Heddle Looms
Rigid heddle looms are similar to tapestry looms, but they use rigid heddles instead of strings for weaving the pattern into the fabric. It has two types – one with vertical and another with horizontal rigid heddles.
We can make any plain weave in this loom. Since we do not need warping, it saves time and is often considered an efficient loom.
Table Looms
Table looms consist of a frame-like structure that sits on top of a table and is quite popular in making clothes for babies. We can make cloths of various shapes and sizes using this loom as it has a very wide range of accessories that go with the looms.
Floor Looms
Floor looms are larger in size than other types of looms, and their length is also quite long. Fabric produced from the floor looms a different texture because we have to pass the shuttle through warp threads from back to front, giving them a unique look.
These looms are used mainly by professional weavers or professionals working in textile industries who produce huge quantities of fabric every day because table looms cannot be set up for such large lengths.
What to Look For When Buying Loom for Scarves?
Choosing the correct loom for weaving is essential because you can't just use any loom. Some looms are not suitable for weaving scarves, so keep the following things in mind while buying a loom for weaving scarves:
Width of Loom
The term 'loom' usually refers to a rigid heddle type of frame that has slots on one side through which strings are threaded back and forth to create rows of closely woven fabric, preferably square in shape.
There are different sizes available for looms depending on what size projects you want to do. When it comes to scarf making, most people prefer a loom that is between 16″ to 26″.
Dimensions of the Loom
When you buy a weaving loom, it is important to consider the physical space you have in your home or even at work. In order to get used to new projects on a rigid frame, small looms are usually preferred by beginners.
However, once you get comfortable creating basic woven projects on a small frame, you can upgrade to larger ones.
Floor or Table Top Loom
You have two options when it comes to buying a loom for scarf making. Depending on what suits your requirements and preferences, you can go for floor looms or tabletop looms.
Floor looms are suitable if you want more advanced types of woven scarves for your home decor or if you want to make bigger-sized scarves and lap robes.
However, floor looms take up a lot of space in your room and are not suitable for doing weaving projects on the go. If you plan to weave while sitting at the dining table or anywhere else with limited space, then it is better to opt for a tabletop loom.
The Diameter of the Pegs
Look for looms with wider pegs as this will prevent from having large holes in the middle of your scarf. It is common to see wide spaces between warp threads in a woven scarf, which makes it look moth-eaten.
Therefore, you should look for a loom that prevents excessive spacing between warp threads while weaving scarves on it.
The circumference of the loom's pegs should be strong enough so that they do not break apart easily when tension increases during the fabric weaving process. If the weaving loom is too heavy for its pegs, it might break them as they will not be able to bear the tension.
Product Warranty
When buying equipment related to any craft project, it is important that you pay close attention to product warranty information because something could go wrong with the item shortly after purchase.
It happens all the time so keep this in mind before spending money on anything. Make sure that whatever product you are buying has some replacement policy if there are any manufacturing defects.
Frequently Asked Questions
1. Can you weave a scarf on a small loom?
Yes, you can weave a scarf on a small loom. In fact, there are a number of different ways to weave a scarf on a small loom. You can use a simple over-under pattern or more complicated patterns like the herringbone stitch.
2. Can I use knitting yarn for weaving?
Yes, it is possible to use both knitting and weaving with the same yarn type if one takes care not to stretch or pull on the material too much during the cutting/warping process before joining them together with an overhand stitch.
3. Can you use crochet thread for weaving?
You can use crochet thread for weaving, but it is not the best choice. Crochet thread is thinner than regular weaving thread and is not as strong. It's a good choice for projects that don't require a lot of strength, like doilies or tatted lace.
4. Is weaving easier than knitting?
Yes, weaving is easier than knitting because it does not require the use of any needles, and there are no seams to sew together after weaving in the ends.
5. What is warp knitted fabric?
Warp knitting is a specialized form of knitting that interlaces parallel threads, or warps, which are used to weave the final product.
Final Words
Weaving scarves are a great way to explore your creative side and make something beautiful for yourself or others. If you are starting, go the cheap route with the rigid heddle loom set, learn your stitches, and then upgrade to a floor loom when you are ready to take on larger projects.
Good luck with weaving your first scarf! Have fun!
REFERENCES