The Best Yarn For Placemats | Top 5 Picks
The other day I was looking for some placemats online, and to my surprise, either I didn't like most of them, or they were unexpectedly overpriced.
Those didn't really seem worth it to me – after all, why should I spend so much to buy average placemats when I can make better ones at home? Then an idea struck me – and I started looking for the best yarn for placemats instead.
After some research and speculation, I came across five yarns that will be ideal for making placemats – and here, I will be sharing their reviews with you so you can choose the best one with me.
5 Best Yarns for Placemats
Need a yarn for placemats but ran out of all the good options? Well, you haven't gone through our top picks yet because you are sure to find the right one here.
1. Lily Sugar'n Cream Cotton Cone Yarn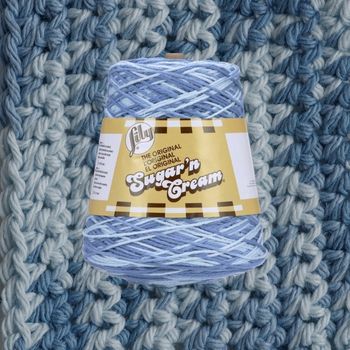 Features
Material: Cotton
Color: Faded Denim
Weight: 400grams
Number of Pieces: 1
Product Care Instructions: Machine Wash
Tired of washing your placemats by hand? Well, once you use this yarn, you won't ever have to take the hassle of hand washing anymore because this yarn is fully machine washable – find out more about this item right here.
Thanks to its ability of absorbing water quickly, it can get cleaned pretty easily without any hassle – so your placemats will never be dirty. Just lay it out flat to let the item dry, and it will be ready to use in a while.
The yarn is made of cotton, which makes it both soft and absorbent. However, the material can be coarse and durable where it is required to be – making it suitable for a lot of other purposes than just making placemats.
Your placemats need to remain clean. And that is why this material is rather stain-resistant. Not to mention, its ability to get washed and cleaned pretty easily make it even more convenient for the users.
The 400g yarn is ample enough to use for multiple projects. This aspect of it makes it rather economical. Thanks to its material, the yarn is eco-friendly as well, so you don't have to worry about any harm being caused.
With 20sts and 13sc knitting and crochet gauges, you can use them for both purposes quite conveniently. Moreover, the heat-resistant feature of the yarn makes it safe for use as well.
Verdict

This is the perfect yarn for making placemats because it comes with all the characteristics that you need in one – durable, absorbent, and eco-friendly.
2. TYH Supplies 20-Pack 22 Yard Acrylic Yarn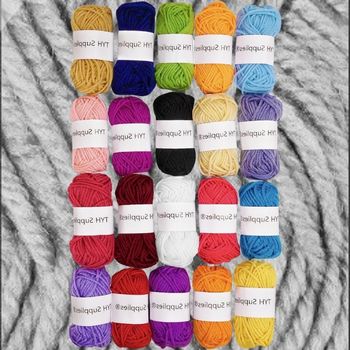 Features
Material: Acrylic
Color: Assorted Colors
Weight: 8.1 Ounces
Number of Pieces: 20
Product Care Instructions: Machine Wash
Never let your placemats be boring with this set of yarns that come in different colors. With a soft and lightweight texture, you will feel comfortable knitting, crocheting, and participating in various different projects without a doubt.
One of the biggest benefits of this yarn is that not only does its acrylic content keep it durable, but it also ensures your placemats remain stain-resistant throughout. So, you won't have to worry about taking care of them.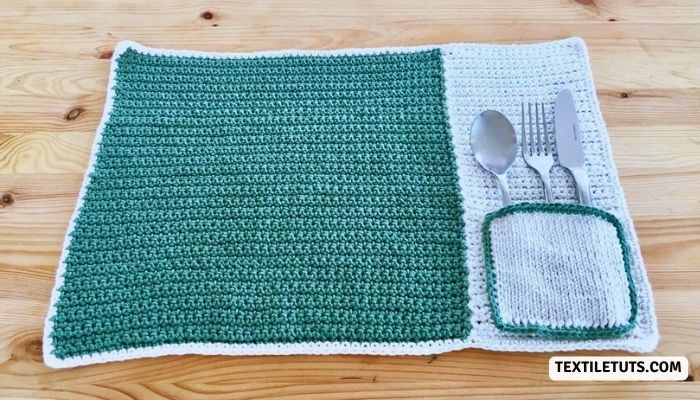 But you can surely wash them pretty easily as well – given they are machine washable and you won't need to take any hassle. Afterward, they will take some time to dry, and you can put them to use conveniently.
Even as a beginner, you won't face much hassle knitting or crocheting with these yarns because they are fairly easy to use. And with 20 color options, you can use them for multiple uses as well.
Their lightweight body and soft texture make sure they absorb water effortlessly. This aspect of the yarn makes it ideal for placemats. Moreover, these are coarse enough to last through rough usage.
No need to worry about burning your placemats when placing overly heated pans on them because these yarns are rather heat-resistant. In fact, they are eco-friendly as well, making them an even better choice.
Verdict

If you are looking for multi-color yarns to make placemats, then here is a very good option for you. These are durable, soft, and lightweight – so you will have a great time working with them.
3. Acrylic Yarn Skeins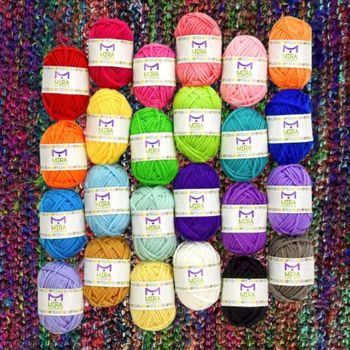 Features
Material: Acrylic
Color: Mixed
Weight: 270 grams
Number of Pieces: 24
Product Care Instructions: Machine Wash
Are you a beginner who is planning on making cute placemats for your dining table? Then here's the perfect kit for you, which contains not only multiple colors of yarns but also contains other accessories that you will need.
Not sure how to wash your placemats as a beginner? Well, the benefit with this yarn is that you can machine wash it – no need to go through any hassle because this item is rather easy to wash, so you can save both your time and energy.
Once you are done washing it, you can give it some time to dry before you can use it again. However, you won't have to wash the placemats all that much because the yarns are stain-resistant in general – saving your trouble.
What makes this yarn even more suitable for making placemats is that the acrylic material increases its ability to absorb water. Not to mention, it can resist heat pretty well, too – so no worries about burning the yarn.
Another amazing benefit of the acrylic content is that the yarn tends to be very durable. Since it is a coarse material in general, you can expect it to wear and tear slowly instead of deteriorating rapidly.
Despite all that, the acrylic material is rather eco-friendly, and the yarn will be economical for you as well. So, you won't have to worry about harming the environment or spending too much money on it.
Verdict

Here's an amazing and versatile yarn that is ideal for making placemats.
4. Yonkey Monkey Skein Tencel Yarn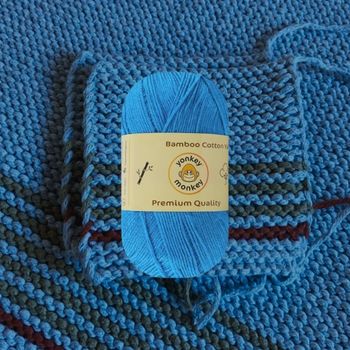 Features
Material: Cotton and Bamboo
Color: Deep Blue 9056
Weight: 50 grams
Number of Pieces: 10
Product Care Instructions: Machine Wash
Placemats do not have to be rough – they can be soft and comfortable. And this yarn proves that to be true, thanks to its cotton and bamboo fibers, which happen to be rather durable as well. Find out more right here.
Not sure whether this will be safe around your kids or not? Well, this hypoallergenic yarn consists of an extra layer of protection, which contains anti-UV properties. Hence, this is rather eco-friendly and safe.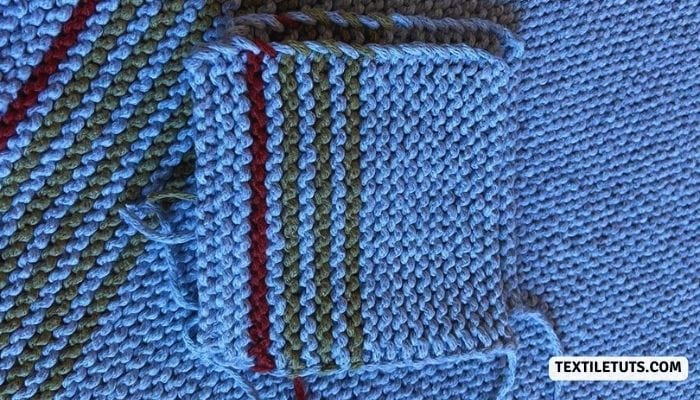 Your placemats will be perfectly breathable and absorbent to water, so your dining table will always remain clean. This aspect of the yarn makes it suitable for making summer wear, such as socks, as well.
What makes this yarn even better for multiple purposes is that it does not get stained easily. Not to mention, the 70% bamboo fibers of the yarn make sure it remains resistant to heat – so there is no chance of your placemats getting burned.
Even when your placemats get dirty, you can easily machine wash them and then iron them if necessary. Due to the yarn's characteristics, they will be easy to wash and iron – and they will get dry in no time.
The 6-ply skeins are rather easy to work with, thanks to the coarse material of cotton and bamboo contents. It will neither fray nor split, so you can work on your placemats without any extra stress or hassle.
Verdict

Here's an eco-friendly and user-friendly yarn that is suitable for multiple projects.
5. Patons Classic Wool Roving Yarn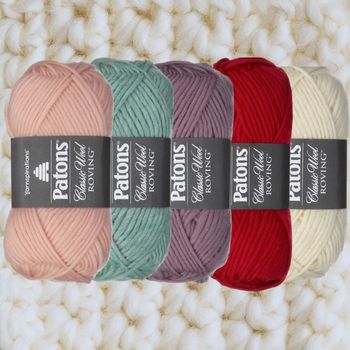 Features
Material: Wool
Color: 12 Color Options
Weight: 0.24 Pounds
Number of Pieces: 1
Product Care Instructions: Hand Wash Only
Tired of getting yarns that do not prove to be worth the investment? Well, here's the perfect yarn for making placemats that will provide great value for money. Find out more about this item's amazing benefits right here.
With a knitting gauge of 15sts and 20 rows, alongside a crocheting gauge of 10sc and 11 rows, you will be able to use it for various projects. Other than making placemats, they can be used for cozy garments and accessories.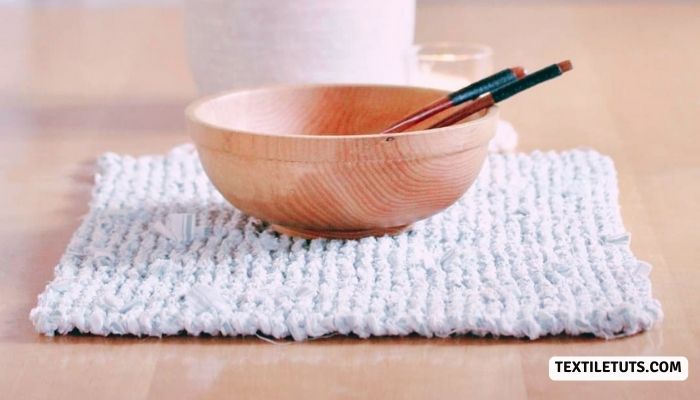 The wool material makes the yarn really soft, but other than that, wool can also resist heat while absorbing water pretty well. Hence, this yarn is going to be very good for placemats – as it will keep your dining table clean and heat-proof.
Another great benefit of the wool content is that it is rather durable. Hence, you won't have to worry about it wearing out anytime soon. Moreover, wool can resist stains as well – making it really hassle-free to handle.
However, even when the placemats do get dirty, you can easily hand wash them and then let them dry for a while by laying them flat. Even though they are easy to wash, it is not a good idea to machine wash them.
Despite that, the material of the item is rather coarse, and you will find it easy to work with them. Not to mention, wool is an eco-friendly material – so you won't have to worry about harming the environment.
Verdict

Here's a yarn that will provide good value for money and other benefits.
WHAT TO LOOK FOR BEFORE YOU BUY?
Placemats play a very important role in determining the cleanliness and aesthetics of your dining table. Hence, you wouldn't want to go wrong when choosing a yarn to make them.
Moreover, there are not many chances of going wrong if you really consider all the important factors before you choose one. Starting from the ease of usage to the colors, you need to keep it all in mind.
However, coming up with all the important aspects and purchasing accordingly can be a lot of work. That is why we are piling up all the necessary factors that you will need to consider right here – just follow them and get the perfect yarn.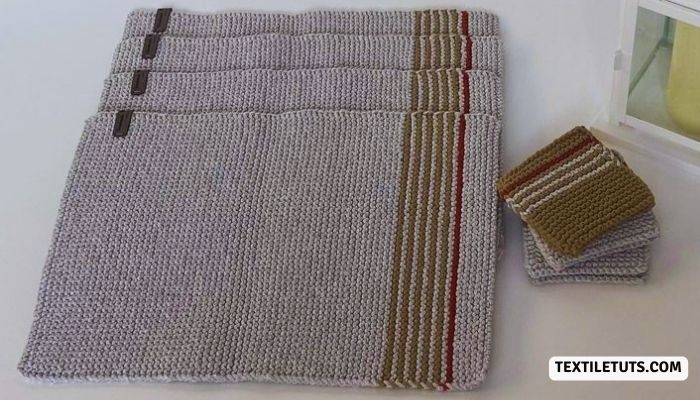 Durability of the Yarn
You don't want your placemats to wear out within the first few months of usage. For that, you need to focus on the durability of the yarn that you will be using.
Try to go for wool or acrylic yarn for utmost longevity.
How Does It Need to Be Washed?
Machine washing your placemats is surely the best option – hand washing them can be rather hassle-some, and you will surely have to be too careful.
Therefore, try to go for yarn types that can be machine washed without any drawbacks.
Can You Use the Yarn Easily?
When doing knitting stitches or crocheting, if you feel like your project is not going smoothly, then you will feel quite frustrated. You might as well give up if you are a beginner.
So always choose yarns that will be easy to use.
Does the Yarn Split Or Fray?
Splitting and fraying are two of the most annoying characteristics of any yarn. And it would really disrupt your placemat projects if splitting or fraying happens frequently.
The best way to make sure you don't get one like that is to go through the reviews of the item beforehand.
Does the Yarn Resist Heat and Stains?
When being used as placemats, it is only normal to get stains on the yarn. Not to mention, they will be subjected to higher temperatures as well.
That is why you should choose a yarn that can resist both heat and stains for long-term usage.
Is the Yarn Eco-Friendly and Safe for Kids?
Some yarn may contain harmful contents, which are dangerous for both kids and the environment. For everyone's safety, it is best to avoid such yarns.
Try to go for yarns that are eco-friendly instead; that way, everyone will be safe around your placemats.
Is the Yarn Versatile?
If you get yarn, you might use it for more than one purpose. And in that case, it is best to check whether or not the yarn can be used for versatile purposes.
Go through the description of your chosen product, and you will get to see what it can be used for.
Is the Yarn Comfortable?
Even though your placemats should be coarse and sturdy, you should also make sure they are comfortable.
After all, when you are making the placemats, you should feel its comfort – otherwise, you might get stressed out.
Frequently Asked Questions
How much yarn do I need for a placemat?
The amount of yarn required for placemats totally depends on the size of the placemat itself. In general, you will need 60-100 yards of yarn on each of the placemats.
How do you make a yarn placemat?
All you will require for this is yarn and needles. You will have to wrap the yarn around the nails first and then layer it side to side until you have formed three layers. The process is quite similar to looming.
Can you make coasters from acrylic yarn?
Yes, you can make coasters from acrylic yarn. Acrylic yarn is durable and coarse, which makes them ideal for coasters. Other than that, you can use wool or cotton as well.
How do you crochet placemats?
If you want to crochet placemats, then you will need to choose cotton yarn for that because it is the best yarn for crochet placemats. Afterward, you will realize that the process is as simple as crocheting a small rug.
Should placemat yarns be resistant to heat?
Since you will be keeping hot pans and plates on placemats, it is wise to choose a yarn that will be resistant to heat. However, it is not mandatory to choose a yarn like that.
Final Words
Whether it is the design, the color, or the durability, the best yarn for placemats should fit all of the criteria without a doubt. And we hope you have found one like that in our article. Look for the ones that will stand up to your expectations above others – ones that will fulfill all your requirements.