Best Fabric Freshener to Liven Up Your Clothes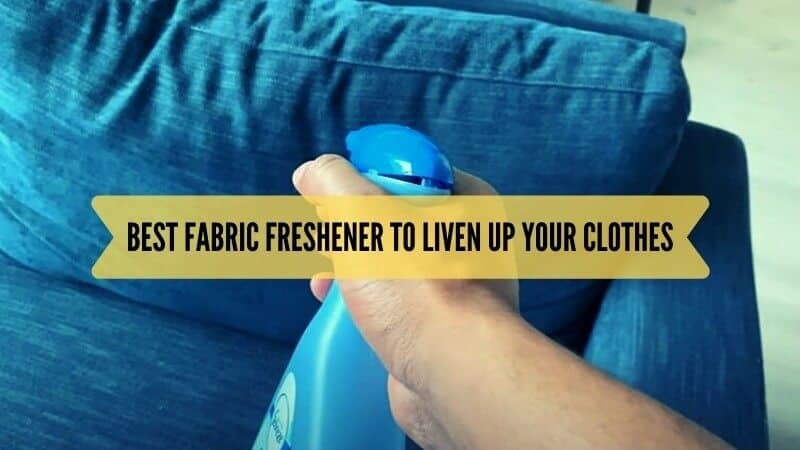 Your apartment can be adorned with expensive furniture, yet it can be a buzzkill for its awful smell.
Sometimes when you move into a new flat or accessorize new furniture, the odor of chemicals starts penetrating.
And it eventually spreads all over your house, and everything starts to give off a horrible stench.
This not only makes you feel uncomfortable but also degrades the equity of your house.
Well, this is where the best fabric freshener comes into play! The ordinary scent that comes in tiny spray bottles cant tackle the overpowering smell.
Hence choosing the ideal fabric freshener for your clothes, room, linen, silk, carpet and even car interior is paramount.
Thus, keeping this in mind, I have scrutinized this topic for a while and narrowed down the 5 finest fabric freshener sprays for you today.
5 Best Fabric Freshener
Trust me when I say this, I have tried my best to check each and every products neutrally. I hope you will deduce a suitable fabric refresher spray to keep the ambiance pleasing and fresh!
1. Febreze Fabric Refresher, Odor Eliminator
Features
Quantity: Two bottles
Weight: 27 ounce
Freshener Type: Spray bottles
Smell: Bold
Best For: Washing out odors for carpet and other hard to clean fabric, good smell
How about two fabric fresheners that dedicatedly work for deodorizing all the polluted fabrics without any need for cleaning? Well, you have a Febreze fabric refresher that offers two different bottles for individual purposes.
Now, do you know the best part about the Febreze extra strength odor eliminator? That's its capability to deter odor from carpets and other heavy upholstery, which are typically hard to clean.
Mainly cleaning carpets is one of the most exhausting jobs. And as much as it's true that cleaning away the odor from it is tough, it's also true that it gets dirty faster than anything.
Hence the 27 ounces Febreze strength fabric refresher will mitigate such problems by effectively washing out the odor molecules.
In addition to the extra strength bottle, you will get another one named unstoppable. While the strength bottle helps to promote a laundry-fresh smell, the unstoppable one stimulates an enchanting scent within your fabric.
Moreover, the scent is exceedingly long-lasting due to its superior absorbability. However, the "extra strength" Febreze bottle contains a very light smell, whereas the "unstopables" yield a very bold scent.
Irrespective of the light scent, Febreze's extra strength fabric refresher is capable enough to camouflage the reek. On the contrary, the other bottle has a very bold scent that overrules any stench in no time.
Consequently, It's ideal for your clothes, fabric, curtains, bedding, sofas, and more, which are most inclined to dust and toxicity.
Now one thing that you should keep in mind is to avoid using them on silk or any fabric that tends to water spot. Fabrics like silk and leather have the potential risk of catching water spots than any other material.
Thus, refrain from applying any of the fabric refreshers on these items.
Pros
Deodorizes hard to clean carpets and other clothing materials
Long-lasting bold smell
Easy application
Arrives in two 27 ounces bottle
Cost-effective
Cons
The smell of "unstoppable" is too bold for people with migraine
2. FREY Nomad Fabric Freshener Spray – Pack of 2 Linen
Features
Quantity: Two bottles
Weight: 2 ounce
Freshener Type: Spray bottles
Smell: Bold (essential oil)
Best For: Deodorizing, Fresh smell
Do you want to carry your fabric freshener with you wherever you go? Well, from now on, you no longer need to bear with the awful stench if you are staying in a hotel.
FREY presents 2 linen fabric freshener spray that comes in a 2-ounce bottle and takes very little space while storing. Thus you can take them wherever you go.
Here you have two bottles that are equally infused with scented essence. You will get 325 sprays in total for both 2 oz bottles.
I guess it's a pretty good deal compared to the price. Now they can be used for various purposes.
Use one to keep your clothing fresh by ejecting all the bad smell that derives from dirt and moisture. And another to obtain a very pleasing scent, however that doesn't last long but ensures keeping your ambiance fresh.
Furthermore, FREY ensures providing a very bold fragrance that penetrates within the tiniest corner of your house.
And the best part of this fabric spray is that it's entirely made with natural substances complimented with essential oil.
So there's no trace of toxic elements or any chemical content that damages your skin or clothing in any way.
If you really need portable fabric freshener spray at an affordable price and want it to destroy all the odor molecules, then this linen spray is the one to go to.
Pros
Supremely portable; fits in your pocket
Bold smell complimented with essential oil
2 bottles have 325 sprays each
Safe and environment friendly
Cons
The scent doesn't long for a prolonged time
3. Renuzit Snuggle Fabric Refresher With Odor Eliminating Technology
Features
Quantity: 4 bottles
Weight: 18 ounce
Freshener Type: spray bottles
Smell: Mild and misty
Best For: Eliminating odors from the couch, carpets, curtains, bedding, clothes, etc.
While some people prefer deep and bold smell, there are people like me who admire light, refreshing fragrance more. If you are anything like me, then Renuzit has good news for you.
It comes with 4 fabric refresher bottles that weigh 18 ounces each, and the scent is extremely light yet capable enough of tackling odor.
The fresh snuggle scent that you sense when something is brought back from the laundry is exactly what you are gonna experience when you have this fabric refresher spray in hand. This one is also regarded as the best fabric freshener spray by many.
For fabrics like thick beddings, curtains, sofas, carpets, window treatments, and clothing, this odor eliminating technology works like a holy grail.
Also, the package consists of 2 duo cubes in soft scrub's alpine fragrance that ensures 8 weeks of effective cleaning.
Furthermore, this liquid fabric odor eliminator is environment-friendly so that the kids and pets are safe.
It's a great relief as toddlers are prone to crawl over the carpet most of the time, and if your carpet isn't free from contamination, it will definitely bring health hazards.
In addition, this fabric deodorizer helps to dissipate pet odors as well. Thus Renuzit guarantees cleaning out all the toxic elements and transform them into a freshly brought carpet.
As a result, you don't need to withstand all the hassles of handwashing the grimy and smelly carpets frequently.
You can also go for the super-fresh original scent that is available in the same quantity.
To conclude, if you are looking for a safe and mild air freshener for your home at a competitive price, then it's surely a catch! Although it doesn't work expectedly outdoors. So keep this in mind.
Pros
Four 18 ounces bottles
Ideally eliminates pet odors
Non-toxic fabric freshener
The mild smell lasts longer than expected
Easy application
Cons
The fragrance doesn't last long
4. Febreze Laundry Odor Eliminator by Febreze
Features
Quantity: Two bottle
Weight: 50 ounce
Freshener Type: Regular liquid bottles
Smell: Scent-free
Best For: Deodorizing greasy clothing, pet-odors, cooking stench, etc.
Here you have another Febreze fabric refresher but in a larger quantity. It comes with a pack of two 50 oz bottles, and the texture is liquid; hence it needs to be blended with your detergent while washing.
As it's fragrance-free, you can't expect it to improve the scents of your clothing or other fabrics.
It's only limited to deodorizing the stench from your clothes while washing without adding any perfume.
So it's more like an odor eliminator rather than a scented air freshener. You can use them with detergents, bleaches, soaps, fabric softeners, and more alike. For instance, when you have a pet in your house, especially a dog, the curtains, beddings, carpets even your clothes might stink.
And an ordinary detergent isn't enough to wash out the smell. This is where the Febreze laundry odor eliminator will come into play.
Be it a stench caused by your dog or your smoker friends. You are just one wash away from fresh and odorless ambiance again.
Now, if you are wondering either to hand wash or machine wash your fabrics, then let me tell you that it works for both cases. You can machine wash them in any setting.
Depending on the intensity of the reek, you have to choose the washing setting from high efficiency to low.
As the fabric freshener is environment-free and features a hypoallergenic formula, you don't need to worry about your pets and babies getting harmed.
It's really a good deal if you are looking for a fabric deodorizer only rather than a scented spray bottle.
Pros
Four 18 ounces bottles
Ideally eliminates pet odors
Non-toxic fabric freshener
The mild smell lasts longer than expected
Easy application
Cons
The fragrance doesn't last long
5. The Laundress New York Fabric and Linen Spray Fresh Wash
Features
Quantity: One bottle
Weight: 8 ounce
Freshener Type: spray bottle
Smell: Light Floral
Best For: Adding smell for luggage, car interior, sneakers, clothing, closet, etc.
This one has the best scent to soothe anyone's heart. Like if you want to impress your guests every time they enter your room, then this is the right choice to make. The laundress new york fabric and linen spray is a non-toxic odor eliminator that keeps your clothing fresh ideally.
However, it can't be an alternative to washing. You need to wash your clothes and other things and then use them to enhance the freshness.
It just amplifies the laundry-like scent so that every time you open your closet, you sense the serene fragrance. And yes, even when you store your clothes in the best garment bag for moth protection, the freshener can work its magic on those too.
Also, whenever you plan on going on a trip and tuck all your clothes into luggage, you can spritz it all over the clothes. It will help keep them fresh and odorless for a prolonged time.
Unlike other cheap fabric freshener spray that cant overpower trapped stench. Here the blend of different natural substances like the citrus, herbal and floral contents confirms a heart-warming fragrance.
Keeping the odors away, this 80z fabric freshener bottle also ensures providing healthy air to breathe. The absence of dyes, fillers, and harmful additives adds a plus to this linen spray.
Pros
Intensifies the freshness of your clothes
Allergen-free
Light floral smell
Suitable for deodorizing outwears
Made in the USA
Cons
Smells good but disappears after few minutes
Doesn't work well for clearing out odors from carpet and other heavy fabrics
Frequently Asked Questions
Why do I need a fabric freshener?
You will mainly need a fabric freshener to evacuate the odor from your clothes, carpets, or any upholstery. A typical fabric conditioner or softener may contain fragrances, but they're not long-lasting. We have talked about those in our is fabric conditioner the same as fabric softener article.
How does a fabric freshener work?
A fabric freshener overpowers the odor by dissolving it during application. The smell doesn't disappear, or the odor molecules are still active, yet it can't fight the fabric deodorizers. Thus, you no longer sense any stench.
What is the best fabric freshener for carpets?
Febreze fabric refresher is best in this regard for its impeccable deodorizing capability and promoting pleasing scent.
Are fabric fresheners safe?
Not all of them are fresh. You need to check the ingredients that are used. In order to be safe, it needs to be free from toxicity, dyes, or any sort of chemicals. Also, make sure the fabric refresher you are using is safe for toddlers and pets.
What are some steam iron fabric softener myths?
A common myth is—it's okay to use fabric softeners in steam irons; this is not true! Fabric softeners contain oils and other chemicals that can damage the heating element of a steam iron and cause it to malfunction.
Also, fabric softeners can leave residue on the soleplate of the iron, resulting in poor steaming performance.
Another myth is—fabric softeners can make fabrics easier to iron; this is not the case. Fabric softeners are designed to reduce static cling and soften fabrics, but they cannot improve the ironing process.
Finally, a third myth is—fabric softeners will make fabrics look brighter; while some fabric softeners may contain optical brighteners, these are not designed to improve the appearance of fabrics, and they will not make them look brighter.
Do I need to wash my bedding and other upholsteries before applying fabric freshener?
It's not necessary as fabric freshener is used to keep your upholsteries clean when they are dirty and emit a bad smell. However, there will be times when you will have no choice but to clean. Because in reality, nothing can replace cleaning.
So, if your beddings or upholsteries are very dirty, then you better clean them before using sprays. After washing, you can take a long break and only resort to spraying peacefully.
Verdict
Undeniably the Febreze fabric refresher, odor eliminator extra strength+ unstoppable is the fabric deodorizer best-sellers among the rest of the fabric fresheners.
On the contrary, the second product in today's list is best for portable use due to its lightweight feature.
Also, the fact that the FREY fabric freshener has this bold smell complimented with essential oils is very exciting. Even if you have a bigger bottle at home, you should get one of these for outdoors.
Now the third product is suitable for all the indoor furniture that often gets stinky and grimy. It deodorizes effectively, but the smell is light and fades quickly. Now that can be a thing to consider.
Moreover, the linen smell is missing, which it claims to have.
Lastly, the fourth and fifth fabric freshener from which the fourth one only deodorizes your clothes when blended with a detergent, and the fifth one not only deodorizes but offers a very impressive smell.
Although the laundress can't wash out the odor without prior washing and the smell doesn't last long.
So, I hope with all this information gathered, you can now determine what you really want. If you focus on the purpose and necessities properly, you will be able to pick the best fabric freshener for you.
REFERENCES