How to Apply Hot Glue on Fabrics
Hot glue has been around for some time and is used extensively in the textile industry. This easy-to-use adhesive can be used to bond a wide variety of materials, including fabric.
To begin the process, plug in your hot glue gun and allow it to heat up for a few minutes. Cut a small piece of the glue stick and load it into the gun. Apply the glue to the fabric in a thin, even layer, avoiding excessive amounts that could stiffen the fabric. Allow the glue to fully dry before handling the fabric. If needed, you can remove the glue by peeling it off or using a seam ripper to cut through it.
It is an excellent choice for repairing or securing fabrics because it dries quickly, is waterproof, and forms a strong bond. In this article, I will share some techniques and discuss everything I have learned about hot glue from my time in the textile industry.
A Brief About Fabric Hot Glues
Hot glue, also known as quick setting adhesive, is a type of adhesive that dries quickly and forms a bond that is stronger than average. It is commonly used in crafts and repairs and is available in both liquid and stick form.
What is Hot Glue Made of?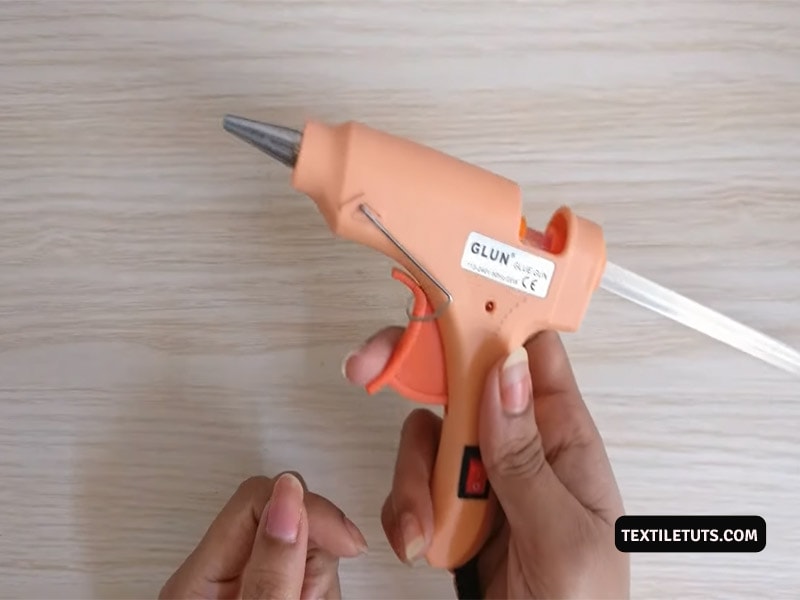 Hot glue is made of thermoplastic materials, like polyvinyl acetate, resin, and a liquid plasticizer solvent. The resin is melted and heated to a liquid form, and the solvent is then added. This mixture is then dispensed through a nozzle, where it dries quickly
How Does It Work?
The key to understanding hot glue is to first understand a bit about the history of adhesives. At first, adhesives were made from natural substances like tree sap and animal bones. These substances worked well, but they had to be heated in order to become adhesive. This made them impractical for many applications.
In the early 20th century, scientists began experimenting with synthetic materials that could be used to create an adhesive. They eventually settled on a plastic known as polyvinyl chloride, or PVC. When PVC is heated, it becomes soft and pliable, making it perfect for use in a hot glue gun.
When the gun is heated, the plasticizer is melted and drawn up into the adhesive. As the adhesive cools and hardens, it forms a strong bond between the two surfaces. This simple process is the key to hot glue's strength and versatility.
How to Apply Hot Glue on Fabrics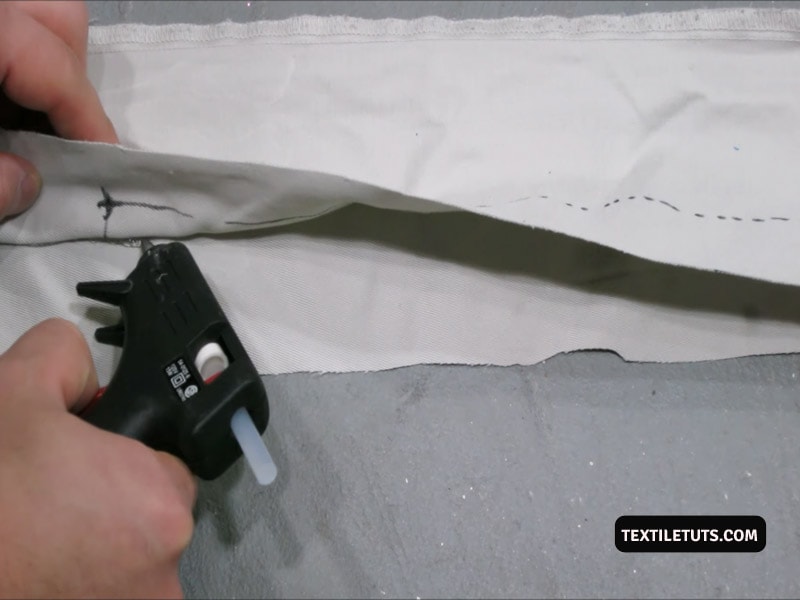 It is relatively simple to use and can be a life-saver when you need to quickly put something together. Let's get to the chase!
Precautions for Using Hot Glue on Fabrics
Hot glue guns are useful tools that can be used for many projects. But when working with fabrics, it is important to use caution. The high temperatures of the fabric glue can cause synthetic fabrics to melt, and the glue can be difficult to remove from natural fibers.
I recommend that you use a low-temperature setting and test the glue on a scrap piece of fabric before applying it to the main project when using a hot glue gun on fabrics.
Before we get started, it is important to know that hot glue can be a bit tricky to work with. It is very important to be careful when using hot glue guns and always read the instructions before use. With that said, let's get started!
The Step-by-Step Process of Applying Hot Glue to Your Fabrics
Plug in your hot glue gun and allow it to heat up for a few minutes. Then, proceed to use it on your desired surface.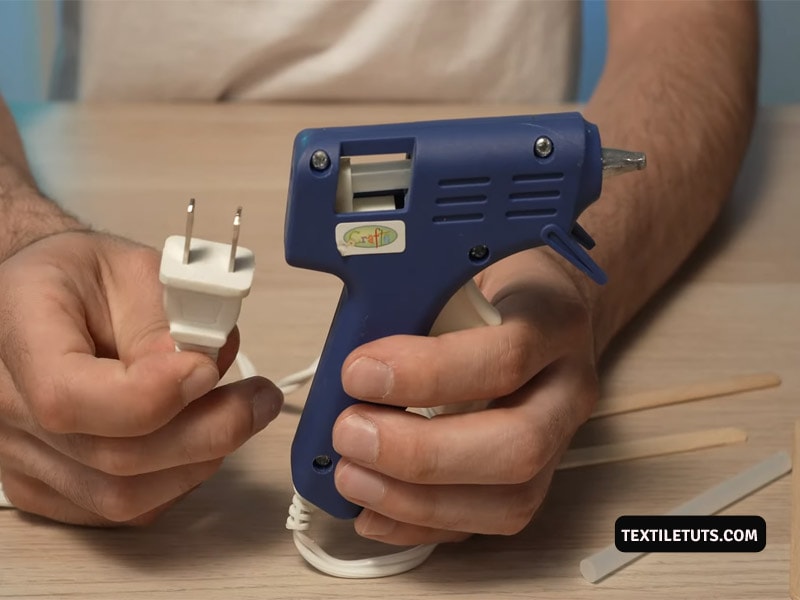 Cut off a small piece of the glue stick and load it into the back of the gun.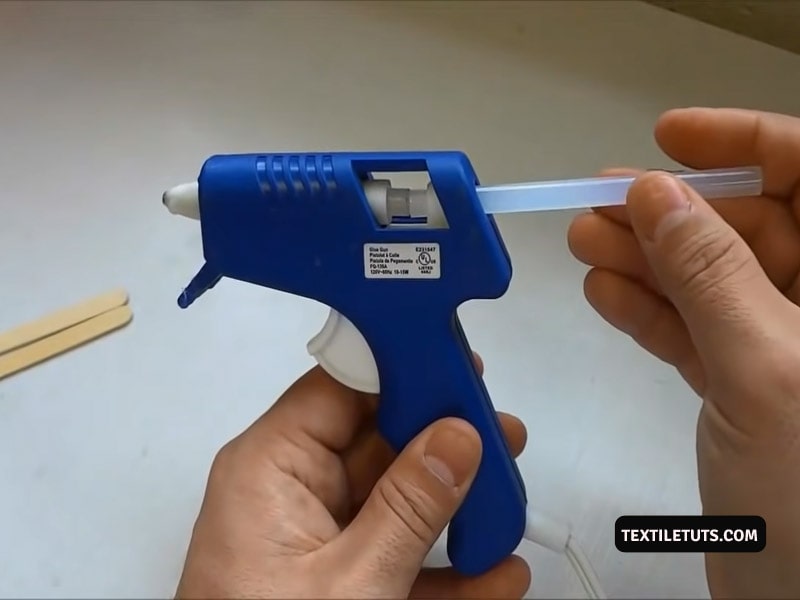 Apply the glue to the fabric in a thin, even layer. Make sure not to use too much glue, as this can make the fabric stiff.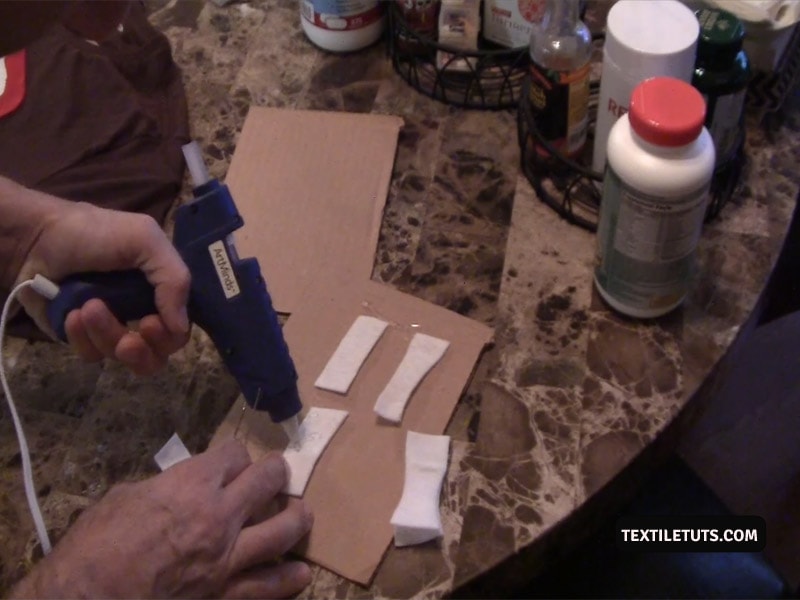 Allow the glue to dry completely before handling the fabric.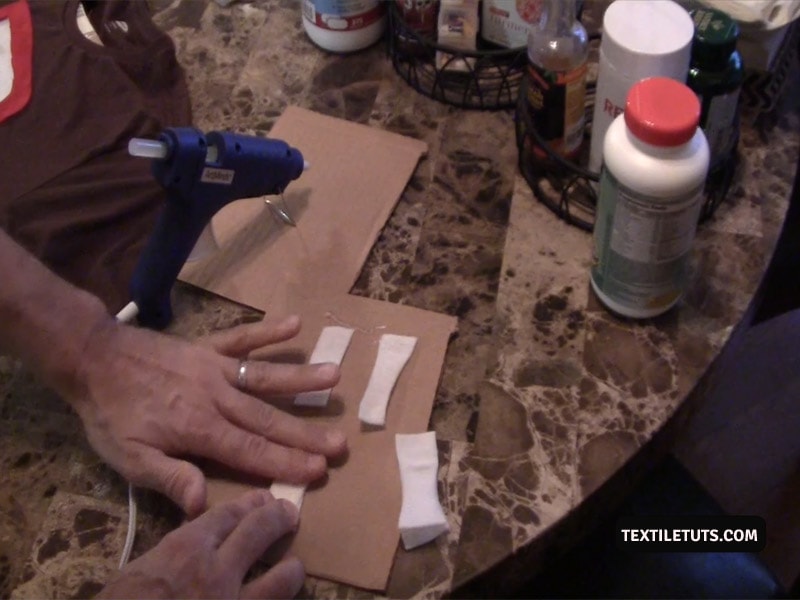 If you want to remove the hot glue from the fabric, follow this guide. And that's it!
Advantages of Hot Glue
Hot glue has a number of advantages over other types of adhesives, including its quick drying time, versatility, and ability to be used on a variety of materials. It is also waterproof and heat-resistant, making it ideal for use in a variety of applications.
Quick Drying Time
Hot glue is a type of adhesive that sets quickly, making it ideal for bonding together two items in a hurry. While other adhesives may take hours or even days to dry completely, hot glue typically dries within minutes. This can be a huge time-saver in situations where every second counts.

Hot glue bonds are strong and durable, so your repair will stay in place. Whether you're fixing a broken vase or attaching a new handle to a coffee mug, we can rely on hot glue to do the job.
Versatility
Hot glue is a popular adhesive for both crafting and repairs. It is fumes-free, bonds quickly, and can be used on a variety of materials. Best of all, hot glue is relatively inexpensive and easy to find.

You can purchase hot glue at most hardware stores or craft stores. For repairs, hot glue can be used to bond metal, glass, plastic, and even fabric. Applying a small amount of glue to one surface and pressing the two pieces together will set together in seconds, creating a strong bond.

For crafts, hot glue can be used to create jewelry, embellishments for scrapbooks, ornaments, and much more. The possibilities are only limited by your imagination.
Heat-Resistant
A key benefit of hot glue is its heat resistance. This means that it can be used in applications where high temperatures are present, such as in the automotive industry. Hot glue is also able to bond to difficult-to-adhere-to surfaces, making it an ideal choice for applications requiring a stronghold.

Thanks to its many benefits, hot glue has become an essential tool for any business or individual working with temperatures or difficult surfaces.
Waterproof
One of the main advantages of hot glue is that it is waterproof. This means that it can be used on a variety of materials, both inside and outside. This makes hot glue a great choice for a variety of applications, from crafts to repairs. The resin in the glue resists water, meaning the glue will not break down when it is wet.

Hot glue also has a high melting point, which means it can stay in shape and be strong when it is hot. Finally, hot glue creates a strong bond when applied to surfaces. This helps keep moisture from seeping through materials.
Frequently Asked Questions
Is hot glue permanent?
Hot glue is not permanent and can be removed with a bit of effort. However, it is not intended to be a temporary adhesive and should not be used as such.
How long do hot glue sticks last?
The lifespan of hot glue sticks will vary depending on the brand that you purchase. However, most hot glue sticks will last for around one year when used regularly.
How to remove hot glues?
There are a few ways to remove dried hot glue. One way is to use a hair dryer on the highest setting to heat up the glue and soften it. You can then use a putty knife or other sharp object to scrape it off. Another way is to use a solvent like acetone or alcohol to dissolve the glue.
Can You Wash Fabric Glue After It Has Been Applied to Fabric?
Yes, you can wash fabric glue after it has been applied to fabric. However, it is important to consider the type of glue used, as some fabric glues are more permanent than others.
Permanent water-resistance fabric glues can be washed without damaging the fabric, but it is important to follow the directions on the glue packaging to ensure that the glue is not weakened by the washing process.
In general, these types of glues can be washed on a gentle cycle with cold water and a mild detergent. It is also important to use a low heat setting when drying the fabric to avoid damaging the glue.
Additionally, it is best to avoid dry-cleaning the fabric, as this may cause the glue to break down.
What happens when you use toothpaste over hot glue?
The toothpaste will likely soften the dried glue and make it easier to remove. If the dried glue is still difficult to remove, you may need to use a stronger cleaning agent like acetone, WD-40, or rubbing alcohol.
Conclusion
That's it! We hope you found this article helpful. Whether you are a first-time user or an experienced hot glue aficionado, I have covered everything I know about hot glue. Be sure to check out our other articles for more tips and tricks on all things DIY. And as always, if you have any questions or comments, feel free to leave them below. Until next time!