When it comes to suiting, cotton is often overlooked as an option in favor of wool or synthetic fabrics. However, there are many benefits to opting for a cotton suit instead despite its reputation as the 'everyday' fabric choice.
With breathability, comfort, and affordability all being key advantages of a cotton suit, understanding what makes this material so special opens up an interesting world for fashion-conscious buyers who may be considering making the switch from their usual go-to fabrics.
We will look at why you should consider purchasing a cotton suit if you're looking to update your wardrobe with something sleek yet wearable. We'll also explore a few tips when wearing them and discuss styling options so that you can show off your new look in style!
Benefits of Wearing a Cotton Suit
From the office to the dance floor, cotton suits are an incredibly versatile choice. They are lightweight and breathable, making them perfect for summer occasions. Not only do they look great, but they also have been around for centuries, making them durable and timeless. Let's explore the benefits of wearing a cotton suit. 
Breathability and Comfort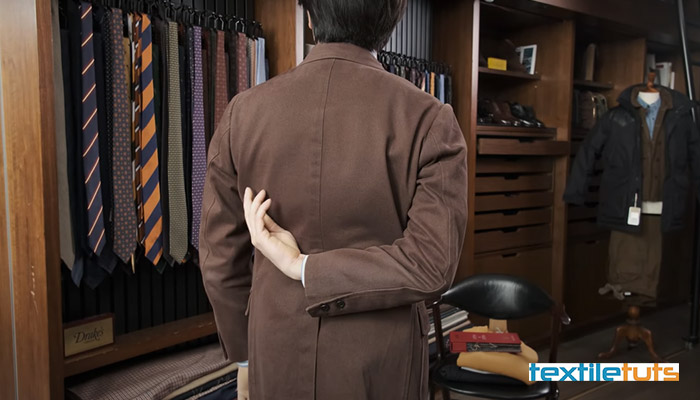 Cotton is a highly breathable material—something that is especially important during the summer months when temperatures tend to be high. Cotton suits are significantly lighter than their wool or polyester counterparts, making them much more comfortable to wear in warm climates.
Additionally, since cotton absorbs moisture from your skin, it helps you stay cool and dry throughout the day—a feature that can be especially beneficial during long-standing events or workdays. 
Style Versatility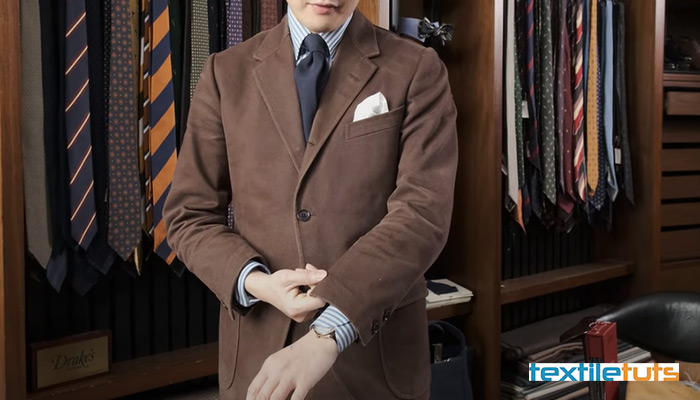 Cotton suits provide an elegant style without appearing too formal or stuffy. They're perfect for weddings, business meetings and other social gatherings where dress code requirements may be flexible.
Plus, they come in various cuts so you can find one that best fits your body shape and personal taste. You can also mix and match different pieces—such as blazers, trousers or waistcoats—to create a unique look every time you wear your suit. 
Durability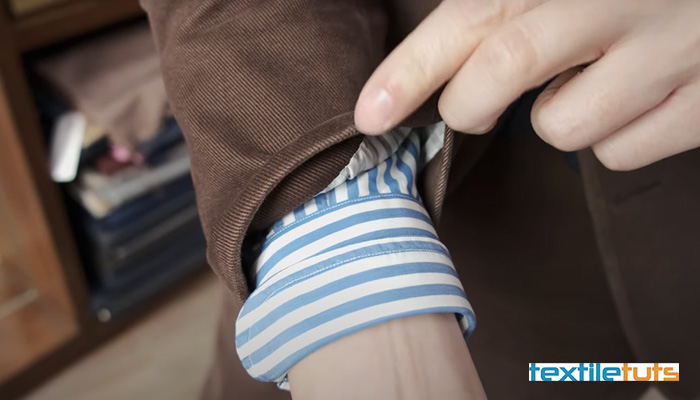 It's no coincidence why humans have been wearing cotton garments for millennia—it's incredibly durable! The fibers in cotton fabrics are strong yet soft; plus, they retain their shape better than most synthetic materials without fading over time.
Coupled with its natural resistance to wrinkles makes it easy to care for; moreover, cotton can last years if properly maintained with regular washing and steaming. 
Cost-Effectiveness
Cotton suits are generally more affordable than those made from man-made fabrics like polyester or nylon due to its naturally lower cost of production caused by its abundance worldwide as well as its longevity when treated with care.
Thus, it offers great value for money without sacrificing quality or style in any way. 
Overall Comfort
Ultimately, one of the best aspects about wearing a cotton suit is how comfortable it feels on the body throughout your whole day or night out! Thanks to its light weight and breathable nature combined with superior durability make it ideal for anyone looking to experience an enjoyable evening while looking sophisticated at the same time!
So, What Are Cotton Suits Good for?
If you have went over the benefits, then you can already imagine in which settings these suits fit perfectly. We will outline some of them here:
Business Meetings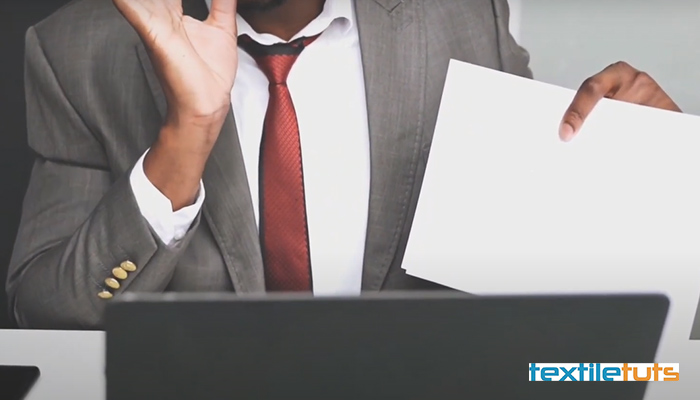 For important business meetings or corporate events, cotton suits can provide a professional yet comfortable look. The fabric is light and breathable and can be worn in all types of weather without feeling overly hot or constricting.
The neutral colors that cotton comes in are perfect for formal settings as they convey the message of respectability without being too flashy. A classic navy suit paired with a crisp white shirt will always be a safe option when it comes to looking your best for a business meeting.
Black Tie Events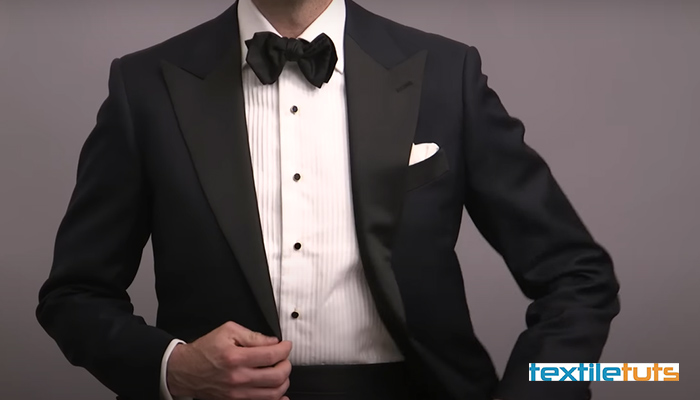 For those special occasions that require something more than just casual attire, cotton suits come into their own. The lightweight fabric makes them perfect for warm summer evenings while still conveying an aura of sophistication.
If you opt for a tailored fit then you will find that no other material exudes elegance quite like cotton does. Whether you go for a traditional black tuxedo or dare to make an impression in gray pinstripes, wearing cotton to your next black tie event will guarantee you look suave and stylish all night long. 
Weddings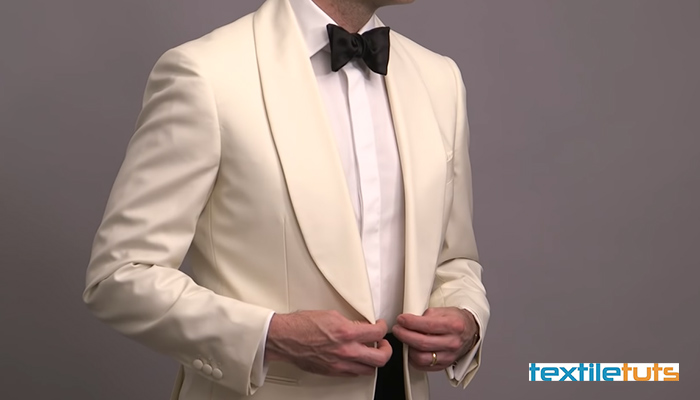 If you're attending a wedding as part of the groom's party or simply want to make sure your outfit stands out from the crowd then cotton suits again offer the ideal solution.
From subtle pastel shades to vibrant colors like yellow or orange, there is always something suitable available when it comes to choosing the right fabric for a wedding ceremony or reception dinner.
The breathable attributes also mean that even if temperatures rise during an outdoor celebration, you can rely on your suit still looking as good as it did when you first put it on! 
Casual Outings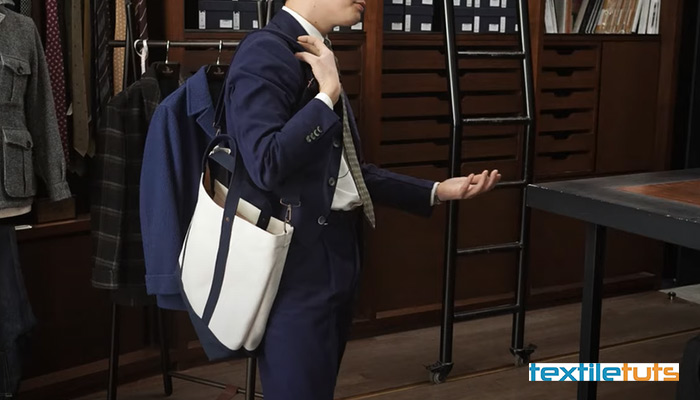 Cotton doesn't have to be limited only to formal events; even when it comes to weekend outings or relaxed dinners with friends, these lightweight garments are still appropriate attire!
Instead of opting for jeans or shorts (which may be too casual in certain scenarios) choose instead from some comfortable yet smart chino-style trousers made from 100% pure cotton—complete with matching blazer—and enjoy being able to stay cool whatever the situation! 
Cotton Suits vs Wool Suits: Which One Is Better?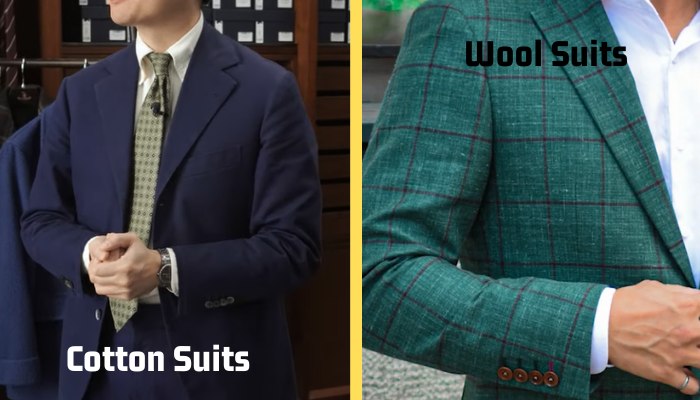 First, let's go over the general differences between a typical cotton suit & a suit that's made of wool. Remember these are general characteristics. It's subject to the choice of weave, finishing chemicals applied, etc.
| Feature | Cotton Suit | Wool Suit |
| --- | --- | --- |
| Softness | Moderate | Soft |
| Durability | Moderate | High |
| Wrinkle/Crease resistance | Low | High |
| Shape retention | Moderate | High |
| Breathability | Moderate | High |
| Weight | Heavy | Light |
| Cost | Cheap | Expensive (depending on quality) |
If you count all the features we have outlined, wool wins the battle comprehensively. But as we have already talked about, cotton occupies a special place because of its unique characteristics.
What Are the Different Styles of Cotton Suits Available
The cotton suit is a timeless classic, and one of the most versatile pieces of clothing a man can own. With its breathable fabric, cotton suits are perfect for any occasion, from formal to casual. There are many different styles of cotton suits available, and understanding each style can help men find the best suit for their needs. 
Single Breasted Suits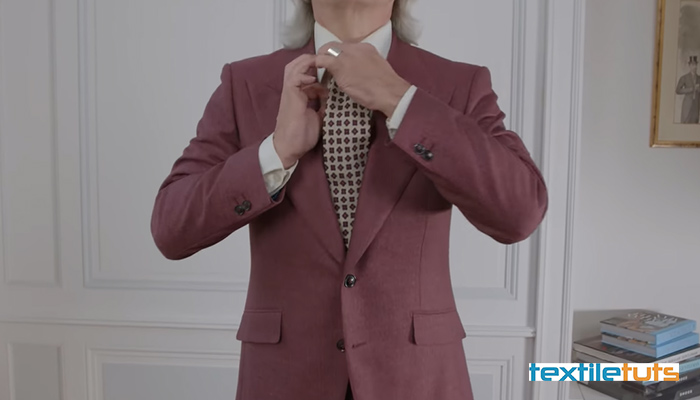 One of the most common types of cotton suits is single breasted. This style has a single row of buttons down the front, usually with two or three buttons. Single breasted suits feature a lapel that overlaps on either side – this makes them ideal for smart occasions such as job interviews or business meetings. 
Double Breasted Suits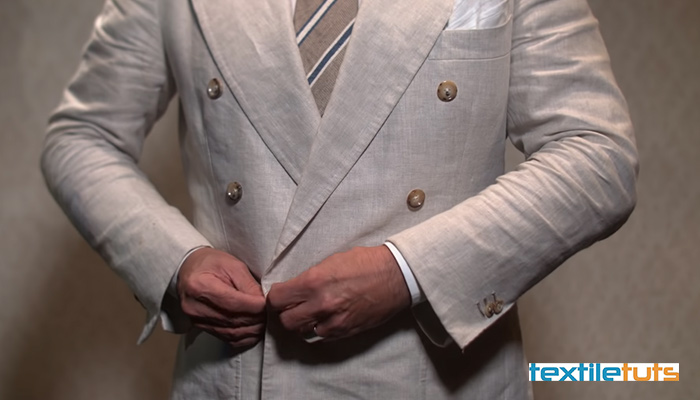 Double breasted suits have two rows of overlapping buttons on the front and are more traditional in design than single breasted suits. Typically they have four or six buttons, although some may have up to eight. With this style, rather than lapels overlapping, both sides come together in the middle – giving double breasted suits a neater look than single breasted models. 
Three Piece Suits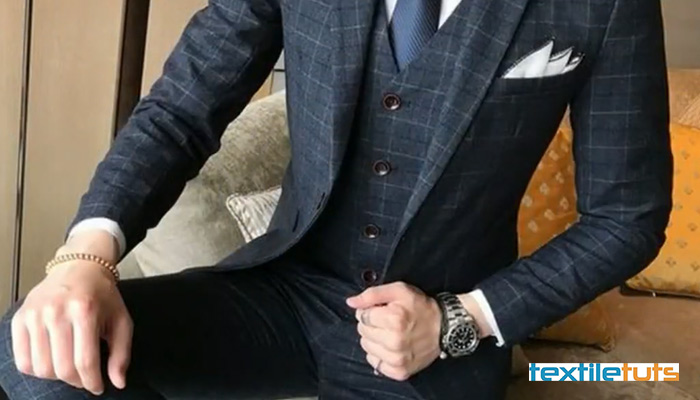 A three piece suit consists of an extra waistcoat (vest) which is worn over both the shirt and jacket. This style was popularised by Prince Edward during his reign as King Edward VIII but has been around since the 1800s. The waistcoat adds an extra layer of sophistication to an outfit—making it perfect for formal occasions such as weddings or funerals. 
Blazers & Sports Coats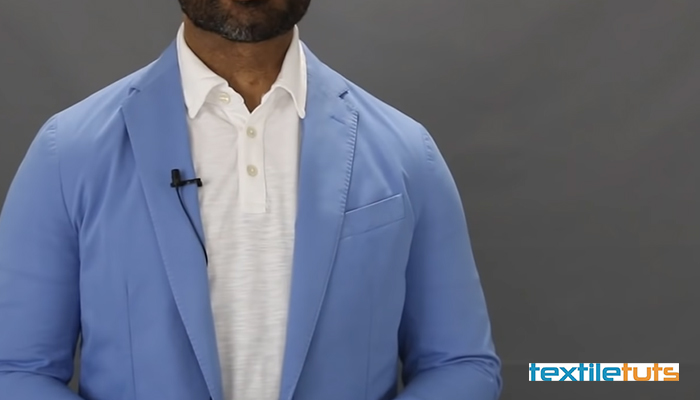 If you're looking for something more casual than a full suit then blazers and sports coats are an excellent option. These garments are similar in shape to regular jackets but don't feature matching trousers like other suit styles do—making them perfect for relaxed social events where you want to look smart without being overly dressed up!
Blazers and sports coats come in both solid colors as well as patterned designs so there's plenty of choice depending on what look you're going for. 
How to Care for Cotton Suits
Like all garments, cotton suit care requires a bit of extra attention if you want them to stay looking their best. Here are some tips on how to care for your cotton suit so that it will last you a lifetime.
Keep the Suit Away from Hot Water and the Dryer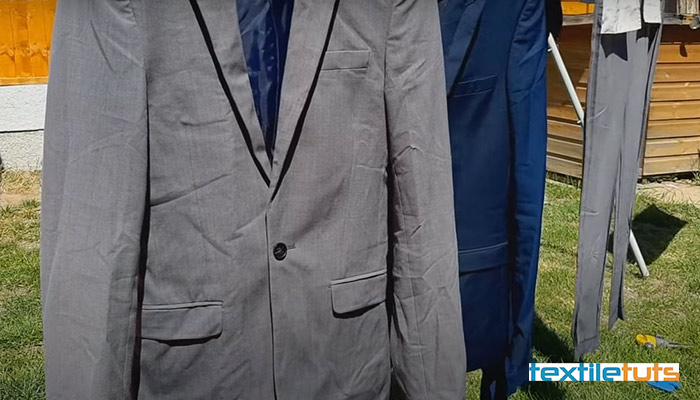 It is imperative that you never wash your cotton suit in hot water or put it in the dryer. Heat can damage the fabric fibers and cause discoloration, shrinkage, and creasing. Instead, opt for cold water washing and air-drying out of direct sunlight. This will help preserve the look and feel of your suit for much longer.
Use Gentle Soap
When washing your cotton suit, use a mild detergent or soap specifically designed for delicate fabrics. This will help keep the fabric soft and free from residue build up that can be caused by harsh detergents or bleaches.
Additionally, be sure not to use too much soap as this can also lead to residue buildup over time which can degrade the quality of your suit's fabric. 
Don't Use Too Much Water
If possible, avoid soaking your cotton suit in water altogether as this could cause irreparable damage to the fabric fibers over time due to prolonged exposure to moisture. If you must use water during cleaning then make sure you only use enough to lightly wet the material – any more than this could lead to permanent shrinking or discoloration particularly when air-drying outside under sunlight conditions. 
Spot-Treat Stains with a Damp Cloth
For any spots or stains on your cotton suit, take a damp cloth with some gentle soap and lightly dab at the affected area until it comes off – never rub! Rubbing against such delicate fabrics can cause significant damage over time so always treat stains gently with circular motions rather than back-and-forth strokes. 
Use a Dry Cloth to Remove Excess Water
Once you have finished spot-treating any stains on your suit, take a dry cloth and gently press against it until no more moisture remains – never wring out excess water! Again, wringing out such delicate fabrics could cause irreversible damage so always pat down gently instead whenever dealing with excess moisture on parts of your cotton suit. 
Lay Your Suit Out on a Flat Surface to Dry
Afterward, lay out your suit flat in an area away from direct sunlight as exposing it directly could cause fading over time due to UV radiation from rays which gradually break down delicate fabric fibers like those found in most types of cotton garments.
If necessary use clothespins or weights along edges such as pant legs or sleeves so everything lays flat while drying – this will help ensure there is no bunching up of material during drying which could lead to wrinkling once completely dried out later on.    
Prepare Your Suit for Storage by Rolling It Up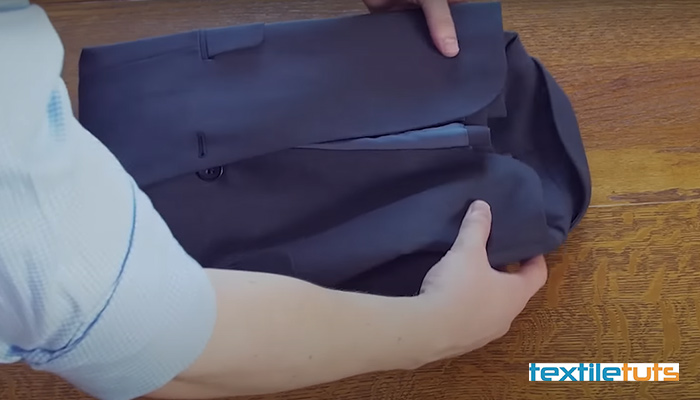 Before storing away make sure you roll up each part of your suit (such as pants legs) individually starting from one end and going towards the other end before folding over like a burrito – this will help keep wrinkles minimal while storing away once done correctly.
Don't forget to add cedar blocks mothballs inside the suitcase where plan to store items next to avoid moths damaging expensive clothing items later date!  
Remove Excess Fragrance with Paper Towel
Once you roll the item up, use a paper towel to remove any extra residual scent left behind from fragrance oils in the manufacturing process. Even if cleaned properly, these particles can linger for some time after wearing it.
Gently press down on the garment with a fresh piece of paper towel and slowly move around the affected areas until no further odor is noticeable.
Store Your Suit in Well-Ventilated Area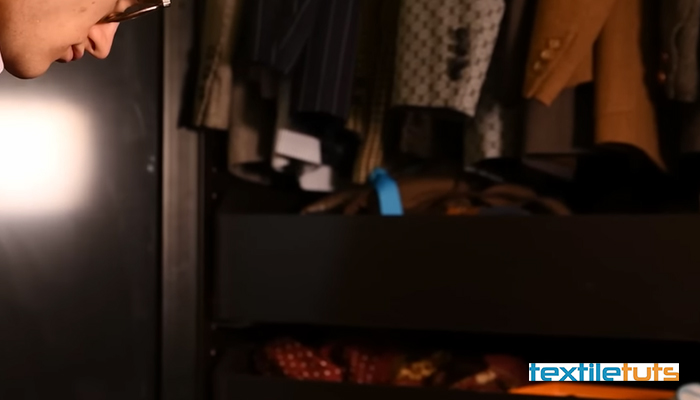 Therefore, ensure your items are stored in an airy area with minimal humidity and temperature changes – a basement, shelf or wardrobe closet make great options.
Don't forget to wrap them up in some plastic before storing as this will help prevent dust build-up when sitting untouched for long periods of time. Doing so will also reduce the amount of cleaning needed every few months, helping you get the maximum life out of those expensive garments!
How to Wear a Cotton Suit in the Summer Heat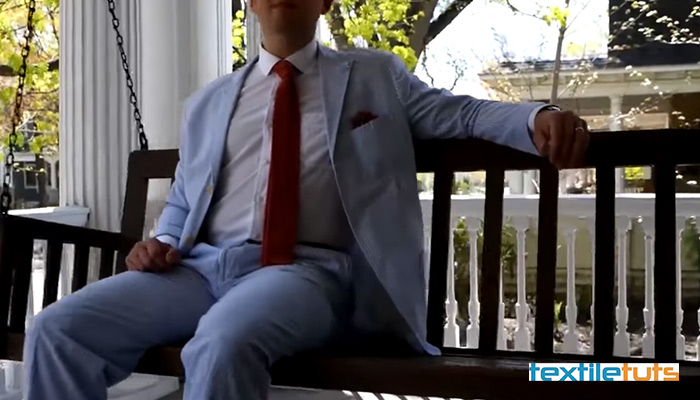 Summer is often a time when temperatures rise and comfort is key. For those looking for a smart and stylish way to stay cool when the mercury rises, look no further than the cotton suit.
With its lightweight fabric, breathability, and versatility, wearing a cotton suit in the summertime can be a great way to look your best while staying comfortable in all types of weather. 
Prepare Ahead of Time
First and foremost, it's important to prepare ahead of time when considering how to wear a cotton suit in the summer heat. While some fabrics can be uncomfortable in hot weather, cotton is known for its ability to keep you cool while still offering style and sophistication.
Make sure that you purchase a suit made from 100% cotton that has been treated with special finishes such as Teflon or Nano Tex that will help repel water and sweat. Also, check that your chosen piece has been pre-shrunk so that even after washing and drying on high heat there won't be any shrinkage. 
Choose Light Colors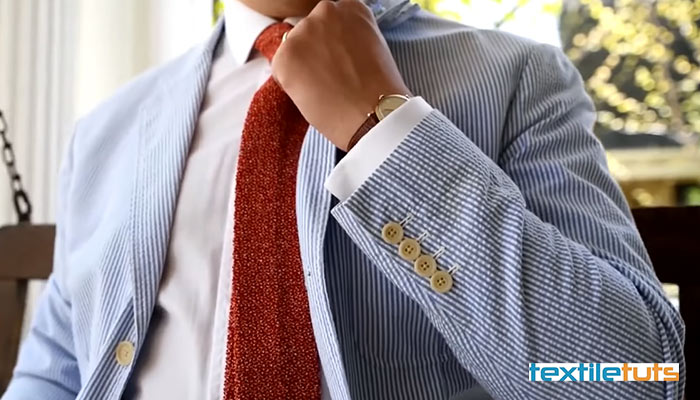 When selecting your color palette for your summertime cotton suit it's important to choose lighter colors and shades as they will reflect more sunlight which will help you stay cooler in the heat.
Opting for neutrals such as light gray or tan are great choices for keeping cool whilst still maintaining an elegant aesthetic. If prints are more up your alley then linen suits with an eye-catching tropical pattern may be worth considering – just make sure that the fabric is still 100% natural fiber so you don't overheat! 
Pair It With Appropriate Accessories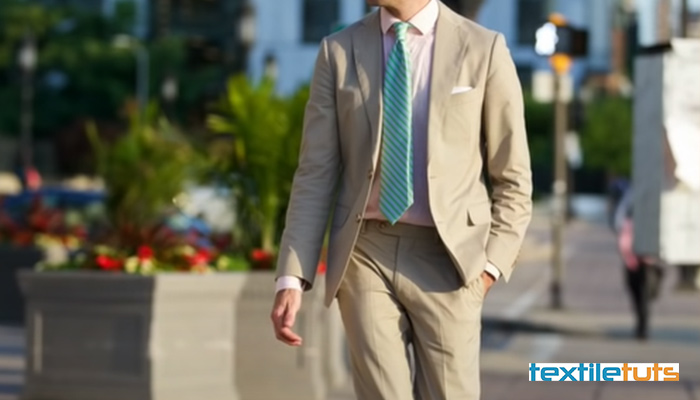 Accessorizing correctly when wearing a cotton suit during warmer months is important if you want to stay comfortable (and stylish!) throughout the day.
Look for accessories like linen pocket squares and ties which are lightweight yet effective at completing your ensemble without adding too much bulk or weight which could increase discomfort caused by sweat build up or direct sunlight exposure. And don't forget about sun protection!
A wide brimmed straw hat can provide refuge from the Sun's rays whilst also making a statement – plus it helps create an effortless beachy vibe that can easily transition into evening events such as rooftop parties or BBQs with friends. 
Style It Right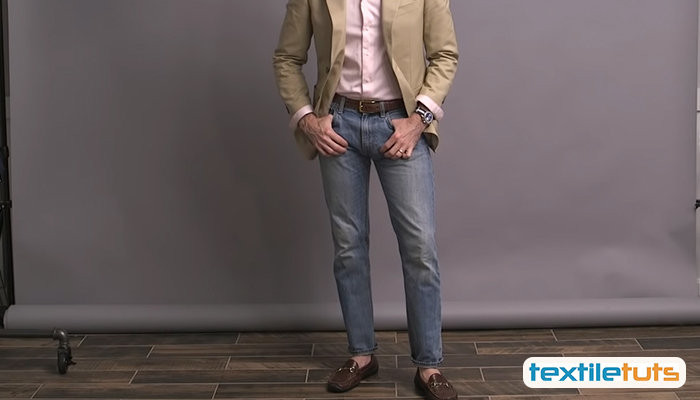 It's easy to take things too far when styling yourself with a casual yet sophisticated look in hot weather – remember less is more!
Avoid overly bright colors or tight fitting silhouettes which could make temperatures even hotter around your body; instead aim for looser fits which allow air circulation between your skin and clothing material keeping you cooler for longer periods of time throughout the day.
Remember, men's suits are usually tight-fitting. So, buy a size larger if you need that cooling option.
You should also adjust some of your styling staples based on seasonal changes – replacing heavier leather shoes with light canvas trainers or boat shoes can give you extra room for breathability in those warm climates without taking away from an overall polished look. 
Are Cotton Jackets Good for Winter?
Cotton jackets are a great choice for mild winter days. However, cotton jackets can keep you warm but not suitable for extreme cold.
If you're expecting temperatures to drop far below freezing, you'll want to look for a jacket made from a more weather-resistant material such as synthetic fabrics or wool. These materials are better able to block out the wind and keep you warm even in the coldest temperatures.
Conclusion
As a textile engineer, I appreciate the versatility, affordability, and comfort of cotton suits. They are perfect for formal and casual occasions alike, and thanks to the easy upkeep required they make an ideal choice for wearing all year round.
With so many advantages it's no wonder why cotton suits have become a wardrobe staple for so many people. Furthermore, their softness and breathability make them an excellent choice for those looking for a comfortable yet stylish outfit.
From lightweight summer-ready looks to heavy woolens suitable for winter weather, a well-made cotton suit can be the perfect addition to any wardrobe.